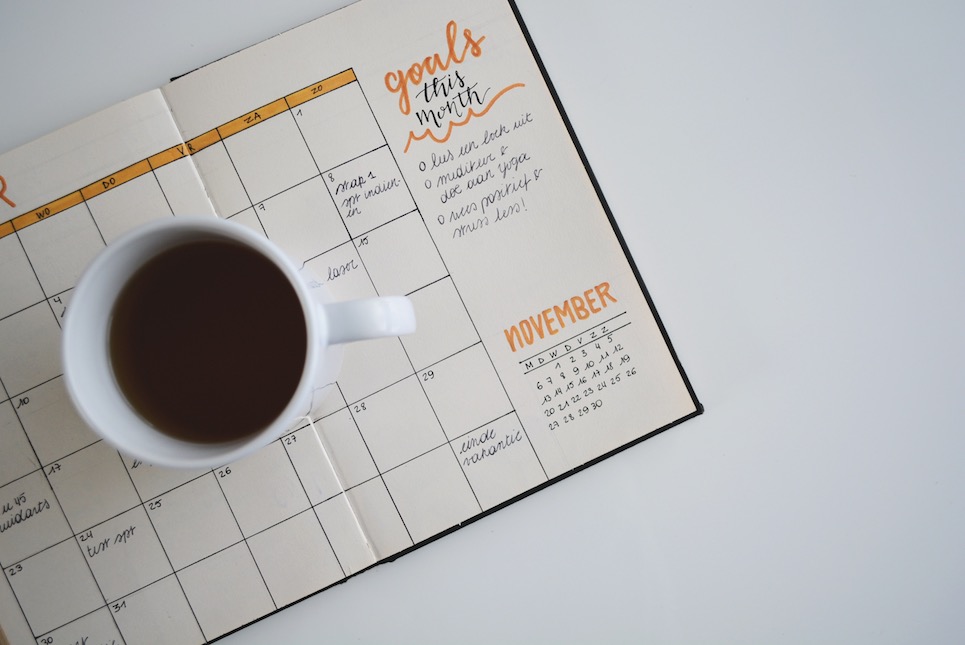 The best sales funnel software programs you need to know about now!
The ultimate purpose of a sales funnel is to turn your audience into paying customers. It basically guides your audience to take actions like:
Sign up for your email list.

Purchase your ebook, course or any other digital product.

Use your software service.
… and more.
My recommendation up front… Clickfunnels is hands-down the best online sales funnel software out there. It is the leader in online sales funnel software and the customer service, hands-on education is excellent.
For this to happen, a sales funnel consists of 'layers' which include landing pages, opt-in forms, checkout pages and more.
Hiring a web developer to build your sales funnel can take thousands of dollars.
But with a dedicated sales funnel software, you can build the whole funnel yourself at a cost of no more than $50-$150 a month – a fraction of what it costs to hire a web developer, who will charge this amount for just an hour of work.
Hence why we created this review guide – to show you the top 5 sales funnel software programs you can use to set up an online business yourself without having to write a single line of code!
Let's get started…
5. Instapage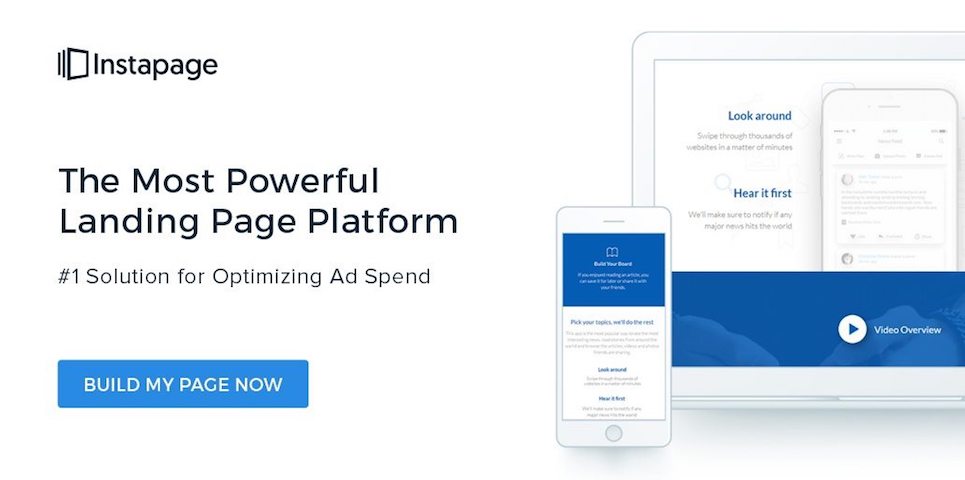 If you're a novice at creating sales funnels, you need a simple service that doesn't bury you in features you're not going to use.
Instapage is an easy-to-use sales funnel software with which you can build beautiful landing pages to collect leads and sell your products and services.
What makes it unique among other sales funnel software is that it prioritizes data and analytics- providing a wealth of information you can use to A/B test your sales funnel in order to get maximum conversions.
However, it isn't a complete marketing solution, meaning you'll have to integrate third-party services such as email autoresponders, payment processors and CRMs to make your sales funnel more functional.
But nevertheless, to build the pages of your sales funnel, Instapage is a great choice.
Read our full Instapage review and learn more pros, cons, features, and tips on how to use.
Features of Instapage
Here are some notable features of Instapage:
200+ ready-to-use landing page templates:

Instapage has 200+ beautiful landing page templates you can use instantly and customize to your own needs and requirements.
Unique Website Builder To Build A Webpage From Scratch:

Don't use templates if you don't want. You can build your own landing page using Instapage's flexible, freeform drag-and-drop builder. It lets you create pages from scratch by letting you put elements such as icons, buttons, text and more exactly where you want. If you want even more flexibility, Instapage lets you code in HTML, CSS and JavaScript as well.

Widgets and Form Builder:

You

can directly add CTA buttons, video players, multi-step forms and more to your landing page and drop them wherever you want. It's easy, fast and powerful.

Powerful Analytics and Team Collaboration Tools: If you love A/B testing, you'll love Instapage. It allows you to create multiple variants of your landing page. Plus, it has a wealth of analytics tools such as heatmaps, pixel-tracking and more which show how your pages are performing. Teams can also comment on the landing page for better collaboration.
Integrations With Top Marketing Tools:

Instapage connects with popular email marketing, automation, and analytics software to let you create an even more effective sales funnel.
[earnist ref="instapage-simple-tools-for-epi" id="33534″]
4. Leadpages
Leadpages is another dedicated landing page builder you can use to create beautiful sales funnels. Just like Instapage, Leadpages comes with templates, a drag-and-drop builder and widgets.
But still, there are a few differentiating features which give Leadpages an edge over Instapage.

Features of Leadpages
Here are the top features of Leadpages:
Drag & Drop Landing Page & Pop-Up Page Builder: With Leadpage's drag and drop builder, you can build landing pages and pop-up boxes (which Instapage doesn't have). But unlike Instapage's free-form builder, Leadpages only lets you build a landing page using the grid-based system. This can be annoying if you want the grid to get out of your way.
130+ Free Landing Page & Popup Form Templates:

Leadpages gives you lots of templates to choose from to create your landing page. While the number of templates are less than Instapage, they are still more than enough to create any kind of landing page you want. But what makes Leadpages better than Instapage is that it has templates for opt-in forms too.

Advanced Widgets:

In addition to the standard widgets, Leadpages also has more advanced widgets like comments, progress bar and the best widget of all: the checkout module. The checkout module allows you to place a proper payment system so customers can pay from within your landing page without you having to resort to a third party plugin.
Facebook Ads Creator:

Chances are you'll be directing paid traffic to your landing page through Facebook. If so, Leadpages lets you create a Facebook ad based on your landing page instantly.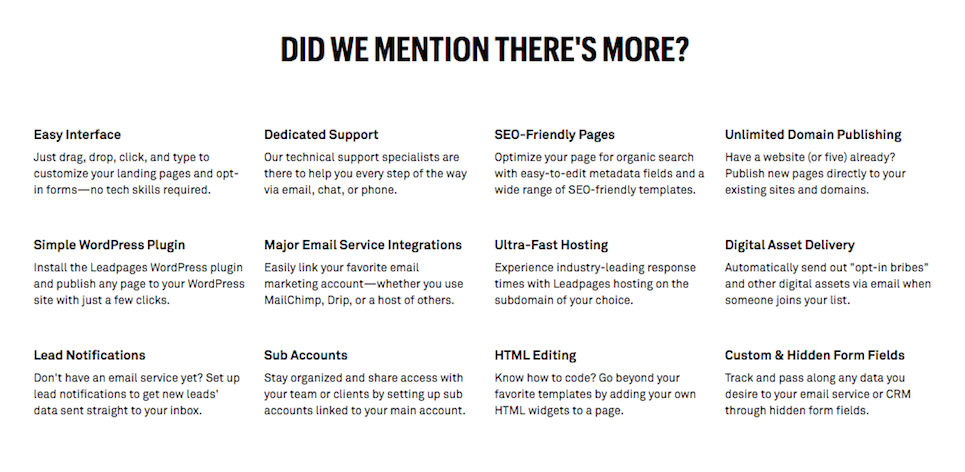 A/B Testing, Analytics and Integrations:

Leadpages has all the great analytics features you can use to track the performance of your landing pages and A/B test. In addition, you can also connect with email marketing tools, analytics tools and CRMs to build a more robust sales funnel.
If you want to know more about Leadpages to see if this is the best sales funnel software program for you, then read our full Leadpages review, where Robert goes into more details on this tool, how to use, the pros, cons, and features you need to know and more.
Thinking this could be the program for you? 
3. Wishpond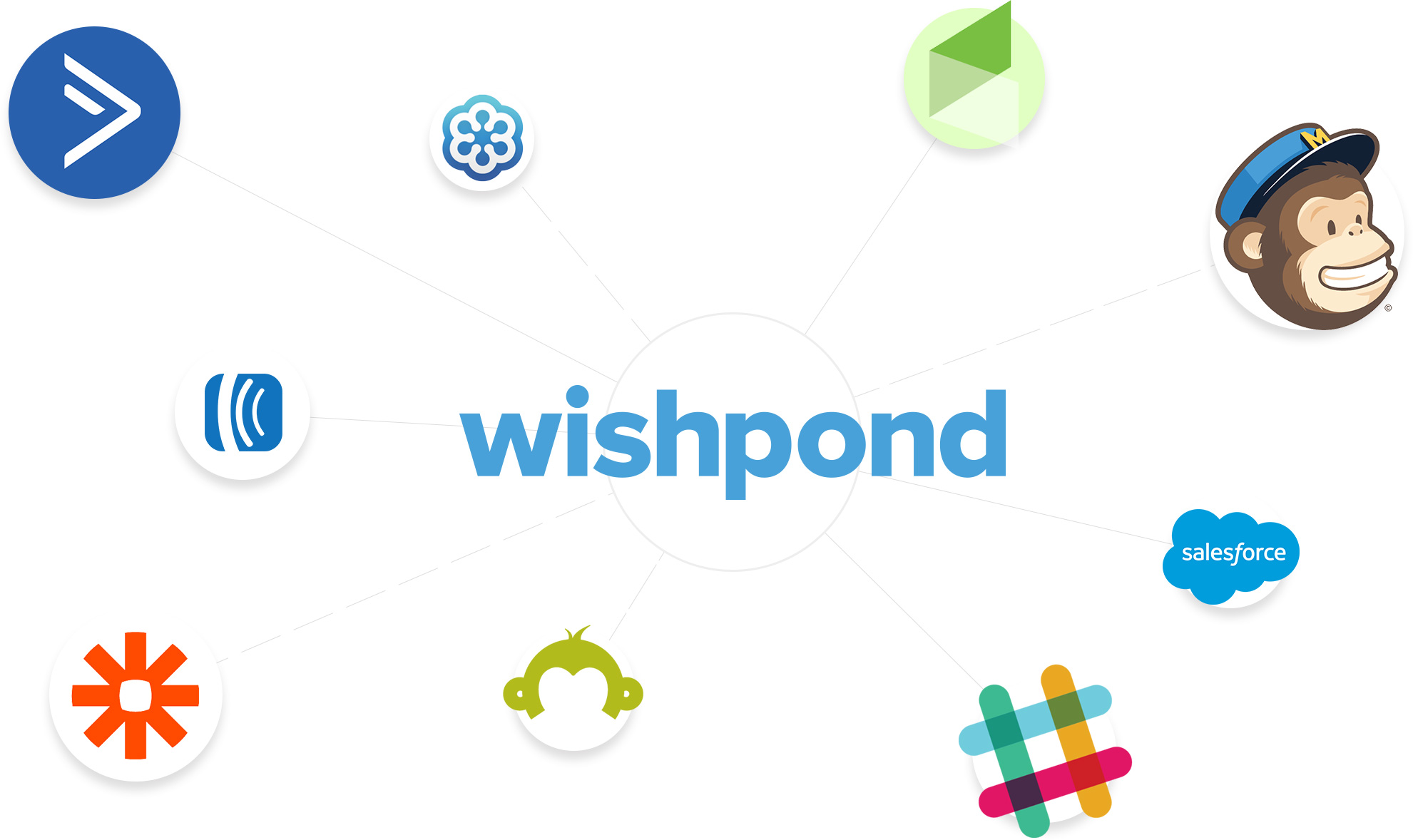 Enough with the basics. Let's move on to a more comprehensive software that gives you greater control of your sales funnel.
First up is Wishpond.
In addition to beautiful landing pages, Wishpond also gives you the ability to run social contests, create email autoresponder campaigns and automate your whole sales funnel.
Features of Wishpond
Let's take a look at Wishpond's top features:
Builder For Landing Pages, Contests, Popups and Emails:

Wishpond lets you build (and has templates for) Contests, online forms and referral campaigns in addition to landing pages and pop-up boxes.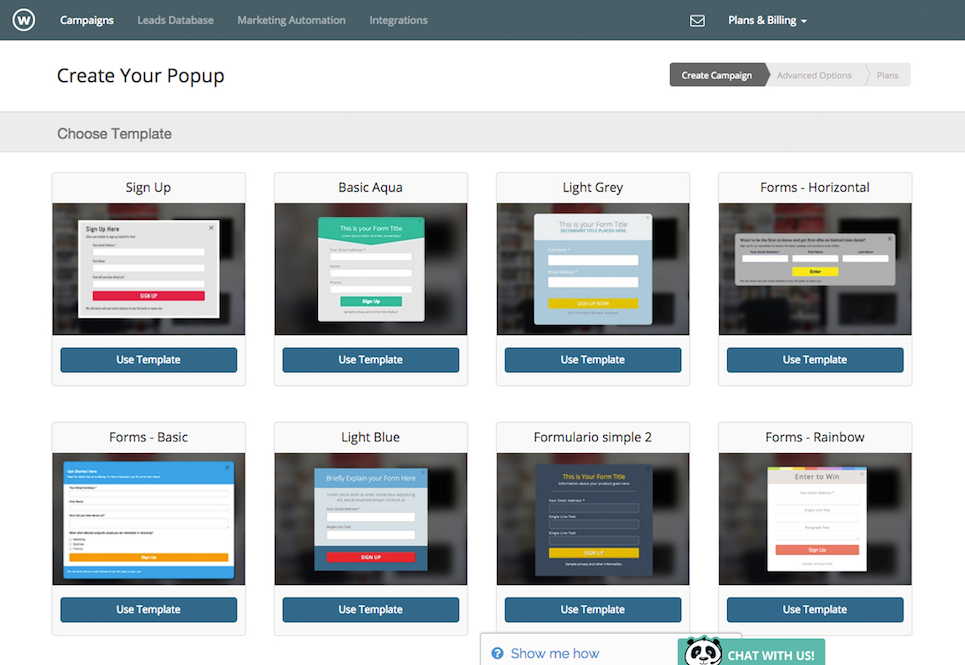 Create Automated Email Drip Campaign:

With Wishpond, you can create, build and run a fully automated email marketing campaign. You can sort leads into different segments, create drip campaigns and set up actions so that different segments get different emails.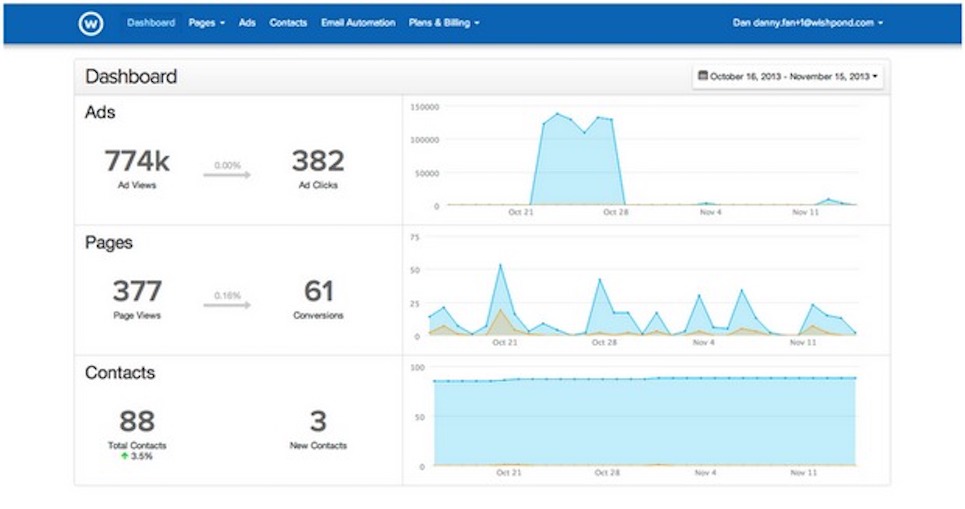 Manage Leads:

With Wishpond, you can collect information from your leads and see their activity on your sales funnel. Moreover, you can segment leads based on their activity and send them follow-up messages automatically.
In conclusion, with Wishpond, you can not only build landing pages, you can also automate your sales funnel with built-in email marketing, marketing automation, and lead management tools. And if that's not enough, you can integrate with third-party marketing tools as well.
2. Thrive Themes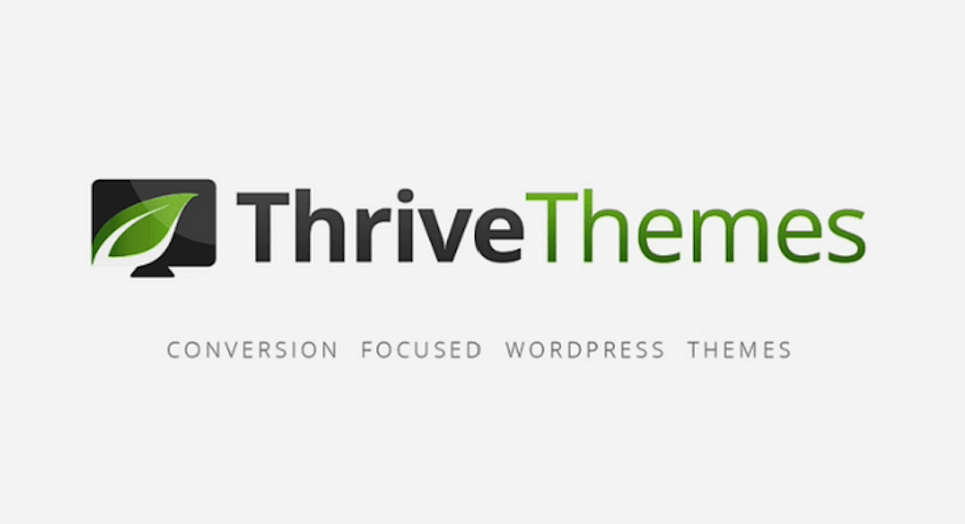 If you're on a budget and want a fully robust sales funnel software you can use to build any kind of sales funnel imaginable, you should definitely choose the thrive theme membership.
Thrive themes has a whole set of extremely powerful plugins you can use to build any kind of sales funnel possible.
Features of Thrive Themes
Here are some notable features you get with your Thrive Themes Membership:
Thrive Architect:

Thrive Architect is an easy to use landing page and website builder. Without writing a single line of code, you can create any kind of landing page or website you want. And with 200+ templates available, it's easy to get started!

Thrive Optimize:

Most of the sales funnel software require you to pay premium prices to get the ability to A/B test. But with Thrive, you can A/B test your landing pages and sales funnel with even the basic plan!

Thrive Leads:

In addition to landing pages, you can build opt-in forms and emails using the pre-built templates or with the drag-and-drop builder.
Also, if you use WordPress, you get access to tons of free themes and plugins such as the headline analyzer, quiz builder, the comments plugin, course builder and lots more…
If you want to build a sales funnel using a feature-rich sales funnel software, Thrive Themes membership will give you all the tools you need. And at $19 a month, it's more than a bargain!
Clickfunnels is the king of all sales funnel software. With it,  you don't need any other tool to run your online business.
Clickfunnels has pre-built 'funnels' you can use to sell anything you want. These funnels include sales pages, opt-in forms, checkout pages and even thank you pages.
There are sales funnels for webinars, memberships sites, online courses and more.
All these funnels are A/B tested meaning they are guaranteed to bring you sales – provided you have an awesome product. If that's not enough, Clickfunnels also delivers the products you're selling!
Don't believe me? Try Clickfunnels FOR FREE for 14 days and see for yourself. 
Clickfunnels comes in two plans: a) Clickfunnels and b) Full ClickFunnels Suite.
Features of Clickfunnels
If you're getting started, the Clickfunnels basic plan is great. Here's what you'll get:
Access to funnels built to sell everything. Instantly create a sales funnel, a webinar funnel, opt-in funnel and more.
The ability to customize or create entirely new funnels with the powerful drag and drop builder.
A/B testing feature that lets you create variants of your pages, forms and headlines.
While the basic plan is good, it's the full Clickfunnel suite that gives you the best features. In addition to all the features in the standard plan, here's what you'll get:
No limit on the number of funnels you create. Unlimited traffic and leads as well.
Access to 'backpack' – a feature that lets you create affiliate programs you can use to spread the word about your product and make more sales.
Access to 'actionetics' – a feature that lets you build a fully automated email campaign where different leads are segmented to different lists based on their actions. In addition, you can also send custom emails to each individual email list or lead.
These features make Clickfunnels one of the most comprehensive sales funnel software out there – and a great choice for marketers, entrepreneurs and non-coders alike.
Which is best? My final choice.
These are my top 5 funnel software programs — all of them have their pros and cons of course, but if I had to choose one and only one to use for my business, I would have to pick Clickfunnels.
Not only has Russel Brunson and Clickfunnels dominated the online marketing game, but they were also the first ones to really package up the online funnel software for everyone to use and they continue to improve their products.
Clickfunnels is also one of the easiest software programs to use straight out of the box — without much technical knowledge either. Of course, the more you can personalize your branding and imagery, the better your funnels will work for your business.
You have probably seen many online gurus already using Clickfunnels. There's a good reason for that. It works. While there are seven main types of funnels in the Clickfunnels system, there are many more variations on each of these depending on the type of service or product. The system works, the scripts work, and there are many different types of funnels for different offerings, from webinar funnels to product sales funnels, to membership sites funnels. No matter the product or service you are offering, I can almost guarantee you that Clickfunnels has figured out a funnel to help sell that particular product.
Russel Brunson, the founder of Clickfunnels is seriously passionate about funnel technology — watch any of his videos online, read any of his books and you'll see how deeply passionate it is about creating sales funnels, finding new funnels that work, and offering new insights about these funnels to his audience.
Clickfunnels also has an amazing affiliate program for those who already love the product (like we do!) and want to share it with others.
What is Clickfunnels used for?
ClickFunnels is a software that lets you design and create sales pages, landing pages letting you manage your entire sales funnel. You can create seven types of funnel with the help of Clickfunnels:
The Optin Lead Capture Funnel.
The Sales Funnel.
The Webinar Funnel.
The AutoWebinar Funnel.
The Membership Funnel.
The Launch Funnel.
The Custom Funnel.
What makes Clickfunnels different from other funnel software programs?
Unlike competitor products which allow you create single standalone pages, ClickFunnels is all about building different types of marketing funnels, for different purposes, from selling a service, to launching a product. A funnel is basically a series of pages your visitors go through to reach a certain goal.
What makes Clickfunnels different is that not only were they the first to automate every step in the online sales funnel process, they continue to educate business owners on how to improve their online sales processes. Knowing what works before you invest in any sales funnel software program is so important. Clickfunnels wants their affiliates to succeed. They want you to keep making money. The more money you make, the longer you continue to pay for their software. The education and ongoing support from Clickfunnels is worth the 97 or 297 membership fees. If you stick with it — you will find that Clickfunnels quickly pays for itself!
What is the purpose of an online sales funnel anyway?
The definition of the sales funnel (also known as a revenue funnel or sales process) refers to the buying process that companies lead customers through when purchasing products. A sales funnel is divided into several steps, which differ depending on the particular sales model.
Create a great landing page that you drive people to (the start of the funnel).
Present a front-end offer.
Give an upsell offer on the back end (after they have agreed to your front-end offer.)
Offer a downsize option.
Keep it going.
Track your clicks and metrics along the way! That's the basics of a sales funnel, but of course, as most of you already know this is simplifying it quite a bit. There are a lot of variables within each of these steps that can either make you or break you. That's why Russel Brunson has made it his life's work to figure out — he really loves this stuff and shares his hard-fought trials and errors with all of us too.
What are split-tests in online sales funnels?
A/B testing or split testing is one of the biggest mistakes online marketers make. Without split testing, you won't be able to make the conversions you could. Marketing is all about testing, trying something new and testing again.
A choice of headline, a color, the placement of a video or image on your landing page can make all the difference in how your offer converts or not. A/B testing ensures that you are maximizing your efforts.
Russel Brunson and the team at Clickfunnels has already done a lot of the work for you when it comes to split testing.
Watch this video:
The Best Sales Funnel Software Programs at a Glance
If you'd like a bird's-eye view of how each of the 5 sales funnels software programs stacks up, here's a handy table which shows what feature each sales functional software has…
Funnel Software
Templates & What You Can Build
Built-in Payments Support
Pricing
Hosting Included

Wordpress Compatible
Email Autoresponder
A/B Testing In Basic Plan
Clickfunnels

Landing Pages
Popup Boxes
Email
Yes
$97 or $197, $197 business
Yes
No
Yes
Yes
Instapage

Landing Pages
No

$69 or $99, $179 business
Yes

Yes
No
Limited
Wishpond

Landing Pages
Popup Boxes
Email
Contests
Referral Suites
Online Forms
No
$49 or $99, $199 business
Yes
Yes
Yes
No
Leadpages

Landing Pages
Popup Boxes
Yes
$25 or $48, $199 business
Yes
Yes
No
No
Thrive Themes
Landing Pages
Popup Boxes
Email
Wordpress Themes
Websites
Online Courses
Quiz Builder
No
$19, $49 business
No
Yes
No
Yes
Still undecided?
Here are some further resources that might help.
Leadpages vs. Unbounce vs. Clickfunnels: The Ultimate Battle
Clickfunnels vs. Shopify: Which Tool Works Best for Your Business in 2018?