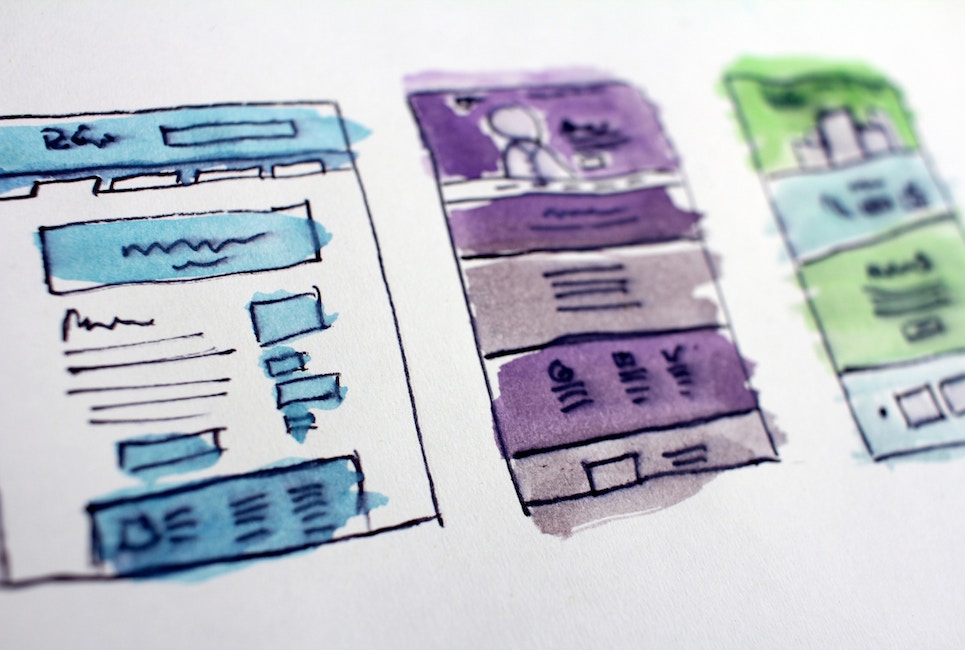 In this article, I share solutions that will help you learn to create the best Shopify landing page on the world's best e-commerce website platform
Creating a Shopify landing page will help you increase sales significantly. In fact, landing pages are gradually taking over the role of the traditional website homepage. More online visitors are arriving on a product page from a different source or link other than your homepage.
Shopify itself is a master landing page user.
The imperative purpose of a landing page is to encourage a target audience to take a specific action. And, as the most popular e-commerce website builder right now, creating a Shopify landing page for your store has never been more essential.
The question is how do you create a beautiful and converting Shopify landing page?
If you are like most people, coding may not be your best of skills—not even working Shopify's Liquid programming language and that is okay. You want an easy to use Shopify landing page creation method that works, nevertheless.
For example:
You may be starting a Facebook ad campaign and prefer to create a landing page for it as opposed to directing the drive's traffic to a category or product page on your website. You might feel that is a bit more clunky than you'd like.
In this post, we are going to show you three ways to do it fast and easy, so you can get to the most important part—selling your stuff on Shopify.
1 – How to Create Shopify Landing Pages Using Collections
Perhaps the easiest way to build a landing page for your Shopify is to use the Collections feature on Shopify's platform. You can do that by visiting the Collection page when logged on to your Shopify admin area.
Collections empower you to create product groups that make it easier for your customers to discover your stuff by category. For example, you can group things like women clothes and women jewelry together.
You can then create custom product categories on Shopify such as "Gifts for Under $50". It is probably easier than creating a Shopify page.
In fact, Collections can help you upsell your customers on products related to what they initially came in to purchase—which is a technique Amazon successfully implements likes this:

And to batch related items together…

Whichever Shopify theme you choose, they all support Collections. The good news is all products belonging to that Shopify product collection will display together.
The not so good news is that you'll be limited in terms of customizing your collections page design elements unless you learn the ins and outs of the Shopify Collection template.
Remember elements such as the product(s) image(s) are super crucial. People want to know exactly what they are buying. But you can use a good Shopify add-on such as Pix to make your product images as prominent as they should be.
If using the Collections feature feels clunky, and you prefer using an app to do the heavy-lifting for you, you might have a couple of options now.
2 – Using Shopify Landing Page Apps
Perhaps you are new to e-commerce website templates and all and just do not have the time or money to have someone else do it for you.
You can create landing pages from templates you purchase from different e-commerce-minded websites. Note that these templates usually have their own file structures for JavaScript, images, CSS, and so on.
Yet using this method can feel even more cumbersome.
You can use one of the best Shopify landing page apps available in the marketplace for that. These are landing page management tools that integrate directly with the e-commerce website platform.
The best landing page builders for Shopify feature powerful tools such as drag-n-drop functionality, video support, Mailchimp compatibility for building your e-commerce email list, and mobile-friendly design.
Here are a select few Shopify apps to help you create a good landing page hassle-free:
Going beyond, GemPages, this Shopify app allows you to use a drag-and-drop landing page builder to create and customize elements of your landing page no matter your niche and viewing devices. You'll get at least 30 design elements you can use to customize your landing page—and go on to personalize other Shopify pages such as the homepage and thank you pages, if you wish.
However, you might find your most preferred templates are locked to the PageFly PRO version which you get 14 days to try out before you need to purchase the full version to continue enjoying the full-featured app version.
They take care of CSS and JavaScript stuff if you do not wish to ache your brains out with programming technicalities. And their customer support is easily one of the best around.
If you are a customization junkie, PageFly could be for you.
Zipify may not be the most affordable of the Shopify landing page builder bunch but it packs a bag of features to back up their pricing. They bring what they have learned from their own successful online store for other Shopify merchants to use.
Some of the best Zipify features you will discover include how well it integrates with the Shopify platform, Zipify's custom Google Analytics dash, and Facebook pixel.
That means you can easily link your leads to your sales messages from many sources including from email clicks and see how many are landing and converting, so you can take the right steps to further boost conversions.
You can also integrate it with one of the seven most powerful CRM and/or market automation software: Ontraport, ActiveCampaign, Infusionsoft, GetResponse, Klaviyo, Mailchimp, and Aweber. You will not need any subdomains or plugins to set up your landing page.
That combination makes Zipify a solid mobile-responsive, templates-loaded, drag-and-drop landing page builder for e-commerce on the Shopify apps marketplace. You can see if it works for you by grabbing the 14-day trial they offer to test it.
Aptly named, Hypervisual is big on making beautiful pages that make your landing page stand out. For example, you can implement different design elements for each page or product you have.
You can even remove your Shopify theme's header and footer to make fullscreen landing pages to reduce distractions for your visitors—a definite plus in landing page conversion best practices.
To help you add Shopify leads to your email list, Hypervisual integrates with MailChimp and Klaviyo, which is not as resourceful as Zipify but helps.
Like other Shopify landing page builders, you'll get a responsive design for all device users, Google Analytics and Facebook pixel integrations, and SEO optimization for SERPs visibility.
Also great is their pricing model. After their 14-day trial expires, you have three Hypervisual pricing options to choose from as shown here: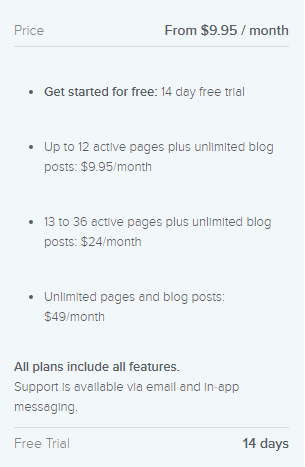 That's interesting, and you can actually scale up or down depending on your needs.
LeadSlide is also geared towards helping with your marketing automation campaign with the lowest plan support up to 10,000 emails.
Like Zipify, you'll get ecommerce-optimized features such as fully customizable video and product landing pages, Klaviyo and MailChimp integrations, Giveaways and discounts functions, and a wholly editable countdown timer to ramp up conversion.
If you want to track important analytics such as abandoned carts, repeat customers and run holiday promotions landing pages, LeadSlide will help you with that as well. Like the others here, LeadSlide also integrates with Facebook, Twitter, Instagram, Pinterest, WordPress, Google Analytics and LinkedIn. You also get a Soundest integration here.
You'll get a cool 30 days to try out their app before deciding whether to buy their full version or not. And they also include phone support on top of email support if you need their help.
#Landed Shopify app by Lucid used to be a great landing page builder that integrated seamlessly with Shopify. But it is no longer available on the Shopify marketplace for some reason.
3 – How to Create Landing Pages on Shopify on Third-Party Websites and Tools
There are other routes to take to create the perfect landing page for your Shopify website.
For instance, Leighton Taylor does a great job of explaining how to set up a landing page for your Shopify site using Mailchimp to collect email addresses of your leads and customers.
Here's a link to the 17-minute-long video. A handy walkthrough.
Considering many people do not buy from you the very first time they land on your product page, the video tutorial is great for helping you set up a Shopify landing page to kickstart your purchase funnel.
You can also use Shopify's Buy Button feature to easily embed a buy link, shopping cart or collections or a product directly into a third-party website you are using. You will be able to use any tool and create any landing page you want while seamlessly managing your inventory and purchasing funnel directly through Shopify. The ee-commerce store builder offers instructions on how to set this up on WordPress, Squarespace, Tumblr, and Wix.
Still, you can use a third-party landing page builder that integrates with Shopify such as Leadpages or Unbounce.
Let's take Leadpages, for example:
You can choose from a selection of three Leadpages templates that are optimized for Shopify—works with Shopify carts and Buy Button
Shopify One-Item Landing Page
Shopify Multi-Item Landing Page
Shopify Thank You Page
All three are drag-and-drop landing page builders, so you'll likely have an easy time setting them up. They explain it all here.
Conclusion
A highly targeted landing page for your Shopify store will help you increase sales and reduce churn. And there are more ways than one to create beautiful, conversion-focused Shopify landing pages right now.
You can choose the best method among the three discussed here for your Shopify needs and convenience to boost sales: using the Shopify Collection page, turning to easy-to-use Shopify landing page apps, and using third-party tools that integrate well with Shopify's Buy Button and Cart features.
Would you have another way to create a landing page on Shopify you'd love to share? Over to you in the comments section.
If you don't have Shopify and want to give it shot you can check it out here to get started!