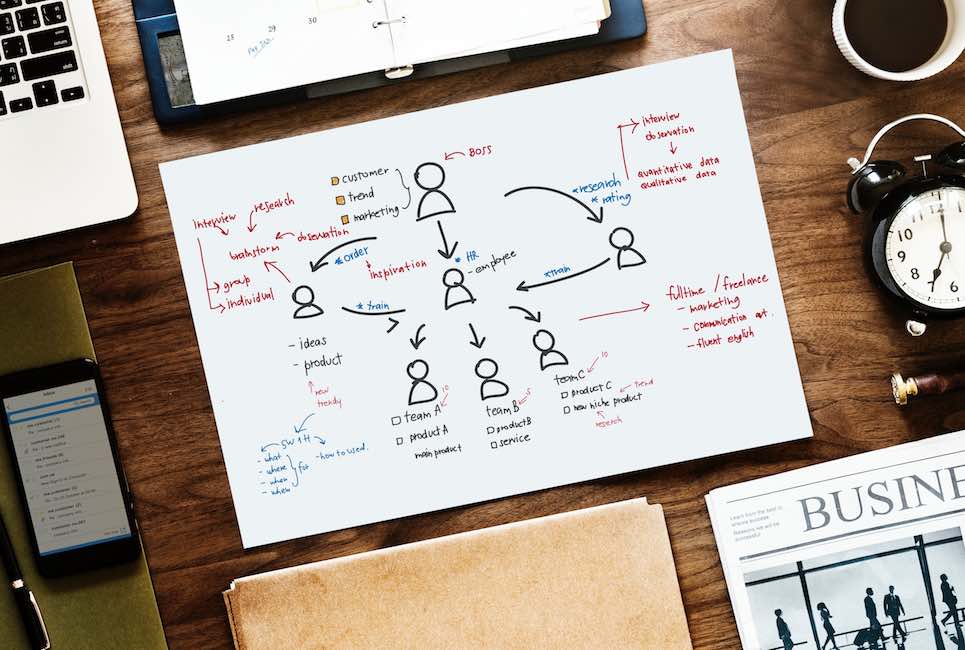 There's no denying it. SEMRush is one of the top SEO tools in the market. Many SEO experts think it's the only SEO tool you need in your marketing software arsenal.
I agree – but not completely.
SEMRush does have great features. You can use it to do an SEO audit of your website, find great keywords, analyze your competitors' website for keywords, backlinks and do much more.
However, SEMRush, while a great tool, isn't great at everything, especially compared to other SEO tools in the market. Some are better at domain analysis and backlink research, others are better at finding keywords.
That's why, in this article, I'd like to show you 5 tools which I think are just as great (and even better in some cases) at SEO. You'll have heard some of the tools I'm about to mention, but others you might not have heard about.
The 5 SEMRush alternatives I'll be talking about in this article are:
Moz
Ahrefs
SpyFu
SECockpit
Hubspot SEO
All these SEO tools come with their own strengths, which is what we'll look at in this article. So without further ado, let's get started discussing the top 5 SEMRush alternative SEO tools…
1. Moz
Moz is one of the most recognizable and popular SEO tool in the market. The reason why it's so awesome is because it is an excellent tool for keyword research and backlink analysis.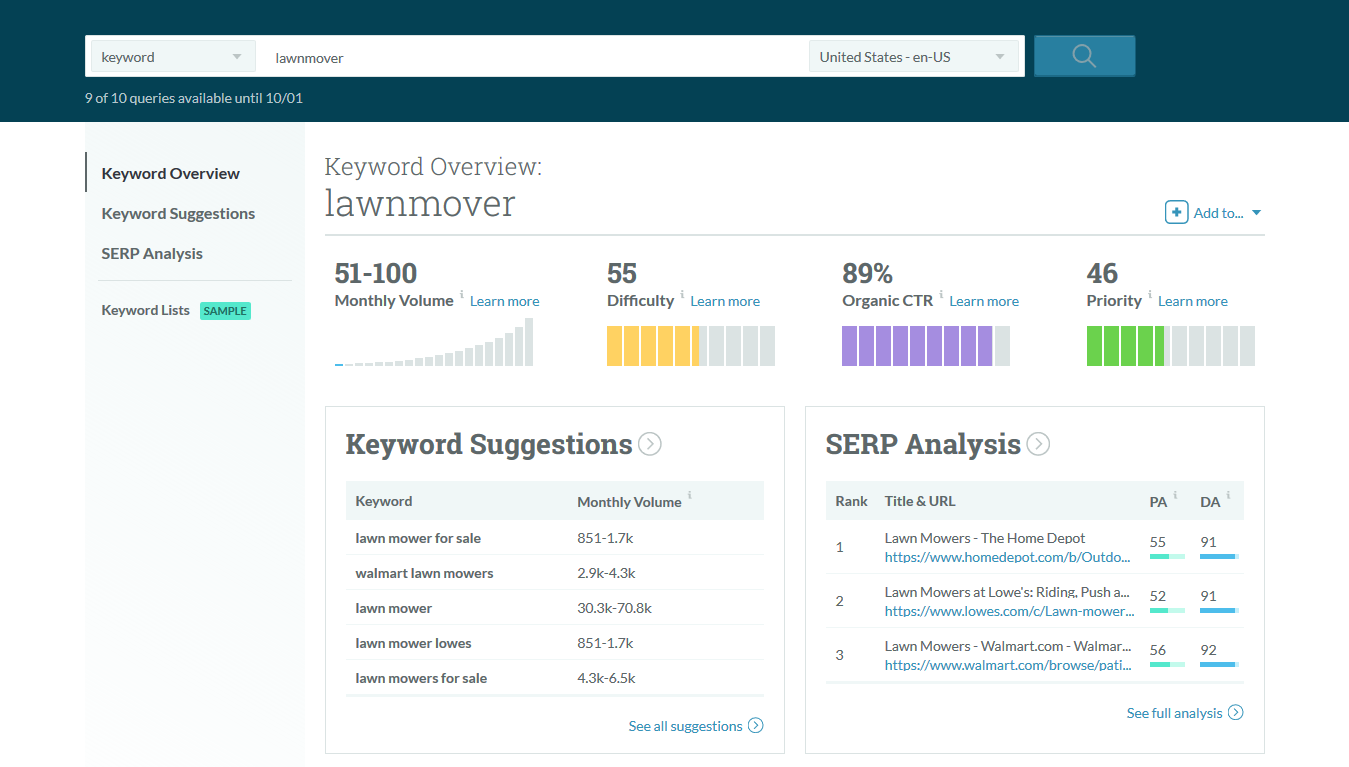 But what really separates Moz from other SEO tools is the fact that it has both a free and a paid version. Using the free version, you can get a really good idea how the tool works and operates.
There are five high-quality tools Moz offers:
1. Keyword Explorer: The keyword research tool is an excellent way for you to find a list of high-quality keywords. Just enter a keyword and you'll get a complete analysis such as how difficult it is to rank with that keyword, how many people are searching for it, how many people are clicking it and you'll even get a list of suggested keywords for that keyword!
2. Rank Tracker: This tool lets you see the performance of keywords on your website. You'll be able to find out which of your keywords are ranking highest and which the lowest. In addition, you'll be presented with a list of keywords that might perform better. Oh, and you'll also get to analyze which keywords your competitors rank for. This makes this a really useful tool.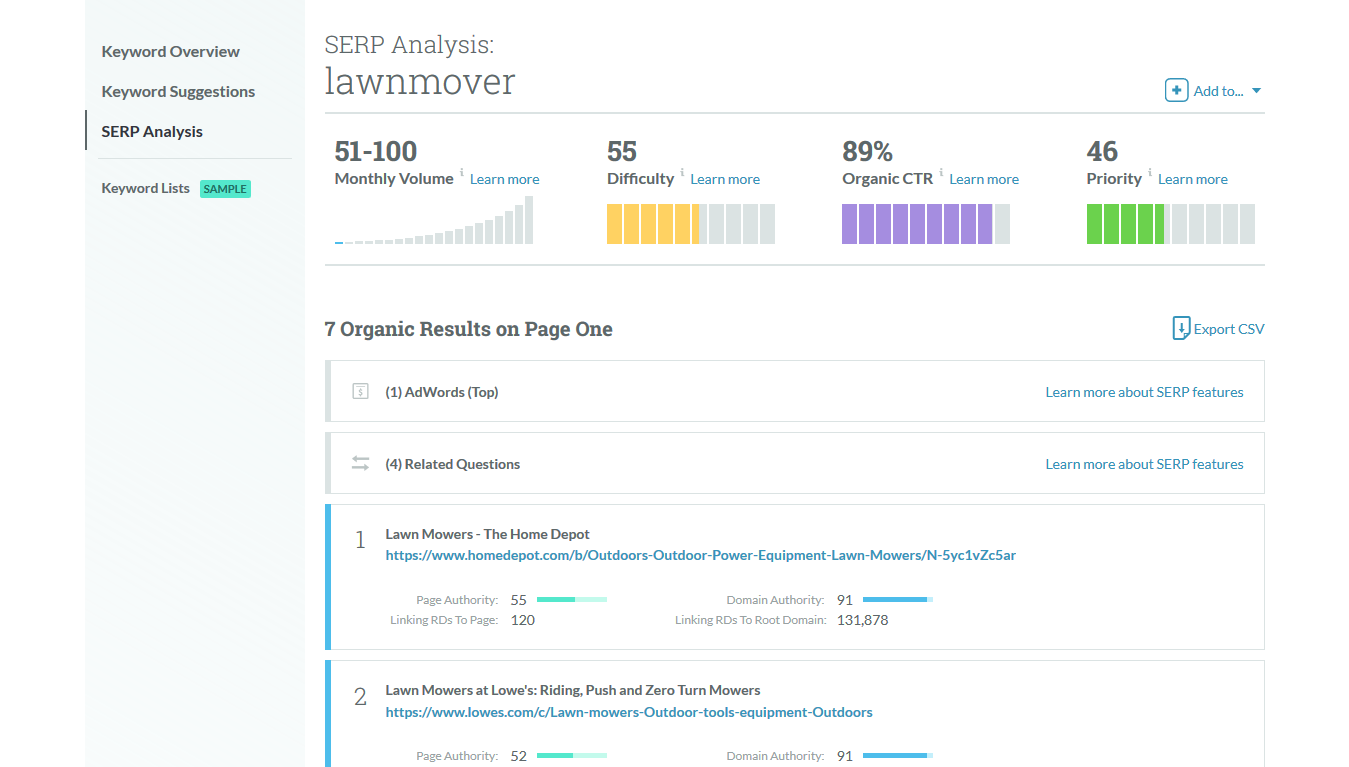 3. Site Crawl: There are many factors which influence a website's SEO. With site crawl, you'll be able to discover what technical issues are stopping your website from achieving a better ranking on Google and other search engines. In addition, you'll also be presented with a list of suggestions as to how to solve these issues.
4. Link Research: Backlinks are a crucial part of your SEO strategy. Moz lets you discover what kinds of domains are linking back to your site. This will help you decide what steps you should take to increase your high-quality backlinks and what steps to take to decrease your spammy backlinks.
5. One-page Optimization: This handy little tool gives you suggestions as to how to SEO optimize the content on your site. You'll get a handy list of keywords, content suggestions and more to improve your on-page SEO.
In addition, Moz also has a cool browser extension called the 'Mozbar'. This lets you see the rank, authority, backlink quantity and other information about any domain on the internet.
2. Ahrefs
Ahrefs is another excellent SEO tool on the market. Their strength lies in the fact that it is extremely comprehensive in the sense that it provides data on nearly every metric possible. If you want to step up your SEO game, this is a great tool.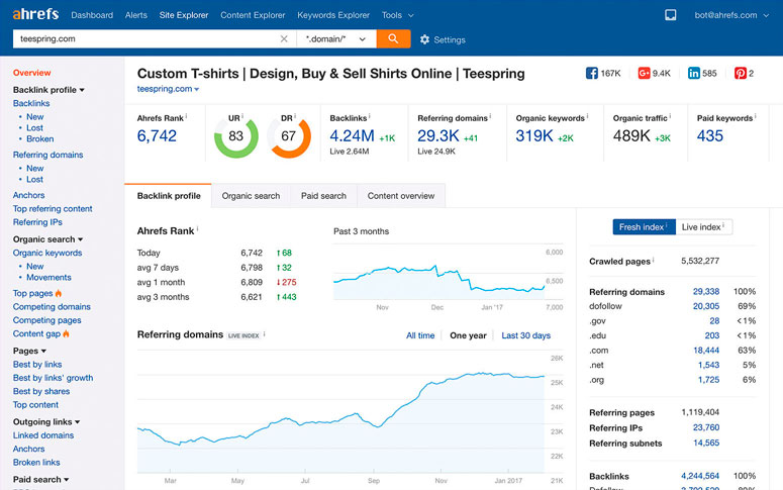 Like Moz, Ahrefs also offers five main tools. But from my experience, the data which Ahrefs providers is far more detailed than what is provided by Moz. But like Moz, Ahrefs also provides 5 main features (although much more advanced):
1. Site Explorer: Site Explorer is not a single tool. Rather, it is a collection of multiple tools which will let you analyze your competitors whole SEO strategy. In this single tool, you can see exactly which keywords your competition is ranking for organically, what kind of paid AdWords campaigns they're running and the quality of backlinks linking to their domain.
2. Keyword Explorer: This is similar to Moz in the sense that you can discover high-quality keywords for your own SEO strategy.
3. Content Explorer: This is a tool which Moz doesn't have. Using this, you can see what kind of content is performing the best for a particular keyword. You can see how much times a content is shared, on which platforms and how many domains have linked to it.
4. Rank Tracker: This tool basically lets you see the rank of your domains, keyword, pages and overall your whole website. This is exactly the same tool Moz offers. It's purpose it to show you how your SEO strategy is performing.
5. Site Audit: Again, this tool is similar to the Moz Site Crawl tool. It will analyze your website and give you suggestions as to how to improve your SEO.
But that's not all. As a cherry on top, you also get other cool tools in Ahrefs which let you perform domain comparison, give you the ability to analyze domains in batches, find domains linking to your competitors but not you and other cool stuff.
3. SpyFu
Obsessed about your competitors and their SEO strategy? Want to know their exact keyword, PPC, backlink and other strategies? Then SpyFu is the best tool for you. In their own words, "SpyFu exposes the search marketing secret formula of your most successful competitors."
To be clear, this tool provides all the essential features to monitor your own SEO efforts. You can track the ranking of your keywords, see information about your domains and analyze your backlinks.
But, what makes this particular tool special is it is solely focused on gathering information about your competitors. There are two main areas in which Spyfu allows you to monitor your competitors.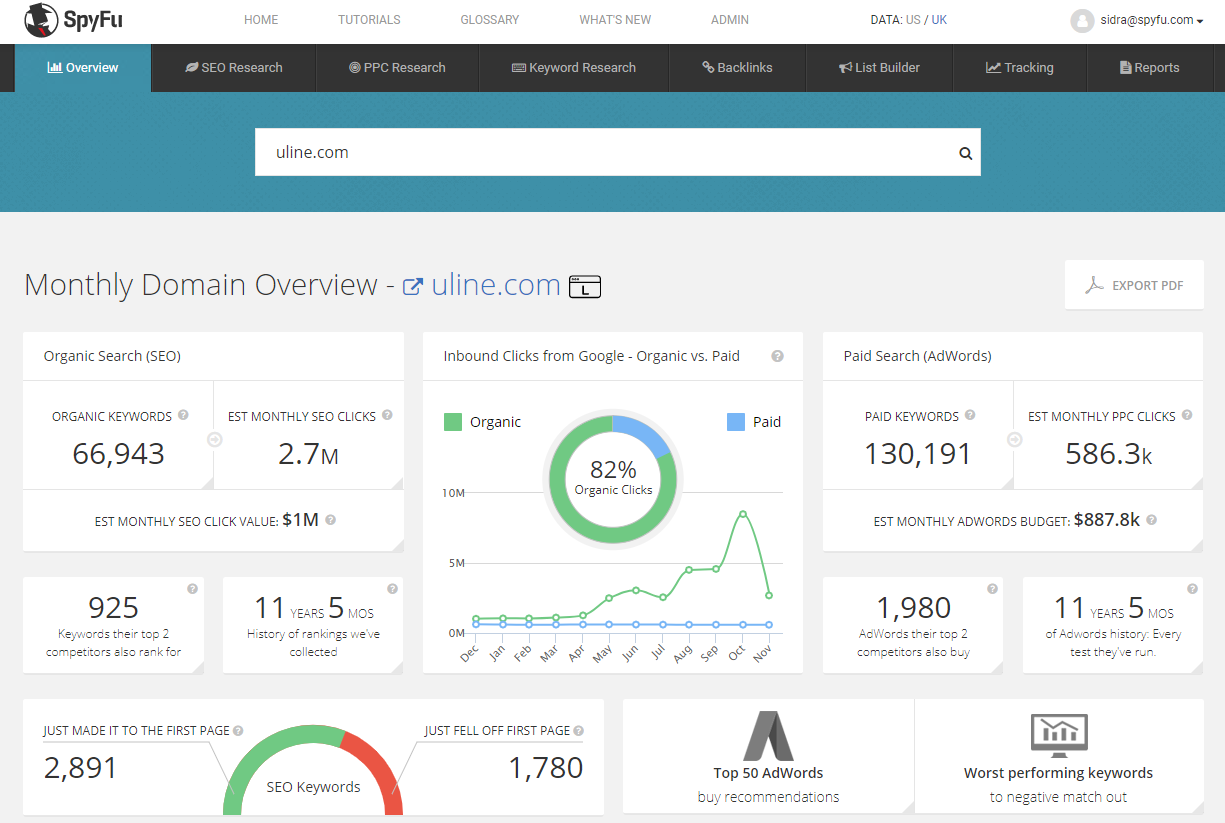 1. Competitor PPC Research: You can download the exact list of keywords your competitors are using in their Adwords campaign, find out which of your competitors are bidding on your campaigns and discover new keywords your competitors are using but you aren't.
One cool thing you can also do is find out which keywords your competitors tried to rank on but failed. This will allow you to quickly stop bidding on such keywords.
Plus, you'll also get tools with which you can discover your own keywords and analyze how your own keywords are performing.
2. Competitor SEO Research: Just like with PPC, you can download the list of keywords your competitors are ranking for organically. In addition, you can monitor what websites are your competitors in your SEO niche – and how they are ranking. You can also find the most profitable keywords your competitors are ranking in. Also, you can track how a website or webpage is performing for a particular keyword.
A notable thing you can do in SpyFu is to find out which influencers can help you increase your rank for a keyword and Spyfu will also provide contact information so you can contact these clients.
4. SECockpit
If you're looking for one of the best keyword research tools on the market, then look no further than SECockpit. This is a tool that's solely focused on providing you with the most up-to-date analysis on keywords for your SEO.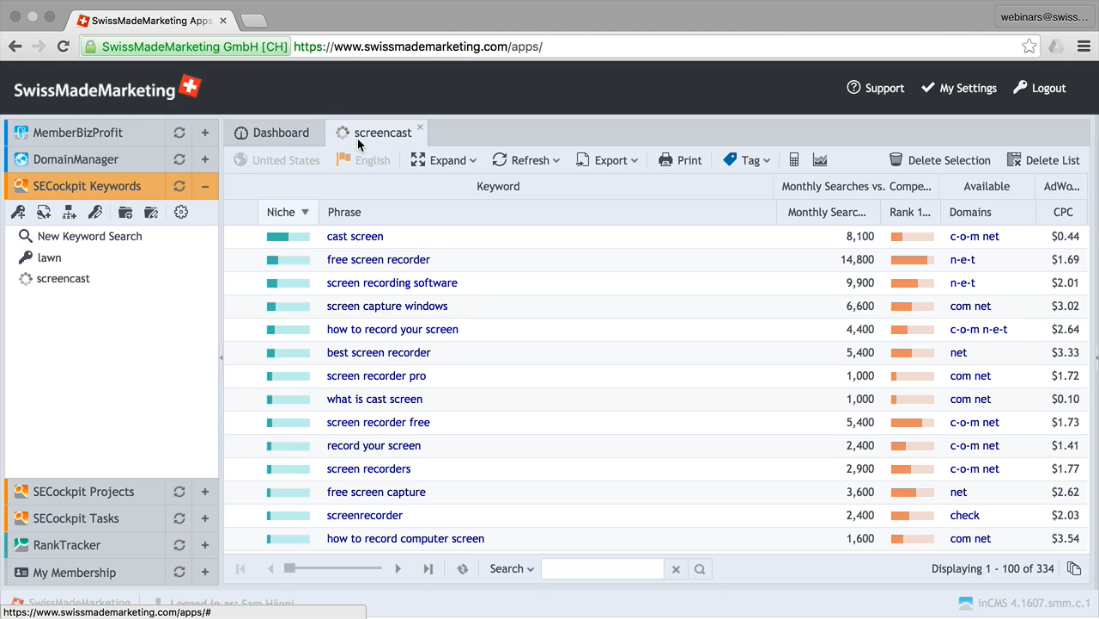 Here are a few of the things you can accomplish with SECockpit:
Find high-quality keywords in a niche: When you enter a keyword in SECockpit, you'll get a whole list of profitable keywords as a suggestion. You can use this list to find even better keywords for your website.
See its competition pages: You can see exactly which websites and content is ranking on the first page of Google and other search engines.
Analyze Information on keywords: See different metrics about a keyword to discover what's the best keywords. Get information such as daily number of searches, difficulty, price of a keyword and more data.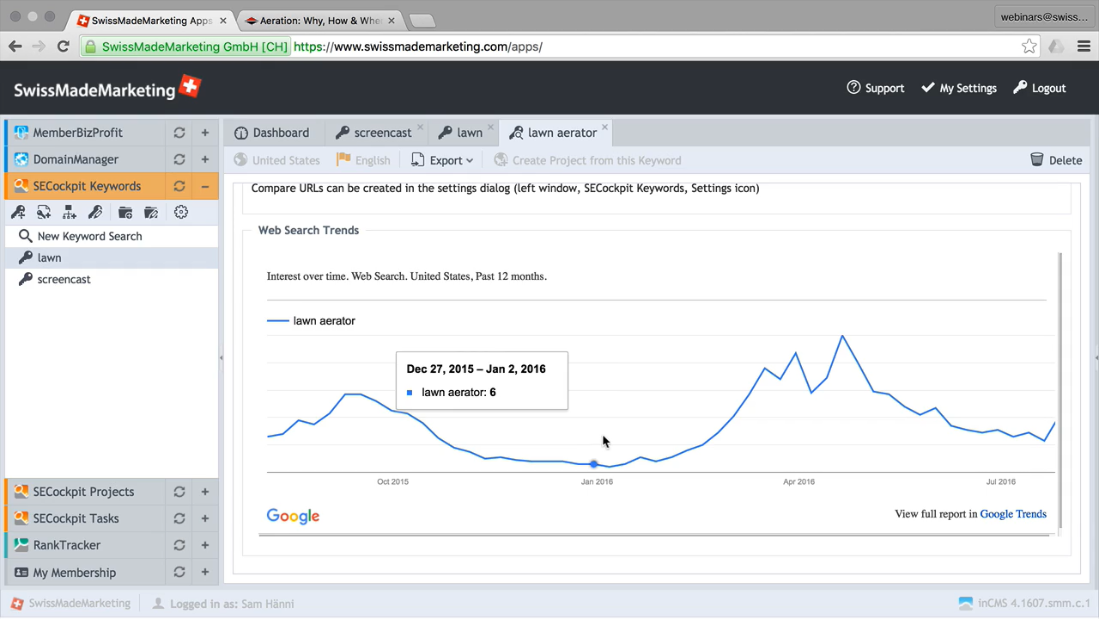 Find keywords for Youtube, Amazon, Google Suggest, Related Searches and More: It's not just search engines you need to rank for. If you have a product or a Youtube Channel, you also need to rank on platforms like Amazon and Youtube. SECockpit will give You keywords you need to rank on these platforms as well.
See data from Moz, Google Trends and other places: SECockpit will give you valuable keyword data analysis from reputable sources like Moz and Google Trends.
Because of these features, SECockpit is the best tool among all SEO tools when it comes to finding valuable keywords, which as we all know, is the backbone of a good SEO strategy.
5. Hubspot Marketing Tool
Hubspot's has its own set of marketing tools, of which SEO is part of the broad suite. You can use the HubSpot marketing tool to find create a whole content marketing strategy. This is specifically what this tool is designed for.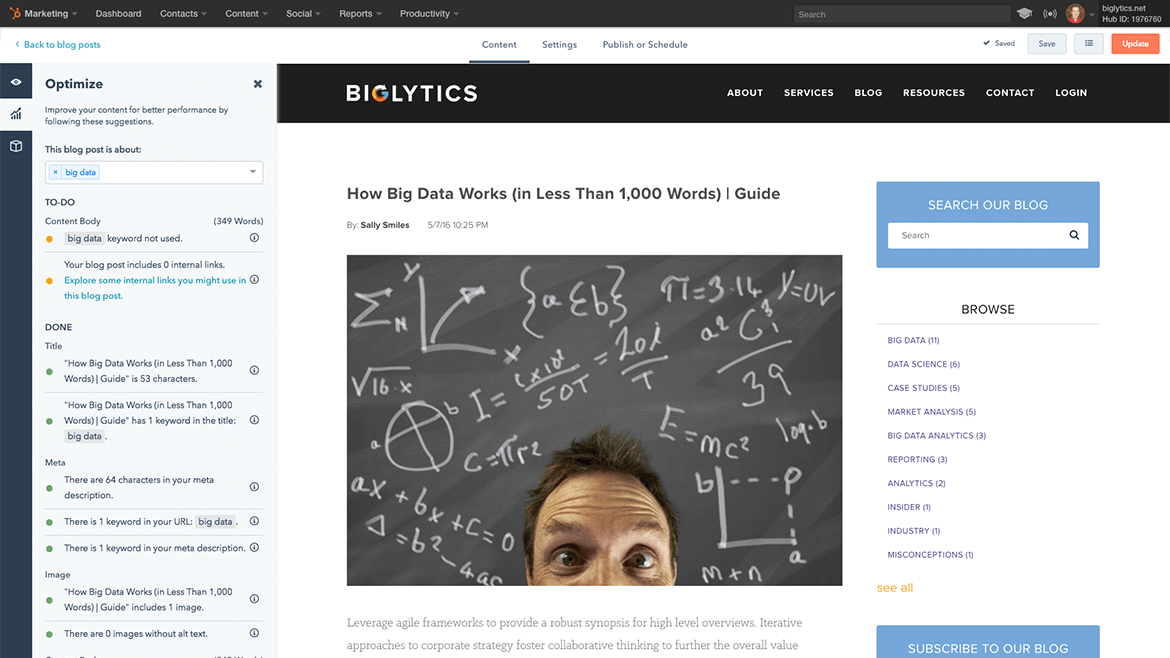 Here are a few things you can do this tool:
1. Plan your content marketing strategy: You can create and visually map out your whole content strategy. You'll be presented with a list of relevant topics for a content topic you've chosen. You'll be able to analyze your competition and see how easy it is to rank for your content.
2. Get real time suggestions on how to improve your SEO: It's important to optimize your content so you rank higher on search engines. Hubspot will give you real-time suggestions as to how to improve your SEO for any piece of content you write.
3. Measure and track results of your content: After you've published your content, you'll be able analyze how much leads you've captured with each content, which keywords are responsible for improving your rankings and what amount of traffic each piece of content is generating for you.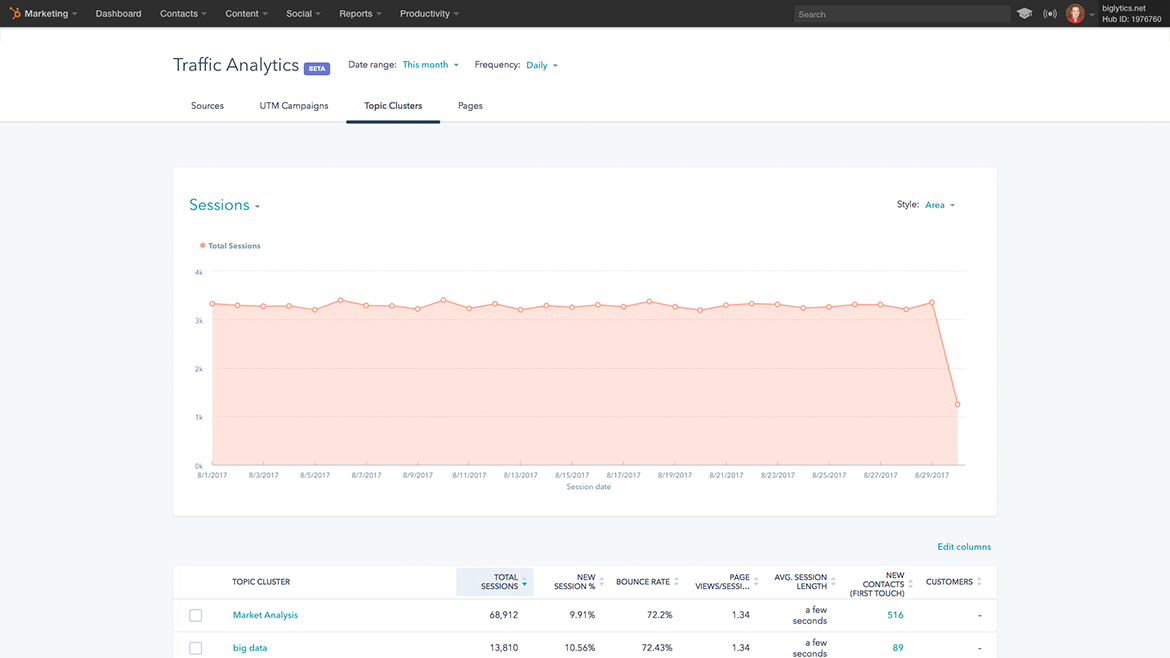 In addition, you'll be able to automate your whole marketing department with this tool.
And that brings us to the end of our list of top 5 SEMRush alternatives. As you can see, except for Moz and SEMRush, every other SEO on this tool is unique in its own way. Yet all will help you boost your SEO efforts and will take your website to the top of Google!