A Complete Review of The Change Creator Magazine App
At Change Creator, we're on a mission to empower ambitious men and women who want to push the boundaries, challenge the status quo and make a positive impact through the business they build. Change Creator is about you making your entrepreneurial dreams a reality, while addressing some of the most pressing problems currently impacting society, the environment and the economy.
"Social entrepreneurship will play an instrumental role in making the world a healthier and more equitable place," says Adam Force, Publisher, and Editor of Change Creator. "An enormous number of people are now trying to figure out how to make the world a better place through the way they live their lives and make a living. We are excited to offer them the tools and insights they need to succeed."
Released every other month, we pack each and every issue of Change Creator Magazine full of exclusive insights, advice and interviews on how to launch a successful and meaningful business. You'll find expert advice on how to master essential business skills, such as branding, marketing and networking, plus all the latest info on funding options and donor opportunities to help fuel your growing business.
And, since Change Creator is a digital magazine, we pack it full of multimedia content – you'll find audio clips and videos containing exclusive interviews and sessions with some of the world-class entrepreneurs featured in the magazine, plus links to additional content and even podcasts. Much of this bonus content is stored online, so it's easy to bookmark, share, and even view on other devices, for example if you wanted to watch a session with one of our entrepreneurs on the big screen of your home computer, rather than on your smartphone.
Embracing the digital world also helps us keep costs down – you can purchase a 6 month subscription for less than a few trips to Starbucks!
You can access Change Creator Magazine via our free digital magazine app, which is available for both iOS and Android.
So, what can you expect when you download our free Change Creator app?
Read every issue of Change Creator magazine on the go, at any time – and even across multiple devices.
Lots of bonus content! In each issue, you'll find a ton of additional video and audio clips featuring some of the industry's most innovative and inspiring entrepreneurs. We embed all this content directly in the magazine, so you don't even need to leave the page you're currently viewing (because let's face it, no-one likes to lose their place in a magazine!) And if that's not enough, each issue also includes links to our companion podcast, where entrepreneurs featured in Change Creator share their insights and personal experiences of building a successful business.
We want each issue of Change Creator to leave you feeling inspired and eager to learn more about the exciting world of social entrepreneurship. That's why whenever we feature an entrepreneur or business, we make sure to include all the links you'll need to learn more about them – whether that's checking out the Twitter feed of an entrepreneur whose story has particularly inspired you, or taking a peek at the website of a business that's really captured your imagination.
Purchase with purpose. For every subscription purchased, we donate 10% to charity:water, an organization who have provided millions of people around the world with access to clean water. Having access to clean water can change everything – from education, to food supply, and health – so we're proud to be helping charity:water in their mission to end the global water crisis.
Getting Started with our app
You can download the Change Creator Magazine app for free from iTunes and Google Play. Throughout this article, I'll be using the Android version, but if you're accessing Change Creator on your iPad or iPhone, then the steps will be largely the same so you'll still be able to follow along.
Download and launch the Change Creator app. The first thing you'll see is the app's homescreen.
The home screen contains lots of useful added extras that we'll explore later, but the most important part of the home screen are the thumbnails that represent each issue of Change Creator. To see exactly what's included in a particular issue, simply tap that issue's thumbnail.
Thumbnails and extras (left), Magazine Description (right)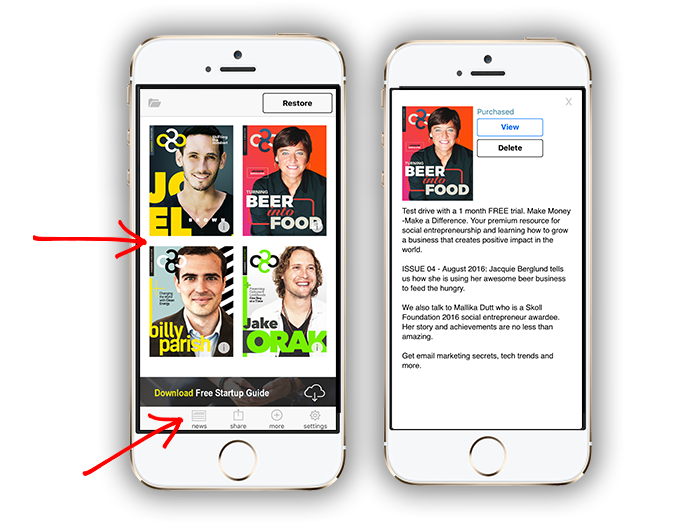 After You Fall in Love With The Magazine
Purchase this issue of Change Creator Magazine. Click the blue 'Buy' button and follow the instructions to complete your purchase. You can purchase each issue of Change Creator Magazine for only $4.99.
Purchase of a 1 year subscription (includes a 10% donation to charity: water).
If you do choose to purchase a subscription, you'll get access to the latest issue of Change Creator, plus all subsequent issues that are released during your subscription period, including any special editions.
We offer the following subscription options:
6-month subscription. $12.99

1-year subscription. $19.99 –

this is our most popular subscription.

1-month subscription. $1.99
If you're not sure, we offer a 1 month free trial so you can check out the latest issue for free, so if you're new to Change Creator then this is a great way to get a feel for what we're all about!
Once you've made a purchase, hop back to the home screen and tap the issue you want to read, followed by the 'Download' button. Once the issue has finished downloading, you can read it any time by selecting its thumbnail from the app's home screen.
You can view all your purchased Change Creator content across multiple devices at no extra cost, for example if you purchase an issue on your iPhone, you can also access this issue on your iPad. Make sure you're logged into the same Apple ID or Google Play account you used to make the original purchase, and then download the Change Creator app to this new device.
Launch the app, navigate to its home screen and then tap the yellow 'Subscribe' button followed by 'Restore all purchases.' Then, just enter your password and you'll have access to all your Change Creator content on this new device. Rinse and repeat for any additional devices you own.
Finding Your Way Around Each Issue
Once you've opened an issue, moving between the pages is as simple as swiping left and right.
You can also jump directly to any article, by selecting it from the Index (table of contents).
Another method of jumping directly to any page within the magazine is to press down on the screen until the navigation menu appears along the top and bottom of the screen.
The bottom bar contains a thumbnail of every page, along with the corresponding page number. You can jump to any page, by tapping its thumbnail.
The top portion of the navigation menu contains a handy 'Home' button, which will take you back to the main Change Creator app – perfect for when you've finished reading the current issue.
Page selection slider (left), Table of contents click and go (right)
Bonus Content: YouTube, SoundCloud, the Podcast, and more
We pack every issue of Change Creator Magazine full of additional video and audio (exclusive interviews) content.
Whenever you see an embedded SoundCloud or YouTube clip, you can play it by giving it a tap (note, an Internet connection is required).
If you find any of our video or audio clips particularly helpful (and hopefully you do!) then why not share the wealth with your friends, family, colleagues, and anyone else you feel might benefit?
Because all our video and audio content is delivered via YouTube and Soundcloud, it's easy to share – even with people who aren't Change Creator subscribers! All you need to do is click the standard YouTube or SoundCloud 'Share' button and select your favorite social network.
Integrated video (left), exclusive podcast interview (right)
Change Creator Podcast: Exclusive Interviews
And if you enjoy our SoundCloud clips, then you may want to check out our free weekly Change Creator podcast, where we interview some of the big names in the industry.
In each episode, you'll get tips, advice and inspiring insights direct from the experts.
To check out our podcast, simply tap any of the 'Check us out on iTunes' links that appear in every issue of Change Creator. This will take you straight to the podcast's dedicated iTunes page.  Also available on Soundcloud and Stitcher.
Podcast page in magazine (left), Podcast on iTunes (right)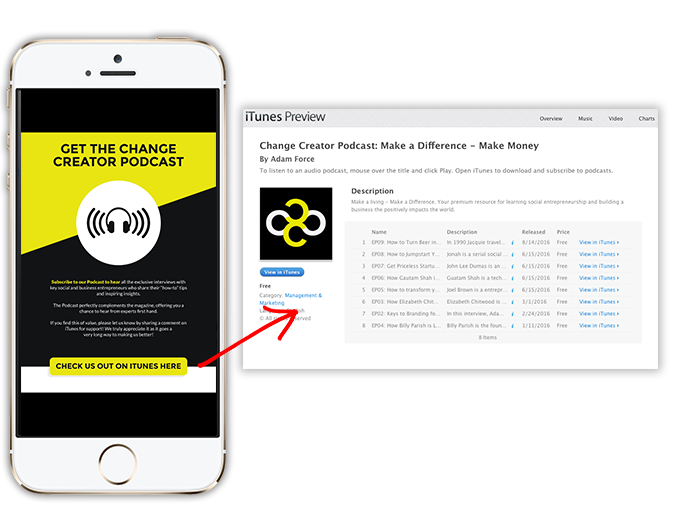 Share Tips and Inspiration (Apple only)
On the subject of sharing, you can actually share any page or part of a page from any issue of Change Creator magazine, by taking a screenshot and then sharing it via email or posting it to your favorite social network.  To take a screenshot, hold down on the screen so the navigation bar appears. In the upper-right corner, you'll see a 'Share' icon.
Tap this icon and then drag to select the portion of the screen you want to screenshot. Once you're happy with your selection, tap one of the social media icons that appear in the upper-right corner of the screen, to post this screenshot to your favorite social network.
To make it easy for you to find out more about all of the people and businesses featured in our magazine, we include lots of additional links alongside each article, for example if we interview an entrepreneur then you can expect to find links to their social media accounts, or website. We're careful to feature only the most exciting, inspiring and innovative entrepreneurs and businesses, so if you do spot any links or social media icons alongside an article then be sure to give them a tap!
Select share option (left), select method of sharing (right)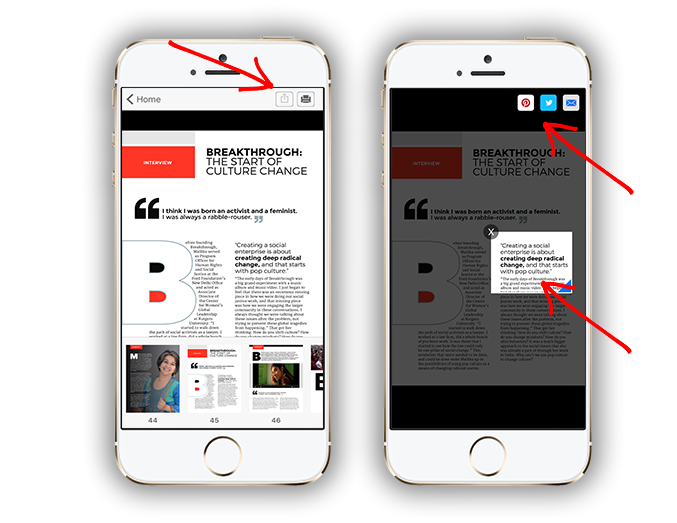 About Those Extras
We understand that on a smartphone or tablet, space is always at a premium, so we didn't want to stop at creating an app that lets you read every issue of our magazine!
Once you've polished off all the great content that we pack into every issue of Change Creator, make sure you go back to the app's homescreen and check out the icons along the bottom of the screen, as these contain some useful added extras:
News. Tap this icon to view all the latest from the Change Creator blog, including exclusive interviews, stories and and tips. You'll also find our FAQ, which should answer any questions you might have (and if not, please don't hesitate to reach out to us directly).
Settings. This is where you'll find details about who to contact if you need help, as well as technical info such as what version of the app you're running, and your "Device token" which can help us identify your device if you need our help with anything.
More. This miscellaneous section contains some useful links and info that didn't fit neatly into any other category. Most importantly, you'll find a direct link to our latest free download – at the time of writing, this is a complete guide to discovering your niche and building your business foundation.
This is essential reading for anyone who has a fantastic idea for a socially-minded business, but isn't sure where to start. For this guide, we got the inside scoop from a dozen successful and inspiring social entrepreneurs. You'll also find tips, worksheets, examples and the latest business strategies, all geared towards giving your startup the strong foundation it needs to thrive in today's competitive market. You'll learn how to find your angle, get a deeper understanding of your audience, position your brand, and get the maximum return on the time you invest in your business – all without having to spend a fortune.
We want to know what you think!
This is super important, more than most realize. If you have any feedback or ideas about how we can continue to improve Change Creator Magazine, then we want to hear from you! Just tap any of the 'Review' buttons that appear throughout every issue, to go straight to the app's Google Play or iTunes page, and leave us a review.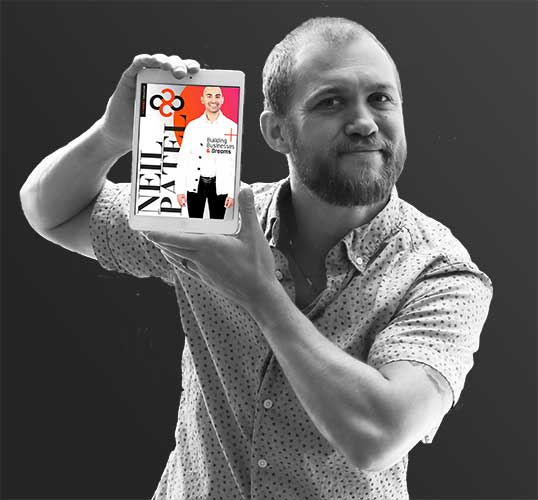 Adam Force
Founder/CEO
I'm passionate about social entrepreneurship and making the world a better place. I have over 15 years of professional business experience and have founded 2 companies as an entrepreneur.
Right now I'm the founder of Change Creator magazine app which is truly designed to push mindful business, making it the standard to use business to solve social and environmental problems. "Business as usual" is no longer an option.
Check out the magazine for free with this 28 page starter kit.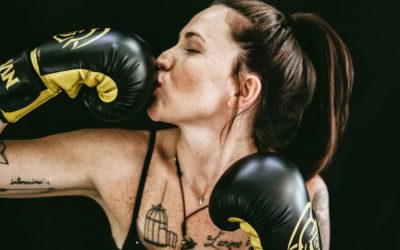 What defines a boss bitch? It's a good thing. Trust me. If you want to succeed in business, you need to harness that boss bitch attitude. I'm not just writing this for all the ladies out there -- although, I love a great woman at the top. I'm writing this for anyone...
read more