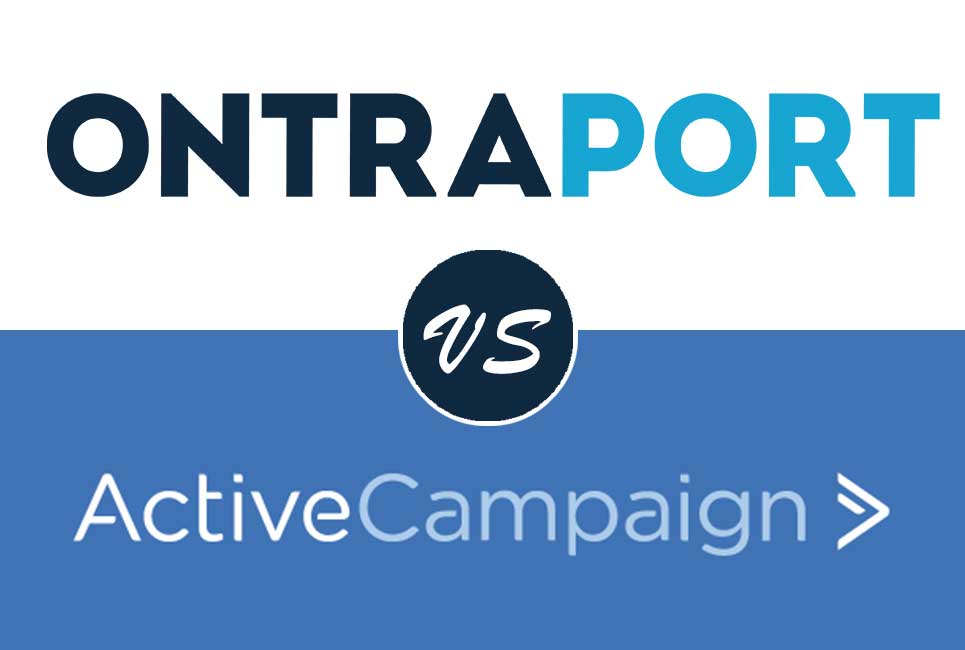 Ontraport vs ActiveCampaign, which is the best marketing automation solution for your business based on their differences?
An Ontraport vs ActiveCampaign comparison attracts a sizable chunk of similarities and differences. But it is in the differences that the two marketing automation software suites really tell they are not made equal—at least as far as your business needs go.
Whether you are a blogger with informational products to sell or an e-commerce business with affiliates under an affiliate management tool, this review of ActiveCampaign vs Ontraport comparison aims to help you choose the best choice for your specific needs.
So without much storying, why don't we compare Ontraport to ActiveCampaign in a battle of the best marketing automation solutions in the market right now?
Ontraport vs ActiveCampaign: Target Audience
Ontraport and ActiveCampaign were established in 2006 and 2003, respectively. That means they have been around for a stretch, proving they must be doing something right to persist thus far in a now-crowded market of basic, intermediary and advanced sales CRM, email marketing and marketing automation providers.
But while ActiveCampaign's features and focus are targeted at the small to medium business segment, Ontraport is in good with an established business that's been around for a while and needs the ton of advanced marketing automation the vendor provides—beyond basic email marketing solutions that the likes of Aweber, MailChimp, and Constant Contact can handle.
To spearhead their target audiences' intents, both have affordable pricing packages that new and small businesses can find attractive and practical enough to sign up for. ActiveCampaign's basic plan will start you out at $9/month while Ontraport welcomes you to their fold for $29/month. Find more pricing information below in the pricing section of this Ontraport vs ActiveCampaign review.
Differences in Business Essential Features and Benefits
Having said that, Ontraport takes its targeting up to a whole staircase by appealing to businesses in e-commerce, affiliate marketing and those with huge contact databases in their CRM.
E-commerce Features
Ontraport integrates e-commerce into its tagging system. What that does is it empowers you to have an e-commerce management area where you can create product listings, integrate them into your listings, as well as track sales. This could be a deal maker or deal breaker for you—or not if e-commerce and shopping carts are not as integral to your business.
With the Ontraport e-commerce features (which are supported by the premium pricing plan), you can easily track crucial e-commerce metrics and utilize resourceful tools such as:
Order processing
Payment processing (built-in)
Credit-card decline follow-ups
One-click upsells
Follow up on abandoned carts
Power free trials, subscriptions and coupon codes, as well as
Help compute your taxes based on the payment processing tool built into Ontraport
ActiveCampaign, on the other hand, does not support e-commerce features like these. But they do offer follow-ups on abandoned carts and shopping cart integration. However, you will need to integrate with a third-party app such as Zapier to seamlessly add-on the likes of Woocommerce, Stripe, BigCommerce, Shopify, and payments processing apps such as PayPal.
In fact, Ontraport even blows Infusionsoft out of the water here. For example, while Infusionsoft will allow you to view payment details like who has or has not paid, it does not offer payment processing in-built.
Ontraport has the feature built-in (although the actual funds' transfers are handled differently). Nonetheless, you can still integrate a third-party payment processing app of your choice such as PayPal.
Check out Ontraport — risk-free for 90 days here!
All-in-One Marketing Automation Software
The similarities between Ontraport and Infusionsoft run much deeper than with ActiveCampaign, too. You will find Ontraport hosts a ton of advanced sales CRM, email and marketing automation features that make it function as an all-in-one marketing automation service—pretty similar to the "completeness" of Infusionsoft but without as much bloatware and user experience woes.
Ontraport goes further to provide membership site tools and postcard marketing that are excellent for businesses with a membership-style platform and who want to boost engagement and monetization of their growing audience/membership. In this regard Ontraport offers more than the WordPress Plugin that ActiveCampaign offers and adds on multiple membership levels support, member management and page-by-page content encryption—all of these are automated to save you time and boost your customers' user experiences.
Another thing…
Ontraport also includes a Predictive Intelligence feature to their offer. What that does is allow you to virtually tinker with different campaign inputs to get a forecast of the kind of results you could expect if you implemented your campaign with the new changes.
It is a handy tool that can help you get the big picture. But you might not find it super helpful since business does operate differently in "reality". It is still a handy feature to have, though.
Tagging
Again, like Infusionsoft, Ontraport allows users to group tagged contacts in an orderly, organized manner, which ActiveCampaign does not. With ActiveCampaign you have to manually search a contact by name using the inbuilt search tool in their CRM's top right corner.
Yet if you have hundreds of contacts you will find Ontraport's organized tags much easier to work with and save time.
Quick Comparision ActiveCampaign vs Ontraport:
ActiveCampaign
Ontraport

Marketing automation

Publish Ontrapages

Smart auto responders

Publish Ontraforms

Built-in integrations with over 200 external services

Publish Ontraport Marketplace

Drag and drop email designer

Webforms

Track your contacts onsite and in your apps

WordPress Integration

Campaign, contact, as well as list reporting

Membership sites

Track your contacts onsite and in your apps

Facebook Integration

Campaign, contact, as well as list reportings

Split testing

made, where your contacts live or travel Marketing automation,

Add live ecommerce data and even videos to your emails

Email marketing

SMS marketing

2-way SMS messaging

Free phone, live chat, as well as email support

Postcard marketing

Send newsletters

Partner programs

CRM and sales automation

Marketing tracking and analytics

Help with finding contacts based on age, gender, and location

PURLs

Advanced segmentation and targeting

Order forms

Automated series

Trials, subscriptions, coupons and payment plans

Dynamic (as well as conditional) email content

One-click upsells

Social media monitoring, as well as reaction automations,

Lead management and scoring

Free email templates

Task management

Build custom forms for you landing pages

Abandoned cart follow-up

Free one-on-one training

Powerful CRM

Business Automation

Custom Objects

Metrics Dashboard

Ontraport Mobile

Secure open API

Ontraport projects

Award-winning customer service
Credit: Finances Online
Affiliate Management Tool
To complete the highlighting Ontraport e-commerce features, Ontraport works with partners to provide a seamless affiliate management tool for its referral program support feature.
You can get automated partner tracking, payments, referral-tracking links, and partner management from Ontraport's Partner Center. You can even get promo tools for promotions and receive earnings reports to see how you and your partnerships are bearing fruits.
This is a feature that ActiveCampaign is conspicuously missing unless you integrated it with AffiliateWP.
What else ActiveCampaign is missing is an in-built landing page creator, which Ontraport does come with and more. The latter avails a landing page template marketplace where you can find the tools to personalize your landing pages so you can peak your leads' interest to encourage increased conversion.
So if you sell online and have (or plan to have) an affiliate program running, Ontraport might have what you need to help you engage leads, tag to segment them based on their interactions with your site, follow them up, and engage them further to inspire them to convert to buyers than you would with ActiveCampaign.
Set Up and Ease of Use
While both Ontraport and ActiveCampaign are easy to set and run with little training, ActiveCampaign is decidedly the easier platform to get up and running on. This could very well be because Ontraport packs more features that might add up to extra learning curve time.
However, Ontraport is way dimmer compared to the complexity that Infusionsoft presents to many of its new users. With both, you get a visual, drag-and-drop sequence builder to help automate your email marketing process. However, if you are keen on striking email images and templates, Constant Contact packs more impressive email templates to help create more eye-catching emails.
Yet, while Ontraport packs a stack of resourceful features for all businesses, not being able to view these stats right from one page can wreck a little havoc as you try to figure out where to get that information.
For example:
With Ontraport, you can tell at what stage of your funnel your leads are converting to customers, where they are unsubscribing, whether they are receiving and opening your emails, as well as how much money you are making and how much you owe in taxes. Finding where all these information is stacked could be the slap in the butt, though.
That might mean you will need to hire an Ontraport specialist to consult with and from whom to learn how Ontraport works. Does that sound like a "hidden charge" to you?
Still on "hidden charges", to gain a similar level of built-in Ontraport functionality with ActiveCampaign, you would need to turn to third-party applications integration—at a surcharge.
ActiveCampaign vs Ontraport: Support
Both marketing automation providers and Infusionsoft alternatives offer excellent customer support via multiple channels. If you are stuck, you can reach either via a certified online community consulting, phone, live chat and email on top of arranged online training—although ActiveCampaign offers phone support to Enterprise Plan members only.
Ontraport, like Infusionsoft, offers to train users in real-time coaching sessions on top of the helpful articles, "normal" training, phone, email and live chat options—for a fee. They also have a "Deliverability Consulting" offer where they claim to offer handy advice on how to optimize your email marketing deliverability to increase your email marketing ROI.
Tracking & Reporting
One of the sleekest tracking features of ActiveCampaign is that it starts to track customer behavior on your site immediately you set up your account—not after a customer completes an action such as subscribing to your newsletter to buying your product (which is what you'd find while using Infusionsoft).
In fact, after you are all set up, ActiveCampaign goes back in time to track and log your leads' interactions with your site, helping you understand how they got to where they are on your funnel and what exactly they might be looking for so you can help them solve their problem.
With both Ontraport and ActiveCampaign you can implement site tracking on the go and mobile traffic, but ActiveCampaign goes further to track where your leads have been so you can learn their interests and craft your marketing material to appeal to those interests.
Overall though, both sales CRM, email marketing, and marketing automation platforms display detailed reports in visually-attractive pages, making it easy for users to interpret the dash data and inform marketing decisions.
Ontraport Pricing vs ActiveCampaign Pricing
As mentioned before, both ActiveCampaign and Ontraport keep their pricing models targeted at their target markets. Neither marketing automation vendor demands any setup fees to onboard customers—unlike the sub $1,000 setup fee Infusionsoft users have to part with.
However, while Ontraport pricing starts at $79 per month, ActiveCampaign offers the more affordable subscription at $9 per month. With ActiveCampaign, however, the fees add up as you grow your contact list—this is precisely why it has a 5-tier pricing model.
Ontraport pricing
ActiveCampaign pricing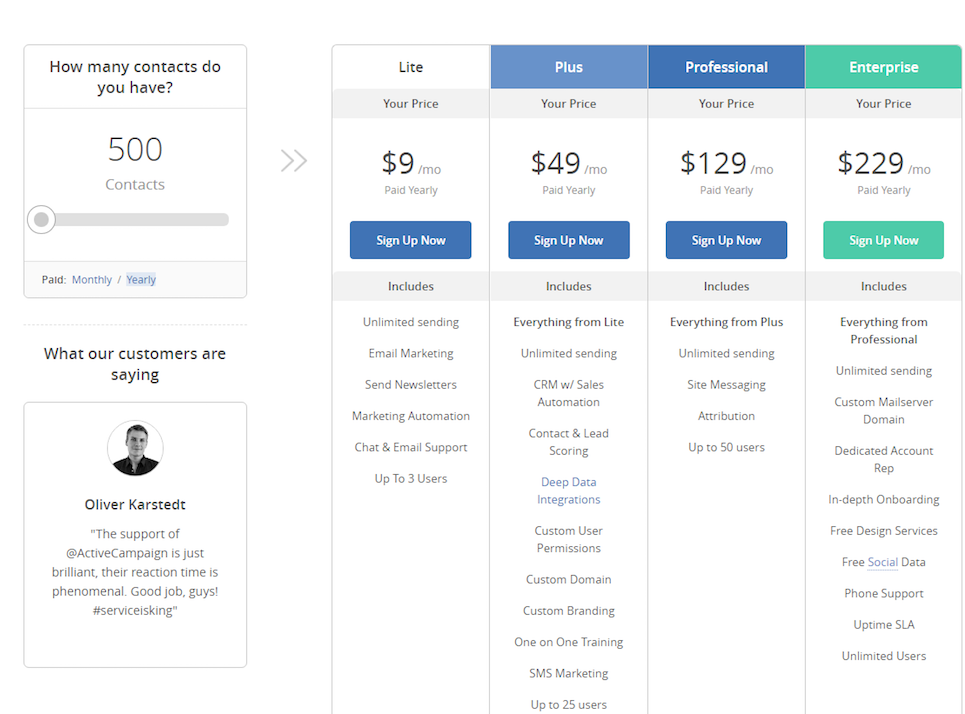 If you prefer to test out the different marketing automation services before signing on the dotted line to warrant a long-term commitment, ActiveCampaign offers a 14-day trial period. Ontraport, on the flip side, makes ActiveCampaign's trial period seem like a joke because they offer a 90-day money back guarantee—a 60-day jump over Constant Contact, too.
This is a good thing for businesses still deciding whether Ontraport is the best marketing automation software, sales CRM, and email marketing provider for their marketing needs in 2018.
But as you gain more contacts, you'll notice that the pricing almost levels out at above 100,000 contacts, by which time your business would have graduated to an enterprise—where Ontraport's bevy of features can actually shine brightest.
ActiveCampaign vs Ontraport: Who wins?
While both Ontraport and ActiveCampaign offer advanced sales CRM, marketing automation, and email marketing tools, they are not made equal.
The more advanced (and numerous) features of Ontraport make it an ideal marketing automation platform for medium-to-enterprise business users. ActiveCampaign, in contrast, primarily offers an ideal marketing software solution for solopreneurs and small-to-medium businesses.
In fact, many small business users would find it easier to start out with ActiveCampaign due to its user-friendliness, affordability, resourceful customer support and enough marketing automation features and benefits to last for a stretch of time.
But established businesses in need of an advanced marketing automation provider, with far fewer complexities than Infusionsoft, would find Ontraport to be a top-notch solution they can grow and scale with for the long haul and at an affordable monthly charge.
Therefore to choose the best marketing automation software in the Ontraport vs ActiveCampaign debate, you would do best to consider both the short-term and long-term needs of your business. If you have the tech-savviness to handle Ontraport, you can start out with it when you foresee your business growing past 10,000 contacts. Or you can opt to start out with ActiveCampaign's enchanting UI and ease of use until you can outgrow it.
My final recommendation:
If I had to choose, right this moment on which of these is best, I would have to say Ontraport.
Here's why:
Advanced marketing features — Ontraport.
Affordability and Value — Activecampaign is cheaper to start, but Ontraport comes out on top as you scale and grow.
Ability to scale beyond 10K users — Ontraport.
Integrations and ease of use — Activecampaign is more user-friendly.
Overall winner — Ontraport
Check out Ontraport — risk-free for 90 days here!