In this post, we're going to be looking at some of the best apps and integrations available to you and your Shopify store.
And, as anyone who has spent any amount of time on Shopify's platform will know, there is a lot for you to choose from.
So, without further ado, let's get stuck into some of the best Shopify apps and integrations on the market.
What is Shopify?
Shopify is an ecommerce software solution.
What does Shopify do?
Shopify gives you the functionality to create and manage an online store. Also, its admin panel will allow you to add products to your store that you can promote and sell through your storefront. Along with other sales channels.
What are the best Shopify apps and integrations?
Now, that we've got all the formalities out of the way, we can begin listing off some of the top Shopify apps and integrations.
And, to help you guys out, we'll be segmenting these apps and integrations into specific sections.
This will make the process of finding more information about "the best landing page builder for Shopify" or the "best Shopify app to help with shipping" much more fluid.
Hopefully, it will help you find what you're looking for with greater efficiency.
App 1: Shogun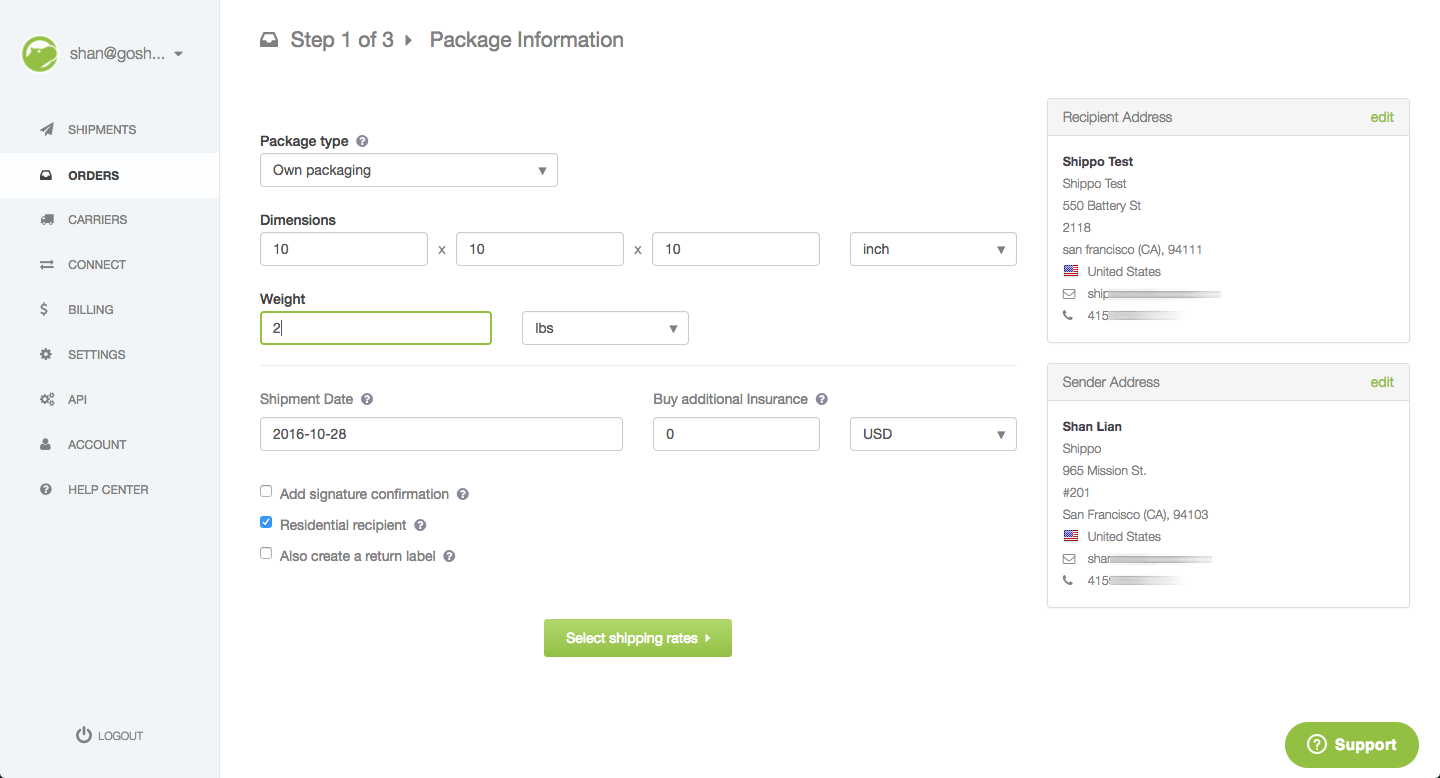 The first app on our list is Shogun.
Shogun is an app that you can use to create beautiful and high converting landing pages. In fact, you can use Shogun to create anything from landing pages to about pages. So, it pretty much allows you to create any page type you can think of.
Shogun offers some cool features including:
Drag and Drop Editor
30+ Page Templates
Theme Editor
Image Optimiser
Image Resizer
App 2: Oberlo
For anyone looking to get into drop shipping, Oberlo is a must-have.
This app is only available to drop-shippers who use Shopify as their ecommerce platform.
It will give you a host of features and functionality that will allow you to smoothly run your Shopify store.
You can use Oberlo to scan through the catalogs offered by awesome wholesalers such as AliExpress and AliBaba.
Once you've found a product, the app will enable you to quickly import it to your Shopify store and start selling and shipping to your customers.
Top Oberlo features include:
"Order Volume" Sorter
Oberlo Chrome Extension (add products to your store in a few short clicks!)
Captcha Solvers
Affiliate Program
Bulk Orders
App 3: Omnisend

Omnisend describes itself as an all in one "omnichannel automated marketing solution".
Which, in plain English, means that you can use it to market your brand across more than one sales channel, from the same platform.
Pretty neat, eh?
Here are some helpful features offered by Omnisend:
Customer/Contact Segmentation
Email/AB Testing/SMS Campaigns Available
Sign-Up Form Variations for Lead Generation
Powerful Automation (Workflows)
Single-Click Shopify Integration
App 4: Swell
Swell is an app that will help you increase your brand's conversions by offering rewards that will encourage customer loyalty.
Something cool about Swell is that it's a YotPo company. (YotPo is another marketing app that encourages repeat buyers and referrals, just in case you didn't know!)
Helpful Swell features are as follows:
Rewards Program
Referral Program
Multiple Plans Available to Suit Every Business
VIP Tiers and Gamification Strategies
15+ Actions to Reward Customers
Also, the app can be integrated with more powerful marketing software such as the already alluded to YotPo and the popular Mail Chimp.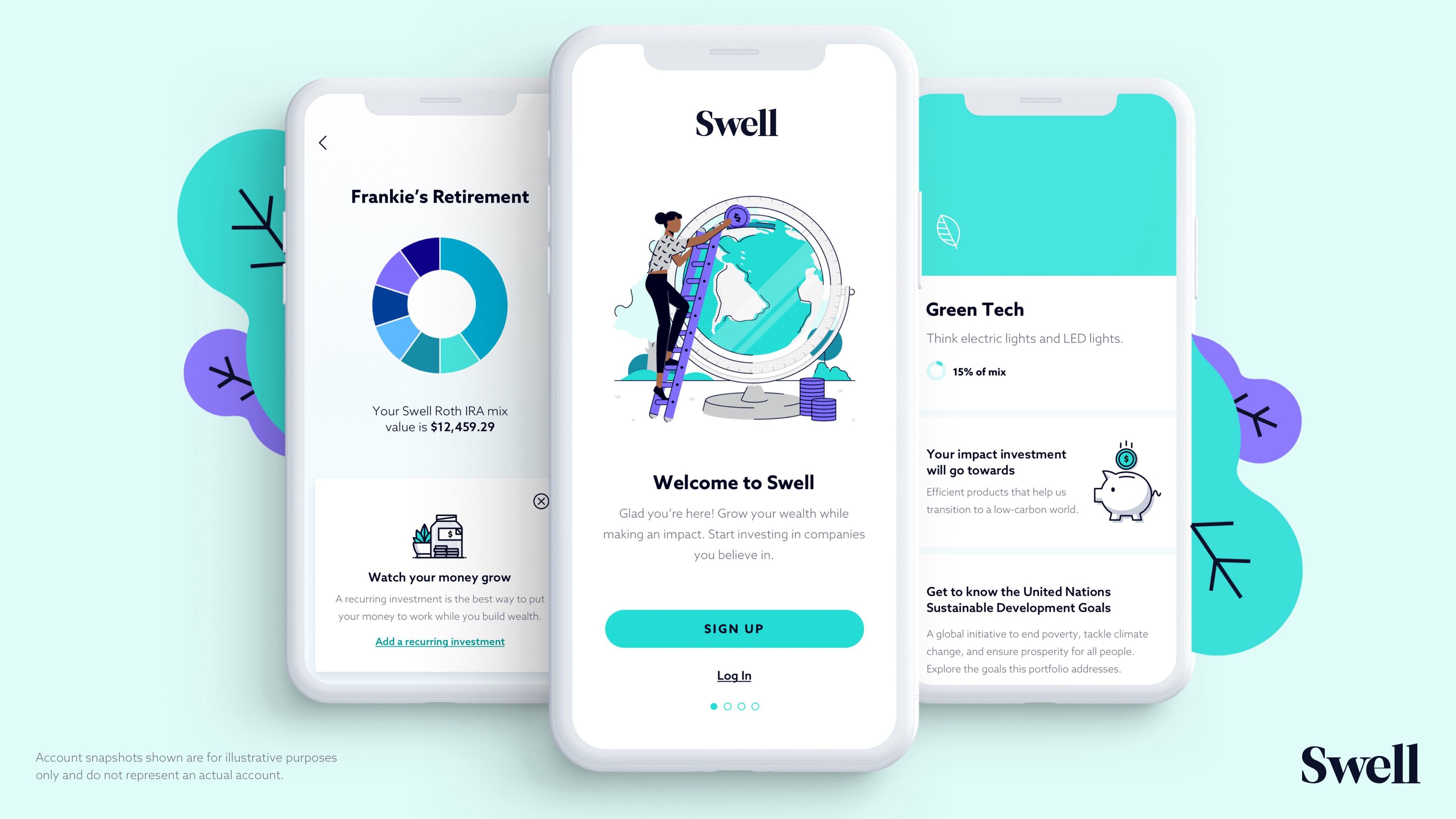 App 5: SEO Image Optimiser – SEO Tools
This app will help you drive traffic to your Shopify store, by improving your Search Engine Optimisation (SEO).
You see, it is set up in a way that helps you attract more visitors from Google searches.
Also, it offers alt tag and meta description features that will help make your site more visible in Google Image's search results.
Which is an incredibly effective way of attracting buyers to your Shopify store.
The following are top tools and facts related to SEO Image Optimizer:
No Coding Knowledge Required to Use
Easy to Install with a few quick clicks
Alt-Text Optimisation
Meta Tag Optimisation (Paid Plan Only)
Automated JSON-LD
App 6: Shippo
Shippo is an app designed to help you customize and automate your shipping as much as possible.
It offers discounted shipping rates to save you some extra cash and can be integrated with a host of big-name couriers.
If you're looking for an affordable and easy to manage shipment interface, Shippo is worth considering.
Shippo offers a tonne of helpful features:
Discounted Rates if you Ship with USPS and/or DHL Express
No Hidden Fees ($5 cents Per Label)
Auto-Sync Package Info
Ability to Stamp Your Brand on Packaging
All in One Platform to Import Orders From
App 7: Privy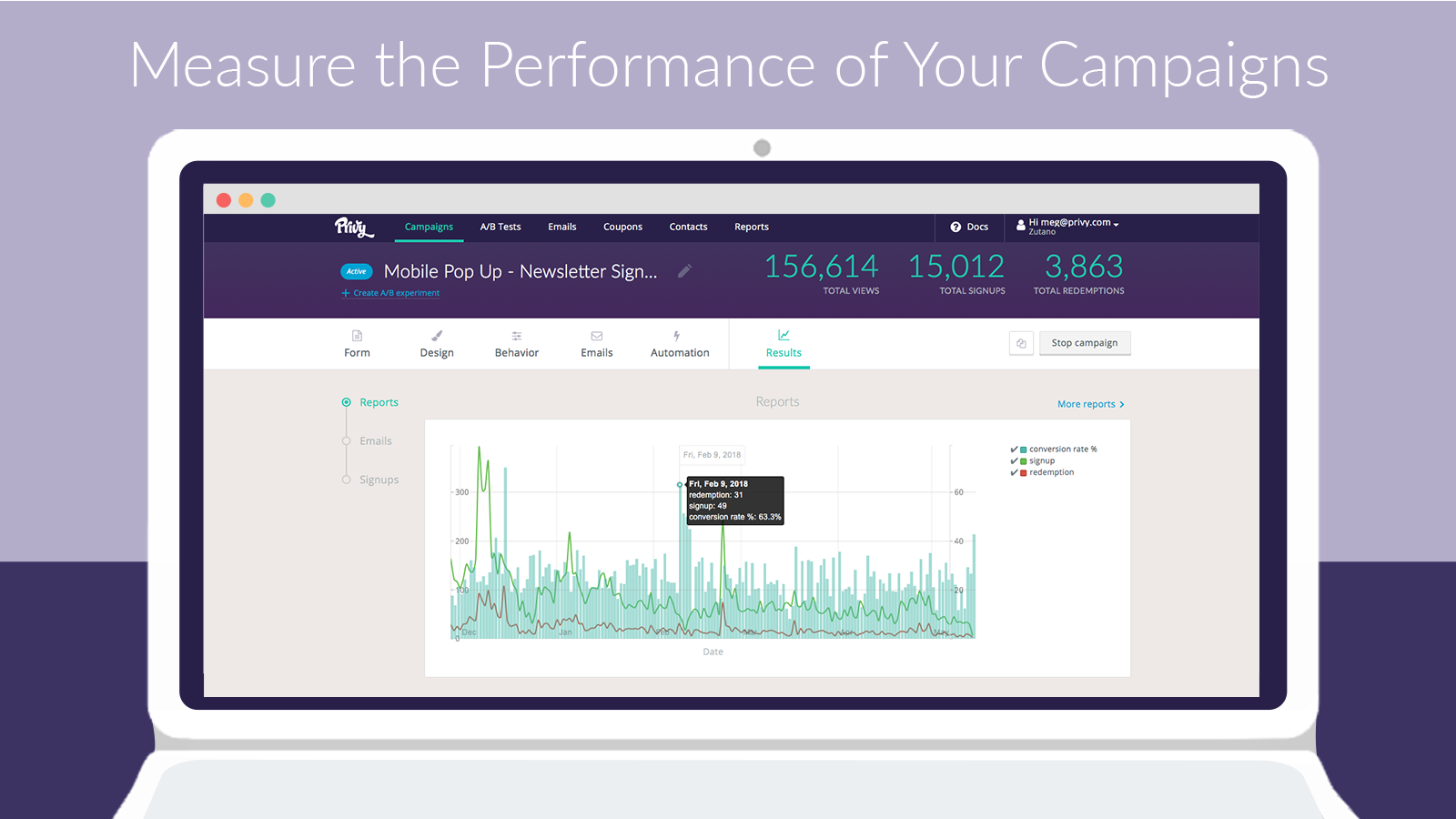 If you find that leads are bouncing from or pogoing around your store quite a bit, without ever making a purchase, Privy can help.
The app is designed to target visitors with promotions and offers that have been optimized to generate conversions and increase your contacts list.
Privy can be integrated with both Shopify and Shopify Plus, so you can get started with it right away.
Here are five interesting things about Privy:
You Do Not Need to Possess Any Coding Knowledge to Use its Software
Offers a Powerful Blend of Conversion and Marketing Tools
AB Testing Available to Aid in Increasing Conversion Rates
Real-Time Reporting Visible Through the Dashboard
Cart Abandonment Notifications Can Be Sent Via Email
App 8: Sales Pop
If you've never owned an ecommerce business, then you probably won't fully appreciate the value of social proofing.
Sure, you've probably bought products online and have seen popups notifying you of others who have bought similar products?
But, have you ever thought about the true value of these popups?
As in, did they make you feel secure, and like you were dealing with a reputable brand?
Well, they should have because this is one of the most installed and highly rated apps out there.
And what does it do? Why, it sends popup notifications to your site when visitors make a conversion, which encourages more visitors to make even more conversions.
Simple, effective and a proven method you can use to increase your conversions.
Now, for a few facts about Sales Pop:
Over 25,000 Shopify Stores Currently Avail of Sales Pop's Services
You Bill Be Able to Manage and Control Pop-up Locations And Whereabouts On-Page
Templates Available That Can be Edited Code-Free or with CSS
Geo-Location Notifications Available
API available for advanced customization
App 9: Discounted Upsells – Upsell
This Shopify app was created by Booster Apps.
And, as you can tell from its name, it will allow you to upsell and cross-sell products in your store.
Now, let's look at some of the best features available through this app:
Discounted Rates When It Comes to Upselling and Cross-selling
No Coding Needed to Get Setup
AI Available to Choose Products to Upsell and Cross-sell
Optimized for Mobile
Free Trial Available
Best Shopify App to Increase Conversions – Swell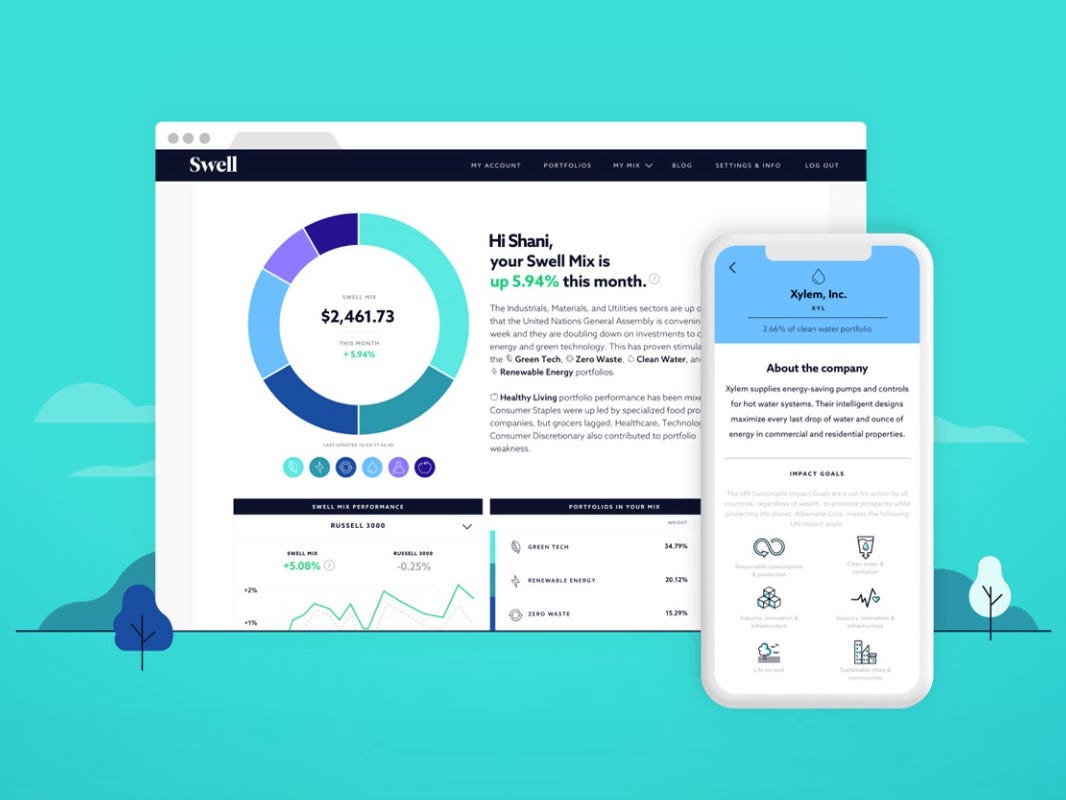 Swell is available for integration with Shopify, and we recommend that you take full advantage of that fact.
We've already given a brief overview of what problem the app solves up above.
So, in this section, we plan to get into greater detail regarding its pros and cons.
We'll begin on a positive note, by taking a look at what we like about Swell.
Pros
The first thing that we like about Swell, is that it is used by some of the largest and most notable businesses on Shopify. So much so, that the app has been made a Shopify Plus Technology Partner. Also, the integration has received over 2,000 reviews in Shopify's app store and is averaging a 4.7-star rating. What all of this tells us, is that the app is extremely effective at generating conversions through its rewards, referrals, and loyalty programs. This also means it's worth integrating into your Shopify store because it can earn you more conversions.
The next thing that we find attractive about this Shopify app, is that it improves conversions through gamification techniques and VIP tiers. For those of you who don't know, gamification simply refers to implementing a game-like experience into things that are not typically game-related. A great example of this, conveniently enough, is Swell's VIP tiers that will be integrated into your sites. How these tiers work, is that once you make a purchase, every purchase after that moves you up a position into a higher tier. This creates a game-like feel for your customers as they try to continue making purchases to move up the ranks and unlock new rewards. All the while, increasing your conversions. Pretty smart, right?
Our final pro is the app offers a tonne of great features. For example, once you integrate the app into your Shopify store, there are over 15 actions that your customers can perform to earn a reward. This is a great way to encourage repeat customers. The more repeat customers you have the better. Mainly, because it's far easier to keep customers than it is to set up marketing campaigns to attract new ones. The app's customer dashboard will showcase metrics such as points earned as well as your customer's VIP tier. You can use these metrics to make your programs better and therefore more likely to generate conversions. Swell also allows you to see how much customers are spending, which will give you an idea as to how well your program is performing.
Cons
As you can imagine with an app that's been reviewed by 2,000+ people, and received nearly a five-star rating, Swell doesn't have a whole heap of negatives. To be honest, we're kind of clutching at straws to find any.
One possible con that we did notice while researching Swell on the Shopify app store, was that its interface seems to bug out for some users. But, that's hardly substantial evidence as there was only a tiny figure of marketers who noted this glitch in their reviews. Besides, so many more sang the apps praises with 1,700+ reviewers leaving a five-star rating, as opposed to the 29 that left a one-star rating. It's still a tad worrying though, so be mindful of bugs and glitches if you choose to install the app.
Also, if we were to be a bit picky, you need to have some technical knowledge to install its API and SDK.
Something that bugged us, were claims that Swell demands an additional fee for setup support. So, we sent them an email to find out whether this was the case.
And, setup support is free. Their "Growth Support Hero" Rogelio, was kind enough to explain that they offer both instructions and article guides to help you in the process.
So, to reiterate, there are no additional fees for setup support.
A Must-Have Shopify App to aid in Customer Retention – Privy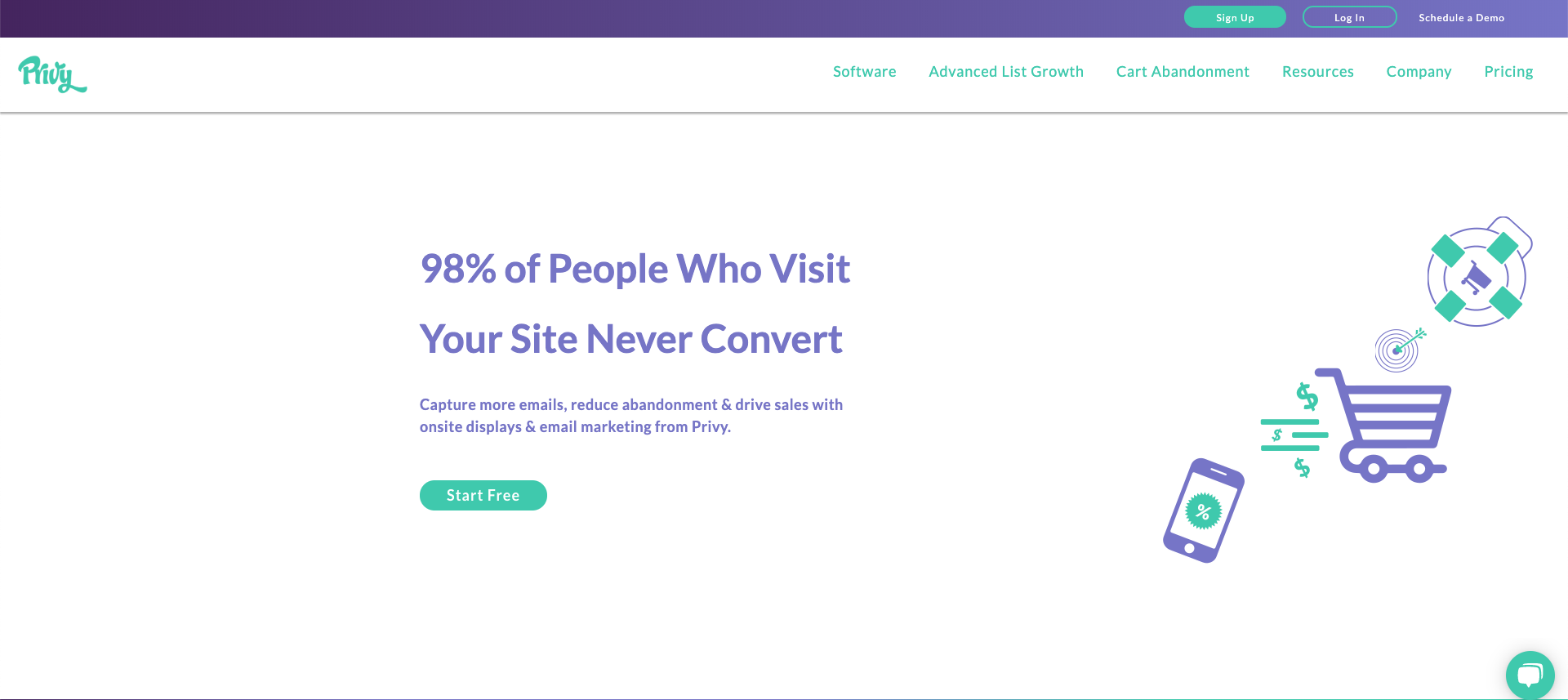 Privy has over 22,300 reviews and a 4.7-star rating in the Shopify app store. So, it's easy to tell that this is a Shopify app worth integrating with your store.
Anyway, we've chosen Privy as our must-have customer retention app. And, there are a few main reasons as to why we did that.
Pros
The first one being, that the Shopify integration simply offers a tonne of extremely helpful conversion and marketing features. For example, the app allows you to create and customize a variety of displays. All of which, have been optimized for mobile. So, whether you want to embed an email sign-up form into your site to generate more leads. Or, gamify it with a spin to win wheel, you can. Ultimately, these actions and displays will increase your conversions over time. So, we like that about them.
While on the topic of conversions, it's a good idea to mention that you can implant coupons, email autoresponders and pop-ups throughout your store. Coupons are always an excellent way of increasing conversions and encouraging repeat customers because let's face it, we all love saving some money! Also, the app offers AB testing and the ability to run targeted campaigns that you can center around key metrics. AB testing is great because it will allow you to see your store's conversion rates. Which will allow you to further optimize your pages for conversions as well as the performance of your conversion strategies. The idea being here that it will increase your conversion rate even further overtime.
Its targeting and triggers are fantastic as they ensure that the right customers are receiving information about your products and promotions. Again, these tools and practices serve to increase your conversion rate, which is great for you as a marketer.
Our final Privy pro is that it lets you automate your email marketing process. Obviously, email marketing is massive for anyone looking to retain customers because it allows you to accumulate a list of contacts or leads. These leads can then be targeted with advanced marketing campaigns to make more sales. Privy will give you a host of options to create and manage these marketing campaigns. For example, you will have the ability to send email newsletters, cart recovery emails, and emails to follow up on customer orders. On top of that, you'll be able to take advantage of the popups you place within your store by combining them with targeting and triggers. This will all help you grow your email list with new leads, and therefore, increase your potential to generate conversions.
Cons
Now, for the cons.
Oh boy, the app has over 20,000 positive reviews in Shopify's app and integration marketplace, so we'll once more be clutching at straws.
That being said, one issue you could find with Privy, is that they don't offer a huge number of fonts. Granted, there is enough for it not to become a problem, and its higher-end plans do offer you the ability to import custom fonts. Nonetheless, if you're someone who loves customization, and has no reason to buy into one of the more expensive plans. Well, this could become an issue for you.
The next con we want to bring to your attention is that some online reviewers have noted that the platform is buggy. Again, this is only a minority experience that the majority of people who use Privy will ever experience. So, don't worry too much about the app not working because it is highly unlikely to ever affect you.
Our final Privy con has to do with pricing. And, there are a couple of points we want to make here. Firstly, this ecommerce integration does not allow you to hide its logo on its website if you enroll in its free plan. Now, this isn't by any means going to affect your digital store. But, as one online reviewer explained, it is rather uncomfortable not to have the power to remove the logo from your site. After all, it is yours, so Shopify integration should allow you to do so. Also, if you compare Privy's pricing to other solutions, most would agree that it's a tad bit pricey.
The Best Landing Page Builder for Shopify – Shogun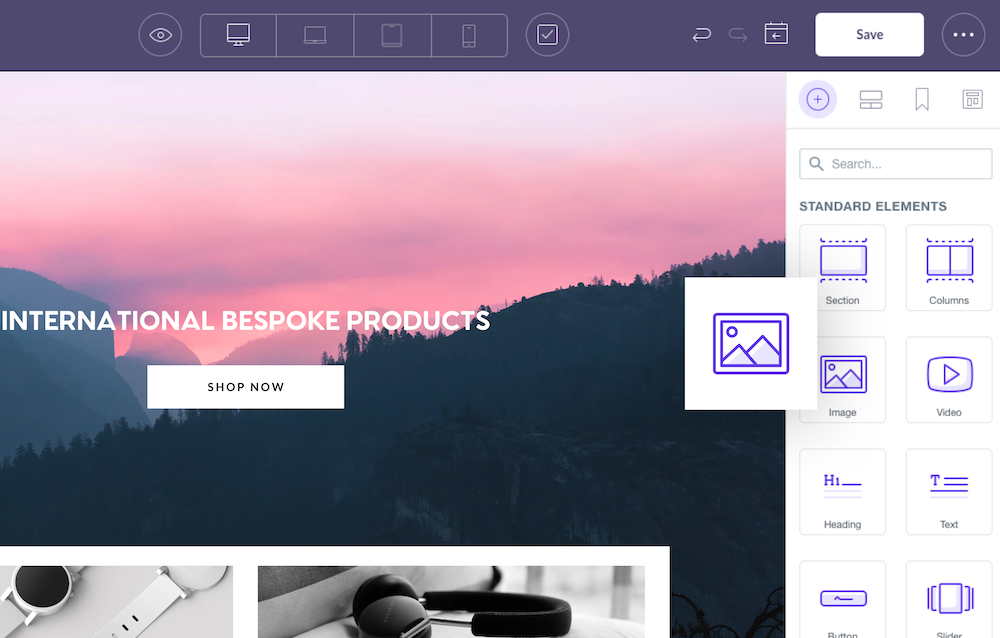 For our landing page selection, we've chosen Shogun.
This Shopify integration has a 4.9-star rating in the ecommerce platform's app marketplace, with over 1,700 reviews.
At our time of writing this post, it's in Shopify's staff picks section, so you can rest assured it's high performing.
Anyway, it's high time we begin taking a look at some of the pros of this landing page builder.
Pros
Our first Shogun pro is that it's super easy to design pretty much any page type using the app. You can use it to create high converting landing pages, helpful FAQ pages or even set up a donations page. There really is no limit to the page types you can create using its editor. Oh, speaking of Shogun's editor, you'll be pleased to know that you'll need zero developmental knowledge of CSS or JavaScript to use it. This is because it operates in a drag and drop format.
Which, is great for you because it'll save you having to pay a developer to customize your pages for you. The Shopify integration also boasts a super helpful import editor that lets you edit pre-existing pages. You'll also have access to 30+ custom templates that can be edited using the app's theme editor. In a nutshell, you've got extremely powerful page customization options.
Did you know that Google Images is the second most popular search engine on the internet?
Well, that interesting little fact brings us to our next Shogun pro. You see, with Shogun, not only will you have an abundance of page options, you'll also have an abundance of Image options, too. You'll be able to avail of the app's image optimizer and image resizer. These tools will allow you to ensure that you have high-performing images that fit seamlessly into your pages and galleries.
Also, they'll ensure that your store's images are working on all devices. Be that laptop, tablet or mobile. The latter of the three is particularly important, as roughly 50% of all web traffic is now mobile. And, nothing will turn buyers away quicker than malfunctioning images on your storefront. The point we're trying to make here is that mobile optimization is absolutely crucial. And, Shogun allows you to optimize for mobile, which is awesome!
Our final Shogun positive is that it offers awesome versatility. For example, you'll have access to a host of different features concerning SEO, marketing, conversions, and integrations. Remember we mentioned its image optimizer? Well, that's awesome for SEO because it will allow you to compress images so that they load faster on your page. The faster your page loads, the better because page loading speeds are a metric Google takes into consideration when creating the SERPs.
Other cool SEO related features include the ability to create your personal:
Meta Titles
Meta Descriptions
Alt Text (This is super important for images)
The app also offers a host of marketing tools such as an affiliate program, AdWords and flash funnels to boost your store's conversion rates. In terms of aiding conversions, you'll have access to AB testing and other page elements that will encourage sales.
On top of that, the app can be integrated with Google Analytics and Adobe Typekit.
Cons
Now, it's time for some of the negatives associated with Shogun.
If we had to pick one though, we would bring your attention to some online reviewers noting that the app is buggy. One marketer remarked that they lost hours of work due to Shogun malfunctioning by not saving the code of published landing pages properly.
Obviously, this was an overwhelmingly disappointing experience, which resulted in their hard work being lost. And, as Shogun duly noted in its reply to its disappointed customer, "unacceptable". Not to put Shogun on blast entirely, they did apologize profusely and offered the person who left the review a full refund as gratitude for their loyalty.
Also, its engineering team was said to have been attempting to locate the code and remedy the situation. So, if something does go wrong when using Shogun, you can at least have the peace of mind that you will be taken care of.
It's also important to note that software will sometimes bug out, and you may be unfortunate enough to be the only victim of this glitch. So, always bear in mind, before you purchase any Shopify app or integration, that it may not work entirely as you wish. Although, they should if you're investing your hard-earned cash into it. Regardless, if you're thinking about using Shogun, be aware that this is an issue that could crop up.
Anyway, that's enough of a pep talk.
Our final Shogun con is a mixture of juvenile things that we feel might annoy you, but won't affect your store's conversion rates. For instance, one online reviewer complained that Shogun sent them an email after they had contacted them asking to no longer receive emails. Another aspect of the ecommerce integration that some may not like, is that it's more compatible with the likes of Chrome and Firefox. As opposed to lesser-known search engine operators. Again, all of this is hardly a deal-breaker, so I wouldn't lose any sleep over any of it.
Overall, Shogun is an awesome up and coming landing page builder. And we, along with Shopify, would recommend trying it out with your ecommerce business.
The Best Shopify App for Shipping – Shippo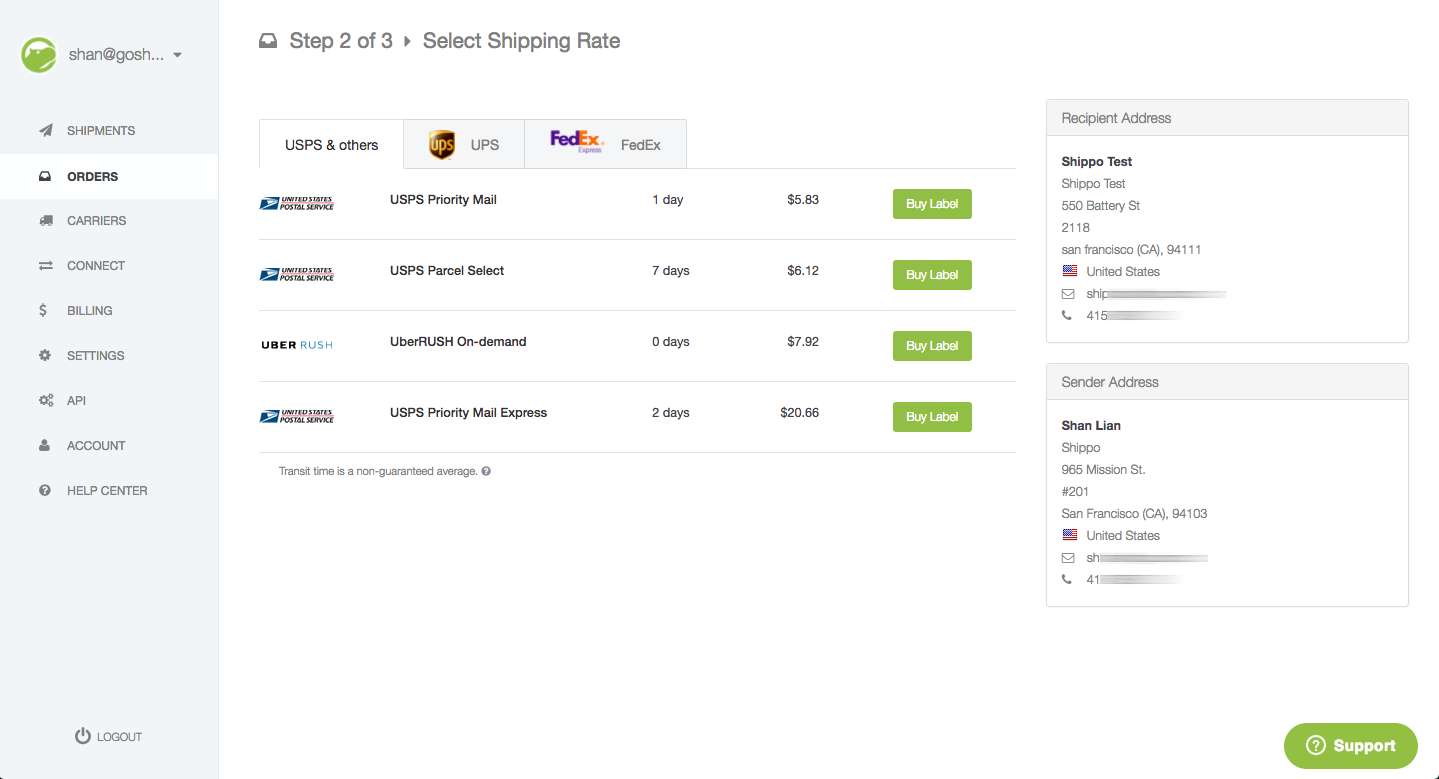 We've opted for Shippo as our best Shopify shipping app.
Shippo has 440 reviews in the app store and is averaging a 4.6-star rating.
Here's what we liked about Shippo.
Pros
When it comes to Shippo, we are in love with the fact they offer a tonne of reduced carrier rates. For instance, if you use some of the top couriers in the world such as USPS and DHL Express, you will be entitled to a discount.
But, that's not all. If you choose FedEx as one of your couriers, the FedEx Advantage Program could save you as much as 29% on shipping. All in all, that is a lot of money that could be put toward other business ventures, which are more likely to yield a higher ROI. Oh, the app lets you sync up with over 50 different couriers across the globe, which is impressive.
Another positive we would associate with Shippo is its tracking. The app will automatically send tracking information back to Shopify, so you don't have to worry about anything. One of the major reasons we like this so much is that you can then use this data to inform customers of where their purchases are around the globe.
People like to know that they're not being scammed. And being able to frequently check-in on the whereabouts of their purchases should put their mind at ease. Which, could also lead to them shopping with you in the future, thus increasing your sales.
Saving the best for last, it's now time to talk about Shippo's automation. Which is great because it helps make everything so much more efficient. For instance, the app allows you to automatically save package information and email customers with tracking updates.
On top of that, you can import store data from Shopify along with other social media platforms such as Instagram and Facebook.
Also, if you're selling products abroad you will have a host of features at your disposal. For example, you'll be able to automatically create custom forms and invoices for your business.
Cons
The first Shippo con has to do with its Customer Service. Some online reviewers have complained that they were left waiting an unacceptably long time to hear back from Shippo. This is a concern as you need to be able to rely on the app's support team in case you run into difficulties.
Another con is the inability to customize emails on Shippo's basic plan. This could prove problematic if you're trying to stamp your brand over what you do.
Our final Shippo con has to do with Shipping. You see if you choose to deliver a package by hand or via a courier not ordered through Shippo. And, the order has been placed through your Shopify store. It becomes difficult to tell the software that the order has been fulfilled.
Essential SEO App for driving traffic to your Shopify Store – SEO Image Optimiser – SEO Tools
Next up, is SEO Image Optimiser.
The Shopify app has over 3600 reviews and is averaging a 4.8-star rating in the store.
Pros
We don't have a whole pile to say about this app, other than it does what you'd expect it to, which is optimize your images. We've alluded to this previously, but image optimization is critical if you're to successfully optimize for mobile. Mobile optimization is also extremely important as it is a metric taken into careful consideration by Google when ranking pages.
Oh, almost forgot, image optimization is also important because it can serve to send traffic to your online store via Google Images.
So, in summary, our first pro for this Shopify integration is that it can improve your position in the search rankings. So, in summary, our first pro for this Shopify integration is that it can improve your store's SEO.
The next thing we like about this ecommerce integration is that it can be installed in a matter of clicks. To be specific, one click. Which, is extremely efficient, and should save many of you guys a lot of stress.
Also, according to Booster apps, it will only take less than a minute to get the app integrated with your store. Which, means you can begin improving your SEO straight away.
"Set and Forget SEO", has a lovely ring to it, don't ya think? Well, it's our final pro. Now, you may be wondering what the hell it means, so allow us to explain. Once you run the install on the app and get it fully set up, you never have to do anything with it again.
And, that's because the app automates the image SEO process for you, leaving you to do whatever you please!
Cons
The first thing that we didn't like about the app, is that it claims to be free to download, yet offers a paid plan.
The paid plan includes meta optimization as well as SEO assistance. But you have to pay $24.99 to avail of it on a supposedly free app.
Granted, those are awesome features, and it offers some even better ones, so the features aren't the issue here.
The issue is, the app is supposed to be free, yet it's not.
So, truly, if you want the best the app has to offer you need to purchase the paid option, yet the app doesn't clarify that in its product description. It's a little annoying is all.
Otherwise, it's a great app and there are no major issues with its performance.
Our Shopify Dropshipping Recommendation (Top App/Integration Available with Shopify) – Oberlo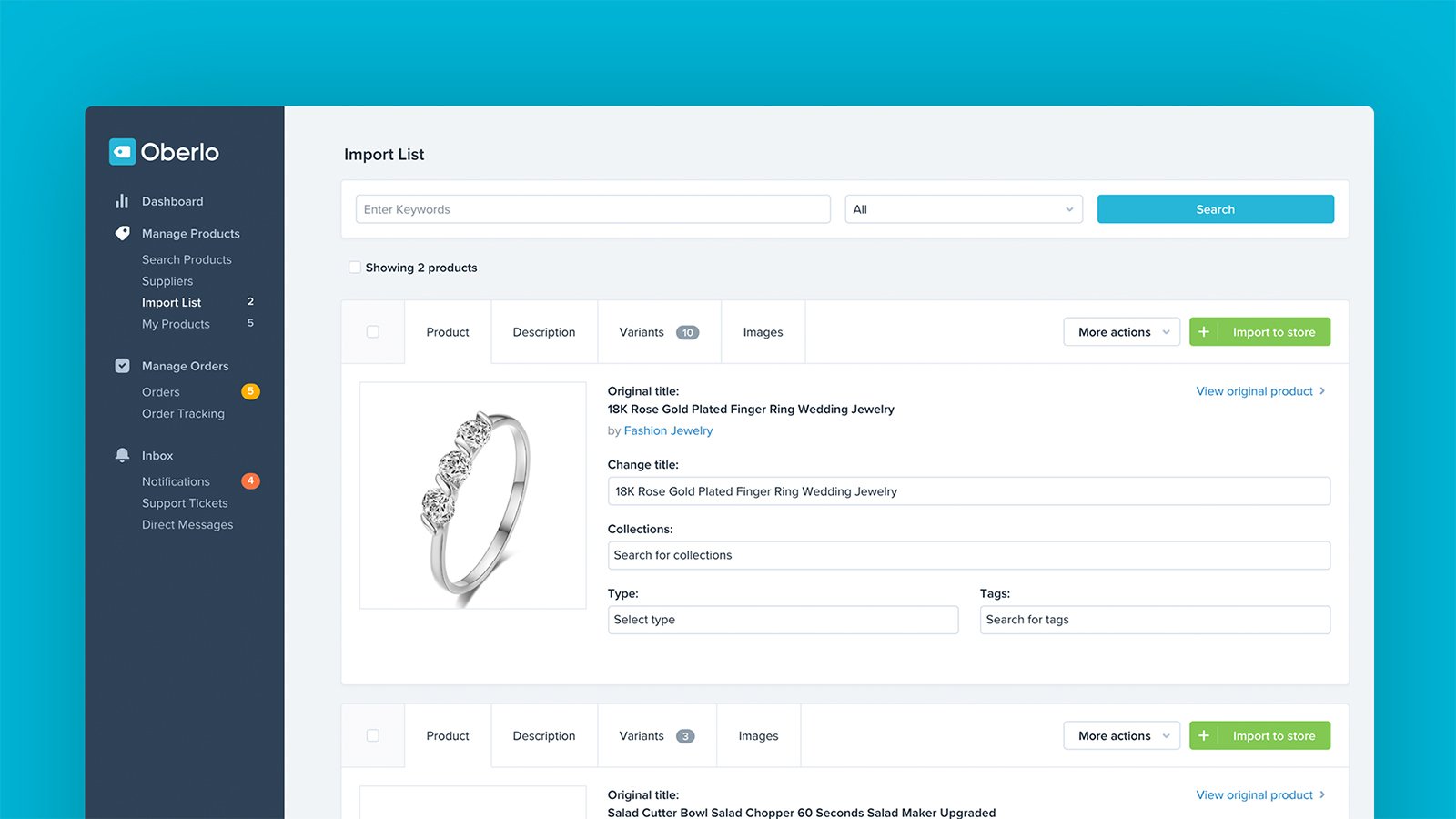 We couldn't write this article, without mentioning the Shopify integration we feel is the best when it comes to dropshipping.
So, step up,
Oberlo.
Pros
Oberlo is an awesome aid when it comes to running your Shopify store. It has over 2,300 reviews in the app marketplace and is averaging a 4.6 star-rating, so you know it's reliable.
Oberlo's first pro is the amount of data it places at your disposal. This is fantastic because you can use it to make smarter product selections. You'll be able to assess metrics such as pricing and popularity, which are crucial to ensuring you find a winning product.
On top of that, the app's sales dashboard will give you the power to monitor how the products you import into your store are doing. This will also enable you to figure out your best sellers, and set up marketing campaigns centered around them, to improve your conversion rate.
The next Oberlo pro is its pricing. Well, more so its free plan, which will give you pretty much everything you need to run a dropshipping store. Another thing that we liked about Oberlo, is that it lets you set up "global pricing rules" for your Shopify store. This is great because it will save you having to chop and change pricing yourself, which leaves you with more time for other parts of your business.
The automation offered by Oberlo, when it comes to managing and updating stock, is super helpful, too.
Mainly, because it means that you'll never have to worry about being unable to fulfill orders. This is due to the fact that Oberlo will not allow customers buy a product through your store if it cannot confirm that it's in your inventory.
Anyway, all of these perks and features combined, make your life much easier.
Our final Oberlo pro is the level of customization on offer. You'll have the ability to edit the title of your imported products to something eye-catching and innovative. To compliment your catchy title, you can create a product description, in which, you'll provide information regarding your product. Obviously, you'll want to talk about the best features your product has to offer so that people want to buy them. Oh, you'll also be able to customize images.
In short, you'll have a high enough level of customization to plant your brand's mark on all the products you import through Oberlo.
Cons
It's time for the cons associated with Oberlo. (Plus, a little rant about dropshipping.)
First up, is its support. Well, specifically its live chat, which allegedly is not very helpful. With one online reviewer complaining, that they were left waiting roughly two hours for an answer to a question that they had asked. They also claimed that they had been in contact with two members of Oberlo's support team.
And, both support assistants, are alleged to have left the chat after half an hour without any warning, or solving the reviewer's problem. This is extremely strange, as most online reviews reported no issues in relation to Oberlo's support.
Nonetheless, these claims are somewhat worrying and do bring into question why this issue was not resolved in a timely manner.
Another con of Oberlo is the manner in which it's marketed. You see, the Shopify integration summarises its app as a tool that'll help you:
Find Products
Import them to your store
And ship them off
In an ideal world, owning an ecommerce store would be so easy. But this isn't an ideal world, it's the real one. So, it's a little too casual of an explanation regarding what the app will allow you to achieve.
And, one that appears to have left many of its users feeling aggrieved online. A great example of this comes from one reviewer who felt that the app did not offer enough products. Nor did they feel that is offered enough high-quality products. Also, this person didn't like Oberlo's success stories, as they felt that it gave off an aura of unrealistic success. This entrepreneur clearly felt that the app was not stating the reality of how tough ecommerce is to be successful.
But, it's only right to point out the obvious here, Oberlo is not at fault for your dropshipping store not succeeding. Nor are they at fault for trying to market their product in the most efficient way possible. Most successful dropshippers are choosing from the same products as everyone else.
The only difference is, they're investing the amount of time and money required to market them properly. This same marketer states that one of his problems with Oberlo, is the fact "it costs money to properly market your store" and that you'll be charged by Shopify regardless of your success.
As previously mentioned, this is the real world. So, you're nothing short of totally naïve if you think that a company isn't going to charge you for using its services, merely because you didn't make any money off of them.
Likewise, you can't expect that you're going to be able to create a successful business without pumping some serious cash into it.
The moral of the story is, be careful with things that sound too good to be true because they probably are.
An Awesome Shopify Social Proofing App – Sales Pop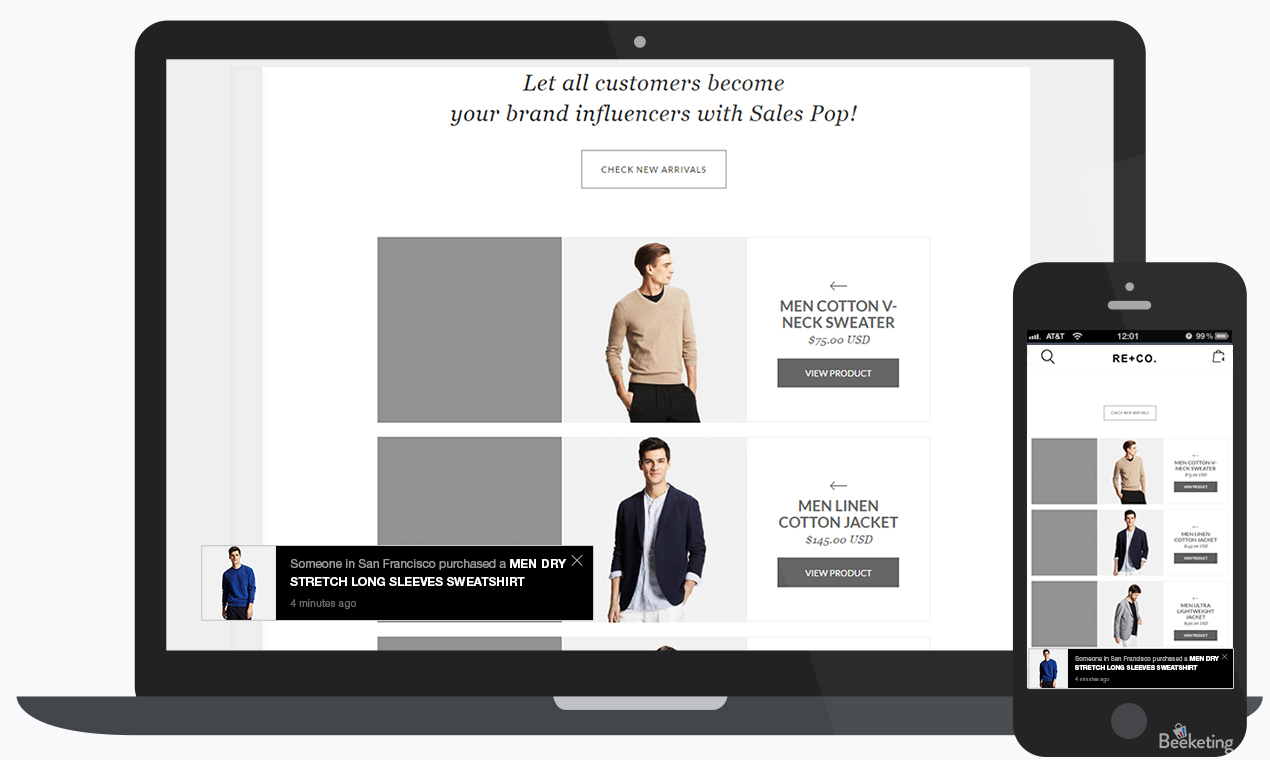 Pros
Sales Pop's first positive is that it will help you earn more conversions. It does this by providing social proof in the form of popups that report your store's activity in real-time. Not only does this make your store look busy. But it also creates a perception that the buyer is missing out on something if they don't purchase your products. You'll have a range of countdown timers and promotion types at your disposal to create this effect.
The next thing we find brilliant about Sales Pop is the level of customization you'll have over its popups. For example, you'll be able to take its templates and edit them using a range of features. Also, if you have programming knowledge, you can customize these templates even further using CSS. This should enable you to create authentic pop-ups for your Shopify store.
Our final pro has to do with the level of control offered by Sales Pop. Not only will you have the power to customize your popups to fit your brand's needs. You'll also have the power to place them wherever you like within your store. What's even more useful, is you'll be able to view data relating to how your popups are performing. So, what that also means, is that you'll be able to optimize them for conversions.
Cons
Sales Pop is known to suffer from the odd bug, which could result in some obscure popups on your website. If this happens, reach out to its support team immediately.
You have to rate the app before you use it, which has ticked off several people online, so that's another con of the app.
Our Pick for the Best Upselling App Available for Integration with Shopify – Upsell
Pros
Upsell is great because it will encourage your customers to buy more products from your store. And it will do this by pushing promotions alongside your customers' purchases. Also, these promotions can be offered at a discounted rate, which should provide double the incentive for shoppers to splash their cash.
This Shopify integration is also helpful due to the fact it allows you to increase your conversions, without having to attract new customers. In the current digital economy, marketing is becoming more and more difficult, not to mention, far more expensive. So, something that lets you sell more to existing customers, is very valuable.
The final thing that we like about the app, is that its AI will analyze your store's data, and tell you which products to upsell. This will prove invaluable to entrepreneurs who haven't quite learned the ropes just yet.
Cons
This is one of those Shopify apps that doesn't offer a live chat, which means you'll be waiting a while to hear back from its support team.
Also, while researching the app, we noticed a few negative reviews regarding the integration of the app messing up store code. And, its support staff not being at all helpful when people get in touch with issues.
Must-Have Shopify Apps
In summary, here is our list of essential Shopify apps.
Oberlo
Omisend
SEO Image Optimiser – SEO Tools
Swell
Shippo
Privy
Sales Pop
Upsell
Further read: