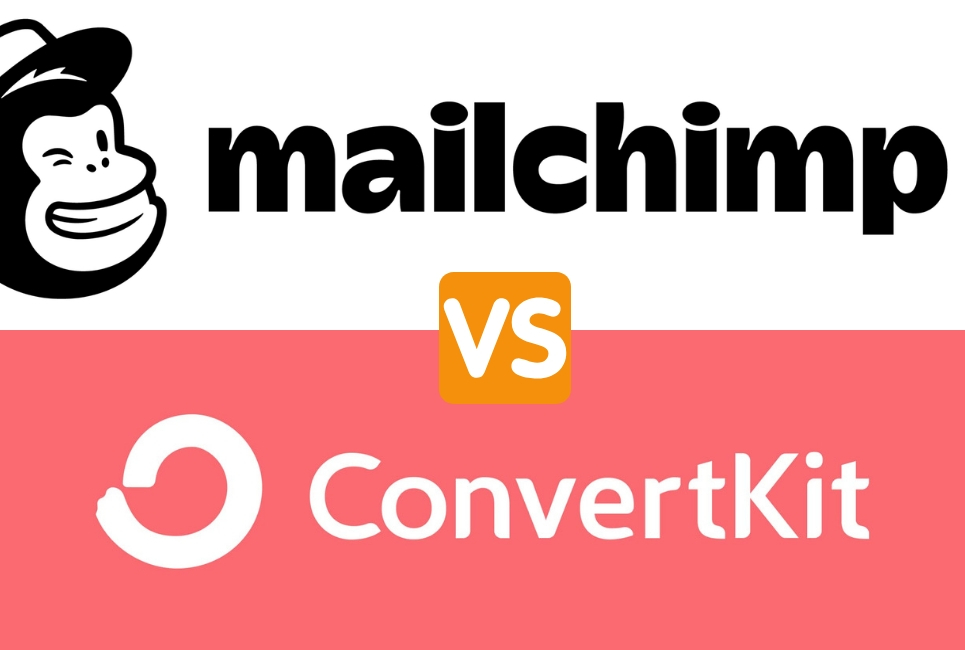 The battle has started. The war between two of the most popular email marketing tools on the planet: ConvertKit vs. MailChimp Which one is best?
Which of the two tools should you choose for your next email marketing campaign?
MailChimp comes in first, touting its many advanced capabilities that ConvertKit doesn't have. ConvertKit looks upon it smugly, claiming to have a more superior system of email marketing.
Both are right – and capable in their own ways. But unfortunately, only one will win your heart.
So which is it?

Will you choose the lovable MailChimp with its adorable monkey mascot? Or will you choose ConvertKit, where all the cool kids are hanging out?
To help you decide, we'll compare both these tools one-on-one in this article. There will be no mercy. Strengths and weaknesses, pros and cons, features, quirks – we'll discuss it all.
So, without further ado, let the games begin!
MailChimp Vs. ConvertKit: A Brief Introduction
Before starting this review, I think it's important you know which kind of audiences Mailchimp and ConvertKit want as customers.
MailChimp loves to have small businesses on its platform, especially small ecommerce stores. All their current features and future updates are geared towards making email marketing crazy simple and powerful for people who sell products.
To show you just how much Mailchimp loves small businesses, here's a recent tweet of them confessing their love: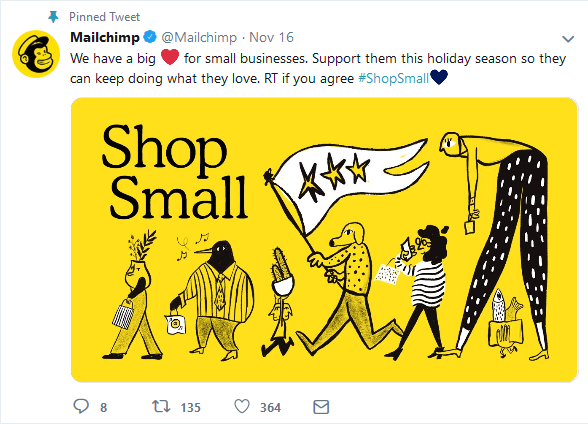 ConvertKit, on the other hand, has a huge crush on 'creators'. They make it extremely clear that all their features, services and long-term strategy will go towards making email marketing easy and powerful for creative professionals.
Also, here's ConvertKit literally confessing they exist for creators:

This means MailChimp wants small businesses to use its email marketing services and ConvertKit wants creators to use theirs.
Here's a quick rundown of the services both email marketing tools offer:
Build website forms and landing pages so your visitors can subscribe to your email list: Unlike Mailchimp, ConvertKit only lets you create website forms and landing pages only.
Organize your list with tags and segments: ConvertKit keeps things simple. All your contacts get stored in one list. That list can be sorted into tags and segments. As we'll discuss down below, this may seem less powerful than MailChimp, but it isn't.
Create email sequences and one-off broadcasts to send to your subscribers: ConvertKit has two separate sections for sending emails. The broadcast section lets you send single emails to your subscribers and the sequences sections let you create and send a series of automated emails.
Build a visual automation workflow with which you can see the exact journey each of your subscribers will take: This is one area where ConvertKit absolutely trumps MailChimp. The automation section lets you combine workflows and email sequences to help you create a truly awesome email marketing automations.
View detailed reports of your emails, broadcasts, sequences, and subscriber list: Just like Mailchimp, ConvertKit lets you see the performance of your emails, broadcasts, sequences and subscribers listing, including tags and segments.
Don't forget to check out my full ConvertKit review!
MailChimp Highlight Features:
Create website forms, landing pages, Facebook ads, Instagram ads, Google ads and even physical postcards: With MailChimp, you aren't just limited to getting subscribers through forms and landing pages. If you don't have a website, you can also create Facebook, Instagram and Google ads as well.
Organize your list of subscribers into lists, segments, groups and tags: In MailChimp, you can create multiple lists for your subscribers. This is really useful if you have more than one website or businesses – and want to keep each business' subscriber list separate. Within a list, you can organize your subscribers into different segments, groups and tags.
Send automated emails when a subscriber completes a specific action you want, gets added to a specific group, segment or tag or if an event or date passes: Using MailChimp, you can send emails to your audience when they take the specific action you want. These emails can then be followed by other emails which trigger after a set date or another action taken by the user. In this way, you can create automated email campaigns in MailChimp.
Get personalized reports on how your forms, automations, emails and ads are performing – and the state of your subscriber list: You can view how your ad campaigns, landing pages, emails and website forms are performing. You can see open rates, click rates, people subscribed, people unsubscribed and more.
ConvertKit Vs. MailChimp: Advantages and Disadvantages of Each
By now, you've got a general idea what each of these tools is capable of.
And since this article is a comparison between two tools, we're not talking about the basic functionality of them. Both these tools are capable of the basic stuff… you know… creating emails, building drip campaigns, A/B testing, reporting etc.
What we'll talk about in this article are the main things which differentiate both these tools.
This way, you'll get a better understanding of which tool will suit your needs…
That being said, here's what we'll talk about both the email marketing tools in this article:
The 'builder' tools and their functionality.
How they let you manage your subscribers (super important).
How they let you automate your email marketing process.
Let's start by taking a look at each tool's 'builders':
ConvertKit Builder:
ConvertKit gives you two ways to capture subscribers for your email list:
Website Forms: You can build forms which you can display on your existing website. Or display it on a separate web page creating in and hosted by ConvertKit.
Landing Pages: Landing pages are stand-alone web pages you can build in and host on ConvertKit. You can directly take your subscribers there and host it separately on your domain or in ConvertKit.
As far as templates go, ConvertKit doesn't have a lot of them.
Both the landing page and form templates are extremely limited. And the only true way you can customize your forms in MailChimp is by adding custom CSS.
MailChimp Builder:
The MailChimp builder comes loaded with much more functionality. You can use MailChimp to create: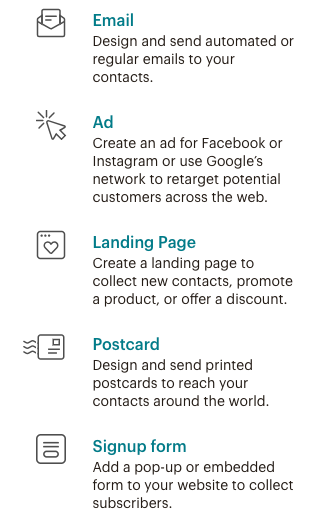 Forms: Similar to ConvertKit, you can build forms and put them on your website, but you cannot host them on MailChimp.
Landing Pages: You can build landing pages with which your subscribers can directly buy your products.
Social Media and Google Ads: This is a feature which only Mailchimp has. You can build Facebook, Instagram and Google Ad campaigns using the templates provided or from scratch.
Postcards: 'You've got mail!' – literally. Because MailChimp lets you send physical postcards to your esteemed customers. Straight from the U.S of A.
Also, MailChimp offers much more templates that ConvertKit, which provides more exciting possibilities for you to customize and create personalized forms, landing pages and more.
Now, let's take a look at how each of the tools let you manage their subscribers…
ConvertKit Subscriber Management System
First, it's important to note that ConvertKit only lets you create one list – and not a single more than that.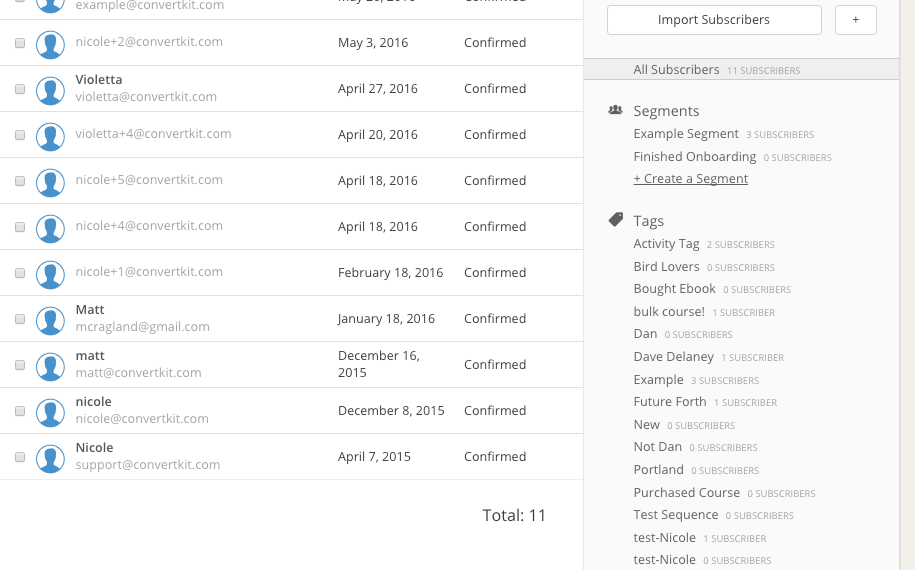 And in the list, there are two simple ways for you to organize your subscribers.
Tags:
Each subscriber can get a tag based on their behavior i.e. an item they purchase, a link they click, a form they enter etc. It's up to you which tag you want to give a subscriber based on which action they tag.
Suppose you want to identify those subscribers who've bought something from you. For that, you can tag your subscribers with tags such as 'customer_ebook', 'customer_course', 'customer_videoseries' etc depending on the product they've bought.
Segments:
Once you tag your customers, you can organize your tags into segments. Segments are a way to organize those tags which share the characteristics you want.
Suppose you want to send an email sequence to all your subscribers who are customers. For that, you're going to create a segment called, let's say, 'all_customers' and put all your 'customer_' tags in that segment. This way, you will be easily able to send emails to just your subscribers.
MailChimp Subscriber Management System
MailChimp takes a totally different approach when it comes to subscriber management.
For one, you can create multiple lists of subscribers. This will allow you add subscribers from different websites or businesses under one account – something you can't do in ConvertKit.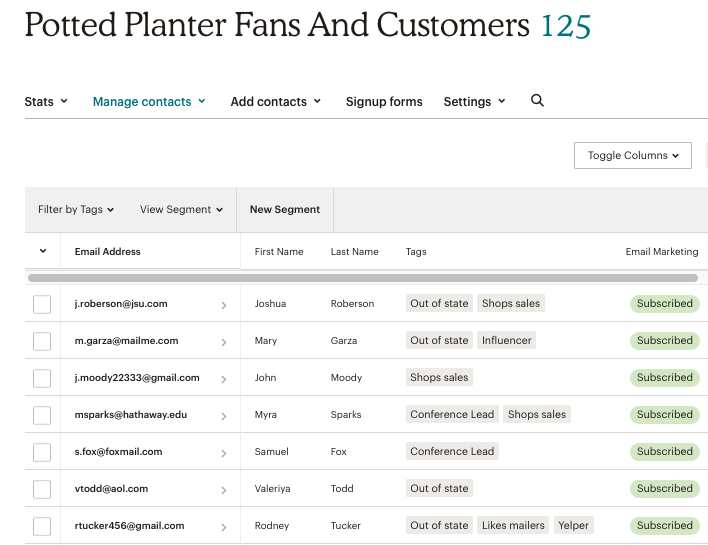 Mailchimp offers three ways to organize subscribers in a list:
In MailChimp, you can also tag your subscribers to further identify them. But unlike with ConvertKit, you have to manually tag them. There is no way to automate this process.
Your sign-up forms can have different options your subscribers can choose before they subscribe. Depending on the option they choose, they'll be placed in that group.
In Mailchimp, you can segment your subscribers based on purchase activity, geographical and personal information, tags and segments and much more.
In ConvertKit, you have to create tags yourself and then assign that tag to a specific behaviour. In Mailchimp, this happens automatically and you can choose the segment you want. This is definitely more convenient, but a bit less flexible when compared to ConvertKit.
Now that you understand how you can organize your subscribers in both these tools, let's move on to the final differentiating factor between the two, i.e. automation.
If there is one place where I can confidently say ConvertKit trumps MailChimp, it's in its visual automation section.
You see, ConvertKit lets you see exactly what your whole email marketing automation looks like – and lets you edit it right from the visual graph!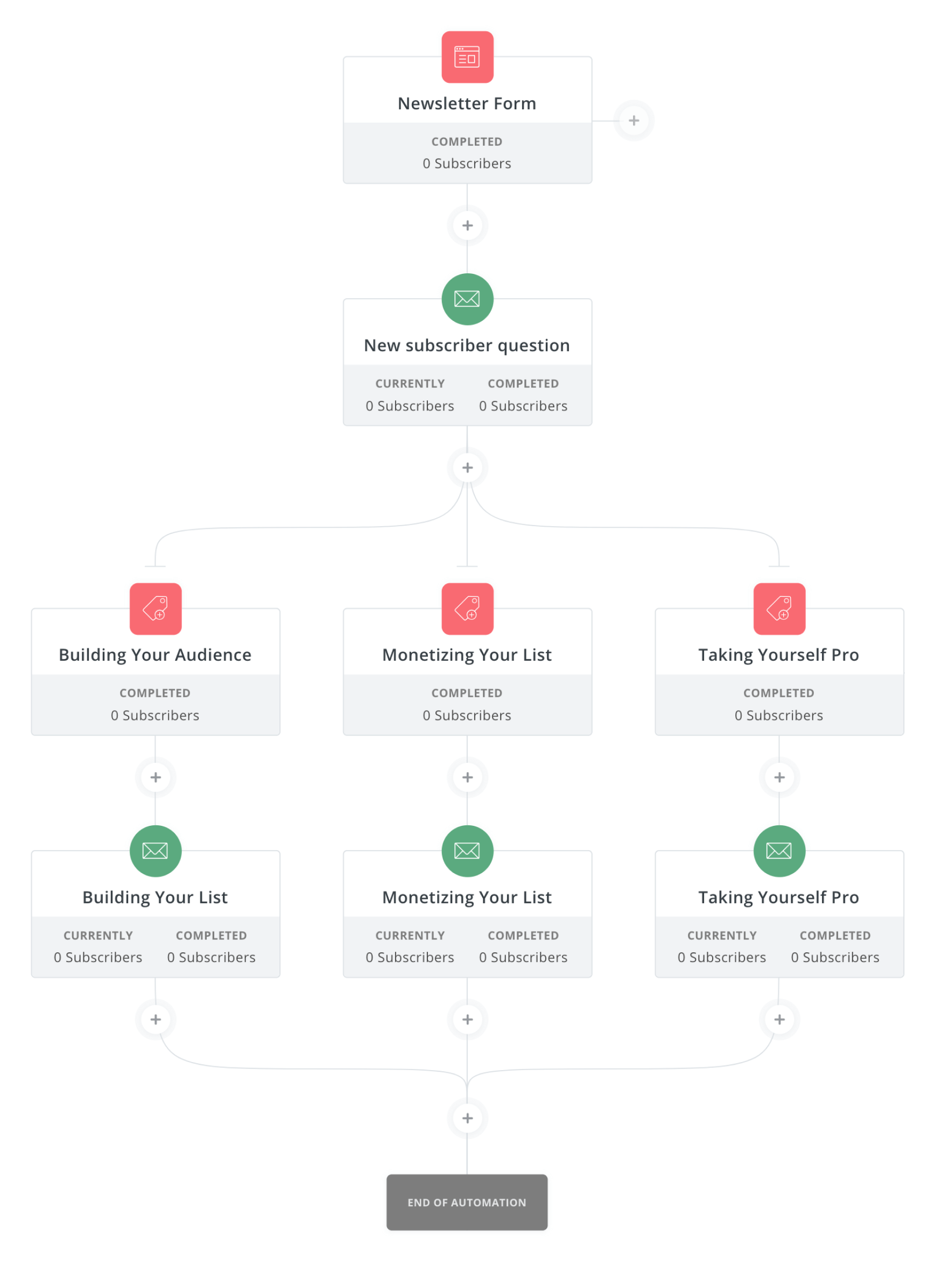 This feature is really very awesome.
I mean, you can directly see which form a subscriber will enter through, put them into an email sequence you've created, edit that email sequence, assign the subscriber a tag or put them into a segment based on the action they take and much more.
It's truly an amazing automation system not unlike the one found in bigger 'business-class' email marketing softwares.
Mailchimp has its own unique take on automation, but it isn't quite as well built as ConvertKit is.
What I mean to say is there is no way to see exactly how your whole email marketing system is operating. Everything looks disoriented and there's no way to see the moving parts within your campaign.
Other than that, you can definitely still automate your whole email marketing process.
You can create complete email sequences and assign them to be sent to subscribers based on the actions they take or the tags they get assigned to.

More than that, Mailchimp offers pre-built automations right from the start. There's an automation for a welcome sequence, cart abandonment, order notifications and much more.
How Much Does This Cost? A Look at Pricing
ConvertKit starts at $29 for its most basic subscription, which limits you to 1000 subscribers but gives you access to all its features, which is the case no matter which plan you subscribe to. The more subscribers you have, the more you'll have to pay. You can calculate your pricing here: https://convertkit.com/pricing/

You can start your free trial here — get 14 days for free!
Mailchimp, on the other hand, offers more complicated pricing.
Their biggest advantage is they offer a free service which limits you to 2000 subscribers and 12000 emails / month – but restricts access to features such as advanced segmentation, which lets you apply even more detailed filters to your subscribers and more, delivery by time-zone and more.
Their basic plan starts at $10 and limits you to the 500 subscribers but opens up functionality such as predicted demographics, which lets you see the gender and age of your audience, delivery by time-zone and more. Similar to ConvertKit, the more subscribers you have, the more you'll have to pay. You can calculate your pricing by going here: https://mailchimp.com/pricing/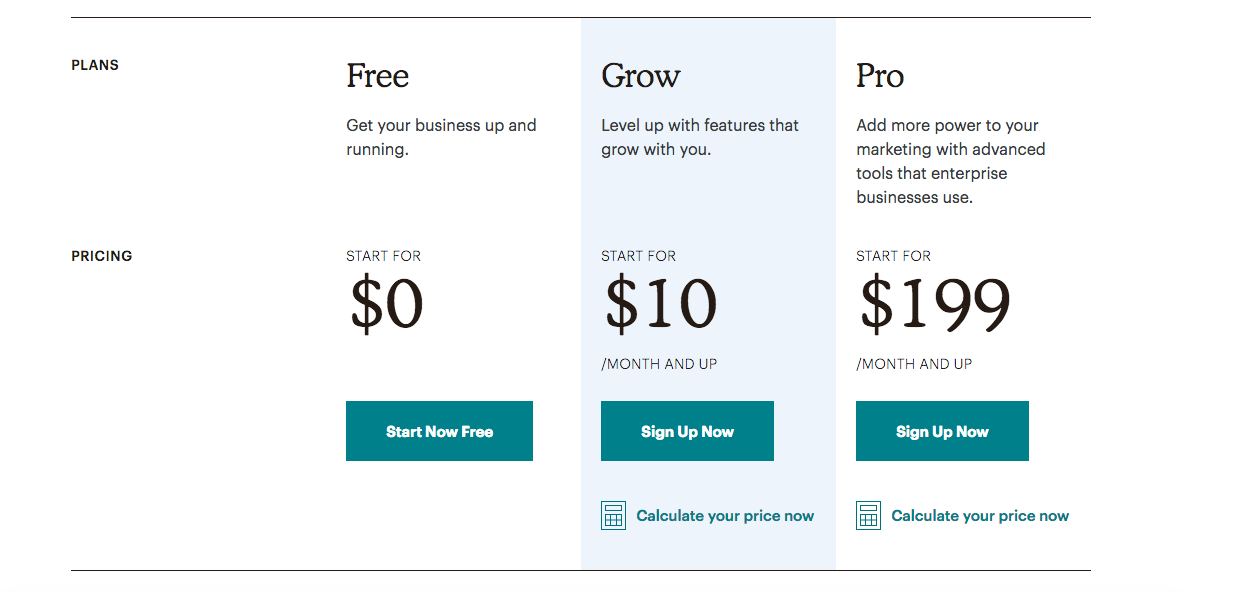 But the advanced segmentation, comparative reports and multivariate testing feature however, are still reserved for the pro plan, which costs $199/month on top of your existing subscription.
Still Unable To Decide? Here Are Some Thoughts That Might Help You
In the end, let me ask you a final question: Who are you?
Are you self-professed 'creator'? Or are you an entrepreneur with a small business?
The difference between the two might not be much. After all, both of you will sell something to your audiences, whether it's a beautiful piece of art or some latest gadget.
But what you identify yourself as will be deeply reflected in the way you approach your online business – and consequently, the way you run your email marketing campaigns. And knowing who you are professionally will help you choose the email marketing service that you are most compatible with – and that is compatible with you.
And not so fast.
Features also matter. If one service isn't offering you the features you want, go with the other one.
For example, if you're a small business, but visual automations matter a lot to you – then go for ConvertKit. Similarly, if you're a creator, but want the ability to get subscribers with Facebook and Instagram ads in addition to forms, go with MailChimp.
And hey, don't think of this as a marriage, but rather a first date. So don't take too much time deciding.
Both ConvertKit and MailChimp offer some breathing room for you to test their services. MailChimp offers a free plan which lets you test most, if not all the features. And ConvertKit offers a free 14 day trial for you to test their complete service.
Take both of them for a spin, and then decide which one you want to get things started with.
You might also want to check out: