The Best SEO Tools – How to Find the Best Ones for Your Business
If you run a business and you have any kind of presence online, you need to get on top of your 
SEO strategy
.  SEO incorporates different strategies and techniques to increase the
visibility of your web pages on Google
and other search engines. It's really important that your pages are visible online. A good SEO tool can help you to increase your ranking on Google, Bing, Yahoo, and other search engines, hopefully sending more business your way. 
The question is, with so many SEO tools out there, how do you find the best one?
We'll take a look at some of the best SEO tools on the market – a mixture of larger platforms, and smaller tools. We'll go through their features in detail, as well as their pros, cons, and pricing.
What do You Need in an SEO Tool?
There are a few different features you might want to see in an SEO tool. These could include:
Keyword Research
Most SEO tools will offer some form of keyword research. This will allow you to find popular phrases or words that people search for. This is a really important strategy for SEO. You may also be able to check to see what keywords your competitors are using.
Backlink Checker
When a website links to another page, it's known as a backlink. A page with a lot of backlinks tends to rank higher on search engines, which is why it's seen as an essential part of a good SEO strategy. A good SEO tool will allow you to differentiate between high-quality and low-quality backlinks and compare links to each other.
Rank Tracking
Another key element of a good SEO strategy, rank tracking allows you to see which keywords you are ranking for, as well as the keywords your competitors are ranking for.
Content Suggestions/On-Page Optimization
A few of the tools on this list offer this feature. A SEO tool might analyse a page that you've already published, or even analyse your content as you write it, to see if the SEO can be improved by adding different keywords.
General SEO Check/Audit
Sometimes known as an 'SEO Health Check', this will give you an overview of your entire website, pointing out broken links or missing title tags, or any small tasks that could negatively impact your SEO. Some of them give you a rating, which you can then work on to improve, and some of them scan your website automatically at regular intervals, flagging up any new issues.
Ad Analytics
Some SEO tools offer paid ad analytics, which will allow you to study the SEO strategies of competitors and which search terms are pulling up paid advertisements.
Support and Knowledge Base
Any kind of online platform should have a decent knowledge base – this will allow you to make the most of all the features available to you, with a mixture of articles and videos. You should also be able to contact support if something goes wrong or you need extra help.
SEMRush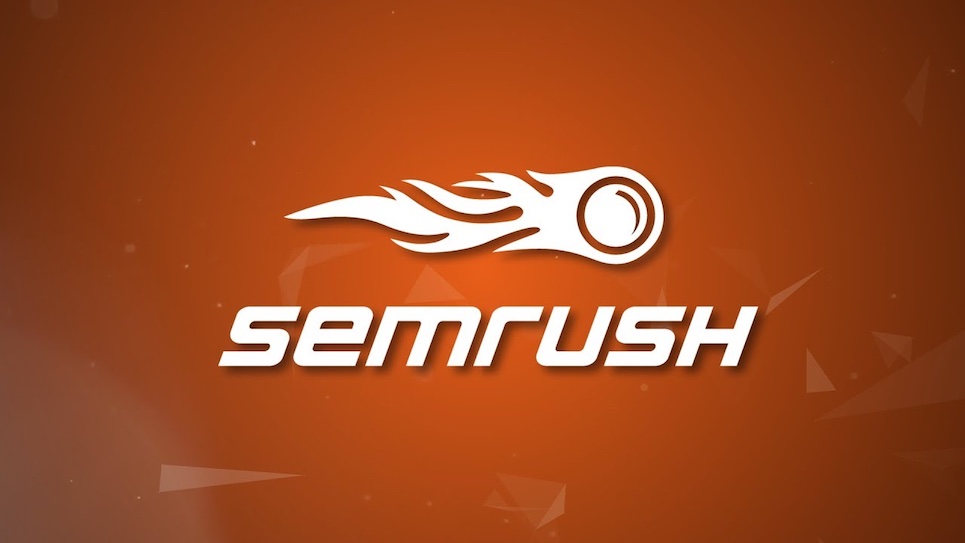 SEMRush is one of the most well-known SEO tools. Launched in 2008, it has a huge amount of features, making it one of the most comprehensive SEO tools out there.
It's a fairly intuitive platform, used by big brands like eBay and Quora. Here's a look at each feature in a little more detail:
Backlinks
SEMRush offers Deep Link Analysis – this allows you to check incoming links (including URL, domain, and root domain), compare inbound links to each other, and differentiate between high-quality and low-quality backlinks. It also allows you to check the geolocation of backlinks.
Keyword Research
This gives you tried and tested keywords that will rank well in Google. You can get a lot of information using the keyword research tool, including CPC, volume, number of results, and the most popular landing pages for each keyword. It will also generate synonyms and variants which are relevant to the search query – this is great, as it allows you to quickly grow your keyword pool. It will also bring up long-tail keywords. It's available in 16 languages, too, which is great.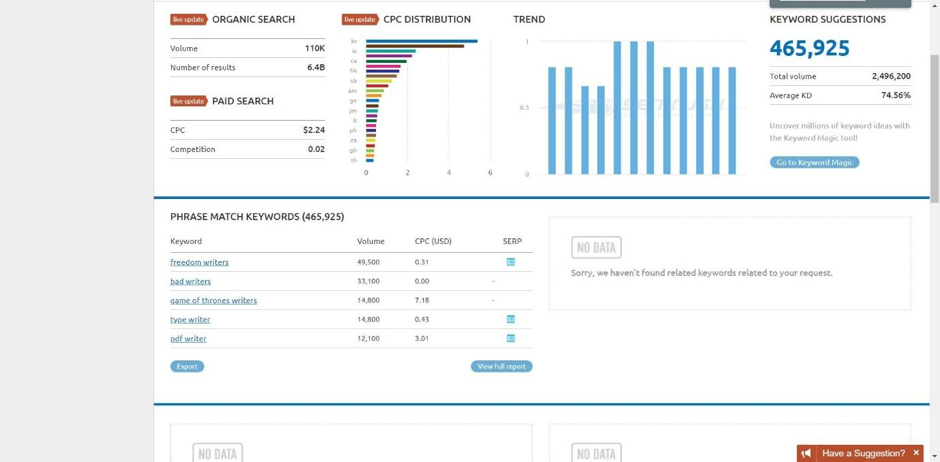 Product Listing Ads
The Product Listing Ads Competitors Report will help you to find eCommerce competitors and look at their strategies in detail. It will show you keywords that prompt product listing ads to show up, and which ads will appear for which keywords. It will also show you product titles and price, and more. This is a great way to find out who your nearest competitors are and study their strategies.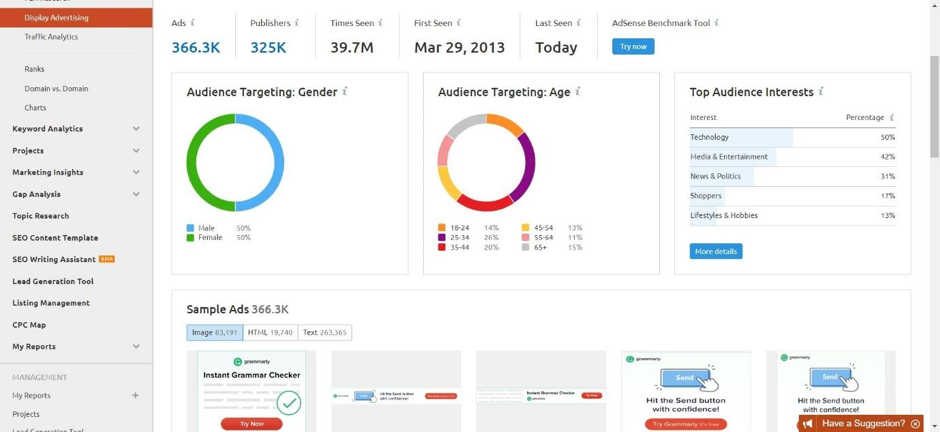 Traffic Analytics 
This evaluates traffic volume, traffic sources, desktop and mobile traffic, geo distribution of traffic, subdomains, and top pages. It will also allow you to analyze a competitor's website traffic, which again, is a useful tool.
Market Explorer
The Market Explorer is great for analyzing new markets and niches. If you want to expand your business, but you're not sure which direction will gain you the most profit, this is helpful. You can choose a market, and then see the relevant sites, traffic trends and sources, and more. Plus, you'll be able to see what the audience in your chosen niche is interested in and see their gender and age.
Tools
SEMRush offer a lot of tools. Here's a quick look at each of them:
This will allow you to find keywords with less competition, estimating keyword difficulty.
Allows you to compare two domains, see common and unique keywords, and visualize this data.
This will allow you to analyse your own strengths and weaknesses, as well as those of your competitors, by comparing domains with key visibility indicators.
This allows you to get all SEMRush data in one custom PDF report.
This allows you to find new keywords from a pool of over 200 million keyword ideas. You can segment them by topic, which is useful, and save the best ones in the Keyword Analyzer.
This tool allows you to see how much advertising costs in different places, with an interactive map that will allow you to view data from different industries. This is a really useful tool if you're thinking of expanding your business to a new location.
This handy tool will help you to find target keywords for your content. It will warn you of keyword stuffing, make you aware of linking issues, and will give you a readability score. It will set a word goal according to competitor's word counts and will make you aware of content issues. A great feature of this tool is that it allows you to set a tone of voice (like casual, neutral, or formal). It will then check if your content fits the tone throughout. It also comes with a built-in plagiarism checker. You can use it as an add-on for Google Docs, a WordPress plugin, or using the SEMRush interface itself.
Projects
There are still more features to look at, known as Projects. These include:
Position Tracking: track positions with any keyword
Site Audit: check site health with a special analysis tool
Social Media Tracker: finds competitor's social media accounts and analyses them
Social Media Poster: allows you to create and schedule content for your social media channels, and analyses the performance of the content
Brand Monitoring: allows you to check the reputation of your brand online, pulling up data from online mentions and reviews
On-Page SEO Checker: analyses Google ranking factors which may impact your site's performance, and offer suggestions to improve it
Backlink Audit Tool: Finds backlinks and checks them for quality
Organic Traffic Insights: Analyses the potential of new keywords
Content Analyser: Assesses your web content and shows you how to make improvements
PPC Keyword Tool: Collects keywords and cross-matches negative keywords
Ad Builder: Allows you to create ads and add relevant ad extensions
Pricing
If that sounds like an overwhelming amount of features to get your head around, that's because it is. There's a lot to get stuck into here, but it is reflected in the pricing.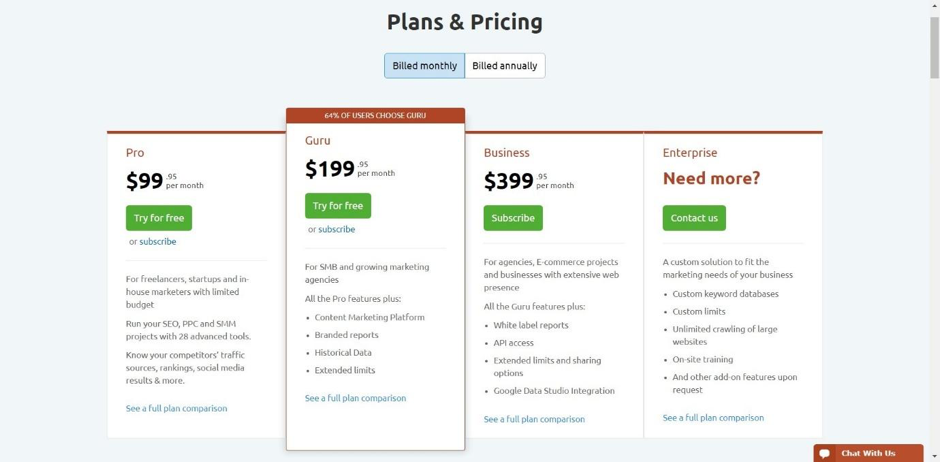 The cheapest price, at $99 per month, offers you 28 advanced tools including domain and keyword analytics, and will allow access to one user. However, it's missing some of the better features. The most commonly used plan is the Guru plan, at $199 per month. This gives you access to a lot of great features, including branded reports, historical data, and fewer limits on projects.
SEMRush offer a free 7-day trial: click here to try it out.
Knowledge Base/Support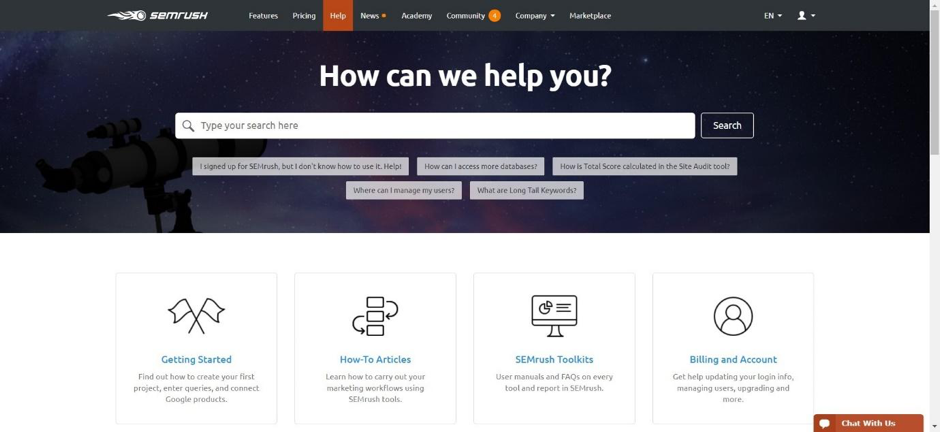 The knowledge base for SEMRush is pretty good (which is useful given the amount of tools and features it offers). It has getting started guides, articles, and toolkits for you to use. You can also contact the support team using a form if you need extra help.
Pros of SEMRush
A lot of useful tools and features
Having everything in one place is handy
Good knowledge base to help you make the most of the platform
Cons of SEMRush
Pricing may make some of the better features out of reach of smaller businesses
Quite overwhelming – you may need to take some time to learn how to use everything effectively
How does SEMRush compare to other tools?
Ahrefs

Launched in 2010, Ahrefs has a lot of features, and is ideal for those with SEO experience already.
Here's a look at the main features Ahref has to offer:
Site Explorer
This allows you to analyse organic search traffic and analyse the backlink profile of any website or domain.
Organic Traffic Research
This allows you to see which keywords your competitors are using, giving you an insight into their strategy.
Backlink Checker
This allows you to see which websites link to competitor's sites.
Paid Traffic Research
This will let you see whether competitors are using paid search advertising or not.
Keywords Explorer
This gives you thousands of keyword suggestions, for ten different search engines. It will provide you with a keyword difficulty score, clicks metric, parent topic, advanced SEO metrics, and will generate keyword lists.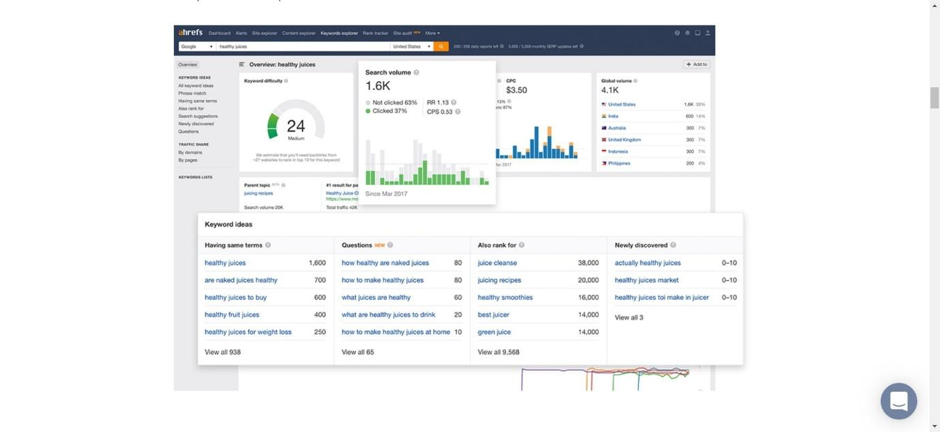 Content Explorer
This allows you to research over a billion pages, including SEO and social metrics. This let you to analyse:
Organic traffic
Domain rating
Social shares
Referring domains
Traffic values
The Content Explorer is great, as it allows you to analyse pages in a deeper way. You can check if a page is gaining or losing backlinks, or even reverse engineer a competitor's marketing strategy (by seeing how much they publish or republish content). You can see which sites have yet to link to you, and even see content trends over time.
Rank Tracker
This allows you to monitor Google rankings on both desktop and mobile in over 170 countries. You can see which keywords you're ranking for, and check the progress you're making with SEO. You can check keyword links and see how well you're performing in comparison to your competitors. Plus, you can have this information emailed you in a report.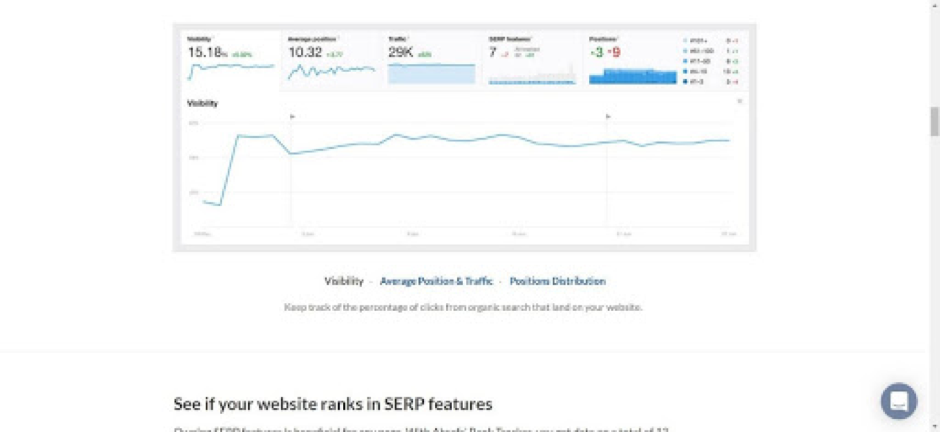 Site Audits
Site Audits will provide you with a deep analysis of your website. It will crawl every page on your website and will give you an SEO health score. It will show you areas that need improvement and give you recommendations on how to fix any problems that occur. It will check for over one hundred SEO issues, including performance, speed, social tags, and HTML tags. It's cloud-based, too, meaning you won't need to download anything. This is a really useful tool, and it's helpful to have an in-depth SEO health analysis of your website.
Alerts
Ahrefs have a series of alerts, which will notify you when something occurs. These include:
New and lost backlink alerts
Web mention alerts
New keyword alerts
SEO Toolbar
This will give you instant SEO metrics for any website you visit, using a Google Chrome or Firefox extension.
Extras
Still not enough features? There's more – Ahrefs refers to these as 'extras'. They include:
This allows you to compare up to 5 different domains for backlink comparison
This will pull up SEO metrics for up to 200 URLs
This will help you to find sites that are linking to competitors, but not to you
This will find the keywords your competitors are ranking for
Tools
Ahrefs also has a ton of tools to offer, including:
This will allow you to check backlinks. It claims to be the most powerful backlink checker out there, and the best part is – it's free to use!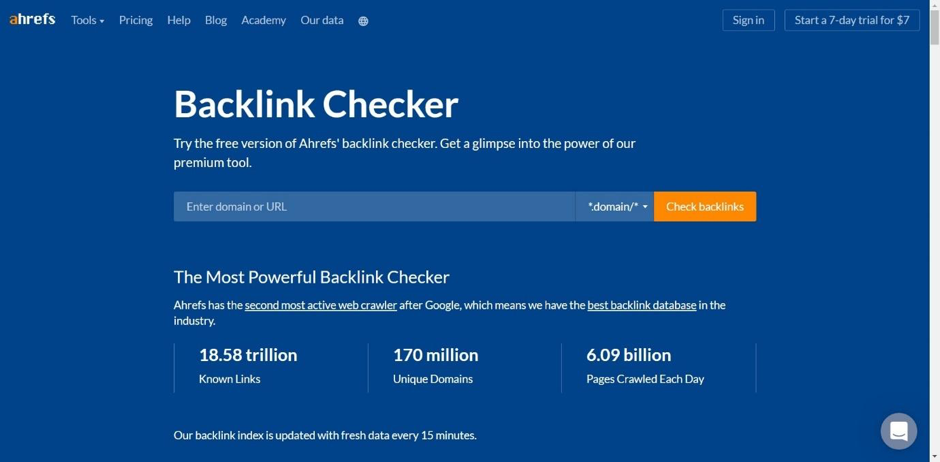 Website Authority Checker
This looks at the quantity and quality of external backlinks and will give you advice on how to improve them.
This will analyse search results, estimate traffic potential, and evaluate ranking difficulty.
YouTube, Amazon, and Bing Keyword Tools
This will research keywords that users are looking for.
This powerful keyword generator will give you thousands of keyword ideas in seconds and will help you to find relevant keywords from a database of over 8 billion queries.
The SEO Analyser runs a comprehensive SEO check on your website, checking for predefined SEO issues.
This will check how well sites rank using chosen keywords.
As the name suggests, this checks websites for broken links.
This will show you how difficult it will be to get into the top 10 search results for any keyword you can think of.
Pricing
In terms of pricing, Ahrefs is on the pricier side, but it does pack a huge amount of features into the price package. The Lite plan, at $99 per month, is designed for one user, and will allow you access to 5 projects, 500 tracked keywords every week, and a few of the alert features. The Standard pricing plan is the most popular, and it will allow you access to most of the tools you'll find useful. They offer a trial of 7 days for $7 – you can find out more here.
Knowledge Base/Support
Ahrefs has a decent knowledge base, but we would have liked to have seen more articles on there given the size of the platform. There's a chatbot in the corner at all times, so you can access the knowledge base when you need it, or you can leave a message for a representative to get back to you.
Pros of Ahrefs
Packed with tons of features – will give you a comprehensive set of tools to improve your website's SEO
Includes free tools, like the Backlink Checker
Cons of Ahrefs
Knowledge Base could be a bit more beginner-friendly
Yoast

Created in 2010, Yoast is an SEO plugin for WordPress users. The great thing about Yoast is that if offers a free plan – this will allow you to see if you enjoy using the plugin without having to commit to the paid plan straight away.
What features does it have to offer?
Internal Linking Suggestions
This suggests internal links for your content that would improve your SEO.
Schema.org Code
Yoast will add schema.org code to your website – this will allow Google to see exactly what your page is about, saving Google confusion and hopefully improving your rankings.
Preview Pages
This handy feature will allow you to view each of your pages in Google and on social media, so you can see exactly how your page looks to users.
Readability Check
Based on scientific research, like the Flesch Reading Ease score, Yoast will tell you exactly how well your page 'scans' to readers – and how likely they are to keep reading. This is a neat feature that will help you to write and structure your content in a way that really appeals to readers.
Tidy URLs
Yoast will allow you to set one page as the canonical link – this helps to prevent Google confusion, improving your rankings
Crawl Bots
Yoast makes it easier for crawl bots to check your pages – you can allow it to do this by itself or, if you're more technically minded, you can edit the robots.txt and .htaccess files
Content Insights
This feature lists 5 words or word combinations that appear most often on your page. This allows you to see if the topics you are writing match the topics you need to be focusing on to rank higher on Google.
Redirect Manager
Avoid visitors from seeing a 404 Not Found page by redirecting them to the most relevant page instead.
Focus Keyword Export
This gathers data around all the focus keywords you've used so far, and which keywords need a little more attention, and exports them to a CSV file
Regular Updates
Google makes tiny changes to its algorithm up to 600 times a year – Yoast makes updates to the plugin every two weeks, allowing you to stay on top of these changes.
Access to 24/7 Support
If you upgrade to the Premium plan, you'll get access to 24/7 support for one whole year – which is great if you run into any issues.
Pricing
With Yoast, you can expect to pay $79 per website, including one year of support. This is pretty competitive in terms of pricing, although it's not as comprehensive as other tools we've looked at. To find out more about Yoast, click here.
Knowledge Base
Yoast have a great knowledge base with a variety of articles, including tutorials so that you can make the most of the platform.
Pros of Yoast
Has a free plan, so you can access some of the features without committing to the Premium plan
Decent price point
Great if you're a WordPress user
Cons of Yoast
Restricted to WordPress users
Not as comprehensive as other tools on this list
Moz
Founded in 2014, Moz is one of the most popular SEO tools out there, with some excellent tools.
Keyword Explorer
The Keyword Explorer allows you 10 free keyword searches a month (and more, obviously, if you're a paying customer). You can identify which keywords your website could rank for, from over 500 million keyword suggestions.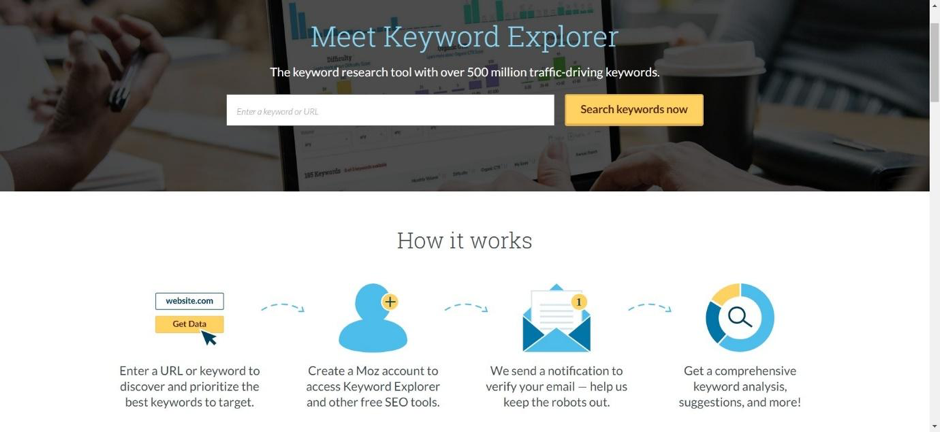 You can then analyse these keywords by search volume, generate and save keyword lists, export data as a CSV file, find keywords in question format, sort by predictive keyword metrics, and more. It's a very comprehensive tool, that will allow you to really understand what people are searching for and what they expect to find.
You can also perform competitive keyword analysis. This will allow you to see what keywords your competitors sites are ranking for, giving you an insight into their strategies.
Rank Tracking
This allows you to track your ranking, as well as the rankings of your competitors. You'll be able to see keyword ranking performance, which will show you which keywords are working and which aren't. You can compare mobile and desktop visibility, too. You can also examine which keywords your competitors are using, to see how well they're performing.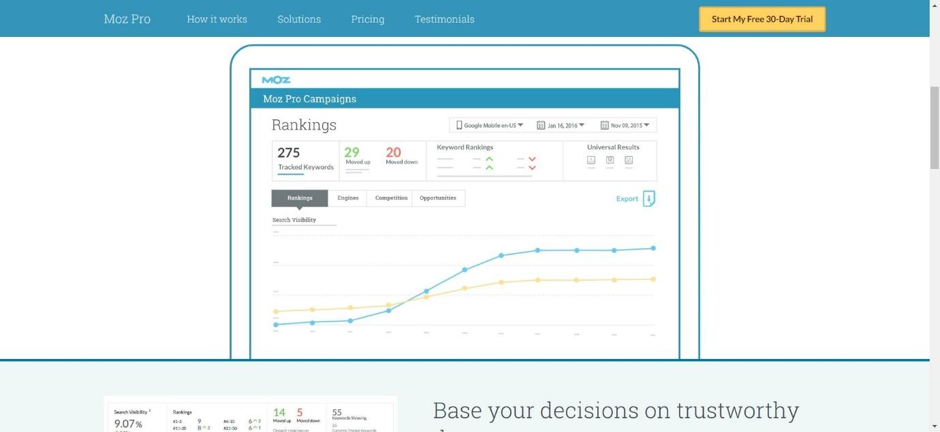 Crawl and Audit Sites
If your site has any SEO health issues, Moz will be able to tell you. It will report broken links, missing title tags, and many more issues which could negatively impact your website SEO. It crawls through each page, even on large sites, at a high speed, and will present the information it finds in handy graph form. You can choose to mark them as fixed and then recrawl to see if it worked.
The great thing about this is that it will automatically crawl once a week, and it will notify you of any issues it finds. This is a great, low-maintenance way to keep an eye on the SEO of your website.
On-Page Optimization
All you have to do here is enter a keyword and page combination, and Moz will bring up a list of recommendations with step-by-step instructions on how to optimize your page content for better rankings. It will even give you content suggestions, which is helpful.
Link Explorer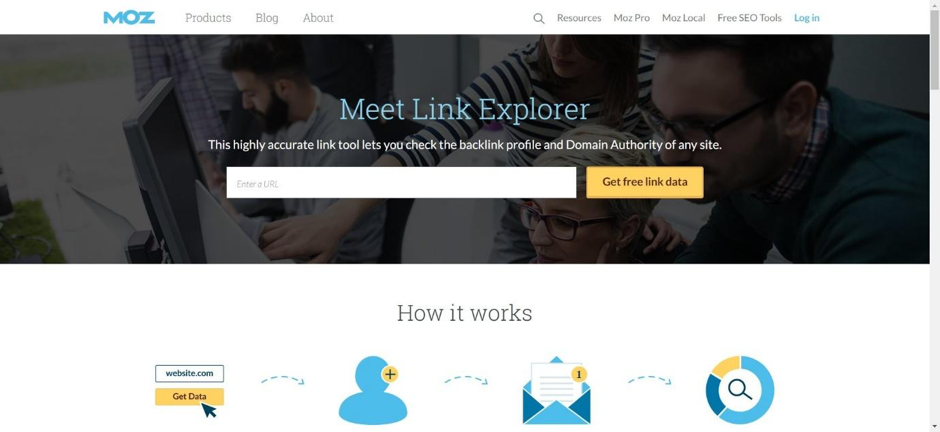 This is very simple to use and allows you to immediately check the backlink profile and Domain Authority (DA) of any site. It will show you links to any site, and will allow you to research competitor backlinks, too. It will check the spam score of backlinks, discover link building opportunities, and research the best performing content, giving you great insights into how you can improve your site.
Custom Reporting
Moz will create a customized PDF or CSV report, using a drag and drop report builder. You can even include your logo in reports, giving them a professional look.
Knowledge Base/Support                                                                                        
The knowledge base is really in-depth and includes tons of free tutorials on SEO in general, giving you great strategies to work with. There's also the Help Hub, with videos and tutorials to instruct you on making the most of the platform. If you need extra support, you can fill out a form for a representative to get back to you.
Pricing
In terms of pricing, Moz is around the same price as Ahrefs and SEMRush. The Standard plan, at $99 per month, is best suited for those who are new to SEO with more limited tools. The Medium plan, at $179 per month, contains a great array of tools, and is the most popular option. For larger businesses, you could look at the Large plan ($249 per month) or Premium ($599 per month). Moz offers a free 30-day trial – click here to find out more.
Pros of Moz
Tons of features and comprehensive tools
Loads of information on the knowledge base – great for beginners
Cons of Moz
To get the best features, you need to go for the Medium plan, which may be out of reach of smaller businesses
Long Tail Pro
Launched in 2011, Long Tail Pro focuses on – you guessed it – long tail keywords. Long tail keywords are three- or four-keyword phrases. They're useful if you want to create content aimed at users undertaking research on a specific topic (for example, if a person is trying to buy a new product and wants to research the best options).
Long Tail Pro allows you to enter a 'seed' keyword and will then give you a list of long tail keywords you can use. It also offers great analytics for your own website and the websites of your competitors.
Keyword Search
One keyword can give you 400 longtail keywords within seconds – you can add filters to help you sift through the results.
'Competitor's Keyword' mode is great – it allows you to examine your competitor's keyword strategy. If you have a keyword you're already considering using, you can use Long Tail Pro to pull up keyword metrics for it instantly. 
Many keyword tools measure keyword difficulty using low, medium, or high. Long Tail Pro uses a scale of 0-100, with colour coding to help you quickly see the difficulty. This is great, as it gives you access to more specific information.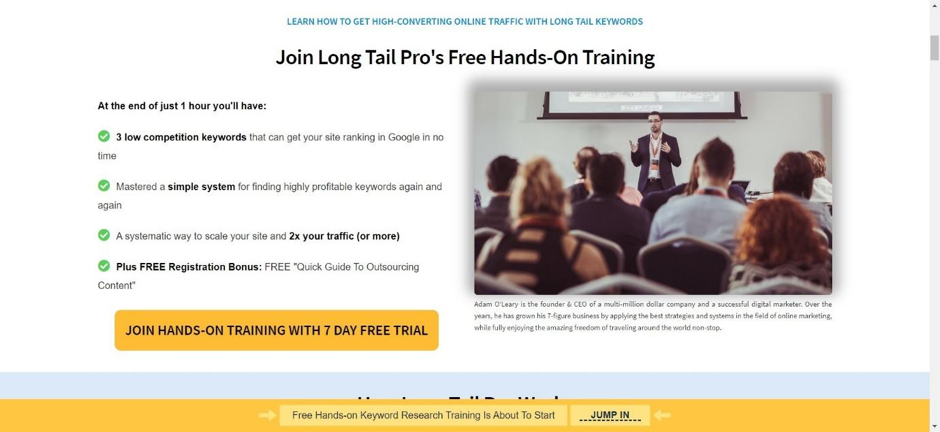 Compete
Long Tail Pro uses analytics like trust flow, citation flow, site age, and referring domains to check out well your competitors are performing, and check your chances of outranking them on Google. This will hopefully allow you to get the edge over your competitors.
Rank Tracker
This allows you to check the keyword ranking of your website using key search terms. It will update them daily, helping you to stay informed without having to manually search each time.
Knowledge Base
When you go to the Long Tail Pro website, you will immediately be offered free video training (the Bootcamp). You can also go on to do Long Tail University training, which will give you more advanced insights into SEO strategies. There's a whole library of articles and video tutorials, too.
Immediate offer of free video training to get you started. Library of video tutorials, start with Bootcamp, followed by Long Tail University for more advanced lessons. 
Pricing
Obviously, Long Tail Pro doesn't have as much to offer as some of the more comprehensive tools on this list, and the pricing reflects this. The cheapest plan is the Annual Starter plan, at $25 per month, which allows you 800 keyword lookups every 24 hours. Annual Pro is $45 per month, and allows you 2500 keyword lookups, and Annual Agency is priced at $98 per month and allows you 6000 keyword lookups. All of the plans are billed annually. You can test out the platform using a free trial here.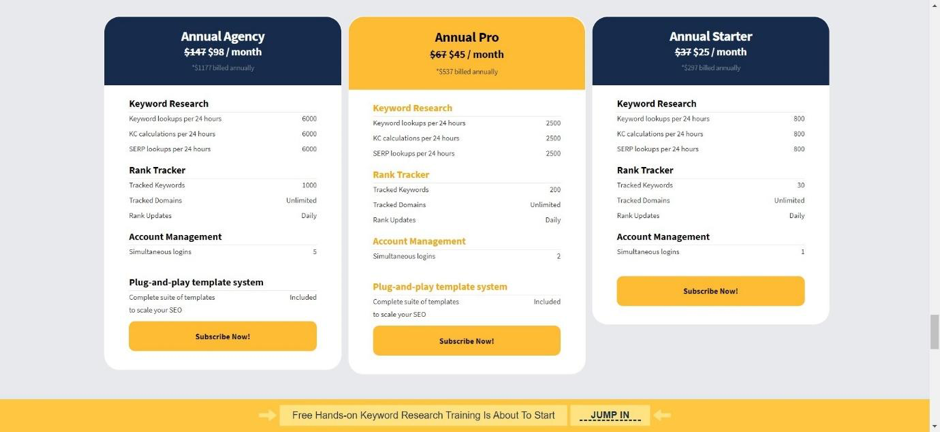 Pros of Long Tail Pro
Really useful tool if you're focusing on long tail keywords
Great video tutorials to help you make the most of the platform
Cons of Long Tail Pro
Not as many features as the more expensive options on this list
No option to pay monthly – the upfront cost may put people off
Conclusion
We've tried to include a range of tools here – from bigger platforms to smaller tools. Comparing them directly can be tricky, as it really depends on what you want for your SEO strategy. For example, if you're focusing on keywords, Long Tail Pro could be a great choice – it's on the cheaper side, and it gives you a great insight into your competitor's strategies, as well as finding great keywords. Yoast is great if you're a WordPress user, too. 
However, if you're looking for a tool that will cover all the bases when it comes to SEO, Ahrefs is a great choice – you get a lot of features for your money, and it's so extensive that it could make a huge difference to your SEO strategy.
Further read: