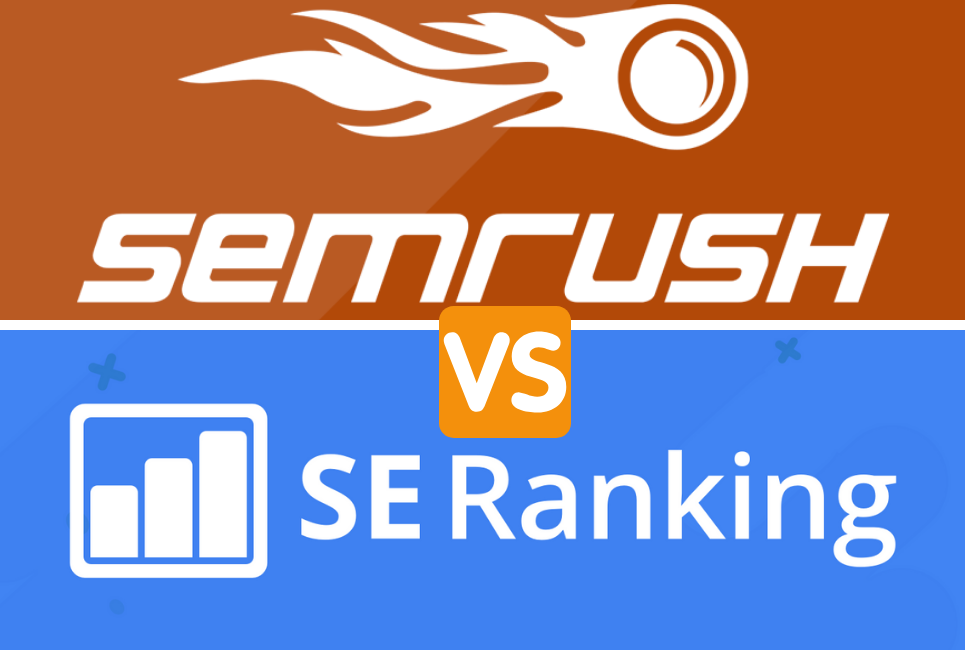 Today, ranking on top of Google and other search engines is no easy job. From optimizing your website to amassing a healthy amount of backlinks, there's no end to what an SEO expert has to do to take a website to the #1 spot on Google. That's why I wanted to compare two tools that I've heard a lot about amongst my fellow SEO enthusiasts: SEMRush vs. SE Ranking. Which reins supreme?
That being said, there's no shortage of SEO tools which can help you achieve this task.
Today, we're going to talk about – and compare – two extremely well known and excellent SEO tools on the market, SEMRush and SE Ranking. These aren't just tools, but rather a collection of multiple tools bundled in one awesome piece of software.
Which of these is better suited for your needs? What features does one have which the other doesn't? How much does each cost?
Let's find out…
SEMRush and SE Ranking: An Introduction To Two Powerful SEO Tools
The advantage of both these tools is they house all the SEO specific SEO tools you might need. They both offer flexible pricing and both tools can be accessed via the internet on any phone or tablet thanks to the cloud.
We'll dive into more detail as to what specific tools they both offer, but right now, let's discuss what makes each of these tools unique.
SEMRush
In the case of SEMRush, they seem to be focused on providing their users with extremely detailed reports on their SEO efforts. Whether it's a report on backlinks, a keyword or a domain analysis, SEMRush provides a wealth of data in both a visual and numerical format.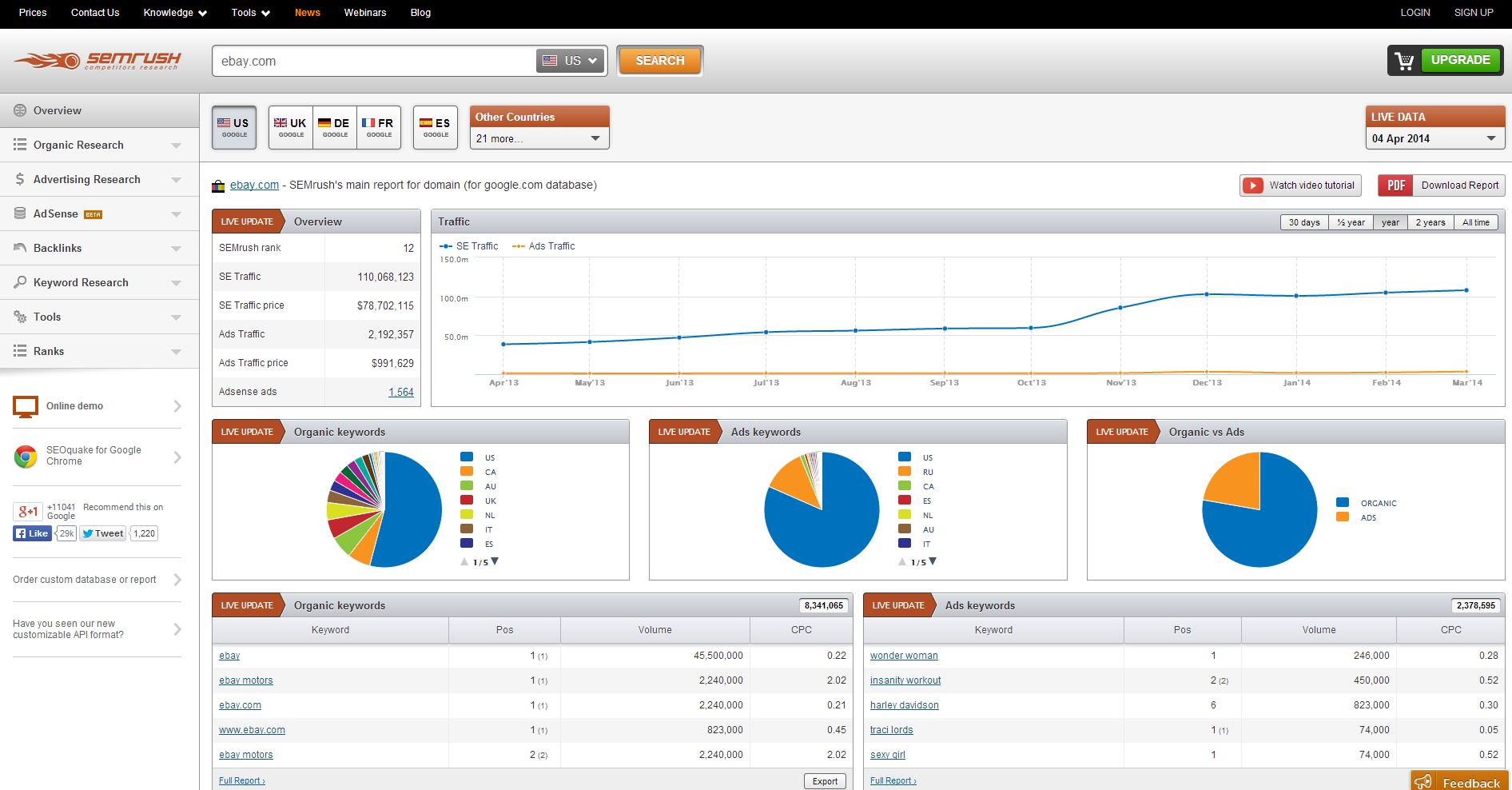 Another area where SEMRush shines is that they offer a wealth of information through their blog. In addition, they also have a knowledge academy where you can pass a SEO examination and get a certification.
And most importantly, SEMRush has every kind of SEO tool imaginable for your marketing needs. From finding competitor keywords to giving you a full SEO audit of your website, SEMRush does nearly everything.
SE Ranking
SE Ranking is more focused on providing their services to agencies (or so it seems). That's because they strongly emphasize their custom reporting tools and even have a cool widget agencies can use for lead generation – but more on that later.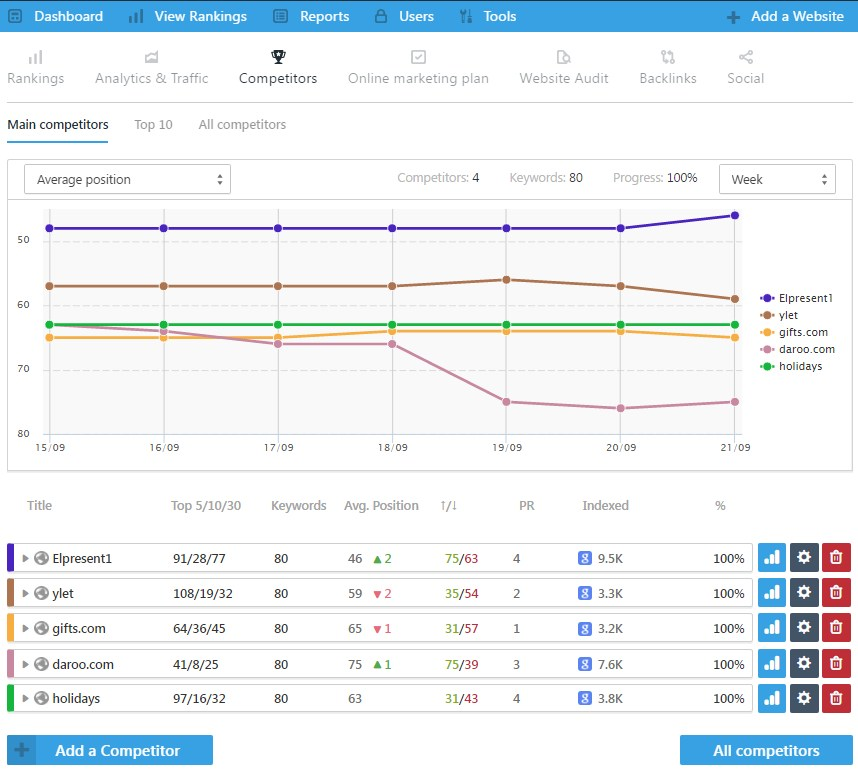 This isn't to say SE Ranking isn't fit for freelancers, startups and companies. On the contrary, their interface is one of the easiest to use among the two. You can see the information laid out on SEMRush much more clearly.
With that being said, the easy-to-use UI comes with its own sacrifices. The data provided by SE Ranking is nowhere as complete and comprehensive as SEMRush. But nevertheless, the data provided by SE Ranking is enough to give you a solid idea in what direction you have to go.
Feature Rundown: SEMRush Vs. SE Ranking
Both SEMRush and SE Ranking provide powerful and essential features that will help you implement your SEO strategy. But while 90% of the features are similar, there are one or two features that are unique to each specific tool.
In this section, let's first have a run down of what features both SEMRush and SE Ranking provide.
SEMRush Feature List
We've divided the tools which SEMRush provides into 7 categories. In each section, we'll break down what you can accomplish with the many features SEMRush provides. Let's get started.
Organic Research & Organic Traffic Insights:
Today, the formulation of every SEO strategy starts with analyzing your competitors and your own website. For that, SEMRush provides two tools:
1. Organic Research
2. Organic Traffic Insights
The organic research tool lets you do three main things. a) You can use it to discover your competitors' best performing keywords, b) find out your top organic competitors fighting for your spot in SERPs and c) analyze changes in ranking of your competitors' and your own domains.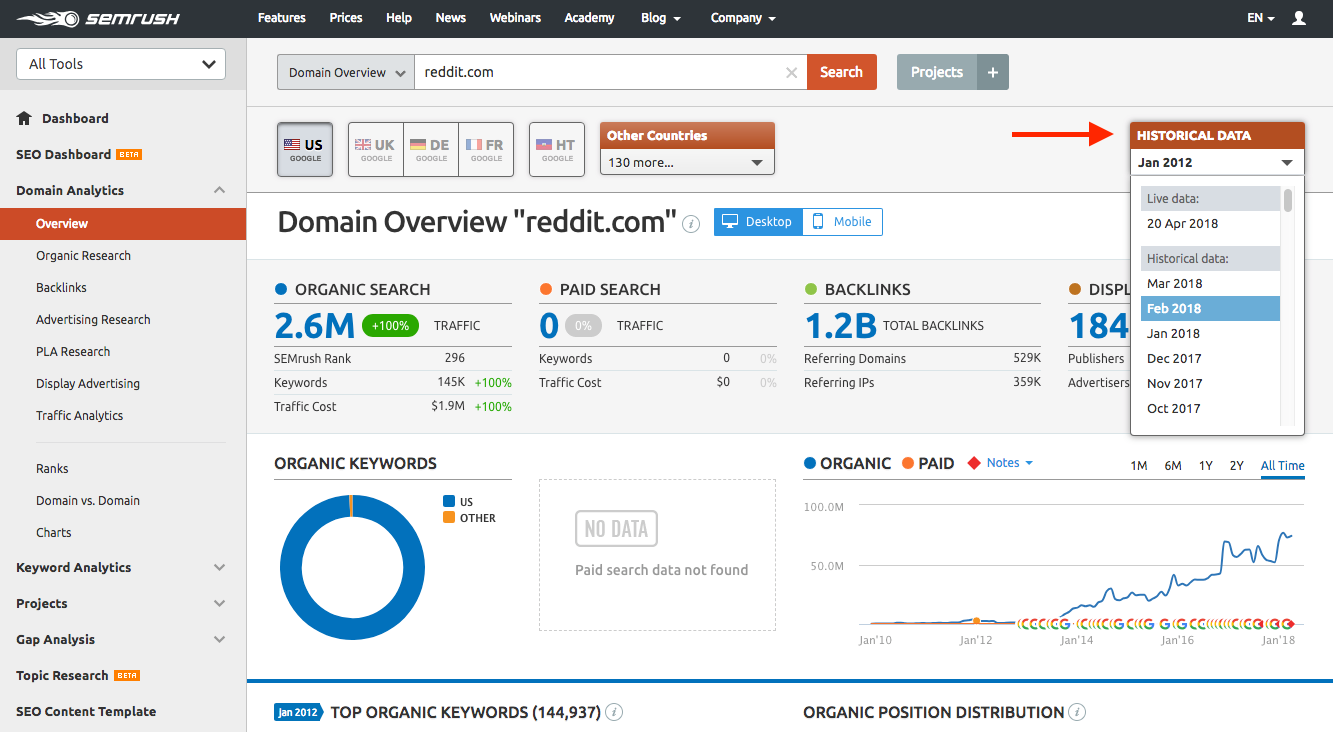 With these three features, you'll be able to find out which keywords you should focus on, who you have to beat and where you stand on search engines.
The organic traffic insights tool does something even better.
It helps you find out 'hidden' keywords you are ranking for that Google Analytics doesn't show you.
In addition, this tool provides data from both Google Analytics and Google Search Console. This means you get a deeper understanding about the value of a keyword.
And finally, organic traffic insights will also show you the potential of each keyword buy sorting them based on how much competition each keyword has. This way, you can focus on ranking for low competition keywords, hence, moving faster to thee top of search results.
Advertising Research & Display Advertising
These tools let you see the advertising strategy of your competitors. You can use this tool to find what keywords your competitors are bidding on, what kind of ads they're creating and how much they're spending on their campaigns.
Both these tools will help you immensely in discovering what you need to do to outperform your competitors in paid campaigns.
Backlinks & Backlink Audit Tool
Backlinks is the backbone of a well performing SEO strategy. Good quality backlinks can boost your ranking in SERPS while bad backlinks can take you down.
The Backlink and Backlink Audit tools help make sure your website is linked to good quality domains. It will help you identify both high authority and toxic backlinks. This will make it easier for you to associate your website with good domains while simultaneously break off with bad domains.
Keyword Research, Keyword Difficulty, Keyword Magic Tool & PPC Keyword Tool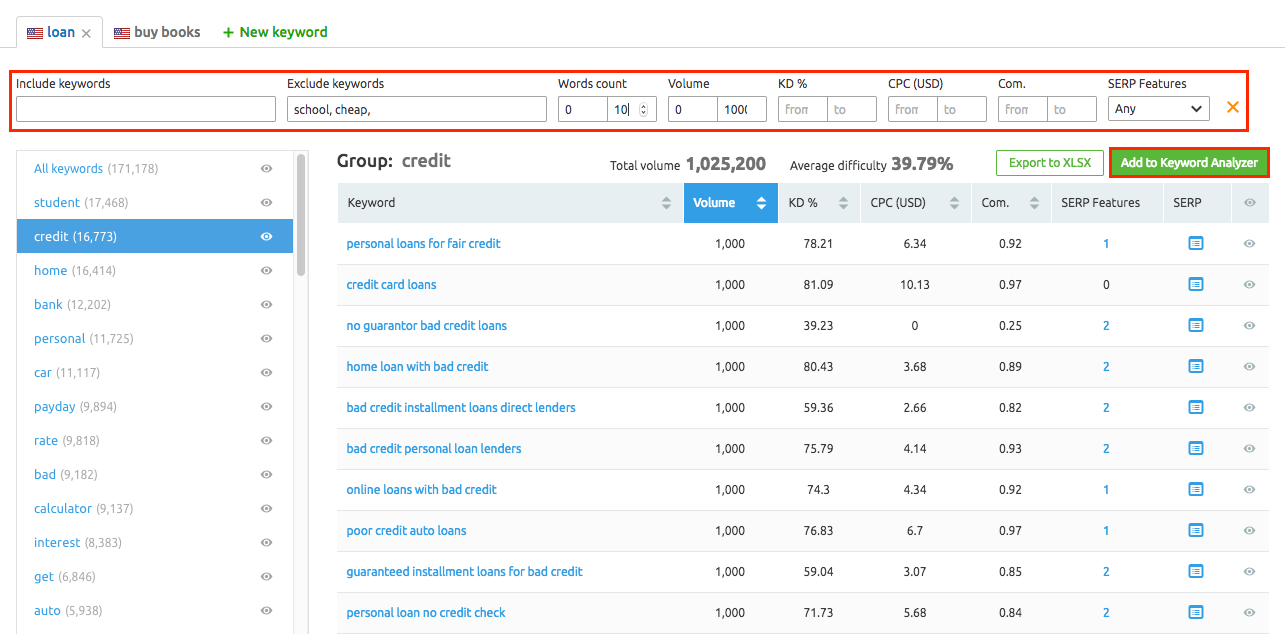 Because of these four tools, you will be able to discover, collect and analyze the very best keywords possible for your website.
These tools will help you discover long tail, less competitive keywords and also give you suggestions for other keywords. You can then sort, analyze and group these keywords right within the tool and use in in your SEO and PPC campaigns.
Product Listing Ads
This is a unique tool on SEMRush. You can use this tool to analyze your competitors' PLA ads and find out which keywords trigger their ads to show up and how much are they spending on each ad
Domain vs. Domain, Position Tracking, Charts & My Reports
These three tools let you accomplish three main tasks:
1. Compare various SEO stats for two domains. It can be either you vs your competitor or between two of your competitors.
2. See the position of your or any other domains for a specific keyword.
3. Analyze your competition and your performance visually through charts and create custom reports either for yourself or your clients.
Site Audit, On Page SEO Checker & Content Analyzer
With these three tools, you can scan your website for any SEO errors, discover opportunities to further optimize your website for SEO and create SEO optimized content such as articles, landing page copy and blog posts.
Social Media Tracker, Social Media Poster & Brand Monitoring
The most important among these three tools is the brand monitoring tool. This tool scrapes the web and finds mentions of your brand on the internet.
Why is this important?
Because when someone mentions you on the internet, it's either to say something positive or negative. The brand monitoring tool allows you to see at once what kind of information is being said about you so you can capitalize on good press and damage control on negative press.
The social media tracking and management tools on the other hand allow you to control how you spread information about your company on the internet.
You can use these tools to find out which posts people engage with the most, which posts are getting the most likes and comments and which posts are bringing you the lowest amount of traffic.
In addition, you can use these tools to manage and automate your social media campaigns on both Facebook and Twitter.
SE Ranking
SE Ranking also provides tools similar to SEMRush but are less robust. But nevertheless, they get the job done and SE Ranking allows you to show all the results by customizing the reports to your branding. That being said, let's take a deeper look at SE Ranking's features:
Keyword Rank Tracking, Keyword Suggestion Tool & Keyword Grouper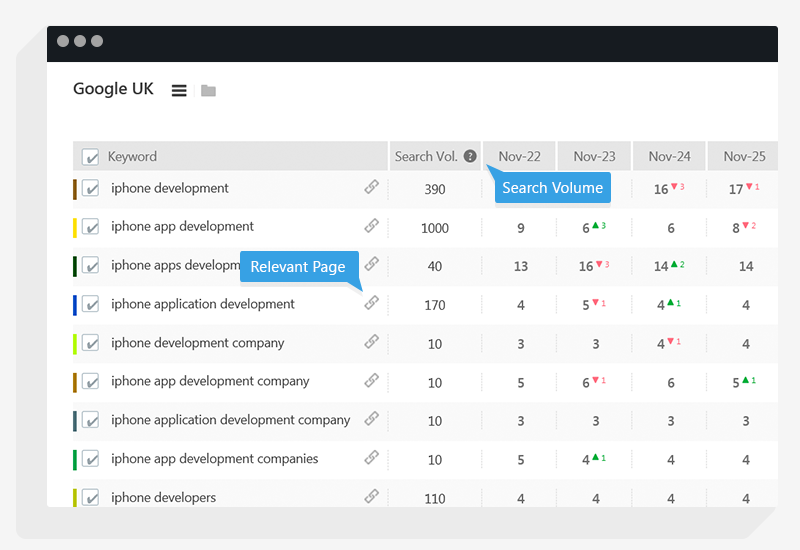 These three extremely important tools SE Ranking provides are similar to the keyword research tools provided by SEMRush. You can use this tool to discover new keywords, both through suggestions and by analyzing your competitors. In addition, you can use this tool to group keywords based on different metrics, view how valuable each keyword is and how well you and your competitors are ranking for a specific keyword.
Website Audit & On-page SEO Audit
Again, similar to SEMRush, these features will scan your website and show you where you can make improvements to the technical SEO on your website. And similar to SEMRush, not only will SE Ranking check your website, domain and links, but it will also check the content within your website to find SEO errors.
Backlink checker & Backlinks Monitoring
These tools will help you check which backlinks are boosting your website ranks and which backlinks are hurting your website rank, allowing you to block and allow the appropriate backlinks to link back to your domain.
Page Changes Monitoring
Now, this is a feature that's unique to SE Ranking. As we've said before, SE Ranking emphasises heavily towards agencies, and for them, this tool is a blessing.
What this feature will do is that it will alert you if there are any changes made to the content, metadata and links on your website. You'll receive frequent reminders presented in a clean dashboard so you can quickly become aware of any changes on your website.
Marketing Plan
We've already mentioned how SE Ranking has an easy to use interface making it ideal to beginners. In addition, the Marketing Plan feature of SE Ranking will give you a solid checklist which you can use to understand how you have to get started with SEO.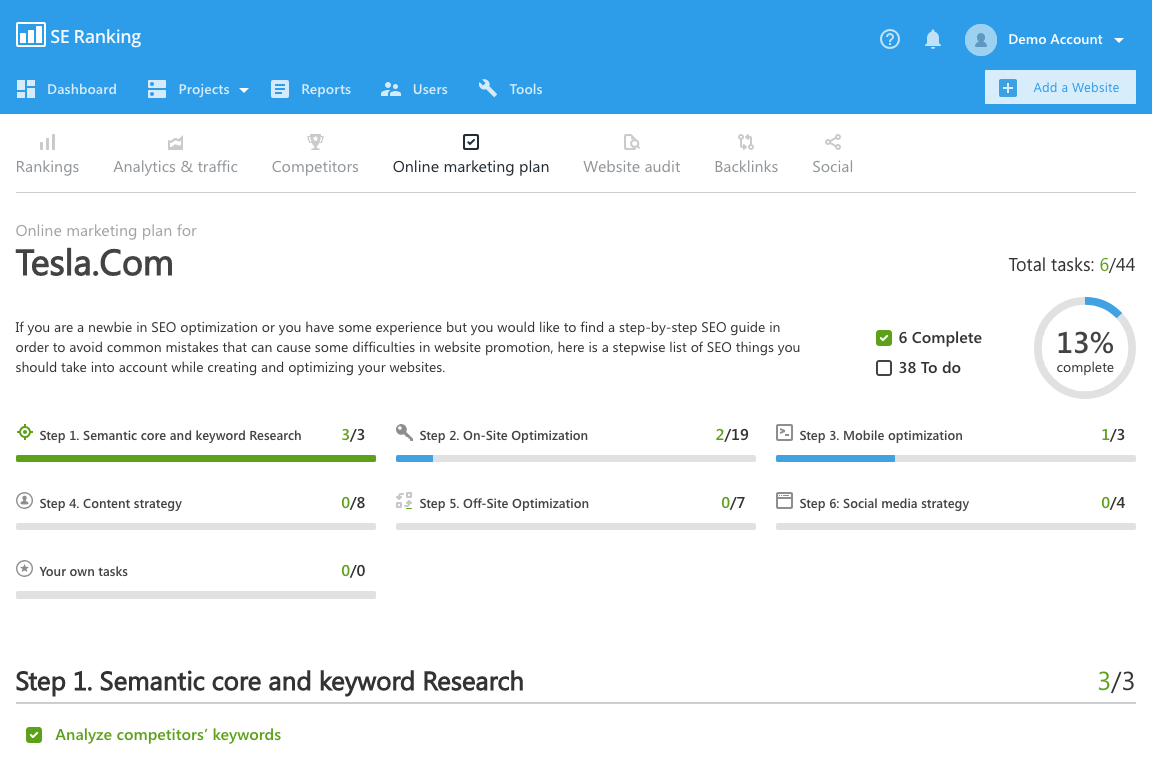 This marketing plan checklist will benefit both newbies and experienced SEO players as both have to go through similar steps when optimizing websites for search engines.
The marketing plan will serve as a guideline you can follow to make sure you're on the right track.
White Label & SEO Reporting Tools
These two features, similar to SEMRush, allow you to create custom reports of your SEO efforts. You can measure the results and put them into a custom-branded report to present it to your client or your team.
Lead Generator
Now, this is the unique tool we were talking about that's exclusively available for SE Ranking users.
The lead generator is not a tool, but a widget you can place on your website. What this widget does is that when a visitor on your website enters their domain, it presents them with a free SEO audit report in exchange for their email.
This is a win-win situation both for you and your visitors. Your visitors get a ready-made SEO report which shows all the problems on their website. You, in return, get to collect leads and establish your authority. Because as far as your visitors are concerned, the report is from you, not SE Ranking.
Pricing: Which Offers The Best Value?
SE Ranking has more flexible pricing than SEMRush. You can decide which plan you want based on how many users will be using the app, how frequently you'll check rankings, how long you'll be subscribed to your plan and how many keywords you'll track. This combination makes it easy for you to choose a plan that suits your needs.
SEMRush on the other hand, offers three simple plans: Pro, Guru and Business. The plans are also generally more expensive and the Pro plan, which is the most basic plan, has significantly less features when compared to SE Ranking's basic plans.
Which One Should You Choose?
That's why, if you're just getting started with SEO, we recommend you use SE Ranking. Their clean UI, flexible plans and additional unique features like the lead gen tool and marketing plan will be great for those starting out, especially if you're a freelancer or a one-man marketing team.
But, if you're a big company who needs a wealth of information and more SEO-centric features, SEMRush is a better choice. Because as an expert, you'll need more powerful tools, better data and more diverse results, and among the two, only SEMRush can give you that.
SEMRush Vs. SE Ranking Comparison Chart
| | | | | | | | | |
| --- | --- | --- | --- | --- | --- | --- | --- | --- |
| | Pricing/ Month | Total SEO Tools | Marketing Plan Checklist | Historical Data | Lead Generation Tool | Custom Reports | Social Media Management | Flexible Pricing |
| SEMRush | Starts @ $99.95 | 28 | No | Yes | No | Yes | Yes | No |
| SE Ranking | Starts @ $7.00 | 15 | Yes | No | Yes | Yes | Yes | Yes |
Once you start getting all the traffic (because of your newfound SEO skills of course), you are going to want to convert these people into paying customers.
While there are many tools that can help you generate leads, not all of them are the same. Here are some other articles you may be interested in:
The 5 Best Sales Funnel Software Programs to Get You Started Making Money Online
The Best SEMRush Alternatives You'll Love
Clickfunnels vs.Website: Do I Need Both to Build Leads?
Let us know how your SEO game is going! Reach out if you need any tips. Around here, we love SEO (and the traffic that comes with it.)