Most people are confused as to what a landing page is. That's why, before we can learn how to build a landing page, let's briefly define what a landing page is – and why it is used.
Here's how Unbounce.com defines a landing page:
"… a landing page is a standalone web page, created specifically for the purposes of a marketing or advertising campaign. It's where a visitor "lands" when they have clicked on a Google AdWords ad or similar."
The purpose of a landing page, according to Unbounce.com, is to convince your visitors to take a single specific action of your choice, which is done by adding a CTA (call to action) button.
The Anatomy of A Well-Built Landing Page
No matter how many fancy software you use to build your landing page, you need to first learn how to create it. Ask any seasoned marketer and they'll tell you that good writing is crucial to the success of any landing page.
Keeping this in mind, here's are the top things your landing page should include to increase your chances for its success.
A Relevant, Persuasive Headline and Subheadline
Your headline should match your advertisement copy – and it should in one sentence, explain why your visitors should be interested in what you have to offer.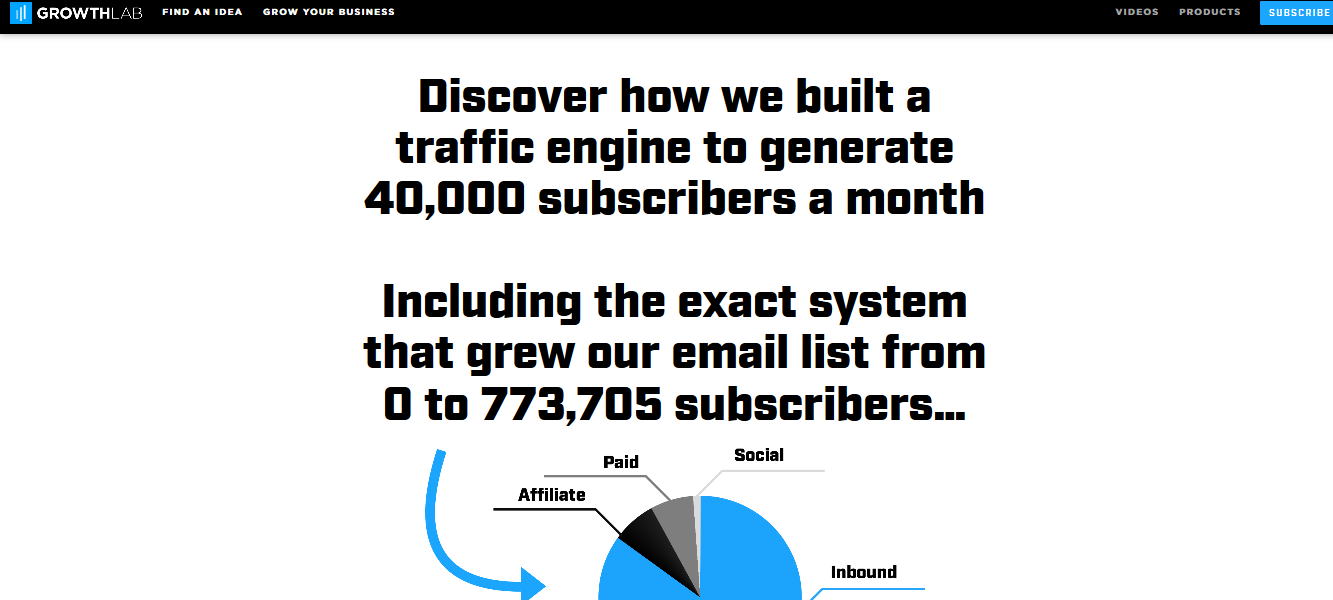 Benefit Driven Copy That Showcases Why People Should Buy What You're Selling
Ensure that you write the benefits of what you're selling, as that is more important than the features. For example, the feature of your product might be that it is 2 times faster. But the benefit of your product is that your users save 10 minutes of their time as a result of your product being faster. For more impact and greater visibility, list these benefits in bullet points nearer to the top of your landing page.

Testimonials To Increase Your Credibility
People don't like be the first to try something new or untested. Similarly, they also don't like to be left out of a good deal as well. If you could add testimonials from your previous customers, or positive reviews, it will go a long way to convince readers to act on your CTA.

GrooveHQ's testimonial section includes one-sentence reviews of their product from acclaimed news sites.

GrooveHQ showing how many customers have bought their product is a great way to persuade new buyers.
A Pricing Section If You're Selling A Product
If you're selling a product or service, it's important to justify the price. At the end of your landing page, create a table summarizing everything your potential customers will get when purchasing your product/service. In addition, also add a money-back guarantee or a free trial if possible to build more trust.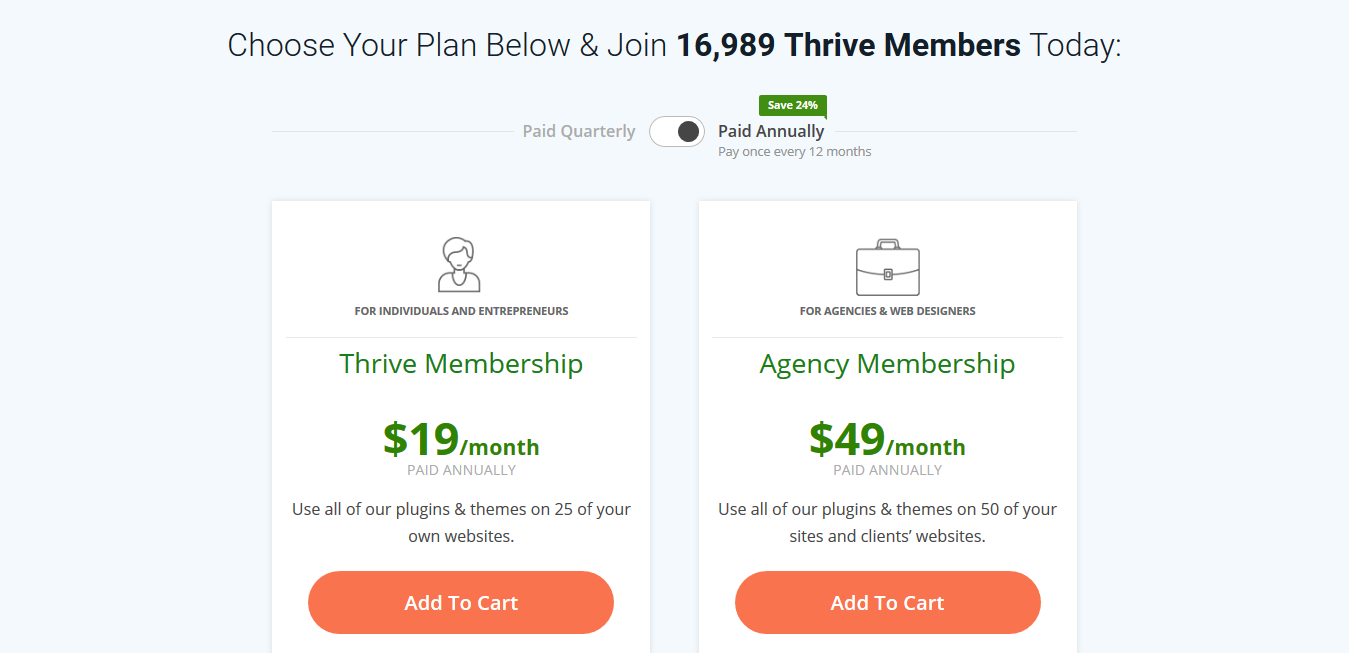 Pricing Table for Thrive Themes Paid Membership
Your Call To Action
70% of people will only read the top and bottom of your landing page copy. That's why add your CTA button at the top and bottom of your landing page. But if your landing page is longer, you can add your CTA button on three to five areas.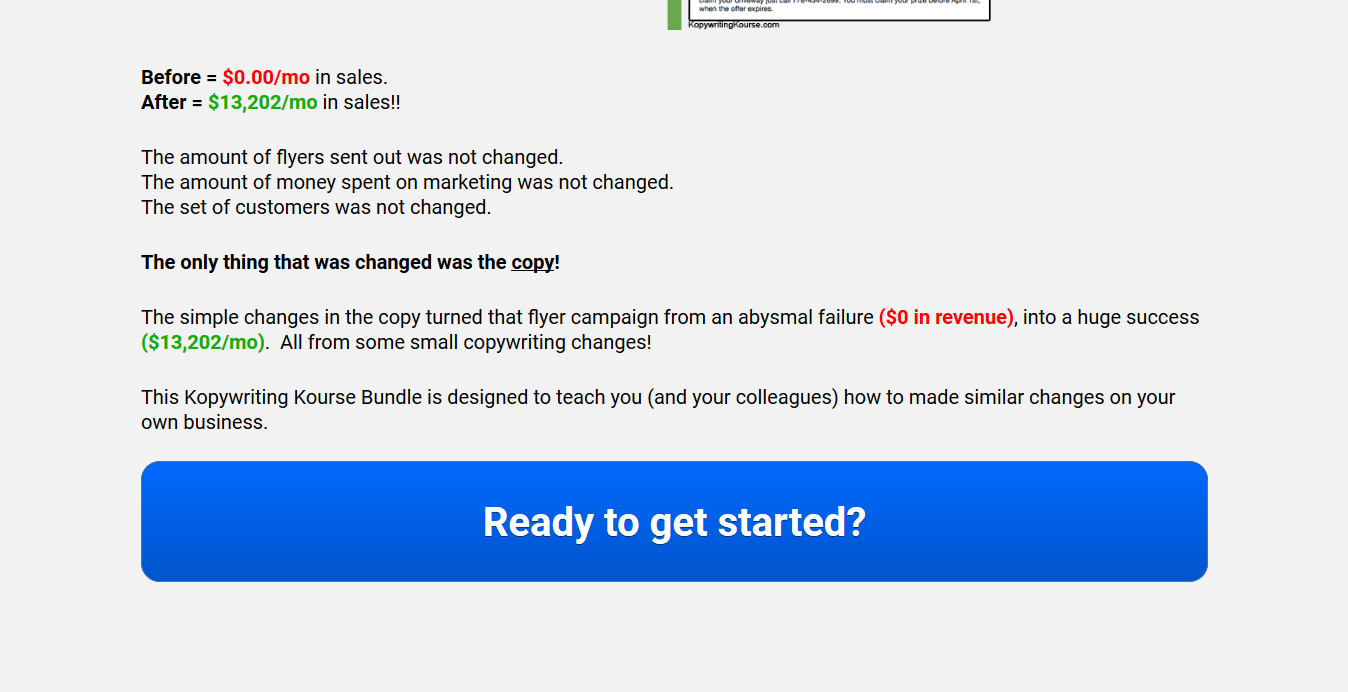 A Call-To-Action Button on the KopywritingKourse sales page.
How To Build A Landing Page Using 5 Easy-To-Use Website Building Tools
Now that you know the basics of how to write a landing page, it's time to learn how to build it using many of the incredible tools available online.
For this article, we've selected 4 of, which we think, are the best landing page building tools out there. They are:
1. Clickfunnels
2. Wix
3. Shopify
4. Instapage
5. Squarespace
All these tools are extremely powerful and have their own strengths and weaknesses, which we'll discuss below.
How to Build a Landing Page: Instapage
If you need a simple, easy to use and fast solution to build your landing page, there's no better choice to do that than in Instapage.
Here's how to build a landing page on Instapage:
1. Choose A Template: Instapage offers hundreds of templates for any purpose imaginable. Landing page to collect emails? Check. Landing page to sell ebooks? Check. Landing page for a product launch? Webinar? Thank-You page? Check, check and check!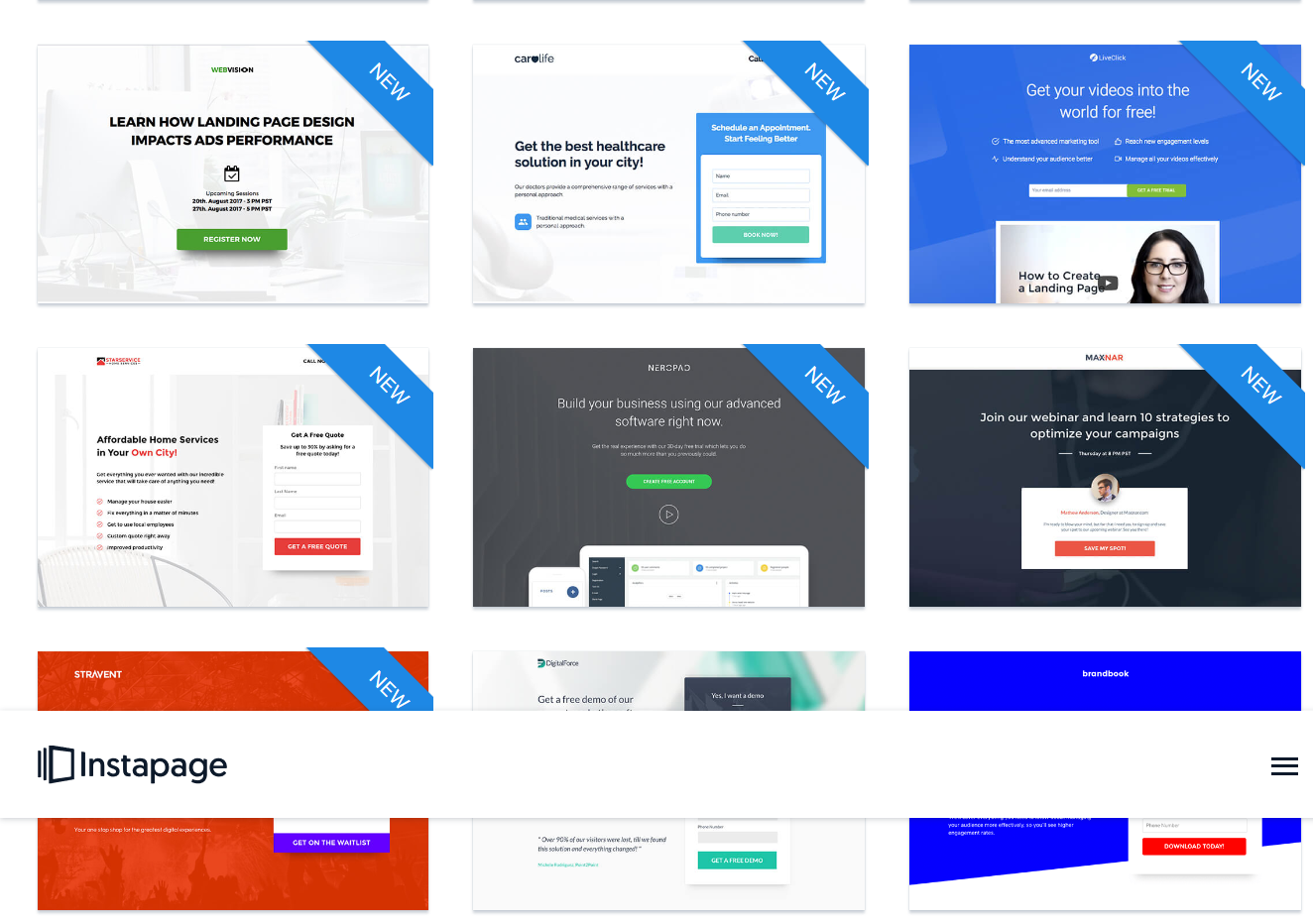 2. Edit The Landing Page: The Instapage Landing Page Builder is the place where you can edit the template you've chosen. Here, you can write your headlines and copy, add testimonials and images, and change the theme of your landing page template.
3. Publish Your Landing Page to A Domain: Instapage offers free hosting for your landing page, but for your visitors to be able to access it, you need to connect it to a domain (web address). To do that, simply click the publish button on the Instapage landing page builder tool. There, you can choose the way to connect your landing page to your domain. Options include connecting to your custom domain, your Facebook ad link, WordPress, Drupal and more.
How to Build a Landing Page: Shopify
If you are selling a huge collection of products, like clothes or mobile phone accessories, building landing pages for each product in your inventory is going to take a lot of time.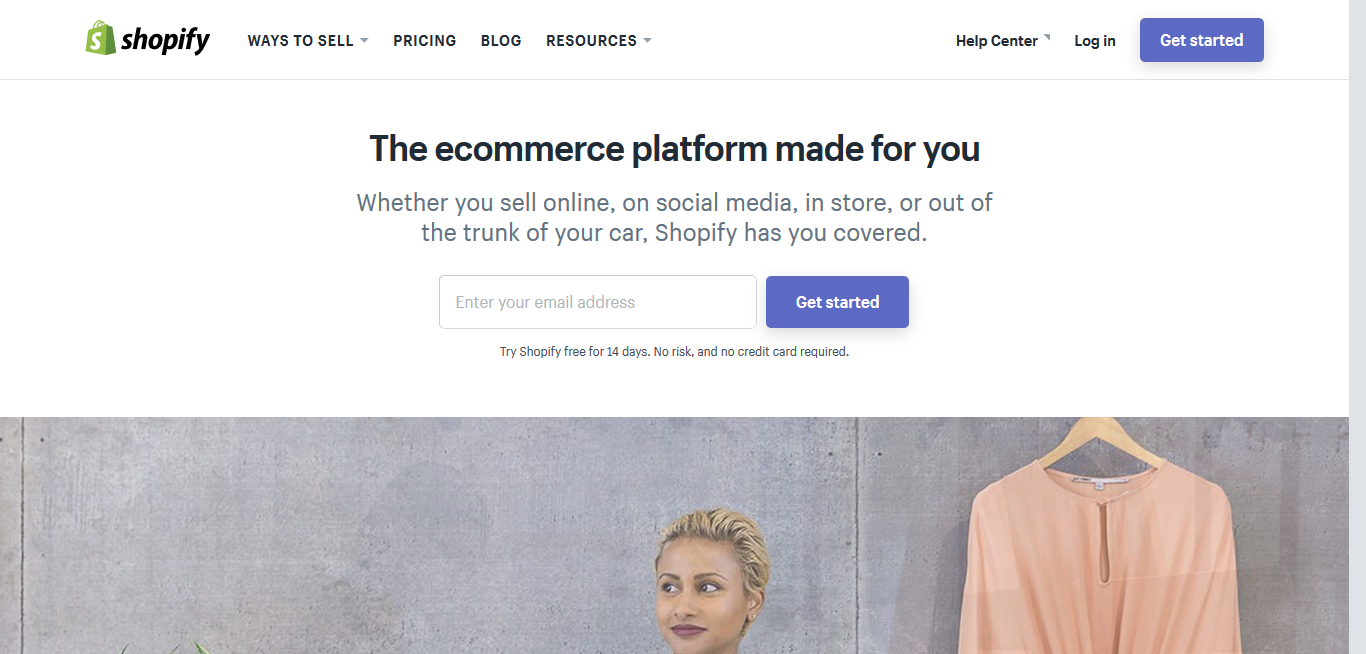 A better solution is Shopify. We love Shopify so much around here, we've created an entire post to help you do that, but here are some quick pointers to get you started.
Shopify lets you build a fully-fledged online store where every single item can have its own unique page.
To start, select one of the many themes available on Shopify. After you've chosen your theme, simply add the product(s) of your choice to your Shopify store and edit the product pages to include your own text and images.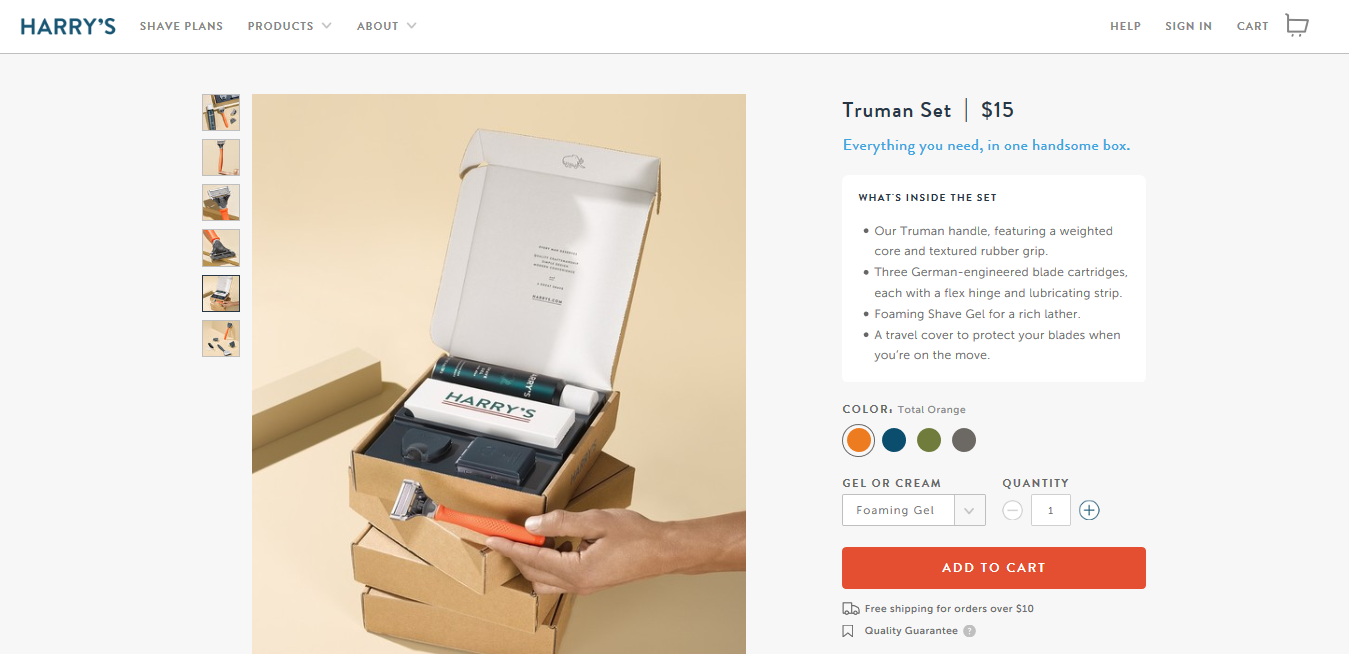 A Shopify store with the product's landing page showing images, features, color options and an 'add to cart' button.
However, if you want to go one step further and create a dedicated landing page for your Shopify store products, consider installing the Shogun Drag and Drop Page Builder Plugin to your store.
This will allow you to create landing pages separate from your Shopify website (yet integrated with it).
You can use the Shogun web builder to create a landing page complete with your product's image, description and a checkout solution, which is perfect if you plan to run FB or Google Adwords ads for a specific product.
How to Build a Landing Page: Wix
Wix is another great tool you can use to build a landing page.
What makes Wix extra special is that not only can you build landing pages, you can build fully-fledged websites as well.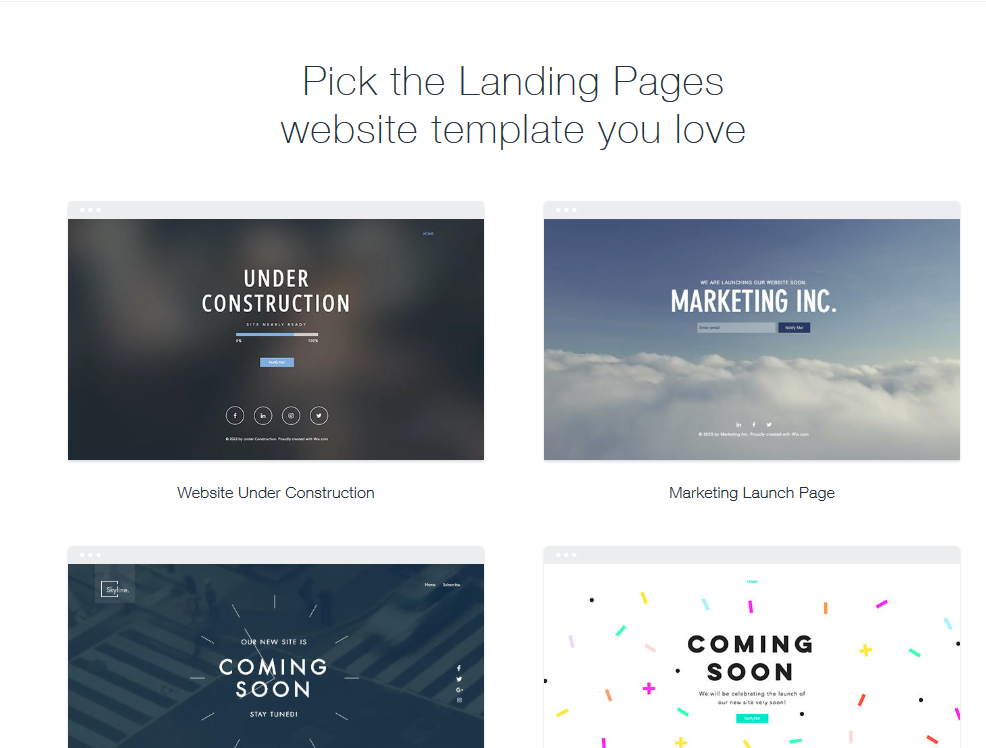 The process of making a landing page on Wix is fairly simple – and in many ways, just like Instapage.
To start, you choose a landing page template of your choice.
Once done, Wix will take you to their website editor tool where you can make any kind of changes you want.
And here's where you'll see why Wix is much more powerful than other landing page builders out there.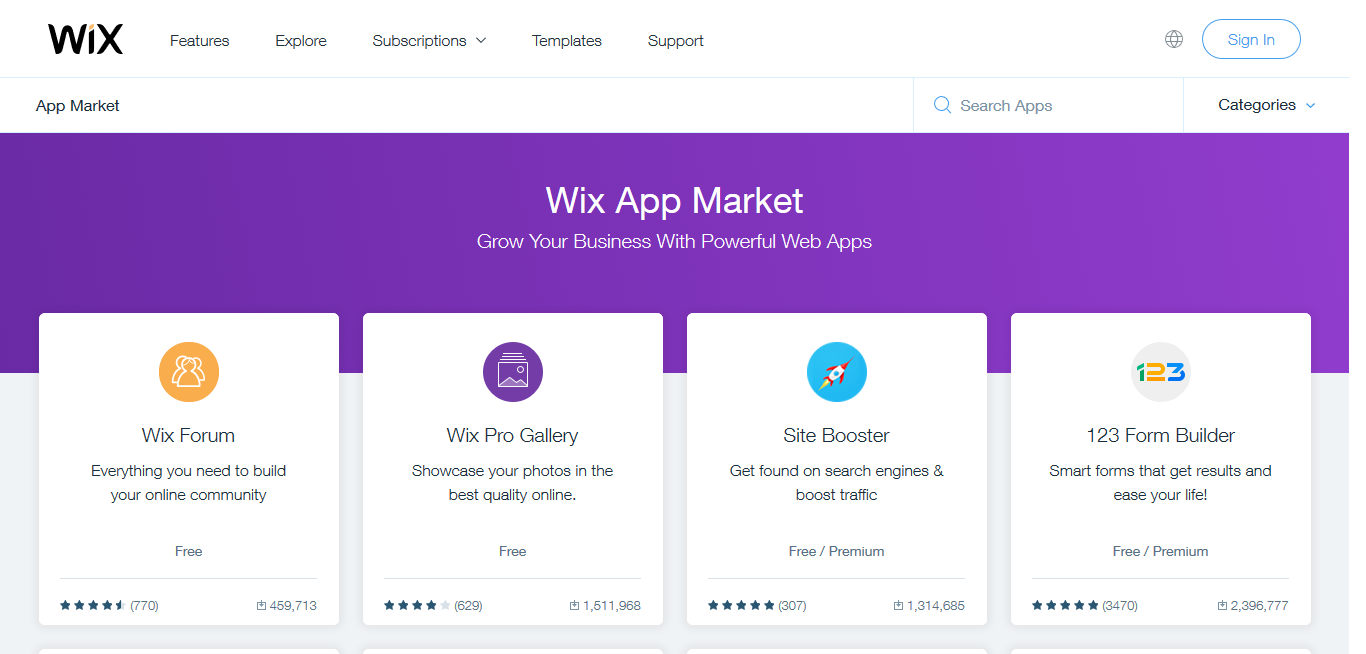 In the editor, you can not only add forms and a complete checkout solution, but you can also add interactive maps to show directions (if you're advertising a physical location on your landing page), add bookings and appointments functionality and even add options for your customers to 'pre-order' your products.
How to Build a Landing Page: Clickfunnels
No article which shows how to build landing pages can do so without mentioning Clickfunnels.
Why?
Because even though all the above tools are awesome, none of them really are a complete solution like Clickfunnels is.
That's because Clickfunnels already has pre-built sales funnels you can use to create your landing pages.
It's simple. Here's how you can create a beautiful landing page on ClickFunnels:
1. Choose Your Desired Template: Clickfunnels, like other landing page builders, has templates for selling anything imaginable, whether its ebooks or physical products or webinar tickets or just for collecting emails.
2. Do Some Branding: After you've chosen your template, just add your own copy and images. In fact, Clickfunnels lets you add any element such as picture, text, video etc to your landing page instantly.
3. Publish To A Domain: Clickfunnels includes hosting in their package. Simply just integrate your landing page with your domain (that you own) and that's it. Your landing page is ready to go. Click here if you want step-by-step instructions on how to connect your Clickfunnels landing page to your domain.
How to Build a Landing Page: Squarespace
Creating a Squarespace landing page should not be as complicated as it initially seems.
So you want to create a custom landing page using Squarespace and are wondering how to go about it, step-by-step?
Not only can you build a beautiful website with Squarespace, you can also build your email list or boost sales with your own landing page on the platform. You can use a few Squarespace hacks to turn ordinary pages to stunning landing pages in the form of welcome mats, product-focused pages and thank you splash pages.
Creating great landing pages using Squarespace will save you time and money that you would have to spend on a third-party, dedicated landing page builder services like Instapage and Leadpages.
The cost of creating a landing page on Squarespace is factored into the monthly $18 subscription you shell out to use the platform's website builder tools.
There are several ways to build custom Squarespace landing pages.
3 Ways to Create A Landing Page On Squarespace
Some of them are super simple and will not require you to show off your programming expertise—if you have any, which is great for the coding-averse.
Others will require a bit of coding. But it is only a few lines of code. The code will actually be already done for you, and all you have to do is copy-paste it to your forming landing page to make things happen your way.
Without further ado, here are ways to build a custom landing page using Squarespace.
Using a cover page
Squarespace allows you to create a simple and elegant landing page using the Cover Pages feature. Squarespace Cover Pages present one call to action in a bold and simple way.
No navigation links. No unnecessary content. No distractions. There's only one button to encourage a visitor to complete one call to action. The ABCs of landing pages at their best.
Once you are logged in to your Squarespace account, you can find the feature tucked neatly in the admin area. Clicking on it will reveal several Squarespace landing page templates you can choose from.
So depending on your product, service, branding or messaging, you have options to choose what you think will work best. The Cover Page also allows you to add video in the background if you are wondering.
Of course, you can A/B test what works best for your primary goal, whether you want to capture email addresses or boost conversion for a sales drive you just kickstarted or plan to launch.
After creating your custom cover page, the next step is to add your email automation service link to that page.
If you are using ConvertKit and Zapier:
That's pretty much it. You have a Squarespace landing page using Cover Pages.
Create A Custom Squarespace Landing Page Using A Normal Page
Cover Pages are good for creating simple landing pages but are quite limiting. You only get to display a single image with a single call to action button. Custom CSS does not apply in Cover Pages, either.
In fact, Squarespace throws up a disclaimer warning that adding custom CSS to a page might break its design. So you might want to be careful before using this hack.
But, what if you need to use more images and buttons on your landing page to bring that conversion to pass?
Then you'll want to crank out a custom landing page in Squarespace.
Here's a step-by-step walkthrough for you by Roxy of City Girl Searching:
You can add a new page on your Squarespace website from the backend of your site by clicking on:
Pages > Not Linked > + > Cover Page
Now, as you'll notice, a normal Squarespace page comes with a navigation bar. You'll want to remove that to make it easier for your visitors to focus only on your primary call to action.
There is more to creating a landing page on Squarespace, but this will get you started.
What To Do After Your Landing Page is Up And Running
After building your landing page, you'll need to look at your analytics to see how your page is performing.
If you can't see a dashboard with analytics, most landing page software will allow you to integrate with Google Analytics. Look at the data in the analytics software and see how many sales and subscribers you've got.
Then, create different versions of your landing page with different heading, call-to-actions, and images and see if conversions (sales and subscribers) have improved.
If they do, make that variant of your landing page your new default landing page.
In addition, here are some other things to keep in mind about landing pages:
1. Have One Goal:
Your landing page should guide users to take only one action. It shouldn't serve two purposes such as selling your ebook and subscribing to your blog. It's a research-proven fact that landing pages with more than one CTAs confuse readers and result in low conversions.
2. Don't Make it Your Homepage:
A landing page is different from your homepage, so don't turn it into one. Sure, you can borrow parts of the copy but don't add links to your website to your landing page.
Get yourself a decent landing page builder, like Shogun, which will not only allow you to create a solid landing page but also allows you to expand the landing pages that you love to new markets, to new stores, plus you'll get the analytics you'll need to grow.
3. Consider Hiring A Copywriter:
The words on your landing page are what get you sales. If your landing page is poorly worded or doesn't make sense, you'll get low conversions. To make sure that doesn't happen, hire a copywriter who knows how to write persuasive copy and ask them to build your landing page. You'll definitely get lots more sales and subscribers.
And that brings us to the end of this article.
We hope you get awesome conversions and tons of sales and subscribers when you build your own landing page software.
What are the landing page builders you going to use next? Let us know in the comments below!
You might also enjoy: