Blake Mycoskie started his first business when he dropped out of college after his sophomore year. The company, EZ Laundry, soon employed more than 40 people, and was generating close to $1 million in sales. Blake sold that company in 1999.
He went on to create an outdoor billboard company, co-found a cable network, an online driver's education service, and a marketing firm specializing in brand development and viral marketing.
While in Argentina in 2006, Blake met his future wife. The charity she was involved in inspired him to create Shoes for Better Tomorrows (TOMS).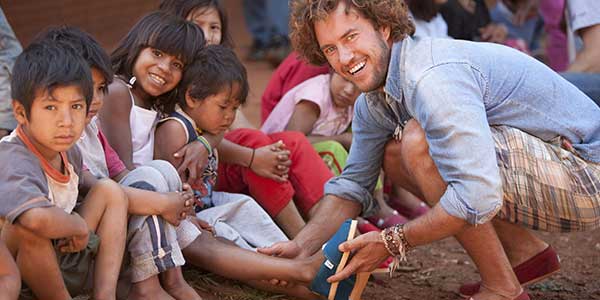 TOMS has expanded from its beginnings as a one for one for-profit company, donating one pair of shoes to an impoverished child for every pair of shoes sold. Now TOMS donates sight-saving surgeries from their line of sunglasses, and a TOMS Bag purchase supports Giving Partners, delivering vital materials and training needed to help provide a safe birth regardless of the facility.
In 2011 Blake wrote the New York Times bestselling book, Start Something That Matters. The book tells the story of TOMS. The book also gives six simple keys for creating or transforming your own life and business.
Here are 3 success tips from Blake Mycoskie that are unique and thought to provoke.
ONE: On where to get business advice, Blake says:
You don't always need to talk with experts; sometimes the consumer, who just might be a friend or acquaintance, is your best consultant.
TWO: Blake's tip for efficiency:
The best tool I have for efficiency is always carrying a journal and as simple as that sounds, one of the things that is most exhausting for a human being is remembering things. So what I found is anytime I have an idea or thought or something I want to do, if I write it down as part of a continuous list, then my mind doesn't have to store it, so my mind can be more efficient and more creative by not having to remember all these things.
THREE: Blake's thought on one the one for one business model:
Giving builds loyal customers and turns those customers into supporters…You can find passion and profit and meaning all at once, right now.
Blake's experiences are inspiring to people all over the world. If you'd like to create a business with purpose check out our Essential Startup Guide for the direction you need to get going!
Further read: