Sales Funnels: Tools, Strategies, Tips to Get You Started [2021 Update]
Gaining the attention of your audience and clients through the use of social media marketing is great, however, if you don't utilize the audience that you've gained from such efforts there's basically no point in doing it. If you want to know how to build effective online sales funnels, using the latest online sales funnel software tools, then you came to the right spot! That's where the use of an effective sales funnel can help you boost your overall business revenue and interaction across various platforms. With traditional forms of advertising, a company or business directly advertises a product or service that they want their customers to purchase. The issue with this type of marketing is that it doesn't provide any emotional or relatable qualities for the customer to feel like they're getting an experience instead of simply something new to purchase.
What are sales funnels?
A sales funnel is essentially a way for you to convert regular visitors to your site into paying customers that always return. One thing you must learn about sales funnels is that they use a combination of several different phases which ultimately bring your customers to the point of buying a product, service, or item. Creating a sales funnel is not something that is a literal construct as it is more of a strategic plan which allows you to ethically persuade your customers to make a purchase. Sales funnels are also known as revenue funnels and sales processes because they create a hypothetical "funnel" in which your customers follow to continuously buy the latest offering you have. Creating sales funnels for new business owners and entrepreneurs can be a bit challenging especially if you don't know how to begin the process. There are a lot of ways that you can approach creating a sales funnel however you should always cater your sales funnel structure to match the nature and theme of the services that you're offering. Luckily for new business owners and established owners also, there are several great tools that you can use to create the ultimate sales funnel for your business. Before creating your sales funnel, it's important to establish a realistic view of your audience so that you can create a sales funnel that they can relate to. There are also more key steps that you should take in order to properly create a sales funnel that will gain the conversions you want. One of the most important steps in creating a sales funnel is identifying your target audience, ask questions that relate to your customers' lifestyle when brainstorming sales funnel ideas so that they feel prompted to click on your links. If you are just starting with your online funnel journey, you might want to read this insightful article:
How to Get the Right Clients with Marketing Funnels (Even as a Solopreneur!)!
This article is going to help you understand all of the aspects involved in creating a sales funnel that brings in high conversion rates for your business. Let's take a look at some of the fundamentals when it comes to creating a sales funnel.
What do online sales funnels do?
The ultimate purpose of a sales funnel is to turn your audience into paying customers. It basically guides your audience to take actions like:
Sign up for your email list.
Purchase your ebook, course or any other digital product.
Use your software service.
… and more. Deciding on an online sales funnel builder can be one of the most important decisions you make as an entrepreneur so don't take this lightly. If you are just starting out (and haven't built out any systems), then software such as Clickfunnels is the quickest way to get started and start selling something, but it might not be the program for everyone. If you already have invested in other tools, you'll want to pay attention when making yet another purchase. While you can connect and use a lot of integrations with tools such as Zapier, it might not be ideal from a user perspective.
My recommendation up front… Clickfunnels is hands-down the best online sales funnel software out there, especially if you are just starting your online funnel systems. It is the leader in online sales funnel software and customer service, hands-on education is excellent.
For this to happen, a sales funnel consists of 'layers' which include landing pages, opt-in forms, checkout pages, and more. Hiring a web developer to build your sales funnel can take thousands of dollars. But with a dedicated sales funnel software, you can build the whole funnel yourself at a cost of no more than $50-$150 a month – a fraction of what it costs to hire a web developer, who will charge this amount for just an hour of work. Hence why we created this review guide – to show you the best sales funnel tools you can use to set up an online business yourself without having to write a single line of code! Let's get started…
How do I create an online sales funnel?
There are 4 key steps in creating a sales funnel that every business owner should follow in order to ensure success.
The 4 steps will encompass the entirety of your sales funnel and allow your customers to establish a personal connection with your product or brand.
#1 Recognize Your Target Audience
The entire goal of a sales funnel is to drive traffic and interaction to your primary product or service page. You need to define your consumer audience in order to create sales funnel marketing material that is relevant to their interests and needs. A great way to identify exactly who your core audience is by creating a list of questions which will allow you to determine what interests your particular audience the most. Start by asking what your audience is interested in, what restaurants they visit often, the type of hobbies they're into, and more. Depending on how you answer those questions, you'll be able to create high-converting sales funnels that drive the results you want and expect.
You want to make sure that you identify all areas and sectors of your core audience so that you can configure your sales funnel to meet their interest. Once you've successfully identified your target audience, next you'll need to verify the interest of your audience in said product or service.
#2 Verify Your Prospects Interest
Just because a potential customer fits your initial criteria, that doesn't mean that they'll always be set to interact with your marketing efforts. In order to accurately verify your prospective customers, you'll need to create an enticing sales funnel that will make your customers engage first. Once they've engaged with your sales funnel, the best way to verify potential customers' interest in your company or product is by offering a poll or survey. This will allow you to get real-time analytics about exactly how many people are interested in your products and exactly when they plan on purchasing them. Verifying your customers is a critical step in the sales funnel process because It allows you to optimize your marketing efforts for a more cost-efficient result.
This is one of the easiest and simplest ways to verify your potential customers because those that are interested will click and those that are not won't.
#3 Use Proven Sales Funnel Tactics
There is a barrage of "internet marketing experts" who blast promotional content on various social media sites like YouTube and Twitter claiming to hold the "magic" secret for sales funnel creation. Often times, these sorts of programs do not provide the results that they promote initially so it's best to stay away from sales funnel "quick fixes" and stick what the methods that have been proven to work over the years. One of the simplest ways to employ an effective sales funnel is by starting a blog based on the central topic or theme of your business website.
Post daily blog posts on your site so that you can build up a regular audience of people who visit your site on a consistent basis. Promoting your blog on social media is a great way to increase natural engagement and views so be sure to use social media as an integral part of your entire marketing plan. Once you get people to visit your blog, you need to capture a piece of contact information so that you can target them when you create your sales funnel. The best way to capture a verifiable list of email addresses from potential customers is by offering a free newsletter in which they can sign up. Another great way to increase your sales funnel results is by offering a small ticket item for about $5-$10 once people purchase those items; you can confirm them as potential buyers then target them with higher-priced items.
#4 Create Your Sales Online Funnel Using the Best Tools
Now that you've gotten many of the basic steps to creating a sales to funnel down, it's time to begin creating your sales funnel. To create your sales funnel, you need a comprehensive plan that includes every aspect of how you plan to attract and secure customers. The best way to start your sales funnel is by seeking out people that are willing to pay the amount of money that your product or service is priced at. You can do some pretty basic yet very intuitive market research by performing a simple google search, this will allow you to identify products in a similar price range to yours so that you can get a small glimpse into the type of people willing to pay for the services or products that you're offering.
You need to ask yourself what will make your potential prospects trust you enough to begin taking action on your sales funnel. Incorporate a good balance of social media marketing, blogging, product development, and audience analytics. This will help you create a solid sales funnel that your customers will be more than willing and eager to interact with.
Read this article: How to get the right clients with marketing funnels to learn the proven methods about proven methods you can use to create your sales funnel (you can listen to the interview with Michelle Evans here too!)  And don't forget to check out this interview with the founder of Hubspot too!
Now, let's take a deeper dive into how sales funnels work and how you can set-up the perfect client acquisition system.
The Ultimate Sales Funnel Guide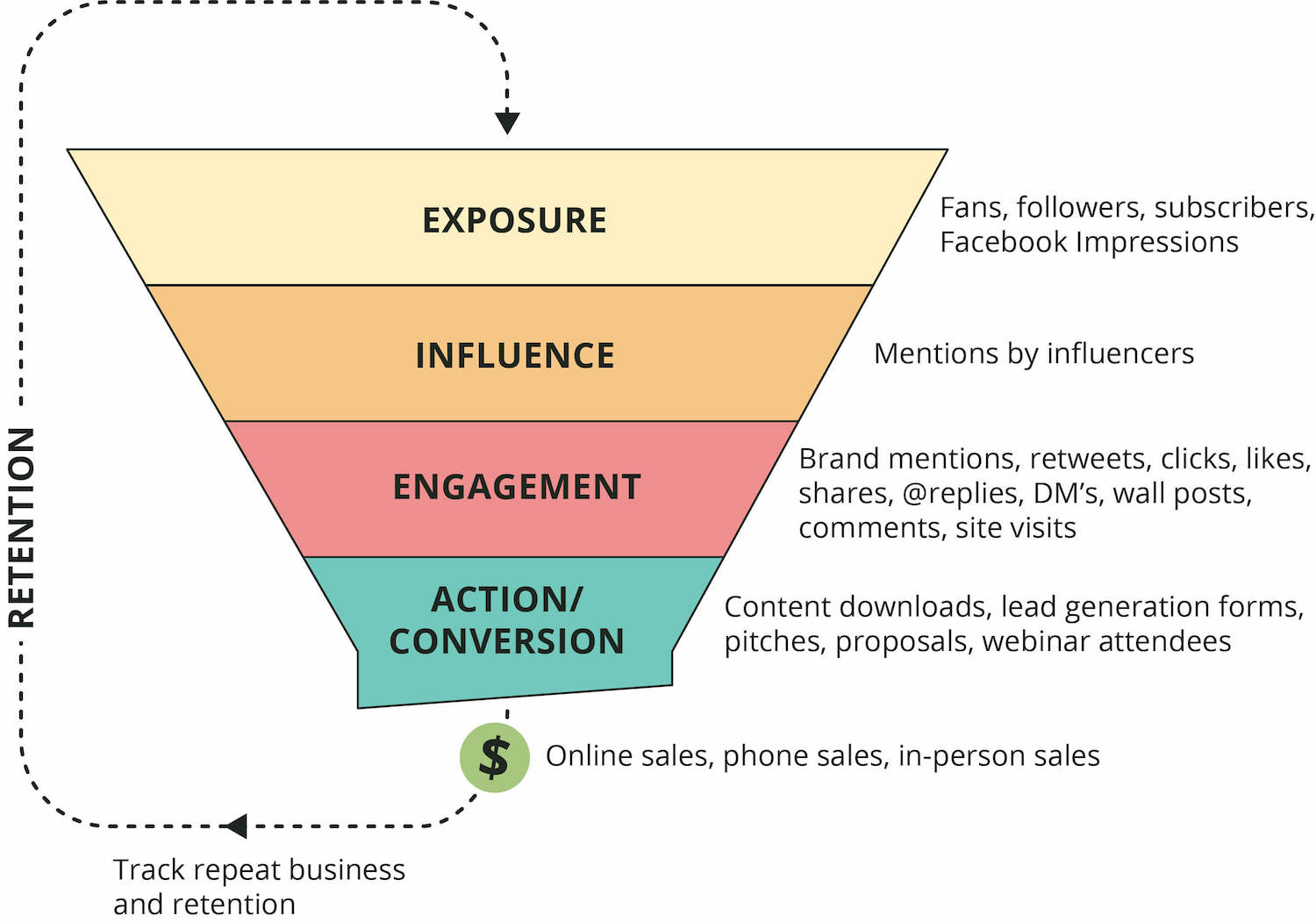 You know what steps are involved with creating a sales funnel, you know how to get customers to start visiting your page, now it's time to learn about the various tools at your disposal which will make creating your sales funnel much easier. There are several great tools that you can use to assist your sales funnel in getting the conversions that you want. All of the tools listed in this article offer a comprehensive solution to all of your sales funnel creation problems. Use all of the information listed below so that you can find the perfect sales funnel tool that offers the essential features you need and want.
Here is the list:
Clickfunnels
Infusionsoft
Thrive Themes
Leadpages
Wishpond
Instapage
6. Instapage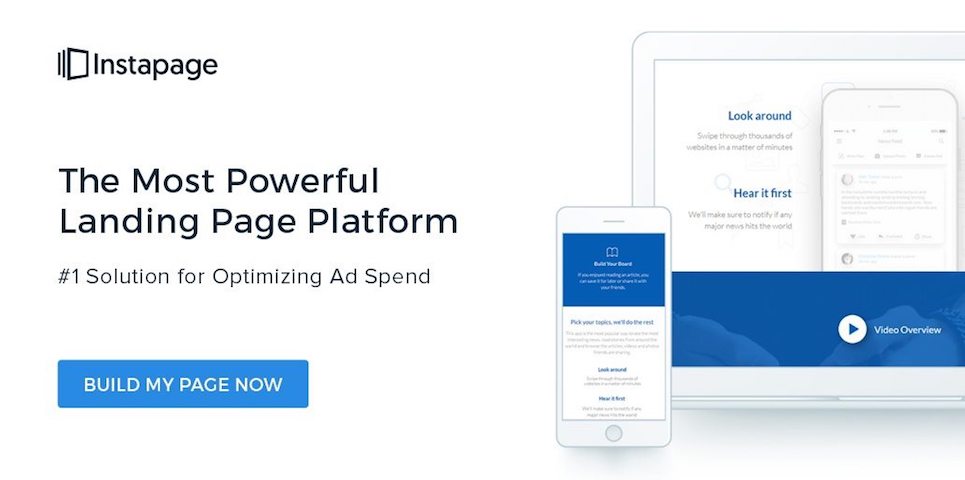 If you're a novice at creating sales funnels, you need a simple service that doesn't bury you in features you're not going to use.
Instapage is an easy-to-use sales funnel software with which you can build beautiful landing pages to collect leads and sell your products and services.
Instapage is a very useful sales funnel tool which can help you create landing pages for your business website. Instapage offers the first landing page for free and then after the initial page is created, it costs $129 for an unlimited membership. The great thing about Instapage is that you can choose from an array of their pre-made templates in order to create the perfect landing page for your company. Instapage also integrates with third-party sales funnel programs and applications which makes the entire process much easier. Instapage offers detailed analytics with graphs and other visual measurements so that you can easily manage all of your sales and other marketing statistics. Another cool feature about Instapage is that you can set-up A/B testing so that you can accurately compare the results from each marketing campaign.
What makes it unique among other sales funnel software is that it prioritizes data and analytics- providing a wealth of information you can use to A/B test your sales funnel in order to get maximum conversions.
However, it isn't a complete digital marketing solution, meaning you'll have to integrate third-party services such as email autoresponders, payment processors and CRMs to make your sales funnel more functional.
But nevertheless, to build the pages of your sales funnel, Instapage is a great choice.
Read our full Instapage review
and learn more pros, cons, features, and tips on how to use.
Features of Instapage
Here are some notable features of Instapage:
200+ ready-to-use landing page templates:

Instapage has 200+ beautiful landing page templates you can use instantly and customize to your own needs and requirements.
Unique Website Builder To Build A Webpage From Scratch:

Don't use templates if you don't want. You can build your own landing page using Instapage's flexible, freeform drag-and-drop builder. It lets you create pages from scratch by letting you put elements such as icons, buttons, text and more exactly where you want. If you want even more flexibility, Instapage lets you code in HTML, CSS and JavaScript as well.

Widgets and Form Builder:

You

can directly add CTA buttons, video players, multi-step forms and more to your landing page and drop them wherever you want. It's easy, fast and powerful.

Powerful Analytics and Team Collaboration Tools: If you love A/B testing, you'll love Instapage. It allows you to create multiple variants of your landing page. Plus, it has a wealth of analytics tools such as heatmaps, pixel-tracking and more which show how your pages are performing. Teams can also comment on the landing page for better collaboration.
Integrations With Top Marketing Tools:

Instapage connects with popular email marketing, automation, and analytics software to let you create even more effective sales funnel.
Check out my full Instapage review to learn more!
You can also
check out my exhaustive list of Instapage alternatives
— some which are just as good, but less than half the price!
5. Leadpages
Leadpages
is another dedicated landing page builder you can use to create beautiful sales funnels. Just like Instapage,
Leadpages
comes with templates, a drag-and-drop builder and widgets. Leadpages is one of the premier platforms for people who are interested in collecting email information about their prospective customers and clients. With Leadpages, you can create landing pages and even create webinars that you can invite verified prospects to. Leadpages offers a wide selection of templates that you can use in order to create sales pages and other promotional content like videos. You can easily integrate Leadpages with your WordPress website which makes it easy to continue building off of whatever digital content plan you already have in action. But still, there are a few differentiating features which give Leadpages an edge over Instapage.
Features of Leadpages
Here are the top features of Leadpages:
Drag & Drop Landing Page & Pop-Up Page Builder: With Leadpage's drag and drop builder, you can build landing pages and pop-up boxes (which Instapage doesn't have). But unlike Instapage's free-form builder, Leadpages only lets you build a landing page using the grid-based system. This can be annoying if you want the grid to get out of your way.
130+ Free Landing Page & Popup Form Templates:

Leadpages gives you lots of templates to choose from to create your landing page. While the number of templates are less than Instapage, they are still more than enough to create any kind of landing page you want. But what makes Leadpages better than Instapage is that it has templates for opt-in forms too.

Advanced Widgets:

In addition to the standard widgets, Leadpages also has more advanced widgets like comments, progress bar and the best widget of all: the checkout module. The checkout module allows you to place a proper payment system so customers can pay from within your landing page without you having to resort to a third party plugin.
Facebook Ads Creator:

Chances are you'll be directing paid traffic to your landing page through Facebook. If so, Leadpages lets you create a Facebook ad based on your landing page instantly.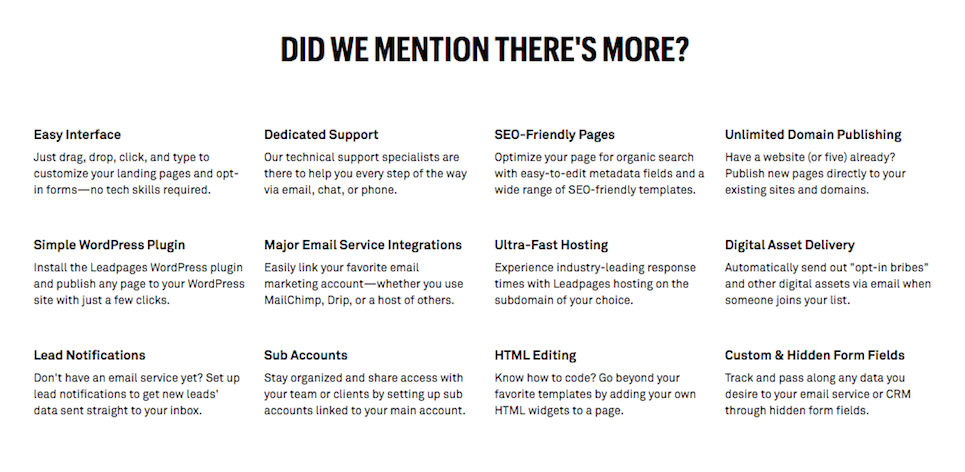 A/B Testing, Analytics and Integrations:

Leadpages has all the great analytics features you can use to track the performance of your landing pages and A/B test. In addition, you can also connect with email marketing tools, analytics tools and CRMs to build a more robust sales funnel.
If you want to know more about Leadpages to see if this is the best sales funnel software program for you, then
read our full Leadpages review
, where Robert goes into more details on this tool, how to use, the pros, cons, and features you need to know and more.
Thinking this could be the program for you? 
How does Leadpages compare to other tools?
4. Wishpond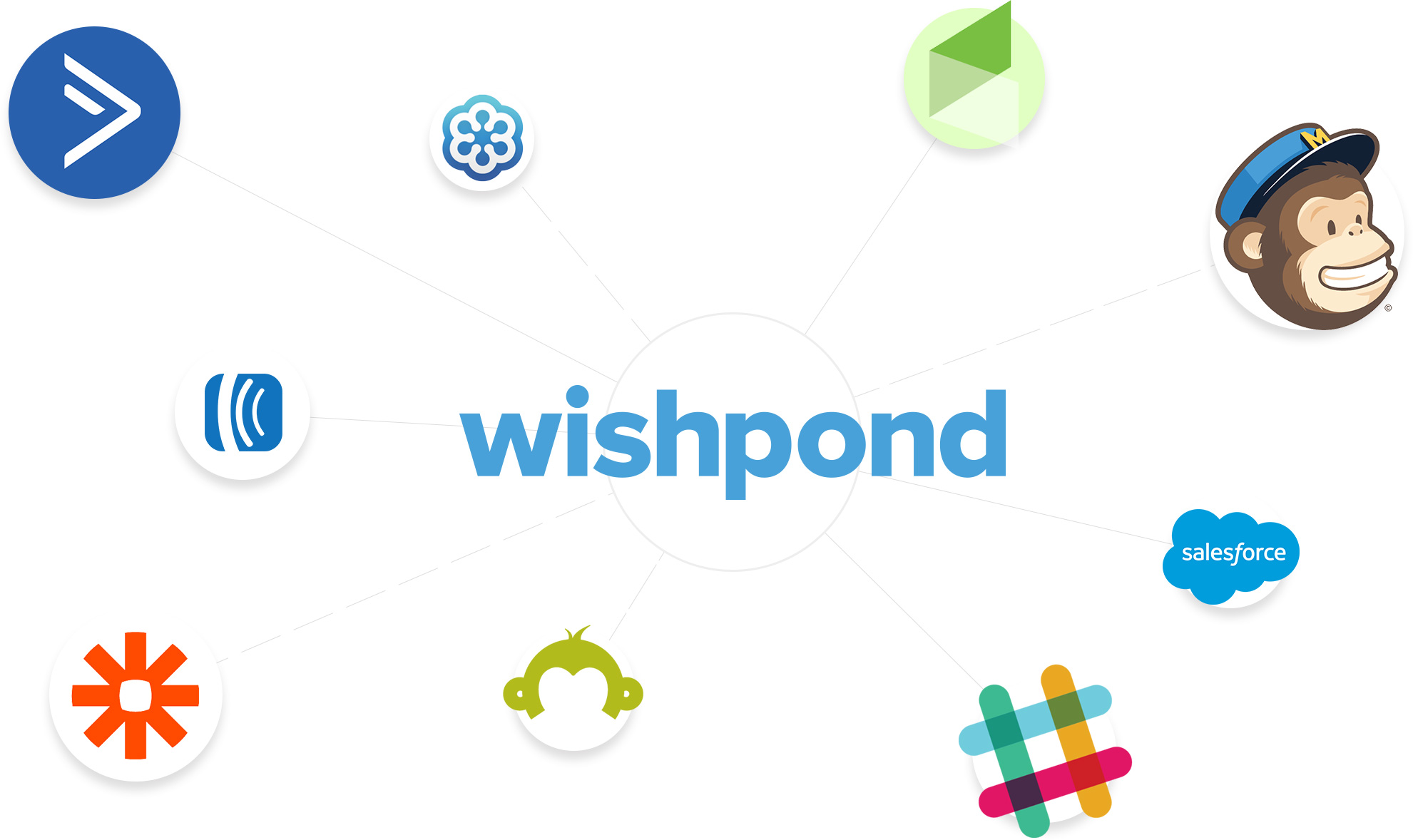 Enough with the basics. Let's move on to a more comprehensive software that gives you greater control of your sales funnel.
First up is Wishpond.
In addition to beautiful landing pages, Wishpond also gives you the ability to run social contests, create email autoresponder campaigns and automate your whole sales funnel.
Features of Wishpond
Let's take a look at Wishpond's top features:
Builder For Landing Pages, Contests, Popups and Emails:

Wishpond lets you build (and has templates for) Contests, online forms and referral campaigns in addition to landing pages and pop-up boxes.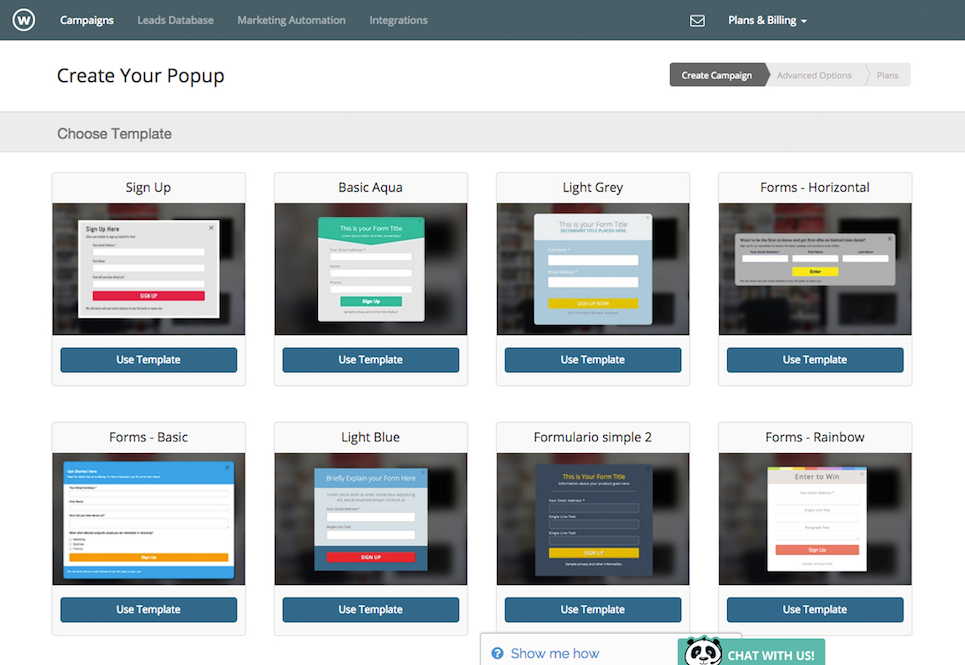 Create Automated Email Drip Campaign:

With Wishpond, you can create, build and run a fully automated email marketing campaign. You can sort leads into different segments, create drip campaigns and set up actions so that different segments get different emails.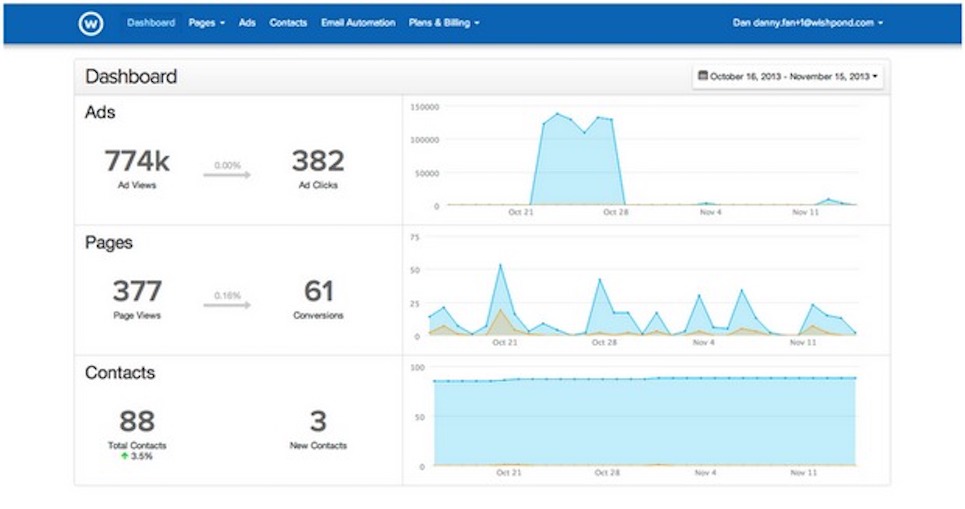 Manage Leads:

With Wishpond, you can collect information from your leads and see their activity on your sales funnel. Moreover, you can segment leads based on their activity and send them follow-up messages automatically.
In conclusion, with Wishpond, you can not only build landing pages, but you can also automate your sales funnel with built-in email marketing, marketing automation, and lead management tools. And if that's not enough, you can integrate with third-party marketing tools as well. Also, be sure to check out my Wishpond Review to learn more! 
3. Thrive Themes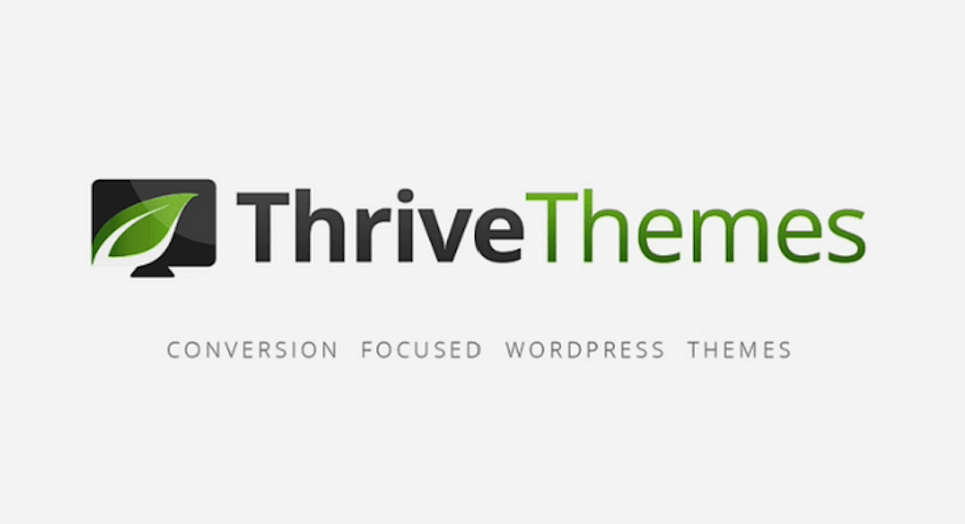 If you're on a budget and want a fully robust sales funnel software you can use to build any kind of sales funnel imaginable, you should definitely choose the thrive theme membership.
Thrive Themes has a whole set of extremely powerful plugins you can use to build any kind of sales funnel possible. It's one of the tools we use at Change Creator and have found it quite useful too. 
Features of Thrive Themes
Here are some notable features you get with your Thrive Themes Membership:
Thrive Architect:

Thrive Architect is an easy to use landing page and website builder. Without writing a single line of code, you can create any kind of landing page or website you want. And with 200+ templates available, it's easy to get started!

Thrive Optimize:

Most of the sales funnel software require you to pay premium prices to get the ability to A/B test. But with Thrive, you can A/B test your landing pages and sales funnel with even the basic plan!

Thrive Leads:

In addition to landing pages, you can build opt-in forms and emails using the pre-built templates or with the drag-and-drop builder.
Also, if you use WordPress, you get access to tons of free themes and plugins such as the headline analyzer, quiz builder, the comments plugin, course builder and lots more…
If you want to build a sales funnel using a feature-rich sales funnel software, Thrive Themes membership will give you all the tools you need. And at $19 a month, it's more than a bargain!
Check out my full (extensive) Thrive Themes review to learn more!
2. Infusionsoft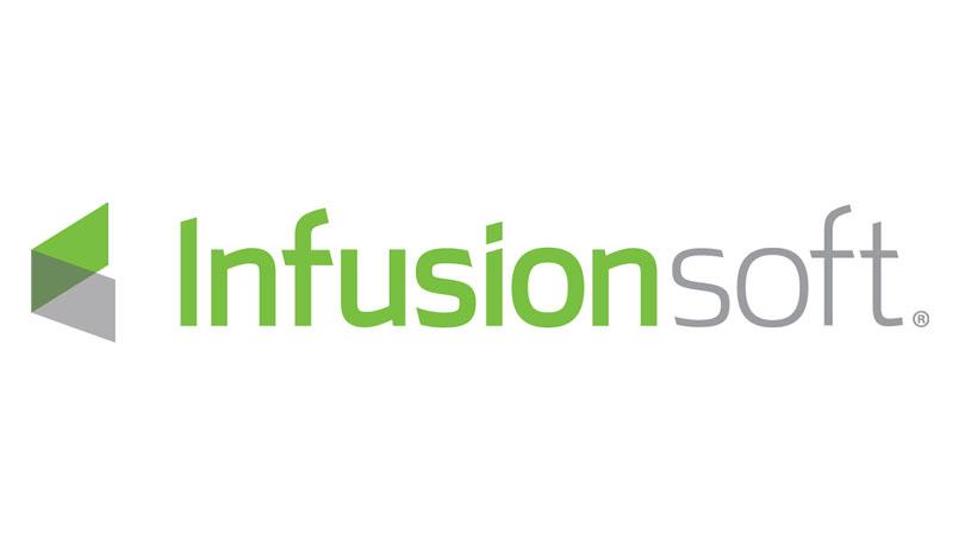 Infusionsoft is a great sales funnel platform that allows you to combine all of the must-have promotional, marketing, and business management tools in one place. Infusionsoft provides stellar marketing automation features which allows you to target prospective customers and clients based on their previous and current online behaviors. Infusionsoft also offers e-commerce integration so you can easily import, track, and sell merchandise directly from the platform in addition to gaining in-depth analytics about your business. Infusionsoft even comes with its own contact record management system so you can easily maintain a list of verified contacts who are sure to purchase your products.
Infusionsoft also gives you an integrated CRM platform so that you can conveniently automate e-mail follow-up, track your marketing and sales numbers, advertise your products or services, and a lot more. With Infusionsoft, you can even formulate customized marketing campaigns for any particular features of products or sales promotions that you're offering. Infusionsoft can also help you set-up a secure payment gateway for your business in no time which is why it's one of the best sales funnel software products available. Infusionsoft is also compatible with various other sales funnel software so you can seamlessly integrate your workflows together.
If you're looking for some amazing Infusionsoft alternatives, check here:
The Infusionsoft Alternatives You Need to Know About for Your Business
You might also want to check out:
Clickfunnels is the king of all sales funnel software. With it,  you don't need any other tool to run your online business.
Clickfunnels has pre-built 'funnels' you can use to sell anything you want. These funnels include sales pages, opt-in forms, checkout pages and even thank you pages.
There are sales funnels for webinars, memberships sites, online courses and more.
All these funnels are A/B tested meaning they are guaranteed to bring you sales – provided you have an awesome product. If that's not enough, Clickfunnels also delivers the products you're selling!
Don't believe me? Try Clickfunnels FOR FREE for 14 days and see for yourself. 
Clickfunnels comes in two plans: a) Clickfunnels and b) Full ClickFunnels Suite.
Features of Clickfunnels
If you're getting started, the Clickfunnels basic plan is great. Here's what you'll get:
Access to funnels built to sell everything. Instantly create a sales funnel, a webinar funnel, opt-in funnel and more.
The ability to customize or create entirely new funnels with the powerful drag and drop builder.
A/B testing feature that lets you create variants of your pages, forms and headlines.
While the basic plan is good, it's the full Clickfunnel suite that gives you the best features. In addition to all the features in the standard plan, here's what you'll get:
No limit on the number of funnels you create. Unlimited traffic and leads as well.
Access to 'backpack' – a feature that lets you create affiliate programs you can use to spread the word about your product and make more sales.
Access to 'actionetics' – a feature that lets you build a fully automated email campaign where different leads are segmented to different lists based on their actions. In addition, you can also send custom emails to each individual email list or lead.
These features make Clickfunnels one of the most comprehensive sales funnel software out there – and a great choice for marketers, entrepreneurs and non-coders alike.
Which is best? My final choice.
These are my top 5 funnel software programs — all of them have their pros and cons of course, but if I had to choose one and only one to use for my business, I would have to pick Clickfunnels.
Not only has Russel Brunson and Clickfunnels dominated the online marketing game, but they were also the first ones to really package up the online funnel software for everyone to use and they continue to improve their products. Clickfunnels is also one of the easiest software programs to use straight out of the box — without much technical knowledge either. Of course, the more you can personalize your branding and imagery, the better your funnels will work for your business. You have probably seen many online gurus already using
Clickfunnels
. There's a good reason for that. It works. While there are seven main types of funnels in the Clickfunnels system, there are many more variations on each of these depending on the type of service or product. The system works, the scripts work, and there are many different types of funnels for different offerings, from webinar funnels to product sales funnels, to membership sites funnels. No matter the product or service you are offering, I can almost guarantee you that Clickfunnels has figured out a funnel to help sell that particular product. Russel Brunson, the founder of Clickfunnels is seriously passionate about funnel technology — watch any of his videos online, read any of his books and you'll see how deeply passionate it is about creating sales funnels, finding new funnels that work, and offering new insights about these funnels to his audience. Clickfunnels also has an amazing affiliate program for those who already love the product (like we do!) and want to share it with others. Of course, if Clickfunnels isn't for you —
Check out the 8 of best Clickfunnels alternatives
(some are almost as good, with less monthly commitment too).
You might also want to check out:
What is Clickfunnels used for?
ClickFunnels is a software that lets you design and create sales pages, landing pages letting you manage your entire sales funnel. You can create seven types of funnel with the help of Clickfunnels:
The Optin Lead Capture Funnel.
The Sales Funnel.
The Webinar Funnel.
The AutoWebinar Funnel.
The Membership Funnel.
The Launch Funnel.
The Custom Funnel.
What makes Clickfunnels different from other funnel software programs?
Unlike competitor products which allow you create single standalone pages, ClickFunnels is all about building different types of marketing funnels, for different purposes, from selling a service, to launching a product. A funnel is basically a series of pages your visitors go through to reach a certain goal. What makes Clickfunnels different is that not only were they the first to automate every step in the online sales funnel process, they continue to educate business owners on how to improve their online sales processes. Knowing what works before you invest in any sales funnel software program is so important. Clickfunnels wants their affiliates to succeed. They want you to keep making money. The more money you make, the longer you continue to pay for their software. The education and ongoing support from Clickfunnels is worth the 97 or 297 membership fees. If you stick with it — you will find that Clickfunnels quickly pays for itself!
What is the purpose of an online sales funnel anyway?
The definition of the 
sales funnel
 (also known as a revenue 
funnel
 or 
sales 
process) refers to the buying process that companies lead customers through when purchasing products. A 
sales funnel
 is divided into several steps, which differ depending on the particular 
sales
 model.
Other sales funnel tools you might be interested in:
How do I create the perfect sales funnel that will convert people into buyers?
If you want to create a sales funnel, here are the five basic steps for creating one — with or without software help.
Create a great landing page that you drive people to (the start of the funnel).
Present a front-end offer.
Give an upsell offer on the back end (after they have agreed to your front-end offer.)
Offer a downsize option.
Keep it going.
Track your clicks and metrics along the way! That's the basics of a sales funnel, but of course, as most of you already know this is simplifying it quite a bit. There are a lot of variables within each of these steps that can either make you or break you. That's why Russel Brunson has made it his life's work to figure out — he really loves this stuff and shares his hard-fought trials and errors with all of us too.
Sit down and generate a marketing ecosystem that will include forms of social media marketing, visual advertising material, digital incentives, and more. Once you have a solid content strategy in place, you can begin creating the sales funnel of your choosing to gain the traction that you desire.
Customer retention is very important when creating a sales funnel, you need to give your customers a believable reason as to why they should solve their problem by purchasing your product. Essentially, you want your customers to stay engaged with your product/service. You can do that by sharing content such as:
Emails

Special Offers

Surveys/Outreach and follow-ups

Product usage guides

Technical assistance literature
These are great ways that you can influence your customers to remain loyal to your brand or product without having to consistently spend more money on new marketing campaigns or material.
Here
is a great article that you can use to determine how you should approach the creation of your sales funnel and ways that you can integrate product incentives in order to urge customers to use your site.
Your landing page will be the single most important aspect that determines how successful your sales funnel is. This could be growing their traffic, losing weight or finding the perfect soul mate. Your goal with the webinar is not only to educate them but to build their demand in order for them to take action. In the end, you should always have a call-to-action to buy your product, start a free trial or request a consultation.
You grow your email list by offering something of value to your audience that they're already interested in, such as a guide or course. Anything that can educate your prospects on how they can solve their problems and achieve their goals.
Even though webinars can be used as lead magnets, they're more focused on the decision stage and convincing people to take action and buy your products. When people sign up for webinars, they're already pretty interested in achieving a certain goal or solving a specific problem. And during that time, you can start building the demand for your product. Within the lead magnets itself, you can place call-to-actions to check out your products/services, call your sales department, etc.
You can also promote your leads magnets on social media to generate leads. This could be done well when your audience already has an interest in the content and solution that you offer. Imagine that you own an e-commerce business that sells vintage signs. You know that your target audience hangs out on Facebook a lot and that your target customers are males and females between 25 and 65 years of age.
Keep in mind that 97% to 99% of people will not be ready to purchase. So, it's a much better move to turn them into email subscribers. You run a fantastic Facebook Ad that drives traffic to a landing page. On the page, you ask your prospect to sign up for your email list in exchange for a lead magnet. Pretty simple, right?
Now you have leads instead of prospects. They're moving through the funnel.
Over the next few weeks, you send out content to educate your subscribers about vintage signs, to share design inspiration, and to help consumers figure out how to hang these signs. 
At the end of your email blitz, you offer a 10 percent coupon off each customer's entire first order. Bang! You're selling vintage signs like crazy. Everyone wants what you're selling.
Some key tips to the best online sales funnels.
Get in front of the right target audience.
The only way your sales funnel works is if you can lure people into it. This means putting your content in front of your target audience. Take the organic route and post tons of content across all of your platforms. Diversify with infographics, videos, and other types of content. Build up to the sale by educating your market first. What do they want to learn? What obstacles and objections do you need to overcome to convince them to buy? At the end of your drip campaign, make an incredible offer. That's the piece of content that will inspire your leads to act.
Take your clients or prospects somewhere.
Your ad or other content needs to take your prospects somewhere. Ideally, you want to direct them to a landing page with a can't-miss offer. Since these people are still low in the sales funnel, focus on capturing leads instead of pushing the sale. A landing page should steer the visitor toward the next step. You need a bold call to action that tells them exactly what to do, whether it's downloading a free e-book or watching an instructional video.
Run a few ads.
If you're willing to spend more cash, run a few ads. The ideal place to run those ads depends on where your target audience hangs out. If you're selling B2B, LinkedIn ads might be the perfect solution. Market to your leads through email by providing amazing content. Do so regularly, but not too frequently. One or two emails per week should suffice. Don't forget about your existing customers. Instead, continue reaching out to them. Thank them for their purchases, offer additional coupon codes, and involve them in your social media sphere.
What are split-tests in online sales funnels?
A/B testing or split testing is one of the biggest mistakes online marketers make. Without split testing, you won't be able to make the conversions you could. Marketing is all about testing, trying something new and testing again. A choice of headline, a color, the placement of a video or image on your landing page can make all the difference in how your offer converts or not. A/B testing ensures that you are maximizing your efforts. Russel Brunson and the team at Clickfunnels has already done a lot of the work for you when it comes to split testing. Watch this video:
Conclusion: Why Online Funnels (and Tools) Will Help You Grow
All of the information included in this article will help you find out how to create the best sales funnel for your business. You need to always put your customers first when it comes to making promotional content or marketing material so that you can maintain a relatable relationship with your prospective customers. The great thing about creating a sales funnel is that you don't have to do it alone, there are several great tools that you can use in order to help make the entire sales funnel creation process a lot easier. Remember that the conversion funnel is an ongoing cycle. The process is always shifting and your conversations with your customers are always evolving. What served their needs yesterday may not be adequate enough today. They need that reassurance and a gentle push to the next step. They might feel abandoned, confused and distracted if they've dropped right down onto a thank you page or a member's area. They start to question what value they get out of your product or service, which makes them second-guess their steps thus far. Remember that a conversion is simply one piece in a very large customer relationship-building and experience-generating puzzle. Funnel conversion rate is not the be-all-end-all of your marketing effort with that customer. Sometimes, the conversation after the conversion can make just as much of a difference in filling your funnel as chasing down every source of reliable traffic. As with so many of your efforts before it, the after-conversion checklist involves paying close attention to your customer. Always be asking yourself "what can I do to make their experience with me absolutely unbeatable?" and live up to those expectations. Those are the kinds of actions that not only fill your conversion funnel but keep customers beating a path to your door. Your work is not done the moment you get that blip on your conversion optimization radar. Even after the click, the sale or the subscription, your customer is still asking, "did I make the right decision?" There are also more key steps that you should take in order to properly create a sales funnel that will gain the conversions you want. One of the most important steps in creating a sales funnel is identifying your target audience, ask questions that relate to your customer's lifestyle when brainstorming sales funnel ideas so that they feel prompted to click on your links. Don't be afraid to try new things because you never know where they can lead. If you want to see if there's a better way, there's only one way to find out. You don't need to blow up your current funnel, just run some tests on various parts of it as you move people through. It really depends on how you have your funnel set up, but split testing stage 1 campaigns, stage 2 landing pages, stage 3 sales techniques, etc., can really make a difference in how many qualified leads get through. With split testing, you can keep running your main funnel, and just pull off 10% to use the new funnel and see if your closing ratio is improving or getting worse. You may be surprised by the results. Ultimately, a good sales funnel is a well-tested piece of planning that can really help your business excel with customers. Please use this guide as a way to help yourself find the best method for creating an optimal sales funnel for your site.
You might also enjoy:
The Best Sales Funnel Software Programs at a Glance
If you'd like a bird's-eye view of how each of these sales funnels software programs stacks up, here's a handy table which shows what feature each sales functional software has…
Funnel Software
Templates & What You Can Build
Built-in Payments Support
Pricing
Hosting Included

WordPress Compatible
Email Autoresponder
A/B Testing In Basic Plan
Clickfunnels

Landing Pages
Popup Boxes
Email
Yes
$97 or $197, $197 business
Yes
No
Yes
Yes
Instapage

Landing Pages
No

$69 or $99, $179 business
Yes

Yes
No
Limited
Wishpond

Landing Pages
Popup Boxes
Email
Contests
Referral Suites
Online Forms
No
$49 or $99, $199 business
Yes
Yes
Yes
No
Leadpages

Landing Pages
Popup Boxes
Yes
$25 or $48, $199 business
Yes
Yes
No
No
Thrive Themes
Landing Pages
Popup Boxes
Email
Wordpress Themes
Websites
Online Courses
Quiz Builder
No
$19, $49 business
No
Yes
No
Yes