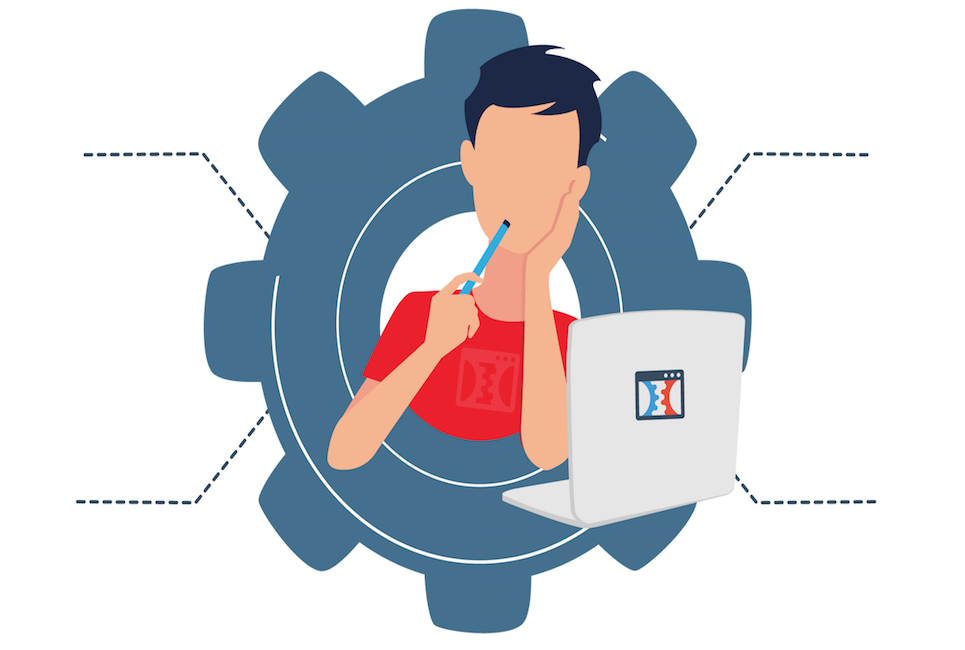 Clickfunnels is an all-in-one marketing software you can use to build your whole online business.
With Clickfunnels, you can:
Easily create your whole sales funnel.
Collect, manage and segment your leads and subscribers.
Run an email marketing campaign.
Automate your sales process
Avoid creating a ton of pages for funnels on your primary website domain
Literally, if you subscribe to Clickfunnels, you'll never need anything else to run your online business again.
That's because Clickfunnels is built for entrepreneurs who:
Don't know how to code
Aren't marketing experts
Don't want to spend thousands to build their website
If you fall into this category, Clickfunnels is the perfect software for you. And it isn't a dumbed down version of other marketing tools. Clickfunnels offers the same, or even better functionality and a LOT more features in one single piece of software.
With that being said, let's start exploring the many features of Clickfunnels, and see how you can use them to build your own sales funnels and successfully run your own online business.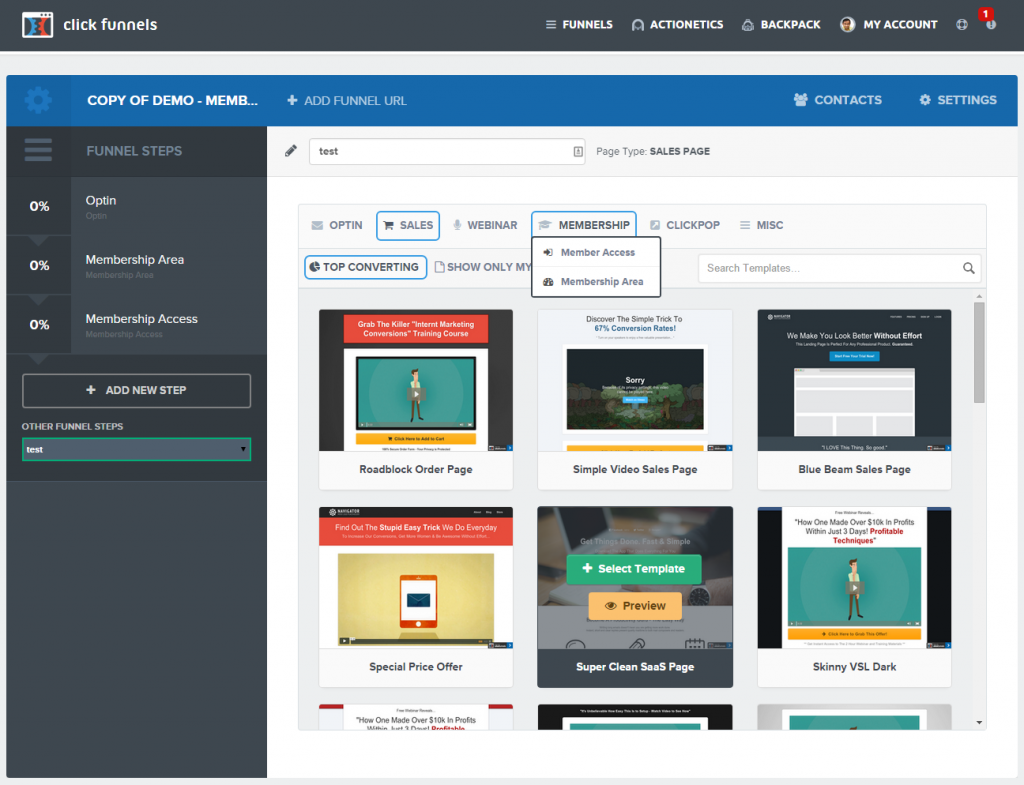 Clickfunnels Features
What separates Clickfunnels is that it offers a lot of diverse features at an attractive price point.
The majority of marketing tools either:
a) Focus on one area of your business: For example, tools like MailChimp and Unbounce are good for only email marketing and building landing pages respectively.
b) Are too expensive: For example, all-in-one marketing tools like Hubspot and Marketo cost $800+ a month for their CRM, automation and lead gen features.
Clickfunnels offers its features including the CRM and email autoresponder for less than $300/month.
Here's what you can get in Clickfunnels: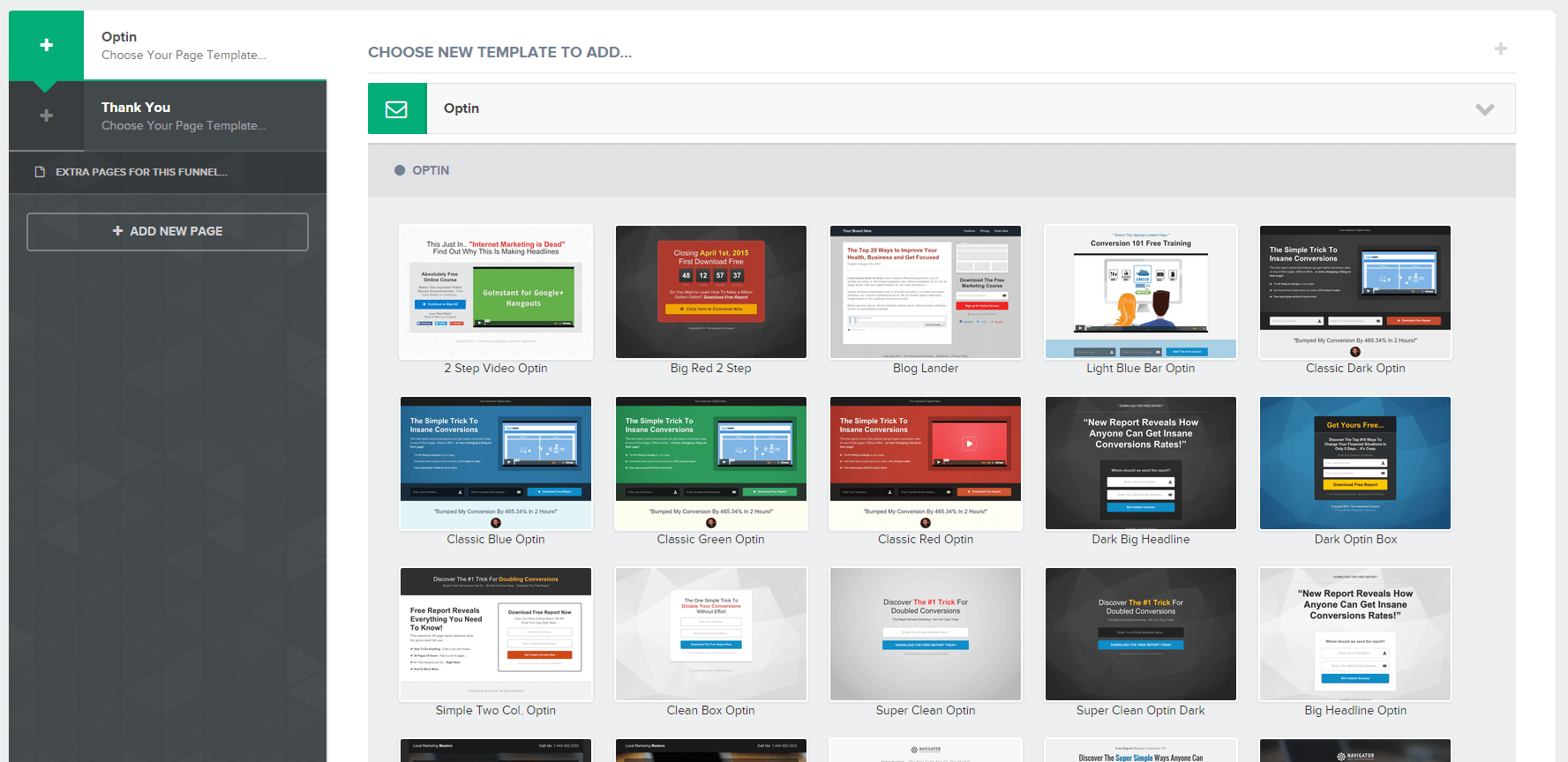 Awesome Feature # 1: Clickfunnels Funnel Builder
A sales funnel consists of many parts. There's the main sales page, then the opt-in form, the checkout page, thank you page and so on…
In Clickfunnels, you get the whole sales funnel, with all of the pages, bundled in a complete package.
No other marketing tool gives you this.
Step 1 – Choose A Pre-Built Funnel
All you have to do is choose for what purpose you want to use your funnel for. It can be one of these three:
To collect leads
To sell a product
To run a webinar
Then, you simply choose what kind of funnel you want. It can be a product launch funnel, a sales letter funnel, a two-page opt-in funnel etc.
These funnels are further divided into templates for what kind of products you want to sell i.e an ebook, a course, a webinar, a physical product etc. This means if you want to build your funnel from scratch, you can still get templates for individual pages like an opt-in page, thank you page, checkout page etc.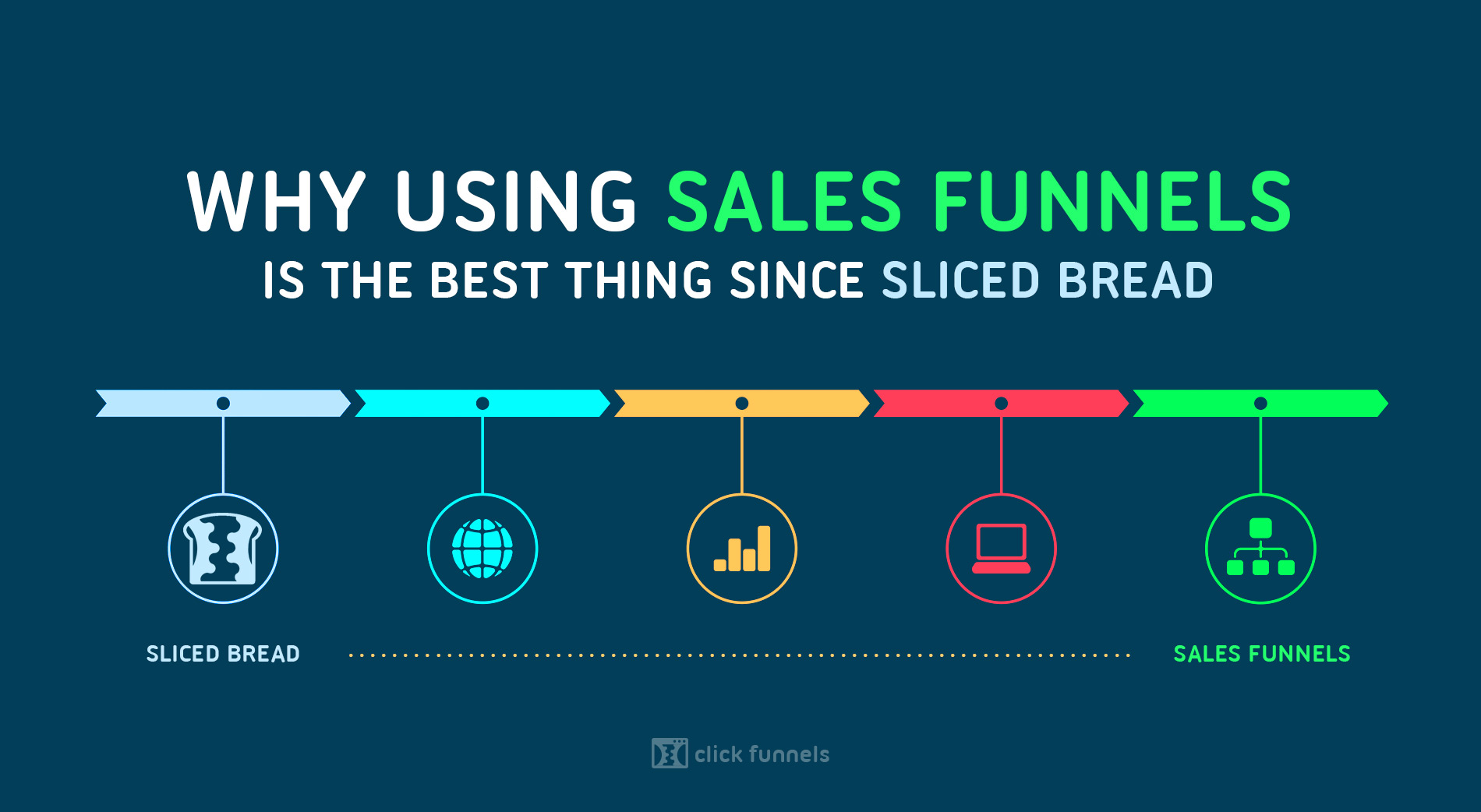 Step 2 – Create / Edit Your Funnel
If you have knowledge of funnels, you can go ahead and edit the order of your funnel pages – and add/remove them as well. For example, if you want to add a squeeze page in your funnel, you can do that. If you want to remove the upsell page, you can do that as well.
This flexibility to add/remove and move around pages of the funnel is going to be very handy. That's because, with Clickfunnels, you can create checkout forms and membership sites in your funnel as well.
This means the people can directly pay and get access to your content without leaving your funnel and you can, therefore, change when these pages appear inside your funnel. (Hint: You don't want your membership page appearing before the checkout page!)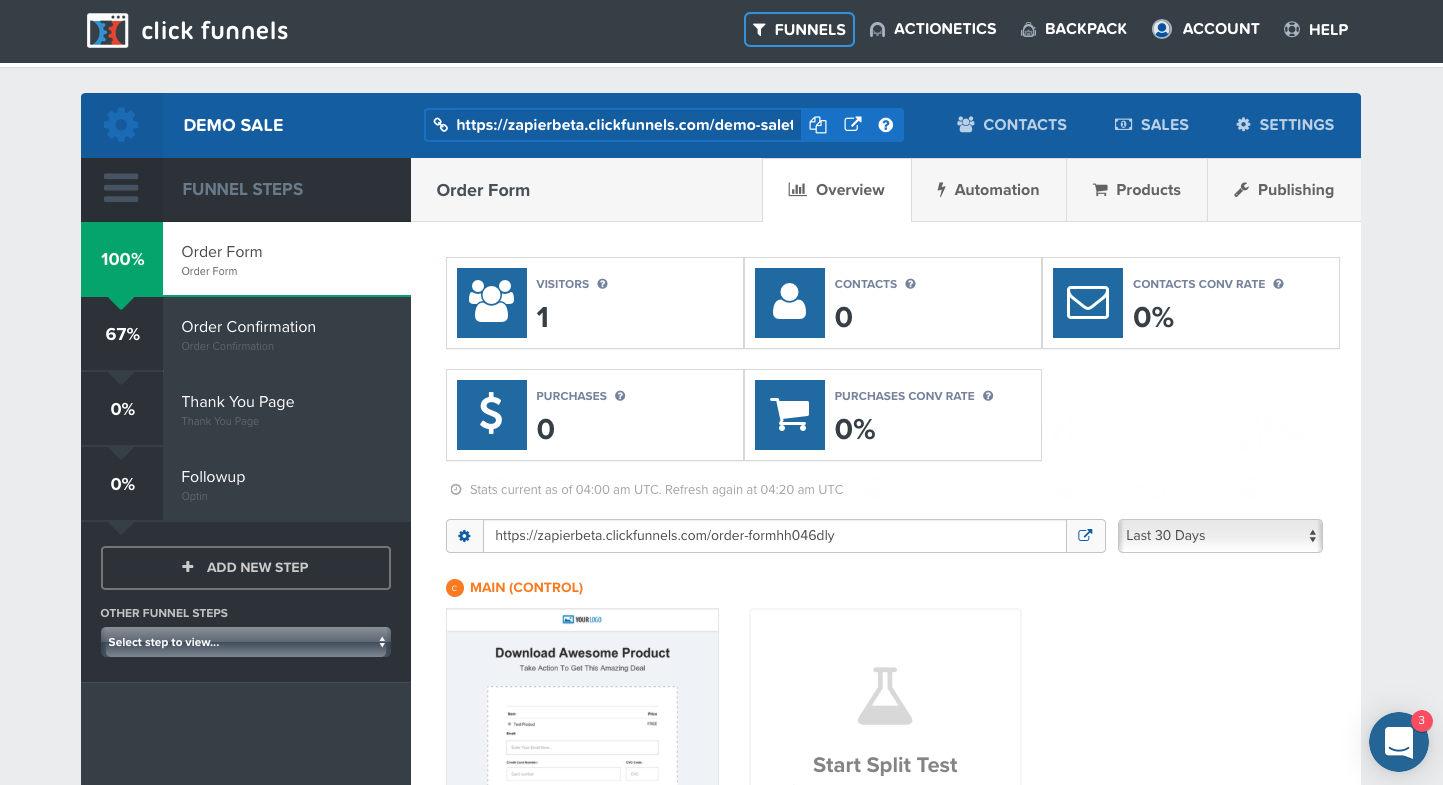 Awesome Feature # 2: Etison Web Builder
In the first feature, we learned how Clickfunnels gives you an awesome sales funnels and page templates that are ready to go.
But be that as it may, you still have to edit the pages inside your funnel and add your own text, images, and videos. That's where the Etison Web Builder comes in.
With the web builder, you can customize every single aspect of your pages. Every single page is divided into sections. Each section has its own rows. And every row has elements.
The elements are the most important part of your funnel. Text, images, headline, forms, boxes and everything that's on your page is an element.
Clickfunnels Editor
In the editor, there are 11 categories, each with its own kind of elements:
1. Text Elements: Text, Heading, Bullet Points etc.
2. Media Elements: Images, Audio, Video etc.
3. Form Elements: Buttons, Inputs, Text Box etc.
4. Advanced Form Elements: SMS Form, Billing Form, Survey Form
5. Countdown Elements: Countdown Timer etc.
6. Content Blocks: Icons, Dividers, Pricing Table etc.
7. Misc Elements: FB Share, FB comments, Custom Script etc.
8. Order Forms: 2-Step Order Form, Order Summary, Credit Card
9. Affiliate Links: User Login, Affiliate Links, Affiliate Stats etc.
10. Membership: User Login, Membership Content, Search etc.
11. Webinar: Webinar Form, Webinar Date, Add Event etc.
In addition to all these elements, you can also add your custom CSS code, change the background and colors with HEX codes and edit the mobile version of you funnel as well.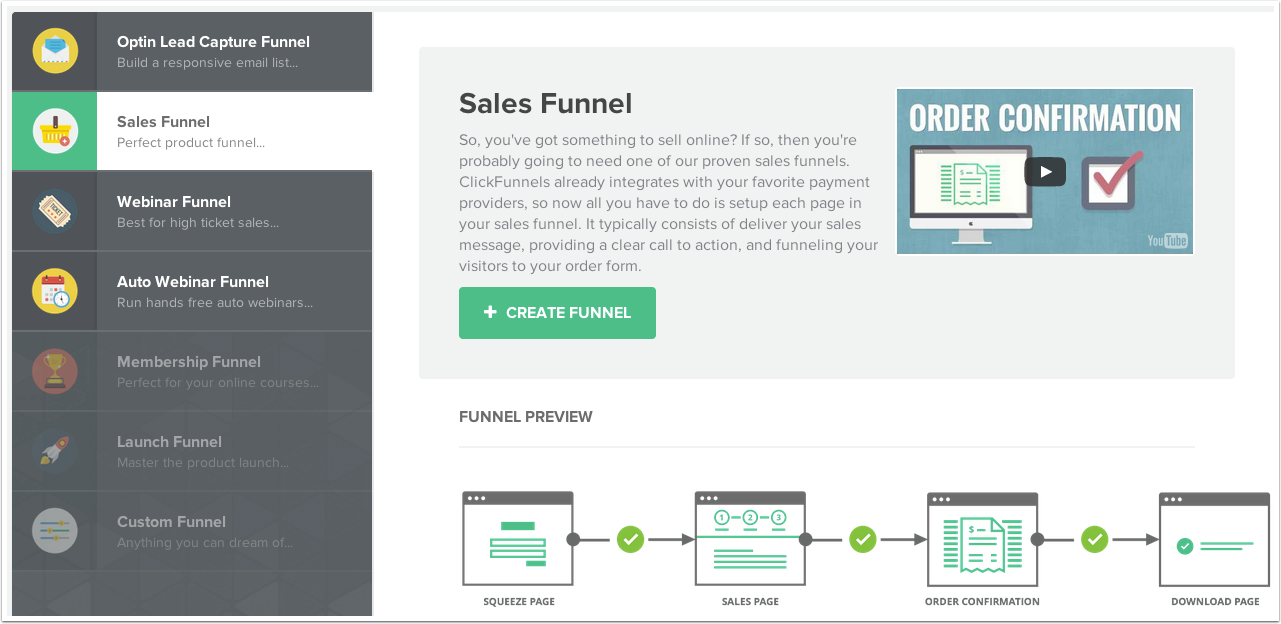 Awesome Feature # 3: Actionetics
So, now you've got your whole marketing funnel up and running. But that's just the start. The next step is following up on the leads who've entered your funnel but haven't become your customers.
Actionetics: Do you need this feature?
To do that, Clickfunnels offer an amazing feature called Actionetics.
But calling Actionetics a 'feature' can be a bit misleading. It's not a single feature, but rather a set of multiple features. Here's what you get in Actionetics:
1. Subscribers Info: You can see information and activity of your subscribers. Things like how many subscribers you have, how many unsubscribed etc. In addition, you can also see each subscriber's individual activity like what funnel they're in, what they've bought, how much they've spent, their social media profiles and more.
2. Email Lists: This is where you can create email lists. You can automate the whole process by adding subscribers to lists based on the funnels the join, the actions they take and the purchases they make. In addition, you can create 'smart lists' that allow you to create new lists based on data like where you subscribers live, how long they've been your customers, are they first-time visitors etc.
3. Email Broadcasts: Here, you can create new emails and email campaigns based on templates or completely from scratch and send them to your email lists. You can also automate the process so that when a customer takes an action like subscribing to your funnel, purchasing a product, opting in for a free ebook etc., they automatically get subscribed to certain email campaigns.
4. Follow up Funnels: This is a relatively new feature. It allows you to send your subscribers not just emails, but text messages, facebook messages, mobile and desktop notifications and more. It's great for when you want to target your customers in places other than email.
5. Action Funnels: Action Funnels lets you combine your funnels and email campaigns. With this feature, you can automate the process so that any time a subscriber enters your specified funnel, the get a series of emails based on that funnel. And these emails can lead them to another funnel as well which can lead to another series of emails. It's perfect for product launch campaigns or email courses which lead to upsells.
As you can see, within Actionetics, you get every single tool you need to manage the whole marketing of your online business. And this feature alone is why you should get Clickfunnels.
Awesome Feature # 4: Backpack
This is another feature most marketing tools don't have – which is the ability to create your own affiliate center.
With a backpack, you can create affiliate links for the products you sell – so other people can sell your products for you in exchange for commissions. Clickfunnels puts it best when they say 'it's like having an army of your own salespeople'.
What makes the Backpack feature so amazing is this:
The commission links are 'sticky': Previously, affiliate IDs of your affiliates were stored in browser cookies. This means if customers cleared their browser history or purchased your product from another device, your affiliates commission would be lost since the browser cookie got lost. Now, the affiliate IDs are tied with customer emails. That way no matter what device they use, your affiliate commissions will be tracked because the customer email will remain the same.
The commission is for all products your customers buy: Suppose a customer came to the product page referred by one of your affiliates. But they also buy other products from you as well. Your affiliates will get the commission for every single product their referred customers buy from you.
You can create 2nd tier commissions: If you want, you can give a commission to your affiliates for every customer their referred customers bring.
You can run contests: You can create a competition among your affiliates so that the ones that sell the highest amount of your products, get a prize of your choosing (in the form of money).
With these features, you can be sure your army of salespeople will be motivated to sell your products, bringing you a higher amount of sales which in the end, will increase your revenue and profits.
Clickfunnels: Pros and Cons
Based on the features we've listed, here's what we think are the biggest pros and cons of a tool like Clickfunnels:
Pros:
You get prebuilt funnels: These are 100% tested and guaranteed to bring you the maximum conversions possible. This is a big deal since it means you don't have to learn marketing (or at least, don't need to be an expert at it).
You save money because of Actionetics: A CRM and Email Marketing service is nothing to scoff at. If you purchase these services for your running online business, they'll easily set you back $300+ dollars.
You make more money because of Backpack: With affiliate marketing, you will get people who sell your products for you. And you don't pay them a penny until their referred customer makes a purchase. It's a safe way to make more money without spending time and money.
You save time: Integrating different services like CRMs, payment gateways, email autoresponders and landing page software is a big hassle. With Clickfunnels, everything is set up and ready to go.
Cons:
There's a big learning curve: Learning Clickfunnels is going to take some time. That's because there are so many features and so many things you can do to optimize your marketing funnel.
The basic plan has a lot of limits: The Clickfunnels basic plan (which costs $97) doesn't have Actionetics and Backpack, only sales funnels. Plus, the number of funnels you can create and the subscribers and traffic you get is limited.
Its analytics aren't very detailed: You don't get a lot of info on how your funnels are performing except conversion rate, subscribers, and unsubscribers etc. To get more detailed data, you'll have to integrate Google Analytics.
You can't create content: While Clickfunnels does integrate with WordPress, there's no feature in-the-box which lets you create blog posts and articles.
Final Verdict: Is Clickfunnels for You?
If you want an all-in-one software – just one – that can help you run your online business, Clickfunnels is meant for you. It's a great sales funnel tools for beginners just starting their online business.
But even if you're a power user or an expert marketer, with Clickfunnels, you can create a powerful funnel and integrate other services you might use.
Because while Clickfunnels is easy-to-use, it's by no means a dumbed down or watered version of any software in the market. It has all the features you could possibly need to sell your new product or service.
It starts at $97 for the base subscription. But if you want to unlock Backpack and the Actionetics bundle, it'll cost you $297 to get you started. If you are building your business online, I strongly recommend you unlock Backpack and Actionetics bundle. You just won't get the analytics and metrics without it.