The path you are on now is probably not the one you envisioned when you set out on your journey. Life has a way of leading you down unexpected avenues and, sometimes, far off the beaten track. And it is off one such beaten track, in the highlands of Vietnam, that Jake Orak found his calling.
One minute Jake was rubbing shoulders with chemists, thermodynamic experts, and mechanical engineers in the bustling metropolis of Minnesota (USA), and the next he was discussing business terms with the Hmong people up in the northern highlands of Vietnam. It's not quite a tale of rags to riches, but Jake is on a mission to make the world a better place, one hand-made textile at a time.
Before Ethnotek: Craving Something More?
Jake studied product design at University and, after graduating, seemed destined for a flourishing career in the design industry. He landed a nice paying job at 3M, complete with a handful of perks and benefits. The folks at 3M set Jake to work designing interesting items such as stethoscopes, Iodine Surgical Applicators, and RFID Library Scanners.
Yet Jake was "craving something a bit more 'lifestyle'," something a little less corporate and more suitable to his personality. When he found an opportunity to intern with an international bag company, Jake knew he had to take that "leap of faith." The challenge was that this internship would require him to move to Vietnam, millions of miles away from his life in Minnesota, and also meant giving up his well-paid career.
While Jake's friends and family were a little surprised by the fact that he would leave his job for a $500 a month design internship in a foreign country, they were supportive none-the-less. Fortunately for Jake, and much to the reassurance of his parents, the internship worked out well. He was quickly promoted and began learning a lot of interesting things about the bag industry; things that piqued his curiosity. He loved it.
The Birth of an Idea
Jake soon discovered that he loved designing bags. After completing his internship and learning as much as he could about the industry, he continued working for that company for three years. It was during this time that Jake discovered another passion. Textiles.
Jake explains that Vietnam has many national holidays throughout the year, and it was on one of those holidays that he decided to go on a 10-day solo motorbike trip through the highlands of Northern Vietnam. It was a life-changing trip because it gave birth to the idea behind Ethnotek. "It came out of just exploring the northern highlands," says Jake, "and interacting with the indigenous Hmong hill tribes that are still thriving there."
With a keen understanding of design, Jake became enthralled with the delicate process that the Hmong people went through to create beautiful fabrics and textiles. "To see [the textiles]" Jake explains, "was inspiring." He immediately thought "it would be so cool to combine these textiles with a technical, functional bag." Jake was also curious to see if any other, similar cultures around the world could collaborate and create an ethical sourcing model on which he could grow a business. He was right, but it would take him another three years to bring his initial idea to fruition.
Watch artisans in action doing what they do best as Ethnotek travels the world
Motivation
One common rhetoric in entrepreneurship is "follow your passion". The reasoning behind this logic is that if you are working on something that you are passionate about, you will continuously be motivated to work on it. In reality, motivation comes from many different sources. For Jake, it was the reward of connecting talented, hardworking people with the rest of the world.
The trip to the Vietnamese highlands made Jake aware of a saddening decrease in the demand for textiles from certain cultures. High costs and long lead times are a major deterrent for businesses in the textiles industry. They want things cheaper and faster.
Jake realized that this trend would eventually diminish the long-standing textile and fabric weaving tradition in these cultures. A problem, which was easily solvable, and one which served as good motivation to start a business. He initially wanted to incorporate the Hmong fabrics into garments but realized that he had no real knowledge of garment design or the fashion industry.
After acknowledging that designing bags was not only his strongest skill but also the field he enjoyed the most, Jake decided to combine his passion for design, his desire to help communities, and his love of handmade fabrics with his knowledge of bags.
Mentorship
While Jake had already become a talented and experienced designer, he knew very little about the variety of aspects required in running a bag business; supply chain, distribution, seasonal inventory, etc. These were things he did his best to figure out himself during the startup stage, but it was through mentorship from other experienced business connections that helped Jake take Ethnotek to the next level.
Most of Jake's mentorship came from reading stories of other successful social entrepreneurs. Jake discovered "it was important not to be afraid to ask questions.."people all over the world were so eager to help if you just ask them."
Jake's business idea drew the attention of one advisor in particular that Jake refers to as a crucial mentorship. This person offered valuable advice and guidance on a weekly basis and asked one small thing in return: the pleasure of being part of such a great business. "He has helped us avoid a lot of potentially big mistakes," says Jake. A mentor is important in any business.
Marketing: How Sharing the Company Story Led to Success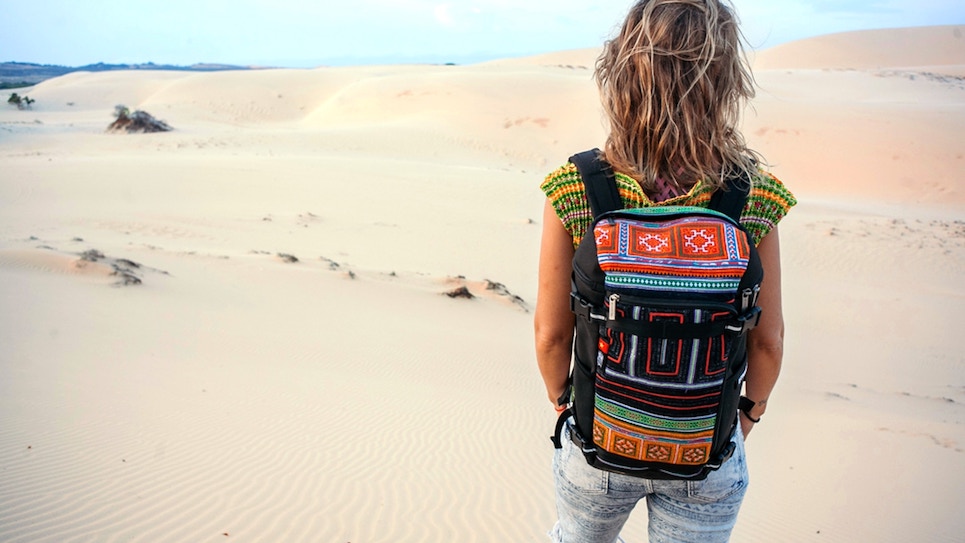 Paying for advertising is one of the quickest ways for a startup to build brand recognition and begin generating revenue, which is important to consider in the early stages of creating a business. However, Jake chose a different approach for Ethnotek Bags – he decided on good old fashioned word-of-mouth marketing.
"Once you understand what we do, it's pretty easy to get excited about it." Jake Orak
Word-of-mouth is the oldest and one of the most effective forms of marketing. But it often takes time. But Jake had a great business and a fantastic story behind it. That is just what Ethnotek is, as Jake says, "Once you understand what we do it's pretty easy to get excited about it." Aside from a few recent Facebook boosted posts, the company has not paid for any advertising, instead creating authenticity with the brand, and building strong relationships with customers.
The Future
Ethnotek currently sources its products from cultures across three continents. Jake Orak is the proud CEO of a successful company that provides durable, practical and stylish bags. Each sale helps to ensure the revival of a tradition, the preservation of unique cultural identities and the livelihood of global communities.
Jake lives and runs the business from headquarters in Vietnam. Ethnotek's growth is continuous. The product range now includes laptop bags and accessories such as travel wallets and sling bags. It is a global movement — it's all about the future of these artisan villages that Jake is so passionate about celebrating and empowering.
Listen to Our First Interview With Jake Orak