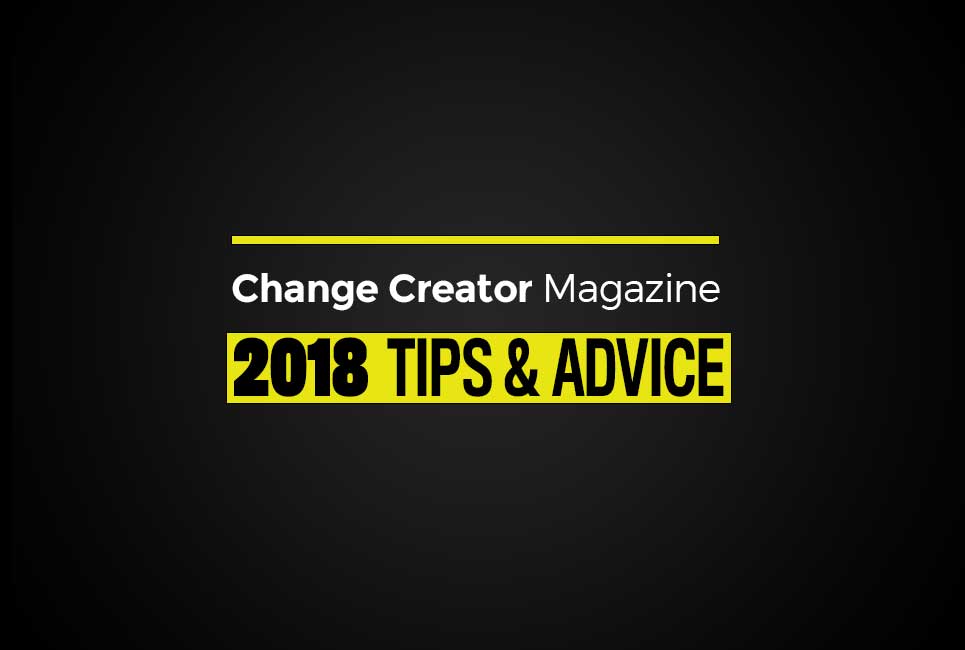 It's been one amazing year giving you the best social impact and innovation business leaders in our world. If you are someone who wants to change the world, but just don't know how to get there, this list of actionable insights and key takeaways from our best content in the magazine app are you for you!
This year we will put out 10 issues of Change Creator magazine. Why 10? Before April 2018, Change Creator magazine was a bi-monthly publication but then we heard from all of you and decided to start publishing it monthly, with more strategies, tips, and mentorship in your pocket each month.
We've had the incredible honor of interviewing some of the world's brightest, most impactful people on the planet and we're super proud of the exclusive interviews we bring to you.
Without any further ado, here are xx actionable pieces of advice from Change Creator Magazine 2018:
January 2018: Dr. Muhammad Yunus: The Godfather of Social Enterprise [Cover]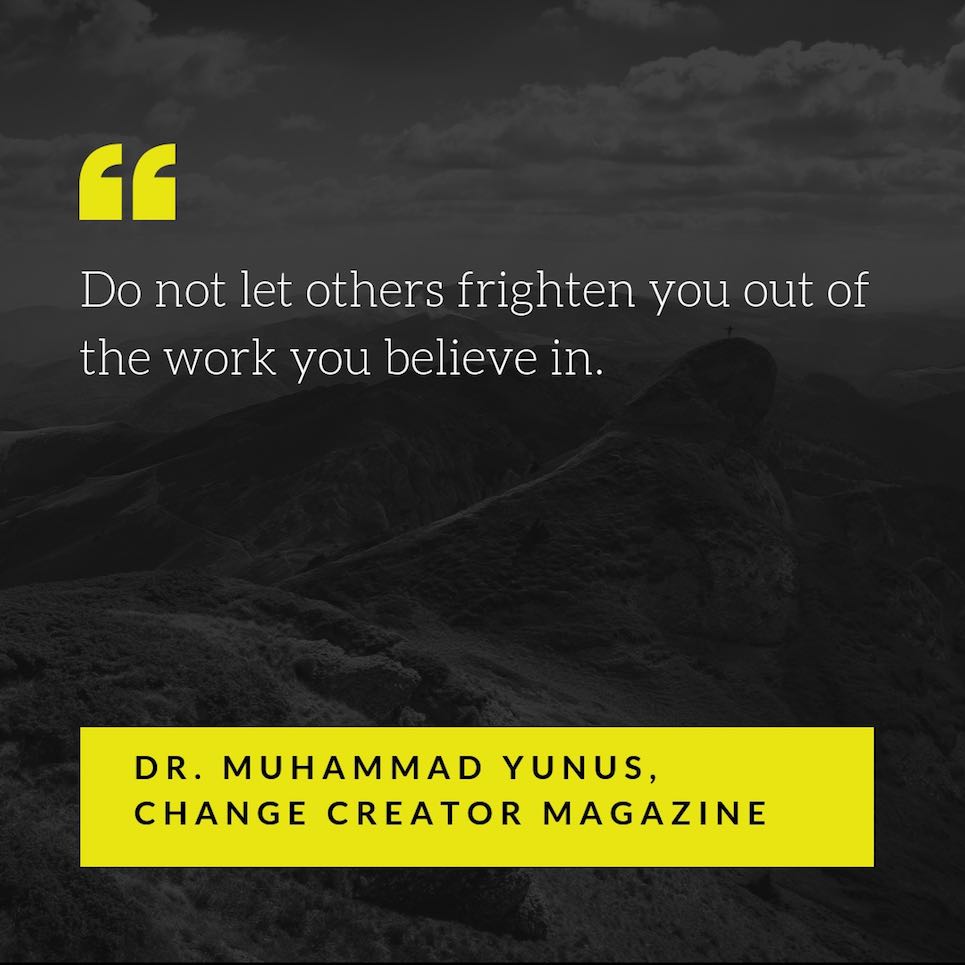 We started the year off right with this exclusive interview with Nobel Peace Prize winner, Dr. Muhammad Yunus.
"Start with a big vision, solve a big problem, but take small, bite-size steps to get started towards fulfilling that vision." Dr. Muhammad Yunus
We were so honored to get to talk to Dr. Yunus in this special edition that started our year off right. In this exclusive interview, we asked:
Is it just about providing society with something good?
How is it different from Apple creating useful products or creating jobs?
It is very easy to get bogged down by definitions. Some people are prescriptive, advocating a very narrow definition. We, at Change Creator, have a slightly more inclusive view. For us, if a venture has a social mission at its heart, it qualifies as a social business.
There were a lot of key insights in this special edition that started the year off with a bang. Here are the key actionable takeaways from Dr. Muhammad Yunus himself:
Start with a big vision, solve a big problem, but take small, bite-size steps to get started towards fulfilling that vision.
You must create a new road if you want a new destination. Replace old systems that no longer serve people.
Do not let others frighten you out of the work you believe in.
Break down your fear, take a risk, and allow yourself the ability to fail.
Money is not a solution itself but a vessel through which you can achieve your goal and drive big impact.
January 2018: Bryan Goldberg, Kate Ward: How Bustle Built Their Media Empire [Feature]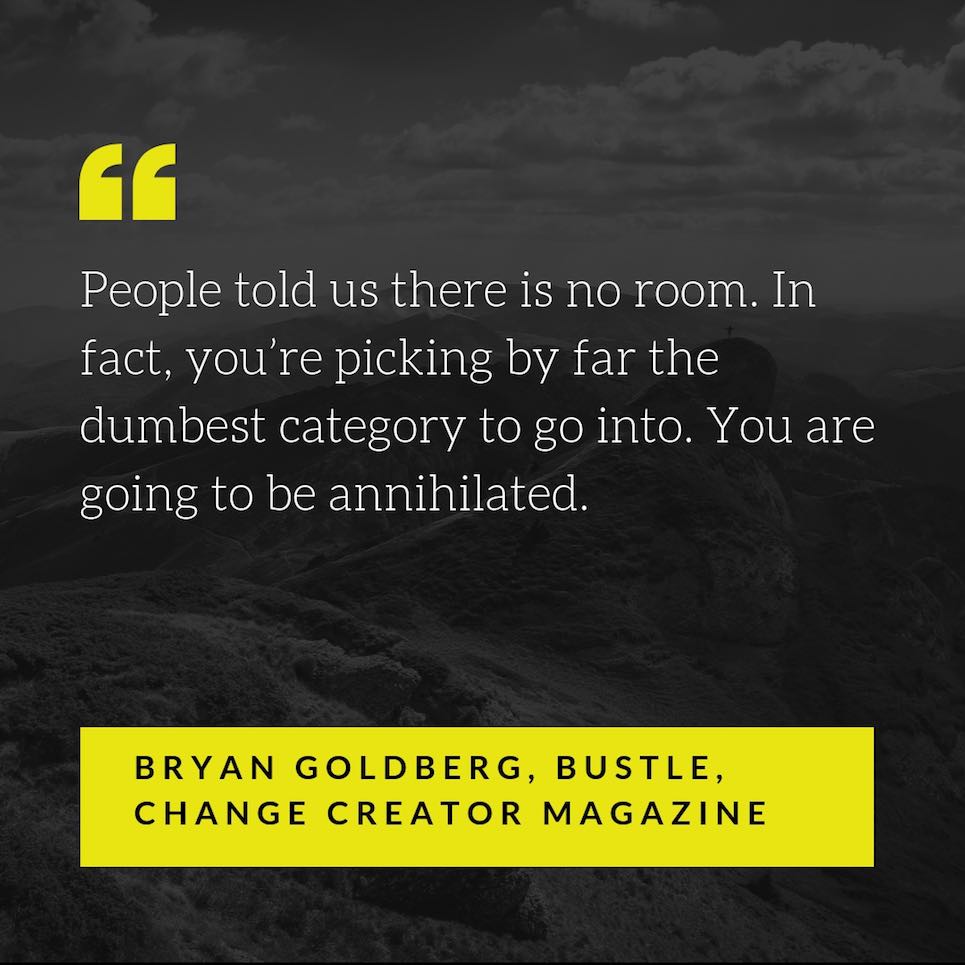 We learned a lot about building a huge audience and really tapping into your what your audience wants, not what you think Google will like.
Appeal to organic traffic by pushing out content that will appeal to readers, not Google. Rank will follow, but don't ignore paid advertising media.
We also learned a lot about hiring the people who are going to drive your business — when Bryan Goldberg wanted to start Bustle, he knew Kate Ward would be his go-to millennial, but she refused — until he persisted.
Here are the key takeaways and action steps from our Bustle feature:
A flooded market isn't always a red traffic light. Assess what makes your concept different, and flesh that out.
Have a clear objective, ethos, and concept. Then stick to it.
Hire brilliant staff who fit into your target market. Leverage them to appeal to investors.
Make sure you have enough capital to leap onto hot marketing opportunities and product development.
Appeal to organic traffic by pushing out content that will appeal to readers, not Google.
Rank will follow, but don't ignore paid advertising media.
Find innovative social media marketing trends and act on them ahead of the masses.
Form social partnerships and keep fishing for more influencers.
The instant you have a monthly visitor rate worthy of advertising, find sponsors.
"People told us there is no room," says Goldberg. "In fact, you're picking by far the dumbest category to go into. You are going to be annihilated." Bryan Goldberg, Bustle.
Guide to Social Business: Special Edition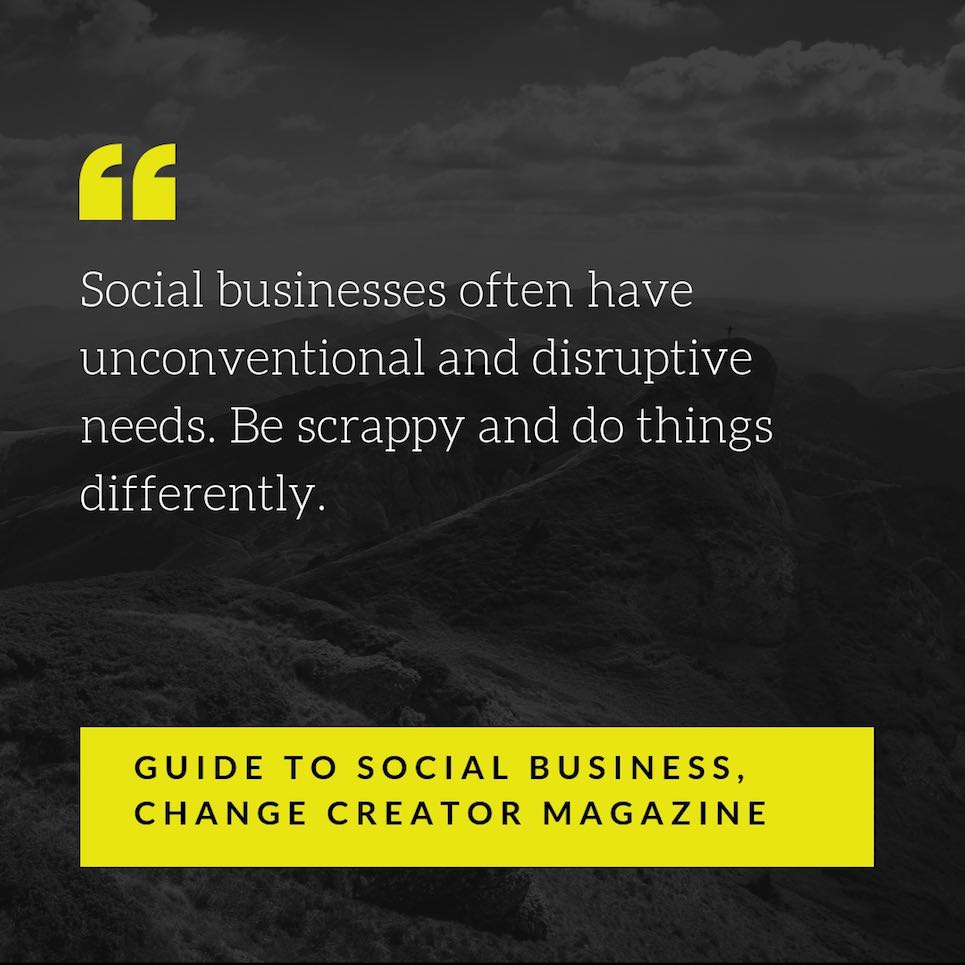 In this special edition, we cover all the key factors of starting, growing, and scaling a social impact company. Think of this as the go-to guide to being an impact entrepreneur! Filled with valuable insights you won't get anywhere else, we bring you the best tips and advice to help you live the life of your dreams — and save the world.
Some key pieces of actionable advice:
Think outside the box to get things done. Be scrappy! Social businesses often have unconventional and disruptive needs – which means you will also need to do things differently!
Get all the help you need — tell people you are starting a social enterprise and build those strong relationships from the beginning.
Figure out a business model that works for you and your impact goals. There's no one-size-fits-all approach for everyone.
Start making money as soon as you can so you can amplify your impact.
Use content to build strong, lasting relationships — share and create valuable content!
Start 'bite-sized', as Dr. Muhammad Yunus told us. If all goes well and you've validated your idea, you can begin to expand your offering and impact.
Think about products with dual-markets as a viable impact model, you can help those in need and conscious consumers in North America too.
Choose a social impact idea that will fire up your life, that matches your unique values.
Before you quit your day job, make sure you validate your social impact idea and know that it's a viable option wanted in the marketplace.
"Be open-minded and look for opportunities in unlikely places. At least 80 percent of the amazing entrepreneurs Change Creator has interviewed have found their big idea during a unique travel experience."
<<Change Creator Magazine Goes Monthly!>>
Before we launched out April magazine, Change Creator decided to start going with monthly releases of the magazine. Our goal: to become more of a monthly, mentor-in-your-pocket, bringing you the best advice from both the business world and social impact leaders! Going monthly means even more exclusive insights, interviews, and strategies than ever before!
April 2018: Sonya Renee Taylor: The Business of Activism [Cover]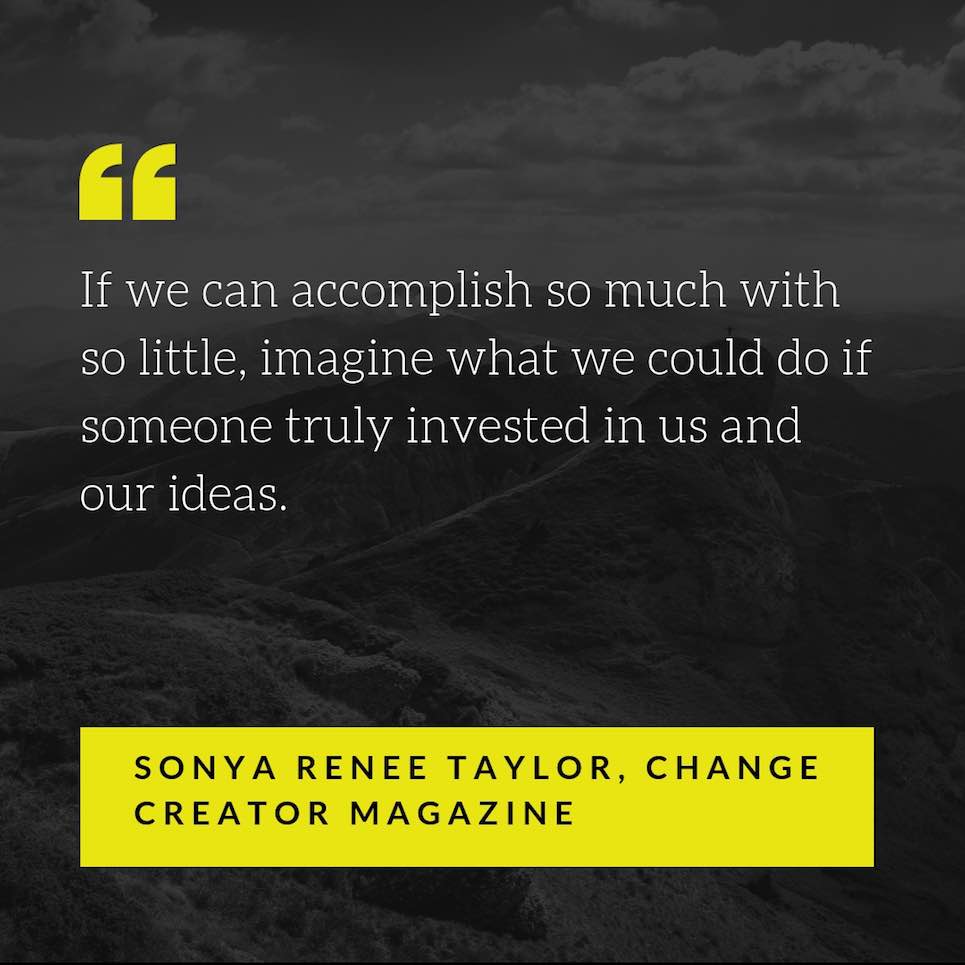 We saw the powerful example of how a movement became not only a thriving business but an agent for change in our life. How can you start a purpose-based business?
"Recognizing that radical self-love is the first step. Do the hard work of looking at your own social constructs. What do you believe? What are your core values? Do the inner work first, before you begin to change the world."
Sonya Renee Taylor shows us that we can start a social movement that radically changes and challenges social norms and make it a thriving business.
Be your own Sonya. Live in your truth. Align your business with your values from the get-go; it's the only way to build lasting results.

Get early supporters on board to help build your vision. Give them the authority to make decisions, bring ideas to the table, and make it their mission, too.
Monetize your movement if you want to build a sustainable solution. Figure out the business stuff, too; don't wait to start making money.
May 2018: The Future of Blockchain [Cover]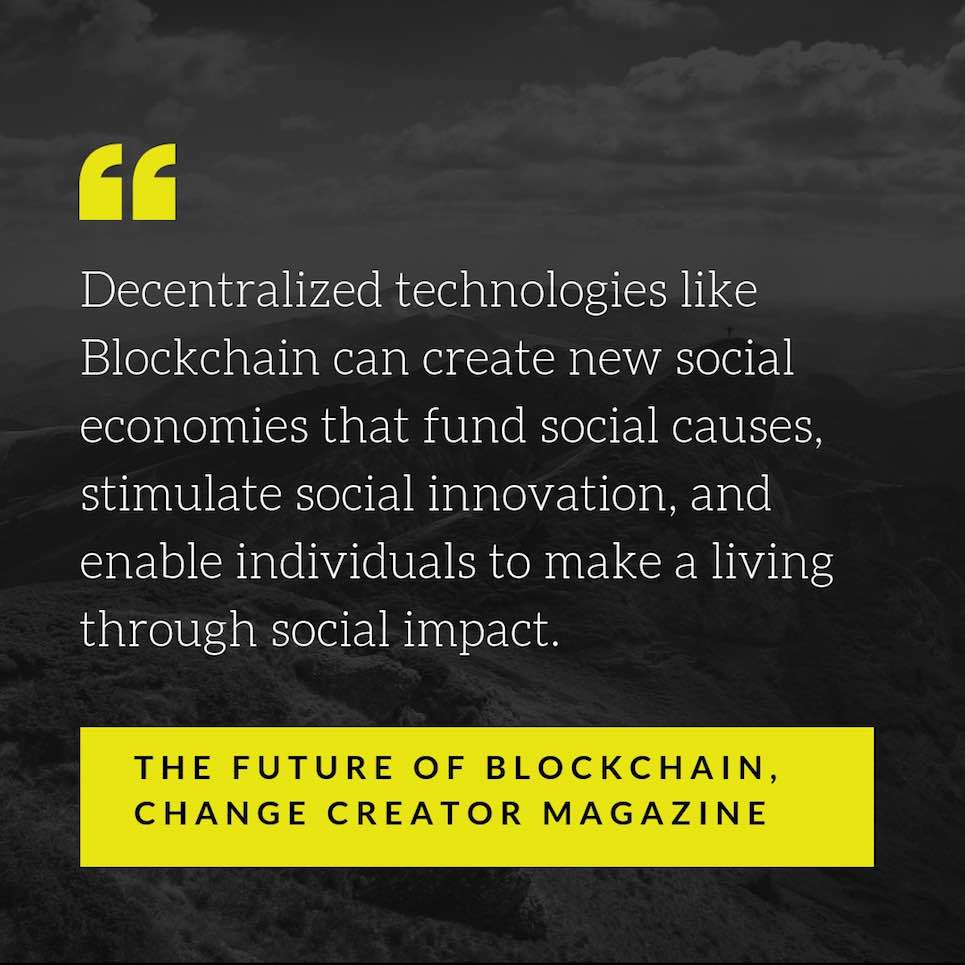 In our May edition, we decided to bring you the power and technology of Blockchain, which will have a lot of impact in the future for social good. We went out to San Francisco to get exclusive interviews with some of the pioneers in the Blockchain and social impact space and showed you the vast opportunities that exist.
"By redefining business value in the context of social issues, decentralized technologies like Blockchain can create new social economies that fund social causes, stimulate social innovation, and enable individuals to make a living through social impact."
June 2018: Seth Godin: Leadership, Innovating Impact [Cover]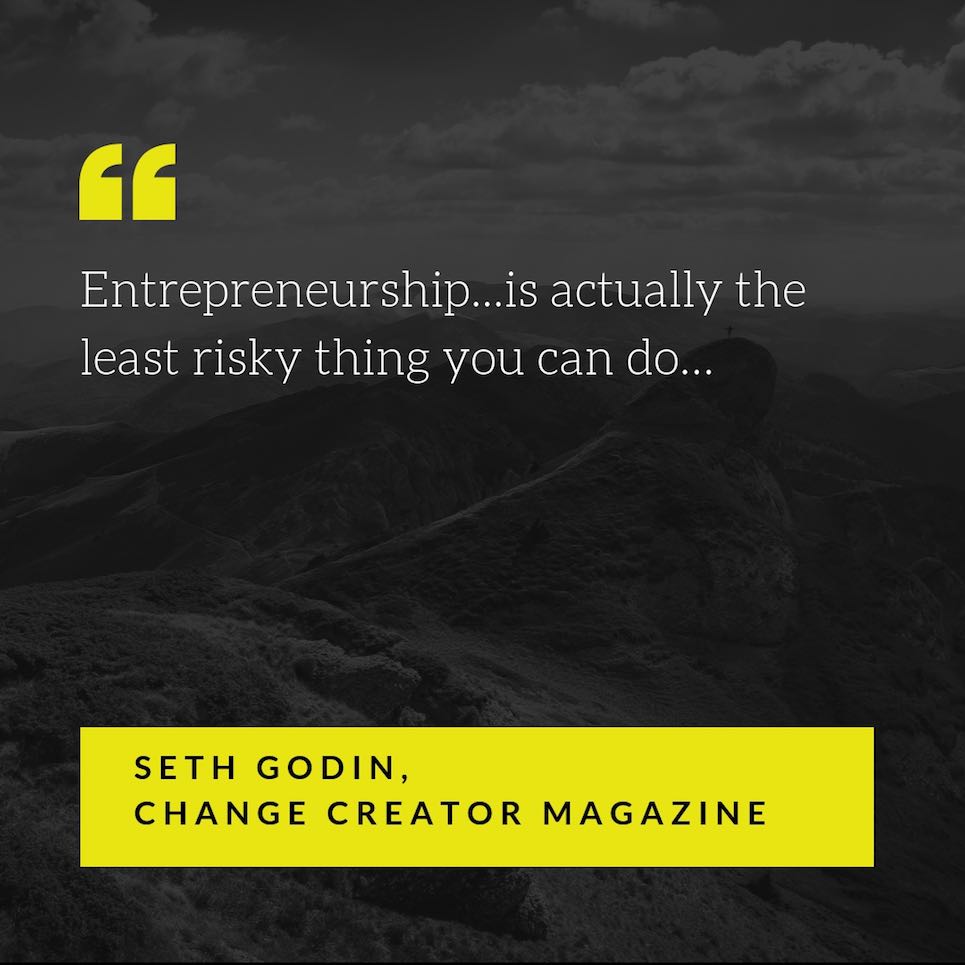 Getting to interview Seth Godin for this edition was a thrill — we are big fans of his approach to marketing here at Change Creator.
"Entrepreneurship…is actually the least risky thing you can do…" Seth Godin interview.
We learned a lot in this edition about leadership, marketing, and the future of life as an entrepreneur. Here the key takeaways from our exclusive Seth Godin feature:
Treat your customers morally and with respect.
Throw away the jargon and think simply. Choose and become the change you want to see.
Inspire your staff and buyers to want to do what you want them to do instead of doling out orders or expecting reciprocity.
Treat your buyers with empathy and responsibility. Get to know their values.
Don't let fear or uncertainty dissuade you. Choose an industry that fills your soul and explores the things that make you nervous.
Learn to find happiness in scary places.
Let culture inform your decisions instead of becoming distracted by complex best practices.
Do one thing every day to push yourself forward.
Start with a small viable market and move on to greater things as you learn.
Find an innovative concept that brings value and changes the world.
July 2018: Sarah Kauss: A $100 Million Company Combatting Plastic Bottles [Cover]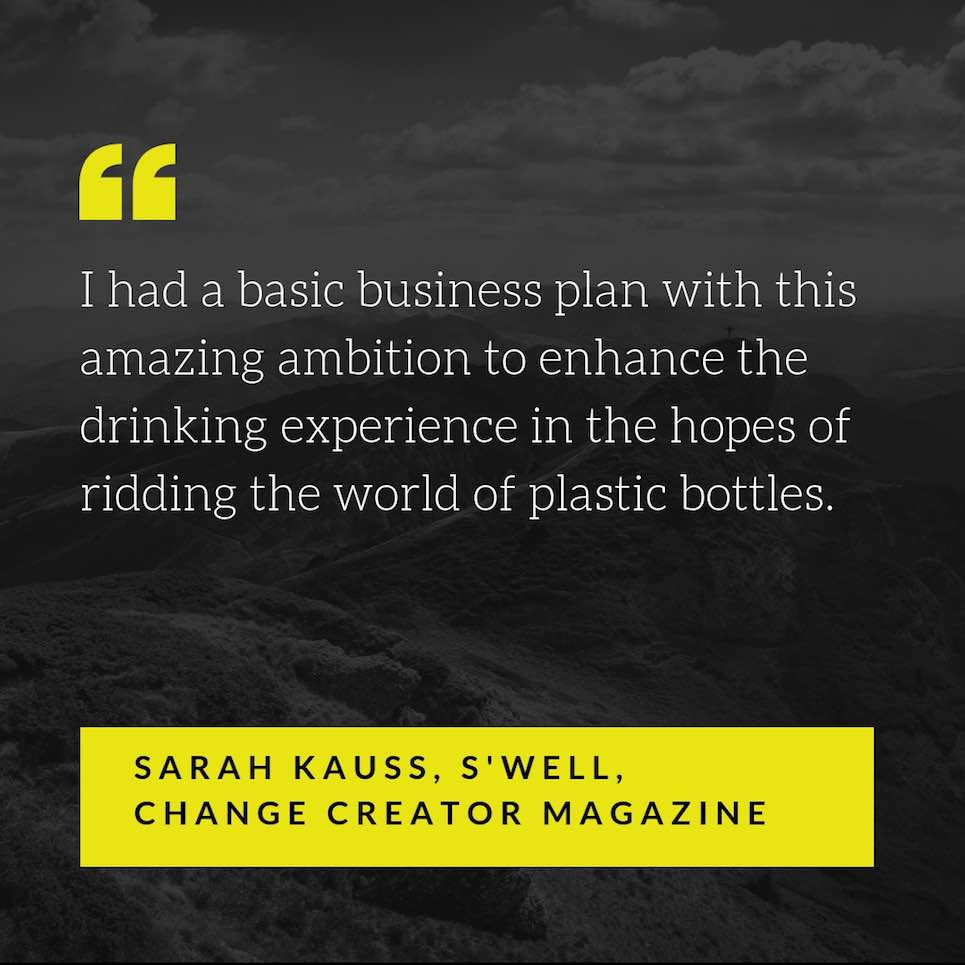 When it comes to social impact, there still seems to be this myth that to be successful means you can't make a lot of money, and if you do, you have to be a charity and give it all away. With S'well waterbottles, Sarah Kauss takes this falsity and turns it on its head. Yes, you can make $100 million. Yes, you can have a $100 million worth of impact too. Taking on plastic pollution head-on, offering consumers a viable, beautiful option, Kauss is the very definition of social impact entrepreneur.
In this edition, we feature our exclusive interview with this powerhouse and learn how she started this waterbottle + social good empire.
"It might be good to say that I had a complex business plan with detailed financial goals, but I didn't. I had a basic business plan with this amazing ambition to enhance the drinking experience in the hopes of ridding the world of plastic bottles." Sarah Kauss, S'well.
Sarah took 30K of her own money to start and scale this business. This is an achievable dream. With determination and a strong desire to change the world and combat plastic pollution, she grew her business and is poised to be the market leader in this space.
Here are the key takeaways and action steps from our Sarah Kauss article:
People need small, achievable actions if they're to be motivated to create change.
Rapid-fire start-up growth isn't the only way to broach social entrepreneurship.
Sometimes, slow and steady builds the strongest brand.
Build a network of supporters who will fuel your determination during the first years of your business plan.
Sometimes, preserving your vision is more important than preserving your bank account.
Premium brands take time to take off.
Prepare for growth by hiring people who can manage your mature business from the start.
Social causes require work, not complexity.
July 2018: Jake Orak, Turning Big Challenges into Big Impact [Feature]
Jake Orak is a special friend here at Change Creator. As our first cover story, he set the stage for all future editions of the magazine by showcasing an immensely passionate and successful example of what a social entrepreneur rock star looks like.
Since that cover story, we've met up with Jake in person and did this follow up an interview in July. I can honestly say that his passion for his art, his business is as genuine in real life as he comes across on our podcast interviews. But, there's more to Orak than meets the eye — he's also a savvy business owner, marketer, and has shared his tough lessons so freely with us here.
"Implementing this new business model has helped us reconnect with the 'why' of our business again. It has given us a fresh story and helped us connect with digital marketing more." Jake Orak.
Here are the key takeaways and action steps from this follow-up interview:
Don't be afraid to pivot your business. Your plan at the very beginning may not come to be a year or two down the road. There are many variables that go into creating a successful business and none of us can capture all of them. Be nimble and ready to change as the market changes or when you realize your initial idea probably isn't going to work out.
Pivoting can take longer than expected. Any big change will take longer than your estimate. This goes back to all of the unforeseen and unaccounted for variables.
Financials are a core competency. While some parts of your financials can be outsourced, you'll want to keep your finger very close to the pulse of all things financial in your business. Don't be afraid to periodically dig deeper into the numbers to make sure the final (derived) picture is the real picture.
Create a buffer that preserves cash. Don't let you cash dwindle to just a few dollars. Create a buffer that doesn't allow your cash to go below a certain amount. This way, after all expenses are paid, you still have the cash to handle any emergency that may arise.
Don't settle in and accept the status quo. What everyone else in the industry is doing may not be the most efficient approach. Explore new ideas that break with industry norms.
Take breaks from the business. Completely disconnect and spend more time on "play". This meant family, friends, and hobbies for Jake. Activities that don't involve thinking about the business. Ultimately, these breaks made him a better leader and delegator. As well, he's done his best work ever in the last year and feels more deeply connected with the company mission.
August 2018: Jay Shetty: Mastering Content Impact [Cover]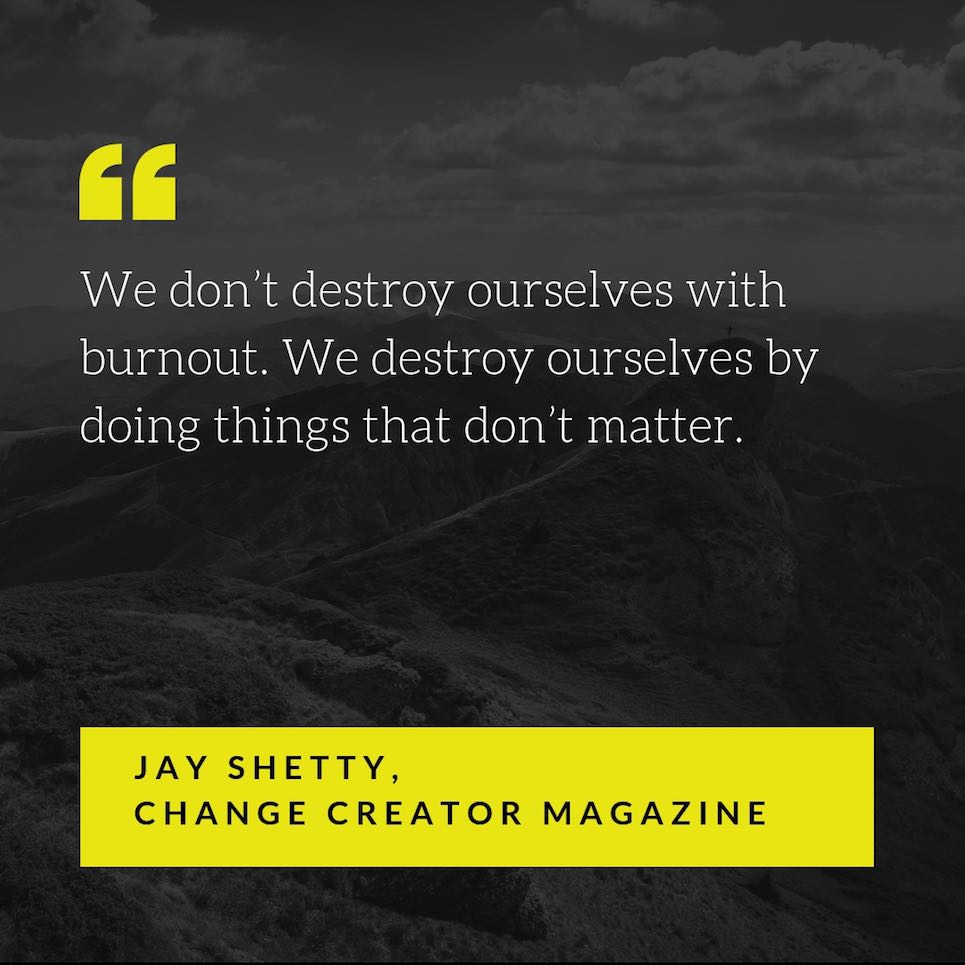 In August, we introduced the incomparable storyteller, Jay Shetty. With billions of views on YouTube, Shetty is a master at telling a story and his approach is based on science and ancient wisdom.
"We don't destroy ourselves with burnout. We destroy ourselves by doing things that don't matter." Jay Shetty.
From 25K in debt to a social media phenomenon, Shetty took us into his storytelling strategies, let us in on how he started, and most importantly, how we can do that too.
Here are the key takeaways and action steps from our exclusive with Jay Shetty:
Wealth and success are poor bedfellows, so build your brand out of passion and purpose instead.
Solve a billion problems instead of aiming for a billion dollars. The profits will follow.
Selfish content creation cannot compete in an attention economy. Grow to understand your demographic before you try to reach it.
Build a clear concept of your content's themes and structure. Brand strength and universality will evolve from it naturally.
Create premium content, but live the principles you share. Transformational stories are the foundation of your brand and authenticity, its substance.
Sharing ideas you haven't given time to evolve is like serving uncooked food.
August 2018: Ryan Foland, The Art of Effective Communication [Feature]
We met master communicator Ryan Foland at a conference last year and were thrilled to include his exclusive interview in this edition of Change Creator magazine. If you've ever had to speak in front of an audience, pitch your business or tell your story, this article can help you!
Getting to the most precise message is the heart of his 3-1-3 method, which takes succinct communication to the core. If you can't communicate your message in 3 sentences, 1 sentence, then 3 words, you need to get to work on that.
Here are the key action steps and takeaways from this article:
Be aware that you are already starting to communicate before you even speak. Your clothes and body language say a lot about you.
The less you say, the more profound you are. Deliver the message in a short, concise way.
Leave room for questions. Allow your audience to get intrigued by your idea and welcome their questions.
Listening is a speaking skill. To be a good speaker, you also need to be an effective listener. Engage people to talk by also asking them the right questions.
When validating an idea, ask what problem you are trying to solve. People only care about how you're going to solve their problems. Focus on that when selling your idea.
September 2018: Pot. Purpose. Profit. The Social Impact of the Cannabis Movement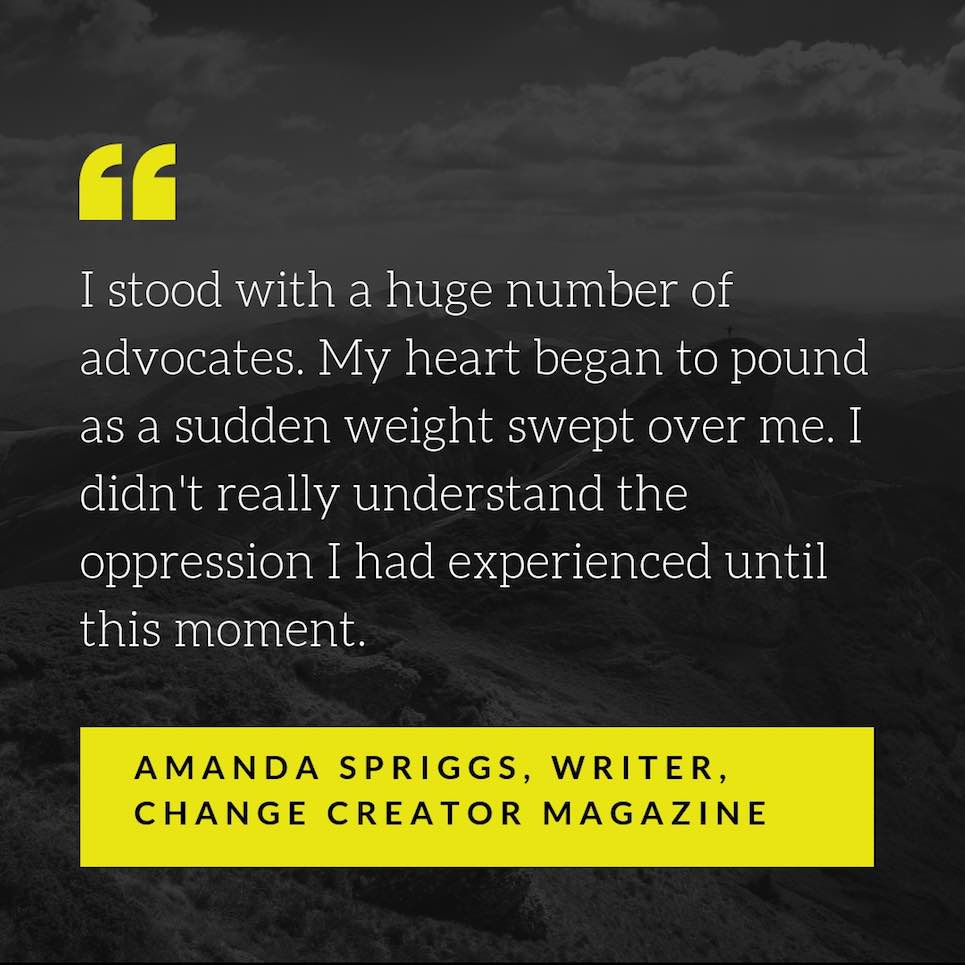 The number of jobs that have opened due to cannabis is astounding. Studies show the cannabis industry will have surpassed the number of jobs in our manufacturing industry in only a few years, creating another 300,000 new jobs. It comes as no surprise that with this massive demand, there will be a tremendous amount of work to be done.
Cannabis prohibition has enslaved a powerful resource, creating extreme misconceptions for almost 100 years! Having been underground for decades, cannabis and its many benefits are sadly still unexplored.
We decided to put out this special edition and discuss the social implications and opportunities in this growing field where impact and innovation will be needed the most.
"I stood with a huge number of advocates. My heart began to pound as a sudden weight swept over me. I didn't really understand the oppression I had experienced until this moment." Amanda Spriggs, writer.
Learn from people on the front line of this movement how you can get involved, build a business and improve our world.
September 2018: Karson Humiston, Amanda Guerreo, Vangst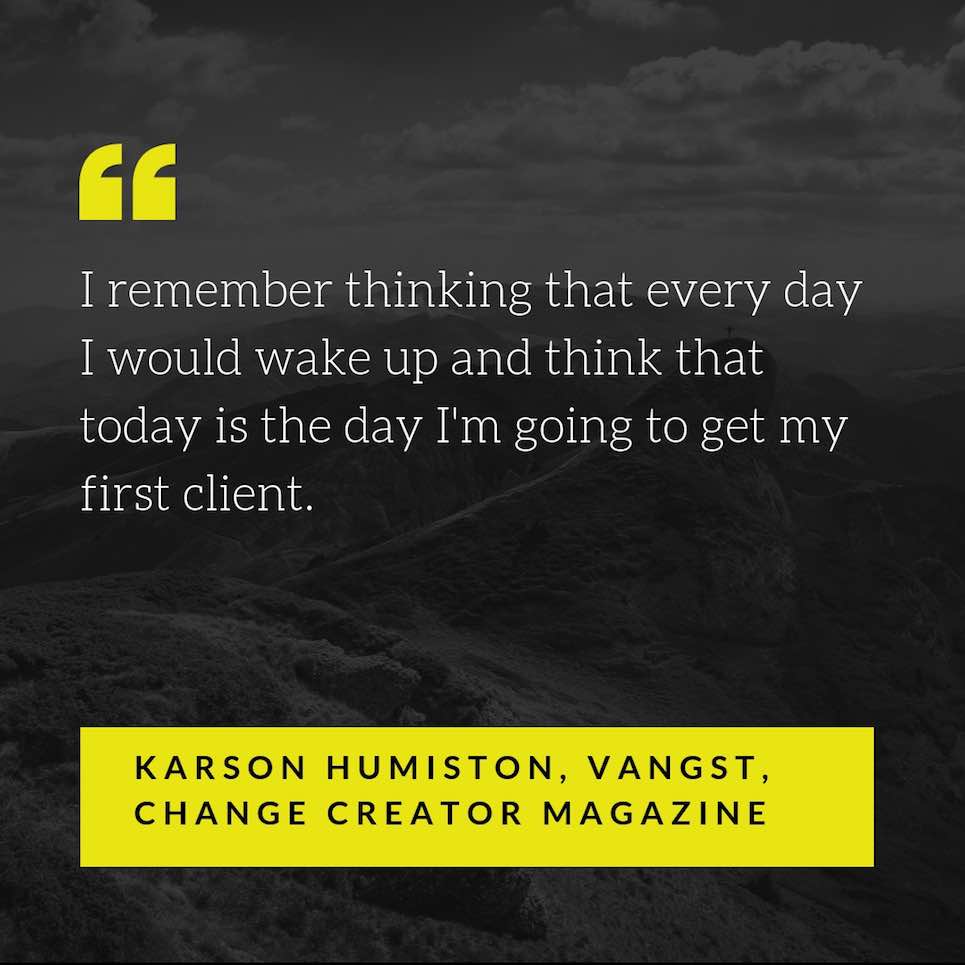 As state legislation across the country began to legalize both medical and recreational cannabis, Karson was able to foresee the growth opportunities in the cannabis market. Taking these trends seriously, Vangst was born.
Thus, Karson's idea of creating a staffing agency and recruiting resource specific to the cannabis industry filled a need in an emerging market that most people continued to avoid because of inaccurate perceptions about the industry.
When we interviewed Vangst, we were not only curious about how they grew their business but how they anticipate the cannabis opportunities to grow in the next few years.
It wasn't an overnight success, despite how it might appear to the outside observer. Vangst was started on hard work, big goals and the principle of getting the first client in the door, then growing.
"I remember thinking that every day I would wake up and think that today is the day I'm going to get my first client," Karson mentions.
Here are some big takeaways and action steps from our exclusive interview with Vangst:
Build relationships from the beginning. These relationships will help you in the beginning of your business and for the long-term.
Offer free services to potential clients to get your feet in the door.
Make sure employees' goals are aligned with the long-term vision of the company.
October 2018: Virgin Unite, Jean Oelwang, Turning Challenges into Opportunities [Cover]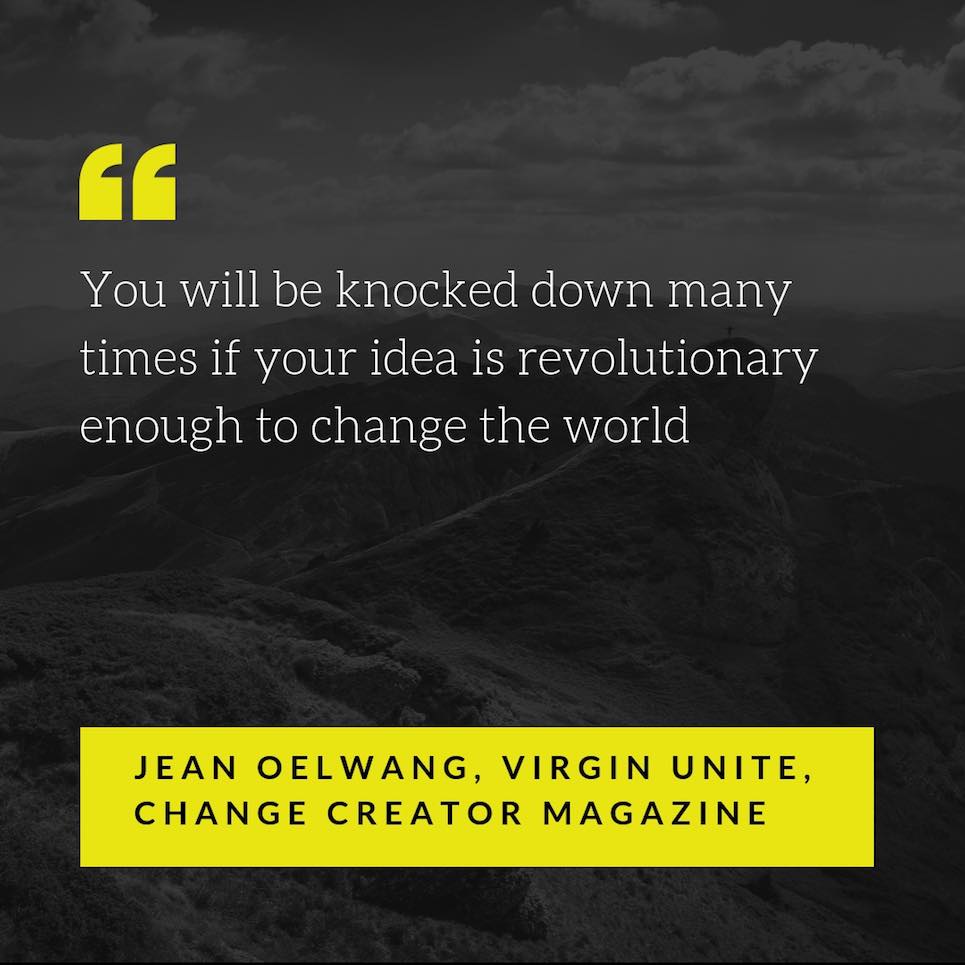 It was such a thrill to get this exclusive interview with the CEO of Virgin Unite, Jean Oelwang. Not only is she a badass leader, but she also gave us a lot of impactful and seriously good insights to help us scale our impact and overcome challenges.
"You will be knocked down many times if your idea is revolutionary enough to change the world." Jean Oelwang.
Here are the key takeaways and action steps from this cover article with Jean Oelwang:
Build communities, not spreadsheets. Change needs to be about the people you impact upon and who are part of your team.
Join forces with partners who share your values. They will make your journey easier.
Celebrate failure. "You will be knocked down many times if your idea is revolutionary enough to change the world."
Build your corporate culture around respect. Make your workplace a source of empowerment, learning, and innovation. Train and develop your team to encourage individual growth.
Behave according to your brand's values and allow your team to find personal fulfillment in their own purpose.
Immerse yourself in the culture you hope to help. You cannot change a nation you've never visited.
Infuse your partnerships with your brand's mission and they will carry you where you want to go.
You don't need to be the star of your own brand. A leader in the social impact space must know how to serve the community, not lord over it.
October 2018: Virgin Unite, Q and A with Sir Richard Branson [Feature]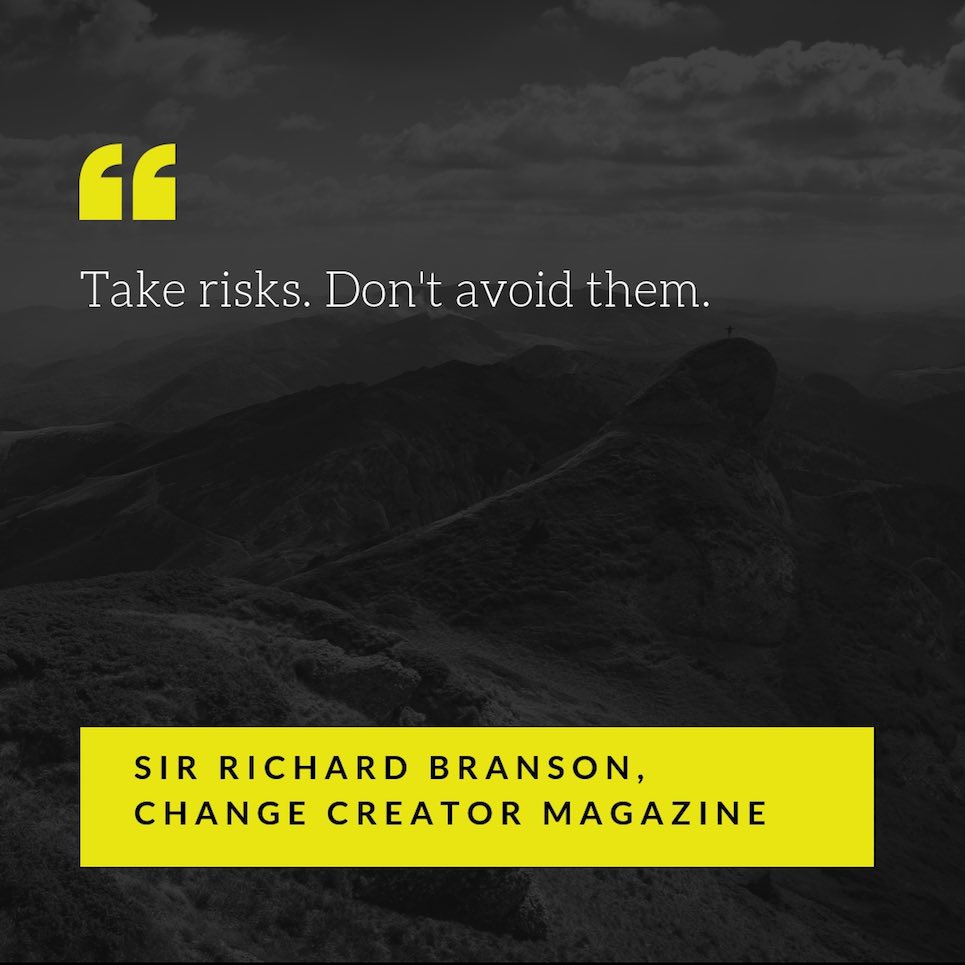 We've wanted to get Sir Richard Branson in the magazine for quite some time! He's not only a social innovation rockstar, but he's also a great person! We sent him a few burning questions and he sat down and gave us his insights in this special Q and A.
One of the questions we asked him was: What advice would you give a mission-driven entrepreneur who wants to change the world today about overcoming the fear of risk?
Here's his answer:
"Simple — take risks, don't avoid them.
Those who succeed do so because they dare to take risks, and they're not too afraid to reach out and ask for help when they lack the skills they require or the advice they need.
If you allow fear of failure to become an obstacle, well then you've failed before you even get going.
Entrepreneurship in its very essence is all about taking risks.
You can create your own luck by opening the door to change, progression, and success."
We couldn't have said it better ourselves!
October 2018: Art Barter, Not Your Typical Leader [Feature]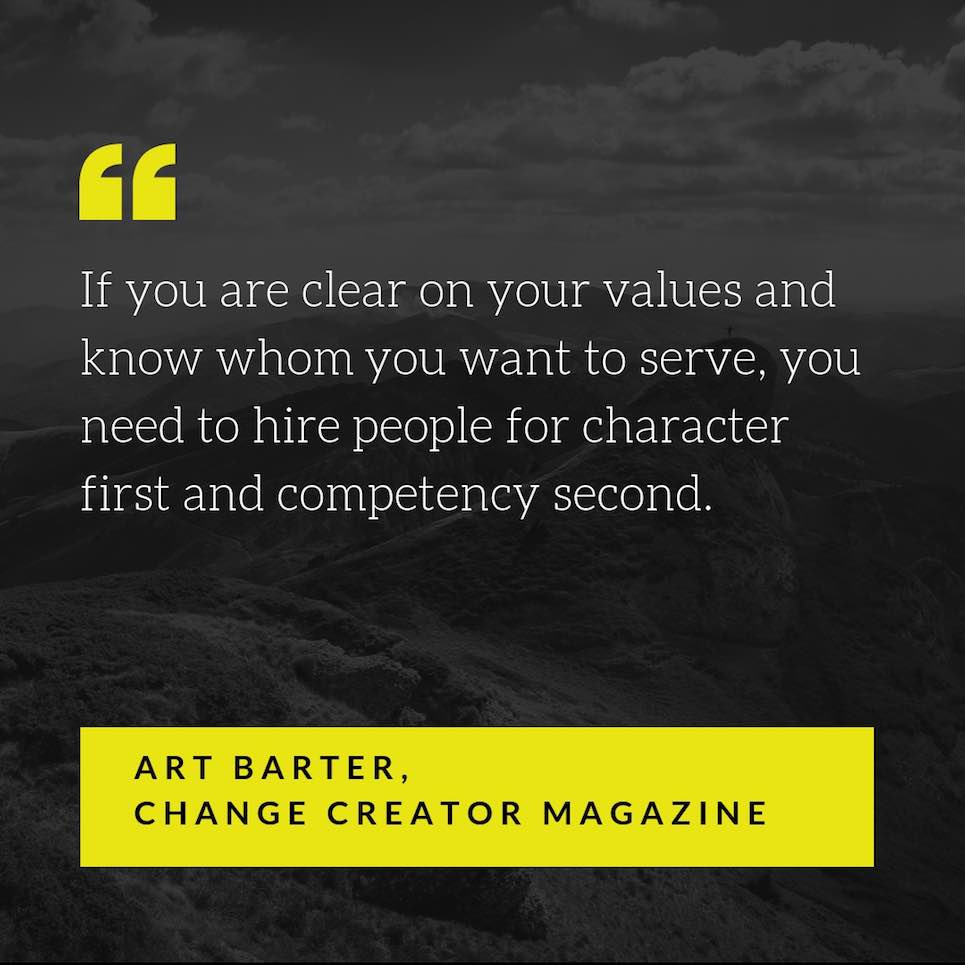 If you want to know how to scale a business, the ethical way, this exclusive article with Art Barter, Founder, and CEO of Servant Leadership Institute, is for you. In this article, we take on the myth that successful people in business are ruthless and greedy. It doesn't have to be that way!
Art Barter proves that the more you can lean into your values, letting those ripple effects change your company, the more your company can scale and grow. It starts with how you approach business and who you hire:
"If you are clear on your values and know who you want to serve, you need to hire people for character first and competency second." Art Barter.
Here are some key takeaways from this feature article:
Find and follow your own values and principles and be strictly faithful to them,
Empower your employees to live out the mission and goals that you have defined for your business, and
Don't be afraid to show your heart to both your employees and your customers.
November 2018: Milo Runkle, Mercy for Animals [Cover]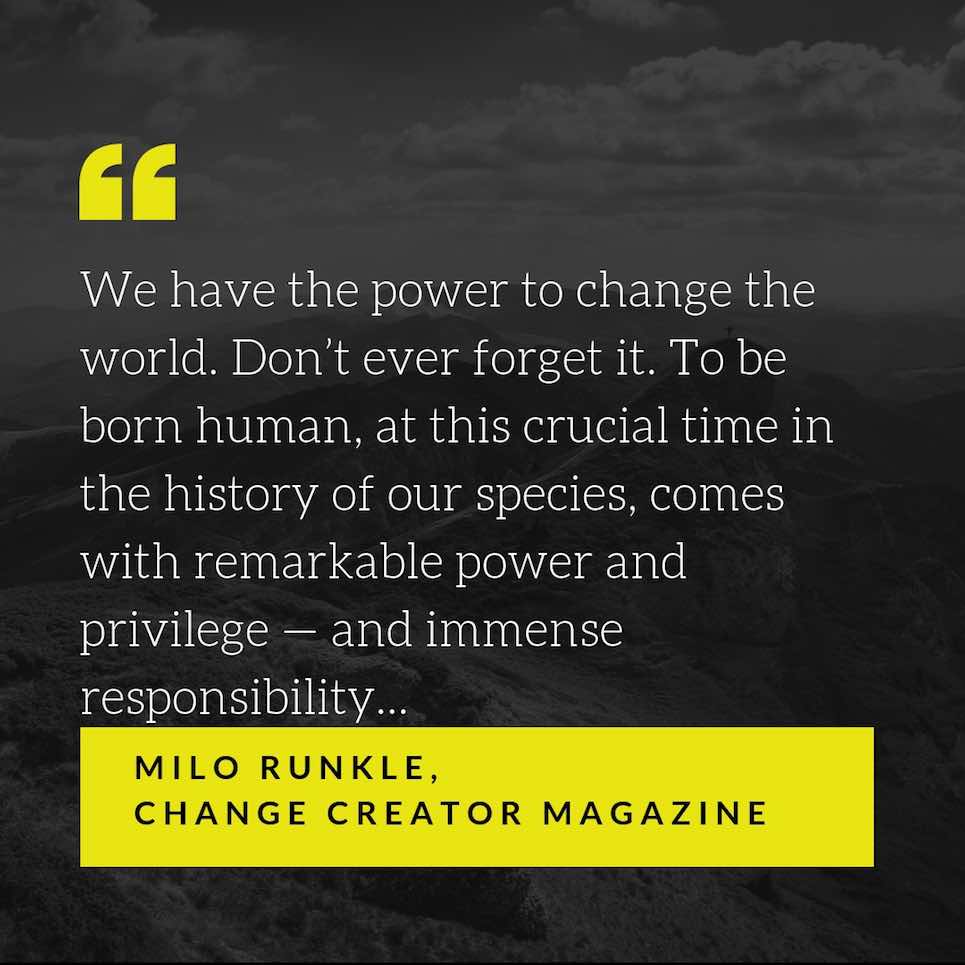 In November, we brought you some really passionate leaders taking on the challenges of animal rights and activism. With our cover story, Milo Runkle, founder of Mercy for Animals, we delved deep into his motivations to launch this passion project, but we also learned how he scaled his company and impact.
"We went from trying to address every issue facing animals to focusing on the one that causes the most suffering for the largest number of animals: factory farming. We had limited time and financial resources and wanted to be as effective as possible." Milo Runkle, Founder of Mercy for Animals.
When Milo chose a non-profit business model, he became part of a new generation of lean NGOs that refuses to lower its standards. None of Mercy For Animals' talent, social media outreach, or marketing is scrappy merely because it exists on donations. That's how good business moves forward and scales with the time.
"We have the power to change the world. Don't ever forget it. To be born human, at this crucial time in the history of our species, comes with remarkable power and privilege — and immense responsibility: responsibility to lead heart-centered lives that seek to inspire compassion, love, and hope. Each and every one of us has unique powers and skills that can make this world a kinder and a more just place. The actions we take, the words we speak — they create ripples. Together, we can create waves of change." Milo Runkle, Founder of Mercy for Animals.
Here are some key action steps and takeaways from this exclusive article:
Build a development network of mentors, mentees, and supportive organizations. Go to conferences. Read. Find trusted allies. Then nurture those relationships.
Direct your energy where counts: at policymakers and corporate spenders.
Diversify your revenue stream, but earn your donations by creating real change.
Expose your audience to your cause by telling stories that humanize and move it beyond the abstract.
Narrow, resounding goals achieve far more than broad, impossible ones.
Hire mission-aligned staff and nurture them, particularly if your cause is a traumatic one.
Invest one-on-one time into your key relationships with donors.
Create a data-driven campaign and hone it in an evidence-based way.
If you think of your impact in terms of all the enterprises who are working towards your cause, you'll be able to identify unmet needs. That cumulative impact will also keep you inspired.
If you're working in the food space, connect with The Good Food Institute and consider investing in New Crop Capital.
December 2018: Joel Brown and Emile Steenveld, Master Your Mind, Life Changing Adventures in Bali [Cover]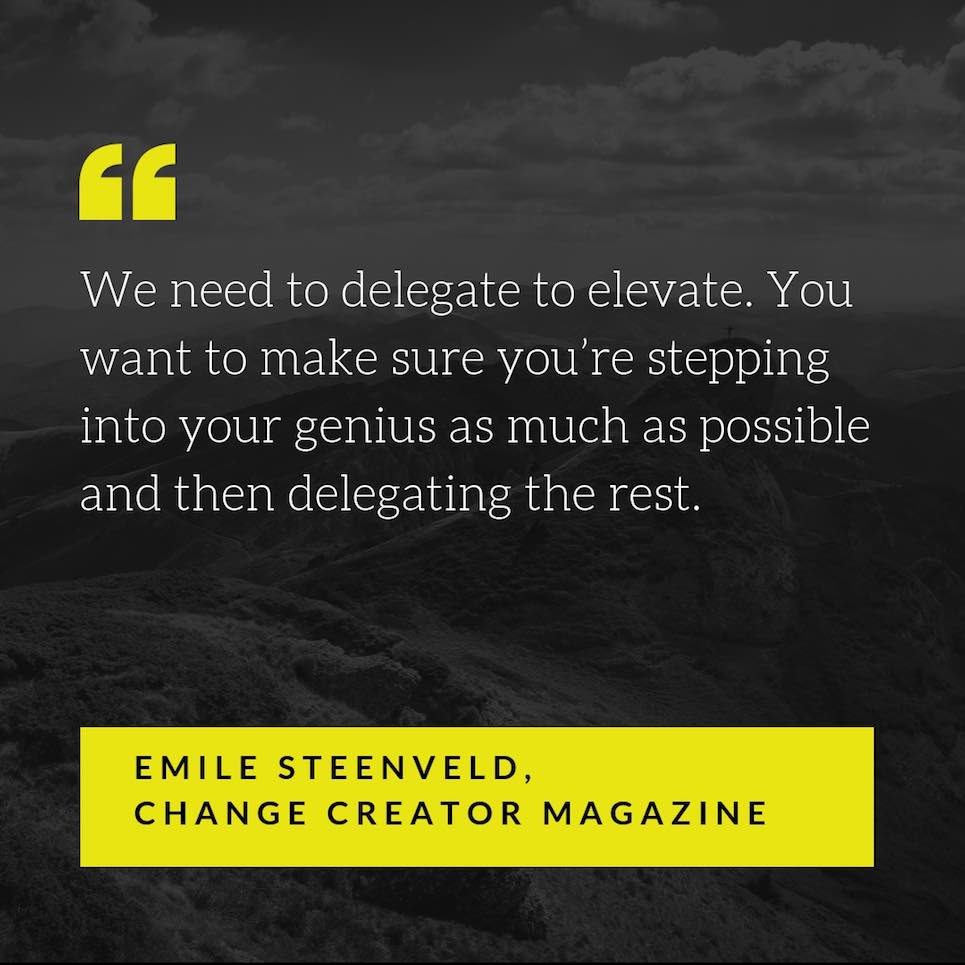 When Joel Brown cobbled together his website, Addicted2Success in 2011, he was just another nine-to-five sales executive with a hunger for his own success. Today, the site is one of the web's hottest properties, with enough traffic to attract several million-dollar purchase offers. Who needs a million dollars when you have million-dollar dreams, though? And when you want to impact a million lives…
In this exclusive interview with Joel Brown (one of our earlier cover stories) and Emile Steenveld, we take you to Bali — where this team of two are doing some seriously amazing, life-changing things (and having a blast too!).
"You can have all the strategies down, but if your mental game — your mindset — is not en pointe, you're not moving anywhere." Joel Brown.
In this final edition of 2018, we wanted to end your year on a high. Getting your mindset right will help propel your success as we prepare for 2019!
Entrepreneurship requires you not only to believe you can succeed but also to align that success with your authentic self. "We teach people how to nurture their sores and their scars that they've been hiding or avoiding or pretending not to know. That's when they can start moving into the strategy with Joel. You can't go into strategy, you can't brand yourself, you can't be really authentic until you accept [your limiting beliefs] first." Emil knows this lesson. He's already been here, in the mud, trying to fight his way through his own limiting beliefs, but what does that have to do with branding and corporate objectives? Plenty, it turns out.
If you want to level up your life, your business, your entire existence, this exclusive cover feature is for you.
Here are the key takeaways and action steps from Bali:
Get in touch with your self-limiting beliefs (the persistent complaints, concerns, or critiques that keep you from progress) and find a vision that integrates with your authentic self.
Let your values determine your goals. To identify them, list five or six people you admire and note their key values. Put those that resonate with you on your wall and develop the steps you need to take to action them every single day. Let daily actions transform into habits.
Create a five- or 10-year plan that reflects your ultimate version of yourself in the future. "The key here is that we reverse engineer it, so write out your fifth year or your tenth year, then ask, "What did I have to do in my fourth year to get to the fifth, and the third year to get to the fourth?"
Don't ignore your personal scars — they will keep you from your entrepreneurial dreams.
If you're giving too much, you'll never have the energy to serve at a higher level. Let your vision determine what you say yes or no to.
Focus on thriving, not surviving. Ask what you can create, not how you can get through.
Measure your achievements by the impact they have, not the money they earn.
Live with intent.
Begin to action your ambitions even if your vision is not yet perfectly formed. Then, let the feedback you receive help you to refine your goals. Focus on progress, not perfection.
Live in your genius and delegate the rest to those who can master your weaker abilities.
"We need to delegate to elevate. You want to make sure you're stepping into your genius as much as possible and then delegating the rest." Emile Steenveld.
Actionable Advice from Change Creator Magazine: Conclusion
We've given you a lot of great advice and exclusive insights this past year, but we're just getting started! There is so much more to Change Creator magazine than we could do in this one roundup article (including more feature articles, interviews, action steps, and more). We cover a lot of topics but the core of all that we do is still the same — good business.
If you want to change the world and harness the power of good business to do so, then Change Creator magazine is for you. Our app is designed to be that mentor in your pocket, where you can get insights and mentorship wherever you go.
Please let us know who else you'd like to see in Change Creator magazine. And, please reach out to us and tell us what you think!
Our final actionable advice for you moving into 2019:
"Don't be afraid to change the world. Change is possible and only you can serve with your unique values and gifts."
Get ready for 2019 and subscribe now to Change Creator Magazine with our holiday special for just $1.99/month >>> Click Here to Get Started