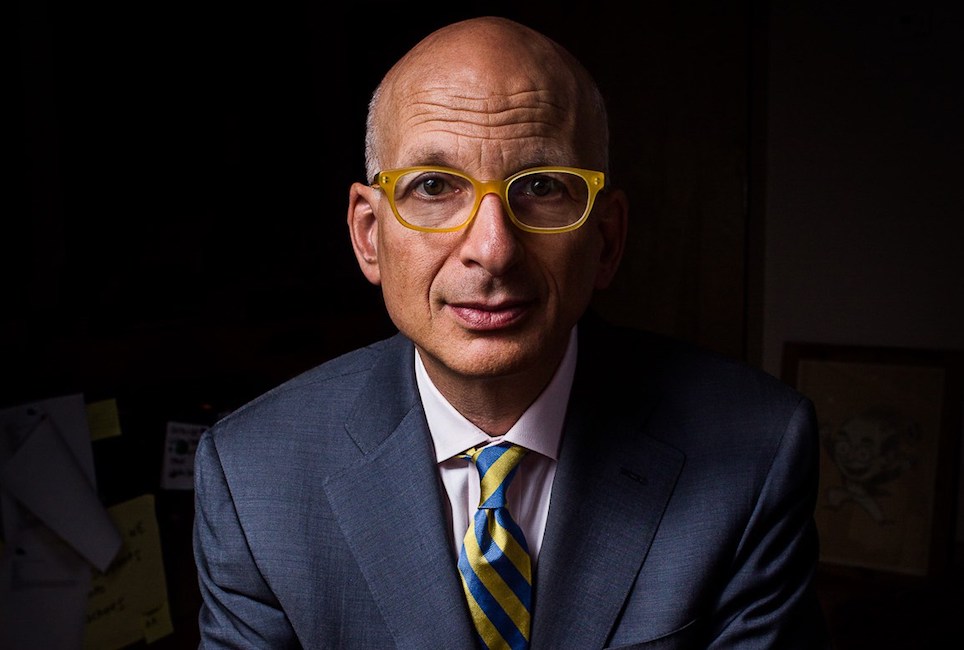 Exclusive Interview with Seth Godin

It was an honor and a lot of fun to talk with the legend, Seth Godin.
He's a no bullshit kinda guy who's sharp as a nail. We dig into the idea of leadership to help uncover what really makes a great leader and how has it changed over time.
Seth Godin is an author, entrepreneur and most of all, a teacher. He's the guy that taught us storytelling IS marketing!
"Marketing is no longer about the stuff you make, it's about the stories you tell." ~Seth Godin
Not only is he the founder of altMBA – a one-month online leadership and management workshop with a hands-on curriculum. He's also launched one of the most popular blogs in the world and wrote 18 best-selling books, including The Dip, Linchpin, Purple Cow, Tribes, and What To Do When It's Your Turn (And It's Always Your Turn).
Though renowned for his writing and speaking, Seth also founded two companies, Squidoo and Yoyodyne (acquired by Yahoo!).
By focusing on everything from effective marketing and leadership, to the spread of ideas and changing everything, Seth has been able to motivate and inspire countless people around the world.
In 2013, Seth was one of just three professionals inducted into the Direct Marketing Hall of Fame. In an astonishing turn of events, in May 2018, he was inducted into the Marketing Hall of Fame as well. He might be the only person in both.
We also talk about how entrepreneurship is the least risky venture you can take in your life, what do you think he said?
Other areas covered…
What's the difference between leadership and management?
Is there old leadership habits that we are breaking?
What drives and motivates people nowadays?
What is imposter syndrome? Is it possible to escape it?

How you can make a difference through leadership
What's altMBA doing differently?
What's the best way to learn?
How do I enroll people in my ideas?
And much more…
"No matter what you do, your job is to tell your story." ~Gary Vaynerchuck
What if you could start to truly sharpen your storytelling skills to grow your business to that next level?
What if it meant 2 more clients a month or a few dozen more sales (likely way more)?
Our team knows how important this part of ANY business is, so we partnered up with several experts and created a program to help. Not only is it a great community, but there is a full signature course called, Captivate, which is designed to help impact entrepreneurs learn the science of storytelling to attract the RIGHT audience and grow their businesses.