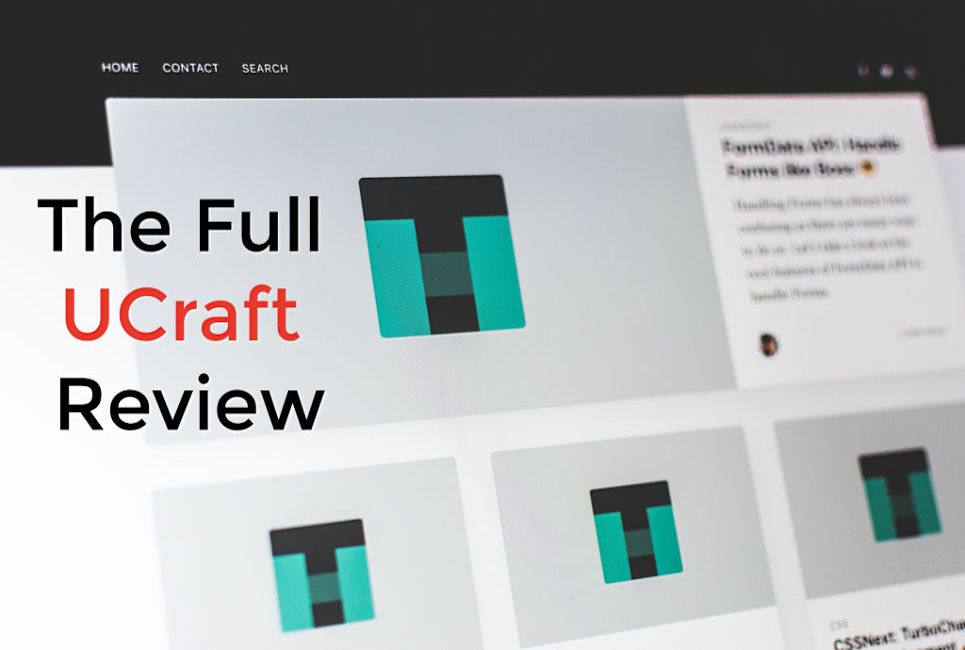 Looking to build a website without a lot of effort, confusion and time? Then consider a web builder. While there are many website builders out there, I thought we'd talk about one that people have been asking me about, Ucraft. Does it live up to the hype? Will it work for coders and non-coders alike? If you want to build a website from scratch and you don't know how then you are going to want to read my Ucraft review!
What's a website builder anyway?
A web builder is an easy to use tool you can use to build your own extremely professional website, which requires zero learning to use. This means you don't have to rely on so-called web experts to build a website for you.
Instead, you can save thousands of dollars and a lot of time building a website. And because you do the job yourself, you can be sure you'll get a website you're satisfied with.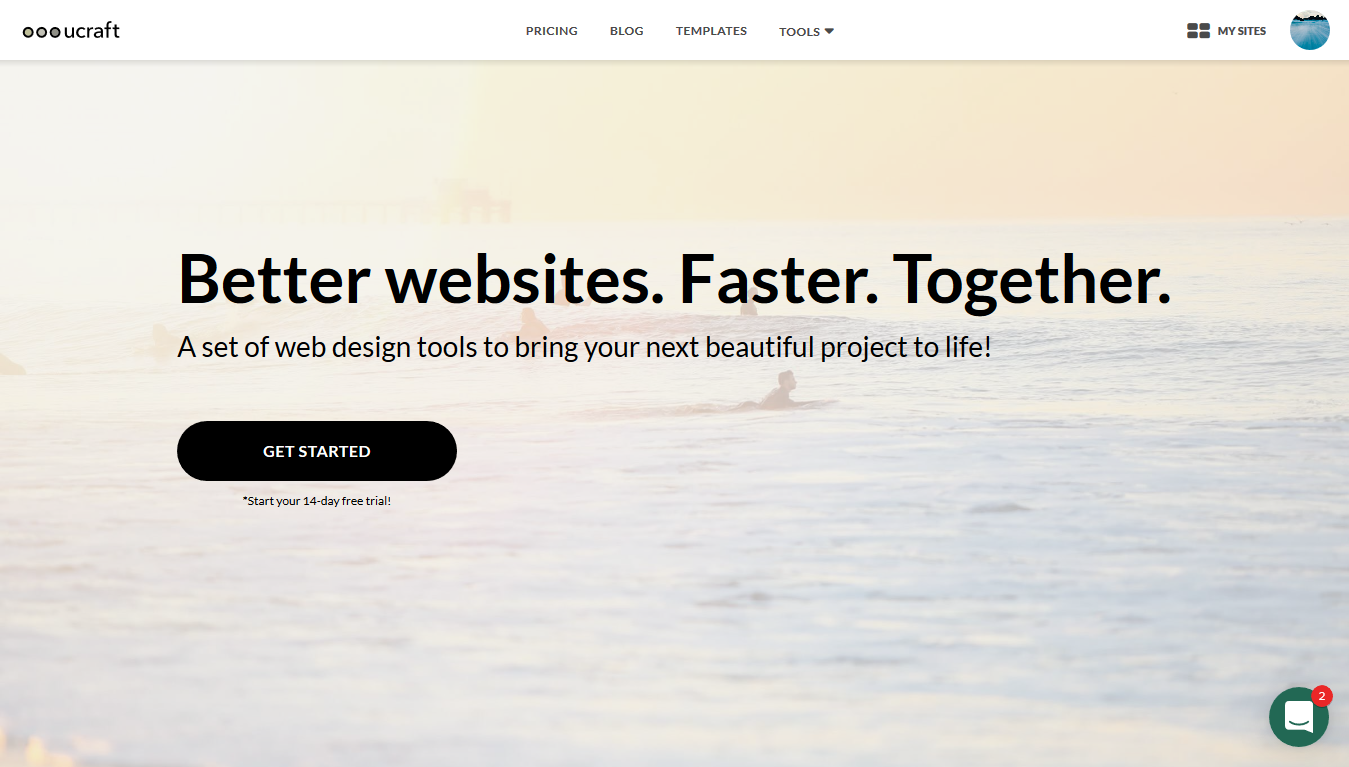 Ucraft is what we'll be talking about in this article. It's an incredible website builder you can use to build your very own professional website in a matter of hours, or dare I say, in a matter of minutes.
That's because when you use a web builder like Ucraft, you can simply click, drag and drop your way towards a complete website. We'll discuss that in detail how you can do that.
But for now, all you need to know is that if you want to build a website without spending time, money and other limited resources – and want a website that works the exact way you intended it to be, Ucraft is the perfect tool for you.
Try Ucraft for free, start today!
Now, let's get started with the review…
Ucraft: How It Works and What You Can Do Inside It
Let's dive right in.
Ucraft is divided into six major components:
1. Website Builder
2. Free Landing Page Builder
3. Logo Maker
4. Ecommerce
5. Create a Blog
6. Designer Tools
With all these components, you get a powerful all-in-one tool with which you can build a website that not only has a landing page, but also one which has a whole blog section and an integrated ecommerce section.
Unless you want to build the next Facebook, Ucraft is the perfect website building solution for your business.
Now, let's get started by discussing each component and see how you can use each of them in building your website:
1. Website Builder
To begin, the first thing you'll have to do is choose a template. A template is a website design which you can use as the basis of your website. Ucraft has many templates you can choose from. There are templates from photography, business, travel, restaurant and many other kinds of website.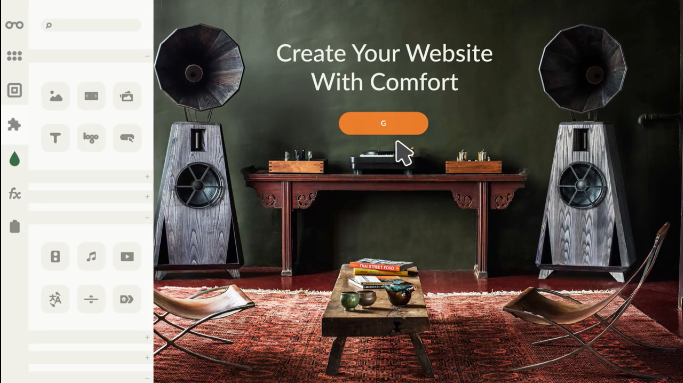 All you have to do is simply select a template, add your own text, images and photographs, put in your own content and voila, you have just create your very own website within minutes.
But, if you feel you want to create something different, a design totally out of this world, you can start from scratch.
Starting from scratch will give you the ability to build each and every nook and cranny of your website by yourself. You decide what color, font, text, element and shape you want on your website.
And yes, it's hard work. But Ucraft will give you all the tools you need to build your website in the drag-and-drop builder:
1. Customization Tools: The drag and drop builder gives you tools which will let you customize your website the way you want. You can change the color, typography, and effects of your website. You can add as many pages as you want, change the menu, add buttons, create links, add media elements and exciting widgets to enhance the functionality of your website.
2. Optimization Tools: Thanks to technologies like Cloudflare, responsive web design and SEO optimized design and code, you can make your website built on UCraft extremely fast and user-friendly for your visitors. All these optimizations will ensure your website loads at the fastest possible speed and works on everything from phones and tablets to PCs and laptops.
3. Analytics Tools: Analytics and marketing tools are included in Ucraft. These will allow you to monitor the performance of your website. You'll be able to see the traffic coming into your website, your sales and other web related statistics.
2. Free Landing Page Builder
The landing page builder works exactly – and is exactly – the same as the website builder you get when building your website.
Here's how it works:
Start by choosing a template. As we mentioned above, there are a lot of template designs you can select from. The next step is to connect your landing page to your domain. You can either connect your landing page with an existing domain or with a completely new one (purchased separately) on Ucraft.
Next, simply edit the landing page until you've customized the design to suit your own branding. Then, add your own text, image, video, and other media elements to make the landing page look more alive and attractive. Finally, write down professional copy that's optimized both for search engines and your target audience which will help you sell your product.
And that's it. Hit publish and your landing page will be live.
3. Logo Maker
Every website needs a logo. The logo maker tool provided by Ucraft is probably the easiest way you can make a custom, professional logo for your website. What would have cost you hundreds of dollars can now be done for free.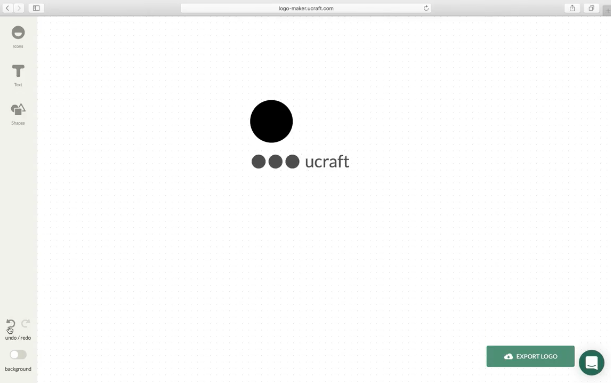 All you have to do is choose different high-quality icons and vector art to design your logo – . Next, you have to add a font which you can also customize to your own liking. Finally, with the combination of two, the final thing you have to select is your background, which can either be dark or light. And that's it.
With a few simple steps, you'll have your own professional logo ready to go.
4. Ecommerce
Ucraft offers users an ecommerce platform included within the tool. So this means, in addition to the website and landing page builder, the logo maker, you also get a fully functional ecommerce platform within Ucraft all within one subscription.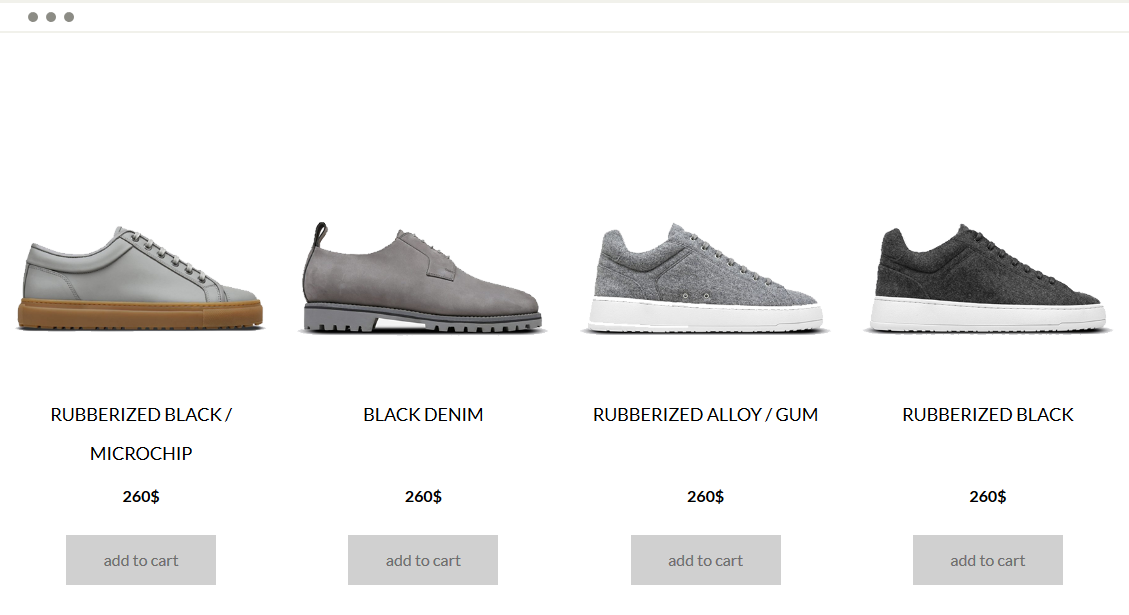 To get started, Ucraft will let you upload as many as 50 products to your website. In addition, it won't charge any transaction fee so you can keep more of your profits (or offer attractive discounts). In addition, you can also do business in multiple currencies. Plus, you can get paid through 70+ payment channels and provide multiple shipping methods to your customers.
And these features are just in the basic plan.
Features of the Ultimate Plan
If you decide to subscribe to the ultimate plan, here's what else you'll get:
Ability to offer discount coupons.
Edit your invoices
Put up your Ecommerce store on social sites like Facebook, Yandex and Ebay
Tax exemption and the ability to reverse charge VAT.
A store management app
The favorites / wishlist option for your visitors so they can save items for later purchase.
In addition, if you subscribe to the advanced plans, you can manage your store online through your mobile phone. You can add new items, modify existing ones and process new orders on the go.
5. Create a Blog
Till now, we've covered it all. We've shown you how you can build a landing page, run your own ecommerce store and design your own logo. The last, but arguably the most important feature Ucraft provides is the ability to build your own blog on your website.
For that, you'll get a dedicated articles app.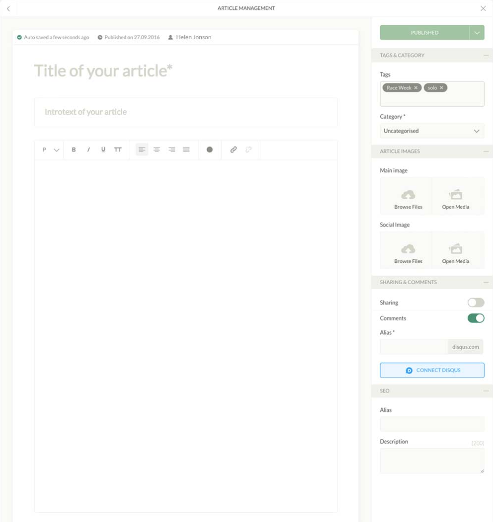 In this app, you can write down your own articles, customize it with your own images and video files, tag it and add a comment section to it.
There's no fuss. It's a simple app with a text editor that lets you create highly polished articles and blog posts for your website.
6. Designer Tools
Designer tools are nothing more but a set of three tools you case use to completely customize every single aspect of your website.
There are three designer tools provided by Ucraft:
1. Typography: This tool lets you modify your website fonts. You can change the typography, the color and even the opacity of the text on your website.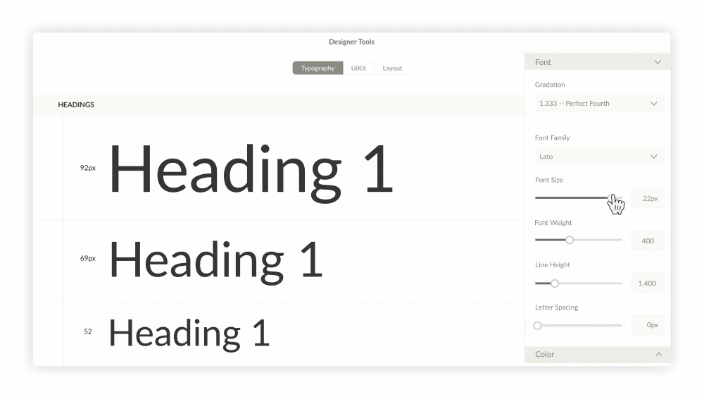 2. UI Kit: The UI Kit will assist you in customizing the buttons and forms on your website. You can change the color, shape, border and other factors of your buttons and customize them to suit the design of your website.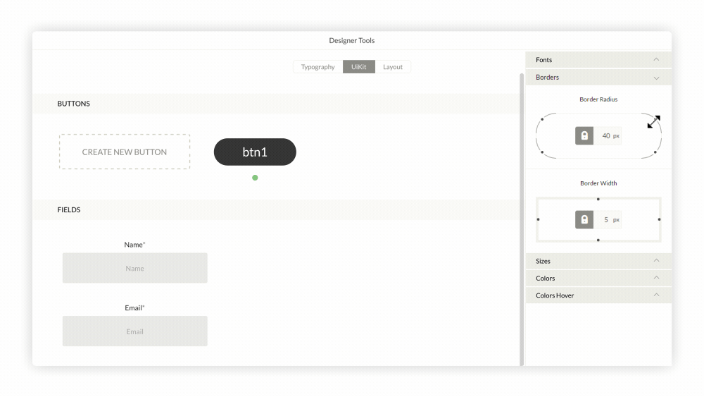 3. Layout: It's important that every single element on your website is properly spaced and in alignment with each other. The layout tool, with the help of the grid, helps you make sure every single part of your website is on the exact location you want.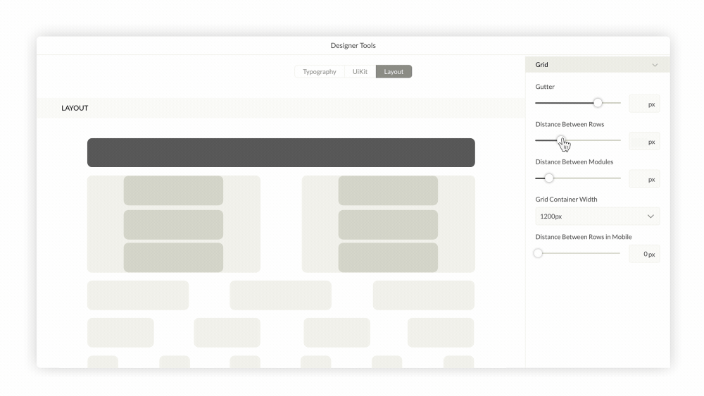 With these three design tools, combined with the website builder, logo maker, ecommerce platform and the articles app, you can easily create the best website for your business or personal use.
And the best part is you need only one subscription, one tool, and zero coding skills to get all this done!
Pricing: Which Plan Should You Get?
Their best (and most popular) plan starts at just $14 a month in which you get all the tools we've mentioned above. The reason why we recommend this plan is because it includes ecommerce functionality, allowing you to sell up to 50 products on your website.
And once you get a hang of things, you can subscribe to the unlimited plan, which costs $60 and removes every single limitation, allowing you to truly create a powerful professional website. In this plan, you can add unlimited products to your ecommerce store and sell items on social platforms such as Facebook, Yandex and Ebay.
But if you don't want these fancy features, you can subscribe to the ridiculously cheap $6 plan in which you get enough features to build your personal website, but don't get live tracking features or the ability to sell products on your online store.
So, whenever you are ready to build a professional website, be sure to give Ucraft a try!
Looking For A Ucraft Alternative? Try Wix
If Ucraft seems too simple for you – and if you're looking for a more complex alternative that gives you more features – like a code editor or thousands of plugins, give Wix a try.
This tool is similar to Ucraft but offers far more. You'll get more templates, more integrations, more effects, an app marketplace and even a logo maker. And that's just the start.
In addition, you can also add your own code and upload your own CSS files. Plus, like Ucraft, Wix also gives you the ability to create your own ecommerce store. Also, Wix gives you integrations for a music player, gallery, blog and events which you can use on your website.
Which Tool Should You Choose?
Wix is one of the world's most powerful website builders. If you're looking to build a feature-rich website with lots of functionality, give it a try. But if you're looking for a simple tool to quickly build your personal website or ecommerce store, Ucraft is more than qualified for the job.
Ucraft Vs. Wix: Feature Comparison
Price Templates Ecommerce Blog App Store Music Player Gallery Booking Functionality Hosting Free Domain
Price / Month
Templates
E-commerce
Blog
Appstore
Ability to Code
Image Gallery
Booking

Functionality

Hosting Included
Free Domain
Ucraft
Basic Plan @ $0

Most Popular Plan @ $6

Unlimited Plan @ $60

Yes
Yes
Yes
No
No
Yes
No
Yes
Yes (Except Basic plan)
Wix
Basic @ $4.5

Most Popular @ $12.5

Unlimited Plan @ $ 24.5

Yes
Yes
Yes
Yes
Yes
Yes
Yes
Yes
Yes (Except Basic Plan)