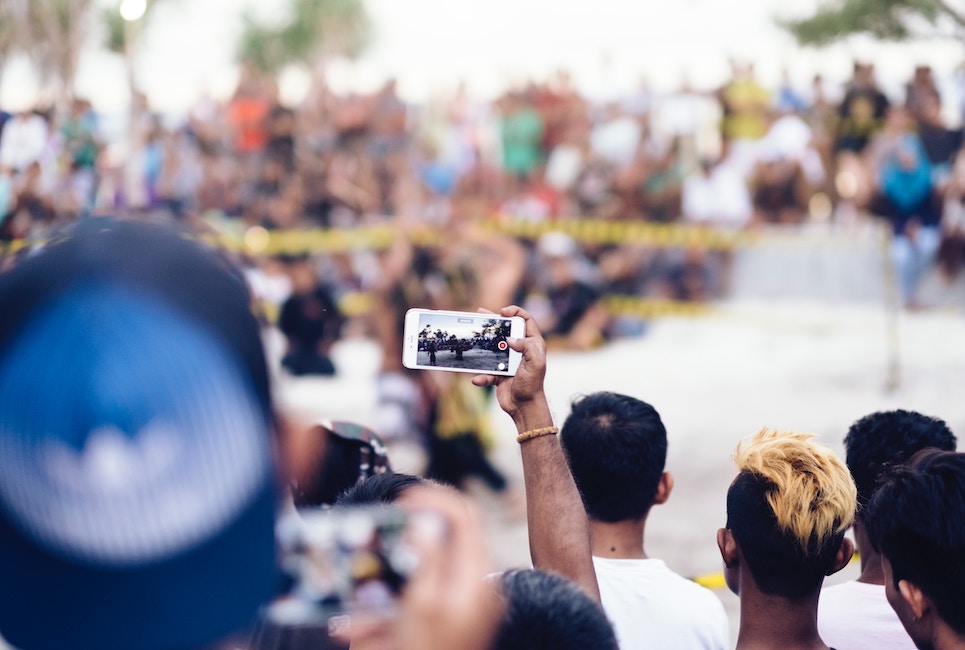 We live in a world that forces us to acknowledge the suffering of others, more now than at any time in human history.
Thanks to the omnipresence of social media sites and apps, John Donne's adage, "No man is an island," is more meaningful than ever before.
In a season of back-to-back crises featuring destructive hurricanes and earthquakes arriving with assembly line frequency — as well as ongoing civil wars sending waves of refugees abroad — social media sites and apps have become tools for driving awareness, coordinating relief efforts and emergency response, and steering donations.
On-Site Reportage
Serious coverage, such as in Houston during Hurricane Harvey or in the Florida Keys during Irma, was occasionally hindered by the nature of the 24-hour news cycle and its decisions on how to report the storms. The network news model remains a stale one with on-the-scene reporters and increasingly incoherent coverage on the progress of the storm, minute by minute, hour after hour.
As helpful as some of the information presented can be, it often fails to convey the real plight suffered by those caught up in the fury. Often, to cover a "human interest" angle, reportage gets hampered by items of comical activity such as water skiing down a flooded highway or people getting knocked over by 6-foot waves. The prevalence of such images, especially when posted on trusted news sources, can only serve to trivialize and downplay serious threats to life and limb.
The reality of the recent hurricanes and their destructive aftermath could best be understood through status updates and tweets and live video feeds using apps such as Instagram and Periscope. Such apps served to inform others of the progress of the storm through their communities and the havoc wrought by wind, rain and wave.
Even during mass shooting situations, such as the Pulse nightclub attack in Orlando, Facebook, Twitter, Instagram and Snapchat were used to post information to the public at large as the attack was being carried out. In the aftermath, friends and family could hear word from survivors that they were safe and found secure shelter.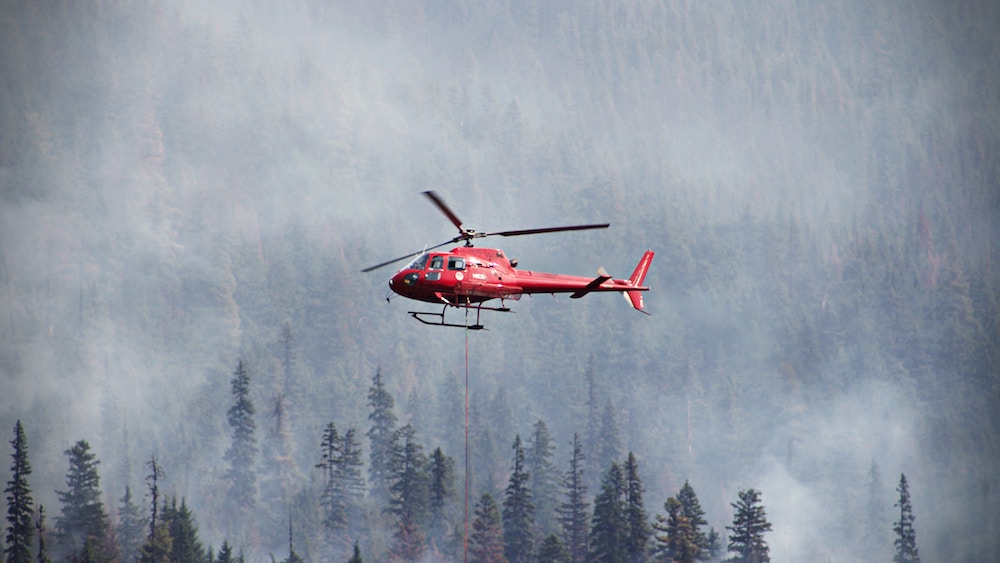 Checking In
As mentioned before, social media updates and live videos allowed for family members to know if survivors of an incident found safety or were rescued.
Facebook developed "Safety Check" in 2014, a status update function on its site used in the event of a disastrous situation. It's activated when "enough people post about an incident." If in the affected area, the user will get a prompt to go to Safety Check to let others know you are safe, as well as the safety of others you may know to also be in the area.
Safety Check was helpful in finding and directing survivors of the Paris terror attacks in 2015, and of the Manchester Stadium bombing this past May.
There was some criticism in the aftermath of the bombing when the feature was enabled two hours after the attack. Despite this hitch, friends and family were made aware of the safety of their loved ones. The usefulness of Safety Check has proven indispensable once the chaos subsides.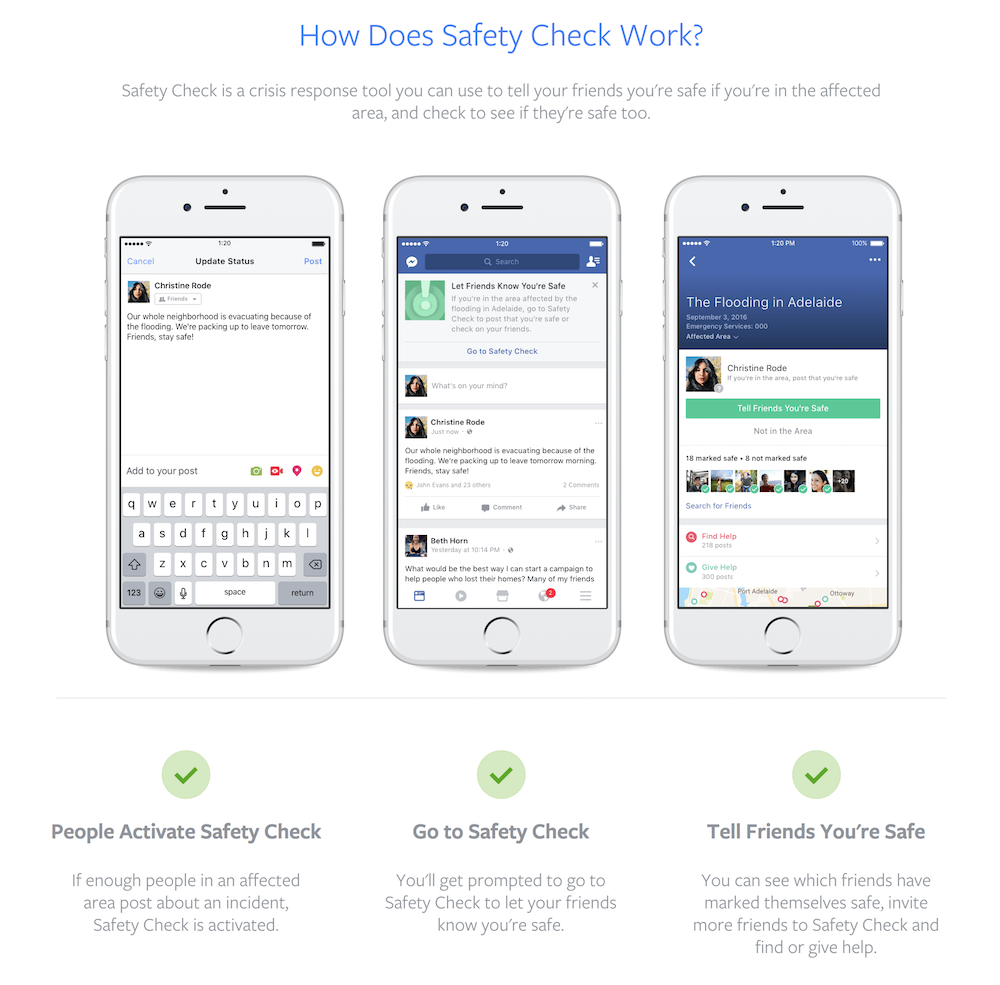 Digitizing Donations
As soon as the first images from a troubled area grab our attention, the empathic response kicks in: "There must be something I can do!"
As our phones are how we keep pace with events as they unfold, our response is dictated by how quickly we translate response into action.
One form of action is donations by text, where a text message is sent as directed and a percentage of your phone bill goes towards a targeted charity.
A significant number of monetary donations were sent this way in the aftermath of the Haitian earthquake. After the Red Cross had set up a donate-by-text program, $43 million in donations were collected this way.
A CNN article cites a recent Pew Research Center study on mobile giving, in partnership with American Life Project, released a study based on interviews with 863 people who donated to Haitian relief that found that the donations were made on impulse, with three quarters stating that was the first time they'd ever donated using a text message.
There are an increasing number of apps that turn our daily interactions into charitable giving. Apps such as Tin Box, Share the Meal, and Donate a Photo make it second nature to donate charitably. Each app has its own unique approach to enabling users to act: Tin Box, as part of their effort as an intermediary between public, corporations, and charities, has users donate $1, that is sponsored by a corporate partner; Share the Meal, a UN World Food Program initiative, is "one hundred percent voluntarily funded" and directs funds to alleviate hunger in famine-wracked places; Donate a Photo, a Johnson & Johnson app, has users select a cause, share a photo, and Johnson & Johnson donates $1.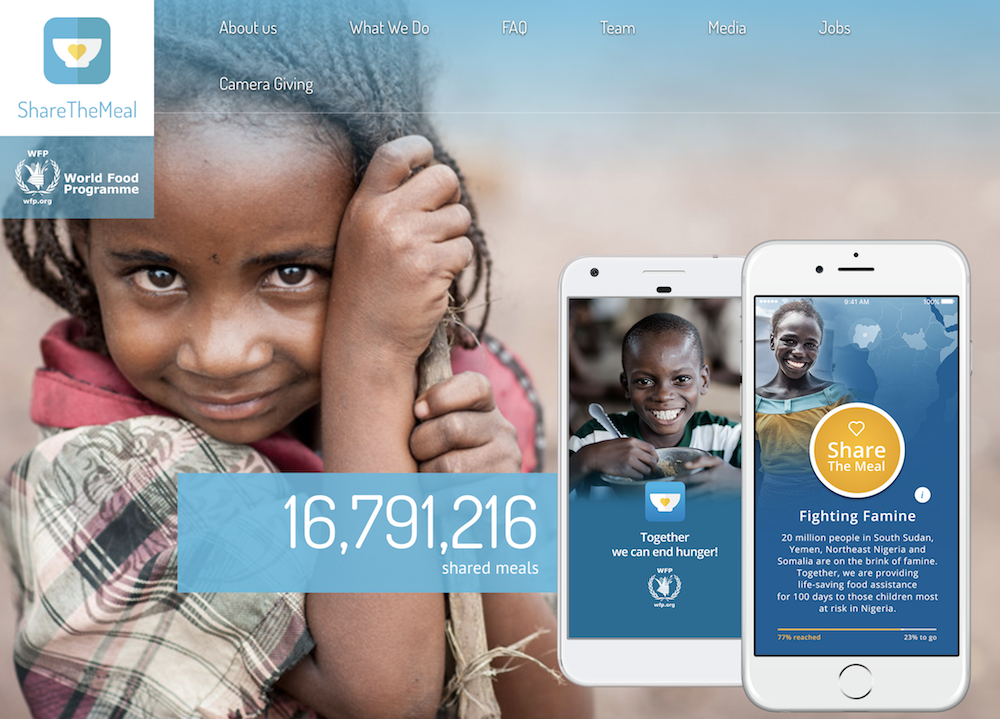 Crowdfunding has also proven to be a powerful fundraising tool. Some small businesses devastated after Hurricane Harvey were using KickStarter, GoFundMe, and other sites to bring attention to their difficulties encountered covering what insurance reimbursements couldn't cover and finding the money to rebuild. Crowdfunding in most cases brought donations from mostly family and friends, as well as strangers willing to do their part in the recovery effort. With most people willing to make a transaction using a credit or debit card, donating can be as second nature as online shopping.
Crowdfunding is also a very popular way for celebrities and large corporations to build momentum for favorite charitable causes. On board for post-Hurricane Harvey crowdfunding, using the site YouCaring.com, were football player JJ Watts and his Houston Texan teammates, and the Houston Astros baseball team. Between their campaigns, they raised over $37 million. You can also find campaigns begun by pop star, Ricky Martin, for hurricane aid relief in Puerto Rico, and Mexican soccer players, Javier Hernández and Miguel Layún, running a campaign to aid Earthquake victims in Mexico on the site. These charities are also well on their way to reaching their goals. CrowdRise, a site that has recently partnered with GoFundMe, has performed fundraising duties for corporations such as Revlon, Viacom, and international aid groups, including UNICEF and Human Rights Campaign.
The fact that these sites are being used by major international aid organizations speaks to their growing importance in keeping funding channels flowing.
Facebook is determined not to be ruled out in the crowdfunding arena. It has been working to perfect the ability to steer users to causes whose ideals and goals are in harmony with theirs, as well as enable ad hoc fundraising. The "Fundraiser" function, much like page creation on Facebook, allows you to create a fundraising page, invite friends, and observe and manage donations as they come in.
Directing Rescue and Relief Efforts
Real-time reporting may inform the public as to the status of friends and loved ones, but updates can also be used to direct rescue efforts. An NPR report on rescue efforts noted how during Hurricane Harvey, the 911 system was overwhelmed to the point that volunteers created a Facebook group for those in need of rescuing to post to. Twitter blasts were also used to communicate information to local news media.
In the aftermath of the recent earthquakes in Mexico, volunteers out of Mexico City bridged the gap between victims and emergency resources. Teams of tech savvy citizens using Google tools created a database to coordinate services and supplies where they were needed, dispelling misinformation and confusion on the ground.
Helping Hands
Life on earth is obviously not without its hazards.
It can be expected that at any given time, any one of us will be affected by a disaster, man-made or natural.
Our technology is the one variable we have in navigating the tumult.
With social media and apps, we can let the whole world know the extent of the devastation, but we can also let our family and friends know we are safe. Charitable apps and sites let us inform survivors that we are touched by their situation and are willing to reach out with a helping hand.
More and more, we're discovering how social media as an extension of rescue and recovery has been able to surmount the post-disaster confusion and chaos, allowing for first responders and volunteers to increase the range of their rescue efforts.
It is true that there can be drawbacks to social media use during disasters, such as misinformation and rumor. Over time, with developers learning from the data, these hurdles will be overcome. Social media is meant to build community and community awareness. As catastrophes make it clear how much we need each other, social media sites and apps will continue to prove their value in keeping us connected during an emergency.
Mass collaboration is an amazing concept with tremendous power. Once you have reached the masses you might want to know how to use your data for more impact. Check out How Can You Leverage Your Data Now for Better Growth and Impact