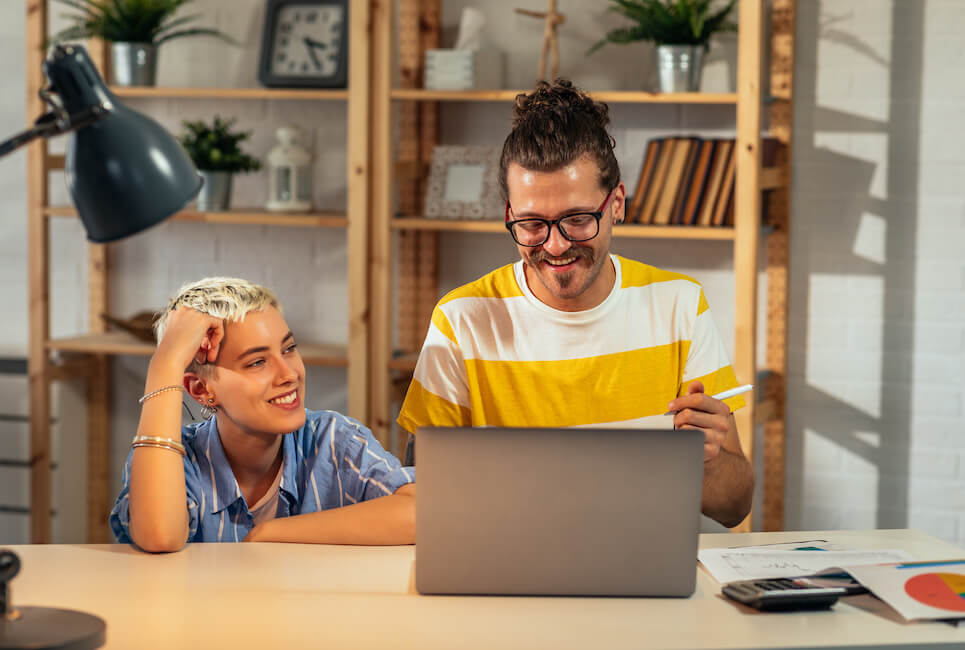 We don't edit pictures; we Photoshop them.
We don't book a cab; we Uber it.
And we don't make photocopies of our notes; we Xerox them.
Brands names like Google, Facebook, Photoshop, Xerox, and Uber are so potent that people have already replaced them with generic product names.
These brands don't just deliver a top-notch product or service. Instead, they deliver the best possible experience to their customers. And this is exactly what has fueled the transition of these brand names into verbs.
Besides offering top-notch service or experience, it's equally critical to smartly name your brand.
Coming up with an extremely complicated or long brand name isn't advisable. Most importantly, it should be unique – your brand name should be aligned with your offering. And that's our secret sauce to brand naming.
In 1999, two companies, namely TiVo & ReplayTV, entered the DVR space. Undoubtedly, ReplayTV was the one with the superior product. From a better interface to its affordable pricing, everything about ReplayTV was just perfect. Despite that, people TiVo-ed their shows rather than ReplayTV them.
The reason:
ReplayTV comprises the verb "Replay," which already means something else.
TiVo is a shorter name than ReplayTV.
TiVo is easy to remember.
TiVo is something unique and memorable.
In terms of offering a superior product and outstanding experience, ReplayTV won the game.
However, when it comes to brand naming, TiVo dominated the market.
And that's the power of brand naming.
You need to carry out thorough market research, schedule brainstorming sessions, gather knowledge and invest hours in coming up with a brand name that leaves a great impression, gives you a head-start, and sticks in your audience's minds.
We've seen people name their brands randomly. And usually, it turns out to be a disaster. They consider brand naming to be nothing more than a formality. And they just neglect the importance of the brand naming process.
But trust me, you need to consider the brand naming process like a life/death decision for your brand.
99% of entrepreneurs reportedly come up with disastrous brand names or make at least a single mistake.
But a wrong brand name can just shackle your brand. Worse, it may even turn your audience off.
To help you tackle this problem, we've listed the seven most common mistakes 99% of entrepreneurs make while naming their brands.
So, let's dive straight into them.
7 Common Mistake Entrepreneurs Make While Naming their Brands
While we look at these mistakes, the important part is to learn from them.
So, here we go:
Treating Your Brand Name as an Afterthought
Complicated Spelling & Pronunciation
Forgetting that the Brand Naming Process is As Strategic as its Creative
Overlooking Those Complex Trademark Issues
Drowning in Alphabet Soup
Ignoring Global Implications
Selling to Yourself
Let's touch down on each one of these mistakes in brief.
Treating Your Brand Name as an Afterthought
That's one of the big brand name mistakes most entrepreneurs and even brand managers make. Treating your brand as an afterthought could end up being really troubling for you.
Naming your brand randomly will have repercussions.
What if it's not memorable?
What if your brand name doesn't align with your offering?
What if it can possibly have global implications?
We've seen brand managers spend hours building a well-defined and actionable branding strategy.
From concept development to smart implementation, they usually put in a lot of effort. But what they fail to realize is how important it is to come up with a memorable brand name.
Trust me, brand naming is far more complicated.
It's a complex process.
You can't just come up with a brand name randomly and not expect to face linguistic or legal hurdles.
Maybe, it's not available. Or what if it's just inappropriate?
You need to brainstorm "brand name" ideas way before you start building your brand strategy.
Just outline the critical steps. Think of your products, services, and your customers. Understand who your target audience is. Focus on their pain points.
Take into consideration the industry you belong to. And based on all these factors, brainstorm ideas.
You can use legally cleared names within a month into the trademark process.
But, in the United States, it takes 12-18 months for trademarks to be registered fully. In some cases, it may even stretch to two years.
So, we'd advise you to call in the experts.
They will not only help you choose a brand name that's memorable and the one that you love.
But they'll also help you deal with legal and linguistic issues.
Complicated Spelling & Pronunciation
When you are naming your brand, you need to ensure that you don't come up with an extremely complicated name that's just too hard to hear, say or spell.
If it's just too difficult to pronounce, people will not be able to remember it. But also, people are using more and more voice command today with Google Home and Alexa so if you're name is spelled funny or hard to understand the voice search will not work well.
Yes, there are brands with complicated brand names. But they have been in the business for years and likely had massive budgets for brand awareness campaigns. These brands have established their dominance.
But the smart move is to avoid complicating your brand name. A longer clear name is better than a short difficult name.
It's one of the most common brand name mistakes most entrepreneurs make.
While brainstorming ideas, come up with memorable brand names – names that are short. Stick to one or two words. Not more. Don't come up with long phrases. Say the potential brand names out loud to understand whether it's easy to pronounce or not.
On top of this, make sure that your brand name doesn't have a complicated spelling. Otherwise, people will face a hard time creating content pieces about your brand.
Forgetting that the Brand Naming Process is As Strategic as its Creative
We live in a fiercely competitive world. And in this environment, the most successful brands are the ones that use their product's, service's and company's physical attributes to build a long-lasting relationship with their customers.
Your brand name should communicate your brand personality and position just right. And it helps when it aligns with your offering.
So, while naming your brand, you should have clear strategic goals and objectives in place.
This will help you choose brand names that actually matter to your target audience.
Don't just think about the impact of your brand name today. But, alongside this, you need to take into consideration how it'll help you meet your business objectives a few months or years down the lane.
While creativity is important, don't forget that the brand naming process is as strategic as its creative.
Work on your brand naming parallelly while building your brand strategy.
This will allow you to come up with a memorable brand name that'll help you dominate in your space.
Overlooking Those Complex Trademark Issues
Trademark processes are often complicated.
Millions of trademarks are filed each year.
And let's just consider that there are only 250,000 words in the English language. Well, the word count will obviously be higher – it's literally impossible to count.
But not all these words can be used while naming a brand.
Some may be inappropriate, whereas some are extremely complex.
There's a high probability that your potential brand name has already been taken
Securing viable trademarks has become incredibly tough.
Hence, it's crucial to conduct the trademark screening prior to your brainstorming sessions.
This will help you avoid the words you shouldn't use to name your brand due to potential legal complications.
Prepare a list of these words. This will allow your creative team to search for the right legally viable name.
Deal with the legality early on in the process.
This will help you avoid settling for just any name.
Conducting a pre-screening process prior to the brainstorming session will help you avoid your valuable time and money in evaluating brand names that you can't legally use.
Drowning in the Alphabet Soup
Some monogram names like BMW and IBM have been around for years.
They already have built up equity in their brand names.
They have established themselves in their respective industries.
Hundreds of thousands of people look up to them today.
As a result, entrepreneurs think that a monogram name would sound extremely cool and will be worthwhile for their brand.
But what they fail to realize is that they don't have decades of name recognition to back their monogram name up.
And they end up becoming another leaf in a big pile of leaves. This right here is one of the brand name mistakes you should avoid.
Coining monogram names won't make you unique.
Here's a story I recently came across:
Buck & David once decided to merge their companies. Both their firms had decent brand names – not great, but only decent. Only if they had combined both their firm's names, it would have sounded really well.
But they decided to come up with a new brand name entirely. In the end, they named their company "BDX."
That's B for Buck & D for David. And X is just a random letter they added to make it sound cool.
And this right here is one of the worse choices of their lives.
BDX means absolutely nothing. It didn't even mean anything. Just because they had to name their new brand, they came up with a random monogram name out of nowhere.
And they didn't have years of recognition to back their brand name up.
Ignoring Global Implications
Not every word in the English dictionary is appropriate.
And some may even have global implications.
Obviously, you'd hate being a victim of linguistic disasters.
You need to be incredibly careful with your brand and product names, especially if you are catering to a global audience.
Despite that, we've seen entrepreneurs come up with names that are inappropriate for a certain group of audiences.
Hence, it's advisable to conduct a thorough linguistic disaster evaluation.
If your target audience includes your local neighborhood, then you can't use words that are inappropriate for people there. Otherwise, you'll soon become the most hated brand in your neighborhood.
People have access to a world full of information these days. And literally, anyone can pick up on issues and talk about them.
So, I'd advise you to conduct a serious linguistic disaster check before locking in a brand name.
Check your potential names with native linguists.
Even if people speak English in two different countries, slang, idioms, and cultural associations will vary.
Hence, you need to be extremely careful during the brand naming process.
Don't Sell to Yourself
Another one of the brand name mistakes most people make – they name their brands after their high-school crush.
A tech biz named Carmen did the same.
While he really had a huge crush on a girl in high school, he couldn't ever approach her.
So, the brand name reportedly helped him overcome his shyness and conveyed the message to never fail to pursue your dreams.
But trust me – this is just a dumb move.
You should find inspiration in your past. I do not deny it.
However, Carmen's brand name doesn't have a compelling origin story. It has meaning to just one person, and that's him.
A good brand name should start conversations in your industry.
And it should perfectly align with your offering.
You should choose a name that inspires and engages your market.
Don't make it about yourself.
Instead, make it about the people you are targeting.
This will help you position yourself as "market-facing" rather than "self-facing."
And once you prepare a list of potential names, test them with people who will determine your brand's success – your target audience.
Listen to their feedback. Focus on any unanticipated negative reactions.
And then only will you lock in a memorable brand name that you can turn into verbs.
Select Your Brand Name the Smart Way!
"When people use your brand name as a verb, that's truly remarkable."

Meg Whitman
There's no better feeling in the world than your audience using your brand name as verbs.
While it's true that branding isn't just about name, logo, or brand colors, that doesn't mean you shouldn't focus on these elements.
You obviously should. In fact, you need to focus on every single element that will contribute towards your brand's success.
So, what are you waiting for?
Take the first step towards building a memorable brand.
Select your brand name today.