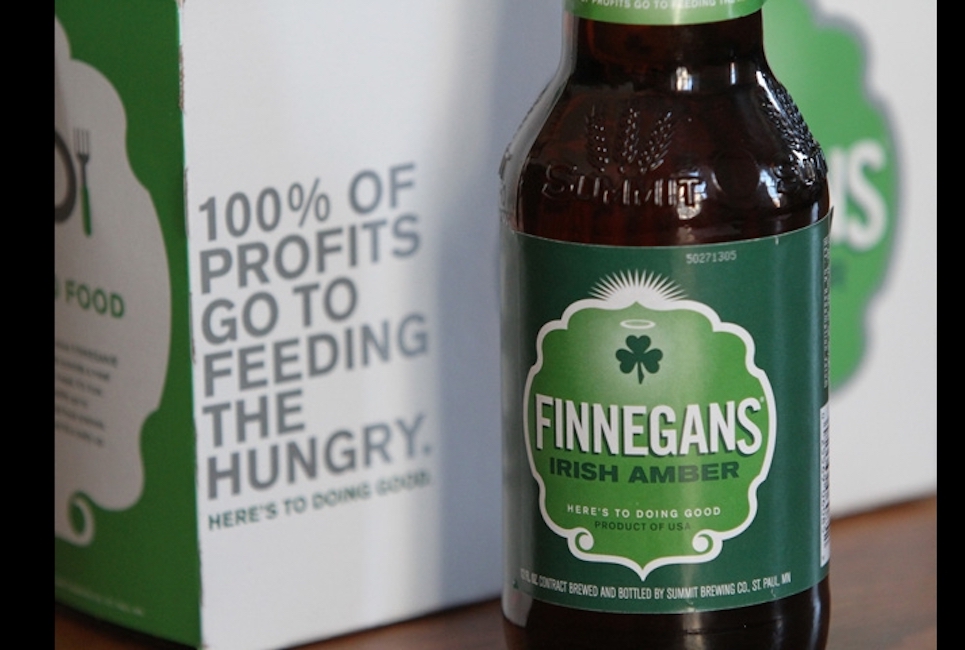 Some people start businesses to get rich. Others see it as a way to fulfill their passions. But for an increasing number of entrepreneurs, business is a vessel to impact lives and do something meaningful.
Jacquie Berglund is a seasoned social entrepreneur. Her B-Corp beer company, FINNEGANS, was the first to donate 100 percent of its profits to charity and it is now linked to all manner of good causes. Like so many like-minded entrepreneurs, Jacquie is redefining business and what it means to be successful.
What It Takes to Be a Social Entrepreneur
Despite not growing up in an entrepreneurial-minded family, Jacquie Berglund had an instinctive feeling that she would become a business owner. Furthermore, she had a deep yearning to help improve the lives of those in need.
After observing her parents struggle through life as "working poor," Jacquie became sensitive to the needs of people in similar situations. She was frustrated that despite the U.S. being one of the richest nations on the planet, a large portion of the population fell into the category of working poor.
Witnessing what her parents went through and knowing that so many other people experienced even worse hardships was one of the main factors behind Jacquie's ambition to start a company. But, unlike so many entrepreneurs hailing from humble beginnings, Jacquie's reasons for starting a business were far from self-serving.
If there is one trait that all social entrepreneurs have in common it is an innate desire to make the world a better place, or at least some aspect of it. For Jacquie, poverty was the number one concern.
Combining Passion with Profits and Success
Businesses represent aspirations of the owner. For some it is achieving maximum profits, for others, it is about realizing a lifelong passion. A few seek to combine the owner's passion for a good cause with natural business practices of profit maximization and success.
A benefit corporation, which is a relatively new concept, allows entrepreneurs to legally and simply integrate their charitable goals with business operations. It means that they do not have to choose between a non-profit and a for-profit entity. In other words, a benefit corporation enables the best of both worlds.
There are several different ways to describe a benefit corporation, but the following, from CTBC, sums it up most succinctly:
"The benefit corporation is designed to accommodate a growing number of entrepreneurs and investors seeking a form of business that allows them to pursue an expanded mission that embraces societal good along with profits."
That category of business was the perfect fit for Jacquie Berglund's beer company – the company that would become her primary tool for to impact lives.
Business and Charities, the Perfect Match
FINNEGANS, Jacquie's now thriving beer company, started out as Kieran's Irish Ale – a charity beer born when both Jacquie and a previous employer, Kieran Folliard, sat down to determine a "giving strategy."
With the idea of promoting a beer for charity fresh in her mind, Jacquie heard a presentation from Billy Shore of Share Our Strength. Amongst other things, Billy spoke about his for-profit consulting firm that was used to support his non-profit venture. That revelation sparked an idea within Jacquie. She would start making beer and direct the profits towards the good causes with which she was increasingly passionate.
Alcohol and good causes are seldom in association with each other. But FINNEGANS is a good example of how any business idea can be used to combine with charitable causes. Since 2007, FINNEGANS has experienced 30 percent annual growth. The brand is now present in some 1,500 restaurants and bars throughout Minnesota, Wisconsin, South Dakota, North Dakota and Iowa.
That growth has had a direct impact on the charities, local communities, and causes that FINNEGANS serves. Jacquie's boldness and vision that led to the marrying of the two ideas – beer and charity – has had a positive effect on the lives of thousands of people.
How FINNEGANS Does It (The Hybrid Model)
FINNEGANS Inc. is the for-profit arm of Jacquie Berglund's brand. Through that company, profits are filtered to its non-profit counterpart, FINNEGANS Community Fund. The fund is used to acquire fresh produce for people in need, provide accommodation and support for the homeless and at-risk youth, and support a host of other causes.
Jacquie was the sole employee of the company from 2000, when the company started, until 2009 when she could finally take on four additional members of staff. If not for her determination, persistence and a small team of devoted volunteers FINNEGANS might not have gotten to where it is today.
Beer is not the only thing fueling FINNEGANS' mission. Jacquie spearheads several other fundraising initiatives, including the recently launched Reverse Food Truck where food trucks are sent to cities.
Instead of delivering food, however, these trucks collect non-perishable foods for the food shelves as well as cash and credit card donations. This initiative is another world's first for FINNEGANS,
Jacquie refers to the FINNEGANS quest as "turning beer into food." But budding social entrepreneurs can use the concept to funnel any business idea into serving a good cause – turning cupcakes into clothing is a social business idea just waiting to be exploited.
Related: 11 Impact Business Models New Entrepreneurs Need to Know About! [Update 2018]
The Next Chapter
The story of FINNEGANS and Jacquie's mission to alleviate poverty does not end here. There are bigger, bolder plans on the horizon. Currently, the final touches are being applied to what Jacquie is calling a "Brewtel."
The Brewtel is a large brewery with hotel and conference rooms – "a kind of Willy Wonka factory for beer", as Jacquie puts it. It will be a hub for the FINNEGANS brand and a place from which to spread the brand's story to a wider audience.
There are also plans to start FINNovation Labs; an incubator for social entrepreneurs that will provide training, funding and launch support.
What are You Passionate About?
The FINNEGANS journey has been long and arduous. But Jacquie possesses amazing courage and stick-to-itiveness. She says that every social entrepreneur will face unique sets of challenges that will test their character.
One of the biggest challenges of operating in this space is getting access to financing. But, Jacquie hopes to see a shift in focus by the financial institutes shortly. That seems likely to occur as more social business' become successful. Until then, social entrepreneurs will have to become "professional bootstrappers" like Jacquie.
She started FINNEGANS with only a dream and $500 in her bank account. With such constraints, you need to be extremely passionate and persistent to achieve your goals. Only a high level of passion and strong character will enable you to stick to the task when things inevitably become challenging.
Jacquie says that the first step towards setting up a social business is to figure out how you will fund the venture long term. Sustainability is especially important for social businesses. The groups and causes that you will serve often grow heavily dependent on the services, which if not sustained, could cause devastation.
It is also vitally important that you surround yourself with people that know you and can support you in many different ways. Jacquie herself had a "fantastic support network" from the outset. Without which, she says, it would have been almost impossible to have had success with FINNEGANS.
Social entrepreneurs, like Jacquie Berglund, are tackling the world's biggest issues by building successful businesses. It is a relatively new and novel concept, but one deserving of attention. If you have a strong passion for a cause as well as a knack for business, you might just make a great social entrepreneur and end up changing the world.
You might also be interested in hearing directly from Jacquie Berglund in our exclusive interview – Interview with Jacquie Berglund: How This Hybrid Business Model is Turning Beer Into Food