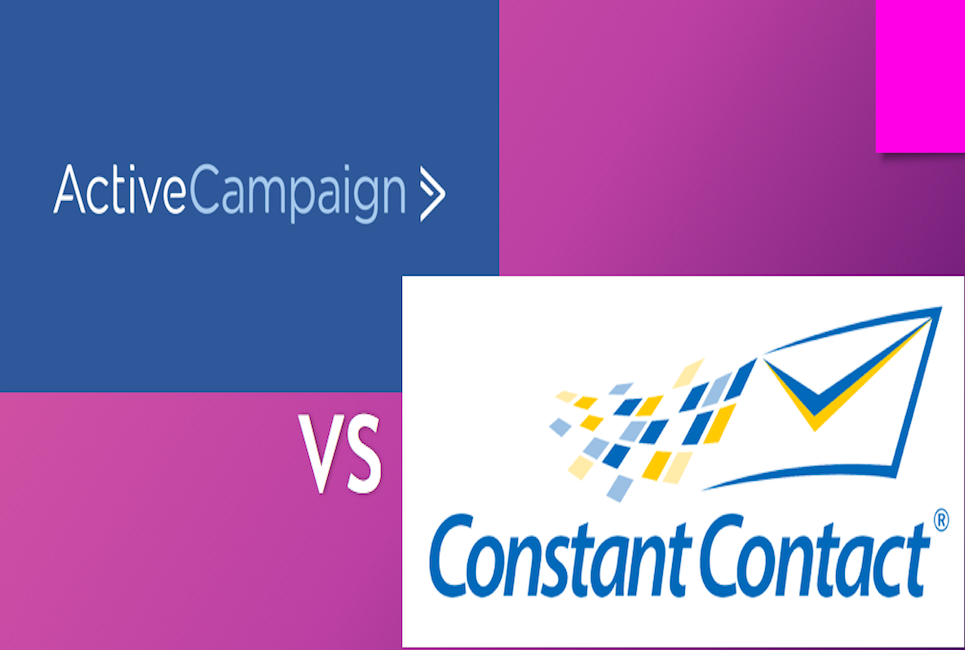 Find out the differences between ActiveCampaign vs Constant Contact to help you decide which one is the best email marketing platform for you.
ActiveCampaign vs Constant Contact: The Comparison
While Constant Contact vs ActiveCampaign are great email automation solutions, they are not made equal. To decide which is the best email marketing services provider between ActiveCampaign and Constant Contact, it is important to understand where one excels and the other doesn't.
And if the difference works best for your specific business, then you would have your ideal marketing and email automation software.
In this post, we focus on the differences that make either choice a great option for your business no matter its size and industry.
ActiveCampaign vs Constant Contact: Target Audience
Both online marketing solutions market their services to businesses of all sizes, from freelancers to enterprise clients.
But when it comes to actual use, it is clear ActiveCampaign is a more sophisticated marketing automation tool compared to the principal email marketing service offered by Constant Contact—which it refers to as "email automation", meaning a sweet spot between all-out marketing automation and superb email marketing service provision.
In fact, ActiveCampaign would be a better-used tool in the hands of a business that has both the time and starting knowledge of operating a marketing automation software suite. On the other hand, Constant Contact is quite easy to get started on mainly because there are fewer tools to learn. CC is clearly an email marketing tool rather than an all-inclusive marketing automation tool such as Infusionsoft, HubSpot, and ActiveCampaign.
So if you plan on using a marketing software service for a scaling business, ActiveCampaign might be a better option while Constant Content could be better for freelancers and small businesses learning the loops of email marketing before engaging in all-out internet marketing campaigns that could use wide-ranging marketing automation solutions.
Set Up and Ease of Use
Constant Content was built for ease of use. Its uncluttered dashboard screams that out loud, which augers well with its target audience.
In fact, as we've discussed before, CC is a good option to start with for a business that needs to learn the ins and outs of email marketing before getting to a full-on marketing automation tool that might be a tad too complex to start out with.
Constant Content offers a ton of email templates to help you set up a campaign in no time—much more generous than ActiveCampaign. You likely won't be needing any special training to use them, either. You even get an image editor with a chunk of stock images and image editing options inbuilt, so you can inject visual delight to your emails and encourage engagement and conversion with contacts.
To create your subscriber list, you can import your contacts from other CRM tools for small businesses including Gmail and Outlook contacts hassle-free. Akin to ActiveCampaign, you can upload them as a CSV/XLS/TXT/XLSX file, copy/paste and/or manually enter contacts in your database.
Yet, ActiveCampaign takes it further by automatically searching for and adding to your list the social media contacts of the people that interact with your website, especially when they sign up for your newsletter, email, subscriber list or make a purchase outright.
This can be resourceful when you need to understand more about your target audience so you can fine-tune your marketing messaging to address their needs and book more business.
Differences in Business Essential Features and Benefits
One of the best things about both is that they integrate with over 700 third-party apps. If you find a function missing with your subscription, you can easily supplement it by using a third-party app such as Zapier. You can also embed essential applications such as Woocommerce and Shopify form ecommerce users.
However, if you host events and need an email marketing service that will help you register event attendees, Constant Contact has a splendid tool for this. It allows you to easily create events, spread the word around and then capture interested people's details. It will even create a separate list for an event, different from your mail email list.
That is important because you can target that group with only the content that is relevant to your event and nothing else. That way you can ideally increase attendance for the event by encouraging curiosity, likes, shares, and registration.
In the Plus package, you also get a survey and donations-enabling tools integrated with your emails, in case you need them. It recently added Action Blocks to power polls, where recipients no longer need to leave their email inbox to fill out a poll on a web page. They can do that within with one click.
ActiveCampaign does not offer a similar tool. What it does offer, though, is the ability to segment your contacts and tag them. But with Constant Contact segmenting and tagging gets better. As opposed to ActiveCampaign, with CC (and in a similar fashion to Infusionsoft) you can organize tags so you have it easy when segmenting hundreds of contacts.
However, since CC is not a comprehensive marketing automation tool, it has limited autoresponder capabilities. For example, you would not be able to customize your emails based on what action/trigger a lead engages in such as clicking a link in the body of an email—which you can with ActiveCampaign.
Still, Constant Content has a remarkably developed email builder than ActiveCampaign, hence if creating beautiful emails in a breeze is your main concern, CC would probably make the best option.
| | |
| --- | --- |
| Constant Contact Features | ActiveCampaign Features |
| Contact management | Marketing automation |
| List-building tools | Smart autoresponders |
| Tracking and reporting | Built-in integrations with over 200 external services |
| Social media sharing tools | Drag and drop email designer |
| Image library | Track your contacts onsite and in your apps |
| Many apps and integrations | Campaign, contact, as well as list reporting |
| Automation | Track where your contacts live or travel |
| Facebook fan promotion | Add live ecommerce data even videos to your emails |
| Events registration and management | SMS marketing tools |
| Opens and click tracking | Free phone, live chat, email support |
| Deliverability | CRM and sales automation |
| Mobile email marketing | Advanced segmentation and targeting |
| Email templates | Dynamic email content |
| | Social media monitoring |
| | Free email templates |
Credit: Finances Online
ActiveCampaign vs Constant Contact: Support Options
To match its more complex marketing automation tools, ActiveCampaign offers optional training to businesses or freelancers that want to get a head-start with their sales and marketing automation software. Additionally, you can reach them via live chat and email support channels.
However, you are going to need to subscribe to the Enterprise package to get phone support, but you can get satisfactory live support when subscribed to their Lite package.
Constant Contact also offers phone support in addition to email, live chat and ticketing system support in case you need hand-holding to learn how to use powerful email marketing software for your small business. They also have a decent collection of DIY, how to articles on their site for your information—including information buttons next to certain menu options to explain what they are.
What's special though, is they will sometimes call you back after a chat to ensure you got what you wanted and are doing alright.
Reporting
Under the Reports tab, you'll find one of the best features of Constant Contact. You get to view how your contacts are engaging with your emails. You'll see email opens, clicks, subscriptions and unsubscribe rates on one, easy to understand page. Clicking on "Refresh" will even have you looking at real-time statistics. You can also get performance reports from social media channels you have linked as well.
Moreover, you get a bar graph that shows you your email open rates and a chart that helps you compare performance across several marketing drives. Still, you can use up to five emails to compare performance side by side.
Another jewel in the email marketing service's crown is its uncanny capability to surpass through Gmail's stringent spam filter. It is one of the few services that manage to not have your emails junked in the spam folder, where supposed recipients are likely to ignore your messages—and make your marketing efforts suck.
ActiveCampaign takes reporting to another level, though.
In addition to charts and bar graphs, you also get advanced lead scoring. With this feature, the reports you get are automatically used in Event Tracking to create personalized follow-up campaigns to further nurture and qualify a lead based on the actions they take on your online platforms or mobile app.
Tracking
You can set up your Constant Content account to follow up on new contacts after certain they take certain actions or when it's their birthday. A unique feature of CC is when your contacts unsubscribe from your newsletter, you still get to keep them in your contacts but no more emails will be sent to them. That way, you can decide whether to get back to them after some time or manually delete them from your list if not.
However, tracking is clearly an ActiveCampaign zone. Powerful tracking features you'll get here include Event Tracking, Site Tracking, Advanced Lead Scoring, and advanced email split-testing. Site tracking empowers you to know where your contacts spend the most time, when, and where they travel.
You can then use that data to create even more personalized marketing messages based on what your contacts' interests are. Still, ActiveCampaign allows you to schedule email blasts to reach your contacts at the same time of day or night all across the globe. So if you want all emails to reach them at 1 PM to encourage open rates during lunch break, you can have the messages delivered at your contact's 1 PM despite time zone differences—even if the software has to delay some deliveries to hit the contact's inbox during their 1 PM.
With lead scoring, you can set unlimited criteria that different leads need to meet before your sales team can reach out to them with an offer. All these make up the powerful sales CRM and marketing automation tools ActiveCampaign offers.
ActiveCampaign Pricing Vs Constant Contact Pricing
While you only get 14 days to have a run with ActiveCampaign, you'll have a whole 60 days to test-drive Constant Content.
Not only that, you get a 30-day, money back guarantee offer from the latter, which is unheard of in the industry—and is great news for all size businesses looking to find the best email automation service provider in the market now by utilizing a full-version package for a while.
Nevertheless, both email automation solutions provide scalable pricing models, so you can start out and grow with your choice—instead of later wanting to migrate your plumped up CRM to a suitable email marketing platform for your growing business.
Here are shots of pricing packages offered by both: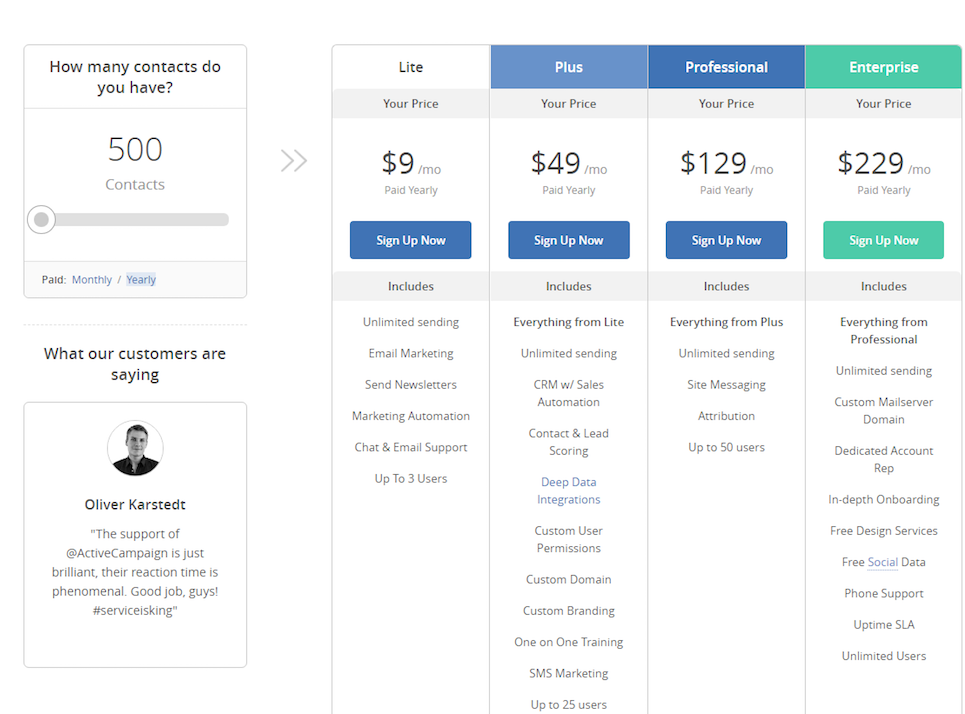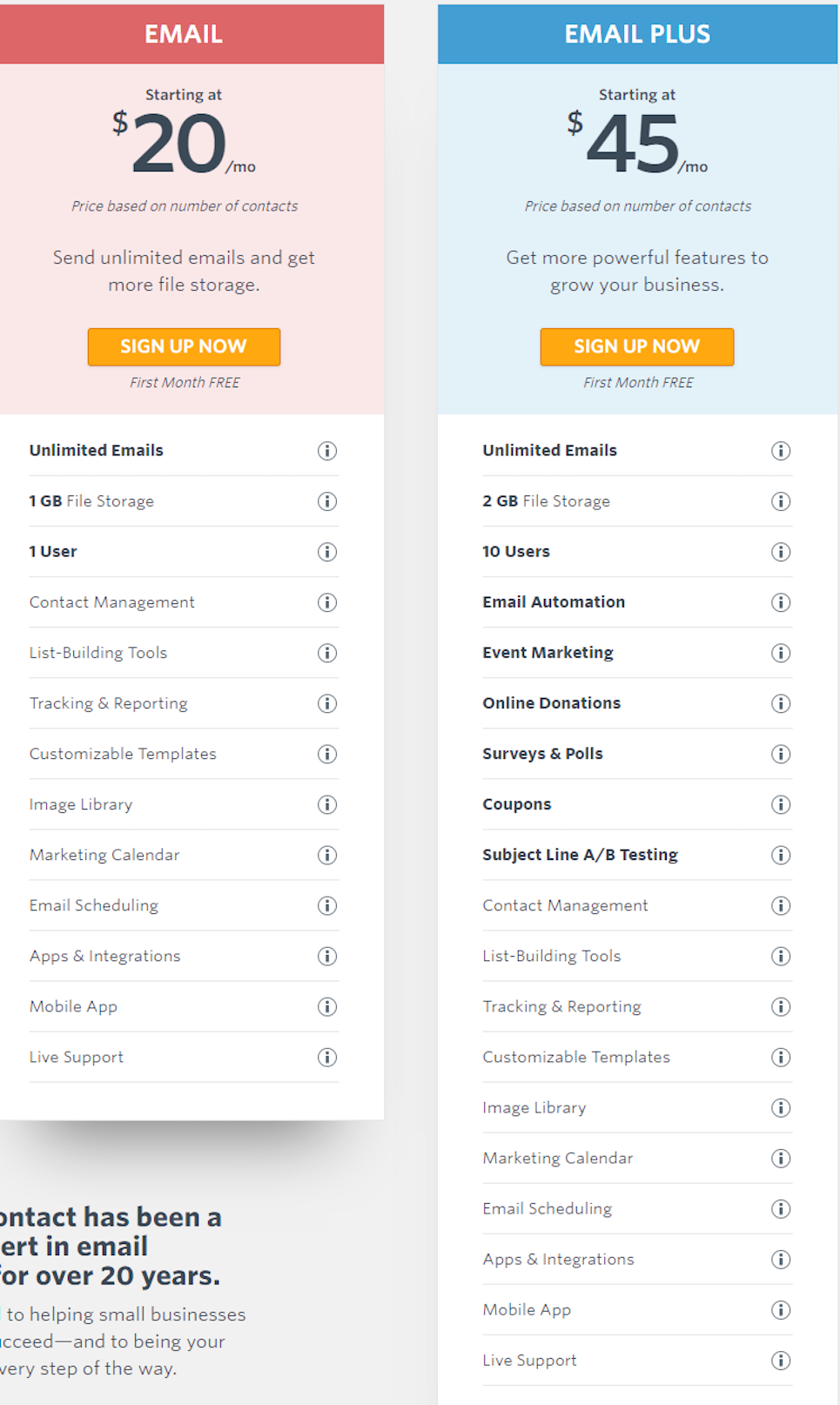 ActiveCampaign vs Constant Contact: Conclusion
Both email automation services are ideal for freelancers, small business, and even medium enterprise clients. Both do not have a setup fee like Infusionsoft. Yet are also affordable to start out and scale with.
But while ActiveCampaign offers a powerful combination of sales CRM, email marketing, and marketing automation technology, Constant Content has focused on excelling in email marketing services—where it does a great job, too. On one hand, new businesses might find the "all-in-one" aspect of ActiveCampaign a bit overwhelming. On the other hand, businesses looking to scale their digital marketing drives, are likely to outgrow what Constant Contact currently offers.
Depending on your specific business marketing goals, you can then decide which, between advanced marketing automation and powerful email marketing services, will work in your best interests.