Unlike solely for-profit businesses, social enterprises are in the unique position to solve real social problems in this world and make money doing it. Unlike charities that have to continue to raise funds to give back, social business can create lasting and sustainable solutions for social and societal change. In today's changing landscape, we examine why social enterprise matters — why do we need it? What can we do to support it?
The rise of entrepreneurship has had its fair share of benefits. However, businesses have also brought about some difficult challenges that are affecting us now and can get even worse in future if not controlled.
Due to this, some people started thinking about more than just profits. To them, there's no need for people to try providing solutions with their businesses, only to end up creating other problems elsewhere. There were just too many social, cultural and environmental issues that needed to be sorted out.
Think about it. Have you heard about factories that mistreat their workers? Don't you just cringe at the thought of blood diamonds? Or at the fact that some companies have been constantly messing up the environment? You're not alone, many have been asking themselves the above questions and more.
So, what's the solution to all this?
Simple. Social entrepreneurship.
This is where for profit social enterprise companies create solutions to the above issues. They mix up profitable and non-profit ventures to ensure they generate a positive return to the society, especially where social, cultural and environmental issues are concerned. Their focus is more on the social impact than their financial gains.
Why exactly does social entrepreneurship matter?
It's a smart way to solve social problems. It is the only way to solve sustainable, long-lasting social problems.
Let's face it. The society faces so many problems.
In an interview with Change Creator, Sasha Fisher, the co-founder and executive director of Spark MicroGrants, stated that she grew up wondering why the world she lived in was unequal. There are people and societies that have way more than enough to survive. On the other hand, some local communities can barely afford a decent meal.
Social enterprises smartly solve social problems. Let's look at Spark MicroGrants, for example.
Smart example #1: Spark MicroGrants
Spark does not focus on giving aid to communities or lording over them with what they're supposed to do. They actually give communities control over their future.
When Sasha went to Rwanda, she was keen on ensuring that whatever happens was owned by the local communities. They used this as a way to create long-term change. Spark works in conjunction with the Rwandan government to strengthen leadership in the village.
Their business model is simple: The community selects their own projects that have an income component. Spark then focuses on bringing those projects to life. Through this collaboration, they have been able to help communities build businesses where they mill cereals for other villagers and also sell surplus crops from farming.
The village is now more hopeful. They have better family lives. They are not only able to earn an income from this, but they also have immense control of their future.
If you're thinking of starting an impactful social enterprise like Spark, here are some key things you can learn from Spark MicroGrants:
Empower communities to have control over their own future
Work on positive and sustainable change, where a community doesn't depend on you but are able to depend on them
Focus on social impact than financial impact – such communities usually need more than just finances
Help people improve their conflict-resolution mechanisms
Spark has done a tremendous job and changed so many lives. It's now offering solutions to 5 countries – Rwanda, Uganda, Burundi, DRC, and Ghana.
Another group of people that need more help across the board is persons with disabilities. And that's where Accessibility Partners comes in.
Smart example #2: Accessibility Partners
This is a socially aware business that helps in accessibility issues – testing and reviewing products to make sure IT (information technology) is accessible to persons with a number of disabilities.
What makes the Accessibility Partners team unique is that more than 70 percent of its employees are actually individuals with disabilities. This ends up being a smart way to empower this specific important group of individuals – using a team that faces similar challenges. It's a powerful business model aimed to help those inside and outside of the company.
Founded in 2003, it has now become a strong force to reckon with. It works with private and public information technology companies, organizations of different sizes and federal agencies. This socially aware organization comprises of technologists, subject matter experts, and senior consultants.
Some of the key takeaways that can be derived from this social enterprise business model include:
Social entrepreneurship is also excelling in the tech industry
Persons who are considered disadvantaged can actually become extremely productive when given a chance.
Success kills stigma
When a stigmatized group of people is successful, the world gets to see that they don't need to stigmatize them. That they're also human beings who have immense strengths that are useful and important for the society.
The above organizations show us clearly that socially aware businesses smartly solve social issues. Some of these issues are usually left in the hands of governments and non-profits. However, this is all changing because such companies are making the implementation of such projects quicker.
Social entrepreneurship hastens implementation of key projects.
Governments are responsible for taking care of their citizens – at least that's what people have been thinking for ages.
However, governments can sometimes be spread too thin. They run too many projects at the same time. This means that they prioritize certain projects over others, thus some important projects may take too long to be enacted.
In comes social entrepreneurs. These are keen to meet their set agendas without relying on government processes. The community, therefore, reaps the benefits faster without having to wait for the government to prioritize their issues.
Additionally, and sadly, the governments of some growing countries have not yet gotten to the point where they put the ordinary person first. Others are still oppressive to their citizens. It takes independent social initiatives to bring positive change to the society in these countries that are fast losing hope.
Related: Want to Change The World? You Need To Read This First
Social aware businesses don't just hasten projects that would have been done by government. They also do the same for non-profits.
Housing is one of the areas that many people need help on. There are so many homeless people in the world. The numbers are appalling.
When a global survey was done on the homeless back in 2005 by the United Nations, it was found that there were 100 million homeless people. Worse yet, 1.6 billion did not have adequate housing. Lots of people are dying out there due to poorly built houses. Natural disasters like earthquakes even multiply such fatalities to unimaginable levels.
Dr. Elizabeth Hausler, featured on the cover of issue 10 of Change Creator Magazine, is working hard to change this. She actually won the prestigious 2017 Skoll Award. She's changing lives, one brick at a time.
Here's how:
How Build Change is literally building change.
Dr. Elizabeth Hausler is the founder the award-winning organization called Build Change.
"It's not the earthquake that kills people; it's the collapse of a poorly built building." – Hausler
According to her, safe housing is a basic human right.
So, what's Build Change all about?
It's a social enterprise that saves lives through working with communities in emerging countries to build houses and schools. They do this in a way that these structures don't collapse when there are occurrences of earthquakes and typhoons.
Their mission is to reduce injuries, deaths and economic losses brought about by these natural disasters.
They first work with governments to develop building standards. This fills a gap in these countries, where the government does not have the capacity, personnel, resources, vehicles, inspection capabilities or even budget required to enforce effective building codes.
Build Change streamlines all this, making it simpler and even using latest information technology tools and apps to make sure things work smoothly. It also provides access to financing; knowing very well that businessmen will need a grant or a loan to build back their businesses after a disaster.
Through such initiatives, Build Change has enhanced the safety of the structures of 230,000 people. It has won numerous awards for its excellent work.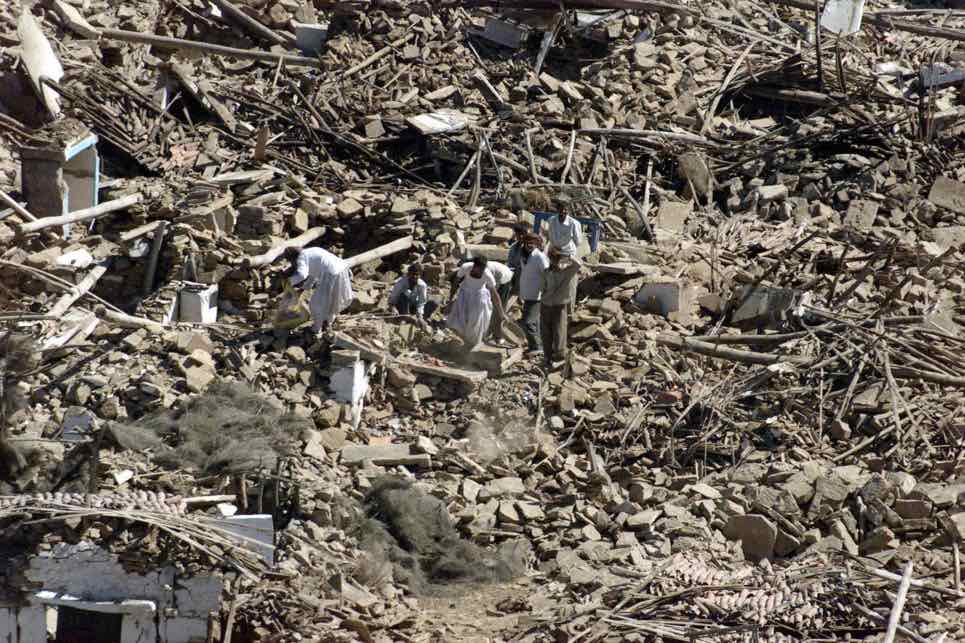 This all started when Hausler decided to leave her comfort zone and fly to India after the 2001 earthquake that killed between 13,000 and 20,000 people. She couldn't just keep quiet and keep seeing disasters like the one on the figure above. Not if she could do something about it. And now 230,000 people are living in safer conditions.
Some of the key takeaways from this include:
To make a change, many times you need to leave your comfort zone and go help people in another state, country or region
Use technology to streamline your processes
Governments and NGOs do not always have the capacity to solve some problems. Help them when you can.
Social aware enterprises solve business problems, but here's more.
They offer solutions that cater for people in both social and economic networks. They matter because go above just business. They take it up a notch by making sure that whatever solutions they give do not end up messing up social, cultural and environmental ecosystems – they make it their mission to safeguard these important sectors.
Their functions are nourished by the emotional and informational support. Here entrepreneurs holistically take care of those in need.
As an agent of change that contributes significantly to the global economy, it brings change in ways that governments, businesses, and non-profits don't. They offer alternative solutions when the administration is not effectively working on the needs of the day.
If you're such an entrepreneur, you get joys and satisfaction that are way beyond money. Most businesses are out for a profit. But your social enterprises will balance economic and social issues. This is a higher calling which brings lasting change, making the world a better place for now and the future.
The Gallup study, How Millenials Want to Work and Live brought out very important findings. These include:
Millennials don't just want to focus on a paycheck, they want to serve a purpose
They're shifting focus from their satisfaction to their development
Instead of working for bosses, millennials are looking for coaches
Their lives are not about annual reviews, but rather ongoing conversations
They don't focus only on their weaknesses, they put emphasis on their strengths
To millennials, it's not just a job – it's their lives
This study shows that millennials don't just want to do business, they want to leave a social impact. This clearly shows that social entrepreneurship now matters more than ever.
According to Nielsen, global consumers are more willing to reward companies that give back to communities. The giving aspect makes them want to pay more for the products.
For social purpose businesses, this is a huge plus. It will not only increase their bottom line but also give them more resources that they can use to make an even bigger impact on the society.
Let's look at one entrepreneur who took business as more than just an avenue to make money.
The Dr. Alasdair Harris (Al) example.
Dr. Harris is referred to as simply "Al" in his site, Blue Ventures.
Al founded Blue Ventures, an award-winning social enterprise, in 2003. This was to show that proper marine conservation requires entrepreneurial, pragmatic and locally-led approaches.
Al's organization has made a huge difference in marine ecosystems and also created a stream of revenues for locals in emerging countries. One of its biggest achievements is that it created the biggest marine-protected, locally-managed areas in the Indian Ocean They also established sustainable ecotourism businesses and aquaculture.
This solves both a business and a social problem.
Successful social entrepreneurs set an example.
Above we talked about Sasha Fisher's worry when she was growing up. She simply struggled with the fact that there is so much inequality in the world, and that led to her founding Spark MicroGrants a while later.
Sadly, there are many live lives oblivious of the challenges that other people are facing in the world. In their minds, they say, "Those are other people's problems. Let their governments and non-profits fix them."
When people actually go out of their way and start changing people's lives, the whole story changes.
As a social entrepreneur, you inspire others to work on social businesses. You set an example to those who once looked at social, cultural and environmental challenges as "other people's problems". Through your initiative, they start believing that they, too, can make a difference.
Since this is a sector that brings in a lot of positive change, the world needs lots of inspirational stories, just like yours. It's inspiring to see someone considered privileged and comfortable going out of their way to create solutions for those who really need a helping hand.
The world matters and social entrepreneurs bring global solutions to business.
There are so many things happening all over the world. Lots of global changes that need our attention.
Social aware businesses bring in an angle that solves pertinent issues such as health, education, and employment among others. They strengthen economies and deliver efficient public services.
Many social entrepreneurs think globally. Think about the following before starting your social enterprise.
Is your business solving humanity problems?
Are you infringing on any fundamental human rights?
Are the items you use for your business products of factories that mistreat and underpay their workers?
Are you solving any cultural, environmental or social issues?
Nielsen's sustainability imperative came up with some interesting findings in 2015. These included the following:
Sales of consumer goods from brands that demonstrate a commitment to sustainability grew by over 4% in 2015. Those without grew by less than 1%.
60% of consumers were willing to pay more money for sustainable brands in 2015. This was a remarkable improvement from the previous years – 50% in 2013 and 55% in 2014.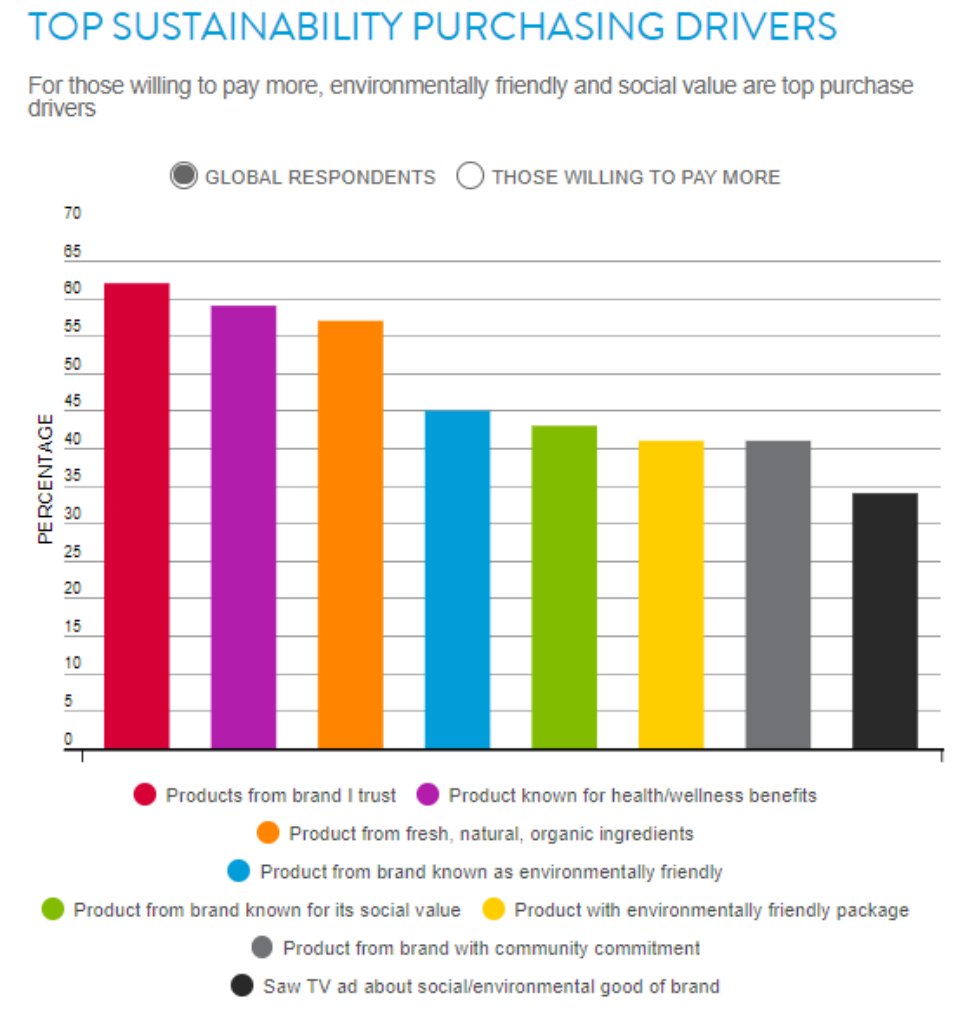 This shows that it's not only brands that are becoming socially aware, consumers are, too. As much as social entrepreneurs focus on social impact, the above study proves that increase in social awareness is also changing how global business is done.
Key takeaways here include:
Your business should not only fix local solutions. Think globally.
Customers are happy if your products are socially aware. There's a whole market out there for such initiatives.
Focus on social impact, no matter how small it is. When more people implement such projects, the effect will be noticed globally.
They fix problems brought about by business.
Business is not wrong in totality. They need to make a profit, and we need to buy their goods and services. We need their products to solve some of our basic and luxurious needs. Some businesses, even without precisely being social enterprises, still make the world a better place.
However, there are a number of businesses that have brought about some of our biggest global challenges. Social enterprise changes this by marrying for profit and non-profit aspects. This takes care of some of the global challenges that we're currently facing.
The shocking Rana Plaza tragedy — how tragedy can create change.
The Rana Plaza tragedy made people change their thoughts on who exactly makes their clothes.
This single tragedy led to the deaths of more than 1,100 people and is the worst industrial accident in the world. What now remains is the debris of what was once a factory that made cheap clothing for the west.
On the 23rd April 2013, a television feature showed cracks in the Rana Plaza building. However, Sohel Rana stated in the media that it was safe for workers to return to the building. He reported that it was still safe.
However, on 24th April, at around 8:57 am, the building collapsed with over 3,122 workers still inside. 1100 did not make it out alive.
Sohel was simply trying to make as much profit as possible from his business. However, he didn't consider the safety and livelihood of his workers, leading to this astronomical tragedy that could have been avoided.
This led to a rise in socially aware businesses that actually make sure that all their processes are done in a way that does not endanger human beings or the environment. Therefore, they're fixing a huge problem that other businesses have been creating for ages.
Scarcity has brought about marvelous innovations, but false scarcity creates problems.
There are definitely more problems than people who can solve them. Thus social entrepreneurs have used this scarcity of resources to come up with some of the biggest innovations of our times. These are huge innovations since they solve issues such as poverty, poor quality of life and environmental issues among others.
This mixes up a mission and cutting-edge technology.
Solutions brought about by social entrepreneurship.
There are many awesome companies that have been started by social entrepreneurs. Here are a few:
Cost-effectiveness in social entrepreneurship.
Social entrepreneurs think about the long-term impact of their initiatives. In their eyes, there's no need for creating a huge business today that will bring end up causing a disaster in future.
Think about some of these workplaces that give their workers poor working and living conditions, exposing them to numerous expensive health challenges, such as the Rana Plaza tragedy mentioned above.
Social aware entrepreneurs think differently. Their goal is to heighten innovation and impact, not income.
Here profits are not as valuable as social results. No matter how much income is made, a social awareness project fails if it does not have a meaningful social impact. In fact, any social entrepreneur who generates colossal profits and does not convert that into a cost-effective, meaningful social impact has wasted useful resources.
Some of the social impacts they can push for include:
A cleaner environment
Easier access to health care
Improved education
Housing for the homeless
Reduced poverty
Protection of abused children
Improved working conditions
These are done in a cost-effective way. They end up bettering the lives of the disadvantaged. In the long-term, they're good for the well-being of other human beings and eventually the overall worldwide economy.
Here, cost-effectiveness will not only affect the core services being offered by a company, it also applies in their employee uptake.
The 2016 Cone Communications Employee Engagement Study came up with interesting findings to back up this claim. Their studies showed that:
More than 75% of millennials would accept a pay cut if hired in a responsible company
88% find jobs more fulfilling when provided with opportunities to make a positive impact on environmental and social issues (US average is 74%)
When deciding where to work, 76% consider the social and environmental commitments of a company
64% would decline job offers from companies without strong CSR practices
The key takeaway here is the fact that social entrepreneurs find it easier to hire millennials, thus reducing the costs and time taken to hire experts.
Millenials will soon form more than 50% of the workforce, therefore having practices that appeal to them will greatly increase their chances to work for you. A brilliant, socially conscious, young workforce will be able to help greatly push the agenda of a business, while still ensuring there's reasonable social impact.
So, does social entrepreneurship matter?
Yes it does.
It solves social problems, hastens implementation of key projects, solves business problems, fixes issues brought about by businesses and is cost-effective in the long run. It changes lives. It makes the world a better place. More people need to follow this model and start creating lasting, effective, sustainable social impact. The world needs it!