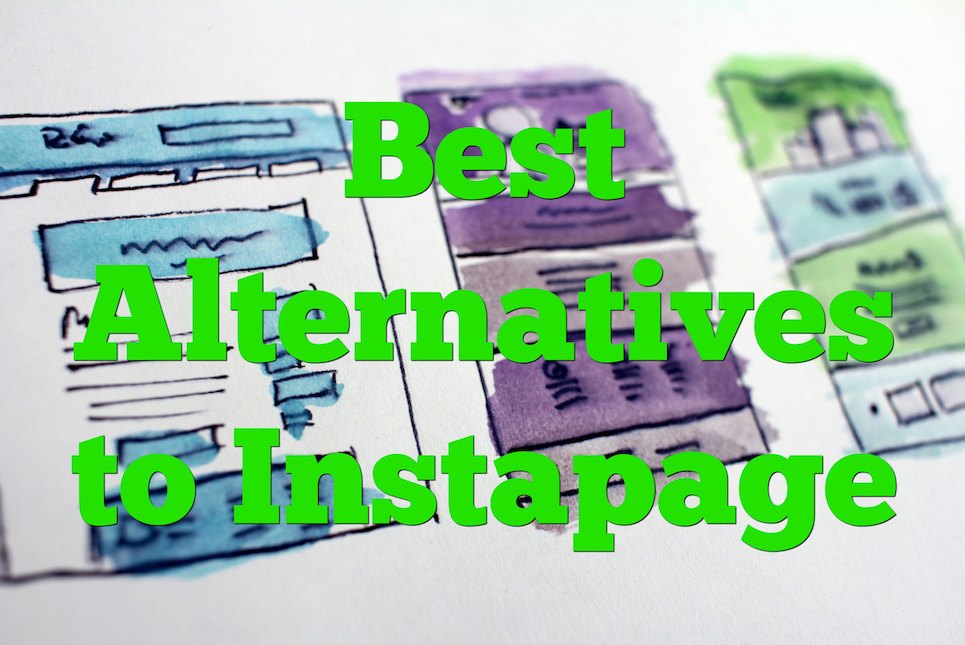 Instapage is an awesome tool that helps in the creation of highly optimized and customizable websites. Useful for businesses and individuals, this is one online resource that many have definitely benefited from.
Instapage is a powerful landing page software that provides post-click optimization for all digital and advertising campaigns. With enterprise capabilities, landing page templates, real-time team collaboration, Instablocks™, integration with your marketing automation app, and an easy-to-use builder, Instapage is a great choice for many but what if you are looking for an alternative (maybe one that you'll love even more).
While Instapage is an excellent choice for many, there are alternatives to Instapage that you might love even more. Here, we've rounded out the best Instapage alternatives to get you started:
Hubspot
Hubspot provides a landing page builder as well as a wide array of other services. Thanks to features such as drag-and-drop and for development, creating a webpage on this platform will be as easy as possible. You get a dashboard that provides features such as personalization token and smart content, all of which make it easy for users to show various types of content based on their specific requirements.
Pricing
Hubspot makes the following plans available to customers:
The Free Plan, which goes for absolutely no fee
The Starter Plan, which goes for $50 a month
The Basic Plan, which goes for $200 a month
The Professional Plan, which goes for $800 a month
The Enterprise Plan, which goes for $2,400 a month
Try Hubspot for a free trial for 30 days! Click here to start!
Wix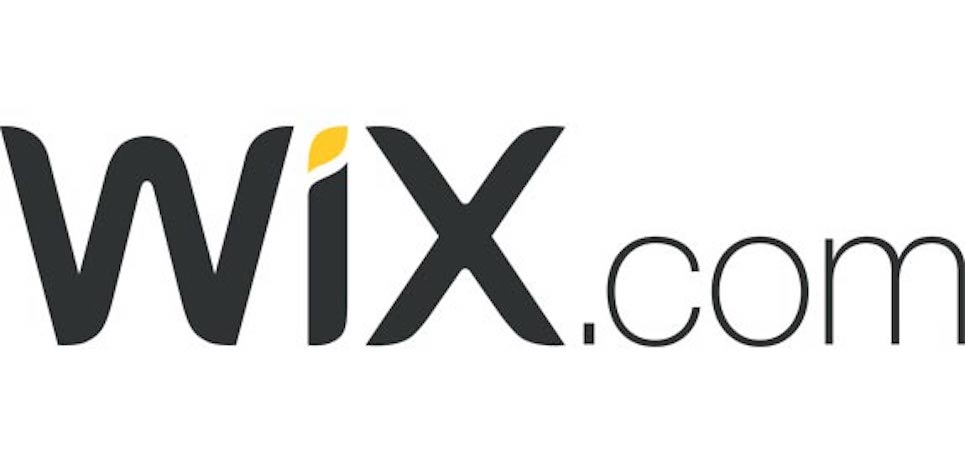 Without a doubt, Wix us one of the most popular cloud-based website development platforms. It serves over a million users all over the world and has been receiving a wide array of accolades in the past few years.
With Wix, it is possible for individuals and small businesses to easily build aesthetically appealing and professional websites that will also not in any way impugn their creativity with coding expertise. Wix is essentially a free service, but it is also possible for users to choose to enhance their experience and output by making a subscription to the premium plans offered by Wix, of which one of them is completely devoted to serving online retailers and e-commerce providers.
The rationale behind the creation of Wix is a pretty simple one; they believe that with the right building software, a developer should be able to create just about anything. With their Editor, Code, or Artificial Design Intelligence Model, it is possible (easy, in fact) for you to build a nice hub for your content, and you can also build just about anything; from a simple profile web page to robust and highly multifaceted retail store.
It is important to know that you don't especially need to have any technical or coding skills to work on this platform. You just need a few simple modifications and edits, and the drag-and-drop functionality will be able to help you design your ideal website.
The feature that makes Wix really distinct from other popular site builders is the fat that is has a very high level of personalization. All its templates are open, and all you need to do is provide simple branding, customization, and modifications. With all that, you will be able to build your app just as you've always imagined it to be. These websites are also flexible and scalable, and they can work in situations of heavy traffic and highly complex.
In addition to all that, Wix is also a fully-feared and mobile-optimized builder that provides all its services for free. In order to grasp the basic operations, all you need to do is create an account and if you're looking to take advantage of its shopping cart and e-commerce functionalities, just switch to any of its premium plans.
Pricing
Wix makes a wide array of plans available to customers, all of which have varying amounts of features
There is the free plan
The Connect Domain Plan costs $4.50 a month
The Combo Plan costs $8.50 a month
The Unlimited Plan costs $12.50 a month
The eCommerce Plan costs $16.50 a month
The VIP Plan costs $24,50 a month
Pagewiz
Pagewiz was ideally designed or professional marketers, affiliates and business owners who will like to launch their websites from scratch. It helps you to build user-friendly webpages in a matter of minutes, and all pages are also accompanied by A//B testing capability in order to make for automation and conversion maximization.
Pricing
The plans for Pagewiz include:
The Basic Plan, which goes for $29 a month
The Standard Plan, which goes for $49 a month
The Plus Plan, which goes for $99 a month
The Pro Plan, which goes for $199 a month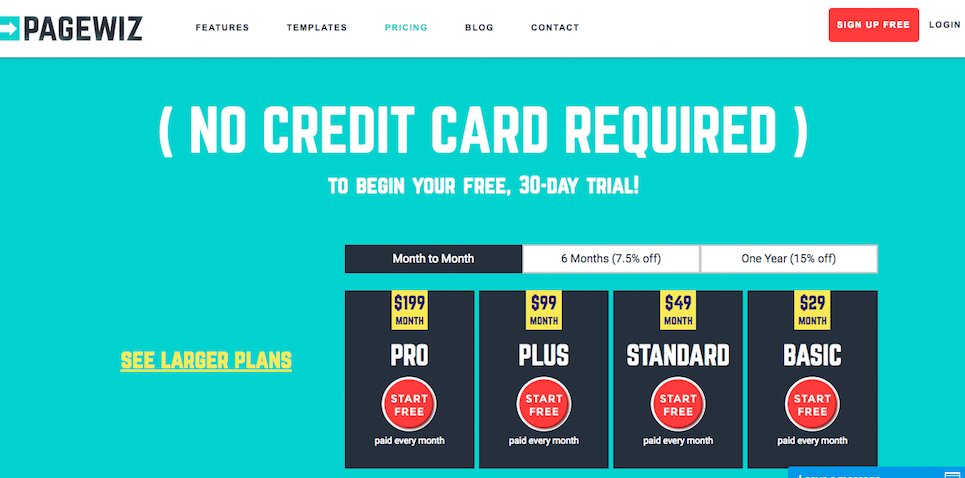 1&1 MyWebsite
1&1 MyWebsite is a website building platform that was created to help serve the needs of freelancers and business that are looking to establish a presence on the online landscape, regardless of their size offer scale. It is an internet product that was developed by 1&1 Internet Ltd.; a long-time provider of web hosting services.
1&1 MyWebsite is an online solution that makes use of ready-made templates and drag-and-drop functionalities to provide users with the ability to make and design websites of their choices within a few clicks. N provides an intuitive and simple site creation experience that will also enhance creativity and ingenuity. All in all, 1&1 MyWebsite will give you the ability to create and launch a fully functional website in no time, complete with all the information and elements that you will need in order to match the website with your business or brand.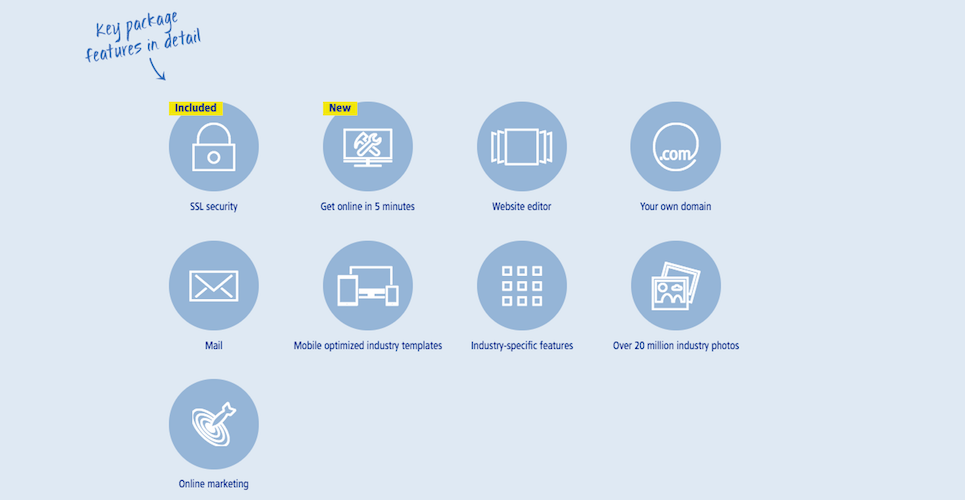 1&1 MyWebsite comes with all the features that you will require in order to build your website easily and quickly. A few of its most prominent features include a website editor, a wide array of ready-made templates, and multi-language support (for those who will like to build websites that will deserve purposes over more than one country).
In addition, it also makes marketing tools available, including but not limited to site analytics tools and SEO functionalities. All of these will help you to come up with unique and targeted content and they'll help improve the ranking of your website. The online platform also includes Email and domain addresses for you as well as 24/7 support.
A few benefits of 1&1 MyWebsite include:
Speed and accuracy: Thanks to a wide array of templates, catalogues, and useful tools that have already been loaded on the platform, all you have to do is pick and design your website and in no tie, you'll be ready to go.
Photo editor: An online photo editor gives you the ability to change the properties of photos that are on your site.
Multilingual capabilities: If you'll like for people in far countries and continents to have access to your website as well, 1&1 MyWebsite provides multilingual support as well.
Optimized for mobile devices: As opposed to managing a website that can only be accessed with a computer, 1&1 MyWebsite provides websites that are responsive and work on mobile as well.
Pricing
The plans on 1&1 MyWebsite are pretty flexible, and you'll definitely be able to get one that will work to fit into your business and budget requirements.
The Basic Plan costs $0.99 for the first month, then $9.99 per month from then on
The Personal Plan goes for $2.99 for the first 2 months, then $6.99 from then on
The Plus Plan goes for $9.99 a month for the first 3 months, then $19.99 from then on
The Bundled Plan offers the features of the Plus Plan as well as a fully functional ranking coach for search engine optimization and advertising. It goes for $19.99 for the first 12 months, then $29.99 from then on.
Unbounce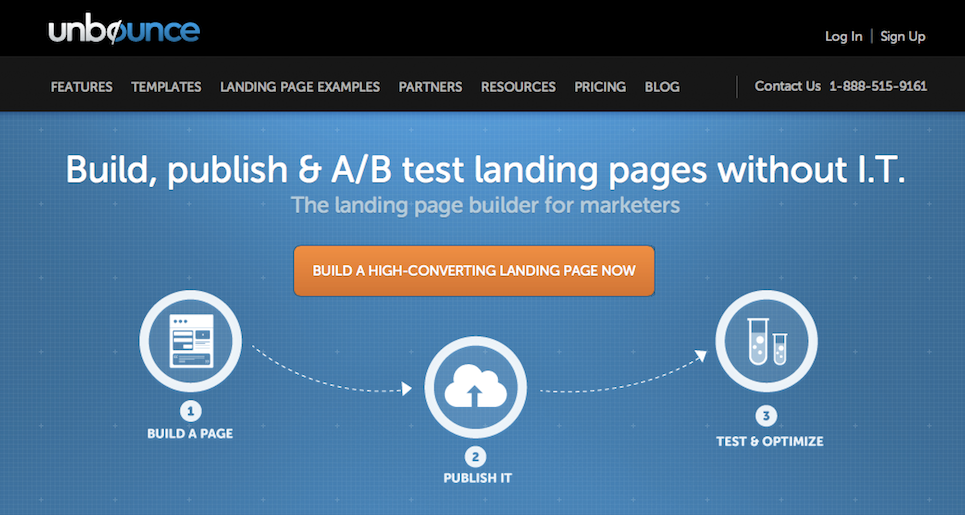 Unbounce was created with a simple purpose; helping to create landing pages that will enhance users marketing efforts. Page building experiences have been revolutionized lately, and Unbounce has been a major driving force behind that.
A few of Unbounce's major features include:
The Unbounce Builder: A drag-and-drop builder that provides text replacement and convertables and is also mobile-accessible.
Unbounce Convertables: These convertables make it easy for you to target landing page visitors, set custom templates, and integrate with basically anything.
Templates: There are over 100 custom templates on Unbounce, and you can either chose one or start building one from scratch by yourself.
Conversion Tools: There are unlimited A/B testing tries, lead generation tools, conversion optimization tools, and many more on Unbounce.
Unbounce can also be easily integrated with google analytics and Email marketing tools like Hubspot, MailChimp, WordPress, Marketo, and much more.
Pricing
Unbounce provides three packages, and you can make payments on a monthly or annually basis.
The Essential Package allows you to create 75 landing pages and 8 convertables for $99 a month
The Premium Package charges $199 a month, and you can build 10 landing pages, 16 convertables, and you also get sub-accounts and better conversion rate tools.
The Enterprise Package starts at $499 a month and on it, you get all the features of both previous packages as well as a Success Manager and Launch Specialist that will help you to maximize your ROI. This package also provides the opportunity to build over 375 landing pages and at least 40 convertables.
Shopify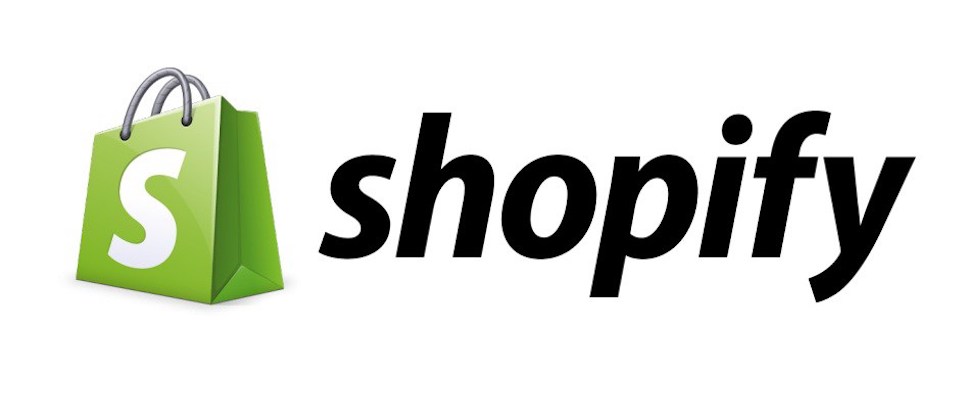 Shopify is an award-winning e-commerce retailer. It provides a wide array of features and tools that make it easy for individuals and businesses to build and operate online retail services as well as sell products. Shopify is packed with the right features, it provides tools that are specifically designed for servicing online retail, and its influence is represented by the fact that it is used by well over 120,000 stores all over the world.
The platform has been branded by experts and businesses as one of the best e-commerce solutions available online in this age. The Shopify Advanced version has especially gotten a lot of praise.
Shopify provides a myriad of benefits for people and businesses that will like to set up their online stores. Some of its benefits include:
A store that is easy to set up and is very beautiful and responsive. The platform has a long list of professional themes, and you can choose from any one of them in order to provide your store with a corporate look.
Shopify will also boost your store. Essentially, you won't have to worry about any of the technical aspects of running and operating the store. Your servers are updated and secure with the latest software.
You also get customer support round the clock
Abandoned carts are automatically recovered
Easily and quickly import catalogs (even the largest ones)
Shopify Advanced can provide you with been more nifty templates
You get a wide array of marketing features and reports that are easy to use
You run your payment gateway and control you're the money coming in.
Features of Shopify
Shopify has many of the features that you'll need to set up an online store.
Fully customizable online store, website — including blog
Unlimited bandwidth, product inventory, customer data
Sell on new sales channels like Pinterest and Amazon to increase your market potential
Accept credit cards instantly with Shopify Payments
Save time and moeny with discounted shipping rates
Great customer support — 24/7 access

Pricing
Just as it is with just about any other alternative to Instapage, Shopify has various pricing tiers. These are:
Shopify Lite, which goes for $9 a month
The Basic Shopify Plan, which goes for $29 a month
The Shopify Plan, which goes for $79 a month
The Advanced Shopify Plan, which goes for $299 a month