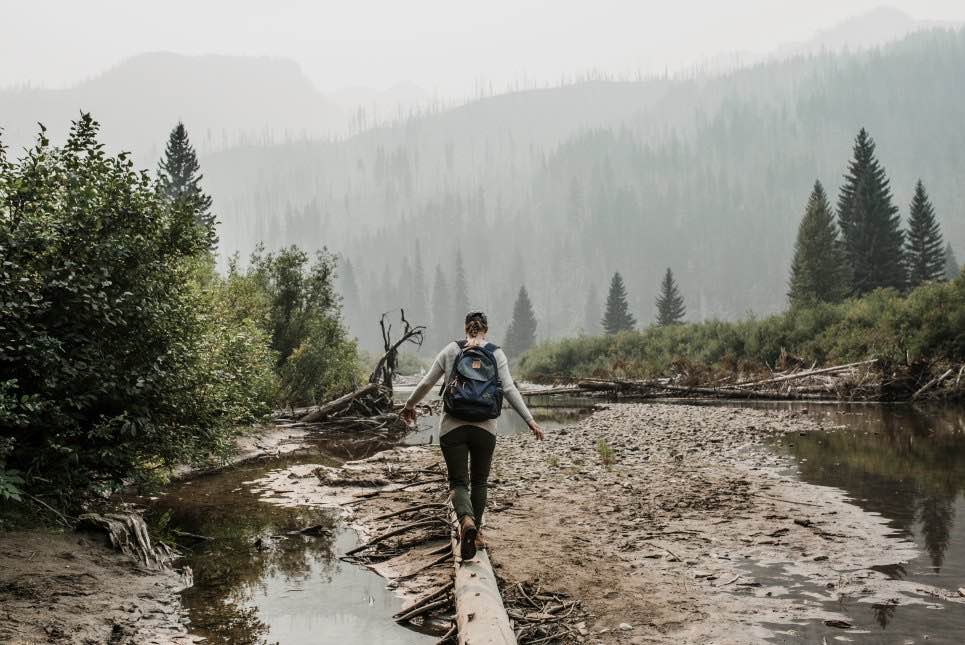 I smile when I see the United by Blue catalog in my mailbox because I know it will take me on an adventure. National Parks are frequently the backdrop for their clothing, accessories, and home and camping gear. For summer 2017, they photographed Ph.D. marine biologists with Bonefish & Tarpon Trust at a conservation fishing tournament who measured and tagged fish to investigate declining fish populations in Key West. They do so many good things as a company and when I went through their catalog, I couldn't help but stop at the socks. Here is my full Bartram Socks review that you and the environment will love. 
Bartrams Socks by United by Blue Review: Catching Fish Shooting Clothes
In the fall, UBB followed volunteers for Conservation Northwest who documented the crossings of bears, wolverines, and other wildlife by placing cameras triggered by motion sensors near I-90 in Seattle. Their goal, to build a sustainable solution to help conservation efforts and a company that sells ethical clothing. One of their initiatives, Tracking Bears & Wolverines With Conservation Northwest, is to help create a more suitable habitat for all sorts of animals in the Northwest:
"What's easy for us to move on is easy for animals to move on," explains Chase Gunnell, Conservation Northwest's Director of Communications, as he unpacks his supplies. Chase and three of his coworkers, Laurel Baum, Alaina Kowitz, and Jason McCue, have led us down a regrown stretch of road to unearth which animals have moved through the area, some only hours before we arrived.
As a B Corp, United by Blue (UBB) not only removes one pound of trash from waterways for every product sold: the company supports conservation by telling these stories, hosting clean-ups, and making goods from long-lasting and sustainable materials.
Related podcast: How Rachel Faller is Disrupting the Clothing Industry
I had admired the evergreen design and cross pattern in two styles of UBB's Bartram's socks online for several weeks before the fall catalog arrived. There, the array of sock colors was creatively featured.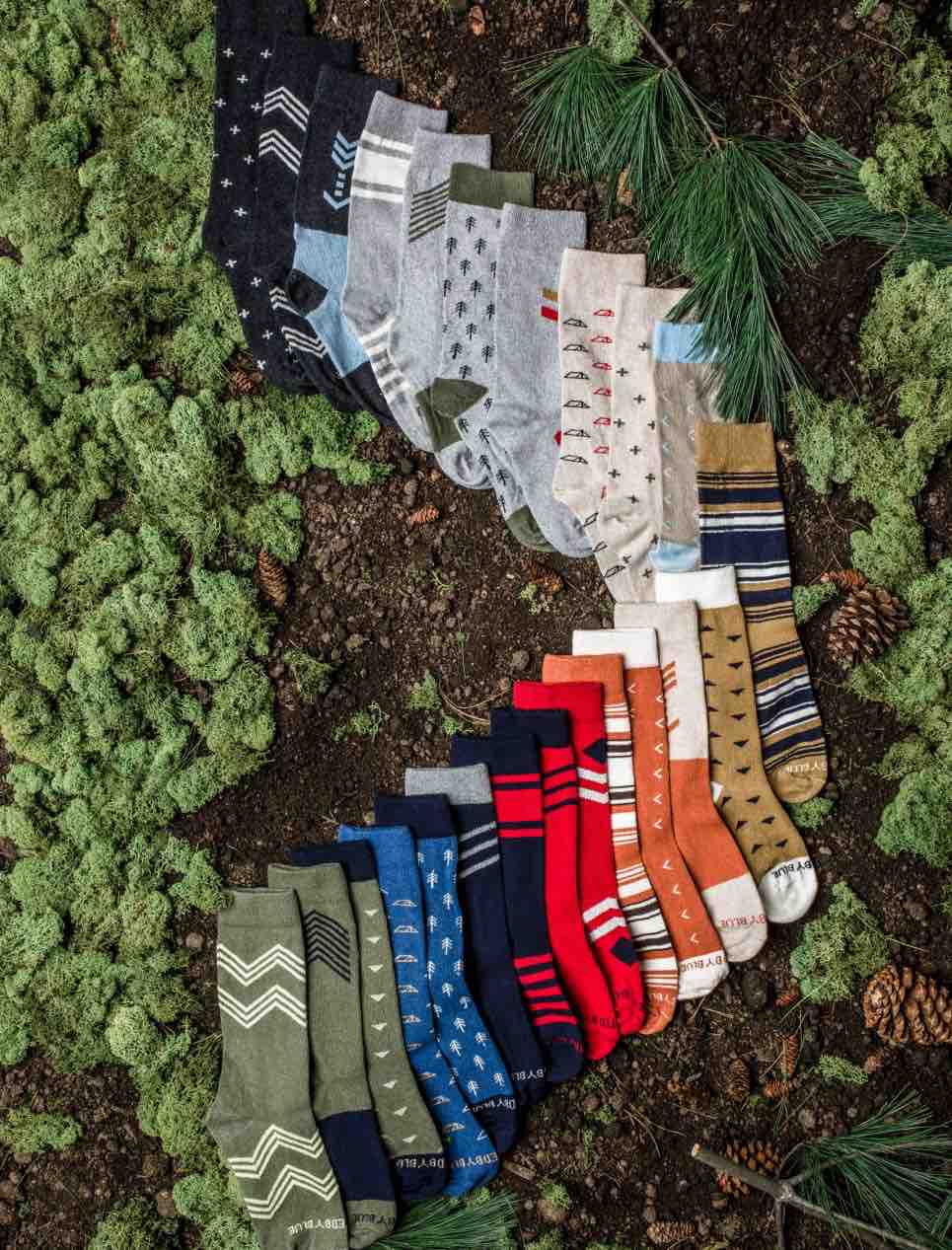 (photo courtesy of UBB)
Reading the fine print excited me: 65% recycled cotton. The Fairtrade Foundation's 2015 Cotton Commodity Briefing details the human, economic, and environmental challenges of cotton production.  With 2,720 liters of water per cotton t-shirt and 10,850 liters per pair of jeans, conventional cotton production can easily deplete and pollute local water sources. The briefing also cites the World Health Organization's classification as hazardous $819 million of the $2 billion spent annually on chemical pesticides for cotton. Since its start in 2010, United by Blue has used organic cotton, which does not involve chemical fertilizers or pesticides. Recycling cotton prevents further waste and damage from cotton production.
Related article: The Top 7 Socially Aware Clothing Companies to Watch Out For
I hadn't known how much UBB used recycled materials in their products, and I contacted them to find out more about Bartram's socks. Here is my interview:
About Bartrams Socks
KJFG: Why are these socks named Bartrams?
UBB: Bartrams Garden is a beautiful botanic garden in our hometown of Philadelphia; it is also the site of our very first clean-up in 2010. It is still a spot that we visit often and have removed over 40K pounds of waste. The Bartram's Sock Collection is a homage to one of our favorite places in Philly.
KJFG: Which came first: the design or the material?
UBB: Sustainability is at the core of our business so the material came first but the designs weren't far behind.
KJFG: How is this cotton recycled? Where does it come from? What is the process for recycling it?
UBB: The yarn is sourced domestically from a company that uses a unique process of recycling textile waste. This company brings in cut scraps/textile waste from a variety of manufacturers, the material is then sorted by fiber content and color, and reclaimed into a fiber that can be spun with staple fibers to become yarn.
KJFG: What are the other materials in the socks?
UBB: The other materials are simply added for function or design aesthetics.
KJFG: Why did you choose the manufacturer in North Carolina?
UBB: When developing this collection, we had US manufacturing in mind and found a great partner in our manufacturer in NC.
Where You Can Find United by Blue Clothing for Yourself
Many of UBB's other products feature responsible sourcing and North American production. In addition to the Bartrams socks, a beach blanket is made from recycled cotton. Recycled polyester pervades their products, being used in several styles of their beanies, jackets, bags, shirts, board shorts, and throw blankets.
Boots, tees, and fedoras are among many items made in the USA. UBB also recently shared the details of how they created an original supply chain for bison fiber, a by-product of the livestock industry that would otherwise be wasted. Journeying from Alberta and Ontario to Texas, the bison fiber is combined with recycled polyester and low-melt polyester to be used as insulation in outerwear.
Check out the Bison Sport Jacket, a beautiful and function piece.
The UBB headquarters and flagship store are in Philadelphia, 35 miles from where I live. I would buy from them if they were 3500 miles away because they built a conscious company and a community of consumer-volunteers to face the issue of water conservation.
Since 2010, they and more than 7500 volunteers have removed over 1 million pounds of garbage from waterways in 27 states. After Hurricane Sandy in 2012, they canvassed affected residents, distributed donations, and removed debris in Ocean City, NJ and Staten Island, NY.
In one of several collaborations with Subaru of America, Inc.—whose corporate offices and operations are nearby in New Jersey—they removed a sum of 37,000 pounds of trash from the Trinity River in Dallas, TX between 2013 and 2014. In 2017, UBB joined like-minded co-op REI for two road trips of cleanups: one on the West Coast in Southern California and one on the East Coast from Pennsylvania to Connecticut. They have also organized events in Canada and Taiwan.
See the next UBB water conservation project at their website.