Before the arrival of website building tools, if you needed to design and develop your own website, you had three options available.
1. Learn Web Design & Web Development yourself
2. Hire an experienced web developer to build your website
3. Get a 'pre-designed' website on WordPress.
The problem with the first option is that you need lots of time to learn how to build a website. The problem with the second option is it costs a lot of money. The problem with the third option is you don't have a lot of control about the design of your website.
Website builders solve these problems. The advantage of using a website builder like Wix is that:
You can build your own website by yourself without learning to code.
You don't need a big budget to build your website.
You have full control and can make your website exactly the way you want it.
 Why Use a Website Builder?
These three reasons are why website builders have taken off in popularity. Wix, the website builder we're about to learn more about, has more than 110 million users.
In this guide, we'll show you exactly how to use Wix so you too, can build your own website as soon as today!
You'll learn the different tools and options available, and how to navigate and make sense of the interface, which we admit, can be overwhelming at first sight.
Wix – A Short Review
Wix is a 'visual' website builder.
This means that In Wix, you don't code to build your website. Instead, Wix has a drag-and-drop website editor where you can put elements of your website by clicking and dragging things onto the screen.
For example, if you need to add text, just add a text box to your website and type in some text. Then drag the text box wherever you want.
And just like that, you can add everything from images and videos to blog posts, drop down menus and more. Everything is added by dragging and dropping
This is basically how you build a website on Wix.
But do you know what's the best part?
Designing and developing your website inside Wix is completely free.
Without paying a single penny, you can create unlimited pages for your website and use any of the features available to build and design your website.
However, hosting your website is not entirely free.
To start, Wix gives you:
Access to their 100+ templates
A free subdomain ending with '.wix.com'
500 mb storage for your website media
500 mb bandwidth for traffic
Ability to use all their tools to build your website
This gives you a solid foundation to get started. But if you are serious about creating a website, you'll need to subscribe to one of their monthly premium plans – most of which are less than the price of a Starbucks coffee.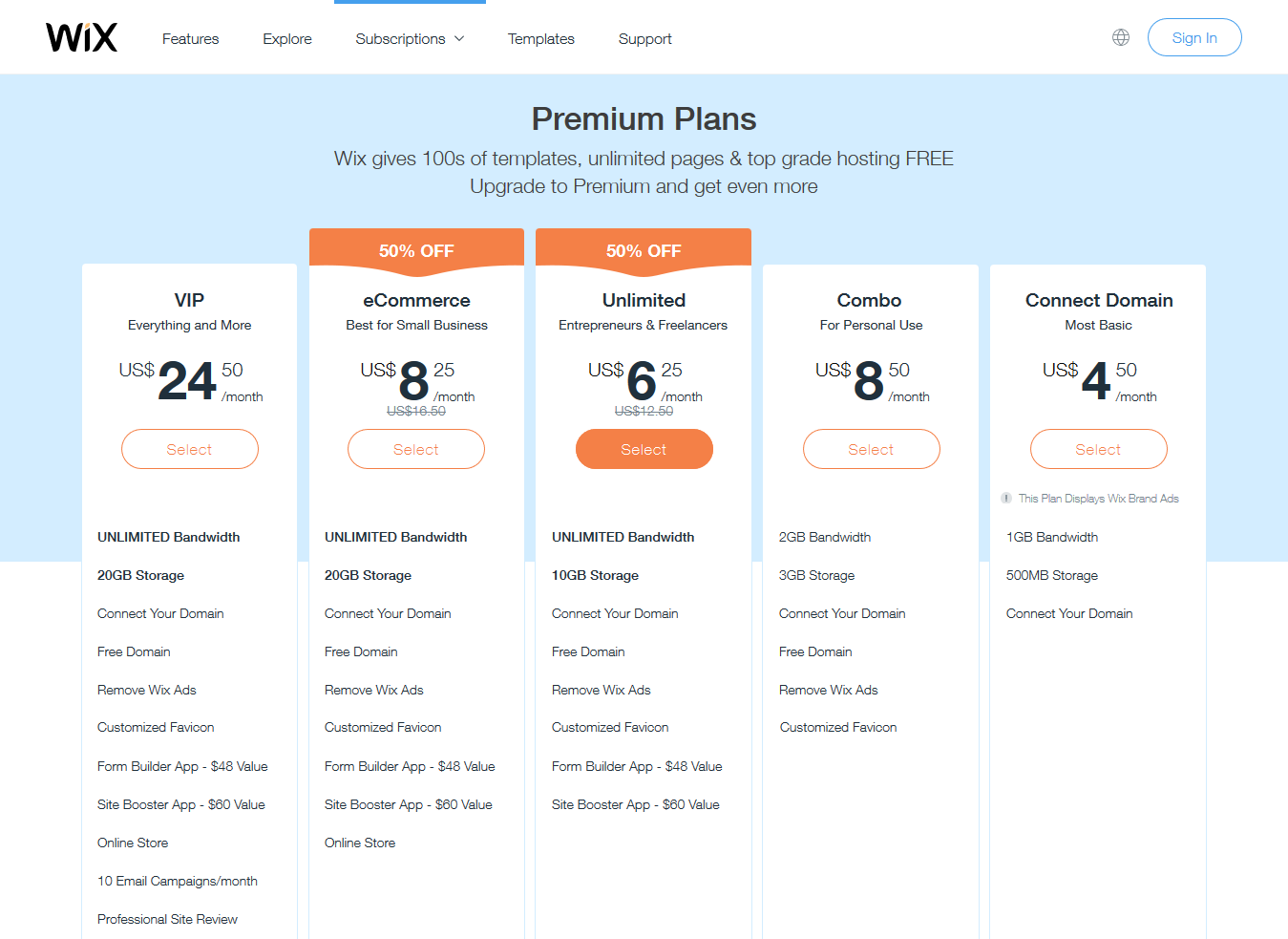 Know that all premium plans include free hosting, the ability to connect to a dedicated domain name, 500+ mb of storage and 1+ GB bandwidth. Plus, with the unlimited and ecommerce plan, you get the form builder app and site booster app, both which are awesome tools for your website.
And that's all you need to know as to what Wix is.
Now let's get to the part you actually came for: how to use Wix to build your website.
How To Use Wix: Getting Started
Before you can use Wix, you need to sign up and create an account. To go to the signup page, click here
There are two ways to sign up on Wix.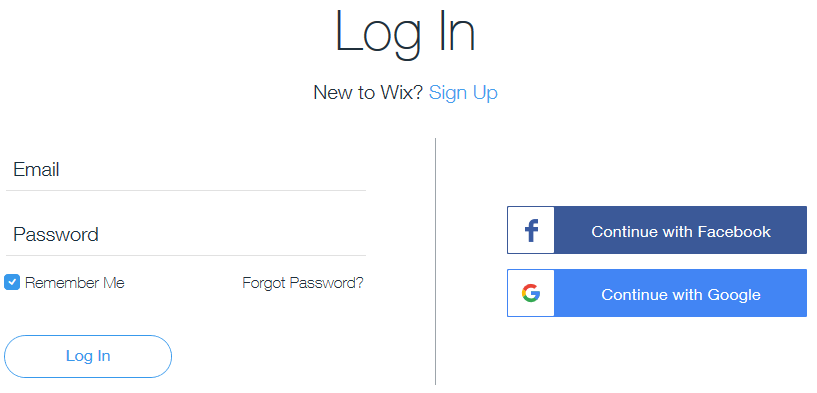 The first (and easiest) way is to simply continue with either Facebook or Google. Doing so will log you in without having to fill any signup form.
The other way is to click on the 'sign up' button under Log In and fill in the signup form.
Once you're in, Wix will ask you a few questions regarding what kind of website you want.
It takes less than a minute to answer. But if you don't want to, you can skip ahead.
Based on your answers, you'll see two main options to build your website.
a) Let Wix ADI create a website for you: With Wix ADI, you don't really have to build a website. You just answer a few questions and Wix will build your website for you. After that, it's just a matter of adding your own text, images and videos and customizing the style, fonts and animations. It's the fastest and easiest way to build your website.
b) Build your own website in the Wix editor: The Wix editor is the drag-and-drop tool with which you can build your website from scratch. You just have to choose a pre-designed (or blank) template and then customize it however you like with the editor to build your website. Yes, it takes more time but it's more fun as well.
How To Use Wix: How To Create Your Website With The Wix ADI
If your answers after the sign up suggest you're inexperienced at building websites, you'll see the following screen: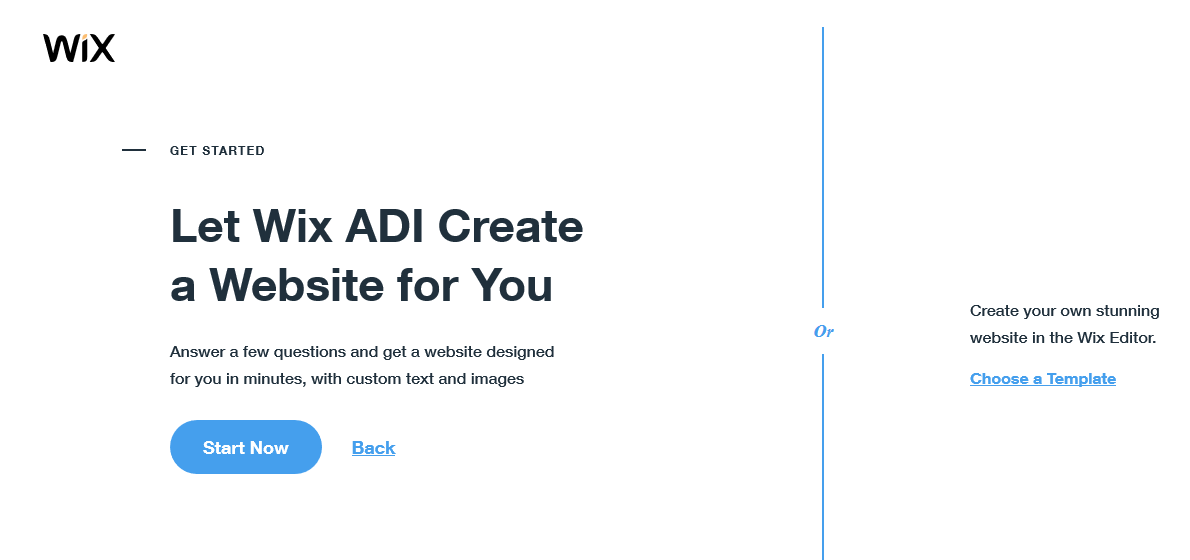 Wix will recommend you to create your website with the 'Wix ADI'. But if you want, you can build your website with the Wix drag-and-drop editor (which we'll discuss below) by clicking the option on the right side of the screen called 'Choose a Template'. Feel free to skip to that section if you want.
For now, let's see how you can build your website with Wix ADI – or rather, how Wix ADI can build it for you!
After you click the 'Start Now' button, you'll be greeted with this screen: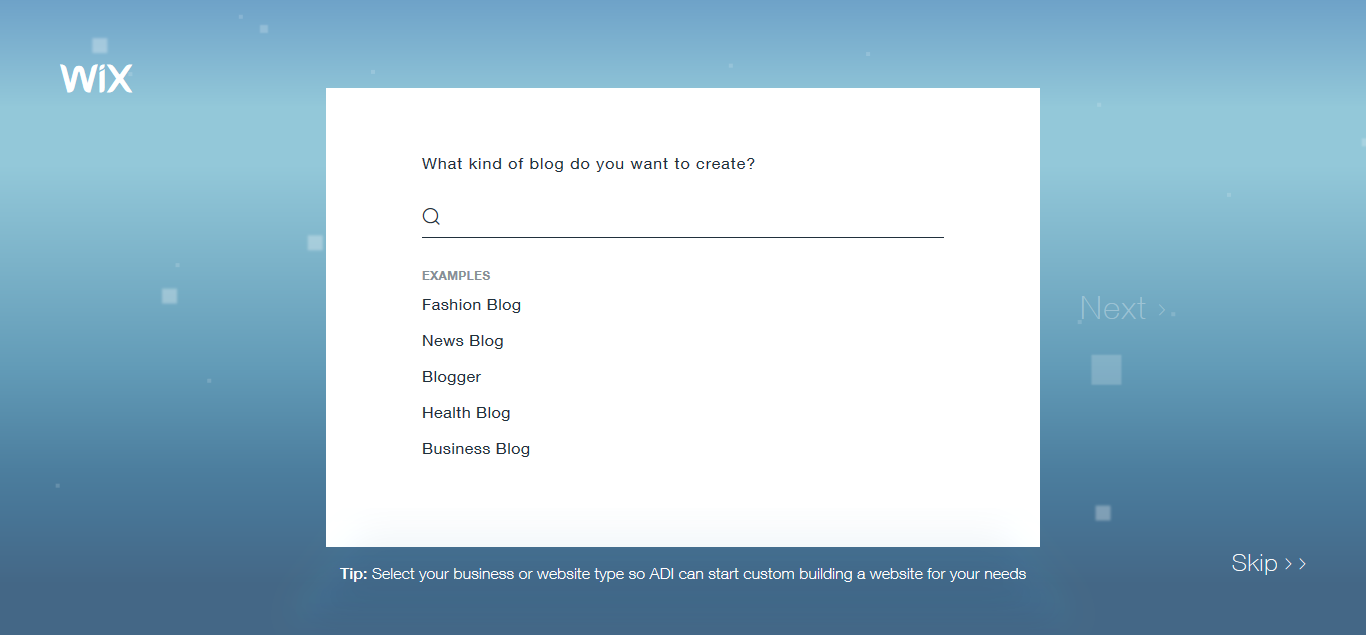 The questions are fairly straightforward:
1. First, Wix will ask you what kind of website you want. Since I told Wix I wanted to build a blog website at the start, it's giving me suggestions of different blogs I might want to create.
2. Next, Wix will ask you whether you're going to sell, have subscribers or take bookings or appointments on your website. Check the desired options.
3. Then enter the name of your website.
4. Next, enter the location of your business (if you have a physical address). Otherwise just skip this step.
5. Finally, you'll see a form where you'll have to enter details such as your logo, links to your social networks, address, numbers and more. Just enter the details you want and click next.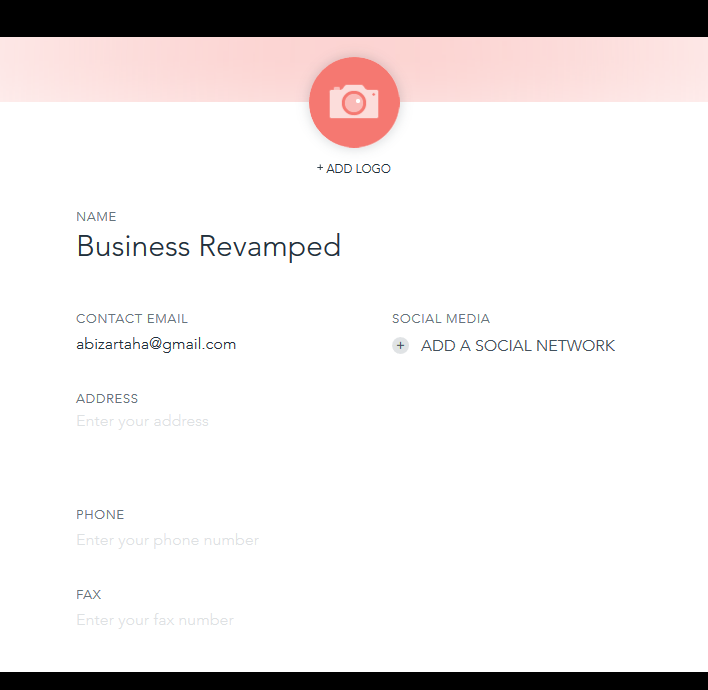 That's it.
After you answer these questions, Wix ADI will show you different designs you can choose for your website. Once you choose, the ADI will automatically create your website for you.
You will see that you don't actually have to build a website – rather, the website has already been constructed and you just have to edit it to make it your own.
Once you're inside the Wix ADI, this short 3 min video will clearly explain how you can customize your website using the Wix ADI:
How To Use Wix: How To Build Your Website Using The Wix Website Editor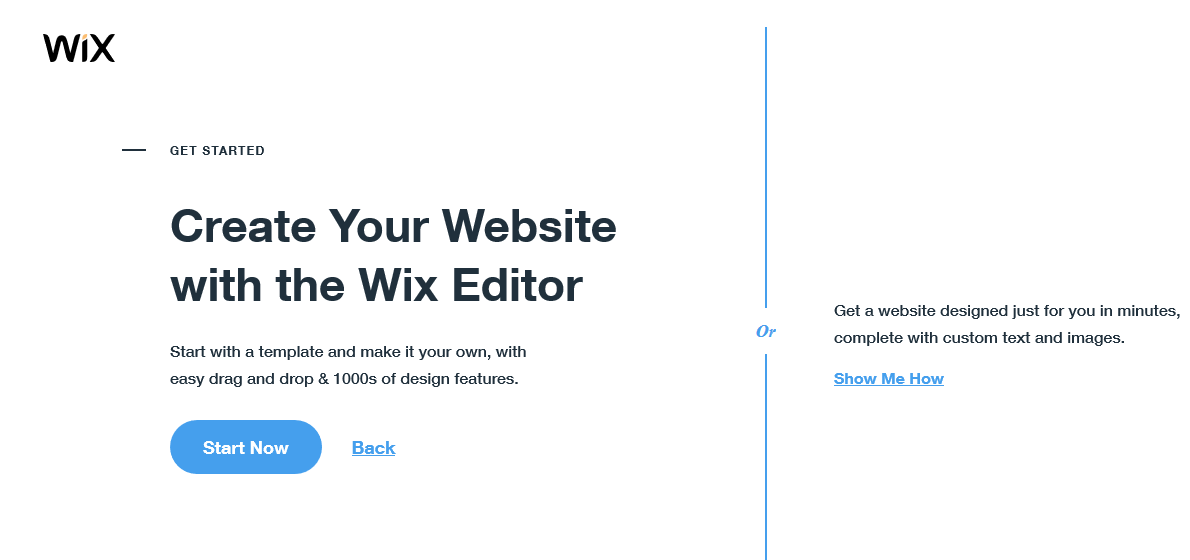 If you've chosen to build your website with the Wix editor, you'll see this screen: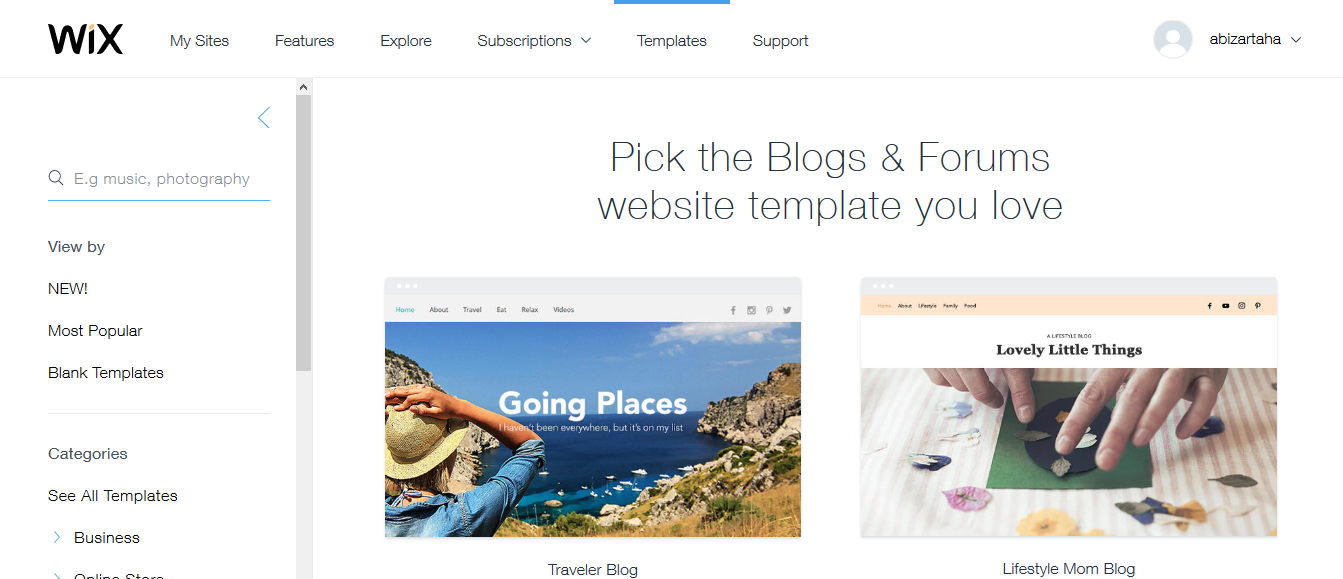 Here, you can choose any template you want for your website. If you don't have experience designing a website, it's recommended you select a template.
Take your time to explore the templates. There are lots of them!
And if there's any part of the template you don't like, you can always change it.
But if you want to completely design your website from scratch, you can choose a blank template from the list of templates on the left-hand column.
Will give you a blank slate to start from to build your website.
Choosing a template will open up the Wix editor in a separate tab.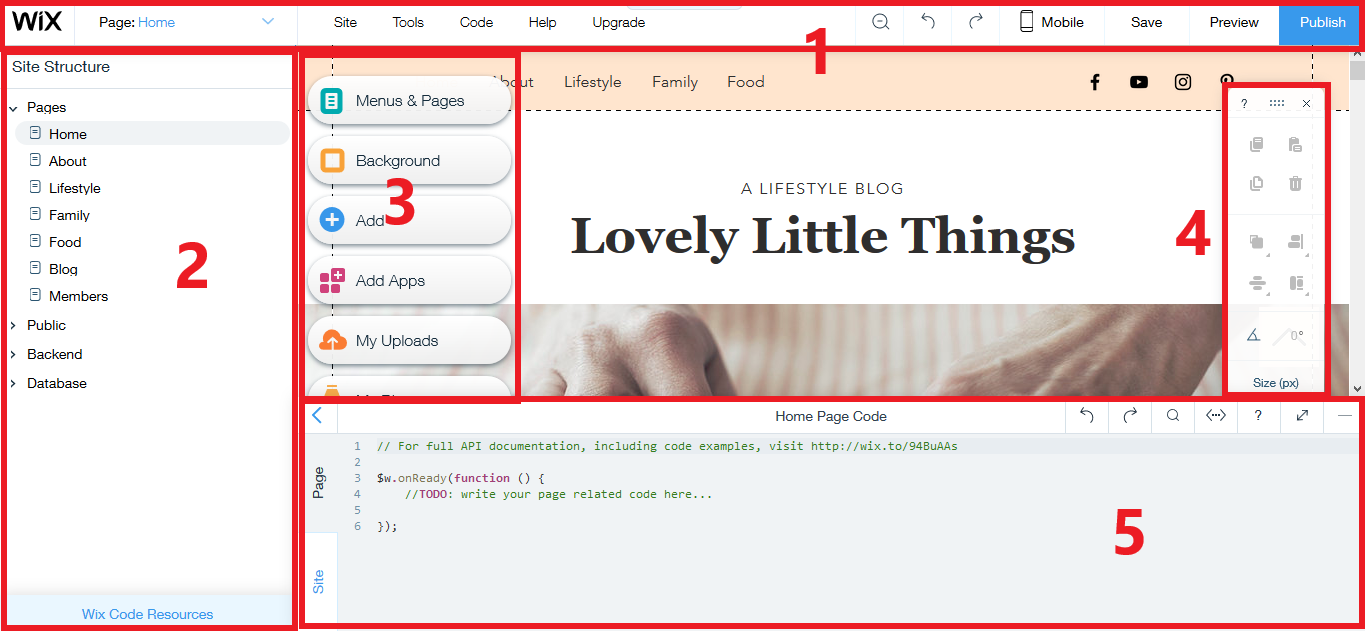 To make sure you can easily understand the editor, we've divided it into five parts:
1. The Header: This is where you can navigate the menu of Wix's editor. Here you can choose what page of your site you want to edit, explore the menu options such as 'Site', 'Tools' and 'Upgrade', undo and redo your edits, switch to the mobile version of the site, and print, preview and publish your website.
2. The Site Structure Column: On the left-side of the screen, you'll find a column that lists the hierarchy of your website. This is an easy way to see what page of your website is located where. If you're an experienced web developer, here you can also add .js files, web modules and your own Wix media files located in the database cloud.
3. The Hover Menu: This is where the magic happens. If you want to add something to your website, you do it from here. It's divided into six sections: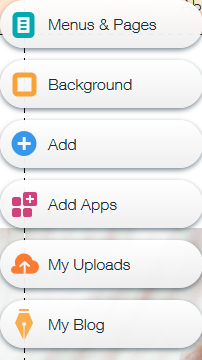 Menu & Pages: This is where you control the menu of your site and what pages goes under which menu. You can also change the animation of your pages.
Background: If you want to change the background of your pages, you can do that here. Simple choose an image, video or color of your choice. Or upload your own!
Add: This is the most important menu. Everything that can be added to your website is added from here. Images, text, blog posts, gallery, about me sections, testimonials, sliders, APIs and more!
Add Apps: This is Wix's version of plugins. If you want to enhance the functionality of your website, you need to add apps like 'site search' which let your visitors search your website, 'form builders' which let you create forms your users can fill and 'visitor analyzer' which tracks how users are engaging with your website. Explore and choose the app you want!
My Uploads: If you'd like to upload your own media to your site, this is where you can do it.
My Blogs: There's a great chance you'll be adding a blog to your website. This is where you can write new posts and add blog posts to your website.
4. The Toolbar: Any element you add to your page, this is where you can interact with it. It gives you options to copy, cut and duplicate elements. Moreover, you can also change the size, position and orientation.
5. Wix Code: Wix code lets you add more functionality to your website. Using this console, you can write your own Javascript code or add APIs. This short, two-minute video will better explain what Wix code can do.
Final Thoughts
Till now, Wix is the most impressive website builder we've found. Sure, there are others as well that may be just as powerful.
But what makes Wix so different is the highly active developer community behind it.
When you use a website builder, you run into problems. But since Wix has such a big community, you'll surely find solutions all over the internet. Moreover, Wix also offers additional services as well such as domain registration, SEO analysis, logo creator and more- but that's another topic for another article.
For now, head over to Wix.com and create your free account to build your very first website.
Hopefully, you'll have a lot of fun exploring and building on Wix just like we did!