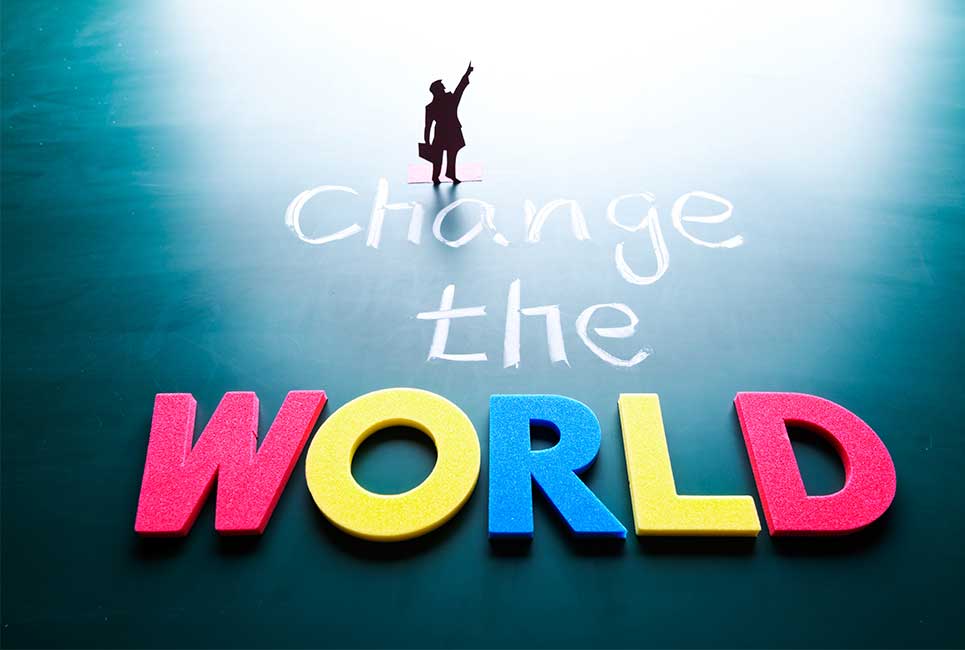 When it comes to choosing the right company to work for, millennials look for companies that embrace corporate social responsibility (CSR) towards people, the planet, and revenue. In other words, they want to work for a company where they can feel they can make the world a better place and a company interested in more than just making a profit. It's what's known as an impact career. Read on for our list of ten companies where you might consider creating your own impact career.
The Reputation Institute's Top Four:
Every year, the Reputation Institute publishes the results of its top 100 CSR companies research. The Reputation Institute identified the following top four companies for 2016 that remain committed to corporate social responsibility (CSR), that exemplify good corporate citizens, that run responsibly, and that make appealing places to work. We listed the companies in order 1-4 (with 1 being the best).
Google – Carbon neutral since 2007, Google started environmentally friendly programs, including Google Green. Google remains committed to workplace diversity and has a good reputation for employee friendly practices. Google has been number one on Reputation Institute's top 100 list for the last three years running.
"My job as a leader is to make sure everybody in the company has great opportunities, and that they feel they're having a meaningful impact and are contributing to the good of society. As a world, we're doing a better job of that. My goal is for Google to lead, not follow that." (Larry Page)
Microsoft – Microsoft climbed two places since last year to rise to 2016's number two company. The company has a good reputation for labor and human rights with respect to hiring women and minorities. Microsoft purchases billions of kilowatt-hours of renewable energy each year. All Microsoft data centers have a Power Usage Effectiveness rating that is 1/3 less than the average data center. The data center giant also has a carbon offset portfolio that offsets CO2 emissions. The Microsoft Youth Spark Initiative creates opportunities for 300 million youths. By the end of 2014, the Initiative had already created opportunities for 124 million youths.
"Technology is unlocking the innate compassion we have for our fellow human beings." (Bill Gates)
Walt Disney – Disney has held the number 3 position since 2014. Disney has a strong environmental policy and pursues philanthropic goals. It focuses on labor standards, community, and volunteerism. Proceeds from Disney nature films have planted 3 million trees in Brazil's Atlantic Forest, helped to provide protection for 40,000 acres of the Bahamas' Coral Reef, and helped save 50,000 acres for wildlife in the African savannah.
"All our dreams can come true, if we have the courage to pursue them." (Walt Disney)
BMW – The car company has over 20 corporate social responsibility initiatives in over 140 countries. The company supports a diverse workforce, supports hiring older workers, integrates people with disabilities into their facilities, and agrees with the millennial generation on the issues of corporate responsibility and environmental sustainability.
"As far as I'm concerned, it is clear that the concept of premium will be increasingly defined through sustainability in the future. BMW, like no other brand, will still stand for vitality and driving pleasure in the future. But it will also represent efficiency and environmental friendliness." (Norbert Reithofer)
Other corporations also have excellent reputations for dedication to corporate social responsibility. Here are just a few:
Amazon – According to a Harris poll released in February 2016, the American public rated Amazon the top corporation when ranked for social responsibility, emotional appeal, products and services, vision and leadership and workplace environment. The Harris Poll survey asked 23,000 Americans to rank 100 companies. In 2013, Amazon launched AmazonSmile, a website that activates a 0.5% donation to charity every time consumers shop.
"I strongly believe that missionaries make better products. They care more. For a missionary, it's not just about the business. There has to be a business, and the business has to make sense, but that's not why you do it. You do it because you have something meaningful that motivates you." (Jeff Bezos)
Seventh Generation – The "Better World Shopping Guide" publishes a list every year that rates every company on the planet as to its environmental and social responsibility. For five years running, the Guide named Seventh Generation the best company on the planet and a "green hero" for its environmental sustainability.
"The vision behind our idea is a world where people don't carry hazardous chemicals in their bodies, the environment is free of toxic pollutants, and the economy diligently conserves its natural resources for consumers and future generations. We want to make it easier for consumers to create this world through their purchasing decisions and everyday activities." (Jeffrey Hollander)
Patagonia – From its earliest beginnings in the 1970's, the sustainable outdoor clothing manufacturer Patagonia has followed a green agenda. It encourages customers to buy only what they need and to "reduce, repair, reuse, recycle, and re-imagine". The idea of the "profitable good" is at the heart of their business model. The company promotes fair labor practices and safe working conditions throughout its supply chain.
"How you climb a mountain is more important than reaching the top."(Yvon Chouinard)
Ben & Jerry's – For over 30 years, Ben & Jerry's has been a pioneer in the socially responsible business movement. The companies in the movement that Inc. magazine says meet the highest standards of social responsibility are known as B Corps. In 2012, Ben & Jerry's became the first wholly-owned subsidiary certified as a B Corp. A generous part of B&J's cost of goods sold (45%) goes to invest in small suppliers through its Caring Dairy program. B&J's uses US pint containers made of 100% FSC-certified paperboard. In addition, the lowest paid hourly worker receives 46% above the living wage.
"Now, when we face a problem like global warming, and you understand that the biggest impacts on global warming come from business and industry, I think business needs to take a leading role." (Ben & Jerry)
Starbucks – The company has a goal to 100% ethically source its product. Another part of its CSR efforts was the Coffee and Farmer Equity (CAFE) Practices whose goal is to ensure that the farmers at the base of the Starbucks supply chain are economically healthy.
"As a business leader, my quest has never been just about winning or making money. It has also been about building a great, enduring company, which has always meant striking a balance between profit and social conscience." (Howard Schultz)
Tom's Shoes – began with the idea that for every pair of shoes sold, a pair would be given to a child in need. In four years, the company donated 400,000 pairs of shoes. The CSR program is successful partly because it ties the donation directly into the consumer's purchases, allowing them to feel good about what they buy. Tom's Shoes expanded its giving to needy people from shoes to sight, clean water, safe birth, and bullying prevention services.
"The goal isn't how much money you make, but how much you help people." (Blake MyCoskie)
To talk more about corporate social responsibility or share other companies you think are good to work with please leave a comment below.