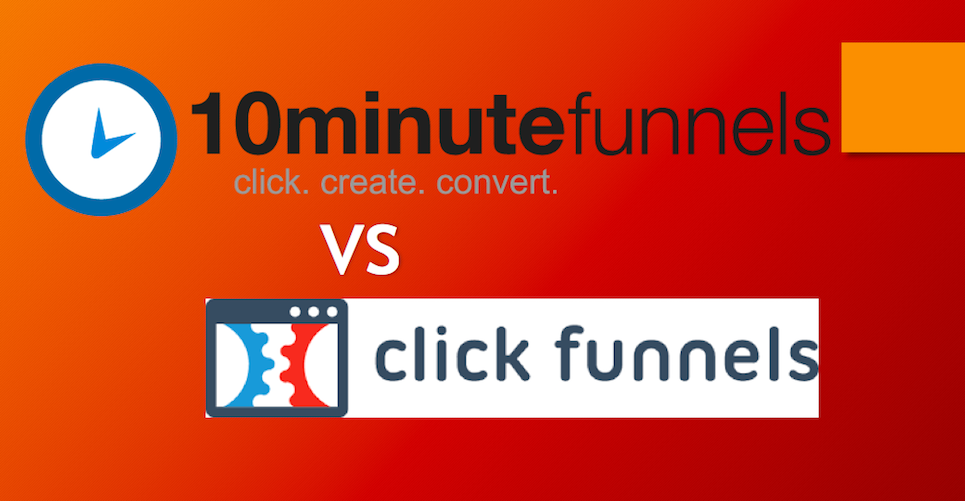 As you know 10-minute Funnels vs Clickfunnels are funnel building applications and before we jump into comparison lets quickly go through what Funnel builders are actually for…
What are Funnel Builders anyway?
You need a funnel builder if you are looking at "upping your game" on lead generation/Conversion or sales. Funnel builders help you to quickly devise funnels for varied needs… think of opt-in (build mailing list), webinar, membership site, e-commerce (create upsells/down-sells) or even create sales or membership pages.
Funnels are mostly used with paid traffic to test and optimize conversions quickly. They not just let you create awesome funnels but also let you track stats and do split testing. Funnel builders may well be used along with websites or independently… Some people find the ease of creating web pages so appealing on these funnel creation applications they prefer to develop their whole website on them.
The option of inclusive web hosting and absolutely no hassles to maintain server is particularly appealing. Add to that powerful option of webpage editing it becomes a no-brainer solution.
If you are someone trying to finalize on funnel building software I am sure you would want to know how 10 Minute Funnels compares with Click funnels.
But before we go there how about taking a flashback?
Flashback: A Time Before Online Funnels?!?
There was a time when the term "Funnel" was not so well understood as it is today. The only landing page builder was Optimisepress or you could do it manually. If you didn't know Optimisepress is a plugin for WordPress websites and is operated from the website backend(Admin Interface). The issue with this method is that you need a domain and a hosting plan first…Then only you can move to building funnels or landing pages. A lot of people are actually using Optimizepress effectively to this day.
Then Leadpages came to the fore. Unlike Optimise press Leadpages is a hosted solution… Where you wouldn't need domain or hosting of your own to begin using landing pages. The concept of a website editor outside your own website was largely unknown and a welcome feature. Now you could have your website or landing pages online without worrying much about load speed or management of the hosting server.
When Leadpages came in they provided you with a fantastic interface to build leadpages and its functionality was driven to make this a great user experience. However, we have to note that this is the time when understanding what "converts" and the significance of building funnels was still in infancy.
As the time went by the concept of "Sales funnels" began to show up and people realized that they had to build an awesome customer experience through a series of sales pages/order forms/Upsells/Downsells to take the real advantage of unending internet traffic.
This emerging opportunity was cashed in by applications like Clickfunnels or 10-minute funnels… These applications took the aspect of lead generation, conversion/sales to a whole new level. More and more people started to bank upon the accepted wisdom of "what worked" and were eager to experiment.
Fast Forward Today! The World of Online Funnels Awaits!
Now businesses started focussing on the "Funnels that convert" instead of landing pages as an entity. This helped everyone to have a bigger picture and see the entire process of lead gen and conversion as a flow.
This called in for new challenges and expectations rose on what people need to see in there interface and dashboards…Along with what they would be willing to pay!
And that brings us to the comparison of two major players in the Funnel building space:
Clickfunnels vs 10-Minute Funnels: The Comparison
Let's look at what comes out when these are pitched against each other as a solution to funnel building.
At a high level, a funnel builder like Clickfunnels and 10-minute funnels let you accomplish the same task of building great opt-ins/sales funnels. The difference mainly lies in the interface and what you get with the package.
Both applications essentially provide you the functions of Funnel building with easy options to create and modify funnels and pages, funnel templates, integrate applications like autoresponders and payment systems at the click of a button. You don't have to touch any codes to accomplish a advanced customization. This helps you to engineer the customer experience at the most granular level.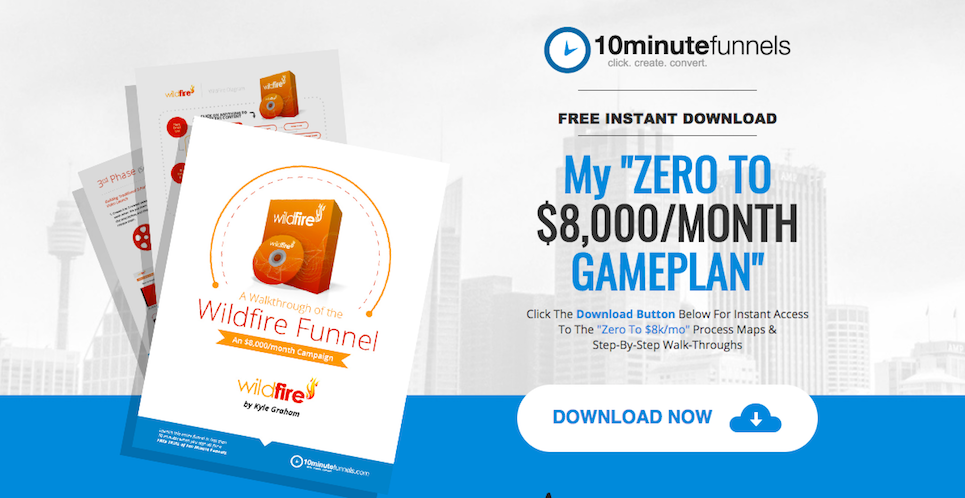 Pricing — How Do These Compare?
Clickfunnels and 10-minute funnels are competing at the same price point for their primary offer.
You get started at $97: Both are priced at $97 for their basic offer but the packages are different…
Clickfunnels and 10-minute funnels both give you a package that put limits… 20 funnels, 100 pages, and 20,000 visitors.
These limits can be removed if you upgrade your plans which is $297 for Clickfunnels and $197 for 10-minute funnels. However, the upgrade with Clickfunnels gets you the added benefit of using an inbuilt affiliate program or interface through which you may add and track your own affiliates. And also an Autoresponder solution with advanced functionality.
Thus Clickfunnels is a solution to go for if you want to ramp up quickly to a well-rounded business that also utilizes the aspect of affiliate marketing and an inbuilt autoresponder solution.
You also have different trial offers. While you can try a free trial with Clickfunnels for the first 14 days you got to pay $1 to try 10-minute funnels for the same period.
Look and Feel: The Interface Comparison
Clickfunnels has a feel of layered functionality where you can click and learn more about something… While 10-minute funnel provides you with "drag and drop" functionality and almost mimics a process builder. This brings in intuitive process flow orientation and lets you see all your funnel steps as a self-explanatory map. This is a great way to convert your ideas into quick workable funnels.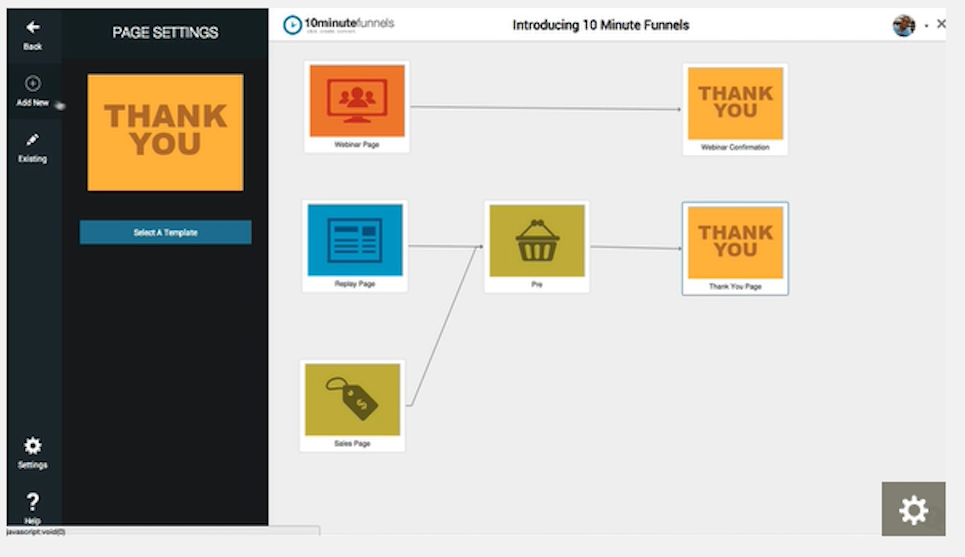 Clickfunnels does have full funnel visibility but not in process map mode.
Ease of Use
10-minute Funnels was built further on the functionalities Clickfunnels provided. It has redefined the way funnels are created and modified. Imagine just connecting the lines to make or modify a funnel flow. The best part is you can just pick up one of the pre-built marketing funnel campaigns and just modify any of the pages instantly… This is very helpful to creatively formulate the experience you want to provide your audience. It is quick and extremely effective.
The editor windows of both the applications are significantly different too. While Clickfunnels opens new side windows to edit a page.(Click to go deeper) The 10-minute funnels very interactively highlight all the items that you may edit on a left panel. We can say without any hesitation that 10-minute Funnels provides a much more intuitive way to create and edit funnels.
10 Minute Funnels vs Clickfunnels: Which is Best?
Using a funnel builder software like Clickfunnels or 10-minute funnels you create funnels like a pro. Both are great applications and will significantly reduce the guesswork. Now you can create funnels that really convert… The effort is to make sure you succeed and both the applications.
In the end, what to use… Clickfunnels or 10 minutes funnel is your personal call and you should choose what suits you best… However, there are a couple of aspects that are needed to be highlighted.
Clickfunnels is much widely accepted funnel builder and largely dominates the funnel building market. It is seen not just as funnel builder but also a Business Suite that takes care of online business aspects of affiliates and autoresponder (upgrade priced at $297).
Clickfunnels is a bit older in the market than 10-minute funnels and has a lot of people who will actually swear by it. While there is no dearth of success stories with either application.

Clickfunnels has much longer standing and a much wider customer base. If you are looking at an accepted industry norm Clickfunnels wins the race by a mile.
10 minutes funnel is relatively new and incorporates "intuitive process flow" styled graphical interface that lets drag and drop functionalities. This is a modern approach to building funnels and is much appreciated by progressive businesses who want to use the latest… 10-minute funnels definitely scores on the usability angel and lets you embrace the best practices of funnel building in a very subtle manner.

10 minutes funnel may safely be your best bet if you are trying to focus on "sales funnel space" and clear that you don't really need a native affiliate or autoresponder solution. (You always have the option to go with third-party options anyways…)

You can use the 10 minutes funnel solution without any restrictions for $197 monthly. This means you can build as many funnels or web pages you want. (Without the need of web hosting or maintenance of servers at your end)