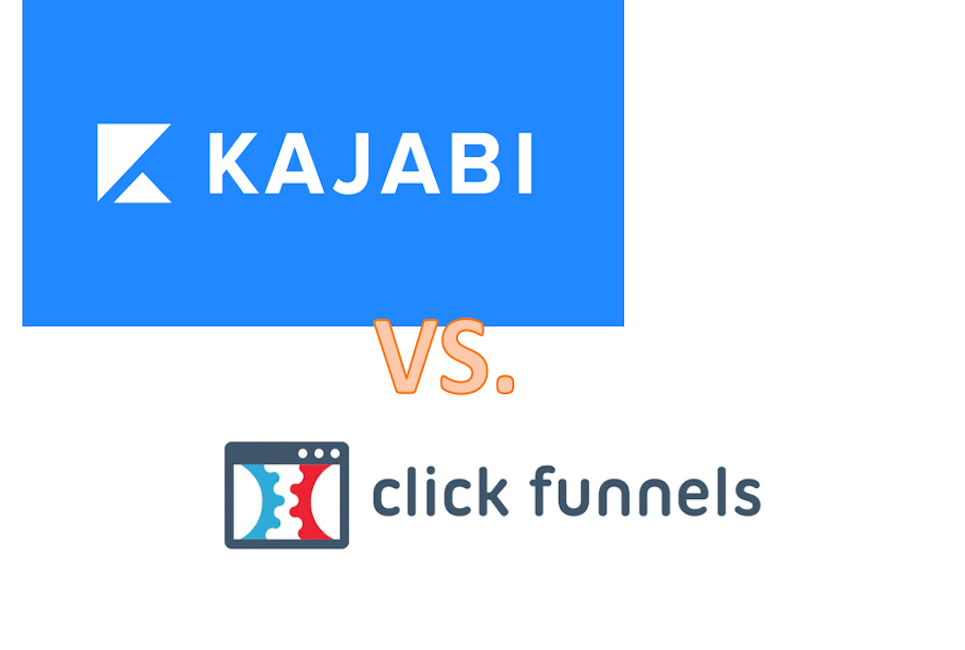 Let's start this review by understanding this: Clickfunnels and Kajabi are meant for different audience but that doesn't mean you cannot make a choice here today.
The Main Differences Between Kajabi vs Clickfunnels
The main differences between Kajabi vs Clickfunnels include:
Kajabi helps you create a content delivery system for online courses and content, whereas Clickfunnels creates sales funnel automation geared towards getting you more sales.
Kajabi is for digital educators, whereas Clickfunnels is for anyone with a digital product or service.
Kajabi is a specific tool for course creation, whereas Clickfunnels can work for anybody.
With Clickfunnels, its features are geared to towards helping you with one task only: creating awesome sales funnels that get you the more and more sales.
But Kajabi is meant for a different purpose altogether:
Its purpose is to help you create a proper content delivery system with which you can earn revenue through your courses and content.
In this review, we'll do a feature comparison of both Kajabi and Clickfunnels to see how they stack up. This will help you understand which sales funnel tool is better suited for your business. We'll compare each tool's core offerings, their CRM, and email marketing tools.
As we dive deep into this comparison, you'll see that both these tools offer similar features, yet are meant for very different audiences.
But which tool is perfect for you? Read on to find out!
Clickfunnels: The Beginner's Software For Building Sales Funnels That Actually Sell
To sell anything online, you need a sales funnel.
But building a sales funnel is no easy task. It consists of many pages like a landing page, an opt-in page, a thank you page, an upsell page and on and on and on.
To make all this yourself would require a massive budget and lots of time.
Unless you use Clickfunnels.
Clickfunnels Features
Here is a summary of the features Clickfunnels has:
Build any kind of funnel with just one click: Clickfunnels has a variety prebuilt, scientifically-proven-to-convert-funnels for hosting webinars, selling products and collecting emails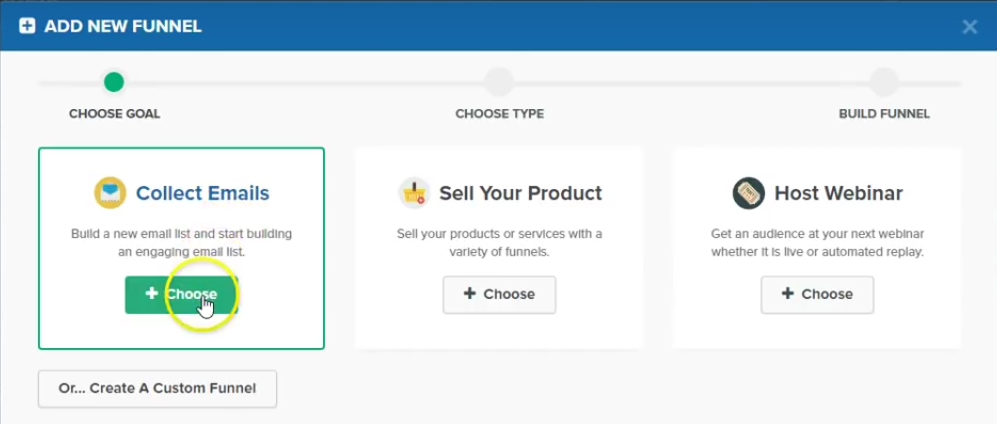 Automate your funnel with robust automation tools: Collect your leads, segment them in different groups and send them automated marketing emails and text messages.

Set up a Clickfunnels affiliate program: You can get other people to sell your products for you by paying them a small commission for each product sold.
Kajabi: The Educator's Software That Helps You Sell Courses And Memberships Fast
If you are an expert on any topic – and can wow people with amazing and high-quality content, Kajabi is for you.
In Kajabi, you can easily create sales and marketing funnels where you can sell your courses to a hungry audience that wants to learn from you.
And that's not all.
If you don't want to sell courses – and want to create content such videos and blog posts at your own pace without bundling it up, you can also create membership sites and ask your audience to pay a recurring fee every month to access your content.
It's important to note that while Kajabi is excellent for selling educational content, it's limited to just that. If you plan to sell a wider variety of products, Clickfunnels is better suited for you.
Kajabi Features
Here's a list of features Kajabi has:
Feature Rich Online Course & Membership Site Builder: Kajabi has a robust course building system with which you can set up the video course or articles and earn revenue from it, either by selling it for a fixed price or a monthly subscription.

One Click Funnel Creation With Pipelines: Pipelines is Kajabi's version of Clickfunnels. There are pre-built versions of sales funnels and digital marketing campaigns you can use to sell your digital product. However, Kajabi's sales funnels aren't as powerful as Clickfunnels are. But they include prewritten emails while Clickfunnels funnels don't.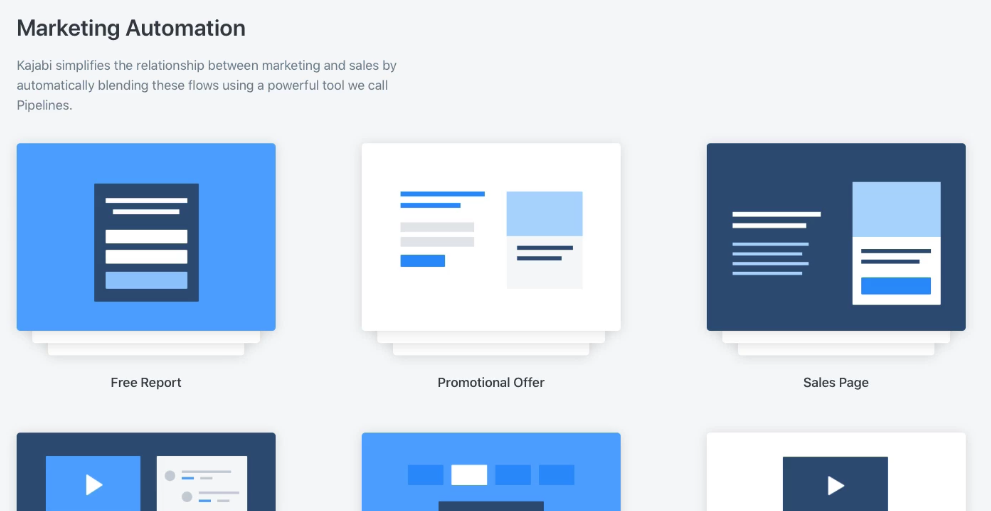 Built-in CRM: Kajabi's CRM lets see information about your customers, but not in as detail as Clickfunnels CRM does. You can see who subscribed to your courses or membership sites. In addition, you can segment leads and customers, send them marketing emails and automate your sales process.
Clickfunnels vs Kajabi: Feature Comparison
As you can see, both Kajabi and Clickfunnels have extremely similar features.
They offer website builders, pre-built sales funnels, CRM systems and email marketing automation tools – making them both an all-in-one sales funnel tool.
But this doesn't mean you can just 'eenie meenie miney mo' your way to choosing one.
Both sale funnel building software still has their own strengths and weakness.
So now, we'll go head-to-head and compare the following main features of both Kajabi and Clickfunnels and see how they stack up:
Let's start with exploring both tools core offerings, including the website builder, which is the arguably the most important part of both these sales funnel software.
ClickFunnels Core Offering: Funnel Builder
Clickfunnels main purpose is to make it easy for you to build the best sales funnel for your business that gets you the highest sales possible. That's why it gives you these features…
1. Ready-To-Use Funnels and Templates
Clickfunnels offers a huge number of prebuilt sales funnels.
You get funnels for collecting emails, selling products, hosting webinars, running memberships sites and more. Plus, Clickfunnels also gives you templates for landing pages, opt-in pages, thank you pages and more.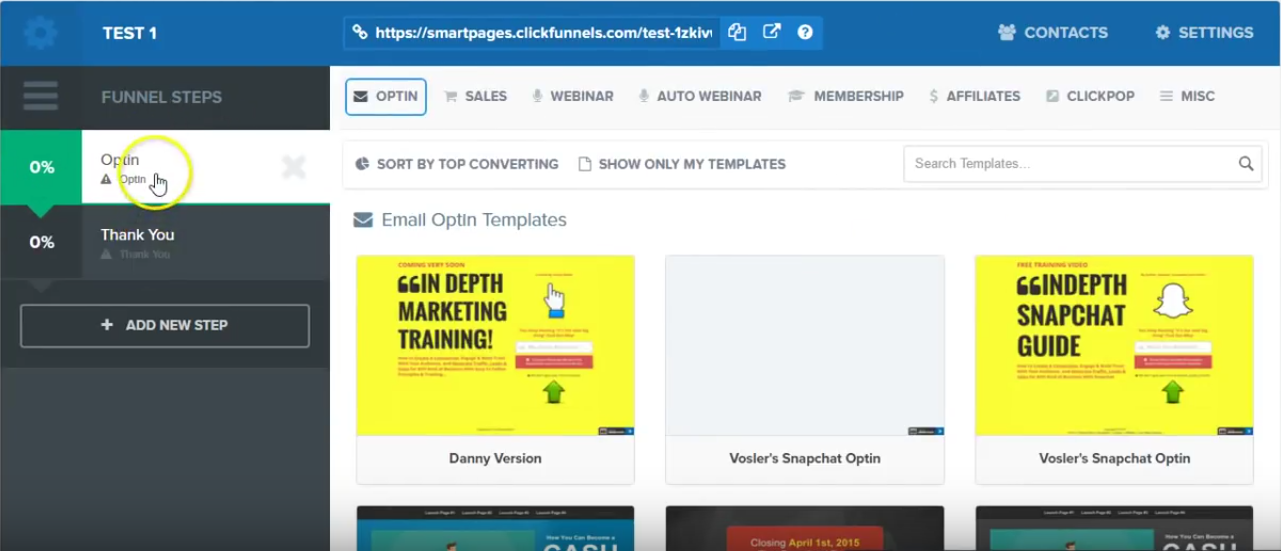 You can customize each funnel by adding new pages from the templates section or removing existing ones.
All you really have to do is edit the content within them with your own text, video, images, and offering.
2. The Page Editor
If you want, you don't have to choose a preexisting funnel or work on a page based on a template. You can start with a blank page to create your sales funnel from scratch.
All editing is done inside the page editor, where you can add everything from text, pictures, videos, checkout forms, opt-in forms and anything else that a website has.
You can change fonts, divide the page into columns, add youtube videos as your page background and more.
Once you've built your pages – and your whole funnel, you connect it to your domain, WordPress blog, facebook ad or anywhere else you want and put your funnel into action
Kajabi Core Offering: Course and Membership Site Builder
Kajabi is target towards educators, and hence, it's the biggest purpose is to help you gain revenue by selling educational content and courses.
Course Builder
Kajabi offers a robust course builder you can use to create a video course series or a membership site.
When you get started, Kajabi offers you three 'blueprints' to build a course curriculum:
1. Mini Course Builder
2. Online Course
3. Online Training
Or you can build a curriculum from scratch.
But let's say you choose the online course blueprint. Here's what you'll be presented with: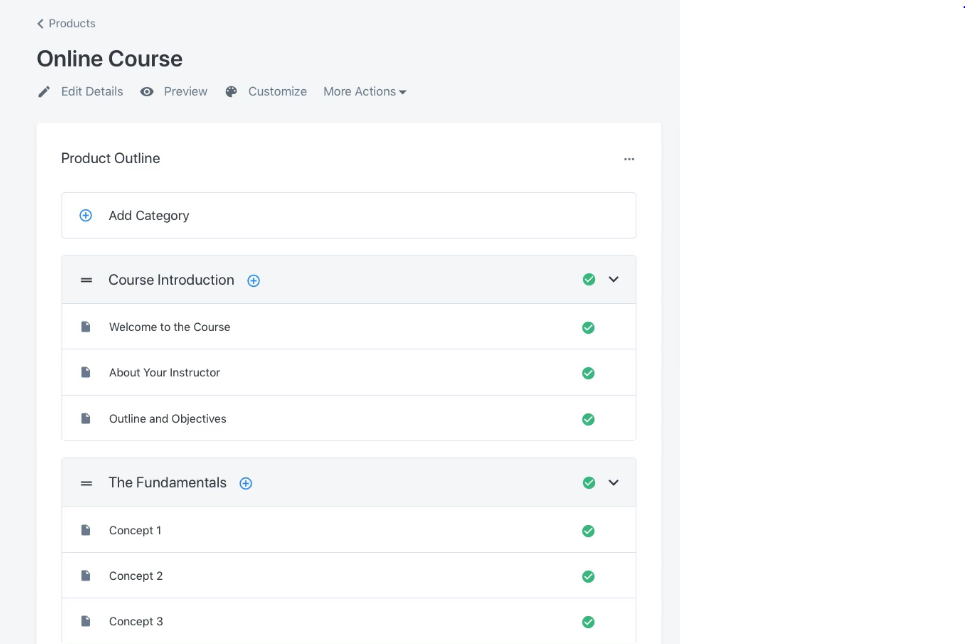 You'll see the course has been divided into categories and sections for your convenience. You just have to edit them to match the topics of your course.
Once done, you can then set the price of your course – which can either have fixed price that they can pay in full or as monthly payments. Or you can add a subscription model that gives them access to the course as long as they pay a recurring membership fee.
The Website Builder
Then you move on to the website builder and build the website by choosing a theme or from scratch. The web builder, just like Clickfunnels, is robust. You'll be able to add anything from images, videos, to opt-in forms.
One cool feature about Kajabi's web builder is that you can add prebuilt 'sections' to your websites like pricing, sales pages, opt-in form bars, testimonials and more. In addition, you can also add social cards, comment sections, countdown timers, video, text and other elements as well.
Actionetics: Clickfunnels' Email Marketing Solution
Email marketing is what comes after you've captured leads from your sales funnel. It allows you to keep in touch with your audience and keep giving them valuable information and updates to any new products and services you launch.
To do that, Clickfunnels has a robust e-mail marketing tool called actionetics.
Is basically allows you to store information about your leads, segment them based on how they interact with your funnel and send them emails and text messages with valuable information, offers and more.
Here are the top features of Clickfunnels Actionetics:
Contact Profiles: This is basically the CRM part of actionetics. Here, you can see the contact info, social profiles and other information about your leads. In addition, you can see when they've interacted with your funnel and what they've purchased.

Email Lists: This is where you can segment your leads in different leads. You can categorize people based on what products they bought (or didn't bought), which funnels are they interacting with, where they are located and more.
Email Broadcasts: In here, you can create new emails based on templates or from scratch, add text, images, videos and more. After you've 'built' your email, you can schedule it to be sent out at a specific time to whatever list you want. Or you can save it for later use.

Action Funnels: This is the best part of actionetics. Here, you can create action steps for your leads to guide them into different funnels. For example, you can automatically set up actions to send them a series of emails when they join a list, make a purchase etc. Then you can add additional steps to send different offers to members of that list. Basically, if you want to automate your e-mail marketing campaign, this is where you're going to do it.

Pipelines: Kajabi's Email Marketing Solution
Kajabi offers a similarly feature-rich email marketing service called Pipelines. This is where you can create a fully automated sales funnel that will convert your visitors into leads.
To start, you'll choose any of the prebuilt 'pipelines' which include funnels for promotional offers, reports, sales pages and more. Or as always, you can create your own funnel and emails from scratch.
But to show you how the pipelines work, let's take the promotional offer pipeline as an example.
The first thing you will see is that you have to do two things:
1. Upload the free offer: This is the document (or any file) your users will get in sales page in exchange for their email.
2. Your product: This is the course or content your customers will buy at the checkout page.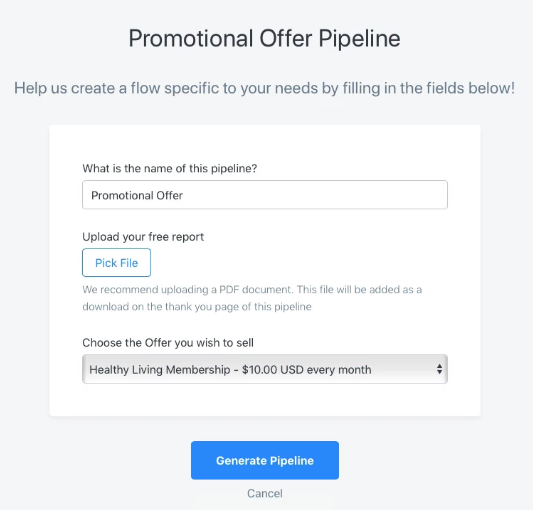 After you add this info, you'll see the whole funnel has been created instantly.
The pipeline will start with the 'promotional offer' page where visitors can enter their email in exchange for a free educational document.
Next, they'll receive two emails which will lead to your sales page.
Finally, if your leads click your CTA, they'll be directed to the checkout page where they can buy your product.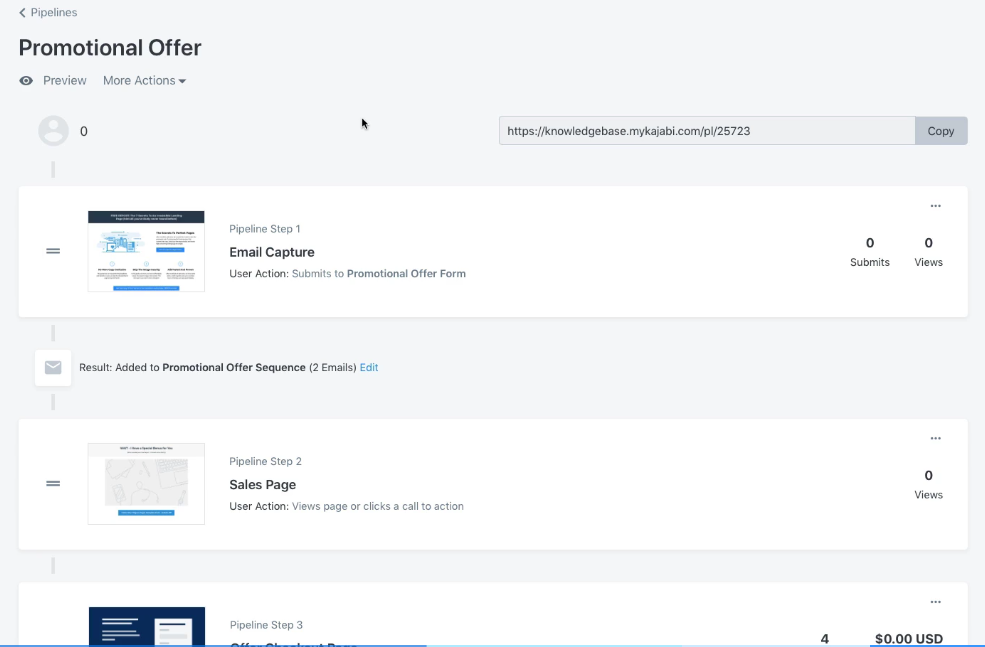 All you have to do is edit the text within the funnels with your own copy, images and videos. Of course, you can add or remove pages and emails in your pipeline and customize it according to your needs.
And in just a few hours, instead of days or weeks, you'll have a funnel you can put in action on your website.
Pricing: The Final Deciding Factor
Clickfunnels pricing starts at $97 per month. Kajabi pricing starts at $129 per month.
In the starting plan, both limit their offerings but are still reasonable.
Clickfunnels limits are:
20 Funnels
100 Pages
20k Visitors a Month
Kajabi's limits are:
5 Products
1,000 Active Members
1 Site
25 Pipelines
25,000 Marketing Emails /mo
It's worth noting that Kajabi offers all of its top features in the starting plan.
Clickfunnels does not provide the actionetics feature which includes its email marketing and funnel automation service in the basic plan.
However, if you're going to be using these products long-term and aren't strictly going to sell e-courses, Clickfunnels is a better choice.
Because as your online business grows, the basics plan's limits won't cut it and you'll have to upgrade to a bigger plan.
Unlimited Plans Compared:
The top tier unlimited plan of Clickfunnels costs $297 per month. The top tier unlimited plan of Kajabi costs $899 per month.
But it's worth noting that with Kajabi, you also get a mid-tier plan as well which costs $389 per month but comes with its own limitations:
100 Products
10,000 Active Members
3 Sites
100 Pipelines
75,000 Marketing Emails /mo
Meanwhile, Clickfunnels' top-tier plan has no limitations at all and is still less expensive than Kajabi's top-tier plan.
Is Kajabi a CRM?
Yes, Kajabi can be used as a CRM (if that's what you're looking for) but keep in mind it was originally used as for membership sales, digital courses but now has many other features such as landing page creation and sales funnel capabilities.
How much does Kajabi cost?
The top tier plan of Kajabi costs $899 per month, but you get a lot for your payment.
How much does Clickfunnels cost?
The top tier plan of Clickfunnels is $297, but there are other upsells you can invest in if you want to increase conversions.
My Final Decision
Ultimately, if you'll be selling e-courses, you should still consider Kajabi as it offers a mid-tier plan which is not too expensive. But if you're in the long term and will be selling all kinds of products, Clickfunnels is the ultimate choice for your entrepreneurial needs. It's more versatile, meant for selling all kinds of things (even courses!) and much cheaper than Kajabi.
Further read: