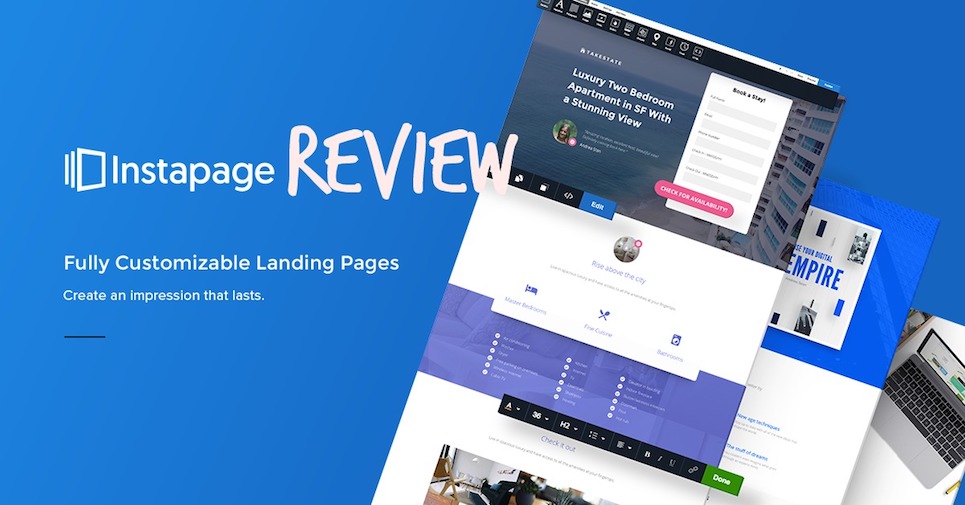 What is Instapage?
Instapage is an online tool that helps you quickly create and launch landing pages. They focus on what happens after a user clicks one of your paid adverts. It's also great at helping you track conversion rates on paid advertising campaigns. In the past, building landing pages used to be expensive. Good-looking mobile responsive landing pages were especially difficult.
The page builder that Instapage provides makes it easy to create landing pages. Especially when you have no coding skill. You can choose from 200+ landing pages organized by type. This allows you to easily create and test landing pages for a wide range of marketing campaigns.
Pros and Cons of Instapage
| | |
| --- | --- |
| Pros | Cons |
| Drag and drop landing page builder | Slow support response |
| Instablocks | Occasionally buggy |
| Excellent A/B Testing | Limited integrations |
| Advanced attribution tracking | Expensive for full features |
| Effective real-time collaboration tools | Counterintuitive menu options |
| Great for beginners | Lacking in customization options |
Key Features
A/B testing
Change the published URL
Collaboration Solution
Drag & drop WYSIWYG editor
Edit landing pages any time
Email notifications
Form builder
Free subdomains
Heatmaps
Instant analytics & data
Lead-gen dashboard
Mobile responsive
Professional templates
Publish to multiple domains
SEO plugin
Social widgets
Support for video
Instapage Template Importer
Feature Spotlight
1. Massive Template Library
You can choose from over 200 customizable templates. Each of these has been optimized for conversions. I was especially impressed with the range of templates on offer. You may need a page for lead generation, webinars, or an event registration. Regardless, you will find something that looks great and converts reliably. Another excellent benefit is the ability to import your own landing page templates. For instance, I love the selection of themes at ThemeForest. And the import feature allows me to upload premium themes to modify later on.
2. Instablocks
This is the unique way Instapage allows you to build landing pages at scale. This is important if you are advertising on a pay per click basis. PPC platforms offer discounted rates for more relevant ads. This takes into account both the ad wording and the content of the landing page. The higher your ad-keyword-landing page relevancy, the cheaper your cost per click.
Instablocks allows you to create landing page building bricks. These bricks can be used to construct a large number of landing pages in a short time. This allows you to create high-relevance landing pages at the same rate as you are creating ads. This also reduces the time it takes to set up a series of A/B tests.
I tested this feature with a brand-new campaign that required me to test 62 unique adverts. Running a test like this used to take a couple of weeks. Instead, I was able to create landing pages for each ad in a single afternoon. I was able to create custom building blocks for my campaign and save them for later, so I saved a lot of time not having to duplicate my work. This freed me up to create more unique variations. This, in turn, led to counterintuitive but profitable results.
3. Advertising Attribution
This is my favorite Instapage feature. When you spend serious money on AdWords there are lots of clicks flying around. Many campaigns, multiple ads, thousands of keywords. Which are profitable and where is the waste? It used to take a data analyst to figure all this out. I found that as my campaign scaled, this became prohibitively expensive. And it's not as though the analysts never made mistakes.
So I love the advertising attribution solution. It had an immediate positive effect on the return on investment of the campaign I tested it with. More importantly, the results scale to all my pay per click activity. The Wanamaker conundrum is finally solved. I previously knew I was wasting half of my advertising money. And now I have a clear idea of where the waste was occurring.
Up to this point, the main difficulty has been tracking campaign performance. This has been especially difficult at different stages of the funnel. It has been tough to attribute conversions and revenue to specific keywords. How does one connect revenue to specific campaigns and individual ad costs?
It has been tough to track this automatically, and doing it manually gets expensive at scale. This happens because the middle of the funnel represents something of a black box. So much can happen between an ad being clicked and a completed sale. It is difficult to find a system that will keep track of everything that happens between the click and the sale.
Instapage's advertising attribution solution offered me a newfound perspective. I now have a better idea of what is happening in the black box that represents the middle of the funnel. This is the only solution that gave me reliable data on both cost per visitor and cost per lead. Not just for paid ads, but for organic traffic as well.
4. Global Blocks
This is the key time-saving feature of Instapage. It is fairly new so I've not been using it very long, but it is a game changer. This feature allows you to manage all your landing pages instantly. This will save you a ton of time if you manage hundreds of landing pages across many campaigns. When managing so many pages, you will often need to make updates to specific parts of multiple pages. I can say from personal experience this can be a major pain.
For example, back in January, I faced the dull task of updating the copyright date at the bottom of my landing pages. It is a minor detail but needed to be done. This is both mind-numbing and time-consuming to do manually. Using global blocks allows you to create an editable block to be used across all landing pages. It doesn't matter if you are working with five or 5,000. Imagine making these updates one by one? Instead, you can make changes in a single block and publish them to all your pages with a click.
The second, more profit-focused, use for global blocks is templating "champion" elements. Let's say you've been testing 63 different calls to action. After extensive testing, you find a call to action block that outperforms all the rest. You can now publish that element to all your landing pages with a single click. This gives all your pages an instant conversion boost.
Take a look at Instapage's different plans from the core plan to the Enterprise or Premium plan: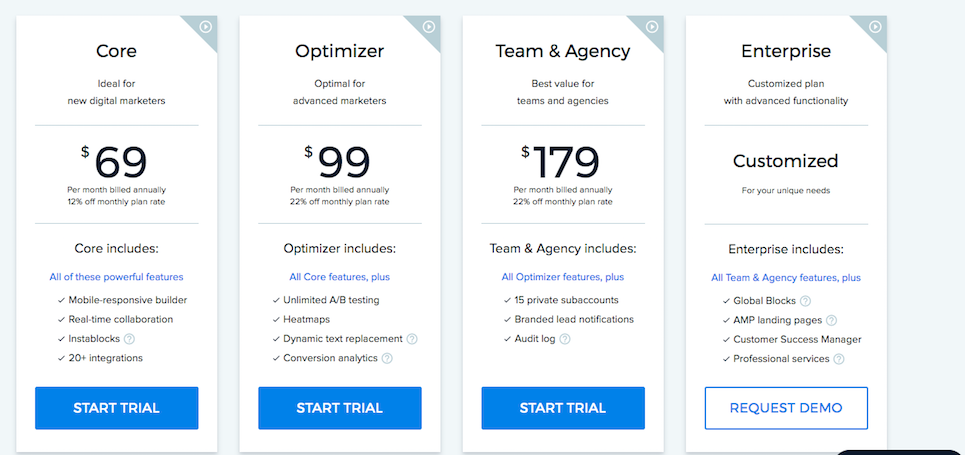 Alternatives to Try
| | | | | |
| --- | --- | --- | --- | --- |
| | Instapage | Unbounce | Drip | Landingi |
| Price | Instapage's pricing range is $69-229 | Unbounce pricing range is $99-499 | Drip pricing range is $0-99 | Landingi pricing range is $29-249 |
| Trial | Yes, no CC | Yes, with CC | No | Yes, no CC |
| A/B Testing | ✔ | ✔ | ✘ | ✔ |
| API | ✔ | ✔ | ✘ | ✘ |
| Automatic Notifications | ✔ | ✘ | ✘ | ✔ |
| CRM Integration | ✔ | ✔ | ✘ | ✔ |
| Conversion Rate Optimization | ✔ | ✔ | ✔ | ✘ |
| Conversion Tracking | ✔ | ✘ | ✘ | ✘ |
| Custom Branding | ✔ | ✘ | ✘ | ✔ |
| Custom Templates | ✔ | ✘ | ✔ | ✔ |
| Drag & Drop Interface | ✔ | ✔ | ✔ | ✔ |
| Email Integration | ✘ | ✘ | ✔ | ✔ |
| Email Notifications | ✘ | ✘ | ✔ | ✔ |
| Landing Page Templates | ✔ | ✔ | ✔ | ✔ |
| Monitoring | ✔ | ✔ | ✘ | ✘ |
| Reporting & Statistics | ✔ | ✔ | ✘ | ✔ |
| Testing Management | ✘ | ✘ | ✔ | ✔ |
Integrations
Drupal
Facebook
Google AdWords
Google Analytics
HubSpot
LinkedIn
MailChimp
Marketo
Salesforce Sales Cloud
Shopify
WordPress
Zapier
ConvertKit
Conclusion: Is Instapage Worth It?
Instapage is a powerful landing page software. Its power is enhanced by a few key features:
Advanced A/B testing functionality,
a diverse integrations ecosystem,
and seamless collaboration features.
This is a flexible landing page system with layered functionality. Instapage allows both solopreneurs and large marketing teams to execute successful marketing campaigns.
One of the first things you will notice about Instapage is that it is fully customizable. As you continue to use it, you will learn it is also scalable. I can recommend this landing page solution. It's one of my top sales funnels software programs out there too.
When compared to other solutions, such as Unbounce, it is far more flexible. If you are managing a team of people with differing opinions about how the marketing campaign should be conducted then Instapage can settle a lot of arguments with its testing and collaboration features.
Instapage provides a lot of features that increase the accountability of team members. This is mainly due to its finest feature, the advertising attribution solution. Using attribution, you can tie specific results to the work of specific people or teams of people. This greater accountability produces more effective marketing campaigns. It also improves the productivity of the teams you manage over the long run.
Instapage offers the ability to optimize the comparative advantage of different team members. It also allows you to reward them for their marginal contribution. Combined, these are the two greatest benefits that make Instapage highly recommended. This becomes truer as your team grows.