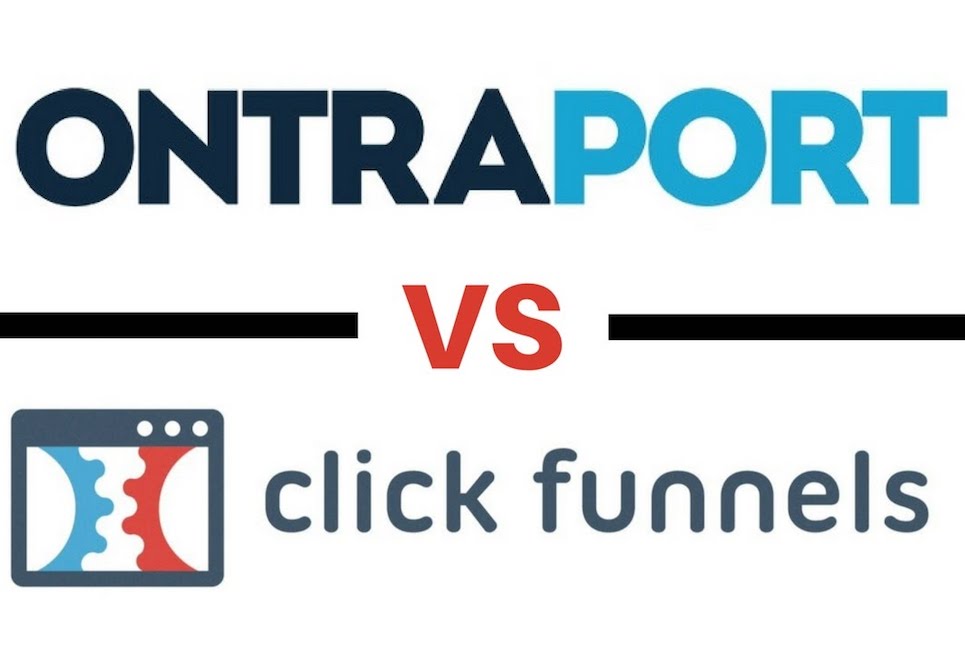 How do you run your online business? How big is your sales team? How many marketing campaigns do you run?
These are important questions you need to answer so you can make the right choice between Ontraport and Clickfunnels.
First, let's start by briefly seeing what each of these tools are made for.
Ontraport: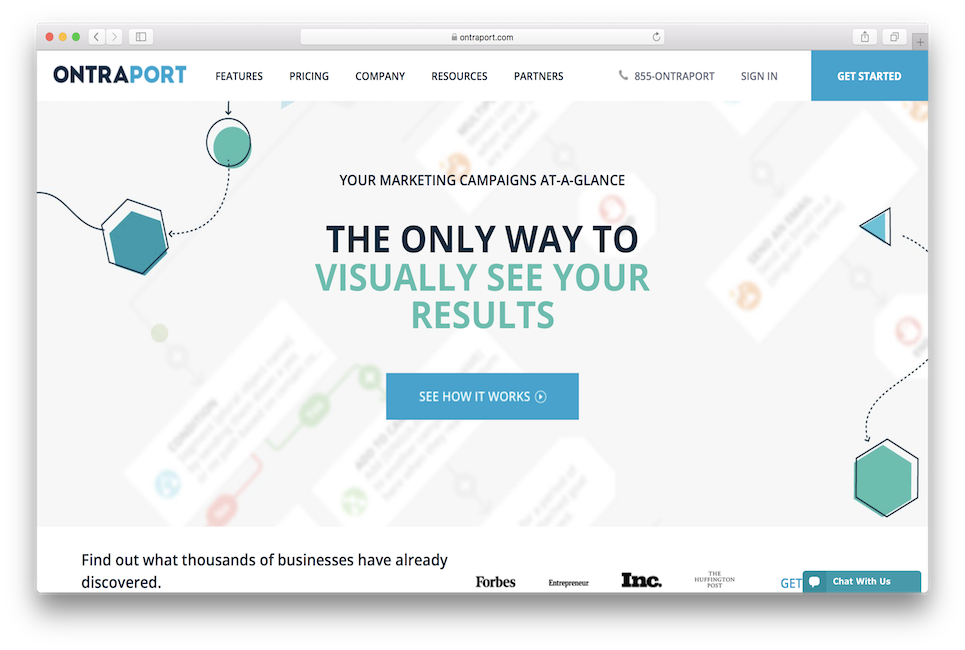 Ontraport is the swiss army knife for automating your online business. It has lots and lots of tools to manage all parts of your business such as campaigns, sales, finances and more.
Clickfunnels:
Clickfunnels and all its accompanying features revolve around doing one thing only: helping you create functional, attractive sales funnels that successfully get people to buy your products and services.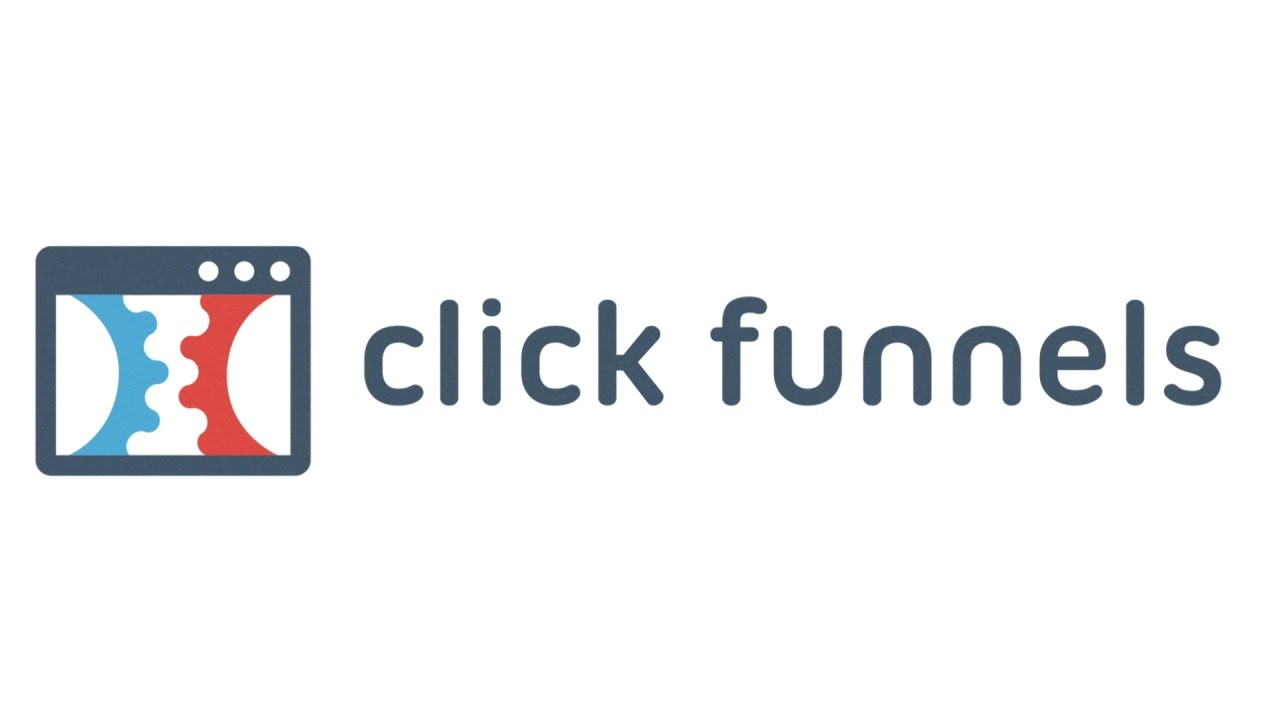 Which Tool Should I Get For My Online Business?
None of these tools is a one-size-fits-all solution. Both of them cater to different businesses with different needs.
That being said, your decision on what tool to get depends on exactly how complex the inner workings of your online business is.
If it's just you – or a small team that's going to be selling products, services or memberships, and you need a no-nonsense tool that's powerful, yet simple and easy to use, Clickfunnels is the ideal choice.
But, if your online business is really big and complex, plus you have an army of marketers and salespeople on payroll who manage your customers and your many marketing campaigns, then Ontraport is a much better fit.
You now probably have an inkling of which tool you need to run your online business.
But hang on…
Let's first look at the features each tool has to offer. Then, we'll look at the pricing followed by our final verdict. And then you can decide which tool you should choose.
So let's get started…
Ontraport: The Swiss Army Knife For Running An Online Business
If you had to choose one word to describe Ontraport, it would have to be 'automation'.
Why?
Because even though it's a platform where you can create sales pages, manage your leads and send them emails; going through the software, you can't help but notice Ontraport's strong emphasis on automating each and every part of running your business – not just your campaigns.
Don't get me wrong. This isn't a bad thing.
[earnist ref="curious-about-ontraport" id="33702″]
This can prove to be extremely useful for big businesses. But if you're a small team or a solo entrepreneur, you might find these extensive automation features to be overwhelming.
But we'll let you decide what you feel about this tool yourself.
Here's a rundown of the major features Ontraport offers.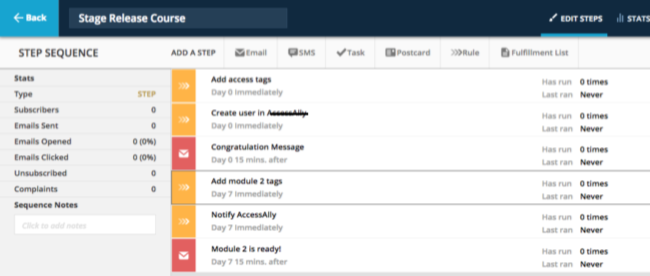 1. Business Automation
The highlight feature of Ontraport is business automation.
What this means is you can automate each and every little activity that happens within your business.
Here's an example of what automation within Ontraport looks like:
Suppose you are running three sales funnels at the same time. One that collects emails of people interested in seeing your software demo. One that gets people to buy your ebook. And one that gets people to subscribe to your newsletter.
Now each of these are different audiences.
With Ontraport, you can automatically assign tags to different audiences, assign salespeople to follow up on the people interested in your demo, send an email campaign to people who subscribe to your newsletter.
And that's just one example.
With Ontraport, you can automate tasks associated with your CRM, your marketing campaign, your sales processes, your billings, your email marketing and more.
And that's barely scratching the surface.
Remember when the app store was booming, we used to say 'there's an app for that'? Now with Ontraport, you can say 'there's an automation for that'.
2. Campaign Builder
This is where the automation part of Ontraport really shines.
In the campaign builder, you can visually map out the whole process of your company's marketing campaigns.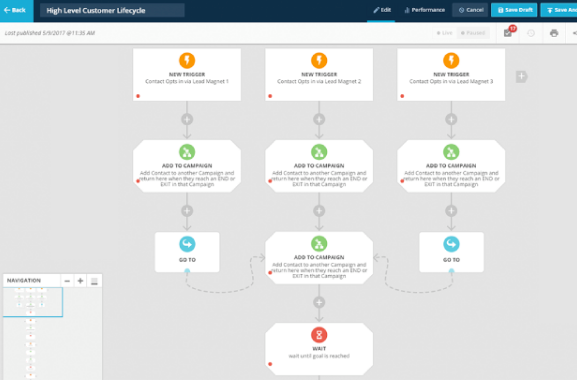 Here's what the process of building a marketing campaign with the Ontraport campaign builder looks like:
1. Select a trigger or activity: This can be any activity or event that happens within your business. For example, a person opts-in to receive a demo. A customer purchases a product. Your salespeople initiate a follow-up call. You sell 10 products…
2. Select an action after said activity happens: What do you want to do after your desired activity happens? For example, your action after a customer opts-in to receive a demo could be to a) assign them the tag 'high-priority', b) add them to an email list c) assign them to a salesperson for a follow-up call.
3. Rinse and Repeat: After this happens, you can add another trigger and another action based on the outcome of the previous action… and on and on it goes, until you've built out your fully automated marketing campaign.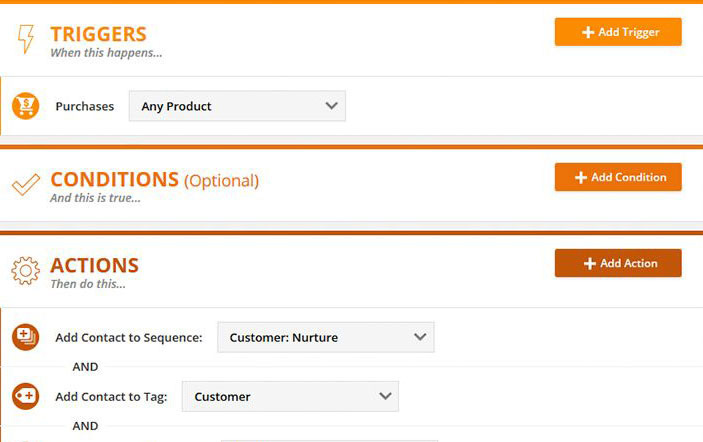 3. CRM:
Ontraport CRM is feature-packed, powerful and extremely sophisticated.
To start, you can add custom fields, view the behavior of your customers and see the communication history of your contacts.
Then, based on the above metrics, you can divide your contacts into different groups and segment them into different lists.
And finally, you can use these lists in your automation processes within the campaign builder, email marketing tool or for any purpose within your online business.
Other Notable Features
All these fancy automation features, marketing campaign builders, and CRM tools are well and good – but none of this matters if you can't build a solid sales funnel to get started.
So, for that, Ontraport provides:
1. Landing Pages: There are templates you can use to quickly build landing pages, test them and modify according to your preferences. Plus, you can add opt-in forms too to collect emails.
2. Email Marketing: With the powerful CRM behind you, you can create emails and send them to your segmented lists based on their identities or behaviors to create highly personalized marketing campaigns.
3. Send SMS, Letters, and Postcards: You can integrate Ontraport to services that let you send personalized greeting cards, letters and SMS to your audiences.
4. Create an E-commerce or Membership Site: With Ontraport, you can also create an e-commerce site or connect with WordPress to create a membership site.
5. Dashboard: You can create custom metrics and display them in a single dashboard. For example, you can see metrics for products sold, the conversion rate for a form, number of users in your email list etc.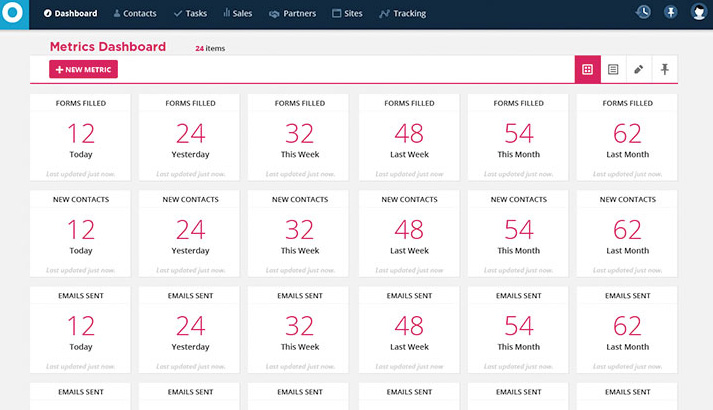 ClickFunnels: The Sales Funnel Builder That Does One Job… But Does It Well
Reading our intro and the review of Ontraport, you might get an impression that Clickfunnels is the 'weaker' of the two.
Nothing can be further from the truth.
Clickfunnels offers the same features as Ontraport does, but it isn't focused on automating every single tiny thing that goes on in your business.
No, it's focused on doing one job: Helping you successfully sell your products and services to your customers – and it makes this process quick, easy and painless for you.
To do that, Clickfunnels offers ready-made sales funnels for:
1. Collecting Emails
2. Selling products and services
3. Hosting webinars
All you really have to do is edit the funnels a bit, move them around to create a personalized sales funnel and automate the process so that everything runs by itself.
Let's see in detail how this works.
Ready-To-Use Sales Funnels
The biggest selling point of Clickfunnels is that it gives you ready-to-use funnels for selling ebooks, services, products, webinars, memberships and more. And what's more? All these funnels are scientifically tested to convert.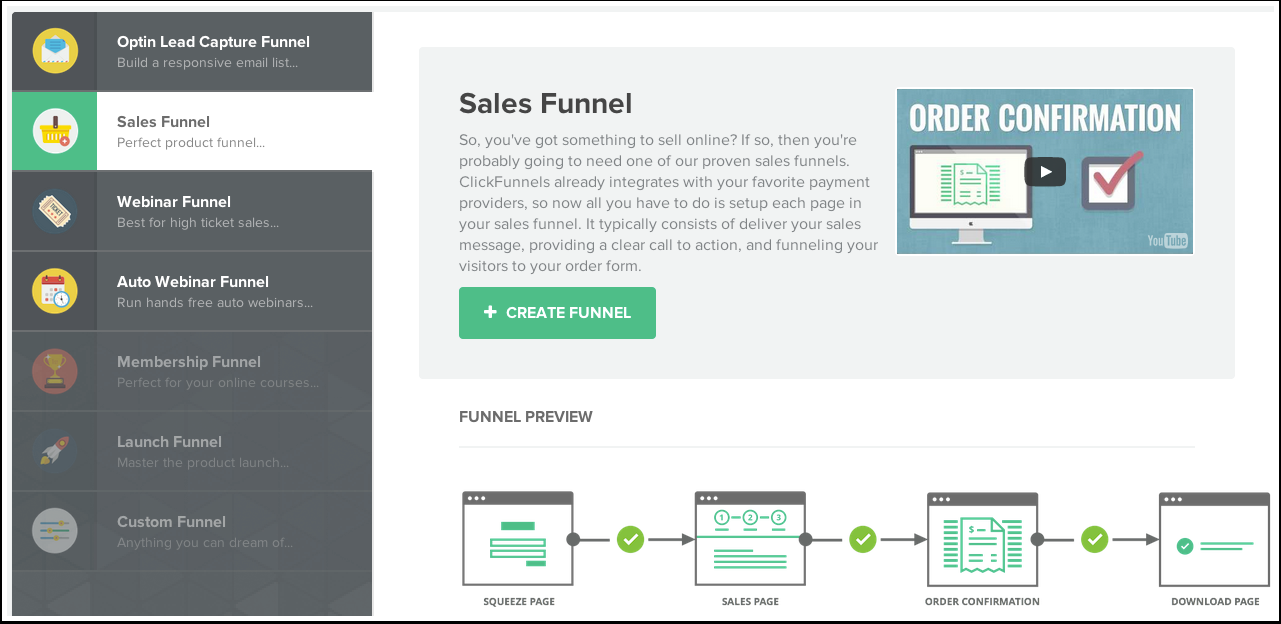 This is a huge factor you need to keep in mind.
With other tools, you need to be an expert in building funnels and campaigns in order to take full advantage. But Clickfunnels does the whole job for you.
Its funnels are designed to get the highest number of sales possible and you can see exactly what pages your funnel has. For example, a funnel for selling an ebook might have the following pages:
1. The sales page with an opt-in form.
2. The checkout page.
3. The thank you page.
All these pages can be easily modified with Clickfunnel page editor which, to be honest, is much better than Ontraport's website editor.
That's because everything feels more flexible and less confined. You aren't just working with boxes and templates. You can change and move individual elements more easily.
Actionetics: Contact Profiles, Email Lists & Broadcasts
Clickfunnel's CRM shows you in a glance the information about your leads and subscribers.

A cool thing to note is that once you click on the lead to get more detailed information, Clickfunnels pulls that lead's social media profiles as well, which you can visit with a single click to get more in-depth information.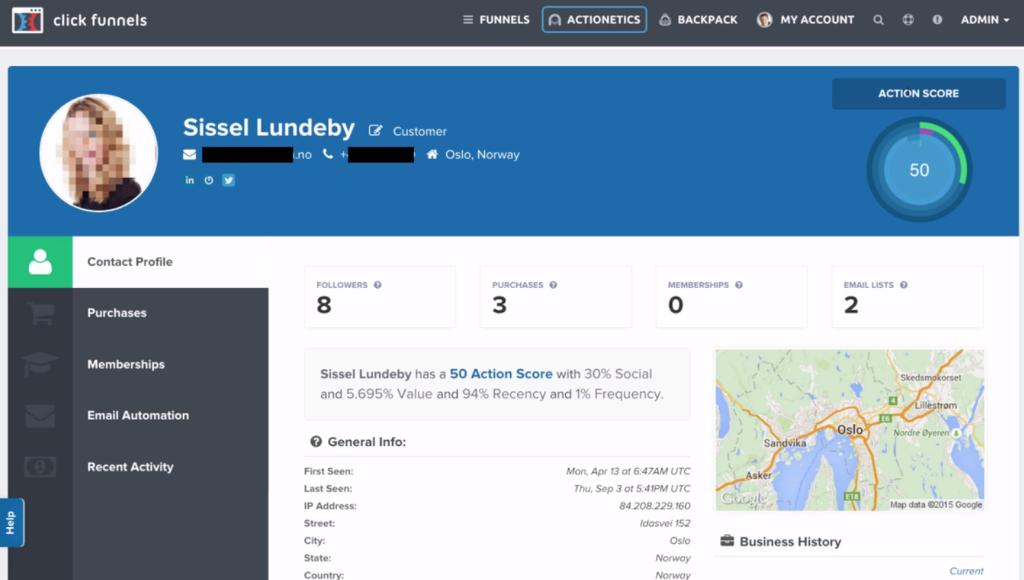 In addition, you can see all other relevant information like what was their last purchases, which email list they're in, what campaigns are they currently a part of etc.
Plus, based on their activity, demographics or other info, you can quickly segment your leads into different groups so you can send them personalized emails or put them in your automations.
For that, Clickfunnels has a whole email marketing tool where you can create emails and whole email campaigns and send them to your desired audiences based on different identity and behavior related metrics.

Actionetics: Action Funnels
Actionetics is where all the automation inside Clickfunnels happens.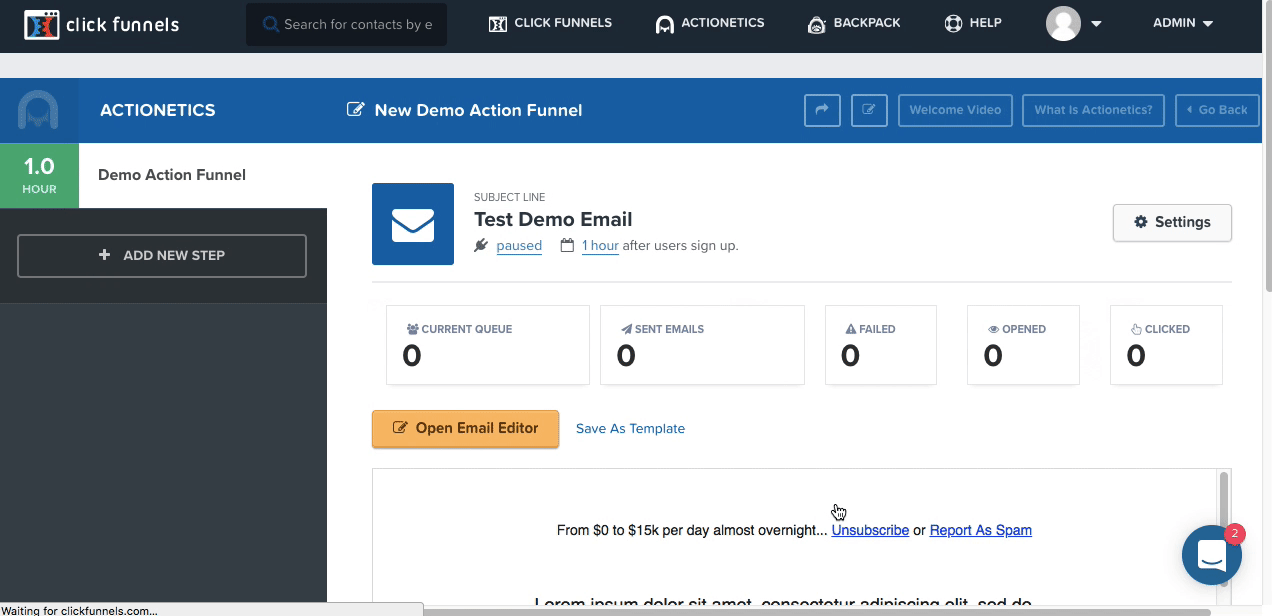 Here, like Ontraport, you can create funnels – and if someone interacts with it, you can assign different actions based on their previous action.
The biggest difference between the two is this:
Clickfunnel's automation tool is focused on getting users through funnels and getting you sales. Ontraport's automation tools are focused on managing all aspects of your business, not just funnels.
What's The Cost?
Clickfunnels Offers Two Plans:
1. Basic Plan
This costs $97 per month which includes everything you need to build your sales funnels. But the number of funnels, traffic, and emails you can create is limited.
2. Etison Suite
This costs $297 per month in which you unlock the actionetics bundle, which has the CRM, email marketing, and automation tools as. Plus the number of emails, traffic, and funnels you can create is unlimited.
Ontraport Offers Four Plans:
1. Basic
This costs $79 in which you get to store 1000 contacts and unlimited emails.
2. Plus
This costs $147 in which you get to store 2500 contacts and unlimited emails.
3. Pro
This cost $297 in which you get to store 10,000 contacts and unlimited emails.
4. Enterprise
This costs $497 in which you get to store 20,000 contacts and 200,000 emails.
Note: The basic plan severely limits the capabilities of both Clickfunnels and Ontraport. That's why it's recommended that no matter what tool you choose, you subscribe to the Etison Suite for Clickfunnels and the Pro Plan for Ontraport, which unlocks all the features of both tools respectively.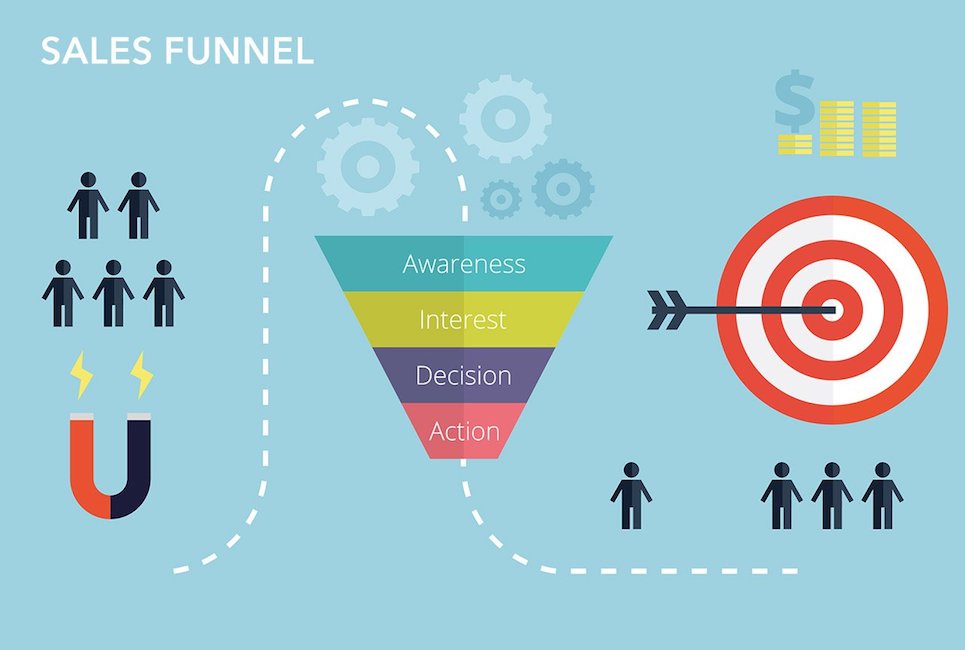 Our Final Pick
The importance of automation for big companies cannot be understated.
That's why if you have expert marketers and salespeople at your service, and want a solution that can provide data and tools for both your sales team and marketing team, plus help you automate the tedious, repetitive tasks in every area of your business, Ontraport is the way to go.
If you don't need (or want) to automate each and every process of your business, and want to focus on selling your products and services, Clickfunnels is a great choice.
It offers sales funnels so that even a newbie can start selling online like a pro. Plus, it offers powerful, yet easy to use CRM, email marketing, and automation tools to run your funnel and your online business, all the while remaining easy to use.