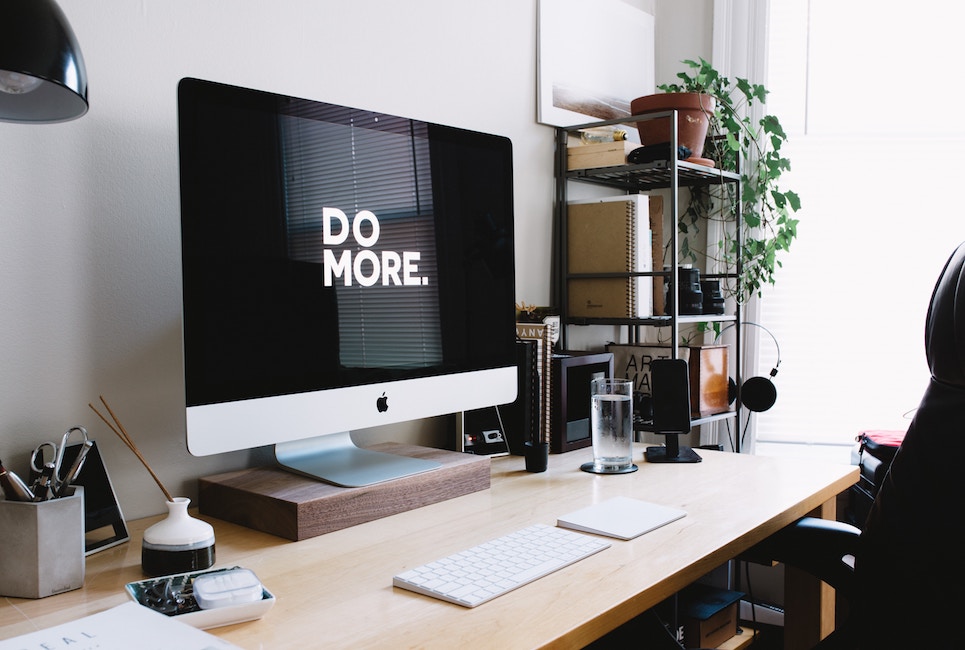 Choosing the right landing page builder is more important than you think…
Here's why:
You see, a professional chef will always use different kinds of knives for different kinds of food.
For example, if the chef is going to cut vegetables, they'll pick the trusty all-purpose chef's knife. This handy knife is easy is work with, and can dice and slice an onion precisely the way the chef wants.
But if the chef want to cut something tougher, like a whole chicken, they're not going to use the same chef's knife. Instead, they'll probably use a cleaver. This heavy knife has a broad steel blade that is great for hacking through bone, which is just what the chef needs to cut that chicken.
The result of choosing the right knife is that the chef gets the exact result they want. The onions come out perfectly diced and the chicken pieces come out cut exactly in the right places.
And just like choosing the right knife is important for a chef, choosing the right landing page builder is important for you if you want to create the perfect landing page…
OptimizePress and Leadpages: Which One's Right for You?
Different landing page builders let you do different things.
One might have better templates while the other might have a better drag-and-drop builder. One might offer better features in their basic plan, the other might offer more features in their premium plan.
And for you to successfully build a good landing page, you need to choose the right tool for the job. And what might be the right tool for you, might not be for other people.
And that's ok…
Because in this article, we'll take a look at two different, yet equally amazing landing page builders. We'll show you how they are similar and how they are different. And in the end, you can decide which landing page builder is the right choice for you (and which isn't).
The two tools we'll compare in this article are:
OptimizePress
First, we'll start by taking a look at what exactly you can expect from both these landing page builders.
Then we'll move on to discuss their differences and pricing, after which we'll try to come up with an accurate conclusion.
Let's get started…
What You Can Expect From The Two Tools…
OptimizePress and Leadpages. These are the two tools we're about to discuss. But before we can compare their differences, let's see what you can expect from both of them…
A Variety of Templates to Get You Started
Landing page builders come with a wide variety of different templates. This is necessary because most people have never built landing pages in their life – and won't likely know how to build one.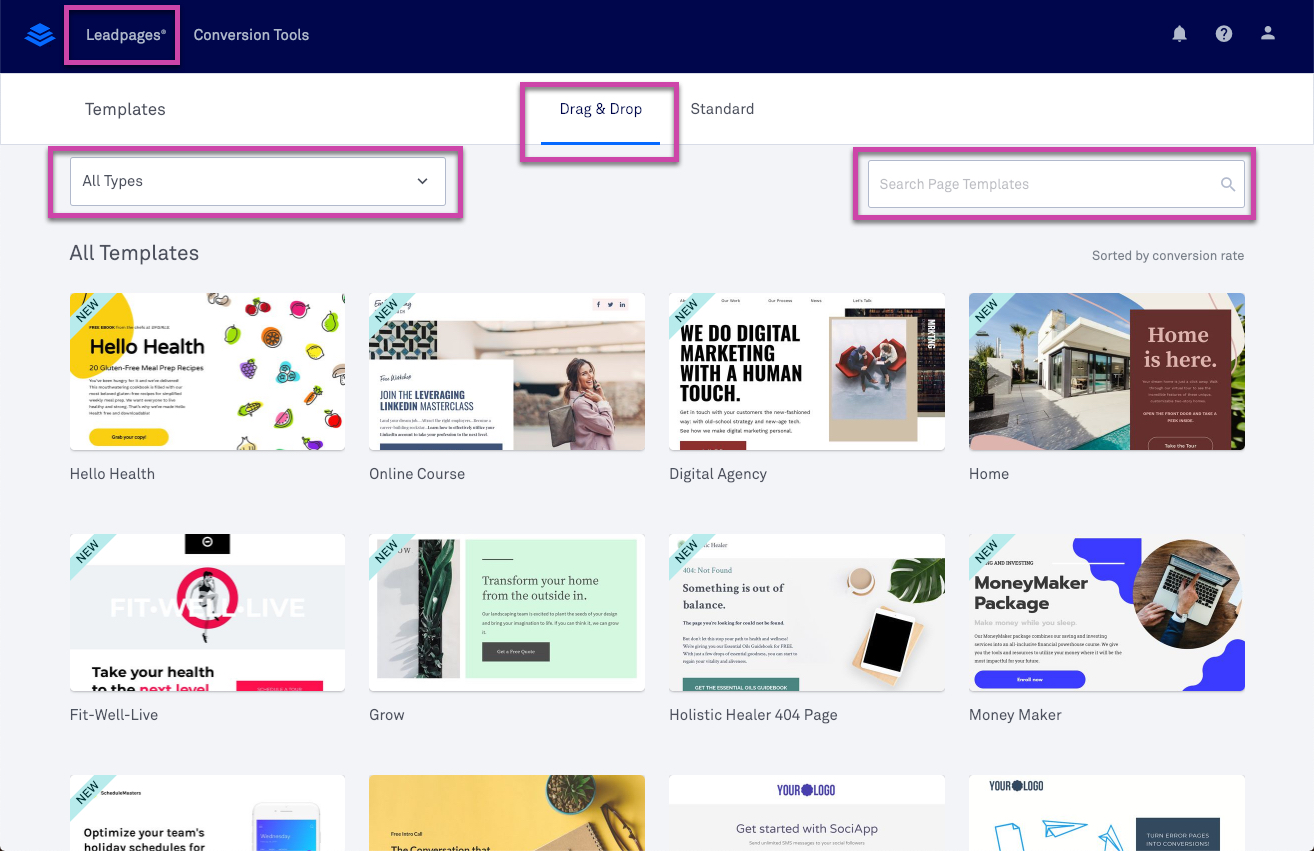 Therefore, both OptimizePress and Leadpages come with a lot of templates.
There are landing page templates for selling courses, webinars, products, services and more. Plus, they are designed professionally and in a way so you get the maximum conversions possible.
The only difference between the two landing page builders is the number of free templates you get with them. Other than that, both these two tools offer really beautiful landing pages for a wide variety of purposes.

And the best part?
No matter which tool and which plan you get, both of them let you publish an unlimited number of landing pages on the internet.
An Easy To Use Drag-and-Drop Builder
No matter how good a template a landing page builder offers, in the end, you'll always need to edit it inside a drag-and-drop builder. And the one that comes with both Leadpages and OptimizePress are great.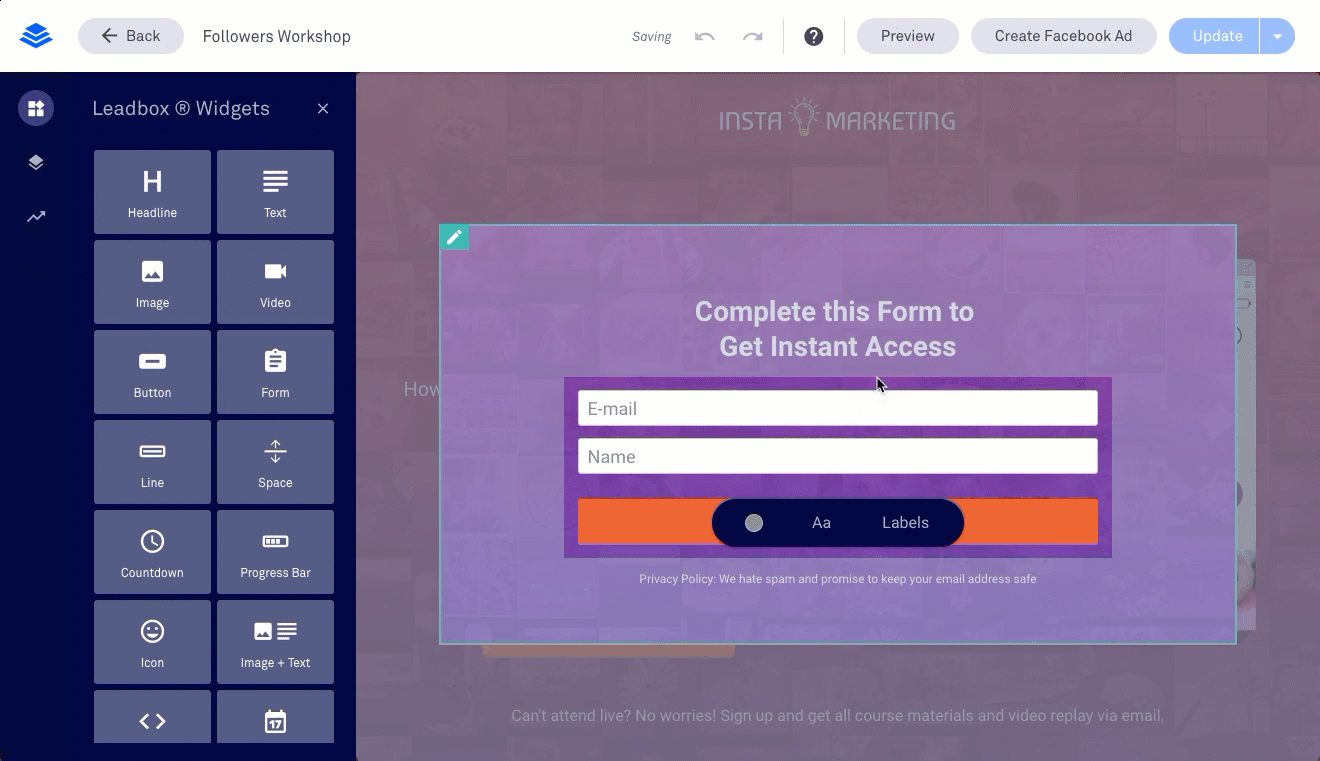 Their drag-and-drop editors are easy to use and offer many elements for you to choose from.
For example, in addition to the traditional elements like text boxes, image, and video players, you also get complete sections like pricing tables, social media boxes and more.
This is important and exciting because it means you can add literally any feature, functionality or information to your landing page without hiring an expert.
Plus, as new updates to the tools come along, new elements get added for you to use.
Easy-to-Understand Analytics and Reports
Another important feature both the landing page builders will give you is in-depth reports on how your landing pages are performing. You'll find out information such as:
How many visitors are visiting your landing pages.
What's the average duration a person stays on your landing page.
How many people clicked on your CTA button.
… and more.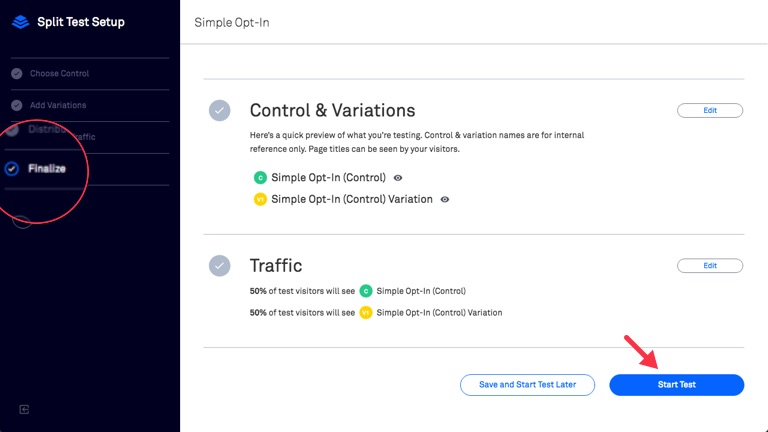 All this information will come in handy when you A/B test your landing pages.
A/B testing is when you create two seperate versions of the same landing page with one single variation in one of them. For example, you can create a duplicate of a landing page and change the heading, the CTA copy or something else and test it. The one which gets you the highest conversions wins.
And the only way you can get the data necessary to A/B test your landing pages is by looking inside the analytics report offered by your landing page builder.
Also, as far as A/B testing is concerned, both of these tools don't let you do A/B tests in their basic plans. You'll have to get an upgraded plan in order to access this feature.
OptimizePress vs Leadpages: What's The Difference
By now, you've got a pretty good idea of what to expect from both these landing page builders. But what you really want to know is where the differences lie – and in this section, we'll discuss exactly that.
And let me tell you in advance – the differences are pretty stark.
It's up to you to weigh in which features matter to you so you can decide which tool to get. And we suggest you take this advice seriously because there are some major differences in pricing as well.
With that said, let's begin comparing OptimizePress and Leadpages.
How do both tools work?
The first thing you should know is how easy it is to get started with each tool – and what it takes to set each tool up.
Leadpages
Setting up Leadpages is easy.
To get started, all you need is to sign up, pay for the plan that suits your needs (we'll discuss plans more below) and simply get started building landing pages.
There's no need to set up hosting or anything. Leadpages will let you publish an unlimited amount of landing page – and it will host these landing pages for you.
You don't even need a domain (but it's highly recommended you get one) as it helps improve your SEO and overall, makes the landing page appear more trustworthy.
OptimizePress
Setting up OptimizePress is harder than setting up Leadpages, mainly because OptimizePress works only on WordPress.
This means before you can even get started with OptimizePress, you'll have to get a domain and hosting package on which you install WordPress. This alone can cost you up to $100/year since doing this isn't optional like it is in Leadpages.
But to be fair, OptimizePress offers excellent step-by-step instructions on how to get hosting, buy a domain and setup WordPress. And these tutorials can go a long way to reducing the frustrations and complications non-technical people have when it comes to installing WordPress.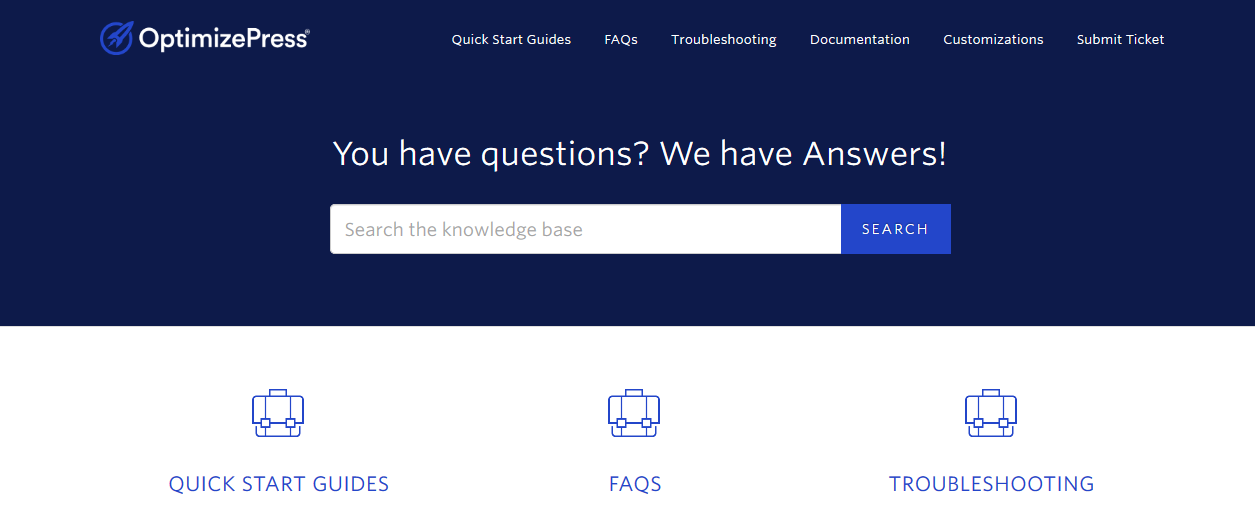 But once that's done, all you have to do is install the OptimizePress plugin, buy a plan and sign in. Easy!
Templates: Which of The Two Tools Offer A Better Deal?
If you're going to rely on templates most of the time to build your landing pages, you need to know which tool's going to offer you a better deal on it.
Leadpages
No matter which plan you're subscribed to, Leadpages offers all of its 150+ templates for free.
You'll find landing page templates for ebooks, courses, webinars, upsells, thank you's and more – all which you can sort by industry such as travel, fitness, photography etc. to help you find the perfect design.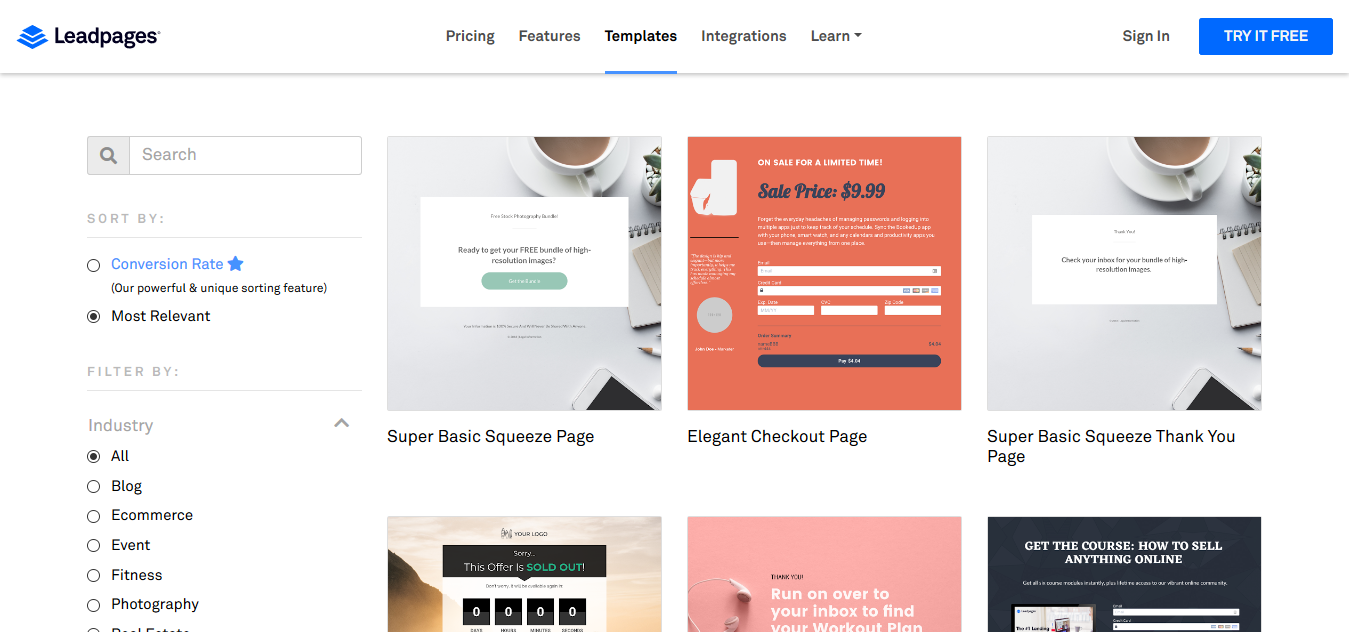 In addition, all the landing page templates are designed for mobile as well.
OptimizePress
In the templates department, OptimizePress loses out to Leadpages in terms of value. That's because out of the 300+ templates available on their platform, OptimizePress only offers approx. 60+ templates for free.
This is a bummer, because where OptimizePress leads ahead when compared to Leadpages is in the diverse variety of templates it offers.
Because, you see, in addition to the standard templates for landing and sales page, OptimizePress also offers:
Membership Sites Templates: Using these sites, you can give access to people to exclusive content after they successfully act on your landing page CTA. OptimizePress gives you the tools and the templates necessary to create your membership portal.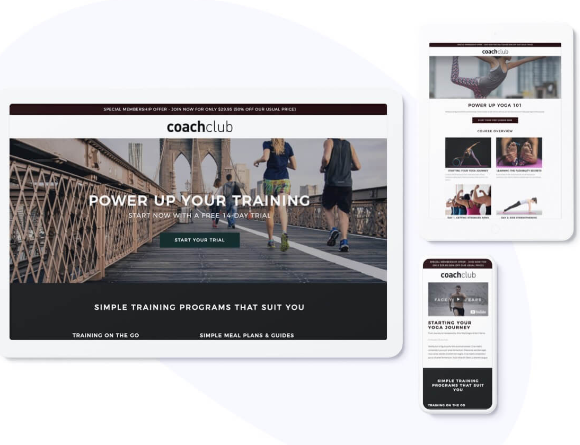 Blog Themes: Since OptimizePress works on WordPress, it offers themes for your blog section as well. This is so you can put your valuable content inside a compelling and beautifully designed blog section.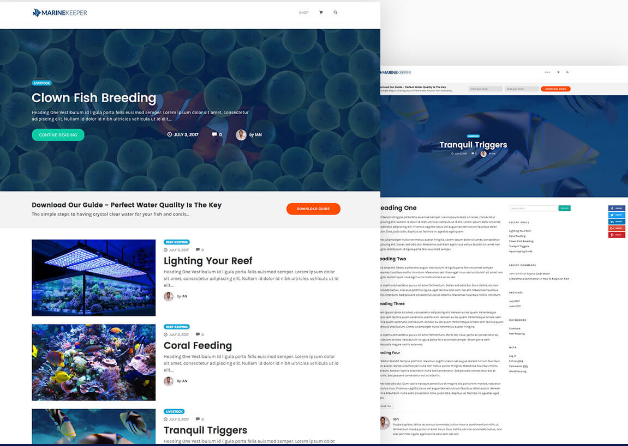 If you plan to sell courses or educational content, then these two additional features offered by OptimizePress is a must-have.
Landing Page Advertising: Which Tool Offers It?
After you create your landing page, you'll want to advertise it in order to attract visitors and drive traffic. Because without traffic, your landing pages are literally worthless.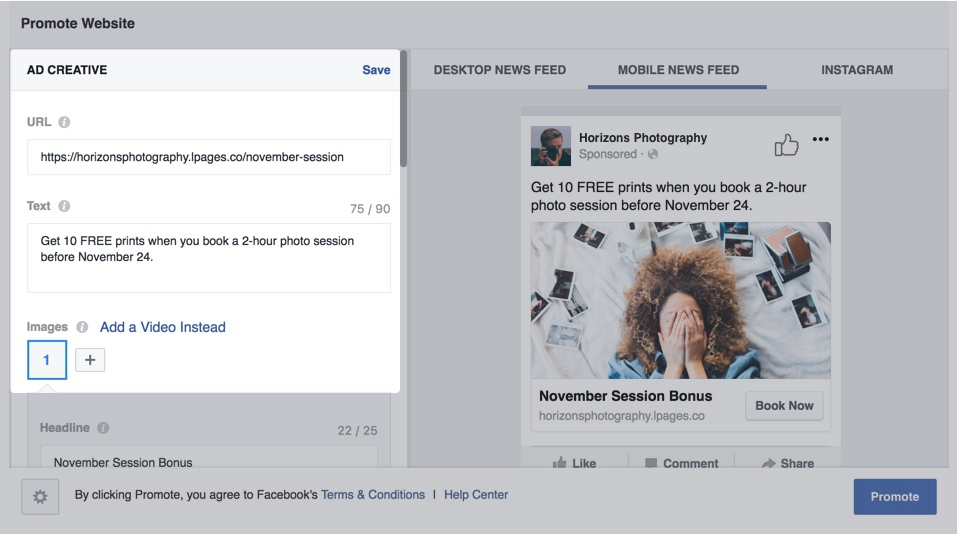 And if you plan to advertise your landing page on Facebook or Instagram, Leadpages is the only one of the two tools that will let you do it.
In Leadpages, after you create the landing page, you'll be able to choose your custom audience from Facebook and place a Facebook Pixel on your landing page for easier retargeting.
But if you plan to use some other platform i.e. Google Adwords or LinkedIn, this feature is not going to be of use to you.
Pricing: Which of The Two Offers The Best Bang for The Buck?
Remember how at the start of this section we told you how pricing would play a major role – and that you should think long and hard about what features matter to you?

Well, this is where you learn why we said that…
Leadpages
The Standard Leadpages plan, provided you buy an annual subscription, costs $25/month or $300/year. In it, you get nearly all the features with the exception of unlimited A/B testing, which means you can only run A/B test a limited number of times.
The Pro plan, again if bought annually, costs $48/month or $576/month. In this plan, you unlock unlimited A/B testing, one-click signups from email, the ability to send SMS campaigns and more.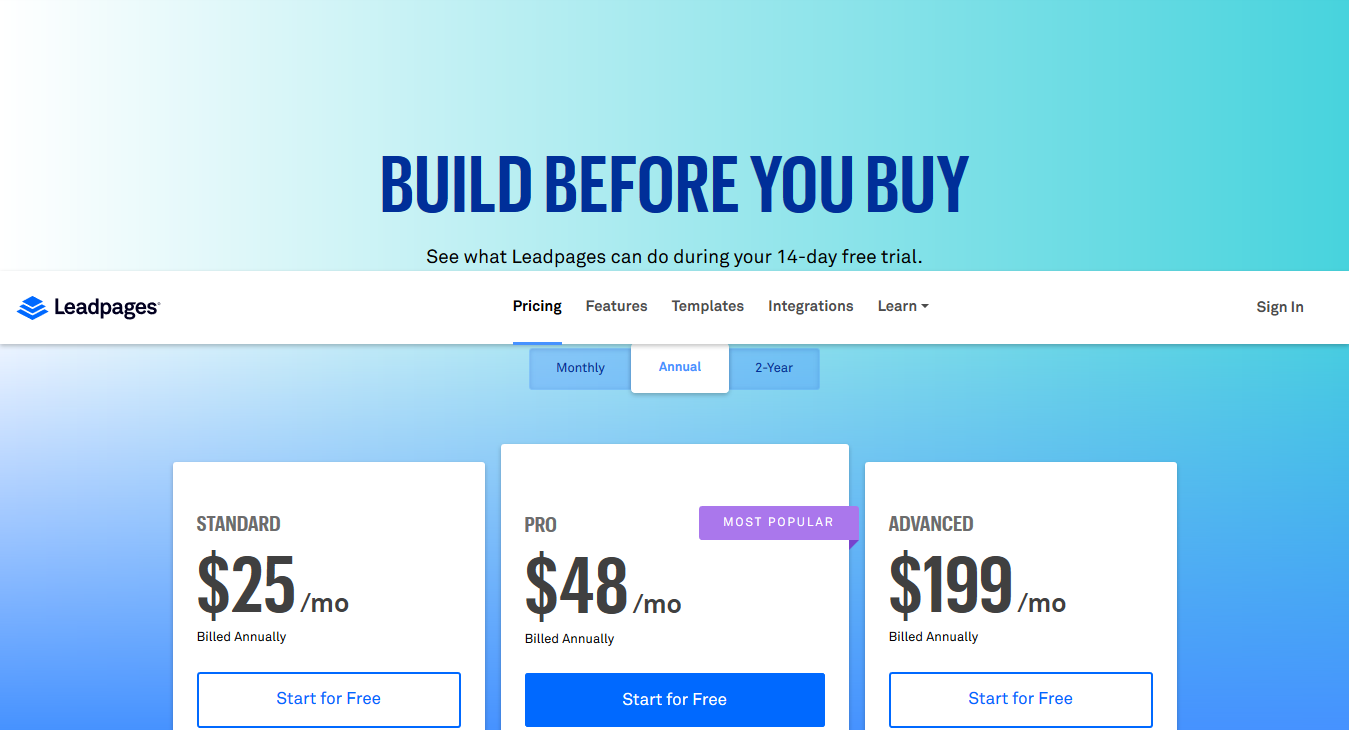 And finally, the Advanced plan, bought annually, costs $199/month or $2388/year. In this plan, you unlock the ability to integrate with services such as Pardot, Marketo and Hubspot, free Leadpages Workshops and priority phone support.
And of the three, the best plan to get is the Pro plan as it doesn't compromise on any important features – and offers the best value for the money.
OptimizePress
OptimizePress pricing is simple. Their Core package costs just 97$/year, compared to Leadpages standard $300/year plan. In it, you get all the basic features you need to create landing page, expect that you can't do any A/B testing.
Their Publisher package costs $197/year, which is still $100 cheaper than Leadpages standard plan and nearly 2.5x cheaper than Leadpages pro plan. In it, you unlock A/B testing, exclusive plugins archive and all other features.

And finally, OptimizePress also has a Publishers package, which costs $297/year, which is approx. 7x cheaper than Leadpages Advanced Plan, which can run you $2388 a year. It unlocks everything, gives you priority support and is the best there is.
And of the three, the best plan to get is the Publisher package as it doesn't compromise on any important features – and offers the best value for the money.
Conclusion: Which One Wins?
Crazy though it will sound, it still depends on you.
For example, if you don't want to go through the hassle of setting up WordPress, want access to the 150+ templates offered for free and want direct access to Facebook ads, Leadpages is one to go for.
But if you rather skip through these features, and want the core landing page building tools for a lot less of the price, get OptimizePress.
In our opinion, the value it provides isn't just something you can say no to. No other landing page builder with OptimizePress level of capability exists in the market for that low of a price – and therefore, in the context of this article, this is the landing page builder we recommend.