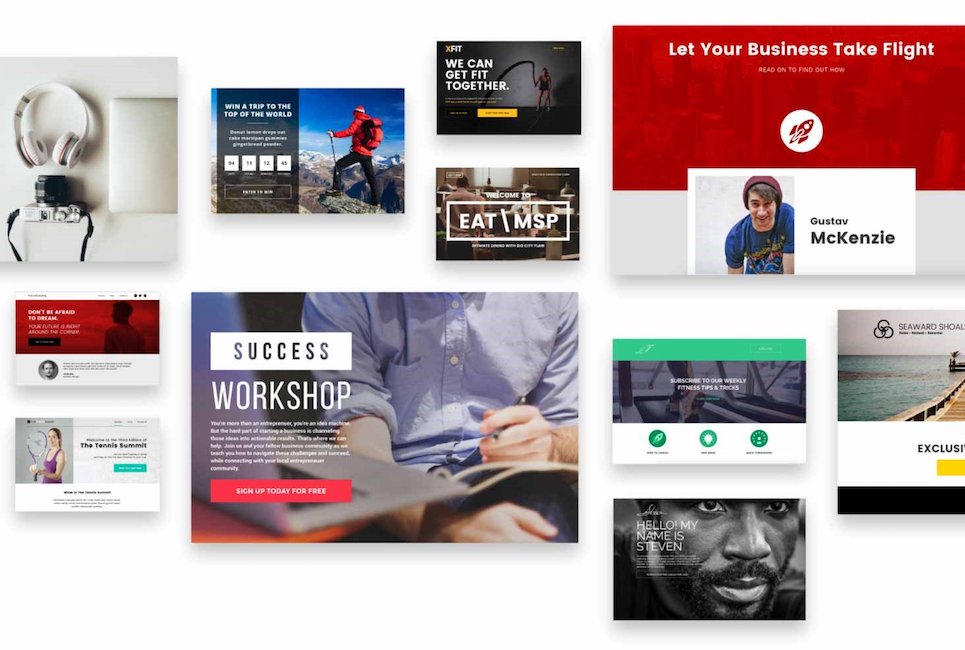 Background
Running a design company can be tough. Monetizing creativity is always a challenge. One of the ways I solve this problem is through educational marketing. It solves two problems. First, it shows clients that we are experts. Second, it shows them how tough our job is by teaching them a little about our craft.
We had a lot of success creating great informational lead magnets. However, creating landing pages that would convert became a major challenge.
I considered a few different platforms to solve our landing page problem. The two front-runners were Wishpond and Leadpages. Wishpond got my attention due to their commitment to research. I learned they had analyzed over 200 landing pages before and after optimization. This gave me a lot of confidence in their support staff and templates. Leadpages was in the running because they were specialists. I was also impressed by their commitment to education. They offer free weekly coaching calls.
What is Wishpond?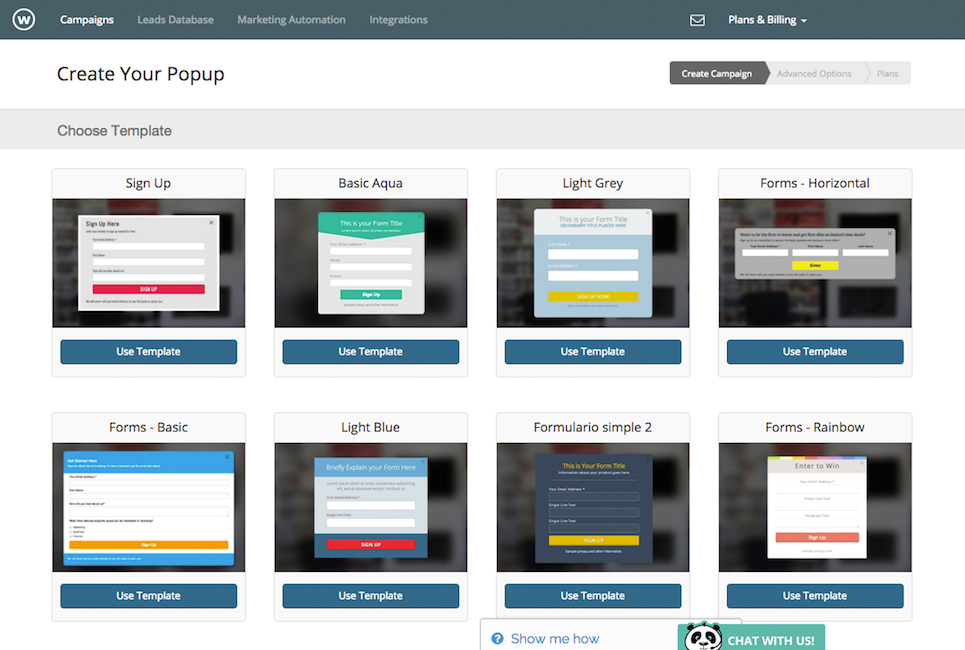 One of my goals is to better understand the type of people that visit our website. Wishpond is a marketing platform that helps us do that. They provide lead generation tools and help collect data about user behavior. This platform helps create increasingly engaging content for your audience.
What is Leadpages?
Where Wishpond is a Swiss army knife, Leadpages is more like a sniper rifle. Its focus is landing pages. It is not email marketing software. It's designed to help you generate more subscribers. Leadpages is for those who need a specialized solution for building an email list. One that is separate from the platform they use to actually mail that list. Leadpages is best known for its huge template library and high conversion rates.
In short, Leadpages is an online platform that focuses on great-looking landing pages. They also have built-in support for webinars, sales pages, and lead magnets.
Leadpages Pros and Cons
| | |
| --- | --- |
| Pros | Cons |
| Great-looking templates | No marketing automation |
| Viral thank-you pages | Limited tool set |
| SMS Lead Generation | Lacks interactive features |
| Helpful support staff | Poor Facebook Ads performance |
| Smooth CRM integration | Limited template editability |
Wishpond Pros and Cons
| | |
| --- | --- |
| Pros | Cons |
| A wide variety of social campaigns | Popup codes tricky for beginners |
| Excellent A/B Testing | Tough to export data |
| Marketing automation capability | Buggy automations |
| Low upfront investment | Unreliable Facebook pixel |
| Easy to use page builder | Hard to downgrade |
Key Leadpages Features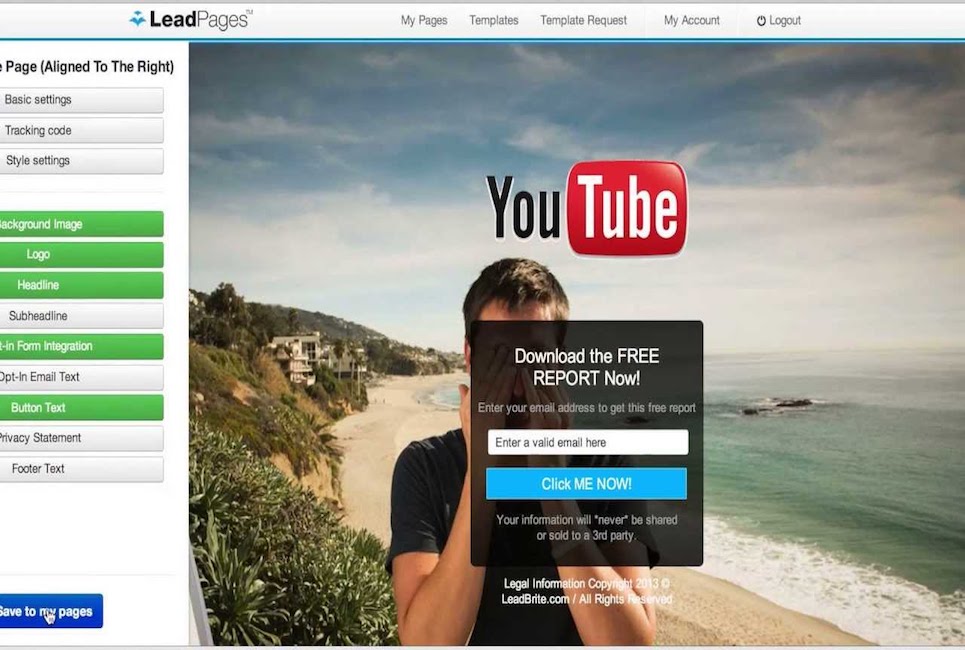 Adwords-specific Landing Page
There was one Leadpages template that stood out during my testing. The one that offered me the most success was their AdWords landing page template. This allowed me to collect over 4,000 targeted leads within a week. All without going over my planned cost per lead target. I was very impressed by this because it sped up my success. In the past, it would usually take a week or two of tweaking before an AdWords campaign would meet my targets.
Monetized Landing Pages
Leadpages has the edge in monetizing landing pages through forms. Sometimes I need to generate ultra high-quality leads. To do this, I need to filter out the pure freebie hunters from real prospective clients. The way I achieve this is through microtransactions.
Many leads would not pay $5 shipping and handling t receive a lead magnet in the mail. And such leads are unlikely to pay $5,000 for a design job. This filtering method increased the closing rate of our salespeople. All because they were dealing with a group of hyper-qualified leads.
Pop-up Payments
The built-in payment feature even allows you to make the payment form into a pop-up. That provides many options in the same landing page. We could now collect regular leads who signed up for a digital lead magnet. But at the same time, we could generate premium leads who opt to receive a physical copy.
Facebook Audience Insights within Leadpages
Leadpages also provides the option to build Facebook ads without leaving the platform. However, they go a step further than Wishpond in their integration. They don't limit themselves to basic campaign metrics. Leadpages goes beyond visits, clicks, and conversions. The ad management feature pulls data from Facebook audience insights. Leadpages connects audience insights with specific landing pages. This allow us to create targeted campaigns.

Built-in Facebook Ads Manager
I've always found the Facebook power editor a bit of a pain to use. It is not very intuitive. The interface becomes a confusing mess when dealing with a large number of ads. Setting up and managing Facebook ads had always been a time sink for us.
Leadpages dramatically simplifies the experience. They have a simple, easy to understand the four-step process. I was able to create a targeted ad that aligned with my landing page. Right now, there is a single Leadpages button that drives most of my profit. That is the "create Facebook ad" button which appears when I publish a new landing page. This feature has cut the time required to manage and setup Facebook ads by at least 70%.
Key Wishpond Features
Landing Pages Optimised for Facebook
Wishpond doesn't specialize in landing pages. Yet, they produced landing pages that converted better than Leadpages. At least with Facebook Traffic. Wishpond is finely tuned to social marketing. So, we were able to effectively promote our lead magnet offer on Facebook. Wishpond allowed us to present our value proposition in an engaging way. All this had a positive effect on conversions. Visitors were better able to figure out what they would gain by downloading our lead magnet. And Wishpond made it easy for them to share the experience with their Facebook friends.
Deep Personalisation
Think of generating a lead like inviting someone to tour your design studio or office. The form on the landing page is like your front door. If a visitor doesn't feel safe, they won't step through. We've been running A/B tests of sign-up forms for months. We discovered that pre-filled forms increase conversions. It's like having a doorman at your office welcoming each visitor by name. The Wishpond platform makes this kind of personalization very easy. I have found this feature alone to be worth the monthly fee.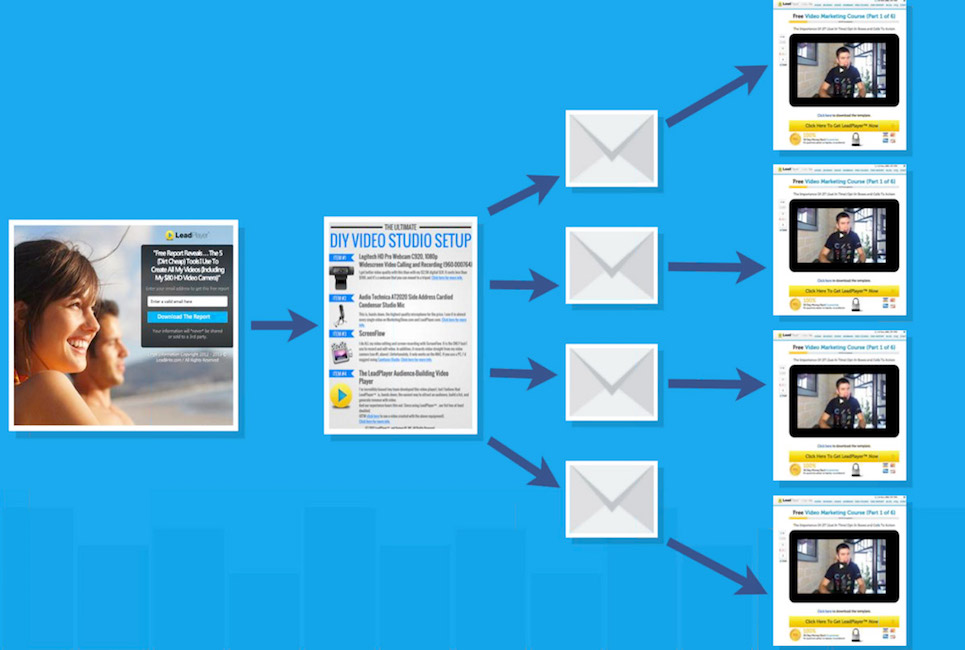 Automated Optimization by Wishpond
As a small business, I appreciated the Wishpond approach to Facebook campaigns. Wishpond allowed me to make conversion-focused modifications in an easy way. This is mostly done through Wishpond's targeting software. By automatically optimizing ad targeting, conversions improve over time. This kind of ongoing conversion optimization turned out to be very profitable. Initially, I was skeptical about the efficacy of such a feature. But, in testing, my conversion rate went from 14% to 39% over a 2-week test campaign.
FAQs
1. Why is Wishpond better than Leadpages for Facebook Ads?
It may seem strange that Wishpond should perform so much better than Leadpages in this regard. Especially considering the effort that Leadpages has put into their Facebook Ads integration. The difference is that Wishpond pulls more levers than Leadpages. Let me explain.
All Leadpages' Facebook features are geared toward saving time. Particularly around campaign setup and management. And time savings are great, up to a point. After that point, other things become more important. Things like clicks, shares, and conversions. This is where Wishpond runs away from Leadpages. It increases all three of these key metrics. And does this by providing an interactive experience to Facebook users. It makes logical sense. People are more likely to share a fun contest with their friends than a static landing page. Plus, fun contests fit into the spirit of Facebook. The transition from Timeline to a fun contest is less jarring. This smoothness increases conversions.
2. When should I choose Wishpond over Leadpages?
You probably should not, unless your marketing strategy will rely on social contests. If you are running more information-based campaigns, you will want Leadpages' flexibility.
3. Which platform provides the best overall ROI, Leadpages or Wishpond?
There are two sides to working this out. The upfront investment and the final return. For most, the upfront investment of Leadpages is lower than Wishpond head-to-head. But, Leadpages is limited to landing pages so that has to should be part of the calculation. In the end, the upfront investment is a moot point. Leadpages is capable of driving far more revenue. They owe this to superior Adwords performance and the ability to generate leads via SMS.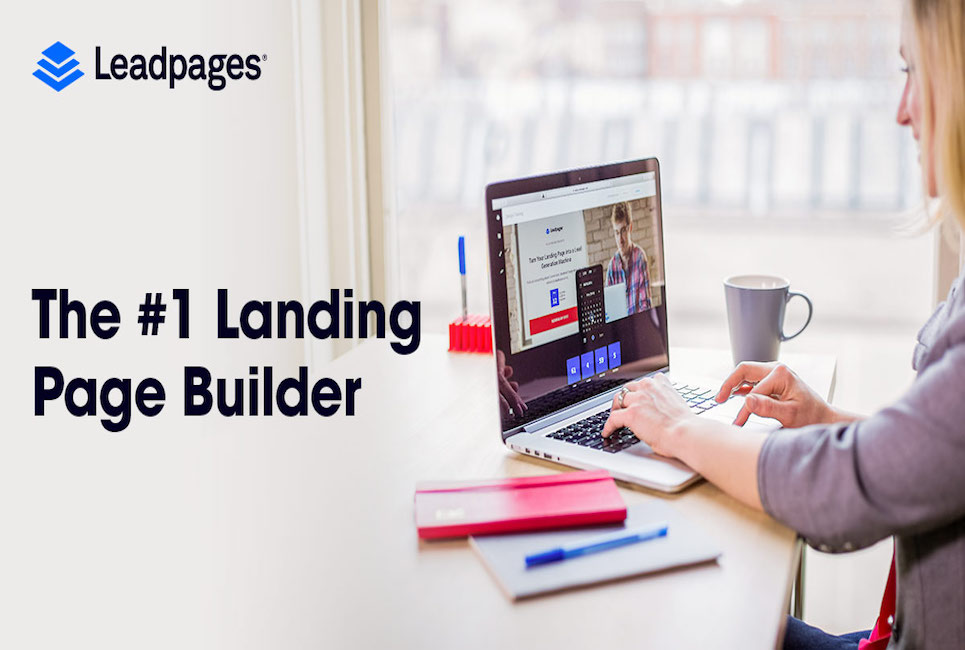 Wishpond vs. Leadpages Price Comparison
| | | |
| --- | --- | --- |
| Plan Level | | |
| Starter | $25 | $49 |
| Professional | $48 | $99 |
| Advanced | $199 | $199 |
Conclusion
We wanted more visitors to download our lead magnets. So we realized the need to direct traffic to optimized landing pages. Our goal is to drive traffic and convert more visitors into paying clients. To do this, we needed a landing page platform that would allow us to capture high-quality leads.
Wishpond is great for running social campaigns. But, it is very difficult to match their templates to your branding if you have a distinctive design. And they seem to be great at contest apps but pretty poor everywhere else. The problem was that we were not looking for a contest app, we wanted a landing page platform.
And so, after comparing the two platforms, Leadpages was the clear winner for us. This is because the bulk of our paid advertising goes through Adwords. Also, we already have an email marketing service that we are very happy with. And Wishpond was no match on either landing pages or email marketing. Unless you are really into social media contests, I recommend you opt for Leadpages.