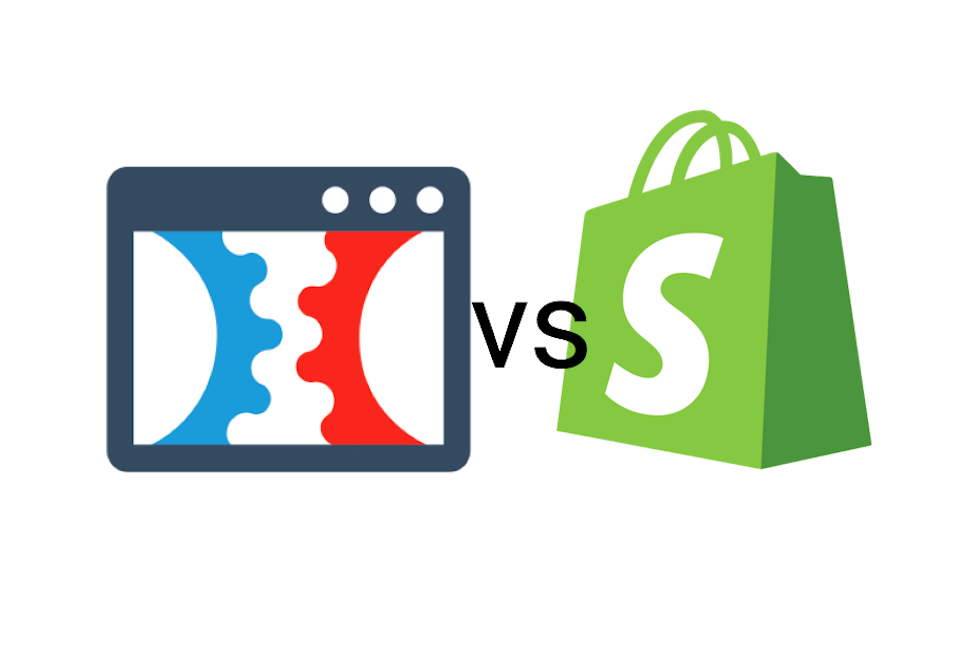 So, you've finally decided to start an online business.
You're going to sell an awesome product, or thousands of awesome products on the internet.
But you don't know where you're going to sell them.
That's why I compare two powerhouse tools — Clickfunnels vs Shopify.
Which one will work best for your business?
If you've been searching online how to start an online store, you might have heard two services i.e. Shopify and Clickfunnels come up quite a bit.
And frankly, with all the dropshipping and ecommerce guides out there, it can get quite confusing to decide which ecommerce platform is the best place for you to sell your products.
In this article, we'll explain to you exactly ecommerce platform you should run your online business on.
But here's the thing:
None of these tools are perfect by themselves. Both have their own strengths and weaknesses. Ultimately, the platform you choose to run your business on depends on what kind of business you're starting and what kind of products you're going to sell.
Main Differences Between Clickfunnels vs Shopify
The main differences between Clickfunnels vs Shopify are:
Clickfunnels has two plan options with a basic plan that is more expensive, whereas Shopify has three option plans.
Clickfunnels doesn't have a mobile app, whereas Shopify does have an app that is available on Android and iPhone. 
Clickfunnels offers several features including ready-made sales funnels, whereas Shopify does a better job at helping you manage your inventory and customers. 
Now, let's start with an overview of both these awesome services:
Shopify: The Ultimate Online Store Builder
If you're thinking of creating a fully fledged online store with lots of products, Shopify is a great choice.
You'll get lots of themes to build your website, an inventory management system to manage your physical products, payments integration and exclusive shipping rates from DHL, UPS and USPS.
Basically, you'll get all the tools you need to set up and run your new online store without having to write a single line of code. Plus the Shopify developer community is awesome – meaning you'll find solutions to any technical or non-technical issues you run into almost immediately with a few quick Google searches.
And if that wasn't enough, you'll also get access to a budding App Store full of plugins and integrations you can add to further enhance the functionality of your Shopify website.
Clickfunnels: The All-In-One Sales Funnel Software

If you've never marketed or sold a product in your life, then Clickfunnels is the software we recommend you use to sell your first product.
Why?
Because Clickfunnels comes with pre-built, scientifically proven to convert sales funnels. There are sales funnels especially made to sell products, memberships, courses, ebooks, webinars and even your services.
And not only can you create an online store to sell your products and services, you can also use Clickfunnels to build your email list and run automated email marketing campaigns.
Granted, the stores you create with Clickfunnels aren't going to be as feature rich as the ones in Shopify, but it's more than enough to get you started. And with Clickfunnels, you won't need to pay for another marketing software ever again.
Clickfunnels Vs Shopify: Features Comparison
From the above overview, you might have gotten the impression that both these tools are for two dramatically different audiences. And if you have, you're right.
Shopify Feature Rundown
Shopify is made for expert entrepreneurs who know how to integrate different marketing software with their stores, have advanced knowledge how to create funnels and turn visitors into customers and only need a robust tool to create and manage their online store.
That being said, here are the nine best features of Shopify:
Online Store Builder: Shopify has an excellent collection of themes (free and paid) you can use to build your online store. The drag-and-drop website builder lets you customize every element of the theme. You can add your own text, color, and images to make your website truly your own. And if you're tech savvy, you can add your own custom CSS and HTML code as well. In addition, you can also create blog posts with Shopify's content management system. And every single website is mobile responsive so your customers can shop on your website even when they are on the go.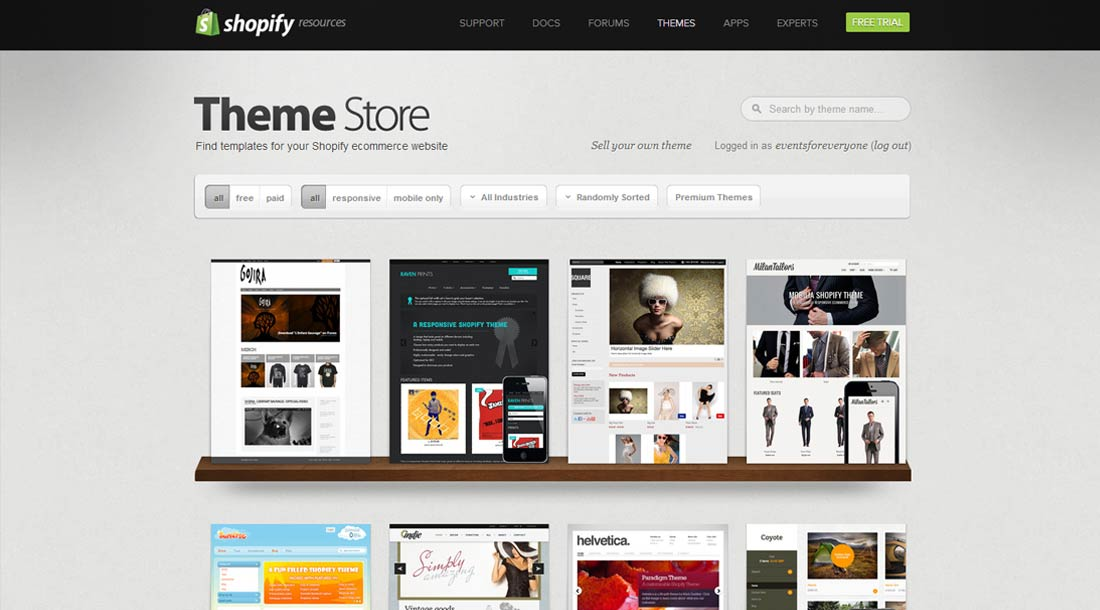 Inventory Management System: In Shopify, you can easily keep track of current and new inventory. Add new products, create different variants of it and post a few good-looking images of them and finally assign the number of items you have in store. Then Shopify will automatically track how many items you've sold so you know at once when to order more. Plus, you can also choose to sell (or not sell) a product even when it's out of inventory and being restocked.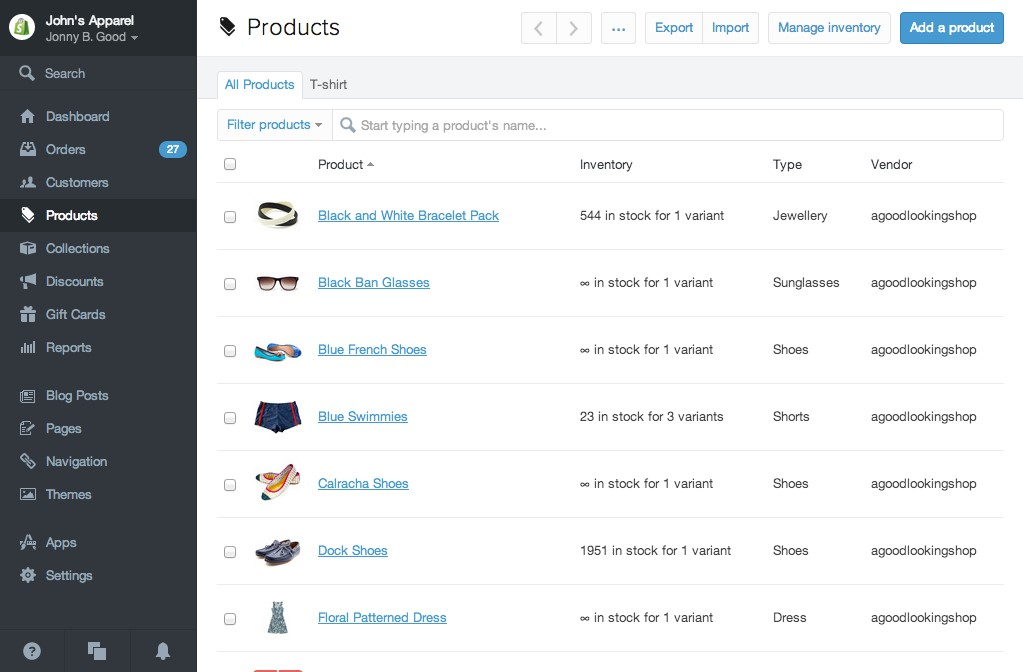 Analytics Dashboard: Shopify provides beautiful graphs of data that matter to you. You can see your traffic, orders, and sales at a glance. In addition, you can see where your customers are coming from, what they do and how much time they spend on your store thanks to Google Analytics integration. Plus, you can see the performance of each individual product i.e what's selling and what's not – and use this information to order new inventory accordingly.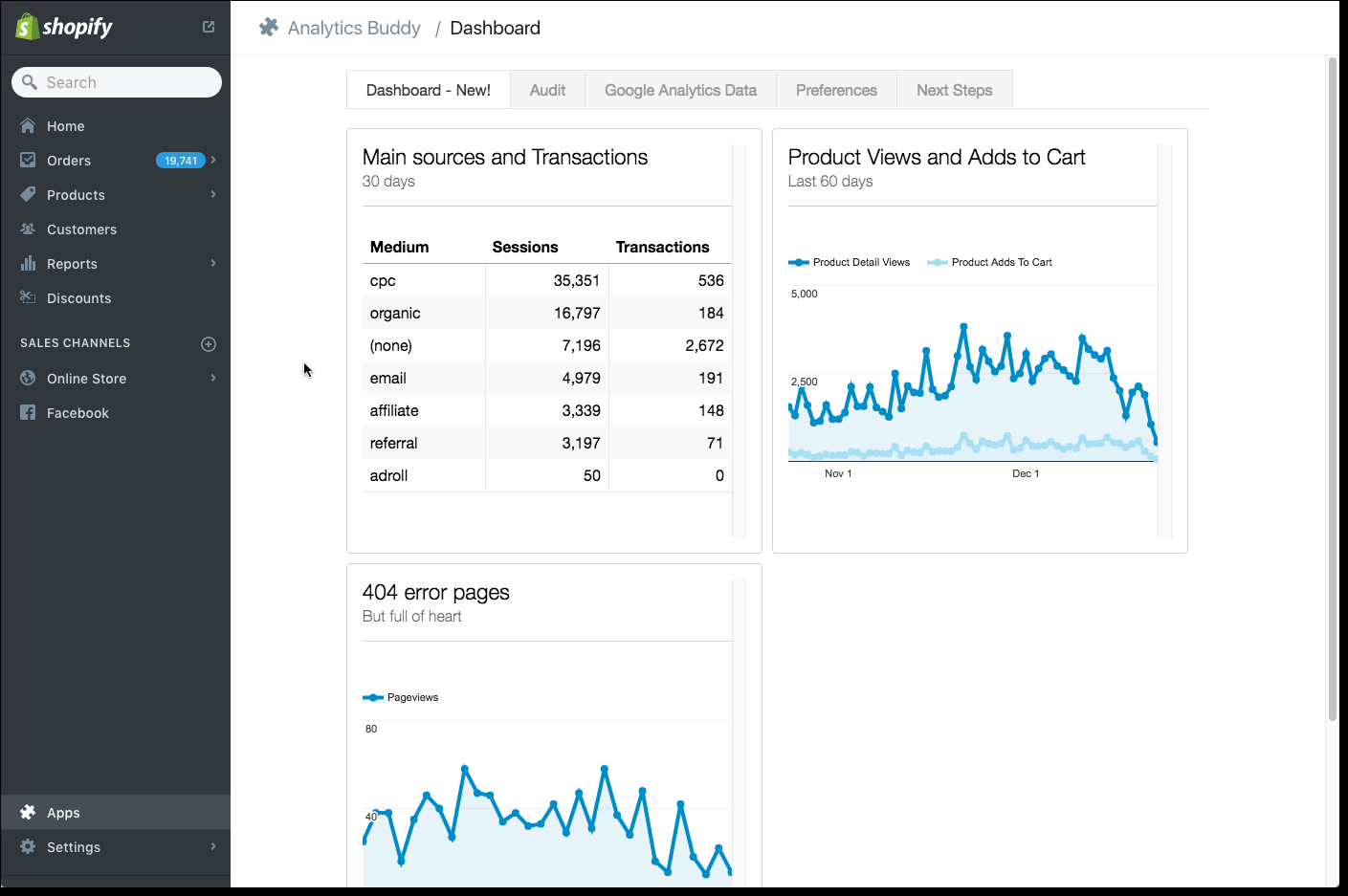 Customer Management System: Shopify lets you see the shopping behavior and info of customers who've purchased from your store. Plus, you can create membership sites to encourage repeat purchase and send these customers marketing emails (or give them the option to purchase as a guest). You can also organize customers in groups based on their country, product purchases and money spent. In addition, you can set up refunds for customers as well.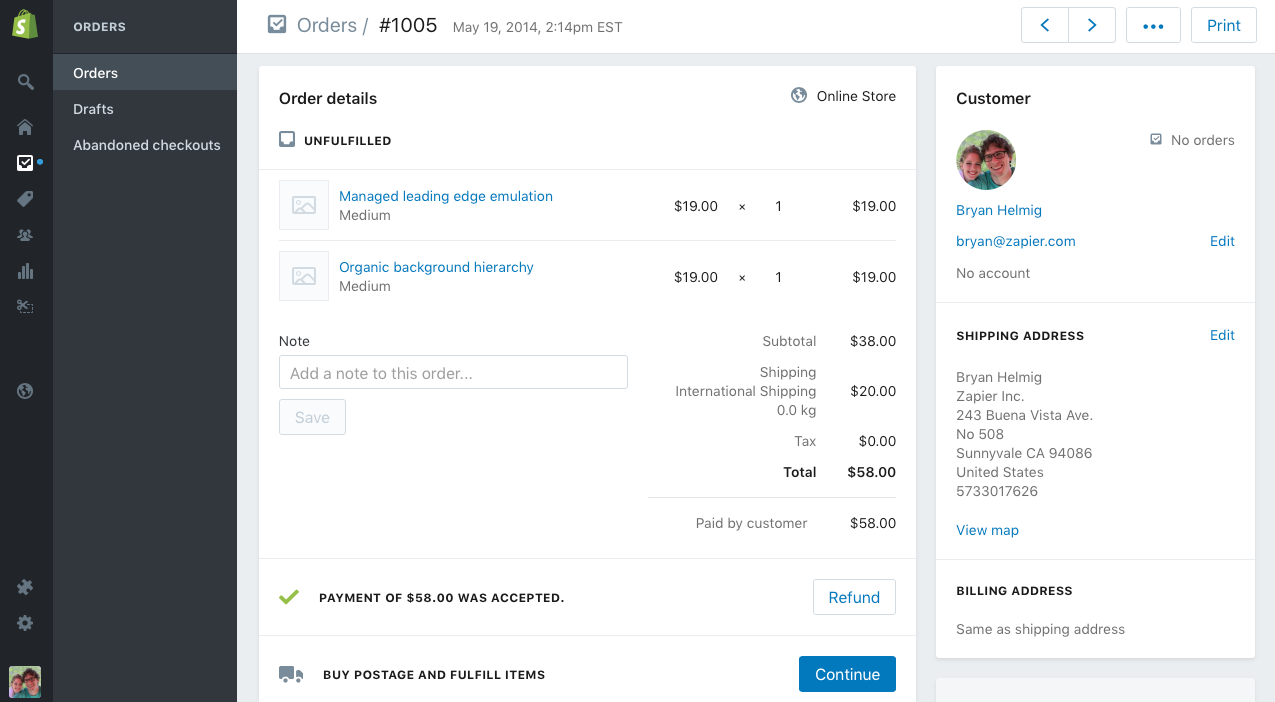 Sales Channels: You can use Shopify to set up stores inside social media networks like Facebook and Pinterest, Amazon, Ebay, your existing website and even your brick and mortar stores. This means customers can browse and purchases products right inside these websites and apps as well without leaving them.
App Store: The Shopify app store is full of amazing plugins and integrations you can use to enhance the functionality of your shopify website. You can use the many apps available to create landing pages, opt-in forms, get additional analytics, run email marketing campaigns and more.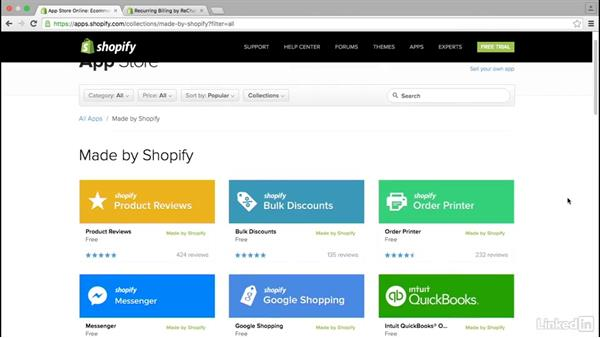 Payment Integration: With Shopify, you can accept payments from Visa, Mastercard, Discover and American Express, plus from 50+ online payment gateways like Paypal and 2Checkout. In addition, Shopify will handle city and state taxes of your country for you and gives the ability to offer customers free shipping.
Shipping and Delivery: Shopify has partnered will three major couriers i.e. DHL, USPS, and UPS to offer low shipping rates to your customers. Plus, because of their partnership with Oberlo, you can buy, ship and sell products to your customers without stocking inventory yourself.
Mobile App: The Shopify mobile app is available both on Android and iPhone. You can use it to track your sales and orders, manage your inventory and email / call your customers on the go.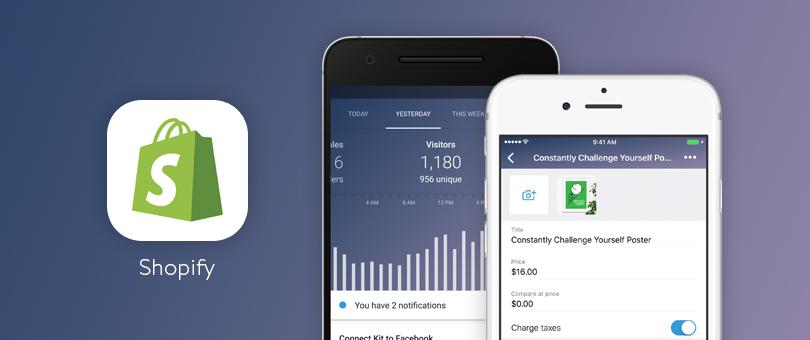 Clickfunnels Feature Rundown
Clickfunnels, on the other hand, is made for beginners and non-experts who want to start an online business, and need a simple and powerful tool that helps them set up not just a store, but their whole marketing funnel as well.
That's why Clickfunnels offers extremely robust tools like these:
Ready-made Sales Funnels: With Clickfunnels, you get 'funnels' i.e full sets of web pages that guide your customers toward a checkout page – ready made for you. You'll get funnels to sell every kind of product imaginable. There are funnels for physical products, digital products, courses, ebooks, memberships, subscriptions, webinars and more. In addition, there are templates for sales pages, opt-in pages, thank you pages and checkout pages as well. All you have to do is add in your own copy and images and your sales funnel will be ready.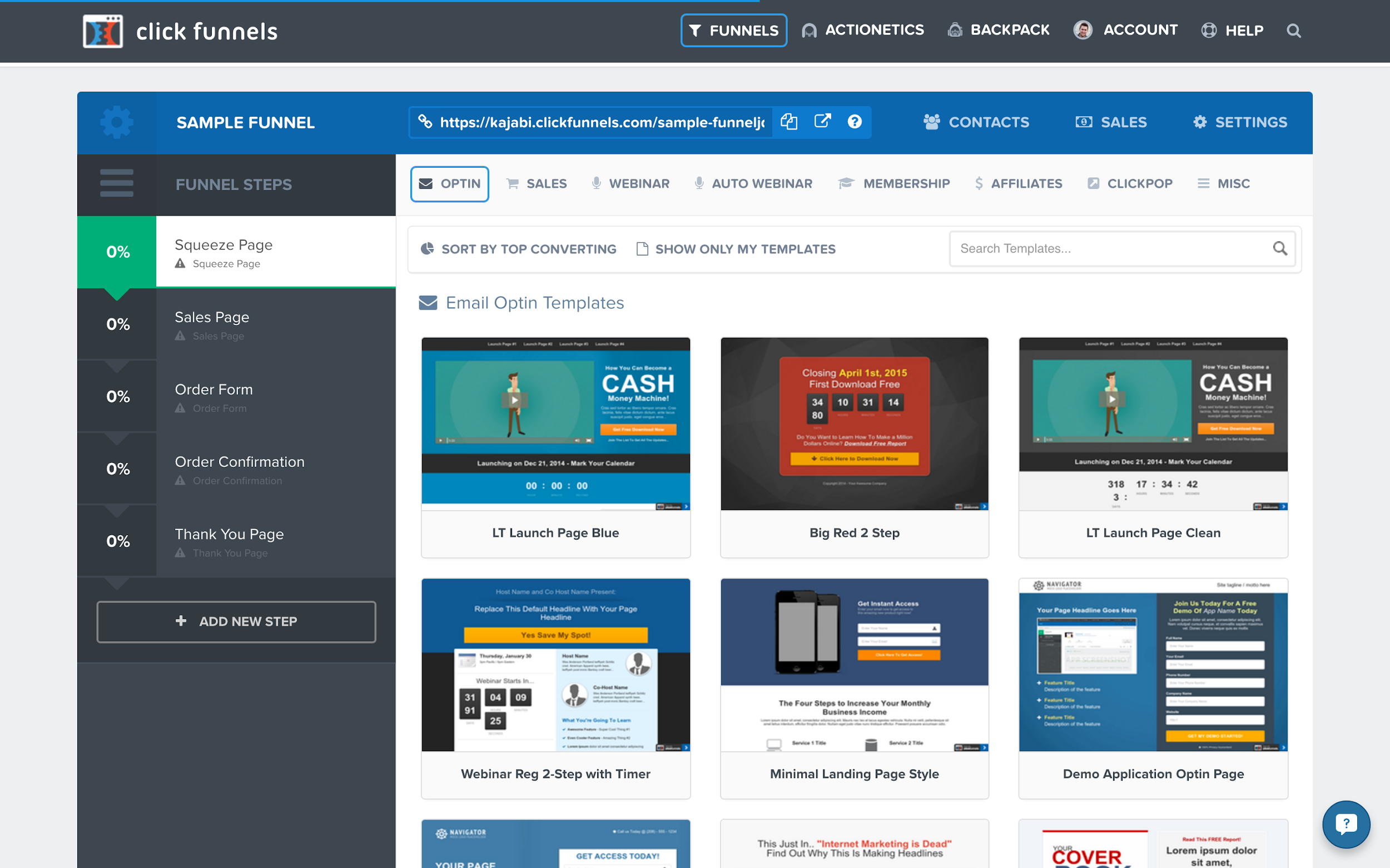 Website Building Tool: You don't have to use the sales funnel templates. You can build your sales funnel from scratch with the website building tool. You can add text, images, checkout carts, payment integration, an opt-in form and anything else you need to build any kind of web page for your sales funnel.
Payment Integrations: With Clickfunnels, you can add payment integration to your sales pages and collect payments at once. Clickfunnels integrates with Paypal, Stripe and other payment processors.
Affiliate Marketing System: This is a cool feature not many offers. Clickfunnels lets you create your own affiliate programs for products and services. This means you can give a link to other people to sell your product. And whenever someone sells your product for you, you can give them a commission. This way, you can create your own personal team of salespeople who will help you increase your sales.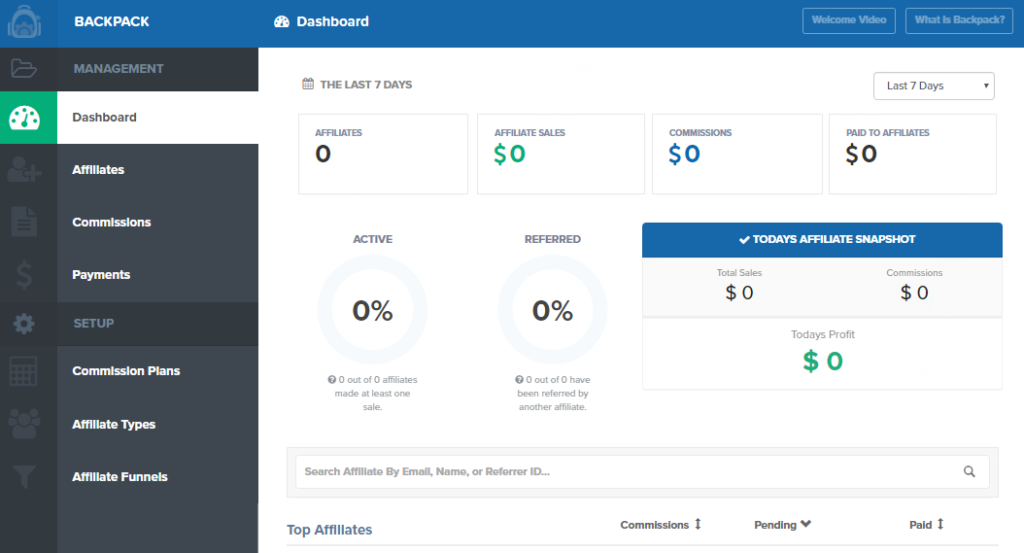 CRM System: Clickfunnels has a cool CRM system that lets you see in detail information about your customers. You can see where your customers are from, their email and social profiles, what they've bought from you etc. You can also group different customers based on their location, the products they've purchased, the money they spent etc. and put them in different email marketing campaigns.

Email Marketing Tool: You can create your whole email marketing campaign with Clickfunnels. You can write beautiful emails, arrange them in a series and automate the process so that anyone who opts in to receive your emails get them automatically. You can also send email campaigns to different segmented email lists.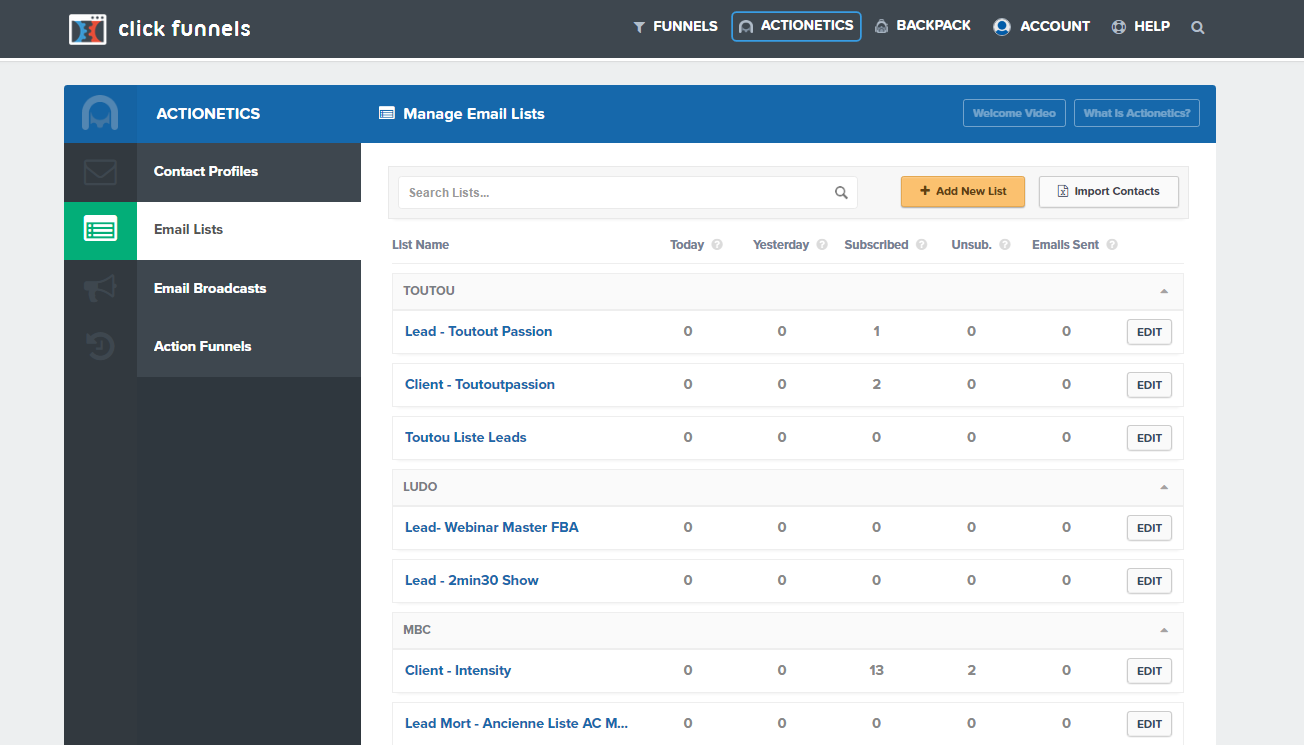 Action Funnels: The action funnel is the Clickfunnels automation tool. Using this, you can combine your funnels with your email campaigns to create the ultimate automated marketing machine. You can set up which 'list' a user should be added in after they opt-in (or opt-out) to your funnel and what emails they receive. You can also set up actions based on different triggers. For example, if someone purchases your product, you can auto add them to a new email list and put them inside a new campaign.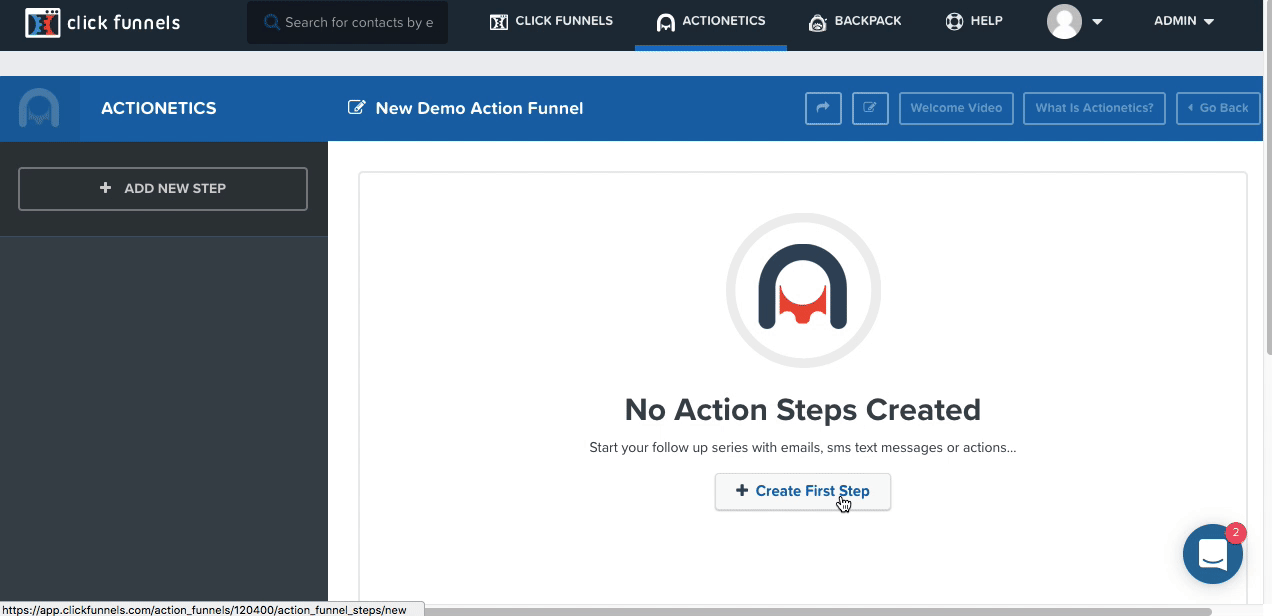 ClickFunnels vs Shopify: Pros and Cons
Based on the features, here are the top three pros and cons of Shopify and Clickfunnels.
Shopify Pros
Shopify is the best platform to create and sell hundreds of products thanks to its inventory management system.
You get super low shipping rates from delivery partners such as DHL, USPS and UPS.
You get a mobile app to run your online store on the go.

Shopify Cons
Shopify only provides a platform to sell your products. You have to learn how to market your website to get sales.
You'll have to integrate with other services for email marketing, building landing pages, creating affiliate programs etc which adds in cost.
You'll need a lot of time to set up your store, create funnels and will need technical marketing knowledge to do it right.
Clickfunnels Pros
You don't need to have any marketing knowledge to sell products. You'll get prebuilt funnels tested for max conversions.
You get a CRM system, email marketing tool and automation tool within Clickfunnels. No need to pay for another service.
Building a funnel and selling your product takes only a few hours, not a few weeks.

Clickfunnels Cons
The subscription is more expensive.
Isn't ideal for selling hundreds of products and running a full online store.
No mobile app for on the go usage
Frequently Asked Questions
Can you dropship with Clickfunnels?
Yes! With Clickfunnels you can create landing pages for your dropshipping business and integrate with third-party shipping applications.
Is Shopify safe and legit?
Also phrased as, "Can I trust Shopify?". The answer? Yes, you can! This is a renown company with great customer service. If you have any questions about how Shopify works and its features, check out our complete Shopify review!
Can you really make money with Shopify?
Of course, but it's important to have a great marketing strategy. Also, consider integrating Shopify with marketplaces such as Etsy or Amazon to be able to reach a larger market.
Verdict
Shopify is a good choice if you're a marketing pro and want to go full-time running and managing your online store. Its product management and delivery features are unmatched. But you need to know how to set up different integrations for building landing pages, running email campaigns and automating your online business.
That's why Clickfunnels is the better choice if you're just starting out selling products. You won't need a lot of marketing experience to build your funnels and you'll get all the services you need to run your online business – including hosting to get you started.
If you are going to choose, Shopify – you might want to invest in landing page editor app right from the start, such as Shogun.
You can learn more about Shogun in our full Shogun review.
You might also enjoy: