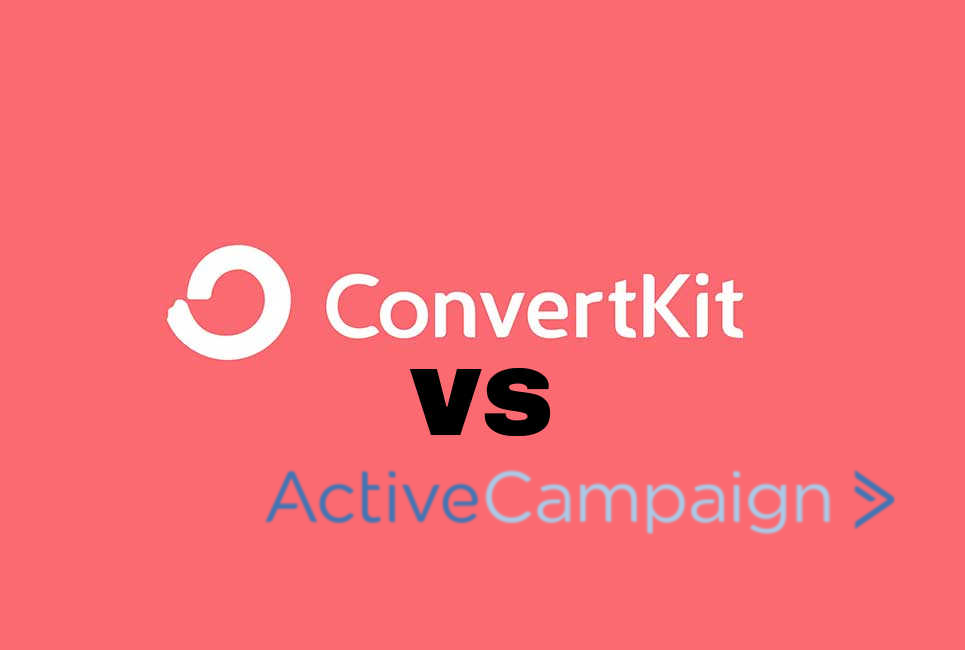 Choosing the right email marketing tool for your online business is hard. There are so many tools out there you don't know which one is best for your online business. To make the right decision, you should first do a serious assessment of how you run your business and what your current needs are. To make it easy for you to do that, in this article, we'll do an in-depth comparison of ConvertKit vs ActiveCampaign.


ConvertKit vs. ActiveCampaign: The Comparison Begins
Here's a quick glance of the services each tool provides:
ConvertKit Features
Form and Landing Page Builder: Create forms and landing pages and put them in your domain or host it on ConvertKit.
Email Sequence and Broadcasts Creator: Create email series or one-off emails.
Tags and Segments: Manage your subscribers in your list.
Visual Automation Tool: Automate tagging, segmenting and emailing processes.
ActiveCampaign features
Email Marketing Tools Including Form Builder: Build beautiful forms with many templates. Add onto your own website or host in ConvertKit.
Marketing Automation: Automate your complete sales and email marketing processes.
Sales and CRM Tool: Store leads, track them and follow up easily.
SMS and Site Messages Capabilities: Send text messages on your subscribers' phones and display targeted messages when they visit your website.
Facebook Ads Integration: Add and remove your subscribers to and from different Facebook custom audiences based on the actions your subscribers take in your emails.
Website and Event Tracking: See how subscribers behave when they visit your website.
If you carefully look at each tools feature list, you'll notice that ConvertKit's features revolve around only email marketing.
But ActiveCampaign's features support a wider aspect of your business' marketing efforts i.e. sales automation and customer relationship management (CRM)
With this, we can conclude that ConvertKit is an email marketing tool while Active Campaign is a broader suite of marketing tools, of which email marketing is a part of.
Now, let's compare both tools step by step and see what's different about them.
Need more info on ConvertKit — Read my full ConvertKit review here to learn more!
ConvertKit Vs. ActiveCampaign: How Are They Different?
Since ActiveCampaign is a full-on marketing suite with other features than email marketing, while ConvertKit is a full-on email marketing service, both of them are extremely different in how they operate.
Here, we'll discuss exactly what makes these two tools so different from each other.
Let's get started…
1. Form Creation To Get Subscribers: What's the Difference?
ConvertKit gives you two ways to build a form i.e. within a webpage or with a landing page. But Activecampaign gives you just only one way to build a form i.e. within a web page.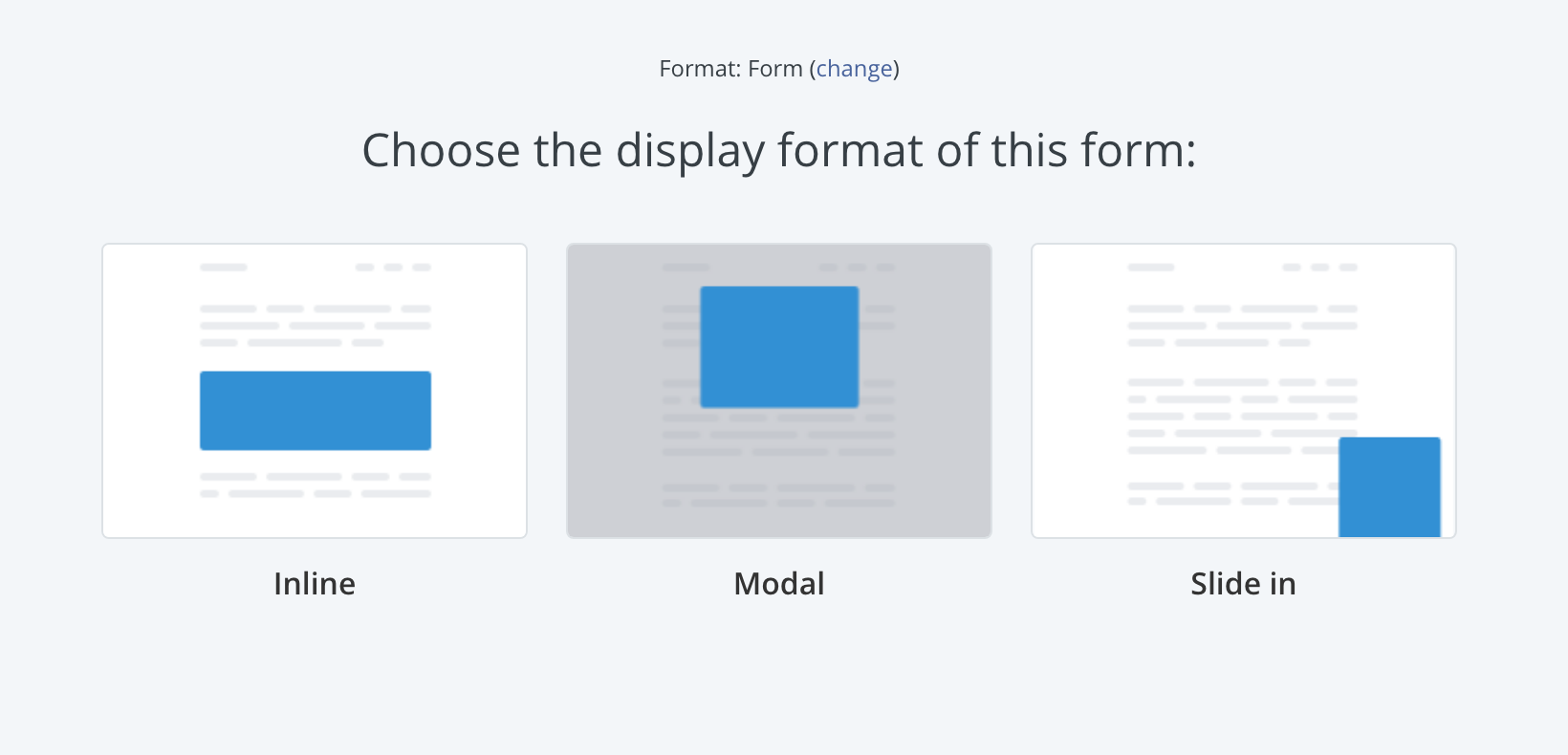 When it comes to creating a form, ActiveCampaign offers more flexibility. For example:
Using ConvertKit, you can place three kinds of forms in three different positions on your website:
Modal Popup: Over your website
Inline: Inside a piece of content, sidebar or footer
Sliding: From the bottom-left or bottom-right part of your website.
ActiveCampaign offers a fourth way to place a form i.e. as a floating bar. You can place this kind of form of the top of your website.
ActiveCampaign offers far more templates for your forms. ConvertKit takes a simpler approach and offers three distinct form styles i.e. Full, Minimal and Stripped.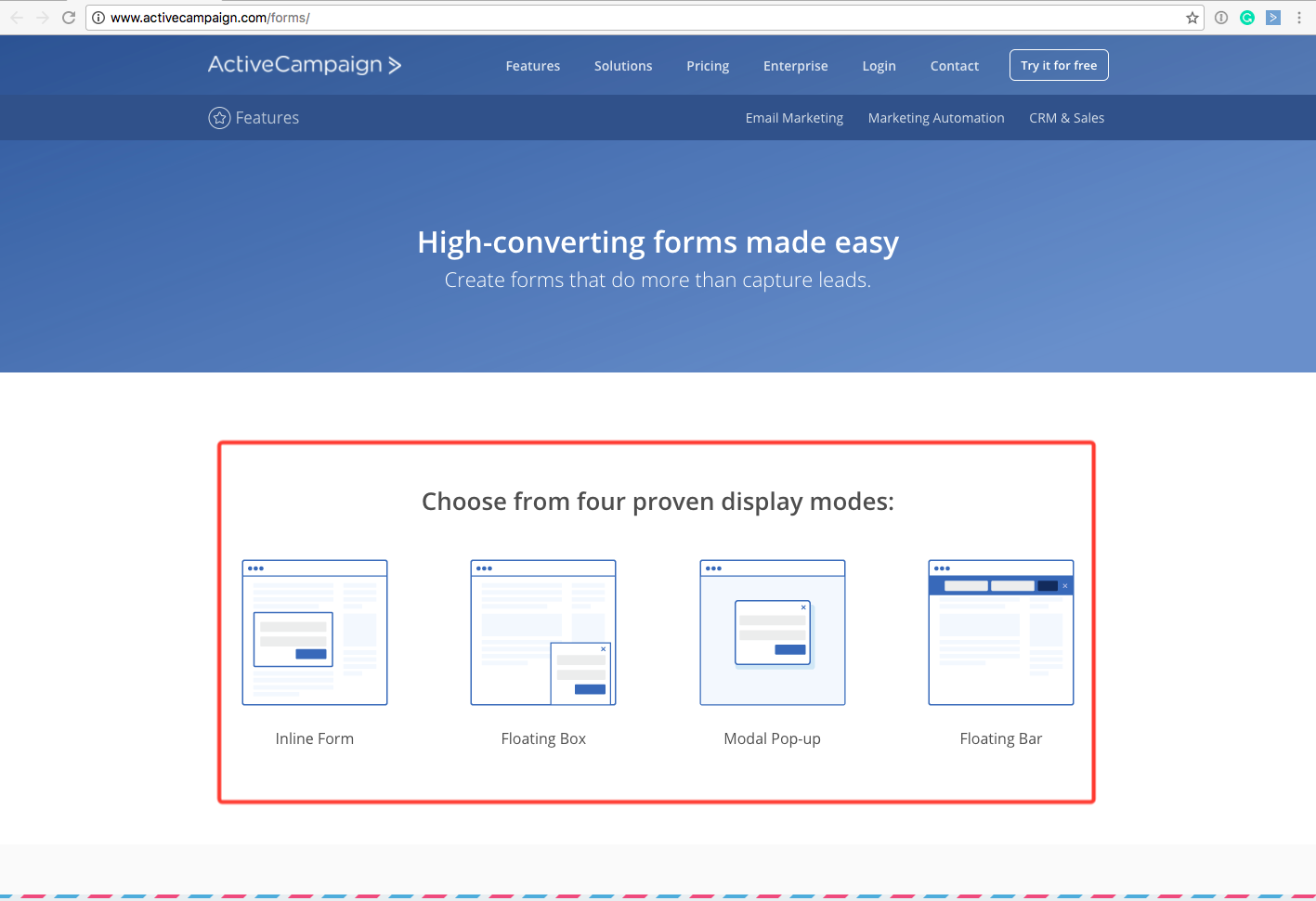 A set of features exclusive to ActiveCampaign is the ability to reach your audiences on:
SMS: You can send SMS messages to your subscribers after they take an action you want – or simply because you want to.
Facebook Audiences: Based on how your subscribers interact with your emails, you can add them to similar facebook audiences to show them better ads.
Site Messages: You can talk to your audiences when they land on your website by showing them engaging messages.
2. Subscriber Management: What's the Difference?
ConvertKit provides you a simple way to manage subscribers. There's just one main list in which all your subscribers reside. You can organize them further using tags and segments.
ActiveCampaign however, takes a more ambitious approach. You can have as many lists as you want. And if one subscriber is in multiple lists, ActiveCampaign will recognize that and will count that as just one subscriber.
In my opinion, ActiveCampaign's approach is much better.
Why?
Because if you have multiple businesses or websites, you can isolate your subscribers from each website or business into seperate lists – and each list can then be organized separately. To do that in ConvertKit, you'll have to create a new account for each business.
3. Segmenting Your Subscriber List: What's the Difference?
Here as well, ConvertKit's way of doing things is simpler. You get two ways to organize your list in ConvertKit:
Tags: With tags, you can divide your customers based on the actions they take, who they are, where they are location and other factors.
Segments: Segments are a way to organize your tags, which allow you to create specific audiences based on the conditions you want.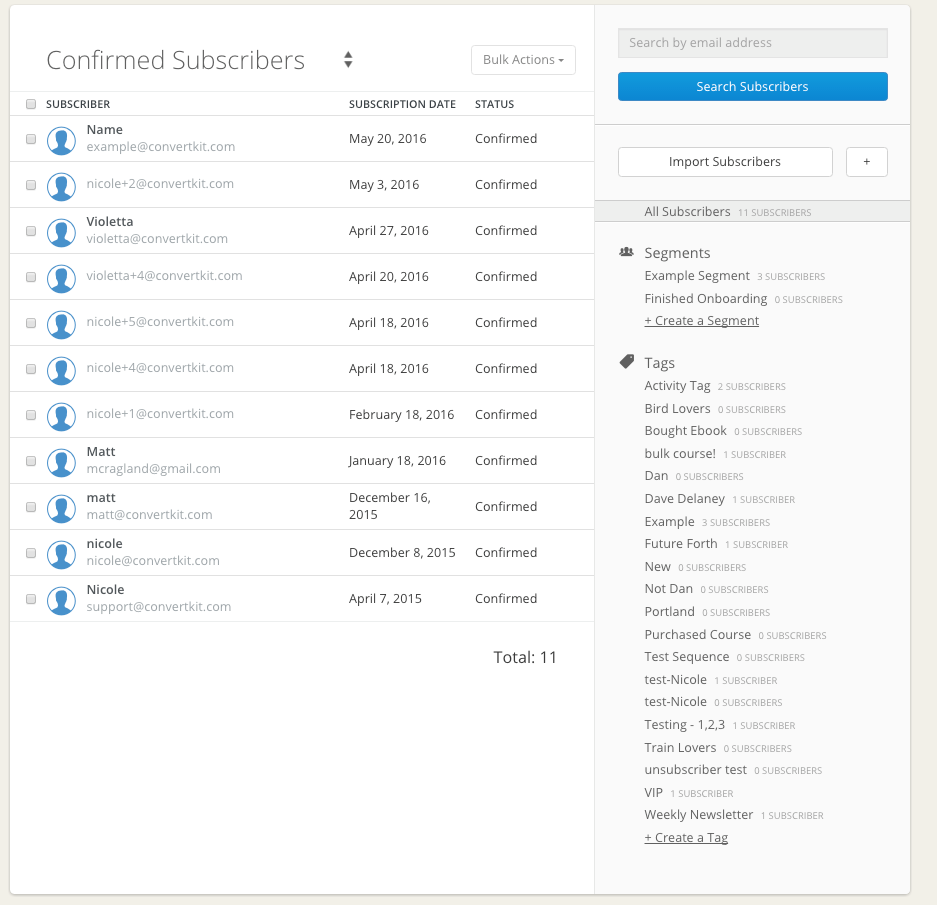 Here's how you can organize your subscriber list in ActiveCampaign:
Tags: In ActiveCampaign, tags are a way to add temporary identifying points to your subscribers. You can change tags much more frequently than in ConvertKit, where tags play a much more permanent role.
Custom Fields: Custom fields can have any information you want – and are attached to your subscribers through the forms their submit. Things like secondary email, date of birth, city and other info can be entered through custom fields.
Segments: Segments play a similar role in ActiveCampaign as they do in ConvertKit. You can add different tags, custom fields and other info to create custom audience of your choice through tags.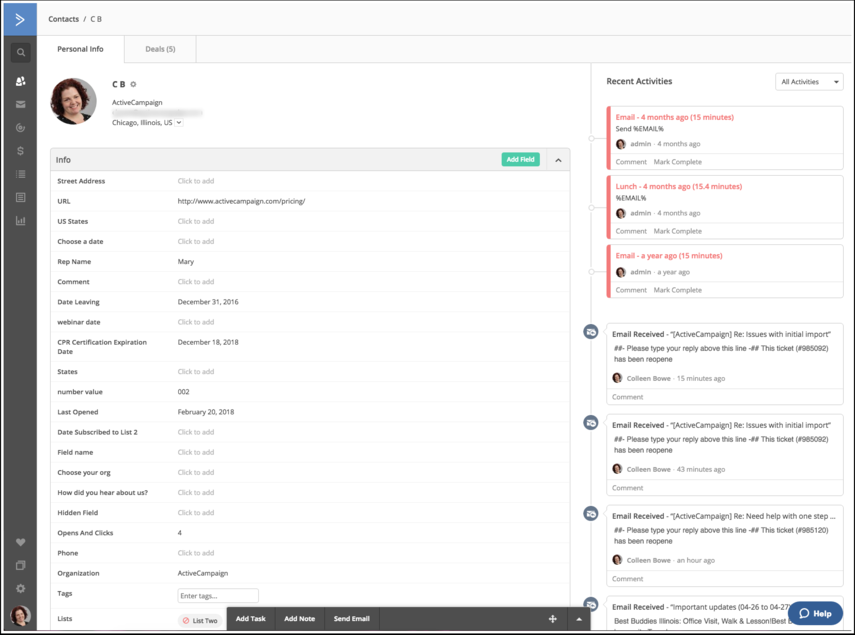 In addition to that, ActiveCampaign gives you a full CRM to manage your subscribers. You can:
See every single thing about your subscribers including which lists, tags and segments they are a part of.
Your sales team can assign activities to a contact which can be automated, followed upon and integrated with your email marketing.
See which lead i.e. subscriber has the highest chance of becoming your customer based on ActiveCampaign's scoring system.
These features are unique to ActiveCampaign and not offered at all in ConvertKit.
4. Automating Your Marketing: What's the Difference?
It's easy to automate your campaigns both in ActiveCampaign and ConvertKit. Both offer a visual automation window where you can automate every single thing in your marketing such as:
Adding subscribers to lists, tags and segments.
Putting them into email sequences and drip campaigns.
Triggering different actions based on subscriber activity, time or behavior.
… and much more.
But here's the major difference between the two: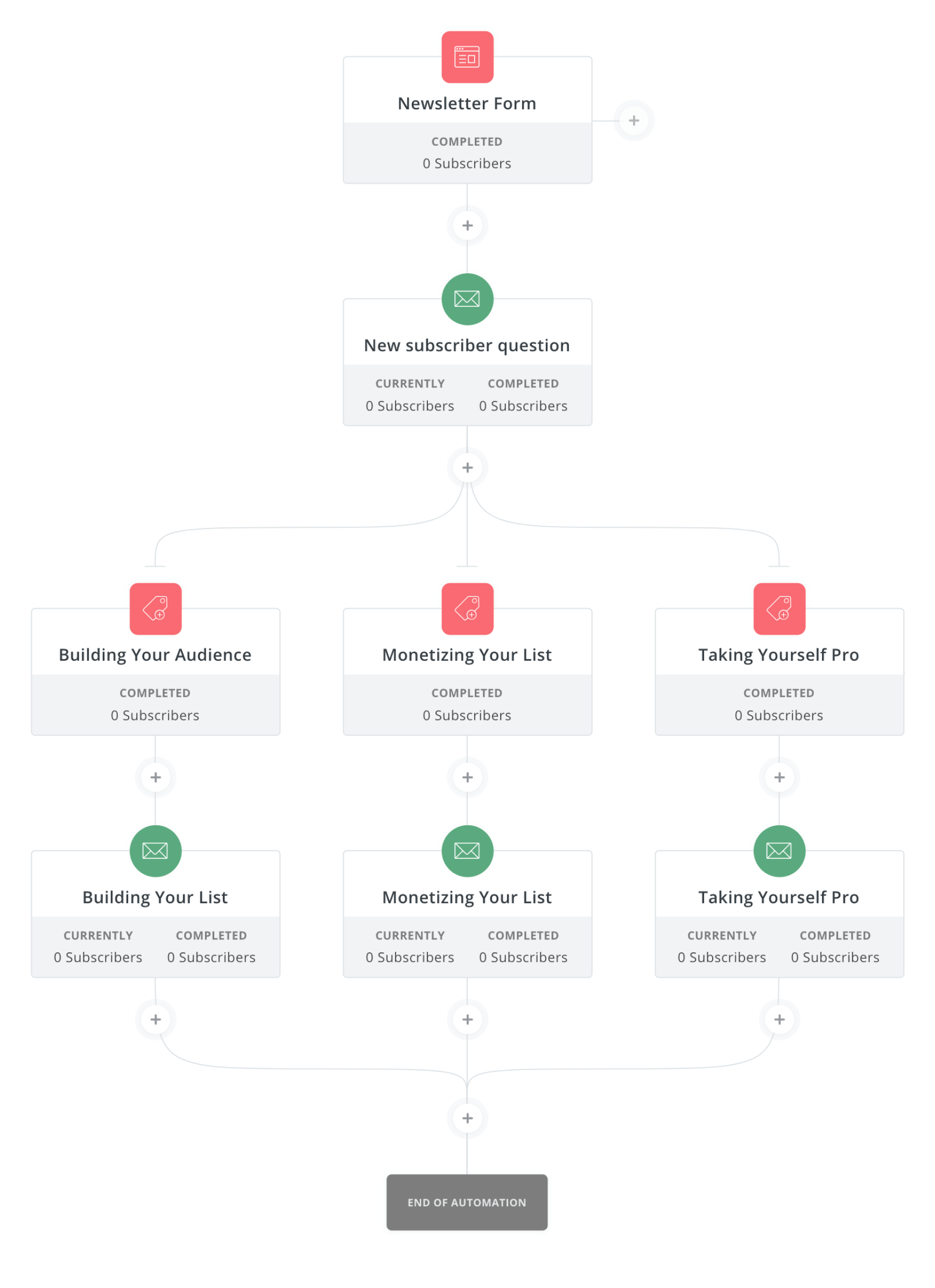 ConvertKit only has the ability to automate email marketing related tasks for you. ActiveCampaign, on the other hand, can automate both your email marketing and sales. And if you use Facebook custom audiences, ActiveCampaign can automate which audiences your subscribers go to based on the actions they take there as well.
Plus, ConvertKit can only trigger automations based on what subscribers do within emails. ActiveCampaign can trigger different emails, tags and other automations based on what your subscribers do on your website as well.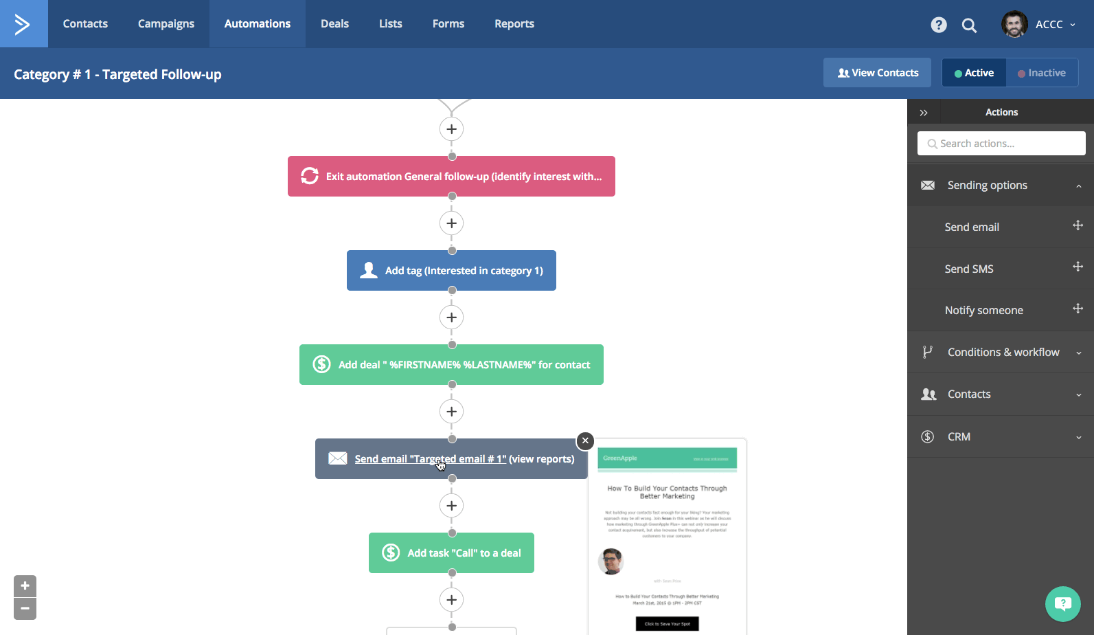 And last but not least, ActiveCampaign comes with tons of 'automation recipes' which you can use to quickly automate welcome emails, follow-up messages and more.
5. Reports: What's The Difference?
Both ConvertKit and ActiveCampaign offer excellent reporting for the activities they help you do. In both, you can see how your forms, email sequences, broadcasts, and automations are performing.
But again, here's where things go in favor of ActiveCampaign:
That's because they give you a lead scoring system.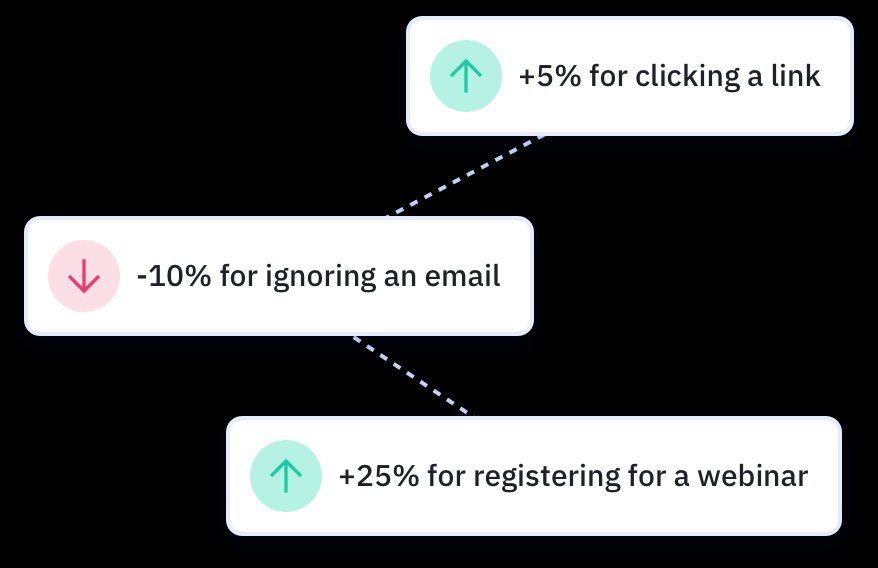 Depending on the actions your subscribers take i.e. clicking a link, open an email, watching a video etc., ActiveCampaign will give them points. And if your subscribers don't take the action you want i.e open your emails, click on links, ActiveCampaign will deduct points. The more the points a subscriber has, the higher the chances of them converting into your customers.
5. Pricing: What's The Difference?
Usually, it's the price that ultimately ends up being the deciding factor. But to properly make the decision, you need to understand what you get for a said price.
Here it is:
ConvertKit's pricing strategy is simple.

No matter what plan you subscribe to, you get all the features. No questions asked. That being said, their basic plan starts at $29 and limits you to 1000 subscribers. And the more subscribers you have, the more you pay.
ActiveCampaign's pricing strategy is a bit more complex.

They have four plans i.e. Lite, Plus, Professional and Enterprise. Each plan starts at $9, $49, $129 and $229 for 500 subscribers respectively. The more subscribers you have, the more each plan's price increases.
But the lite plan, which starts at $9 for 500 subscribers, gives you all the features ConvertKit has. This means everything from email marketing to automation capabilities is included in the subscription.
But yes, if you want the CRM, sales automation, Facebook ads integration, website tracking and the other stuff we mentioned, you'll need to get a better plan.
Final Thoughts
Don't be fooled by ActiveCampaign's pricing. Their starter plans only give you access to email marketing tools – the same as ConvertKit.
That's why if you plan to just do email marketing, I think ConvertKit is a better choice. It's much simpler to use, is as powerful as ActiveCampaign in its automations, and is overall a better choice for email marketing.
But, if you're thinking of doing sales or want to keep an extensive amount of data on your customers that moves beyond the realm of email marketing, you should go with ActiveCampaign.
Because while it definitely costs more, it's better to use this as it will help you automate your sales activities and will give you a fully-fledged CRM service – in addition to ConvertKit-like email marketing capabilities.
You might also be interested in:
Clickfunnels vs. Shopify: Which Tool Works Best for Your Business in 2018?
ActiveCampaign vs Constant Contact: Which is Best?
Clickfunnels Review: Will This Tool Help Propel Your Business?