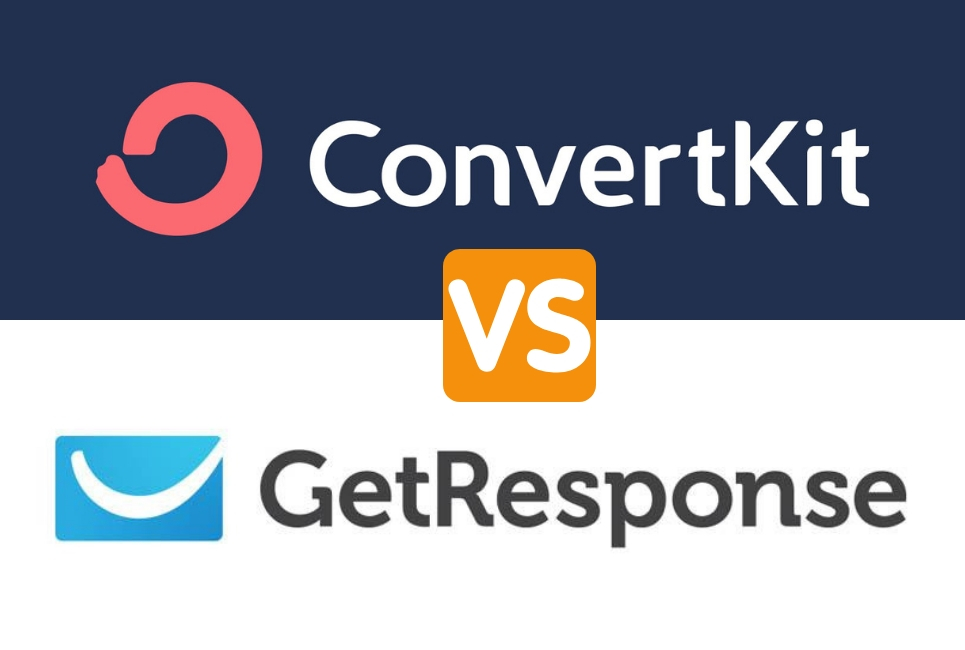 When you're faced with choosing an email marketing tool for your business, remember this: You shouldn't be on the lookout for a tool that has 'all the features'. Rather, you should be getting a tool – or any kind of software – based on whether it has the right features. That's why today I compare ConvertKit vs GetResponse: Which tool will work best for your business?
For example, if you're a solo entrepreneur who wants to sell an online course on your website, you don't probably need a full-fledged marketing software with CRM, ad tracking and advanced segmentation. But, if you run a million-dollar ecommerce business, an email marketing software without these features is no good for you.
That's why, when 'shopping' for email marketing software, your goal should be to choose one that's a fit for your business.
ConvertKit Vs GetResponse: Which Email Marketing Tool is Right For You?
In this article, we are going to compare two popular email marketing tools: GetResponse and ConvertKit.
None of these tools are, so to say, 'bad'.
But, because of the huge difference in features, only one is going to be the right fit for you. We'll contrast the features in both tools which will help you decide which one will suit the needs of your business.
And again, that's what ultimately matters.
Before we get started on that, though, here's a brief intro of both tools – who they're for and what they're good at.
ConvertKit
If you are a creator, a one-man business or a solo marketer who sells limited products or operates within a niche, ConvertKit is designed for you.
Here are some features which make ConvertKit unique:
It is a 'subscriber-centric' email marketing software. This means it provides great functionality that makes it easy to segment your audience and nurture them with targeted content.
The tool is easy enough to be operated by one person or small teams, yet the features it gives you are powerful enough to support your growing subscriber-base – and business.
Its automation tools are as good, or even better than what you get from 'bigger' email marketing tools like ActiveCampaign or InfusionSoft. Plus, the software is a pleasure to use because it's so easy to understand.
With that being said, ConvertKit is just an email marketing tool – but a really good one. But you won't find a great landing page builder or a CRM tool bundled with it. For that, you'll have to subscribe to other marketing tools and integrate them with ConvertKit.
If you are really interested in learning more about ConvertKit, please read my full Convert Kit review here.
GetResponse
If you run a business that stocks a high number of products, have a sales and/or marketing team, and are particularly focused on developing relationships with your leads and customers, GetResponse is a perfect email marketing tool for you.
Here's are the features which make it unique:
It is a 'customer-centric' email marketing software. This means its functionality can help you build a lead database, follow-up on them with personalized emails and convert them into your customers.
It has multiple tools bundled together under one roof. This means you'll need a dedicated team to fully take advantage of GetResponse.
It is a tool that's focused on helping you make sales. That's why GetResponse isn't just an email marketing tool. You also get a CRM service, landing page and webinar builder – and much more.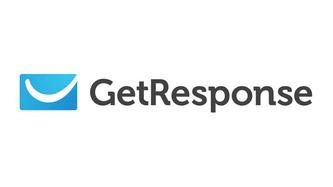 In essence, Getresponse is a great all-in-one marketing suite with some pretty diverse tools. But it isn't easy to operate single-handedly. To take full advantage of all the features, you'll need a dedicated team for it.
Here's why:
With GetResponse, don't think of it as just an email marketing tool. Rather, view it as 'a complete CRM (customer relationship management) software which comes with email marketing capabilities'.
And in conclusion, the main difference between both tools is this:
ConvertKit IS an email marketing tool. GetResponse HAS an email marketing tool.
ConvertKit Vs. GetResponse: Feature Walkthrough
The difference between the number of features ConvertKit and GetResponse have is huge. Here's a helpful overview of exactly what features you get with ConvertKit and GetResponse:
| | | |
| --- | --- | --- |
| Features | GetResponse | ConvertKit |
| Email Builder | Yes | Yes |
| Form and Landing Page Builder | Yes | Yes |
| Survey Builder | Yes | No |
| Marketing Automation | Yes | Yes |
| Subscriber Scoring Based on Activity | Yes | No |
| Webinar Marketing | Yes | No |
| CRM | Yes | No |
| List Building and Segmentation | Yes | Yes |
| Email Autoresponder | Yes | Yes |
So let's start by taking a detailed look at what it's like to use both ConvertKit and GetResponse. This will help you see better what each tool is capable of – and what you can really accomplish with them.
ConvertKit: The 'Subscriber Centric' Email Marketing Tool
With any email marketing tool, the first thing you should check is how good it is for writing emails, creating autoresponder campaigns and automating the whole process. In addition, you also want to examine how well of a system it provides you for getting and managing your subscribers.
First, let's start with the form builder of ConvertKit which is how you'll gain subscribers in the first place:
ConvertKit Form Builder
In ConvertKit, there are two ways you can capture the emails of your subscribers to grow your email list: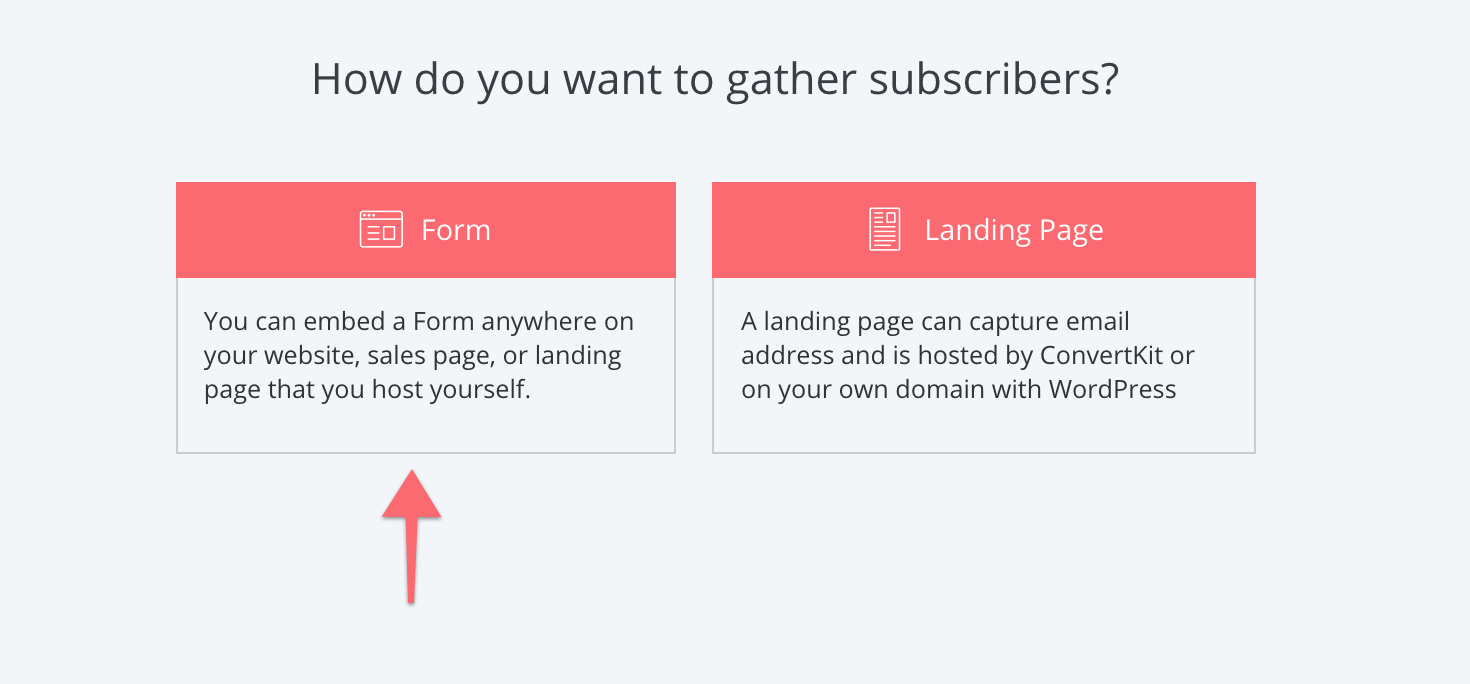 I'll be honest right from the start, there aren't a lot of customization options. There are just three templates for creating forms and similarly, a limited amount of templates to create landing pages.
But overall, the functionality of these are pretty good.
First of all, you can host your forms and landing pages on ConvertKit itself. You don't even need a website. Second of all, if you decide to put it on your website, you can set triggers as to when you want your forms to appear. You can put them in between text, as a pop-up box or as a slider.
In addition, after people subscribe through your forms, you can redirect them to a thank you page, send them a downloadable file and more.
ConvertKit Email Features
The Editor
In ConvertKit, you get a WYSIWYG (What You See Is What You Get) editor in which you can write your emails.
And to be honest, it is a pretty barebone editor.
There aren't any templates to get you started. This means you can only add text, images and GIFs to your emails. The best you can do is change the background and element colors in your emails – and that's that.
ConvertKit says they don't include emails because 'barebone' emails have a higher chance of converting.
But even then, the functionality of ConvertKit's editor is pretty limited. You can't drag and drop elements like text, images, GIFs and other cool widgets to create your email. It's like you're working in a Word processor.
Email Autoresponder (Campaign Creator)
Like any email marketing tool, ConvertKit's email autoresponder is great.
You can easily create a series of emails for different marketing campaigns – customize the timings as to when you want to send each email, choose the dates when you want each email to be sent – and more.
In addition, you can create a broadcast, which is a one-time email you can send to all your subscribers.
Overall, ConvertKit's user interface of writing emails and creating campaigns is pretty solid. On the left side, you can see all your emails in the sequence – and quickly navigate to the one you want to edit.
The only thing that's really lacking when it comes to email in ConvertKit is the editor. Whether you love its simplicity or not – is up to you.
ConvertKit Subscriber Management System
To manage your subscribers, ConvertKit gives you just one list. And in that list, you can divide your subscribers using 'tags' and 'segments'.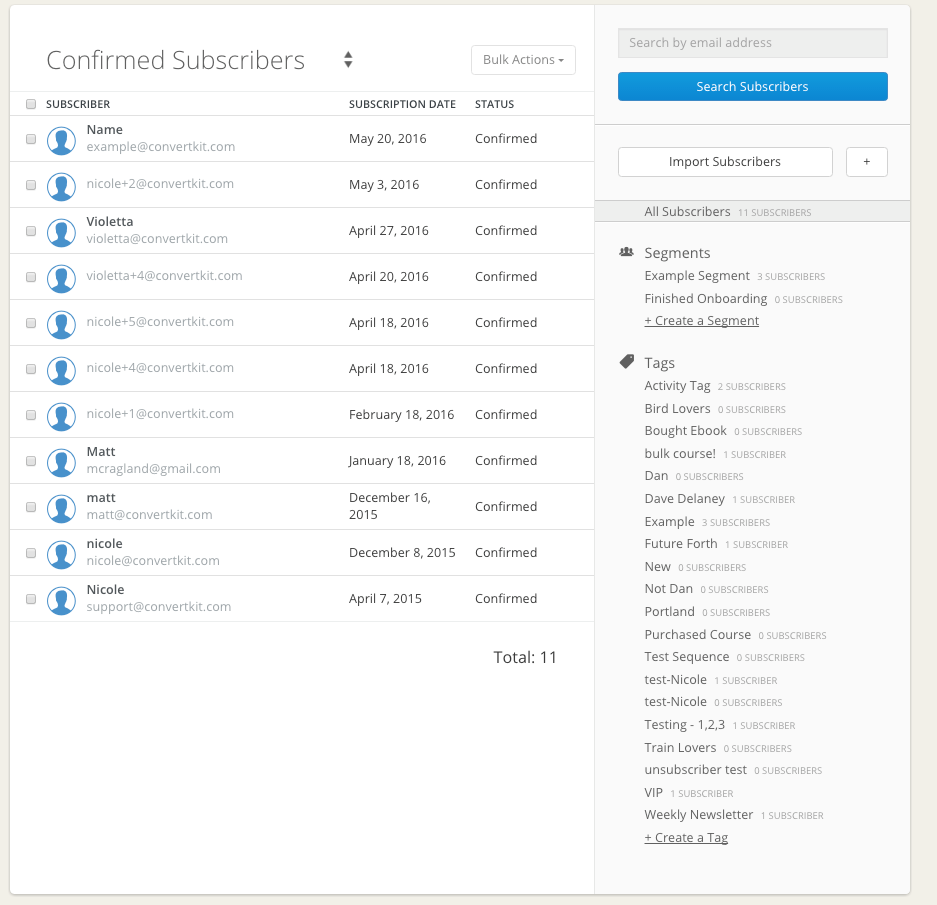 Tags are simply how you divide your subscribers based on their demographics, activity or relationship with your business. And segments are how you categorize different tags to further create the user groups you want. Nearly most of the time, this system works well.
This is because tags act as custom fields and you can put as many tags as you want in a subscribers profile. And since segments allow you to further organize your tags, you can pretty much divide your subscribers into any kind of audience you want.
The only problem is you get one list. This is a bummer because if you are running two separate businesses or websites, you can't create another list of subscribers. For that, you'll have to create a whole new account.
ConvertKit Automations
ConvertKit gives you a full section called 'automation'. This is a powerful feature where you can automate nearly every single aspect of your email marketing. Here, you can do things like:

Start an autoresponder campaign when a subscriber joins your list.
Tag subscribers based on how they interact with your emails.
Trigger 'actions' based on something a subscriber does (or doesn't do).
Connect multiple autoresponders together and send them automatically to the right audiences.
Ultimately, automations in ConvertKit is a powerful service that as you use it, the easier it will make email marketing for you. Subscribers will automatically receive new emails, get segmented into tags and segments, be added to autoresponder campaigns and more – all without you having to do a thing!
GetResponse: The 'Customer-Centric' Email Marketing Tool
With GetResponse, you get many marketing tools for your business. Let's break them down one by one and see how GetResponse differs from ConvertKit as a whole:
Email Marketing
In GetResponse, you truly get a fully featured email marketing tool for your business.
Right of the bat, there are 500+ unique email templates for you to choose from for every kind of email imaginable. And once you land in the email editor, you can a really intuitive drag-and-drop builder that allows you to simply drag text, images, videos and other cool elements onto your emails. Plus, there is an HTML version of the editor that lets you create simple text-based emails like in ConvertKit.
If that's not enough, you also get 1000+ professional iStock photographs to put in your emails.
Plus, you can create autoresponder campaigns just like with ConvertKit. But unlike ConvertKit, you get a cool 'calendar view' in GetResponse with which you can see exactly which dates which emails in the campaign will be sent to your subscribers.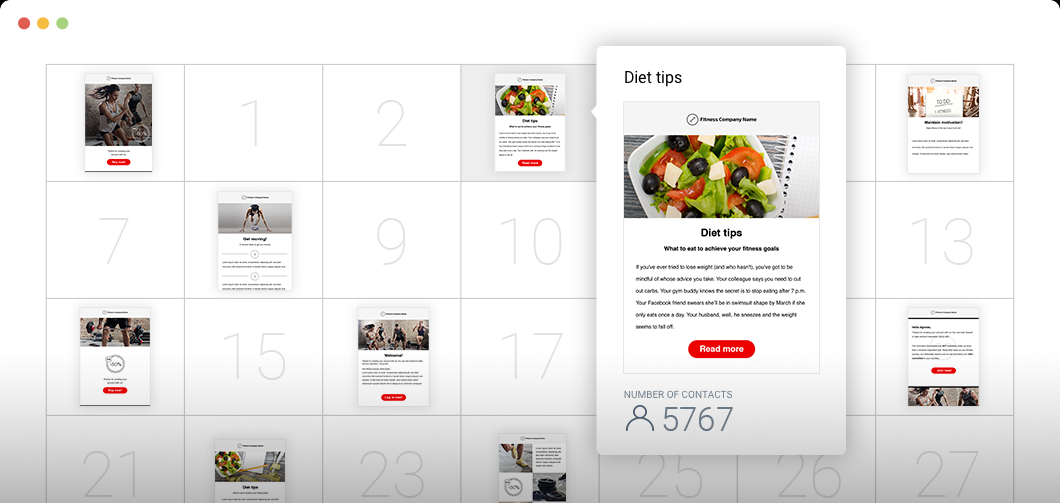 Landing Pages
GetResponse's landing pages deserve its own section. That's because when compared to ConvertKit, or any other email marketing tool really, they offer a much better selection (and better designed) landing page templates. There are literally hundreds of them with beautiful graphics and vectors which make it a pleasure to use.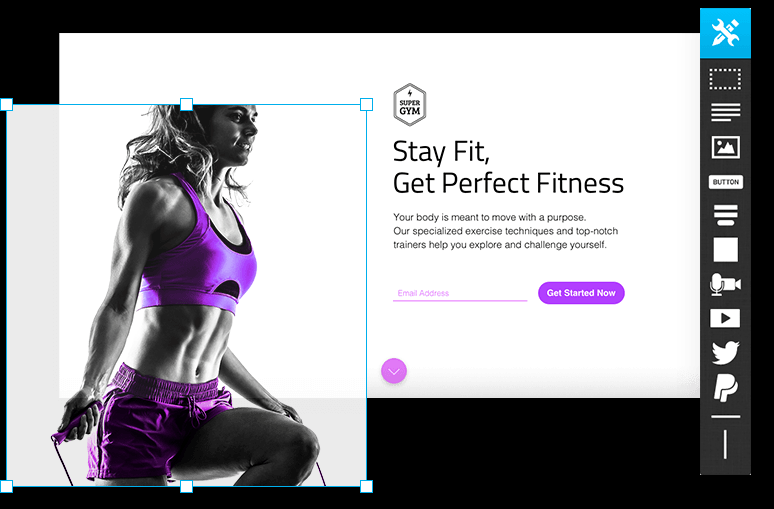 There are templates for Opt-in pages, squeeze pages, promo pages, downloads pages and more. Plus, like for emails, you get 1000+ iStock images and an image editor to edit them to suit your needs.
With ConvertKit, if you truly want to create a professional landing page, you'll have to subscribe to a service like Leadpages or Unbounce. With GetResponse, you don't need to.
But if you plan to put forms on your website only, this feature of GetResponse might not be of much use to you.
Webinars, Forms, and Surveys
In GetResponse, you get more ways to capture subscribers.
Sure, like ConvertKit, you can create forms and landing pages to get emails. But other than that, what you also get are webinars and surveys.
This is a feature which very few email marketing tools have.
In GetResponse, you can easily host a live webinar and create forms which let you capture the email of your attendees. Your subscribers can easily join your webinars using their phones and tablets.
Plus, the Webinar tool in GetResponse isn't 'basic'. Your attendees can chat with each other, you can write things in a virtual whiteboard, create polls, surveys and much more.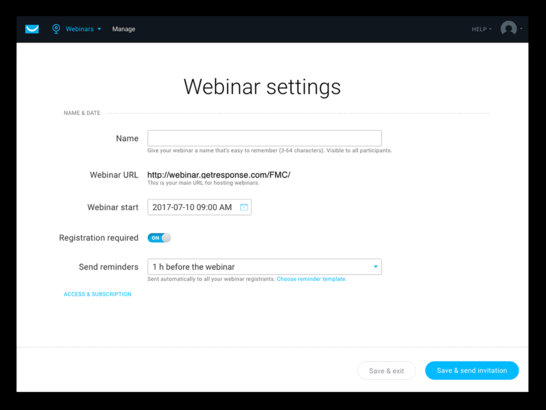 It really is a full-fledged webinar solution.
And finally, GetResponse gives you a full survey tool to create professional surveys with which you can get emails (and valuable feedback) of your website visitors.
CRM Tool
To be honest, GetResponse's CRM isn't a feature-packed as other dedicated CRMs like SalesForce. But it's more than powerful for you to keep track of your 'leads' and turn them into your customers.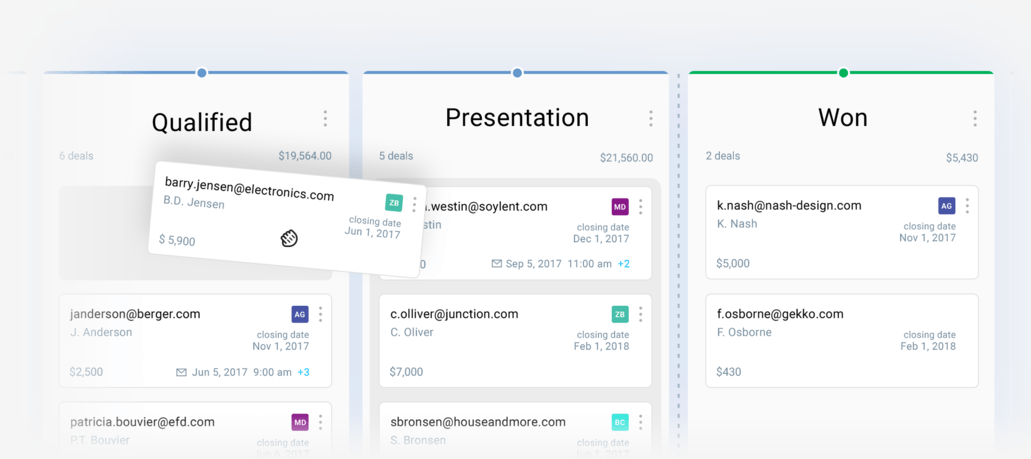 For starters, you can a five-column dashboard which is divided into 'New Opportunity', 'Qualified', 'Presentation', 'Won' and 'Lost'.
It is an extremely visual place where you can put your leads and prospects in the above categories, assign users to follow-up on them and custom fields and tags, right within the CRM tool.
Plus, you can add notes, events and time-based to-dos so you always know how to follow up on each lead.
Marketing Automation
Finally, tying all this together is GetResponse's automation feature. Like ConvertKit, it is visual, lets you set triggers which activate based on behavior, allows you to link your many autoresponder campaigns and much more.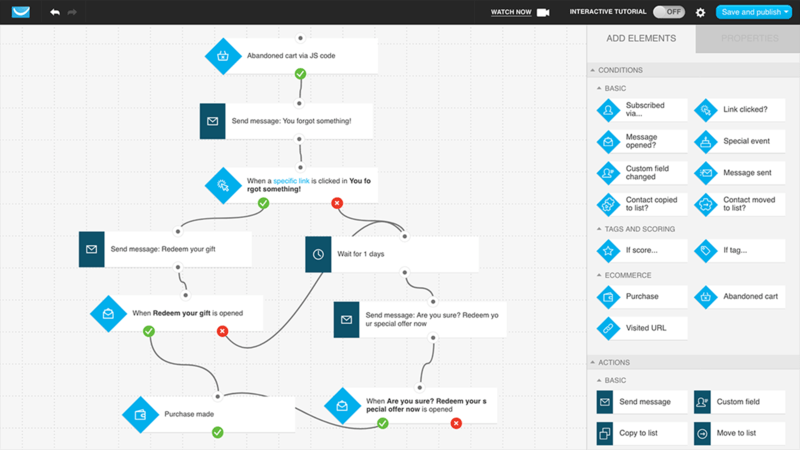 And while it is similar to the one in ConvertKit, it is so much more powerful in its functionality.
Because with ConvertKit, you are only able to automate your email marketing. But with GetResponse, you can automate activities that are happening inside your webinars and CRM as well.
This significantly increases the scope of what you can automate in GetResponse, and allows you to tie not just your email marketing, but also sales activity and live webinars together as well.
Final Deciding Factor: Pricing
If pricing were similar, the clear winner would definitely have been GetResponse. But in this battle, this is not the case.
Convert's pricing starts at $29 per month for 1000 subscribers. The more subscribers you have, the more you'll pay. But no matter which plans you get, ConvertKit gives you all of its features.

But GetResponse has different pricing. Their basic plan starts at $15 for 1000 subscribers and gives you just email autoresponders and the ability to create landing pages. This plan isn't that good – and if you want something like this, you should get ConvertKit instead.
But if you want to open up features such as the webinar, full landing page builder and CRM, you'll need to subscribe to the $49 plan, which when compared to ConvertKit, gets you more features at a better price.

But in the end, it all depends on what you want.
Do want a service that's fully dedicated to email marketing? Or do you want a service that also takes care of your sales with a CRM, gives you a webinar tool + provides email marketing? The decision is yours…
To make your decision, how about doing some further reading?