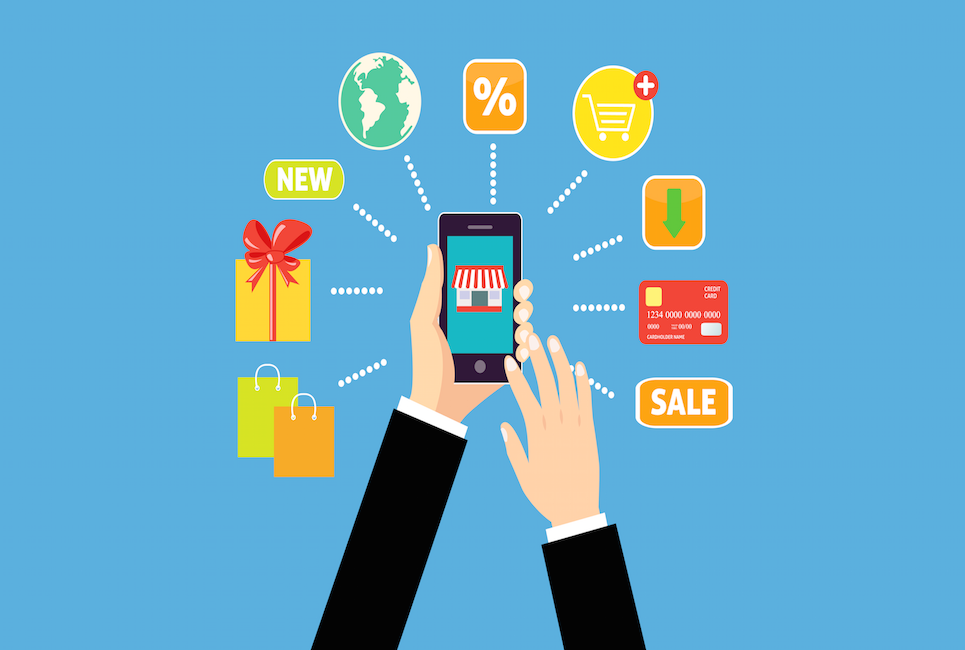 Finding the right e-commerce tool could be the difference between immense success or no sales! If you want to succeed in the growing, massive online e-commerce markets, then you need to do your research and find the tools that work for you. This is why I give you the full nopCommerce vs Shopify comparison!
Main Differences Between NopCommerce vs Shopify
The main differences between NopCommerce vs Shopify are:
Shopify is a dedicated platform for ecommerce sellers, whereas NopCommerce is an open-sourced platform
NopCommerce does not have as many features for online stores, whereas Shopify has many integrations, features for online sellers
NopCommerce can be used for free (with limitations), whereas Shopify is a paid, dedicated service from the beginning
Online retail is the future. Over the past few years, many brick-and-mortar retailers in the United States have struggled. Shopping malls are becoming ghost towns in some areas, historic brands like Sears have fallen by the wayside, and even once-massive shopping holidays, such as Black Friday, have lost their luster.
Why fight the crowds to save a few bucks?
Of course, consumers have continued consuming. More and more people, however, are shopping online. Since the Internet went mainstream, the Internet has been popular for shopping. In the early days, however, online shopping was limited to certain goods, such as books, gadgets, and the like. Now, however, you can order groceries online, and in some areas, you can have them delivered same day.
The world is changing. Many brick-and-mortar stores have been setting up e-commerce websites. Fortunately, anyone looking to set up a site can skip building one from scratch. When Amazon and other trailblazers launched their websites, they had to build many of the functions and capabilities from scratch.
These days, you can use out-of-the-box tools and platforms to set up e-commerce websites literally overnight. Of course, you'll still have to market your goods, process payments, and fulfill orders. However, it's never been easier to get into online retail. There are many different choices and platforms you can use. Today, we're going to look at two of them, nopCommerce and Shopify.
Shopify vs nopCommerce: The Comparison
When it comes to platforms, Shopify and nopCommerce are foundationally different even if they share many fundamental similarities. Shopify is a multi-billion dollar company with a paid staff that numbers in the thousands. Shopify works hard to stay at the cutting edge of e-commerce technology, using its many billions of dollars in revenues to support those goals.
NopCommerce, on the other hand, is an open source platform, meaning you can download and use the software for free. There are few strings attached. If you'd like to white label the software, you need to pay a fee, but outside of that, you don't have to pay anything.
Of course, you "get what you pay for." There are many important differences between Shopify and NopCommerce. Both platforms are worth a look. Which one's best for you? That largely depends on you. We'll jump into the differences between these two platforms so you can decide which one's better for you.
NopCommerce: An Introduction
Russian developer Andrei Mazulnitsyn began developing NopCommerce back in 2008. In 2009, he founded Nop Solutions to oversee the development of the software. NopCommerce is built with ASP.NET MVC 4.0 and upon MS SQL Server 2008 (or higher) database.
Currently, nopCommerce is used by over 9,000 websites worldwide. This is good for a market share of just .32% but suggests that the platform is still relied upon by a number of websites. NopCommerce has also been downloaded over 1.8 million times, so quite a number of people have given the platform a try. We'll shortly explain why the platform isn't currently found on nearly so many websites. First, let's highlight a key benefit.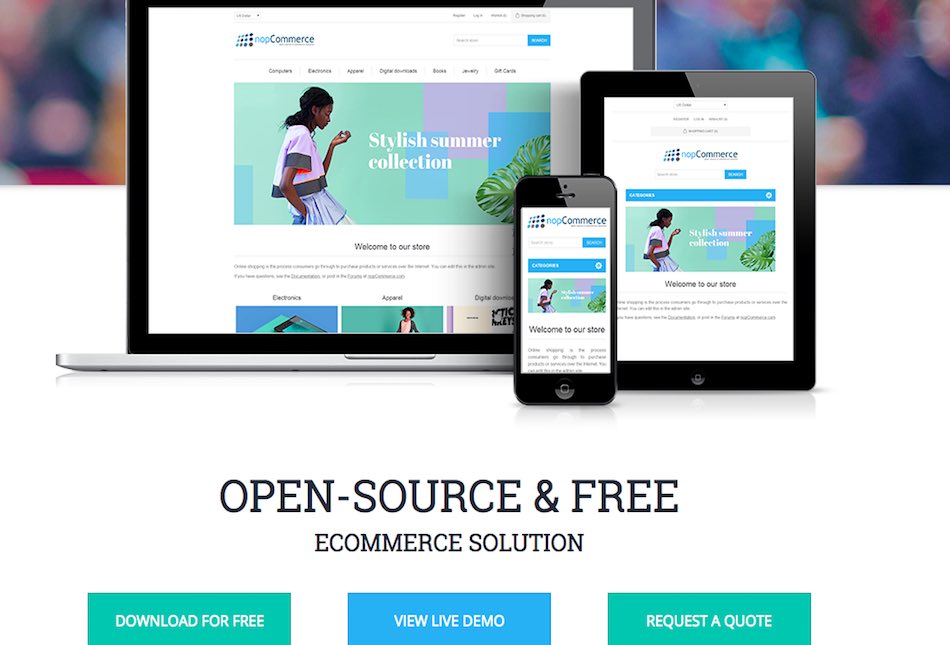 There's one huge benefit to NopCommerce that few competitors can offer: it's 100% free to use. You can download NopCommerce today, build a website, and not have to worry about paying anyone anything. Such is the nature of open source software.
Of course, there is a catch. NopCommerce is significantly more difficult to set up and use than paid out-0f-the-box solutions like Shopify. Generally speaking, you need to have developer level skills if you want to build a NopCommerce website.
NopCommerce isn't nearly as feature-rich as Shopify and other pay-to-play e-commerce solutions either. This is especially true when it comes to out-of-the-box features. While NopCommerce is highly customizable, you're going to have to put a lot of sweat into developing those custom features.
NopCommerce Key Features
NopCommerce comes with many of the key features commonly found with paid platforms. Keep in mind, however, that to get many of the functions up and running you might have to write and plug in some code yourself. Features found on nopCommerce include:
Mobile commerce
Multi-store management
Multi-vendor integration
Product listing pages and features
Checkout capabilities
Marketing tools, including SEO
Payment integration (although more limited compared to Shopify)
Shipping tools (although more limited compared to Shopify)
Shopify: An Introduction
Shopify is one of the easiest e-commerce software suites available. Even newbies can build their own website. Of course, when it comes to technology, some people will find the learning curve to be quite steep.
Regardless, Shopify makes it very easy to set up an e-commerce website. In fact, Shopify was born when Tobias Lütke, Daniel Weinand, and Scott Lake were trying to set up their own e-commerce website but realized that there were few good e-commerce solutions.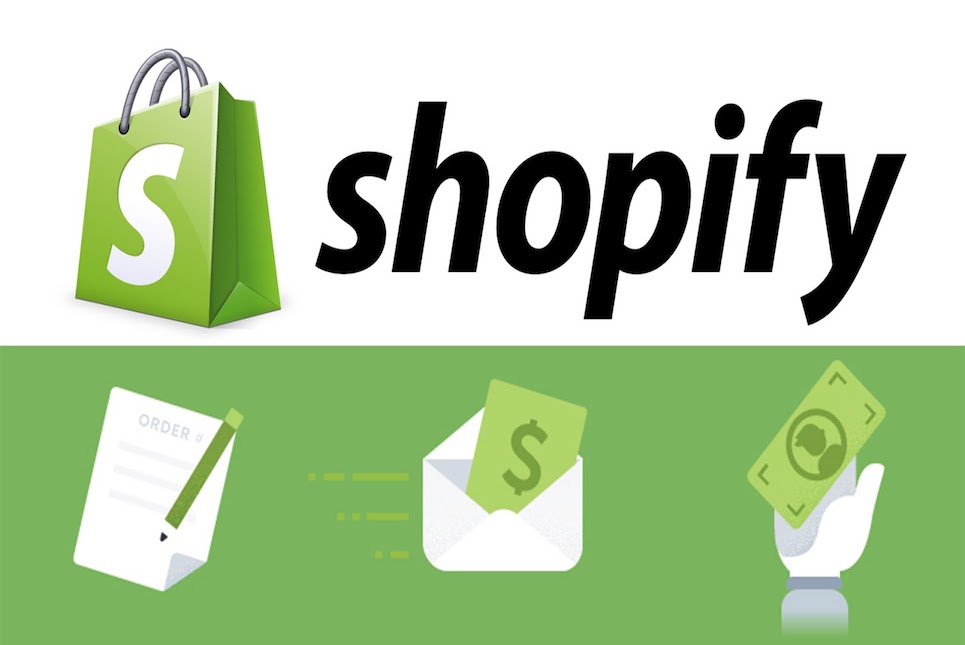 The trio wanted to build Snowdevil, an online snowboarding website. They managed to do so, and along the way, they built their "Shopify" e-commerce solution. The platform has since snowballed (pun intended) into a massive global company, with roughly 2,000 staff members scattered around the globe and generating over $580 million in revenue (2017).
Shopify is a Software-as-a-Service solution. You pay a subscription fee and then the company provides software via the cloud. Updates, new features, and all the rest are handled by the company. You'll have to build your own sales website. However, Shopify themes can be bought for roughly $150. With a theme, just about anyone who's PC literate can set up a website in a matter of hours.
Shopify's Common Features
Few e-commerce platforms are as well rounded as Shopify. The platform is one of the most cutting-edge in the industry. Should you find a feature that it lacks but a competitor has don't be surprised if Shopify implements it in the near future.
NopCommerce might be an exception of sorts, however. Don't hold your breath waiting for nopCommerce to become a free platform. It's almost certainly not going to happen. Anyways, some of the many features found on Shopify:
An advanced and fully-featured shopping cart
An easy website builder + hundreds of professional themes
Simple blogging integration
Mobile commerce ready and optimized
Easy brand implementation and customization
Free SSL certificate
Automated shipping tools, such as rate calculator
Accept credit card payments and payments from over 70 sources
Powerful but easy to use Point-of-Sales (POS) solutions
Instant tax calculation
Multi-language support
Customer account management (including profiles)
Shipping tools and order fulfillment (including drop shipping)
Refund management
Gift card management
Powerful analytics tools
Marketing and SEO tools
Web hosting
Okay, that's a long list and it's far from complete (to be fair, nopCommerce has other features as well). It'd simply take too long to list everything out. Shopify is one of the most complete e-commerce solutions available.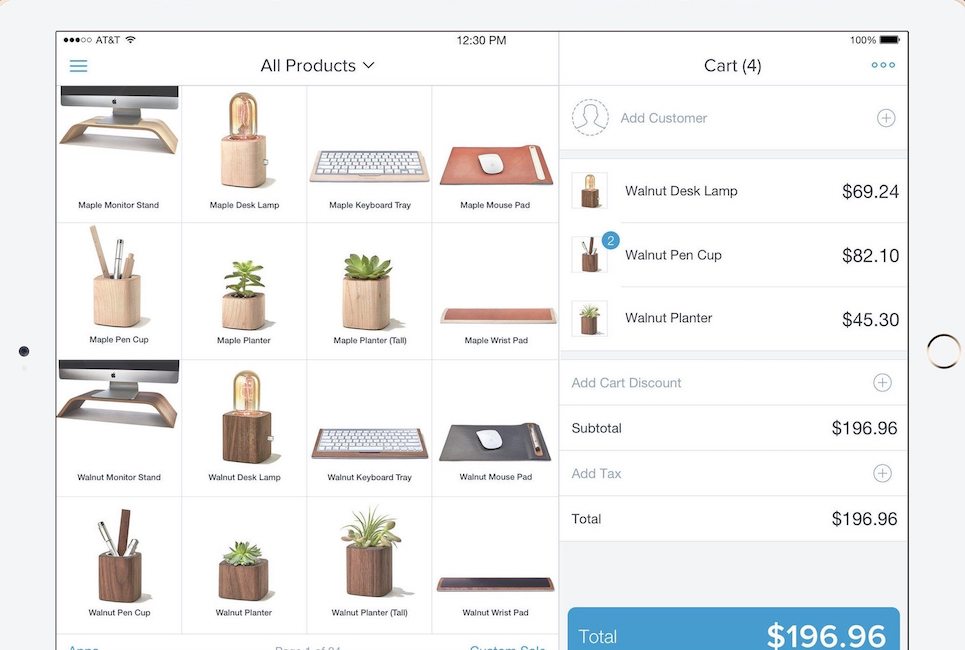 Comparing Pricing Between Shopify and NopCommerce
NopCommerce if free but "free" is never free.
The code and software needed to install and run NopCommerce is free. There aren't any strings attached in this regard. Of course, you're going to have to pay for web hosting, website development costs, hardware, and all the rest.
Further, if you need advanced assistance, you'll have to shell out some serious money for support. Three months of support will run you $299.000 while a full year will cost $799. Mind you, this is for support, not development. You'll still be getting your hands dirty.
Shopify costs money but might be cheaper in the long run
How can a service that costs money be cheaper than a service that's free? With Shopify, you pay monthly fees both for your subscription and also for transactions. However, in exchange, you get access to an excellent "Software-as-a-Service" platform that simply works.
Building an e-commerce presence with Shopify is quite simple, at least as far as branding goes. Yes, you'll still need to invest in marketing, staff, inventory, and all that. However, the actual development costs will be minimal and if you're willing to learn, you could likely set up a website on your own even if you're not a professional developer.
Conclusion: NopCommerce is right for some but Shopify is right for most
If you're not a developer, you probably want to skip NopCommerce. The amount of time you'll spend learning how to develop a NopCommerce website, or conversely, how much you'd have to pay a professional developer, simply won't be worth it. At a bare minimum, you'll need to be familiar with .NET, MS SQL, HTML, and CSS.
If you do have some development skills and are familiar with the code and systems that NopCommerce is built upon, it could be a great choice. You'll still have to sit down and figure out if the time commitment makes sense. Developing a NopCommerce website will take some time but in the long run, the costs might be worth it.
On the other hand, small business owners who aren't developers or don't want to spend a lot of time writing code will be better served by out-of-the-box solutions like Shopify. Yes, you'll have to shell out some money but in exchange, you'll be able to quickly set up and manage a website.
We also recommend you looking into a landing page builder app before you commit to either Shopify or NopCommerce (you'll want to have one if you plan on expanding your stores), such as Shogun, which plays well with Shopify, BigCommerce, Magneto.
You might also enjoy: