In today's comparison, I will take a look at Yahoo! Stores vs. Shopify so you can finally decide which platform is better to grow your online business. They both have their pros, cons, features, so pay attention — this will help you decide!
Main Differences of Yahoo! Stores vs. Shopify
The main differences between Yahoo! Stores vs. Shopify are:
Yahoo! Stores is geared to the new ecommerce shop owner, whereas Shopify helps every business scale quickly (including much larger ecommerce stores)
Yahoo! Stores is one part of an integrated solution for small business owners, whereas Shopify is designed to be a 'one-stop-fits-all' solution
Yahoo! Stores does not focus on inventory management, whereas Shopify is known for their inventory management capabilities
Introduction: Background of Yahoo! and Shopify
Yahoo! is one of the oldest websites on the web. Indeed, Yahoo! was one of the pioneers of the Internet, delivering content, news, and listings to homes across the United States and later the world. Yahoo! helped popularize email, online games, and even e-commerce.
Yahoo! Small Business, or Yahoo! Stores, as it is also known, is one of the older e-commerce platforms available. However, much like Yahoo! as a whole, the service has grown less popular over the years. Regardless, Yahoo! Claims that its e-commerce solutions have sold over $70 billion worth of goods, a number that certainly can't be overlooked.
So why has Yahoo! fallen behind? That's a matter for debate. Either way, new entrants offering better services, often at a better price emerged, eating up Yahoo's market share. Yahoo! has lost ground across a range of products and services, including e-commerce.
One such entrant was Shopify, which was founded in 2006. As with many great tech stories, the founders of Shopify, Tobias Lütke, Daniel Wein and Scott Lake didn't initially set out to develop an e-commerce solution. They actually wanted to launch a snowboard gear retail website Snowdevil. However, they quickly found that there were few good e-commerce solutions. So while building their snowboarding site, they also developed a stand-alone e-commerce solution that other retailers could use. That e-commerce solution became Shopify.
Anyways, let's look at Yahoo's e-commerce solutions and Shopify.
Digging Into Yahoo's E-commerce Solution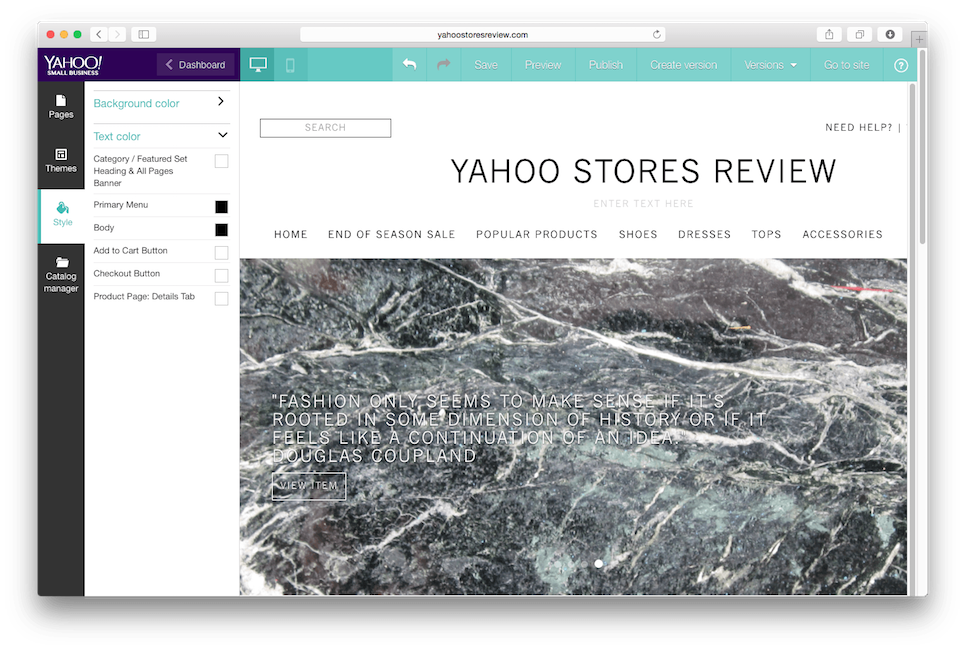 First, Yahoo's e-commerce solutions can be difficult to understand as Yahoo! offers a few similarly branded services and solutions targeted at different audiences. Figuring out which one is right for you can be confusing. For the sake of this review, we're going to look at both Yahoo! Small Business and Yahoo! Merchant Solutions.
Yahoo! Merchant Solutions is generally targeted at established e-commerce stores that are looking for a new platform and wanting to grow. Yahoo! Small Business (AKA Stores) is targeted more at startups. Both offer sales features and the ability to use Commerce Central apps. Commerce Central, in turn, is Yahoo's primary cloud-based e-commerce solutions platform.
However, you don't have to use a Yahoo! service if you wish to use Commerce Central apps. In fact, Commerce Central can even be integrated with Shopify.
Yahoo! Merchant Solutions Pricing & Comparative Features
Yahoo! Merchant Solutions plans start at $10.95 per month. This plan is designed for websites with less than 12K a month in revenues and features:
1.5% transaction fees with credit card and Paypal processing capabilities
access to the Live Insights data platform
A domain name
The standard plan starts at $25.95 a month and is designed for companies with sales between $12k to $80K per month. Besides the above features, it offers:
A lower 1% transaction fee
Ability to integrate payment APIs for more payment options.
Real-time integration with external inventory management systems.
Gift certificate redemptions
Upsell and cross-sell features
UPS Worldship integrations

Yahoo! Small Business: Another great solution
Yahoo! has another e-commerce solution called Yahoo! Small Business. This platform offers a complete suite of commerce tools that you can use to quickly build an e-commerce website. Yahoo's basic plan costs $20.75.
Yahoo! Small Business's basic plan provides:
Access to site builders and professional templates, including mobile-optimized sites
As many product listings as you want
No storage space and bandwidth restrictions
10 email accounts (30 for professional, and 1,000 for premier)
A free domain for basic
Paypal and other payment support
Ability to import and export bulk products
Phone, chat, and online support provided 24/7
As we go through Shopify below, you'll notice that some features, such as advanced product fulfillment tools, are not provided. However, if you upgrade to the professional plan, you can use third-party integrations. You can then integrate advanced features, including inventory and order management, into your platform.
Yahoo! Small Business charges both monthly subscription fees and transaction fees. Those break down as follows:
Basic: $20.75 (billed annually) plus a 1.5% transaction fee
Professional: $48.25 (billed annually) plus a 1% transaction fee
Premier: $149.33 (billed annually) plus a .75% transaction fee
Shopify: An industry leader

Shopify has emerged as one of the most popular e-commerce websites, holding 9.5% percent of market share, good for third place. Their platform is far more common these days than Yahoo's solutions. For people who want to launch a retail website without doing heavy coding, Shopify is one of the better options available.
Of course, everything comes at a price. Shopify does charge fees for its services. These fees will often add up to more than Yahoo! and some other platforms, although prices are still competitive.
Shopify Features
Shopify is among the more well-rounded e-commerce platforms, being packed with various features, benefits, plugins, apps, and add-on services. Yet although Shopify is feature rich, it's also an intuitive and easy-to-use system. There are a few e-commerce platforms out there that offer more advanced features and customization options. There are also a few that are simpler.
However, it's arguable that no other platform features such a rounded mix of both usability and features. Shopify's well-rounded nature has helped it rapidly grow, and the platform is now found on over a half-million websites scattered across 175 countries. During Black Friday in 2017, over a million dollars worth of goods were being sold through Shopify per minute (at peak).
So yeah, Shopify is one of the preeminent e-commerce platforms. It's generally regarded as being easy to work with, flexible, powerful, modern, and also offering a good value.
A preview of Shopify's features
Shopify offers a powerful but also an easy-to-use website builder
Customers can also opt to purchase one of the hundreds of different professionally designed themes
It's easy to integrate and maintain a blog
You'll get a free SSL certificate
There are a variety of powerful shipping integrations and tools
There are a variety of tools for managing inventory, drop shipping, fulfillment, and various other tasks
Shopify supports over 70 different payment methods, including credit card and Paypal
Sales tax calculators
Gift card tools
A variety of marketing, social media, and SEO tools and integrations
You can opt for a Point-of-Sale (POS) system to integrate brick and mortar sales.
Shopify works great with landing page builders such as Shogun or BigCommerce.
That's a pretty extensive list, right? There are more features, of course, but you get the gist of it. Shopify is one of the most full-featured e-commerce platforms available. We didn't list every single one of Yahoo's features either, but most would agree that Shopify is more feature-packed
Of course, there are some drawbacks weighing against Shopify. Compared to Yahoo's services, Shopify's costs tend to be a bit higher.
Shopify is a pricer option
Shopify's basic plan starts at $29.99, compared to Yahoo! Small Business's $20.75 plan. Both of these low-cost plans are rather limited, but Yahoo's more feature-rich standard plan costs just $48.25, compared to Shopify's $79 monthly fee.
Yahoo's introductory plan also charges a lower transaction fee, just 1.5% compared to Shopify's 2%. Both Shopify and Yahoo! drop their transaction fee to 1% with their standard plans. Yahoo's premier plan, which is designed for big businesses, charges a transaction fee of only .75% while Shopify sticks to .5%. While .25% might not seem like much, it can add up quite quickly if sales are pouring in. Shopify eliminates charges altogether when you use Shopify payments rather than an external processor.
However, Shopify also charges credit card fees (although some regions are exempt). These fees start at 2.9% plus 30 cents. Fees drop to 2.6% for the standard plan and 2.4% for the Advanced Shopify plan. Again, these fees can add up quickly. With Yahoo!, you'll have to set up a third party payment processor, such as Braintree Direct by Paypal. This service likewise costs 2.9% but 30 cents. Other providers, however, may be more affordable.
However, if you integrate 3rd Party Solutions Into Yahoo!, costs may rise
Shopify comes with more features, such as inventory management, that are built right in. With Yahoo!, you'll have to rely on third-party providers for many of these more advanced features. Often, you'll have to pay for these features. When calculating costs, it's important to consider what 3rd party solutions you'll need and how much they'll cost.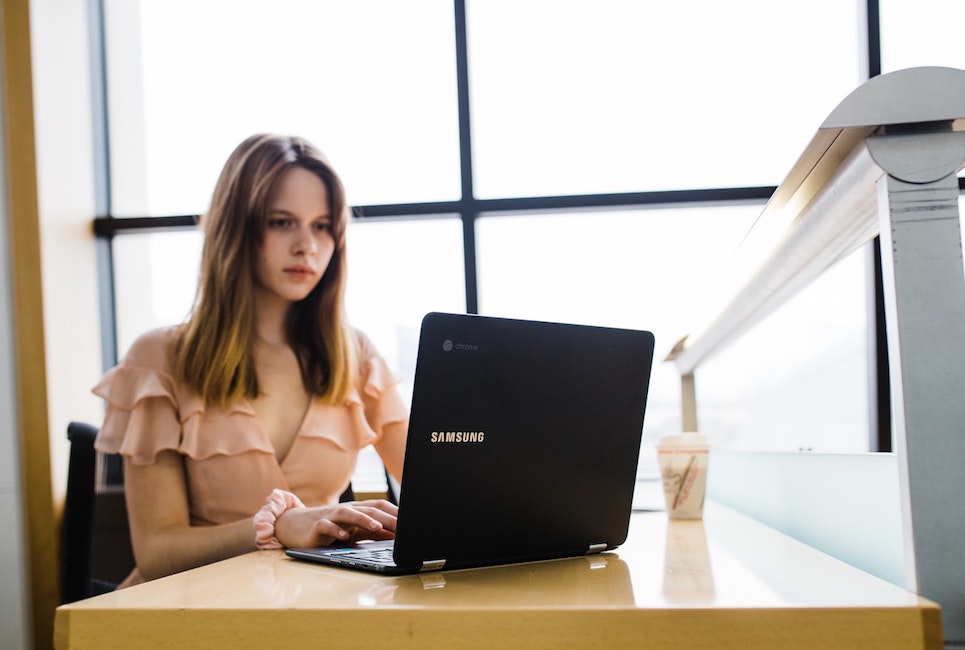 Conclusion
Yahoo's e-commerce solutions are compelling but Shopify is dominant for a reason
Yahoo! has been working hard to modernize its e-commerce solutions. By-and-large, the company is making progress. However, Yahoo! is still trying to catch up with industry leaders, like Shopify.
If you're on a budget and won't require some of the advanced options offered by Shopify (i.e. inventory management), Yahoo! may make sense as you'll save a bit of cash. Likewise, if the lower transaction fee will generate large savings, Yahoo! may make more sense.
However, for most small businesses, Shopify is the safer choice as it offers more features right out of the box. Yes, you'll have to pay for those features, but there's a reason so many e-commerce platforms run on Shopify. Quite simply, the costs are worth it.
You might also enjoy: