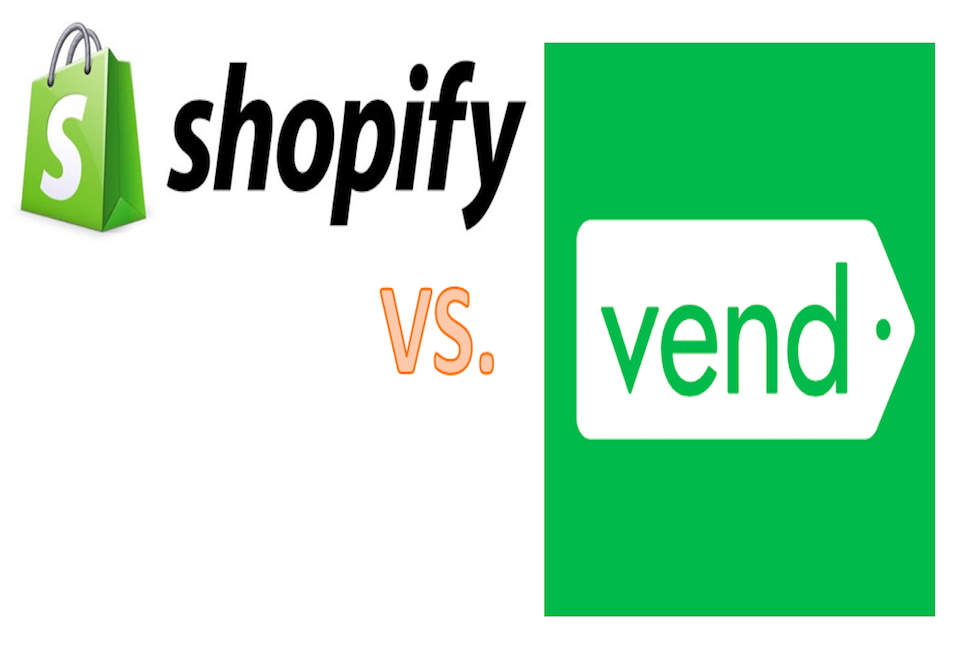 These days, Shopify is one of the biggest names in retail. The commerce giant is well-known for its e-commerce systems and is increasingly making itself known in the brick-and-mortar space with its Point-of-Sale (POS) systems. However, Shopify faces some steep competition from POS providers that specialize in the trade, such as Vend. That's why we're going to compare Vend vs Shopify.
The Main Differences Between Vend POS vs Shopify
The main differences between Vend POS vs Shopify are:
Vend POS is a point-of-sale tool, whereas Shopify is an entire ecommerce platform
Vend POS is a relatively new tool, whereas Shopify is more established
Vend POS monthly subscription rates are more expensive than Shopify, whereas Shopify can include a lot of upgrades as you grow your business
Vend POS is seen more as an 'add-on' service, whereas Shopify is dedicated to building ecommerce stores for its customers
Trends in Online Shopping — There is still a lot of opportunities
Retail technology has advanced a lot over the past several years in line with technological advancements elsewhere. Smartphones, smart cars, smart TVs, and yes now retailers can use smart Point-of-Sale systems. These POS will handle all of the duties of a traditional cash register, such as unlocking the cash drawer and providing receipts. At the same time, however, smart POS will track all of your sales, compile data, and even monitor your inventory.
Those dumb cash registers acted as "Point-of-Sale" systems. The cash register facilitating the sale right at the point where the transaction is taking place. These days, POS usually refers to physical locations, while e-commerce refers to web shopping.
Shopify has emerged as one of the most popular smart retail solutions. Shopify is used not "just" for Point-of-Sales systems, but also for e-commerce. With Shopify, you can set up an entire online retail store akin to Amazon. You can also use Shopify's Point-of-Sale system, tying that online retail store into your brick-and-mortar efforts. Shopify's primary focus has been e-commerce, with the POS being more of an add-on.
Vend is a sort of the opposite. The company is more well-known for its Point-of-Sales systems while e-commerce is a secondary focus. However, over time, both Shopify and Vend have developed good across-the-board capabilities and most businesses will be satisfied with both. Vend now has e-commerce capabilities while Shopify has developed a solid POS presence.
Whatever you choose, you must know — there is still plenty of room for business online. Knowing the right tools that work for your business is key to being able to succeed in any market, which is why I give you this full Vend POS vs Shopify comparison!
Vend: An Overview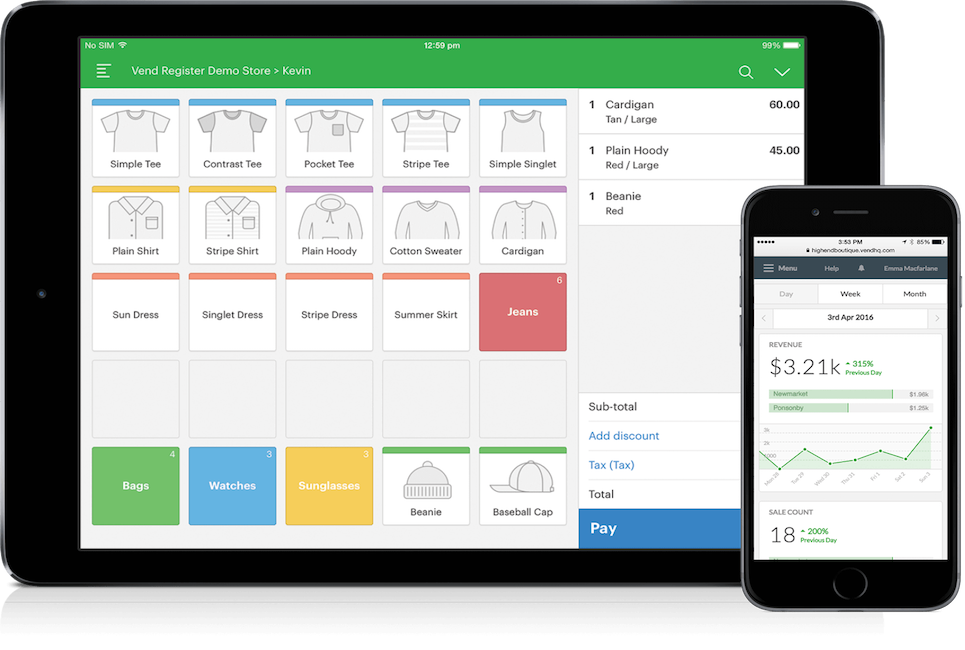 Vend is based out of New Zealand but has a global presence. Despite being a relatively young company, having started in 2010, Vend has emerged as one of the biggest players in the POS space. Vend first rose to prominence by teaming up with Paypal but has since engaged with other corporate partners.
Vend delivers its Point-of-Sales services exclusively through the cloud and can operative on a variety of operating systems. Vend does not offer on-premise deployment, which could be a concern for some larger businesses.
Vend has emerged as one of the biggest Point-of-Sale providers in the world. 20,000 stores across 140 different countries are using Vend POS systems. Disney, Etsy, the World Wildlife Fund, and NASA are among the retailers using Vend.
While some POS and e-commerce providers like to build walled gardens, Vend is a relatively open system. For example, if you have a Shopify e-commerce website, you can actually integrate it directly into Vend. Want to build your own custom website using Vend? No problem, Vend will provide the basics while your development team gets to work.
While Vend is not as well-known in the e-commerce space, it has begun to offer solutions. So far, the company's e-commerce website templates and other features have been well-received. However, Vend still lags behind Shopify and e-commerce leaders (more on that later).
Shopify: An Overview
Shopify has emerged as a retail and commerce giant. Over 600,000 businesses rely on Shopify and over $55 billion dollars worth of goods have been sold through the platform. In 2016 alone their Gross Merchandise Volume topped $15 billion. Tesla Motors, Budweiser, Penguin Books, and various other big names use Shopify for their e-commerce stores. Thousands of mom & pop businesses rely on their services as well.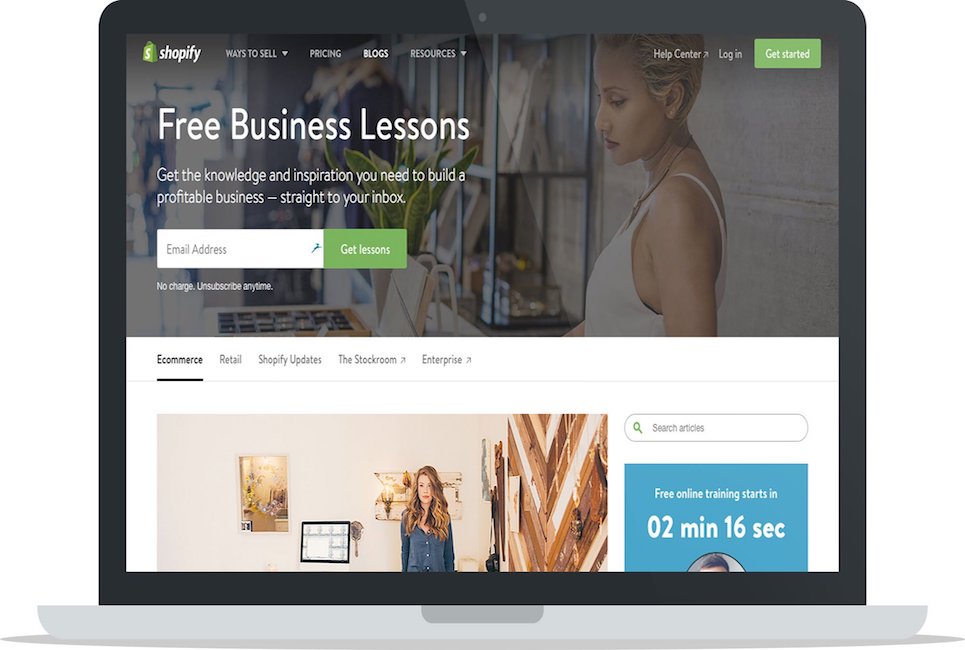 Traditionally, Shopify has been more well-known for their online retail platform. Indeed, Shopify got its start when its Candian founders Tobias Lütke, Daniel Weinand, and Scott Lake tried to launch an online snowboarding equipment store. They quickly discovered that the out-of-the-box solutions for building online retail stores were limited. So they built their own platform and spun it off as a separate service.
Up until 2013, Shopify remained relegated to the web. That year, the company expanded into the brick-and-mortar space with its Point-of-Sale system, allowing small businesses to integrate their brick-and-mortar stores and online presence under one system.
Vend offers a 30-day free trial while Shopify offers a 14-day free trial.
Vend vs. Shopify Pricing
We all want the best value for our money. So how about Vend versus Shopify? Which one is the better deal? To be honest, the pricing for both products can be a bit difficult to sort through. It's wise to first consider your needs and then individual plans. We'll help you get started.
Shopify's "Lite" plan is the cheapest option per month
Shopify offers a Lite plan that starts at just $9 per month. However, this plan is very basic. With the Lite plan, you can make "buy now" buttons for your existing website and social media. You can also use their Android and iOS app to accept credit cards. However, you will have to pay transaction fees with every Shopify plan.
Shopify's full-featured but still basic plan starts at $29.99 per month.
Vend Stars with a higher price but costs quickly converge
Vend's basic plan starts at $69, while Shopify's basic plan starts at $29.99. With Vend, just $10 more gets you access to the more advanced features, such as gift cards and expanded payment options, for just $10 extra per month. Shopify's comparable plan likewise costs $79.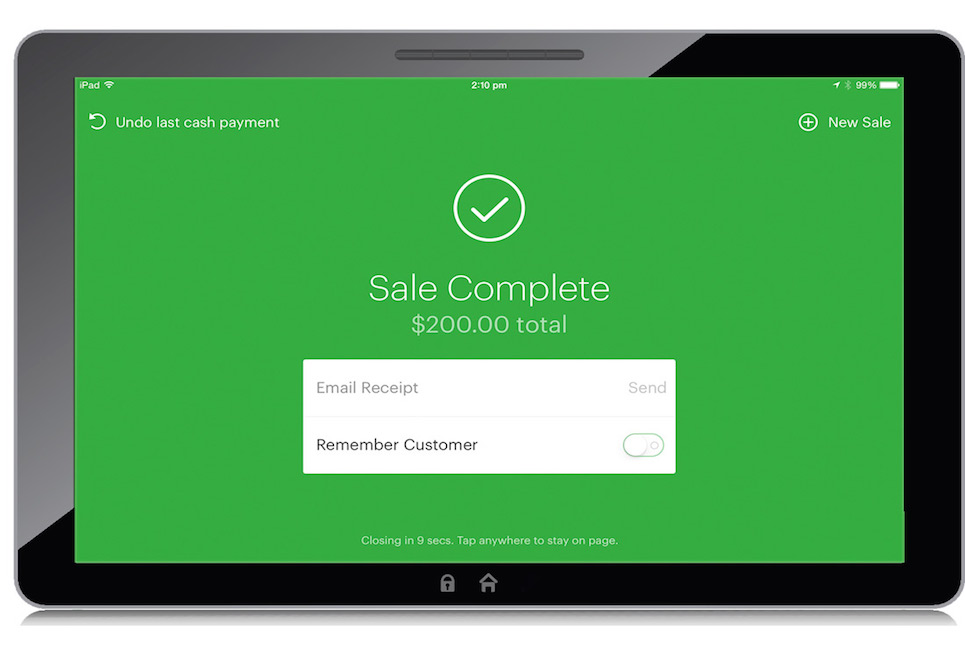 Vend does not charge separate transaction fees
With Vend, you simply pay a monthly subscription fee. Payments are month to month and you can cancel at any time. You are not tied to the company's hardware, and your hardware won't be tied to the company. Unlike other POS and e-commerce solutions, Vend does not charge transaction fees.
Shopify charges transaction fees
Shopify features low monthly subscription fees and most of its add-on services and products are affordable as well. Yet there is a major downside: Shopify charges a 2% transaction fee for its basic plan, 1% for its normal plan and .5% for its advanced plan. This will be paid on top of any other payment fees the payment processor might charge you. By using Shopify payments, however, you can eliminate these fees.
Shopify also charges fees for credit card transactions. Each transaction will cost 30 cents plus 2.9% for the basic plan, 2.6% for the mid-range plan, and 2.4% for the premium plan.
Comparing Vend vs. Shopify Attributes
Vend is operating system agnostic
Vend can operate on a variety of operating systems. So long as you have access to a web browser, you'll be able to run Vend. Windows, Apple, and Android are all supported, so when it comes to hardware, you'll have plenty of choices.
Shopify works best with Apple iPads
Shopify does offer an Android app. However, the company packages its POS with Apple iPads and has put most of its POS resources into Apple products. iPads aren't exactly cheap, so keep tablet costs in mind when comparing costs.
Vend is not as e-commerce friendly
Vend has been building up its e-commerce features but lags behind industry leaders (such as Shopify). Vend doesn't currently support drop shipping, integrated with distribution centers, and other features found in advanced commerce solutions. However, Vend's website is advising people looking for such features to keep an eye on future releases.
*Remember: you can integrate your Shopify e-commerce store and Vend.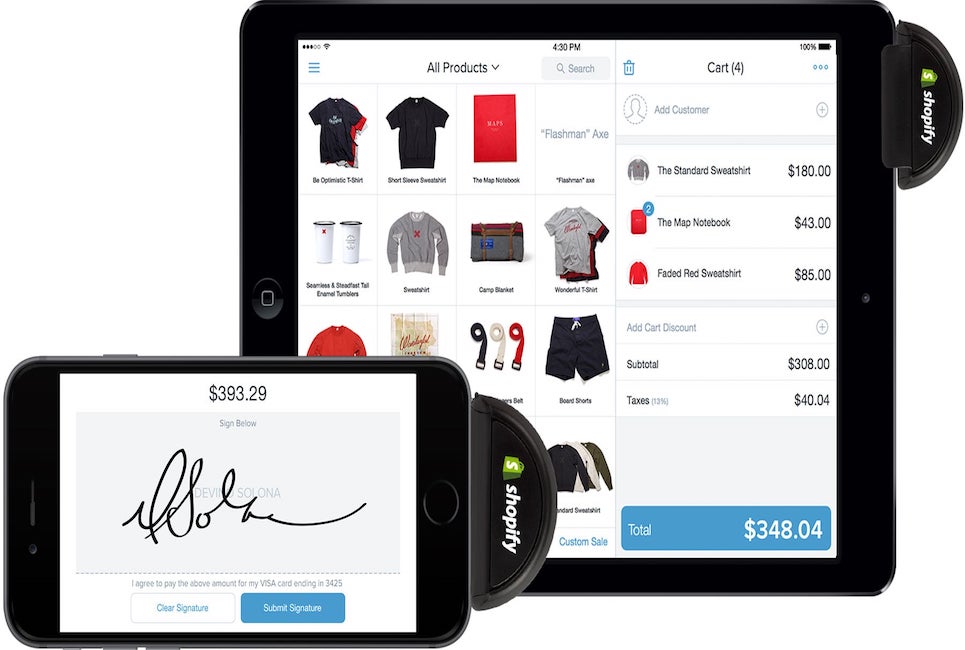 Conclusion: Choosing Between Vend and Shopify?
So who wins in the Vend versus Shopify matchup? Both platforms are quite good, but they each excel in different ways. Vend started as a POS system and while it has been expanding its e-commerce capabilities, it's still not as feature-rich as dedicated e-commerce platforms.
Vice-versa for Shopify. While Shopify has been expanding its POS offerings, the company is still most well-known and best suited for online retail. With Vend currently lacking drop shipping and other advanced but increasingly common e-commerce features, web retailers will likely be better off with Shopify. Vend could and likely will level the playing field by integrated such features in the future.
The other big difference between Vend and Shopify is pricing. Vend's monthly subscription rates are significantly more expensive than Shopify's. However, Vend doesn't charge the 2% transaction fee that Shopify does.
If you already have a Shopify store and are looking for a great add-on, Vend can be a nice integration. You might also want to integrate a decent landing-page builder app, such as Shogun, or Pagefly.
You might also enjoy: