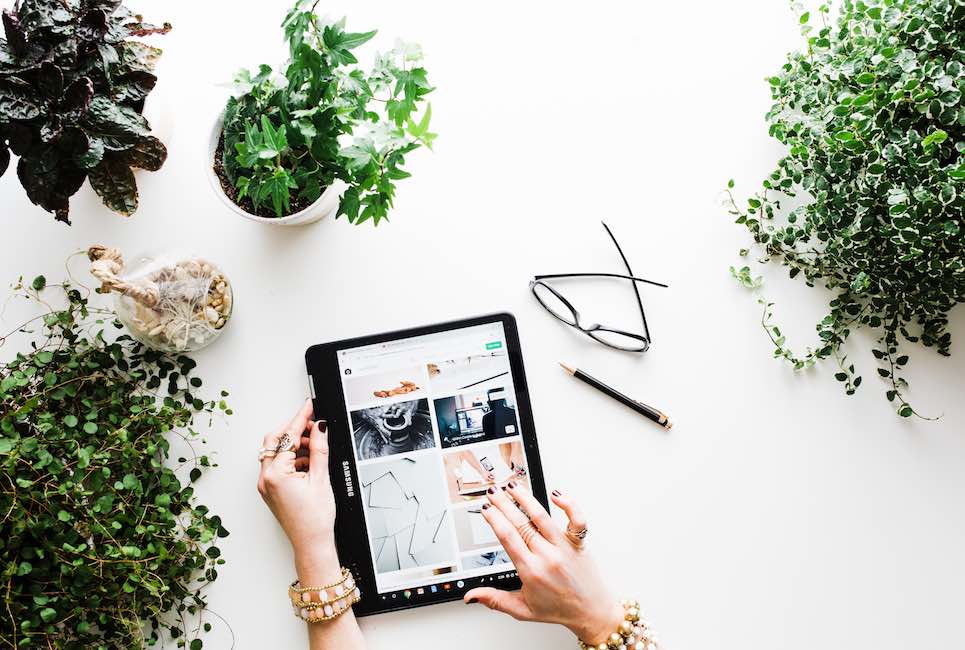 Sugar. Spice. And everything nice. These are the ingredients the following online stores choose to create some of the best Shopify stores. There's no shortage of top ecommerce website examples and strategies to attract, engage, and convert online buyers from what we saw scouring through hundreds of Shopify sites for this guide.
Now, consider this: The Shopify ecommerce platform now runs 800,000+ ecommerce stores worldwide, powers 430,000+ websites, and is the third-largest ecommerce platform on the planet.
It is clear why you need to create a unique ecommerce store to attract and keep interested customers and wade out the competition in 2020 (and beyond).
Like a high-converting physical store, you'll want to create online experiences that highlight your brand personality and make your online store memorable. The reward: Buyers can find you by name again and again.
The best converting Shopify stores of 2020 will almost certainly take up the largest piece of the retail sales cake.
And that cake is predicted to grow to about $3.9 trillion in 2020 and 17% of all U.S. retail sales by 2022.
That's one cake party you don't want to miss.
Also, keep in mind that more and more customers are willing and able to buy stuff from overseas. So, you can target those markets as well instead of worrying-sick that your local market share could be charmed off your Shopify cart and checkout page.
From stunning UX design to on-point copy to bold branding to seizing storytelling, these Shopify online stores will inspire your new store or next ecommerce website redesign.
And that can mean attracting and keeping a community of loyal buyers that rally even more highly qualified prospects with sweet referrals to you.
Sounds like something you'd rather do right now?
Here are the best Shopify store examples to inspire action, creative success, and the competitive gene in you.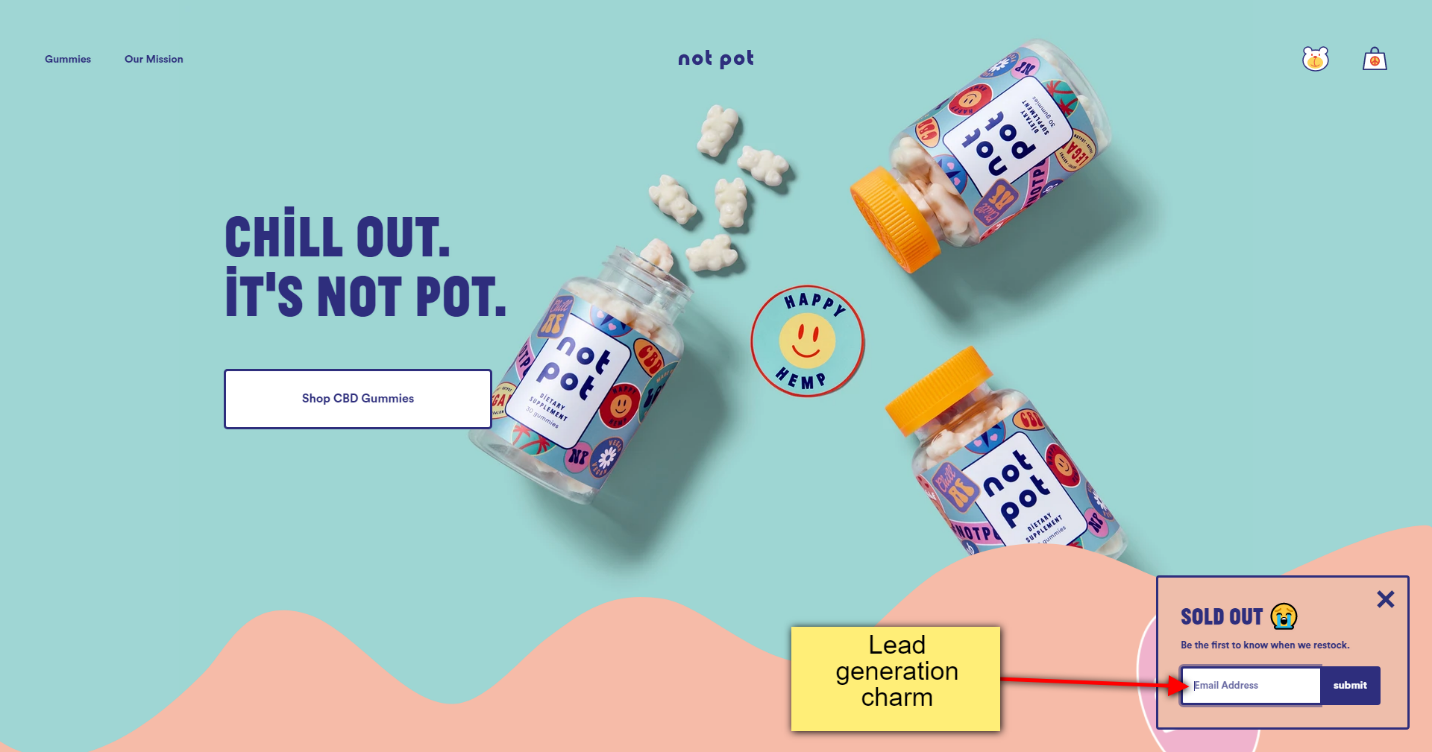 When you know your target audience may have some reservations about trying new hemp gummies, what do you do?
Joke about it and assure them it is not what it looks like. That's what.
Tell them you sell lab-tested CBD gummies, the kind they can enjoy stress-free, knowing they'd pass any drug test after chewing a boatload of those.
Go as far as naming yourself accordingly. And adopt an unmistakable slogan.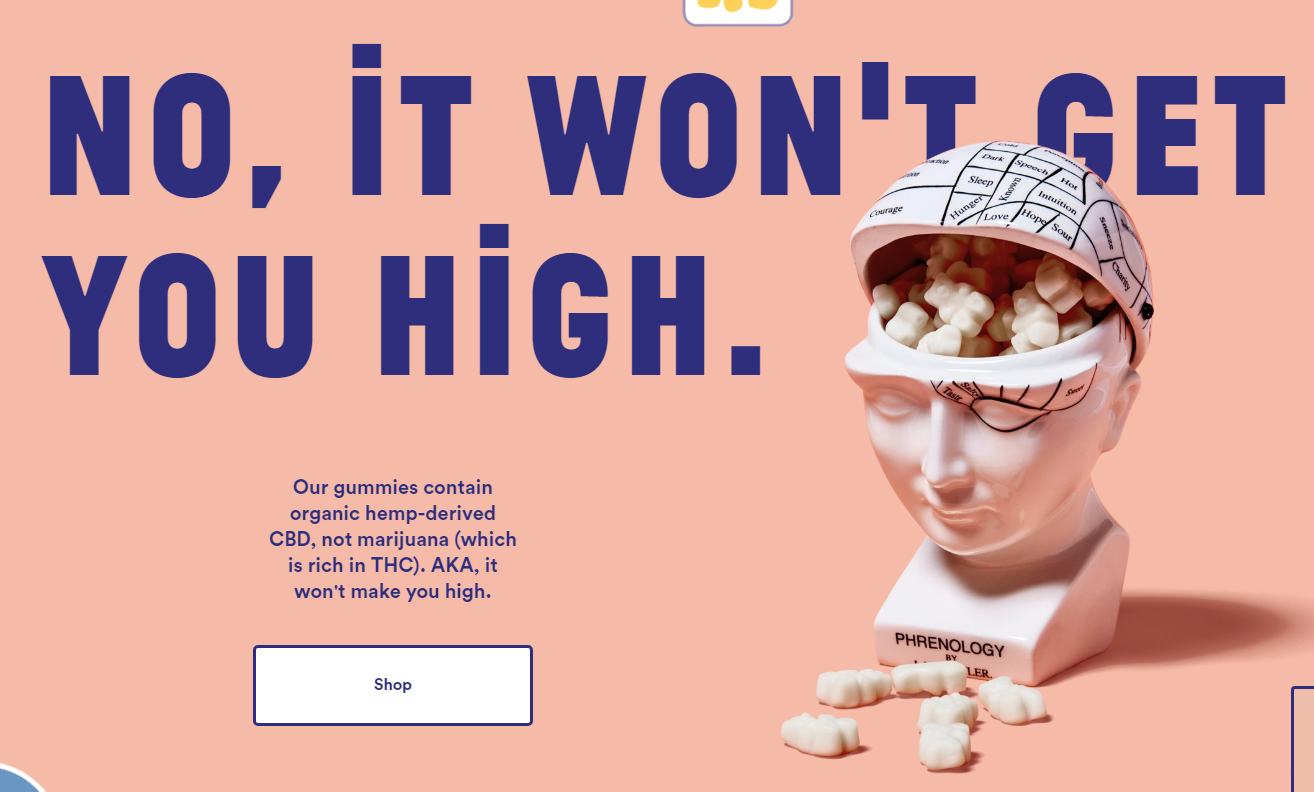 Then design your vegan CBD gummies to look like harmless polar bears, complete with strawberry and apple pectin in them.
And square it all off by revealing why CBD gummies are everything they've been missing in their life.
It is no wonder Not Pot is a top Shopify store to take cues from.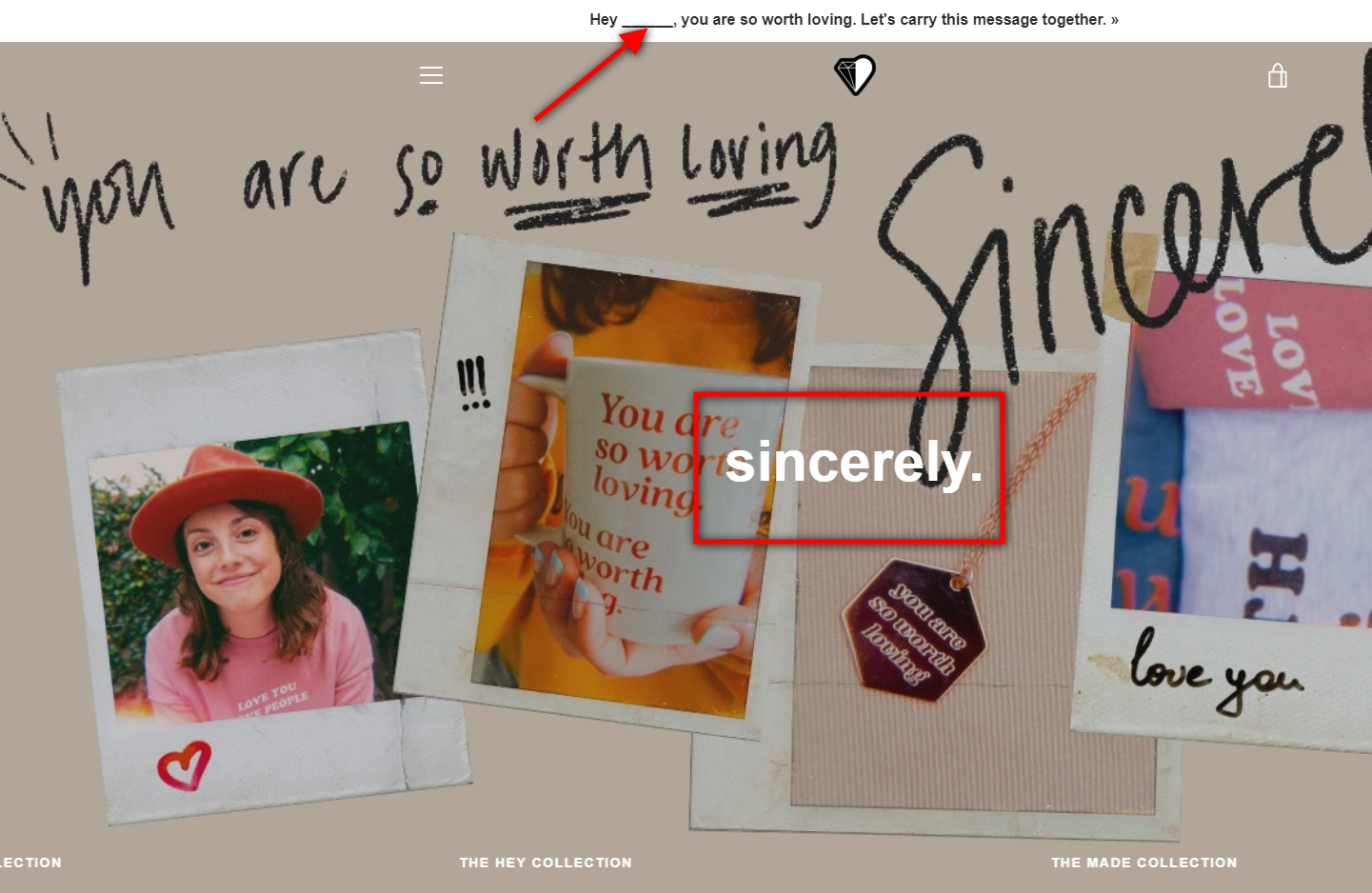 What better way to instantly connect emotionally with visitors than to instill that sense right from the homepage?
But it can feel like So Worth Loving is trying too hard to some. So, the big "sincerely" in the middle works well to assure the visitor that they mean it.
It's a simple, every-day design that feels like a personal friend recommending the best rather than a profit-churning machine out to get your cash.
To top it all off, each product has its own short story followed by a clear call-to-action. And look at how they capture emails: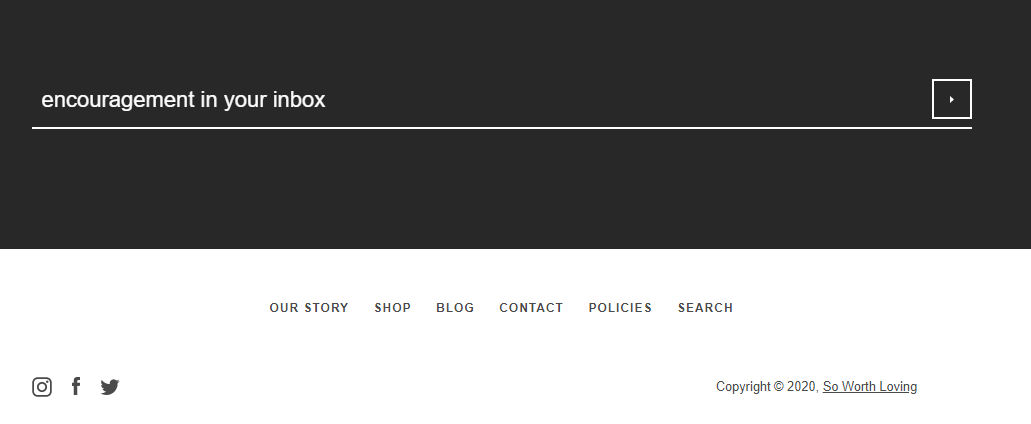 So worth loving!
Grooming facial hair can be a pain.
Beardbrand knows so and chooses to offer value upfront.
By offering a quiz to find out the best beard style for their visitors, right on the homepage, Beardbrand smoothly grooms the visitor to the recommended style and products with a clear call-to-action button to view beard products.
And then tons of beard grooming wisdom:
The navigation buttons drop down to reveal neat categories and insights on kits, tools, and products.
You get the vibe they know their stuff, and that's the kind of place to buy.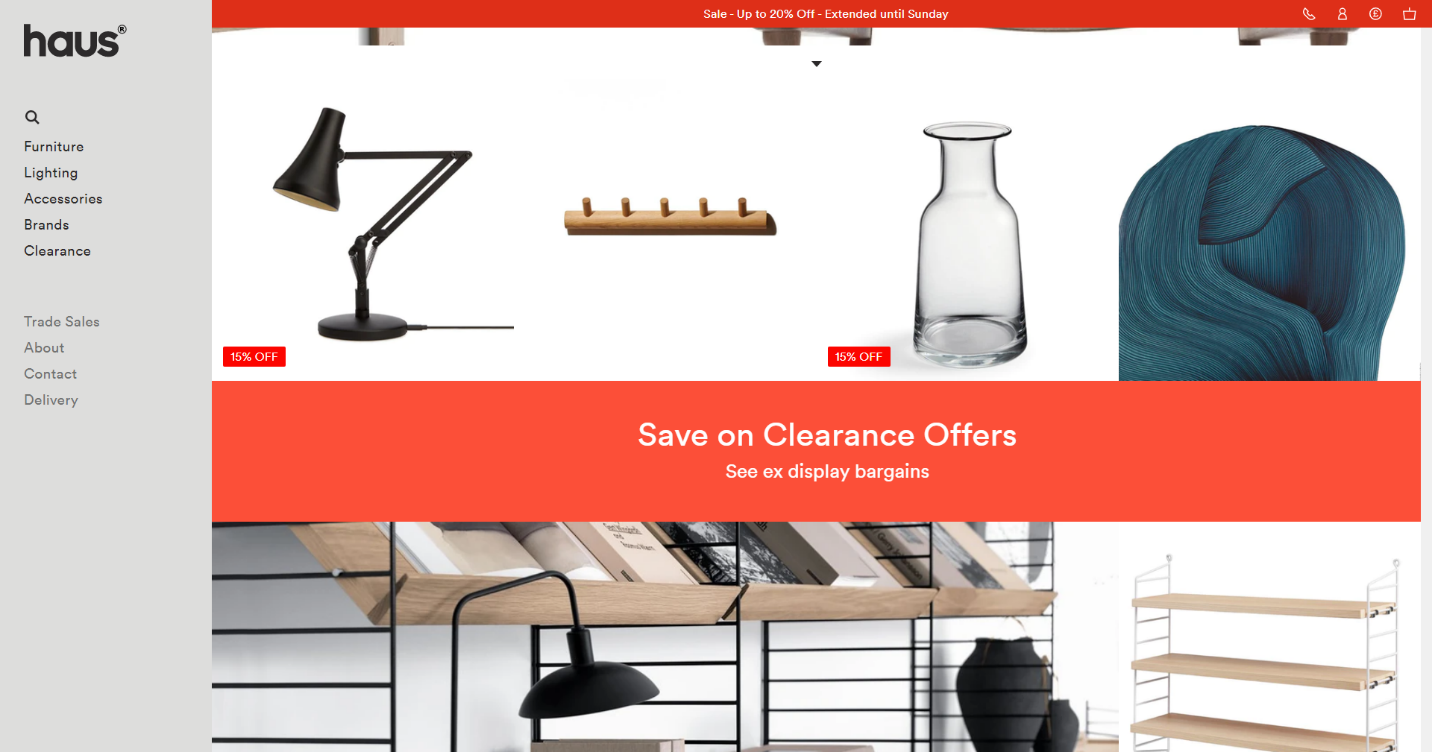 Home goods seller, haus, blends clear navigation tabs with a clean, modern look to match the contemporary look and feel of their products.
Shoppers can go straight to a category, such as brand, from the menu on the left, and even search a favorite product from there — no complicated paths to nurturing visitors here.
It helps that the furniture and accessories show out in big, beautiful photography—some in their ideal setting.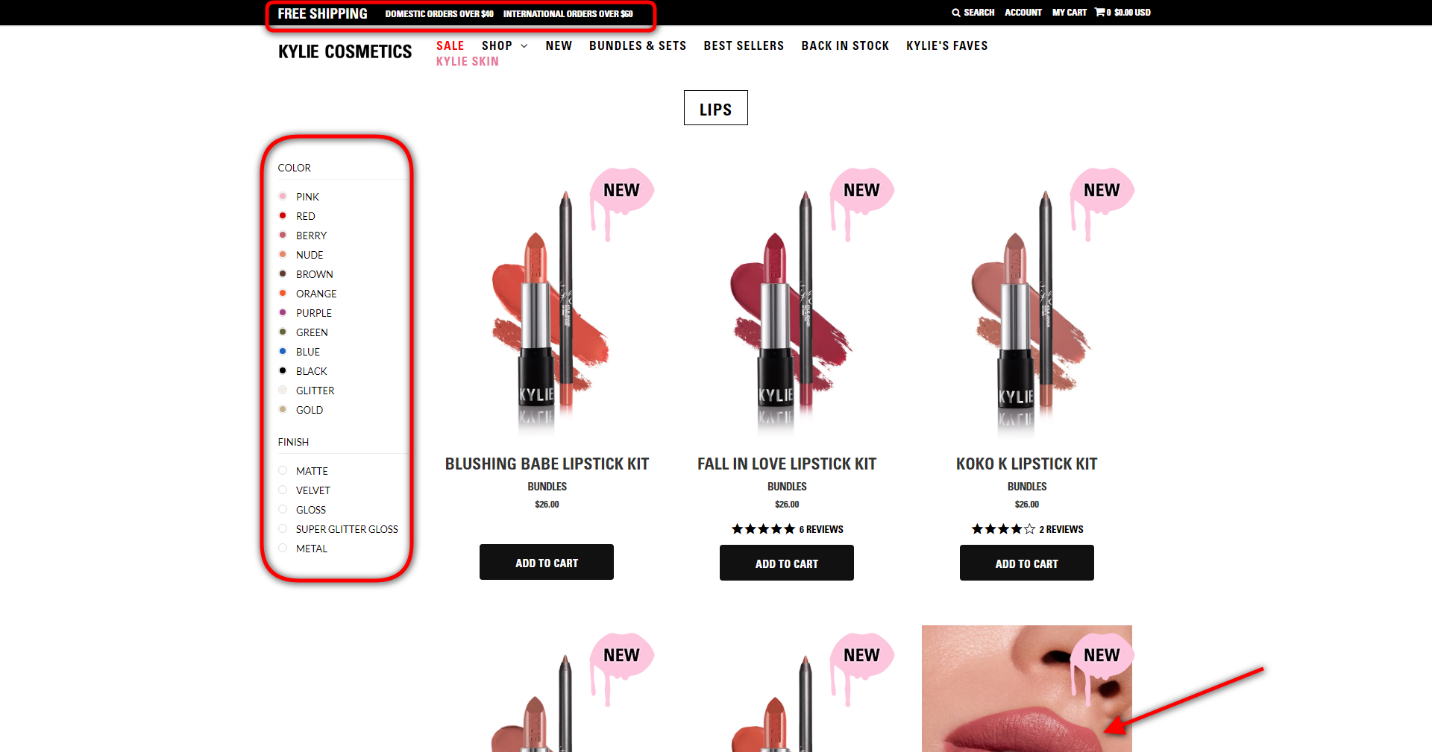 Super-influencer, Kylie Jenner, knows her strongest suit, her lips.
Kylie makes it vivid how good the eye, face, and lip colors would look and feel by displaying stunning pictures of herself wearing the different colors available. Just hover on a product, and it flips to reveal Kylie wearing it.
The gorgeous colors, easy-to-browse, and candy-like illustrations make it all the easier to buy and keep coming back to check what's new.
And which fan won't want to email with Kylie Jenner?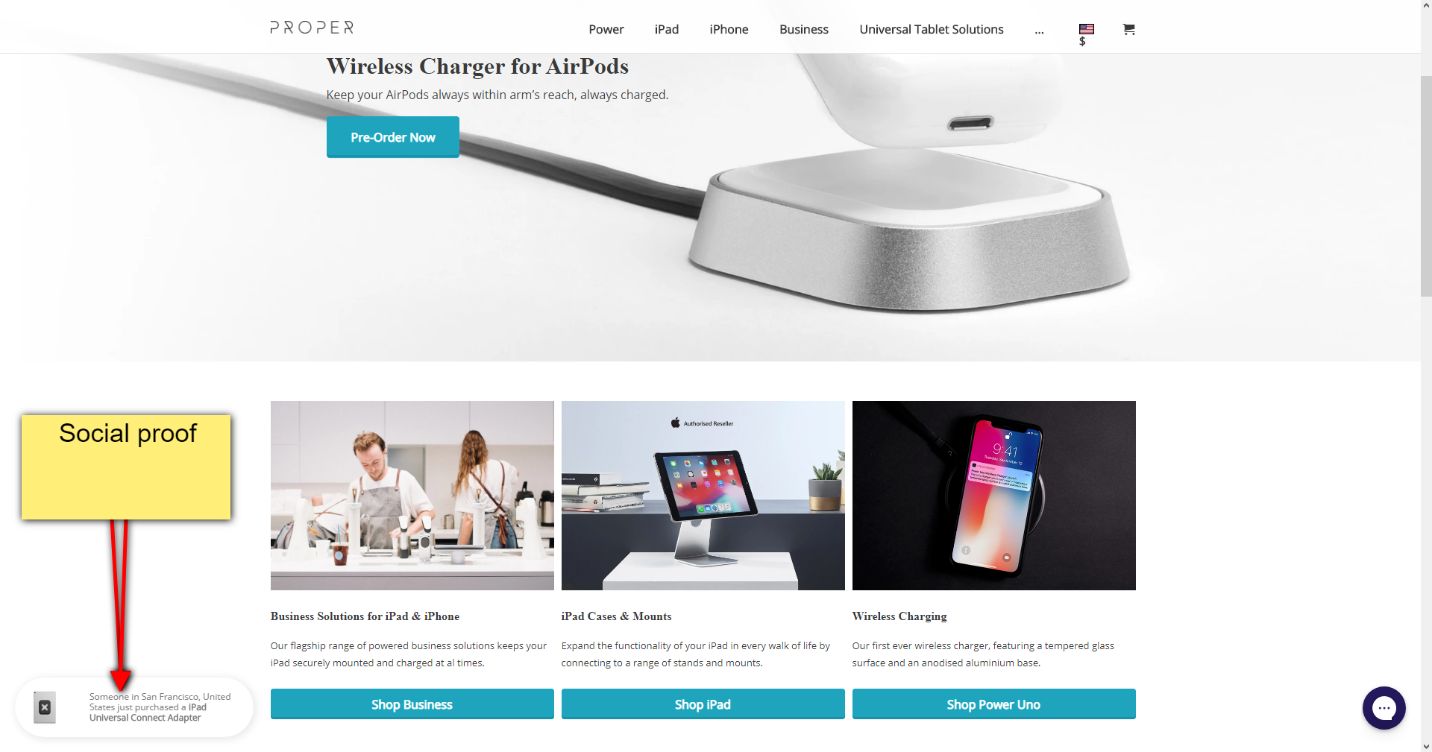 There's a quote on their site by one Mark Parker; "Everything starts with design." That is exactly what Steve Jobs would say.
And boy, doesn't it fit for a store that's designed with simplicity and elegance cues from Apple's store and website. So, when Apple die-hards get here, the store feels extremely familiar.
They feel at home.
From the sleek, aluminum-finish iPad mounts to the iPhone cases to its wireless charging hubs, they all look Apple-ish.
Add to that Studio Proper's 12-month warranty, free delivery, ability to "pre-order", and clean layout and it's hard not to convert.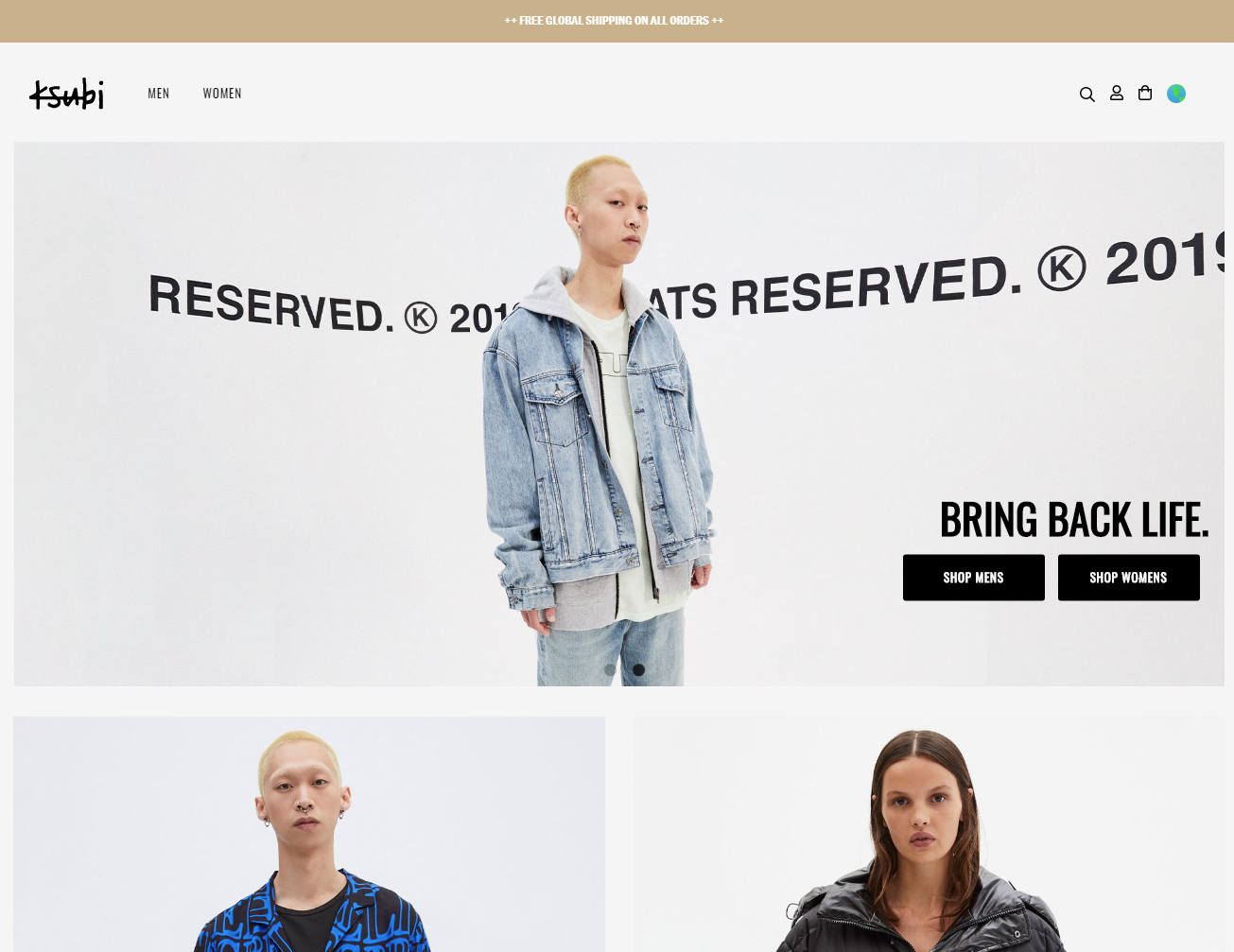 Apparel store, Ksubi, keeps it minimal and clean. No endless categories to distract visitors. Just a clear call to click on either Shop Mens or Shop Womens.
Instead of displaying a grid of apparel photos, the store uses high-quality photos of models donning Ksubi's collection, making you imagine how the outfit would look on you, too. That's a good start.
At the very top of the homepage, Ksubi declares they do offer free global shipping—so anyone anywhere can buy on Ksubi. A huge market right there.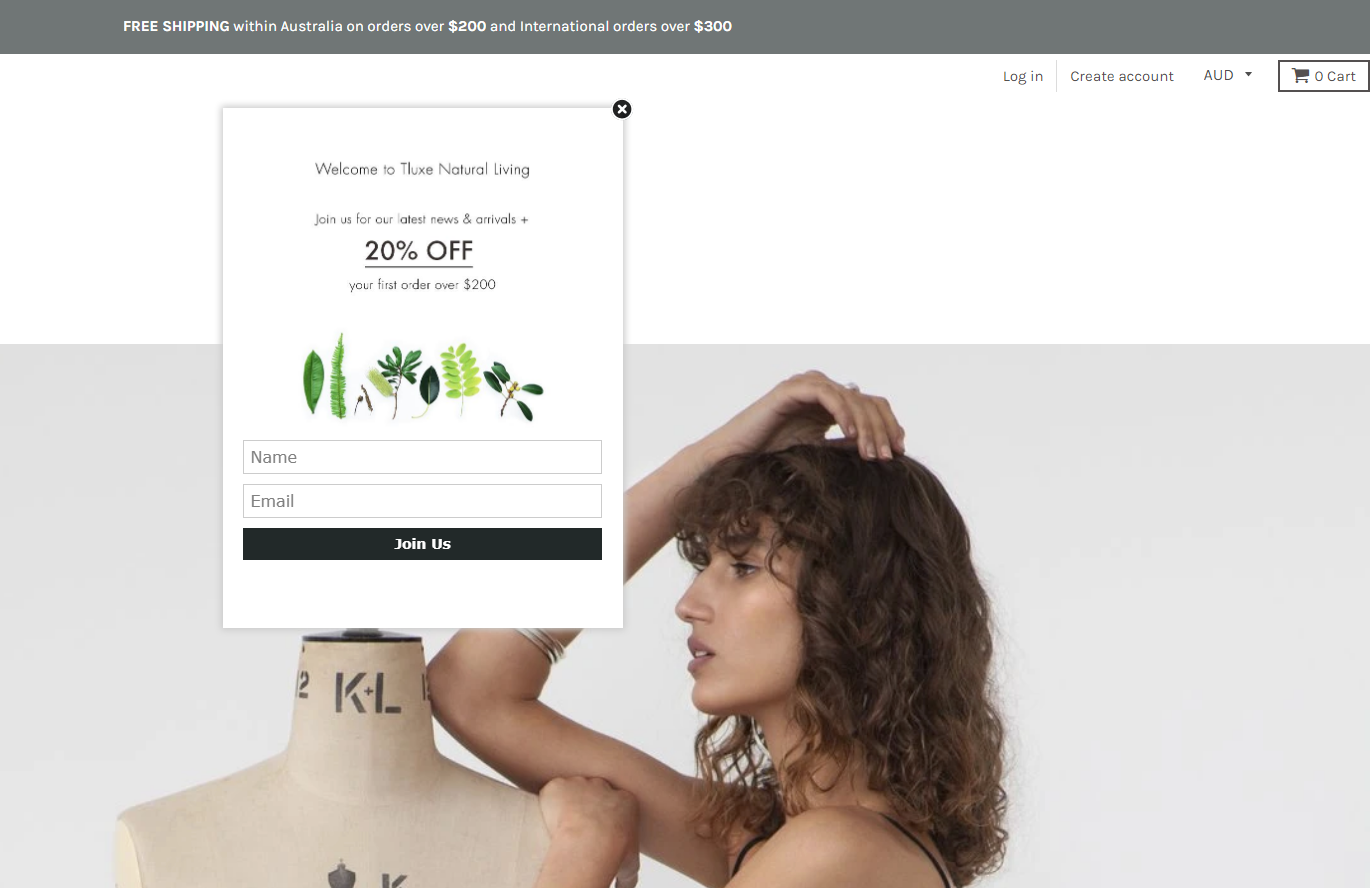 Unlike Ksubi, Tluxe adds a lead generation twist by offering a bunch of benefits right when visitors land on the homepage:
Clean, easy-to-navigate store
Free shipping on international orders over $300
20% off your first order over $200
And they give the impression you'll get all that plus timely updates on new arrivals when you submit your email address
Now that's how you build an email list to nurture casual browsers into repeat customers.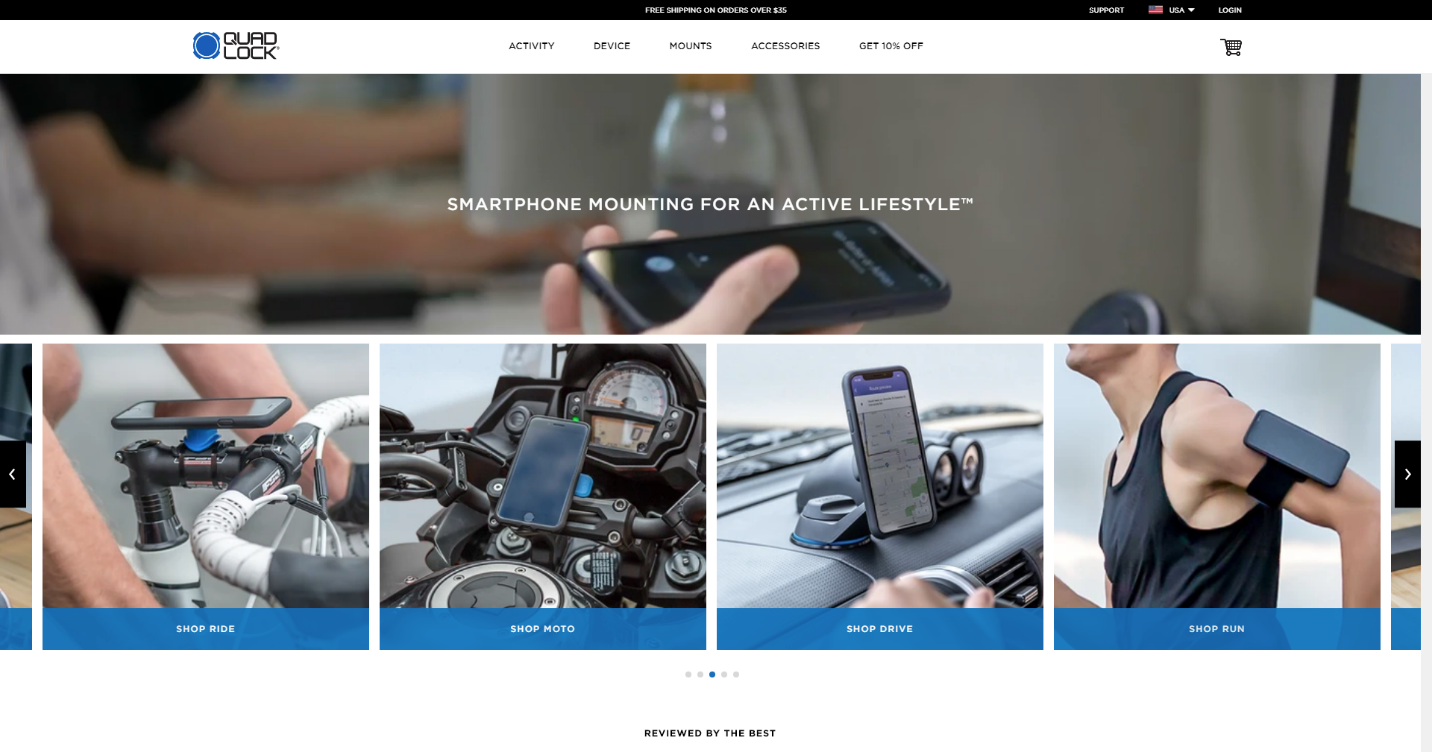 It doesn't take four seconds before you know what the store is all about. There's a GIF video background to demonstrate how to fix their smartphone mounting gear to your cash dash, motorbike, bike, and limbs.
Immediately after, Quad Lock manages to sneak in some high-quality use-case photos right above the fold so visitors know exactly what to do next before they can even scroll down.
Scroll down once, and the store convinces you they know their stuff with social—the top publications they've featured in, including Engadget, Mashable, The New York Times, and Forbes.
That's when FOMO strikes hard if you don't hit that "Get 10% off" tab.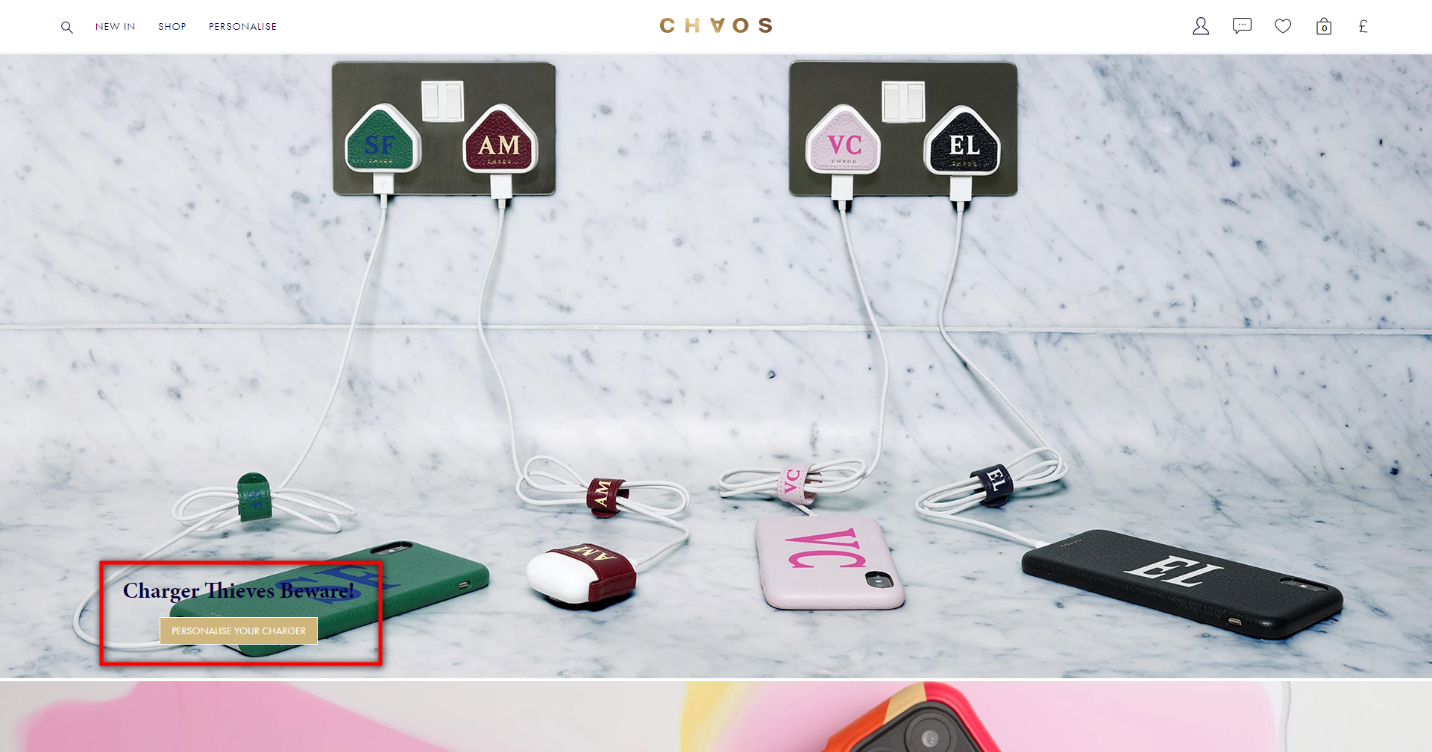 Chaos manages the chaos many stores find themselves in when they attempt to use splashes of color and big, bold fonts while exuding unmistakable individuality—all on one page.
It's playful, unique, and creative, which rhymes perfectly with its personalized accessories theme.
Talking of playful…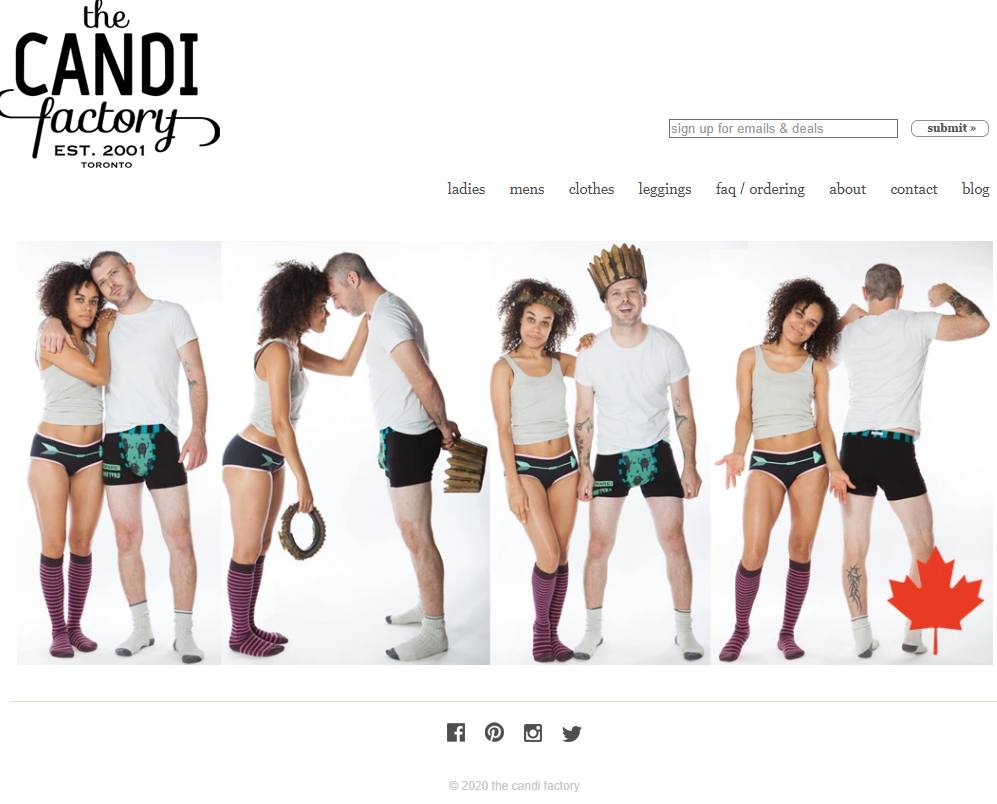 The Candy Factory homepage lets you know they don't take themselves too seriously as they sell custom leggings and underwear.
Well, and perhaps their patriotism to Canada, which we think is a nod to selling high-quality products.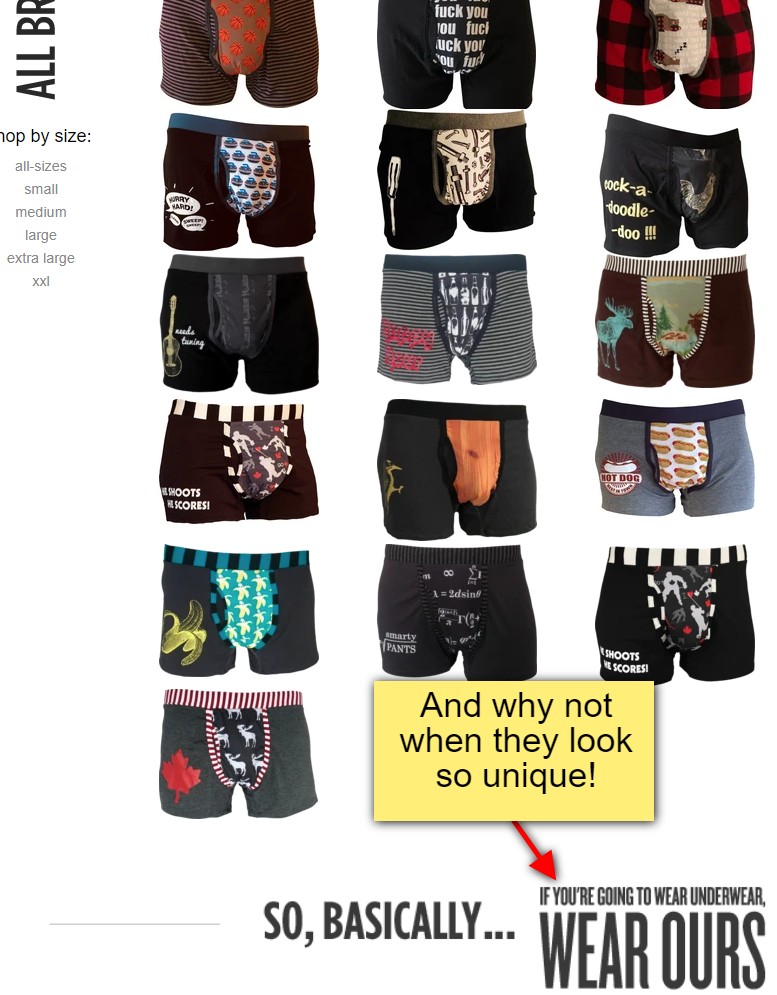 The store is clean and exudes a fun aura to boost.
Every click leads visitors deeper and deeper into the sales funnel. It's tough to recover and bounce away after a few.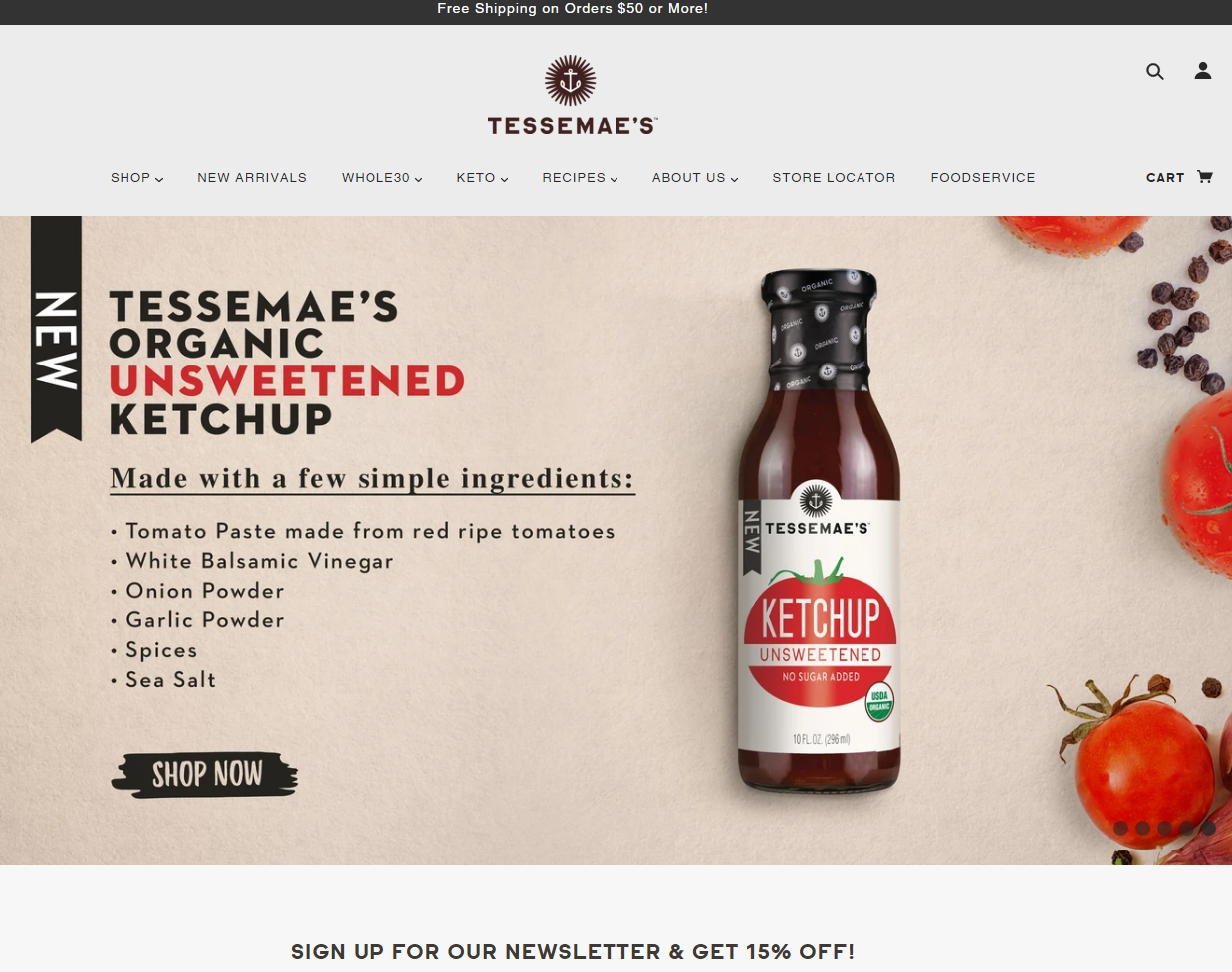 Tessemae's All Natural is top Shopify store for 2020 for a bunch of delightful reasons:
Stunning food photos that'll make anyone drool—and reach for the Buy Now button
Offers value upfront by providing weekly, monthly, and keto meal plans
15% off for joining the Tessemae's email list
Featured recipes mean fans keep coming back for more—and buy recommended products while at it
The five slides plus the vivid drop-down menu tabs make it easy to navigate the store from the homepage
Maintains a variety of products that feel exciting instead of overwhelming
Tessemae's All Natural publishes fan photos, which helps make the community feel recognized and develop loyalty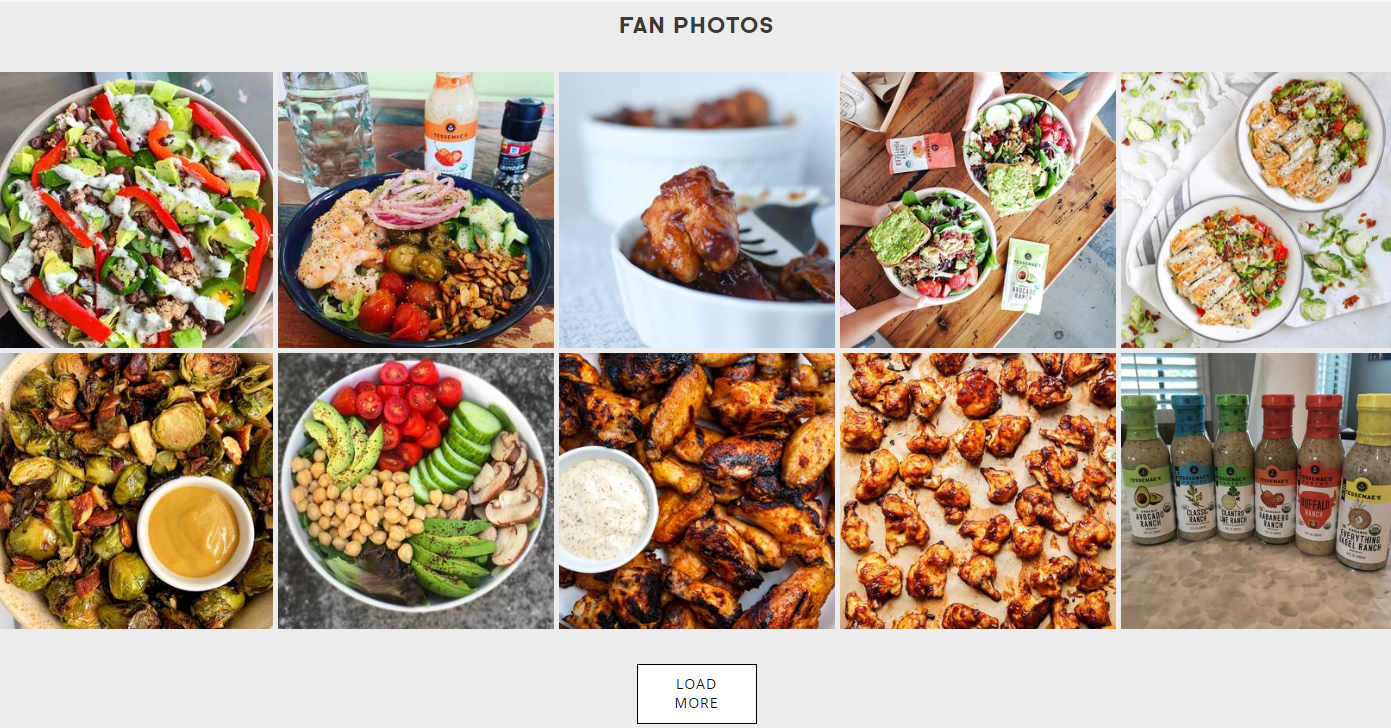 We love the entire structure, color scheme, and fan engagement going on here. Definitely one of the best food stores on the Shopify app.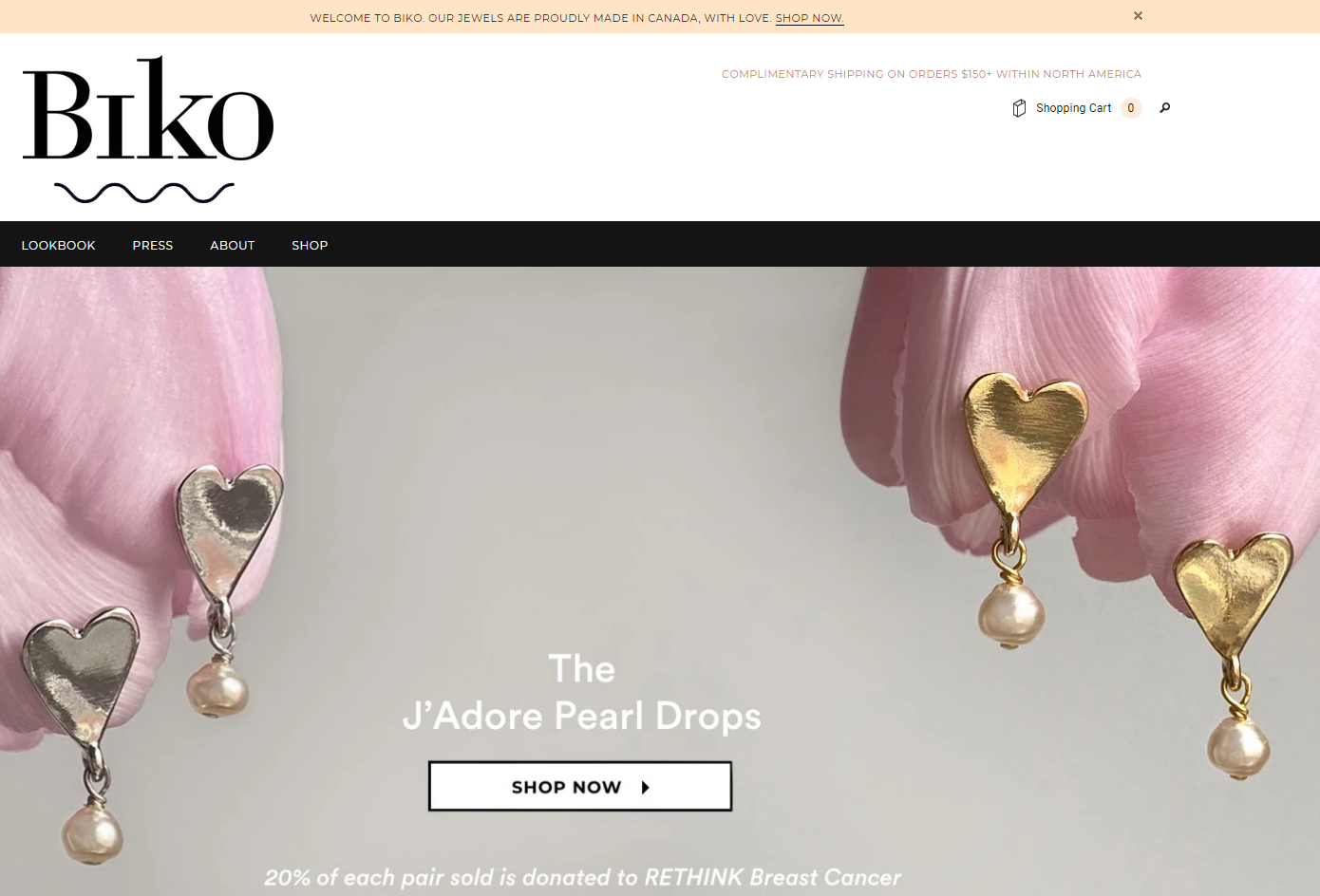 Biko takes the noble cause route right on the front page by letting visitors know 20% of each pair sold is donated to fight breast cancer through RETHINK.
It feels like joining a movement against a life-threatening, common enemy of Biko's target audience; women.
And right below the fold, Biko lets visitors know it's not all gloom and doom by showcasing "Trending Now" jewelry they can spoil themselves to right away.
To boost engagement, Biko suggests featuring customers who tag them on Instagram.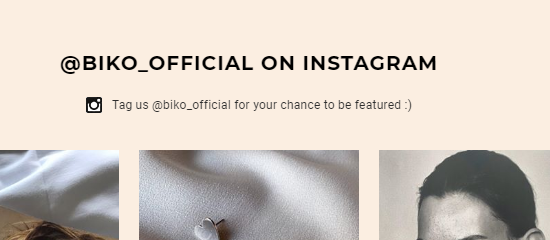 Then it lets you know how chic you'd also look in your new pair by displaying quality photos of models sporting the goods. You just have to click "Shop Now".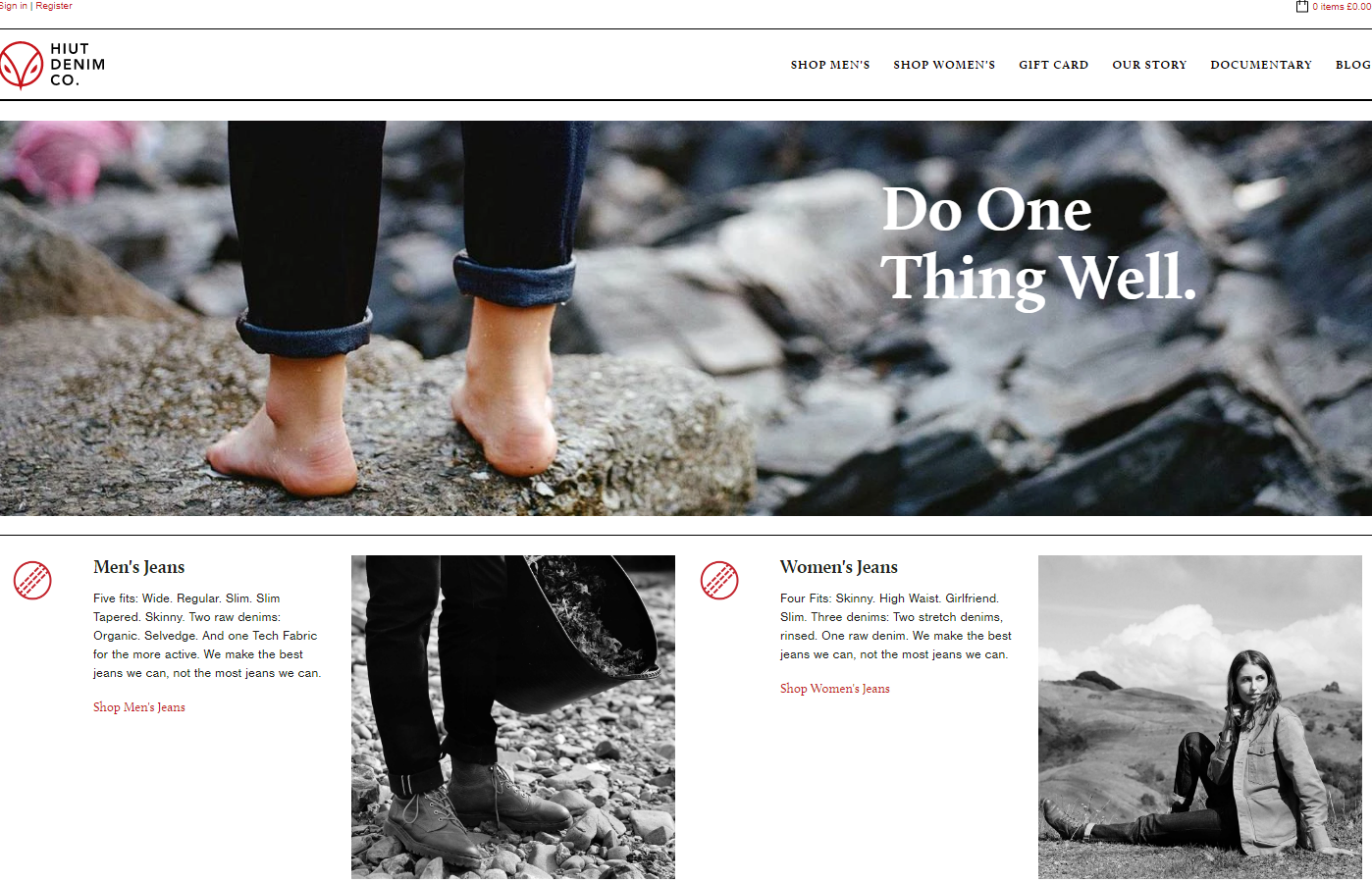 The store's homepage doesn't feel even a bit salesy. Rather, it gives off a classic, print magazine vibe.
Close shots display the brand's denim in three different use scenarios, so you know they are made to complement your preferred life and style.
Scroll under the fold to meet this:
"Denim Fit for A Duchess".
The bold statement subsides to reveal a 4-minute video, showing you how Hiut Denim Co. turns materials into denim masterpieces.
Click the "shop" buttons on the menu bar, and you are off to catch lots of photos with models stunting different styles.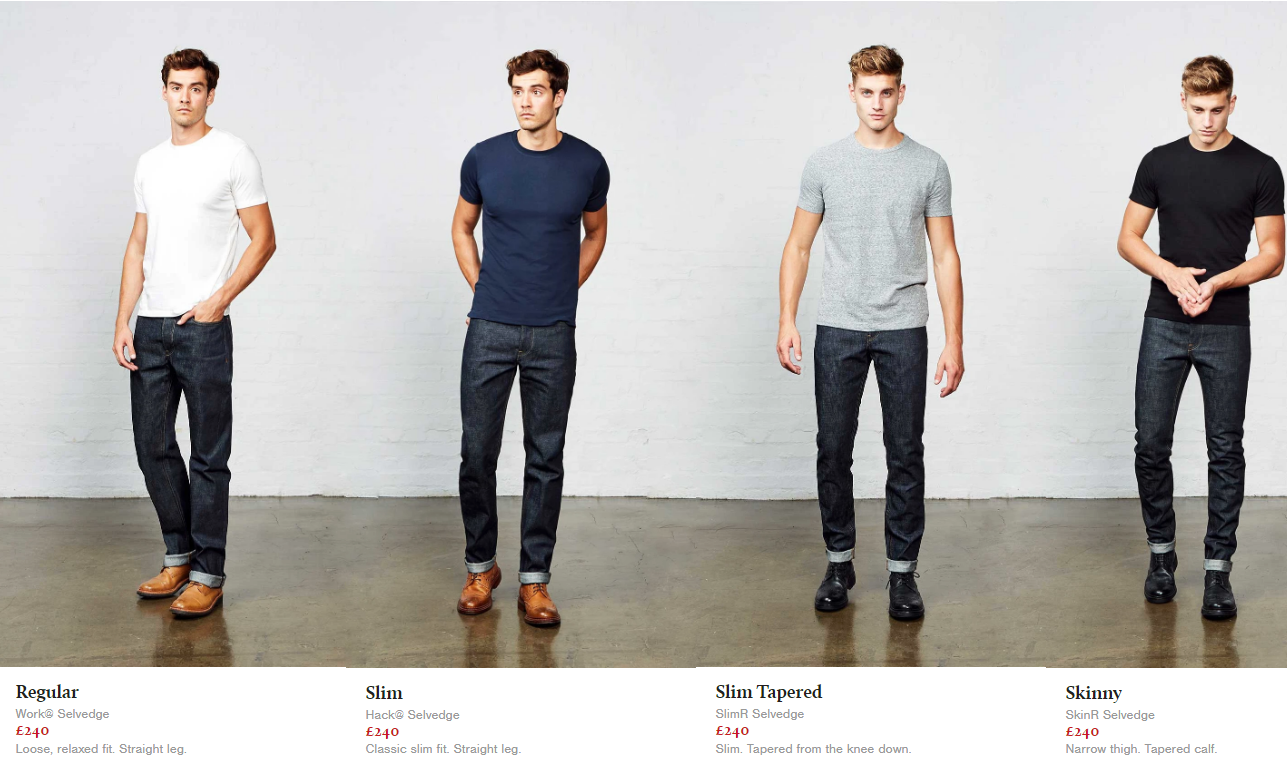 That helps show how a pair would fit, so buyers that are uncomfortable with making returns are more likely to shun their inhibitions and click "Buy Now".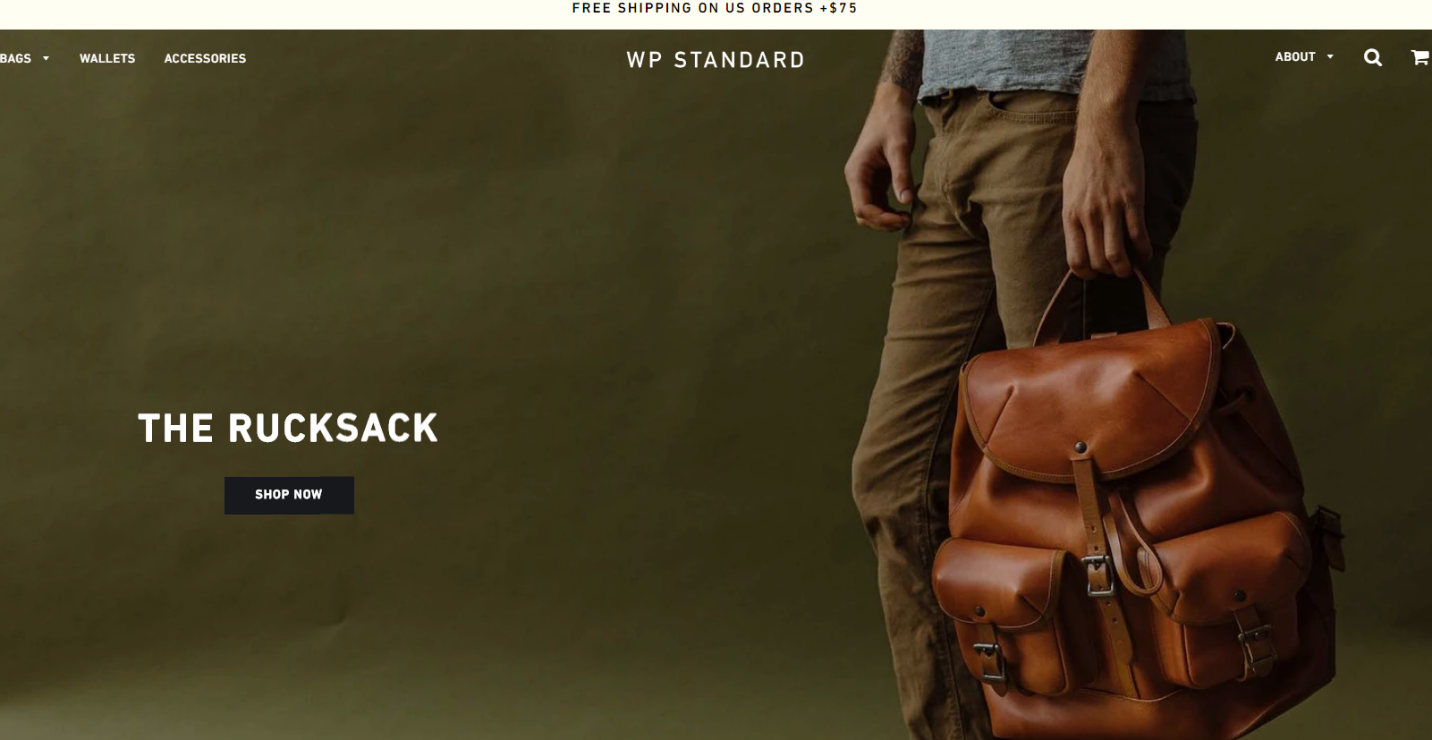 Why make noise when you can make a statement, huh?
The WP Standard landing page exudes dignity and sophistication, wrapped up in a clean, minimalist, and succinct charm.
Buttons are limited to just five with lots of free space all over to ensure the main focus is on clicking that centered "Shop Now" button.
The brand engages fans and secret admirers alike by integrating their Instagram feed at the bottom.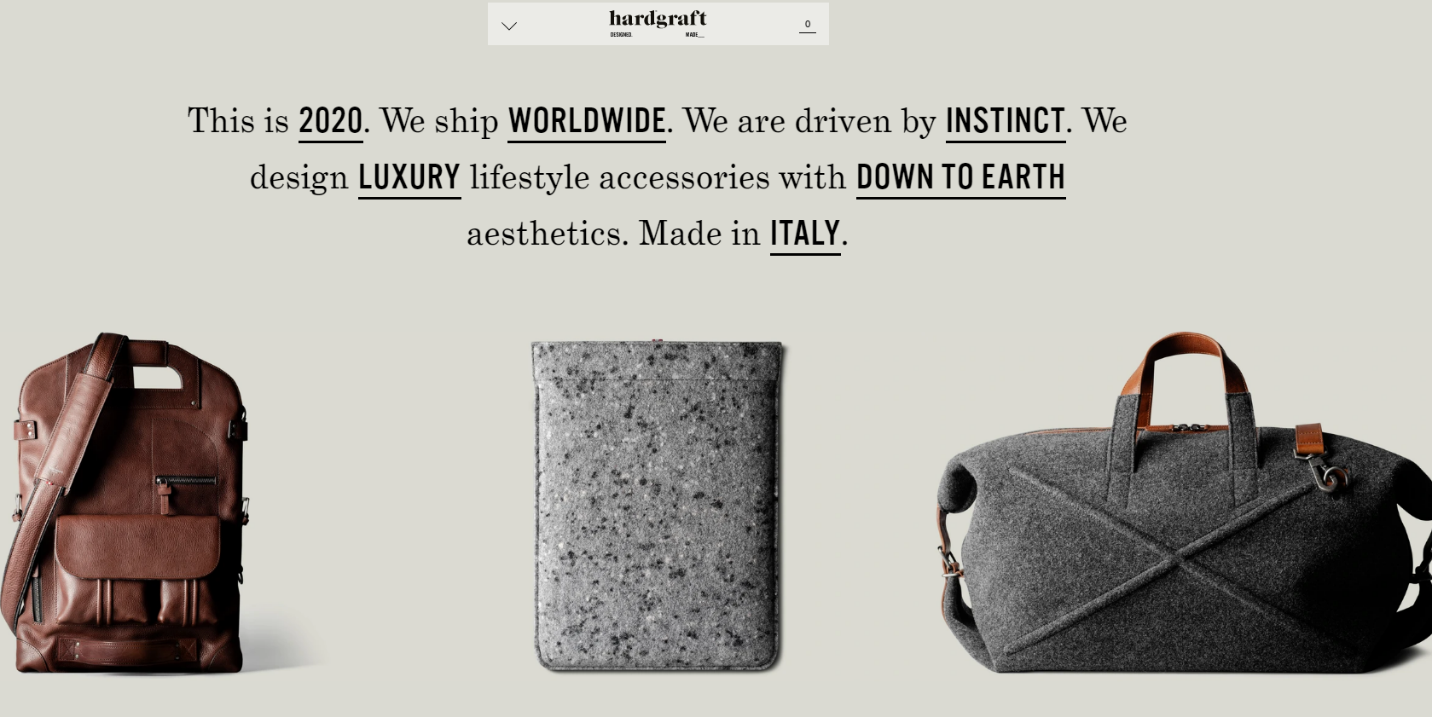 The personality-filled statement declares Hardgraft is the place to be for contemporary, luxurious accessories that don't go over-the-top.
And no matter where you are, the brand says you'll receive your order as if it came from the town down the road.
The colors marry the down to Earth mantra. Products are displayed right on the homepage so you can get to what you want in a click or two.
Hover your mouse on an item, and more details will show out.
Simple does it on this top fashion Shopify store in 2020.
Yet, a clever mind knew how to ask you to sign up to their mailing list while assuring everyone Hardgraft doesn't do spam.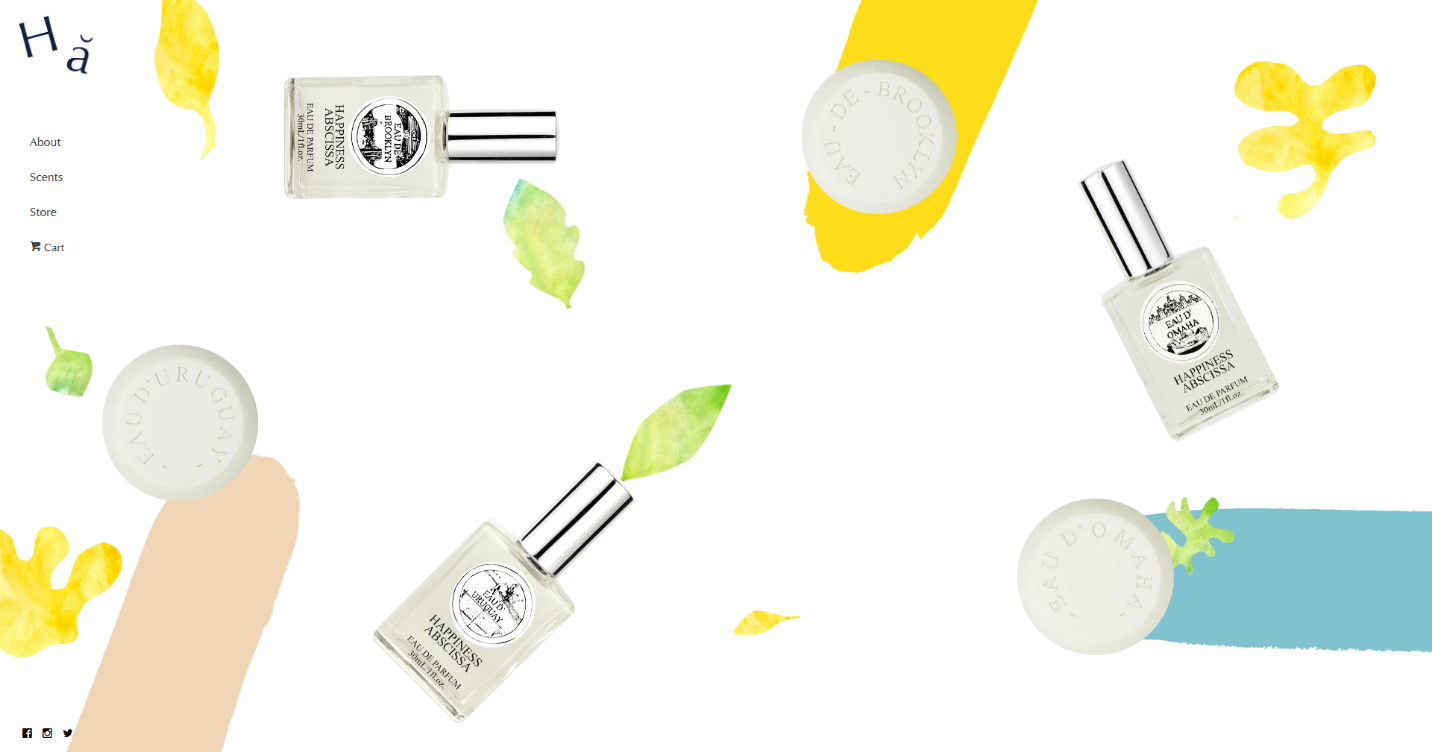 Ha gives visitors the sense they are on a cheerful page that's easily contagious.
Happy Abscissa doesn't play it safe with straight lines and conventional image placement on the front page. And still, it works to jolt curiosity among visitors.
There are no more than four clickable buttons to distract, with lots of white space. This is one minimalist approach to conveying a cheery vibe. It works to make Ha one of the best Shopify stores for perfume lovers.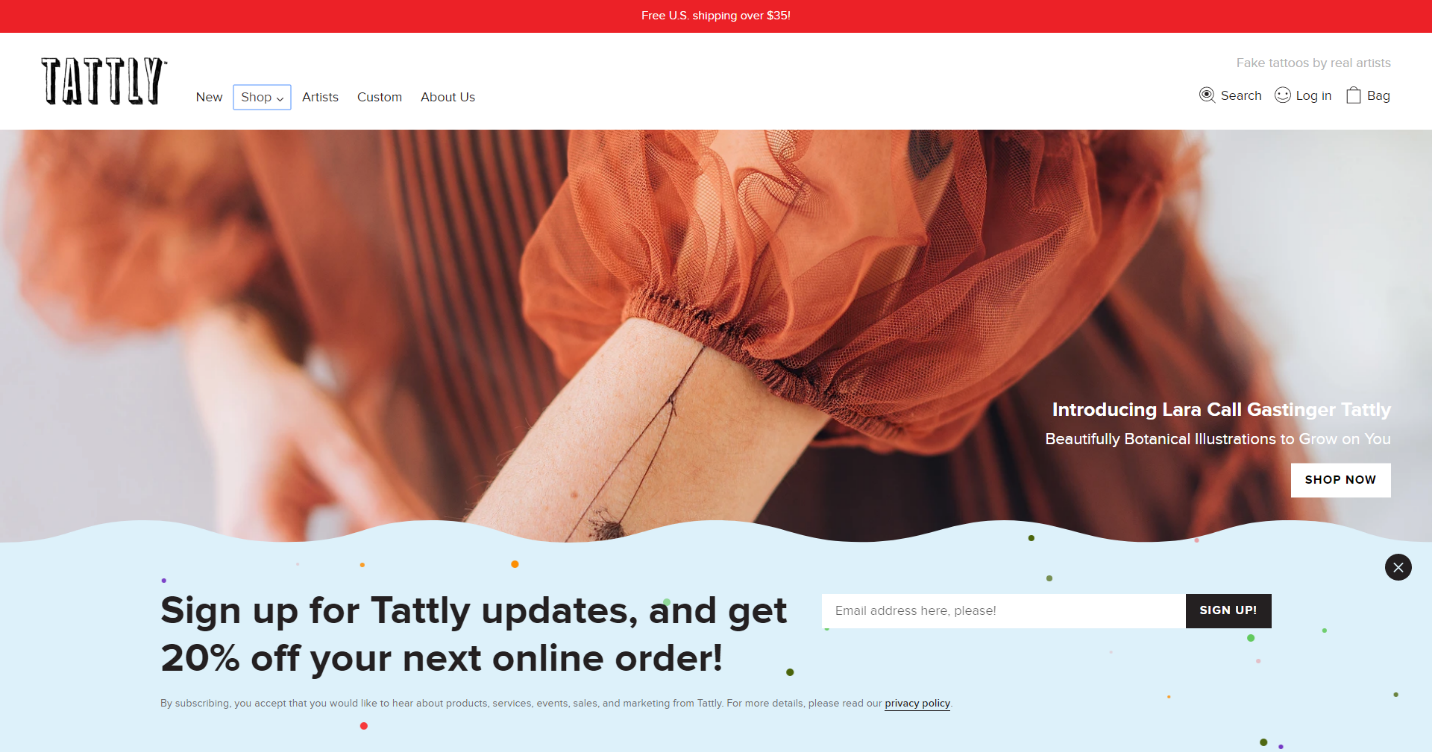 Permanent tattoos are forever. Fun, except you don't get to see how a tattoo will look on a real person in advance.
Tattly's approach to tattooing gets some crucial conversion killers right:
Click on a product to see how it looks on a real person before risking the purchase
Video tutorials show you how to apply the tattoo on yourself like a pro even if you are a complete beginner
Temp tattoos mean you can Themefy an event or party and still get rid of the "ink" look hassle-free (especially convenient for kids)
Email signup form encourages repeat purchases with a "20% off next purchase" promise
Just click the drop-down icon next to the Shop tab and access everything right from the homepage.
Frank Body wins a podium finish in the best cosmetics Shopify store contest for its delightful, personal, and "for ordinary-people" vibe.
It is written in first-person, building rapport between the brand and potential customers.
The beautiful pink color scheme, cute packaging, and tongue-in-cheek marketing convey a charming feminine feel that's sure to keep the target audience looking in all the right places.
There's more:
Beautiful photos of next-door women happy to use Frank Body coffee scrubs encourage the hesitant browser
A loyalty program to encourage repeat customers
A limited-time "Win-a-Bedroom" contest to boost conversion goals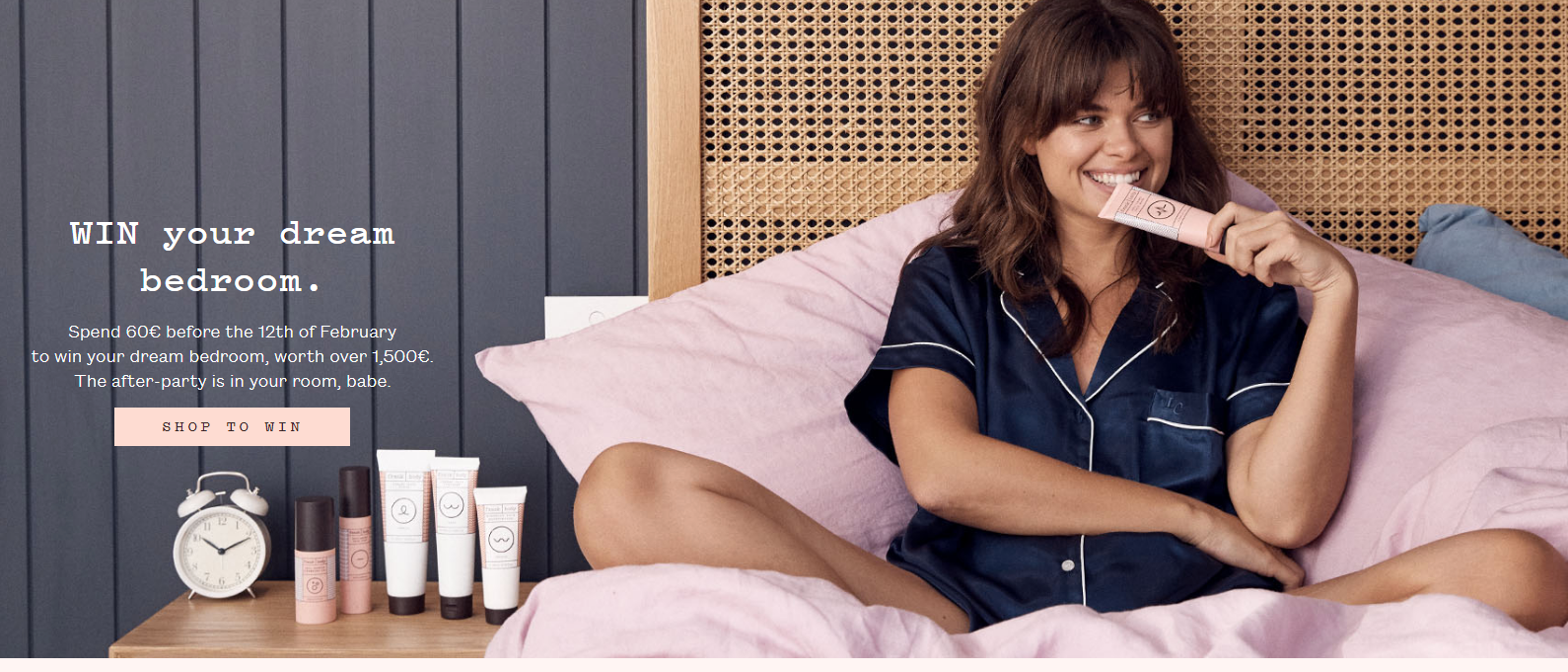 No doubting that Frank Body goes all the way!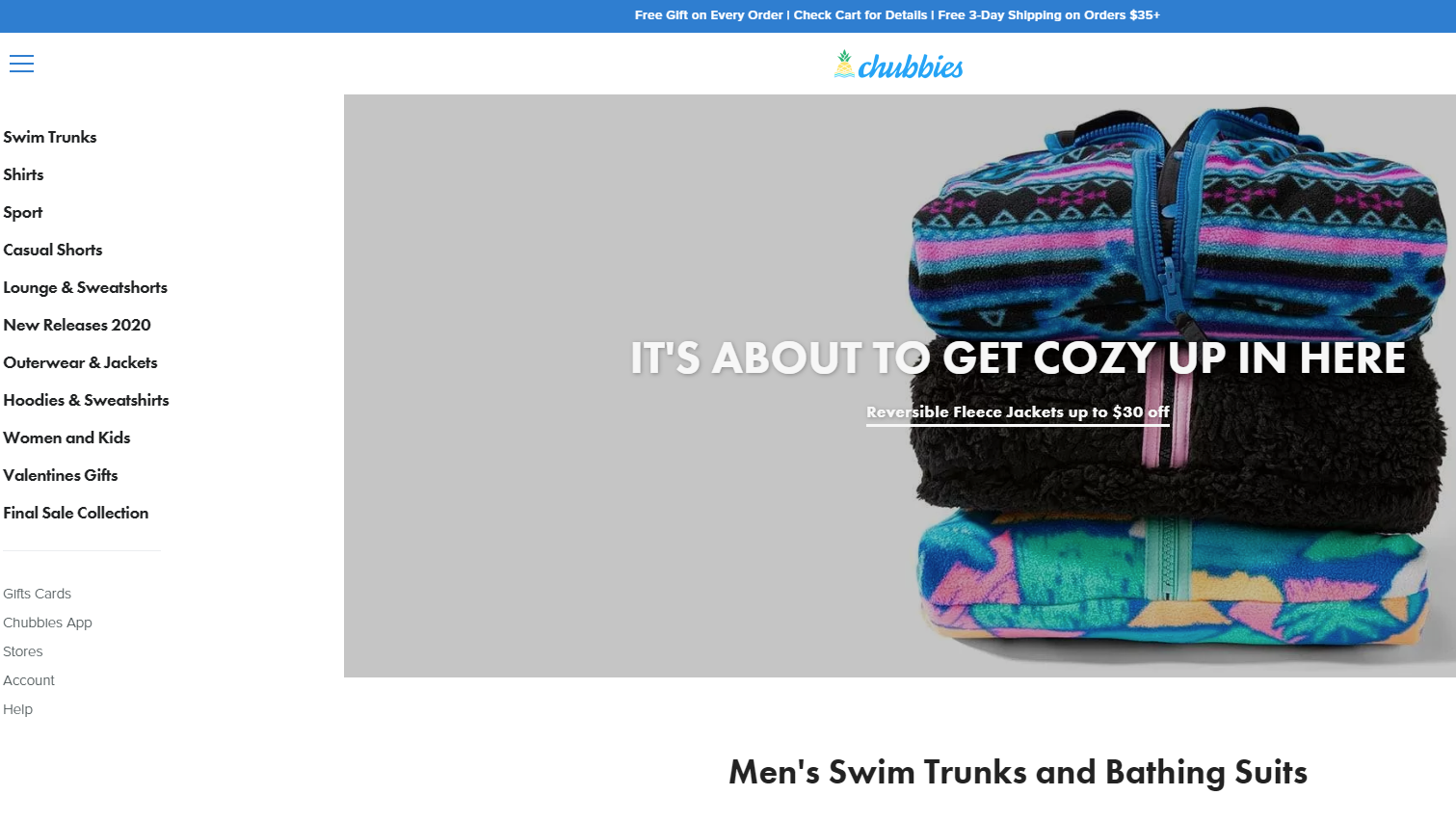 Chubbies lets you know what they are about in an 8-word statement on top of a pile of colorful, reversible fleece jackets.
And you'll know the trunks and bathing suits they sell are meant for men because they say so right above the fold—and in their interesting mantra below the fold: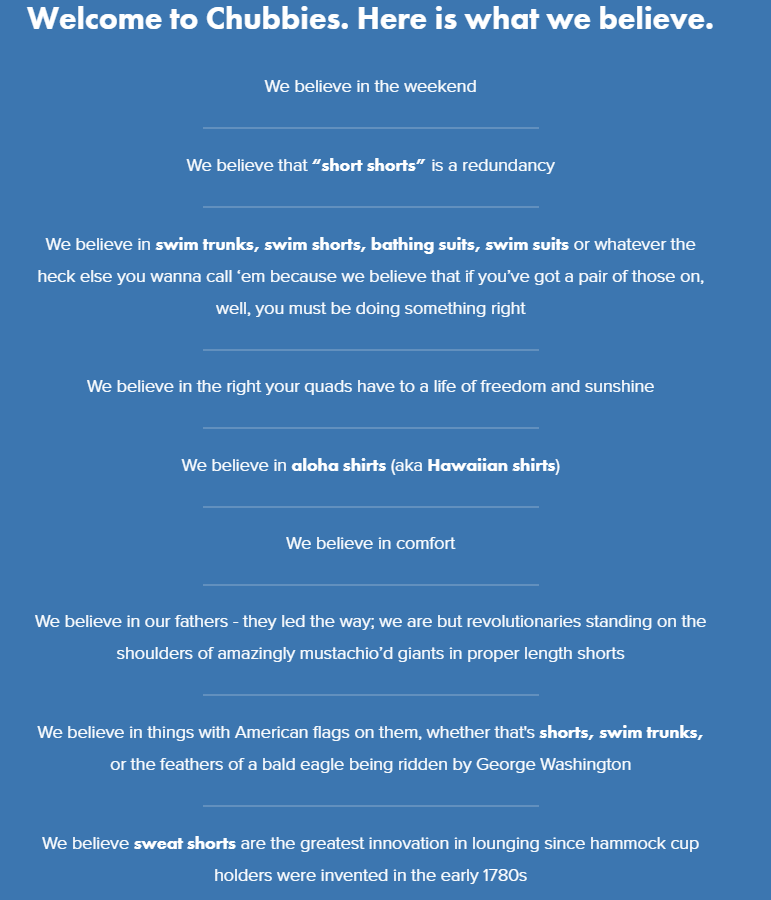 It also manages to keep the menu lean enough not to overwhelm, considering the boatload of products they have on there.
Last but not least, Chubbies manages to charm with high-quality photos of their shorts and outerwear, which flip into pics of models wearing them when you hover on each.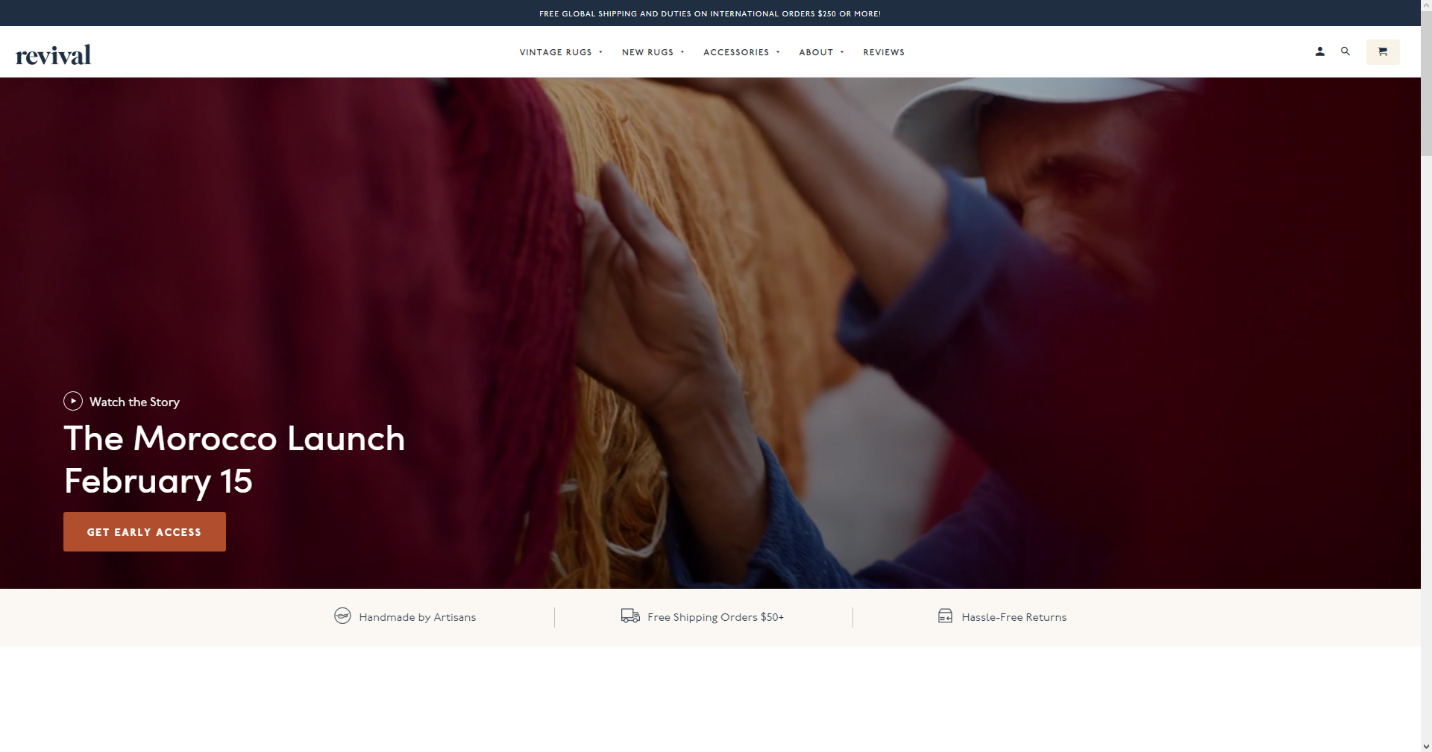 Instead of a typical hero shot, Revival Rugs shows you a video background, taking you on a Moroccan journey to reveal the dedicated process each rug has to pass through to get to your doorstep.
Each piece is hand-crafted.
Revival is also so confident you'll love their rugs that it supports free returns—the 700+ positive customer reviews notwithstanding.
Visitors just need to hover on the drop-down navigational buttons to see everything and get to what they want in a click or two.
We also love how Revival demonstrates rug sizes and how it'll look in a room with illustrations and real photos, so buyers have fewer objections to converting.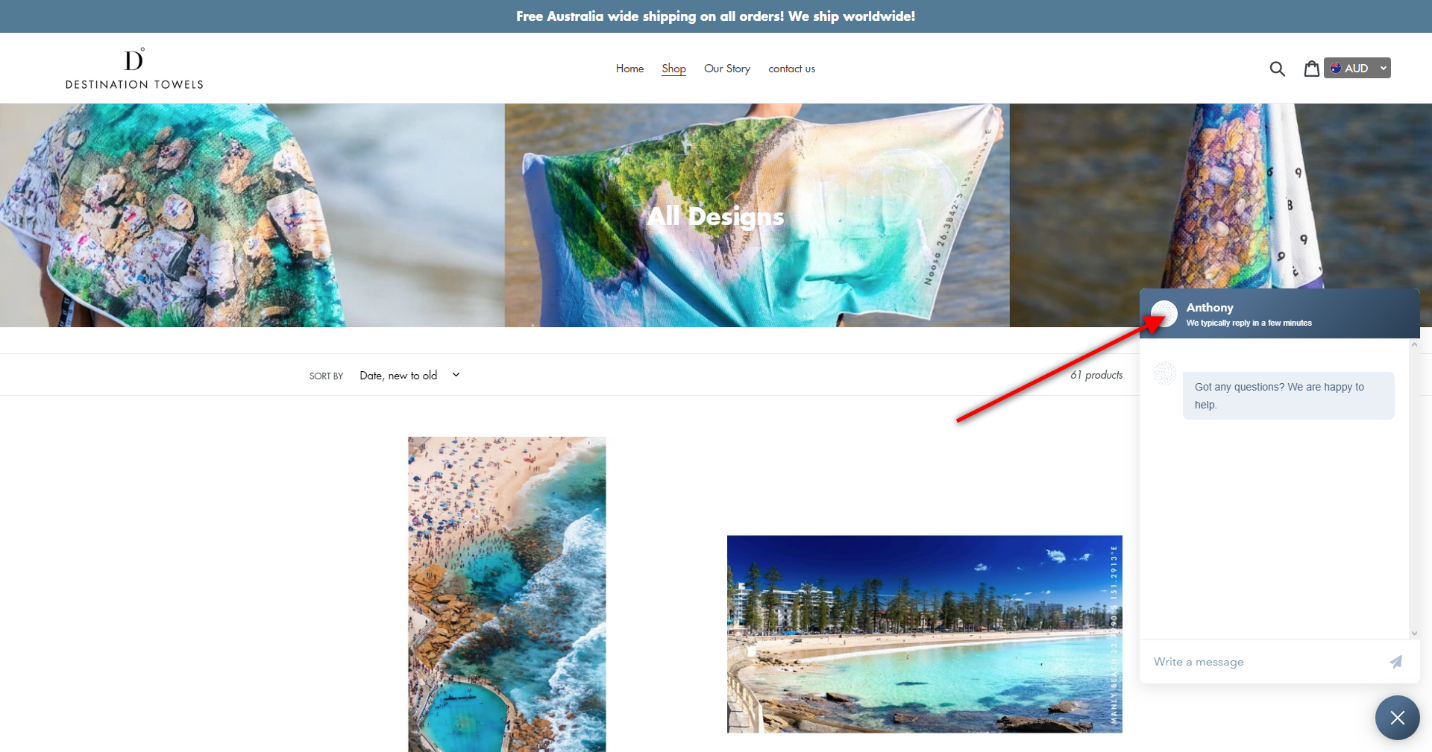 What happens when a professional photographer decides to help people take their destinations to their favorite destinations?
Destination Towels happens.
Choose among 61 destinations and have your favorites infused into your custom, sand-repellant, quick-drying beach towel.
Each piece has its destination's unique coordinates printed on it.
Plus, the towel ships internationally, complete with a lightweight backpack to carry it with you wherever you go.
To emphasize the personalized experience, Anthony Glick, the Shopify owner and photographer, replies to queries himself.
Now that's how to do personal touch in 2020.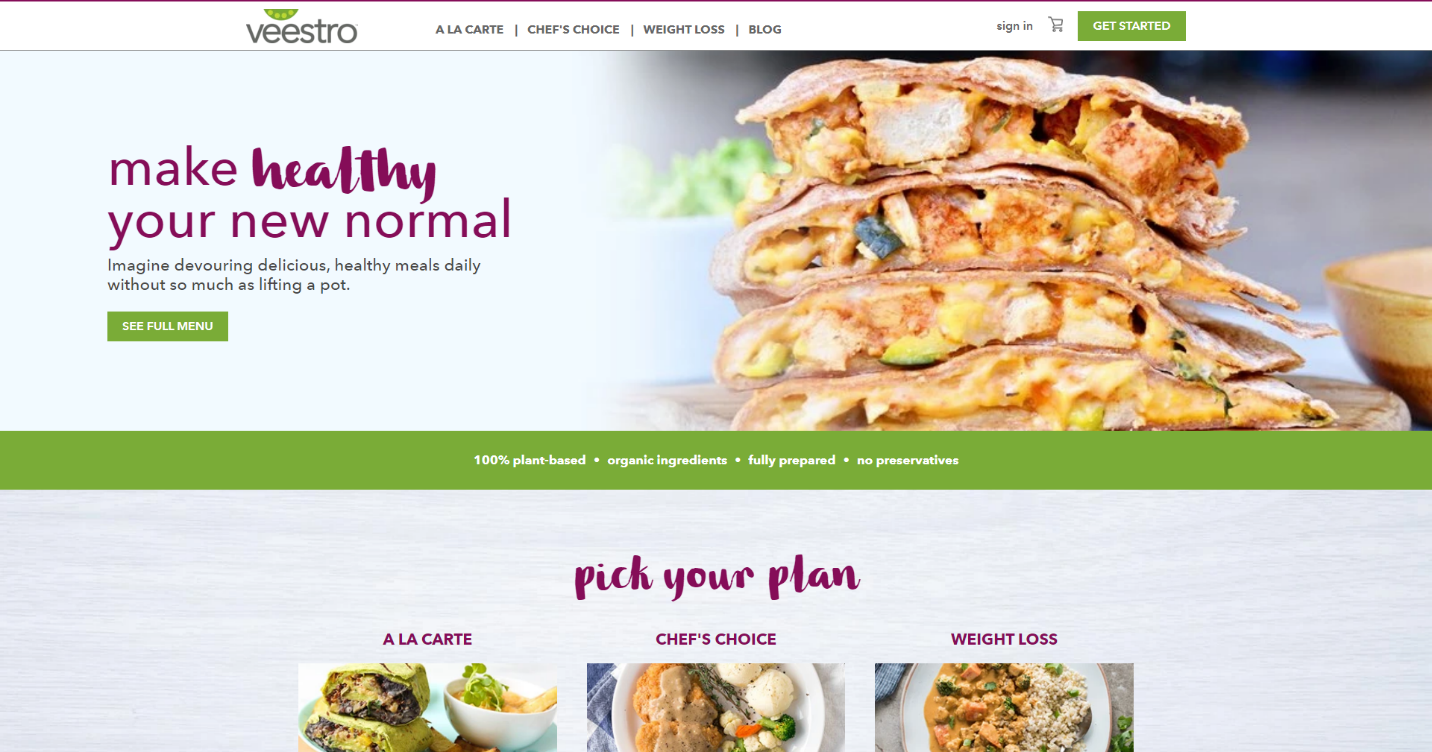 This health-conscious meal subscription service uses stunning organic food photography and visual language to get you hungry.
"Imagine devouring delicious, healthy meals daily without as much as lifting a pot".
That's a yummy proposal a whole lot of people are ready to make happen in real life. And especially so when the meals are chef-prepped, restaurant-quality, and come in at under $10 a pack.
Veestro then goes ahead to offer a selection of three meal plans, in case you are not sure what to pick right away.
Or, in case you are the adventurous type, want to try something different for a change.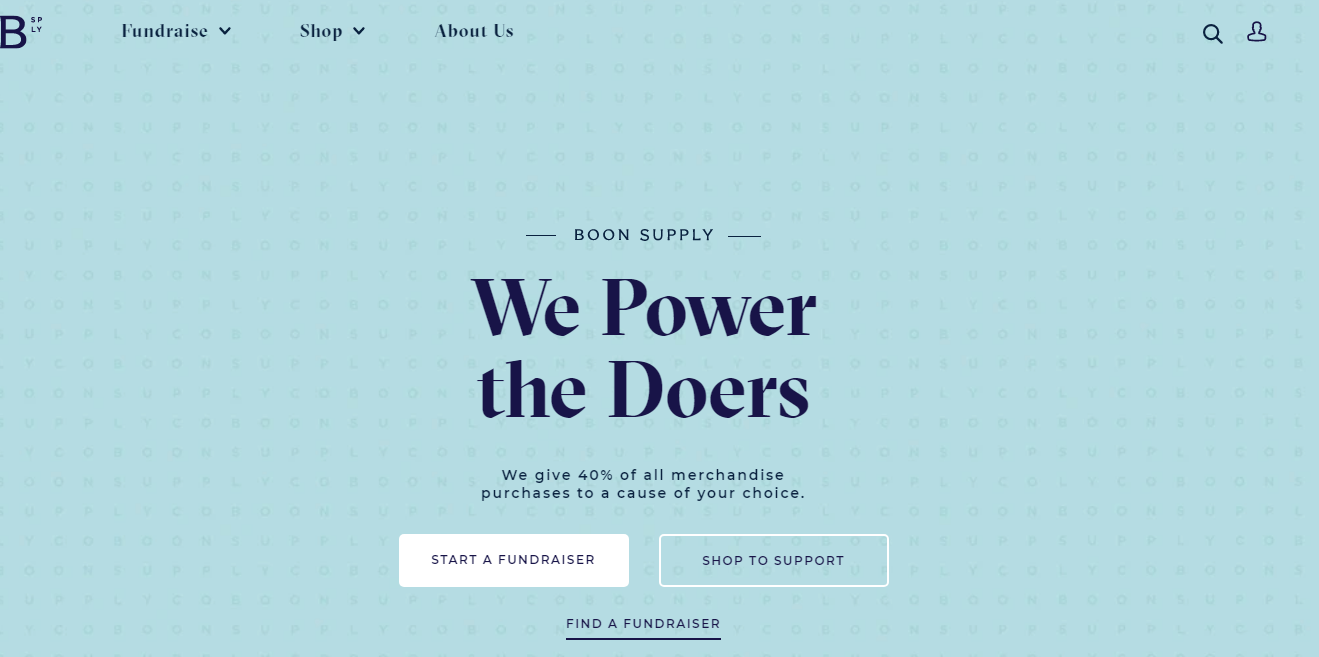 Boon Supply has a fresh take on fundraising.
Instead of laying out your palm for donations, the brand takes on a sustainable ecommerce approach to giving or raising funds for a worthy cause. That's up to 40% off all merch purchases sent to your choicest course.
The CTA on the homepage makes it crisp clear where you are, what the brand does, and why it does it.
They explain how the process works right below the fold, followed by acres of white and pink space. Not sure whether that's intentional or if it's because there isn't much else to show out.
But the store looks and feels and clean, easy-to-navigate, and to take the right action—whether you are a fundraiser or shopping to help.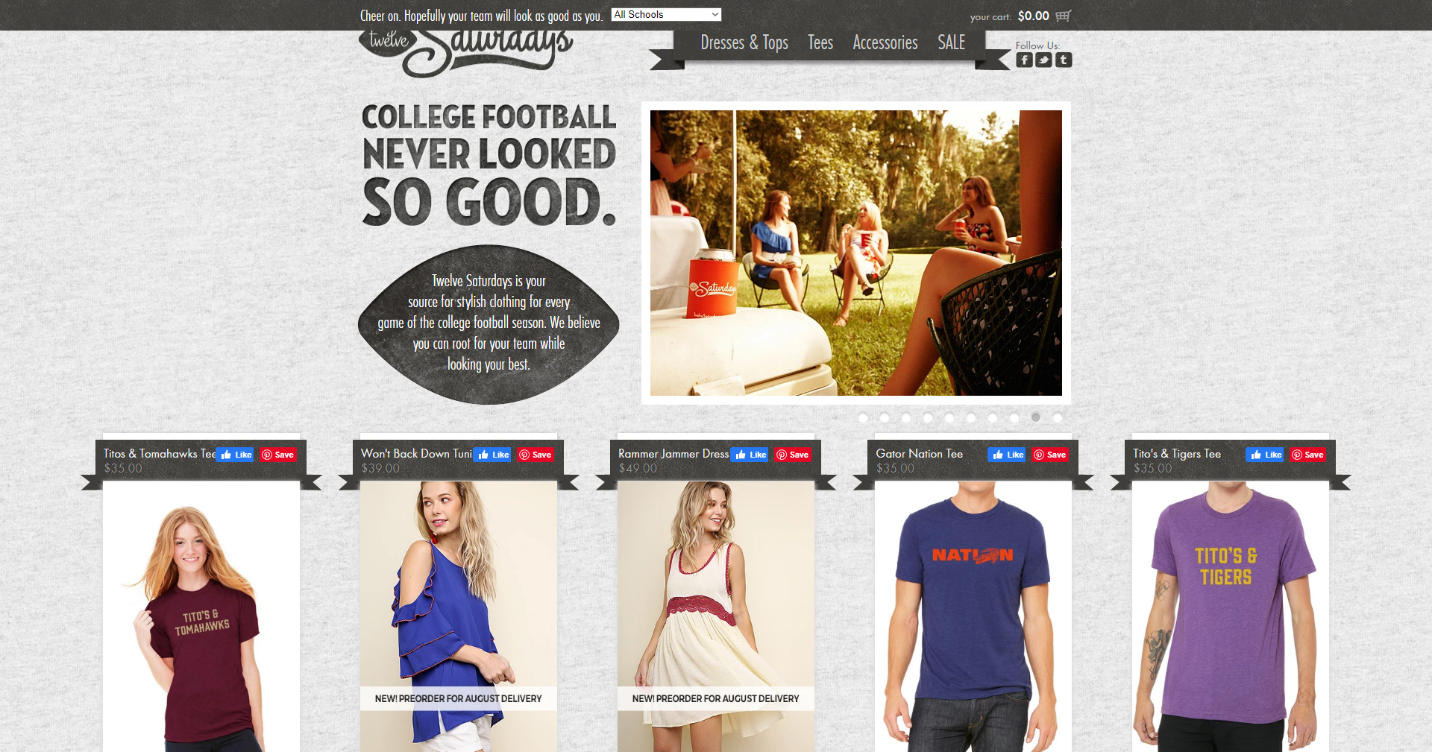 Twelve Saturdays is a clothing Shopify store that dresses college football fans for the big days.
Instead of sporting the ole shirts and all, the brand's copywriters cheerfully encourage fans to spot custom apparel to support their favorite teams in style.
It also employs a gray background, which they overlay with gorgeous, colored photos of models in their products. The result is a simple yet beautiful play on texture.
Shots of cheery young fellows in pairs, supposedly headed to a game, soothe the message in with precision.
And to find out the size of a cloth item, zoom in and out, as well as see back-shots of the same, just hover your mouse on a model's picture, and the site will do its thing.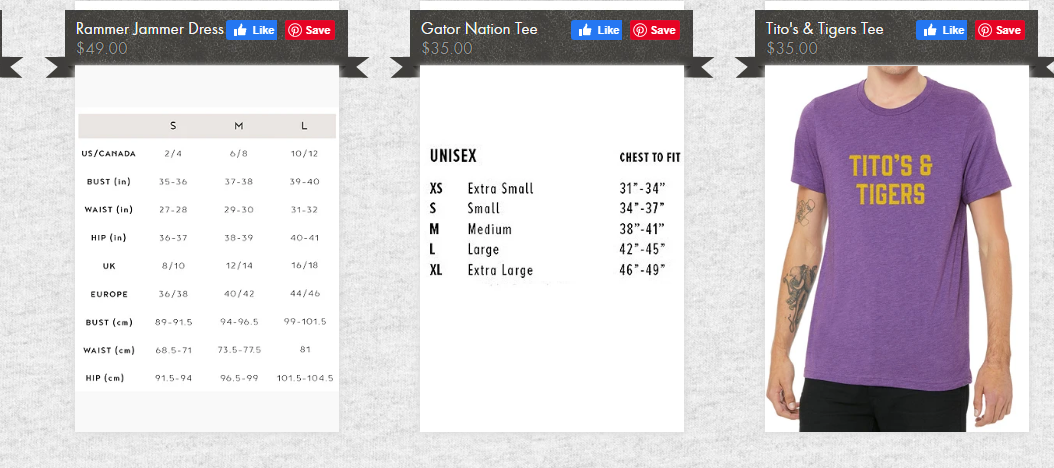 Fast. Fluid. Easy.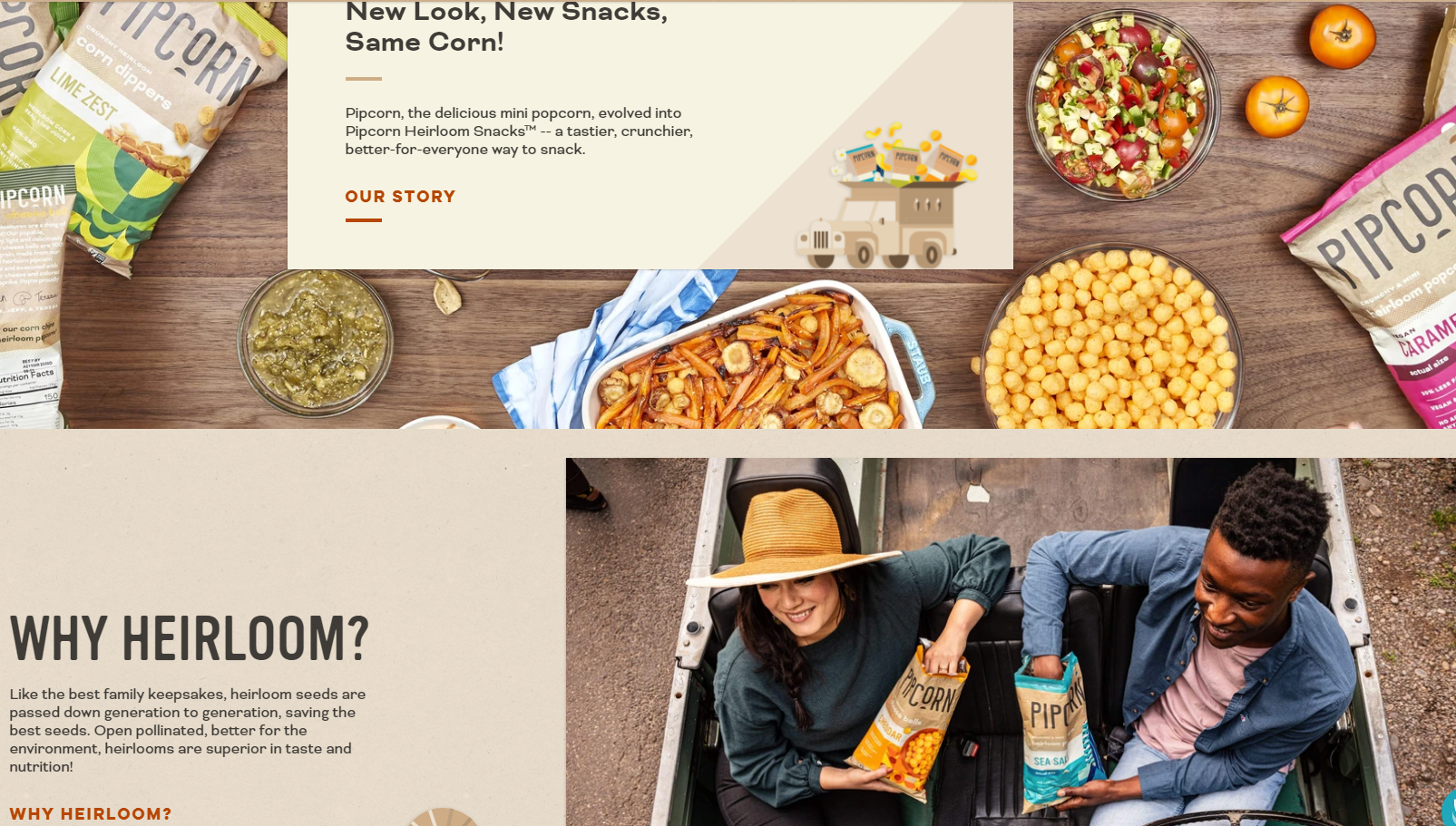 Pipcorn recently rebranded.
So, their current USP reassures loyal and potential customers who've heard about them that they are the same crunchy, munchy snacks store they love and trust.
It adds high-res photos of their different flavors, happy people enjoying Pipcorn, and social proof about how five celebrities swear by Pipcorn snacks.
You'd think the product is not made out of normal corn.
Well, it's actually non-GMO, gluten-free, vegan, and whole-grain popcorn. Only Pipcorn chose to prioritize how it tastes, a conversion prompt that works for them.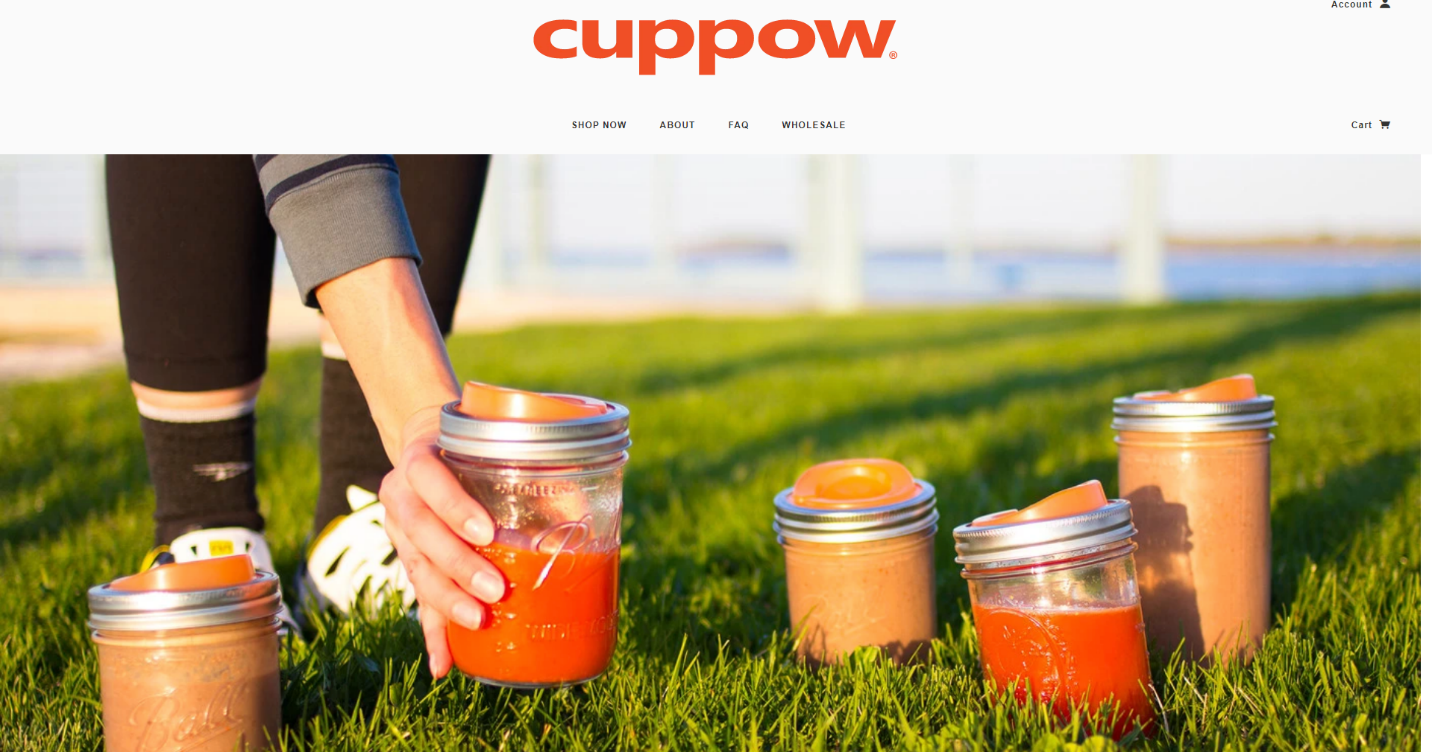 Fresh and clean like the food they carry, canning jar brand, Cuppow, goes all out to redefine the meaning of full-package.
That, while striking a clean and minimalist store, so buyers only see what matters: the sustainable canning jars.
You can turn the glass travel mug into a lunch box, clean it up, and refill with fresh juice on the go.
When you receive your order, you'll get a brochure letting you know just how important your purchase was in the fight against environmental destruction.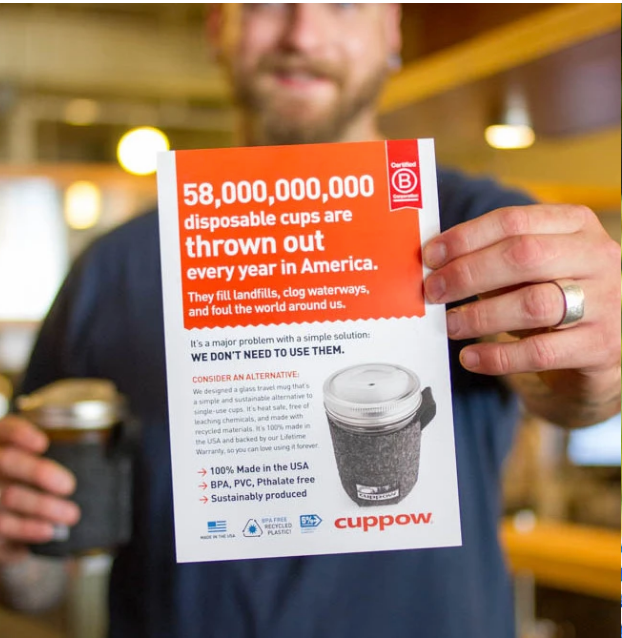 That and more makes Cuppow canning jars undeniably memorable and rallies environmental conservation buffs onto the repeat customers log.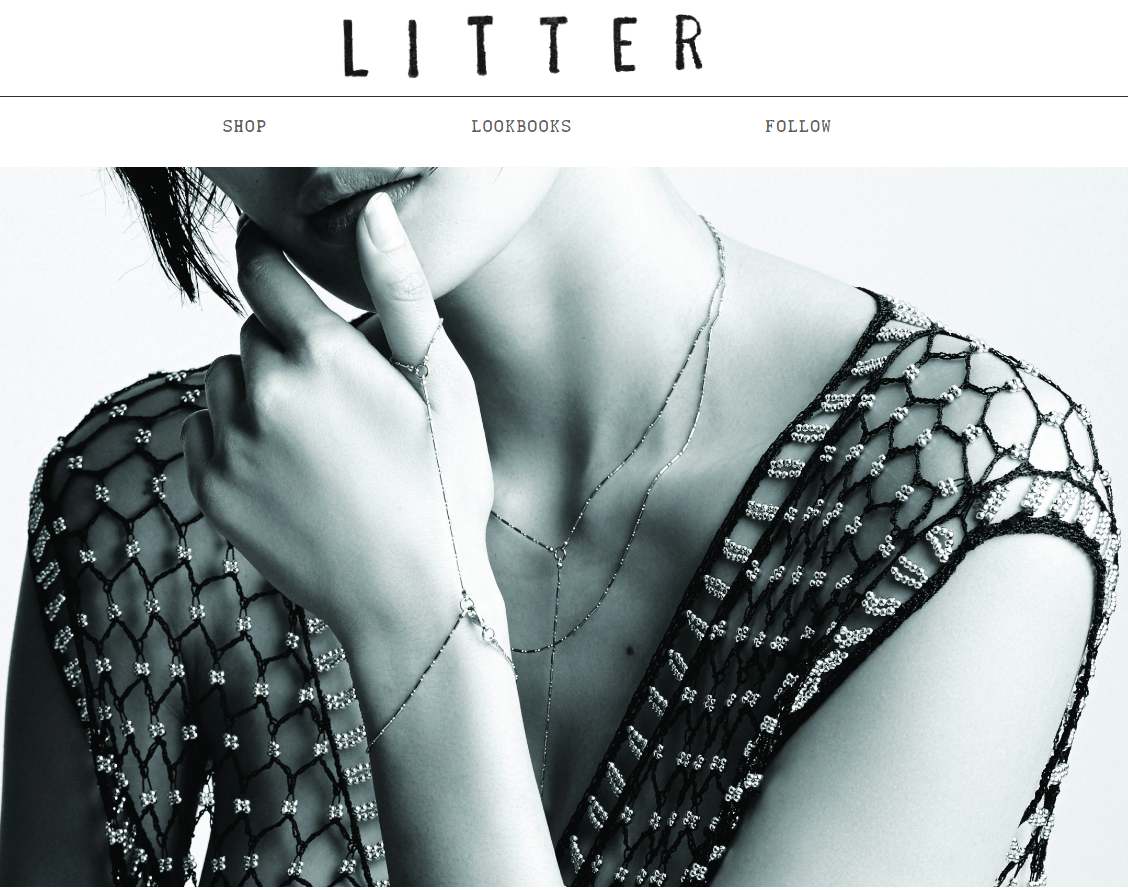 Litter knows a photo speaks a thousand words. So, they've dedicated the entire homepage to close-up shots of models wearing the store's custom accessories.
It gets other things right, too:
Just three menu items guide potential customers to the right pages to boost chances of a conversion
Lots and lots of stunning photos of models sporting the jewelry so you can see yourself wearing the goodies as well
Hover on a model's photo to see the name and price of the worn accessory. Click for more details and to purchase.
Gift cards and exclusive deals for subscribed fans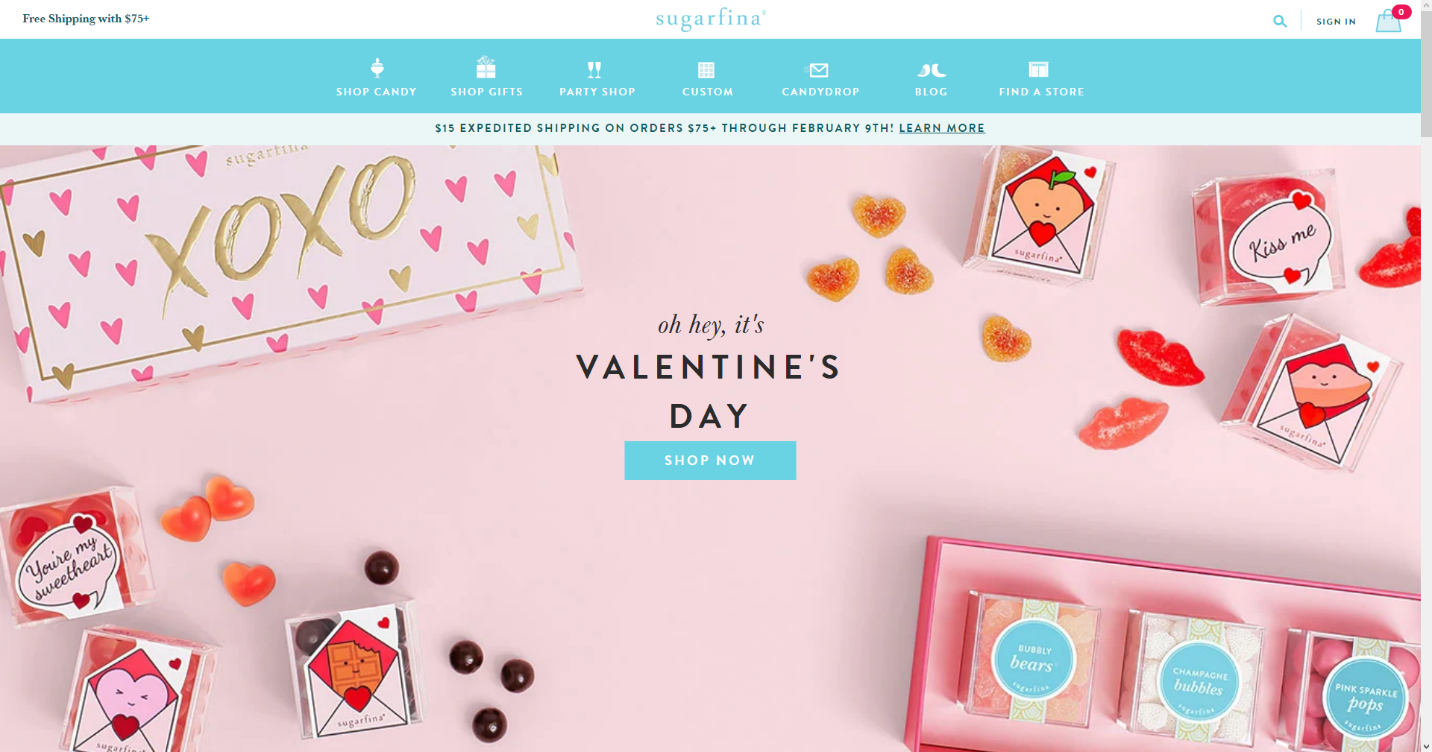 Sugarfina comes through as playful, thoughtful, and sweet—just like you'd imagine a candy store to be. And all without overdoing it given their serve an adults' market, too.
It also uses thematic selling, including offering a special discount, free shipping, and special flavors for your theme if you order by their recommended time.

See?
The store also earns points for engaging potential buyers by offering the option to create a custom candy box and see how it'll look when it ships and the option to visit their physical store for that Chocolate Factory feel.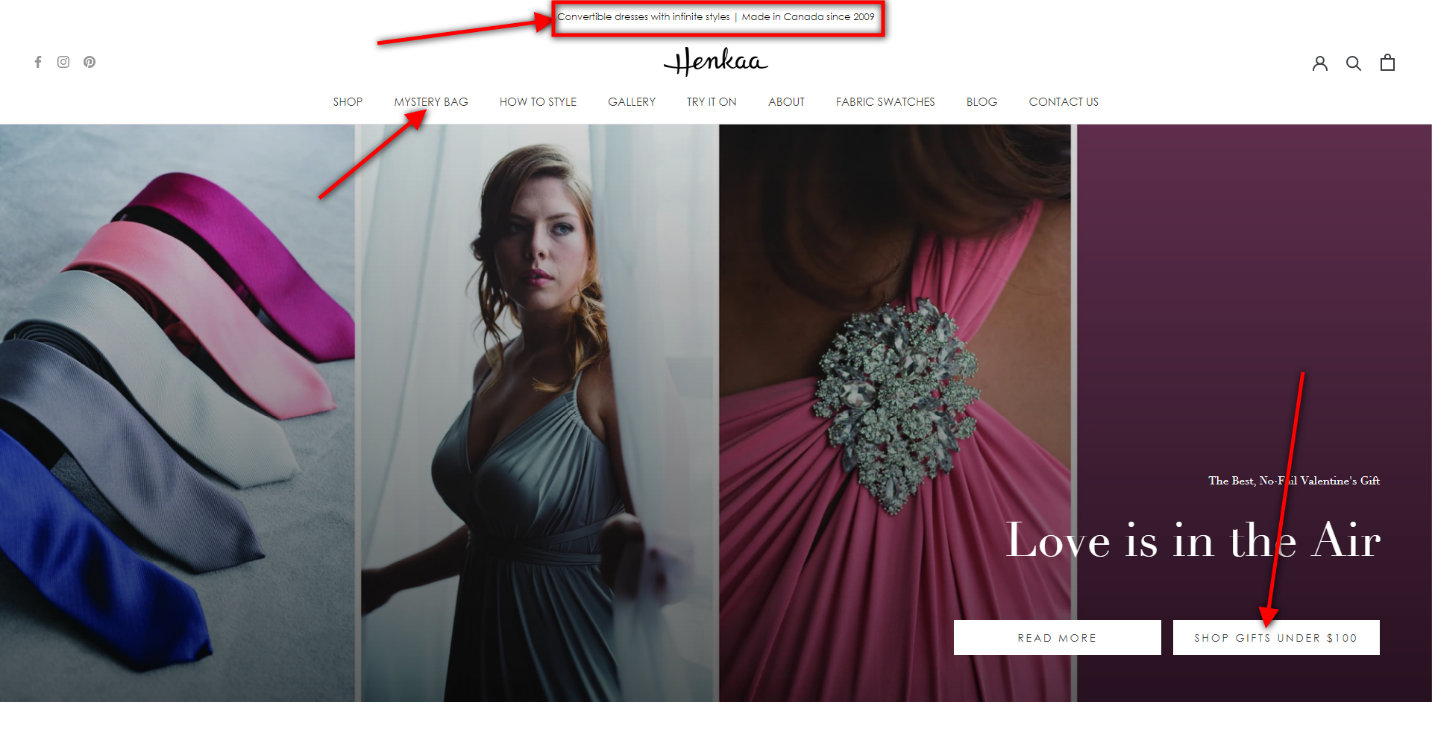 If you sell convertible dresses online, Henkaa is a top fashion store on Shopify to learn the tricks of the trade from.
Here are some things that work in its favor:
Gallery of elegant model shoots bring out the best in the dresses and make it easy to see how a dress style, color, and accessories can fit you too
A "Mystery Bag" tab nurtures curiosity among first-time and repeat visitors
The shop gifts "Under $100" CTA can help boost multiple item purchases
Elegant store design blends perfectly with the content
Henkaa is determined to grow an engaged community of loyal customers, too. The "Try It On" menu button lets visitors find a local store to try the dresses on.
Potential customers can even find events they can attend that are ideal for the Henkaa brand of sophisticated dresses.
Henkaa also goes full-throttle on content marketing, updating its blog with posts their target audience loves, such as the Henkaa 2020 Wedding Trend Report.
That's going the extra mile right there.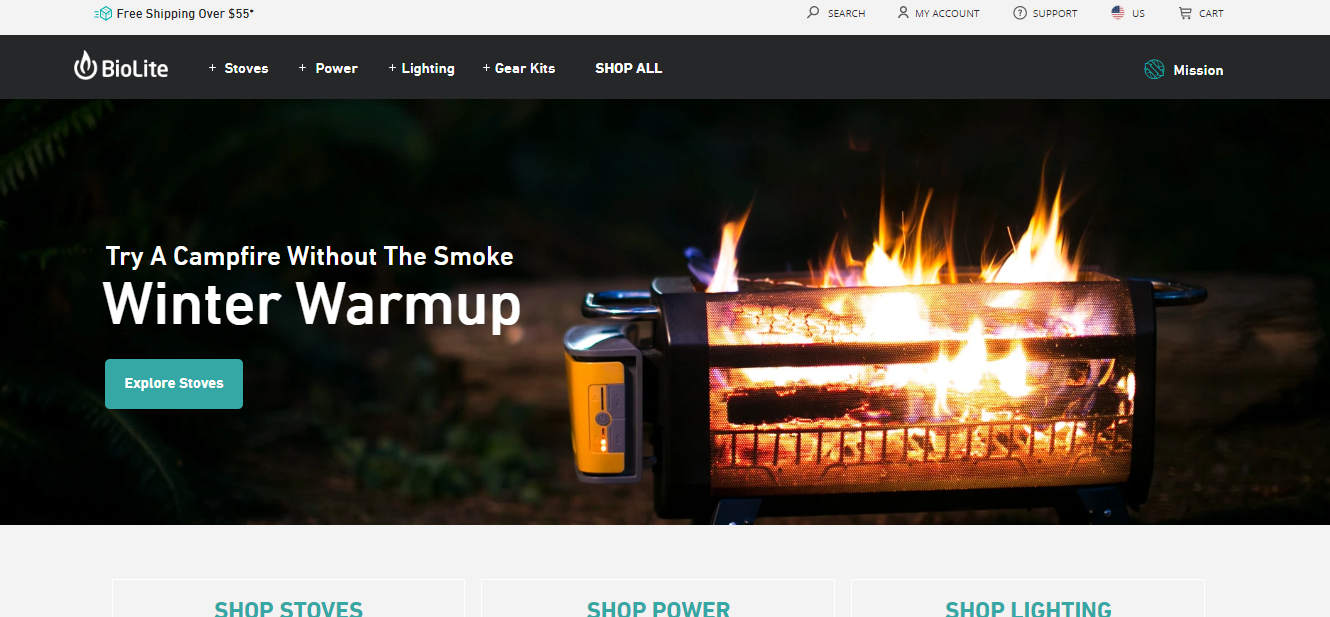 At first glance, BioLite does three things right:
The USP, "Try A Campfire Without the Smoke", is spot-on—for people who prefer a more modern campfire solution than the classic wood, smoke, and ash experience.
Highlights the BioLite Mission, complete with photos of power projects they run in sub-Saharan Africa. A worthy course.
All products are accessible from the drop-down menu
BioLite manages to include its "Shop…" CTA buttons above the store's fold. So, visitors don't have to scroll down, unsure where to click to buy an item they love.
Well, maybe that's four things that BioLite gets right.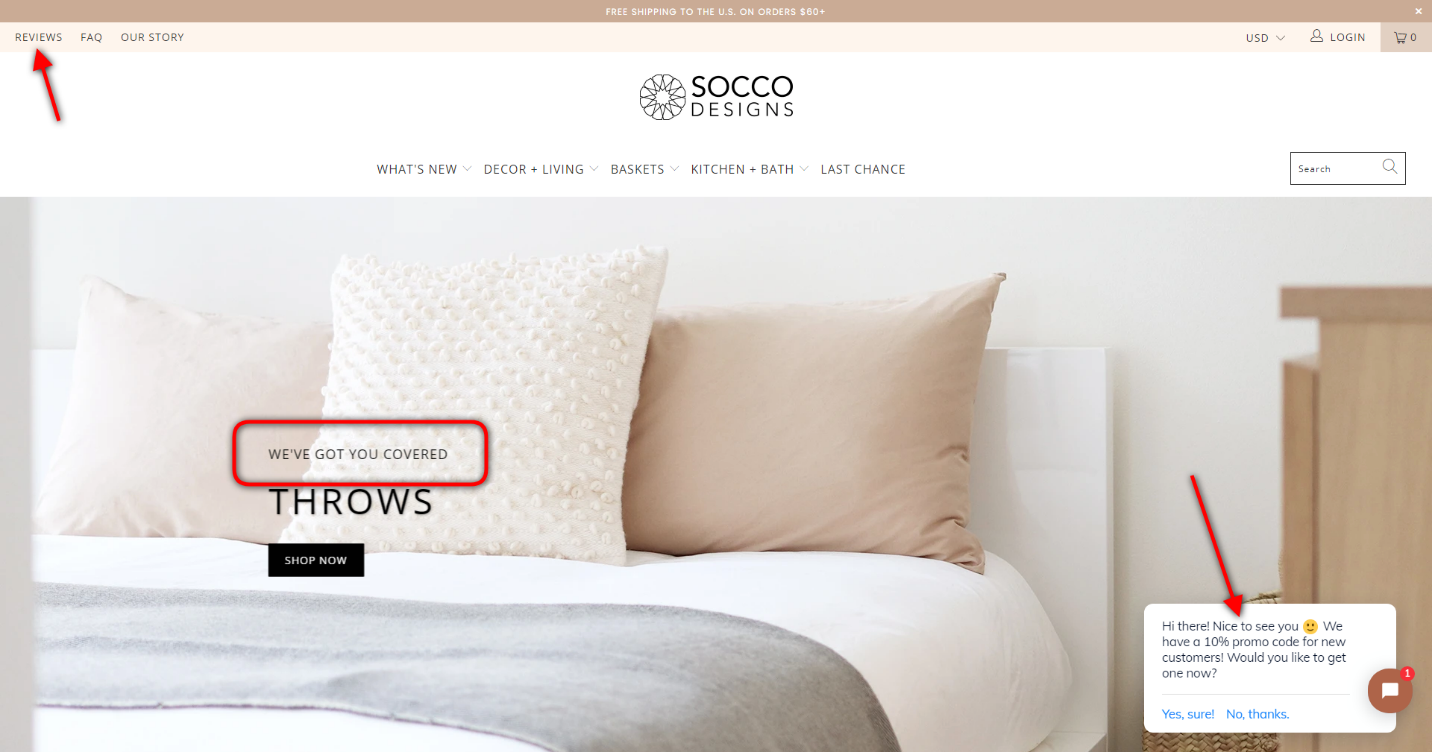 Witty copy. That readily available reviews tab inspires trust. And the powerful call-to-action in the form of the help popup on the bottom-right corner pulls visitors in with a 10% off promo code for new customers.
The site's colors look and feel soothing and exotic, a smart design that blends beautifully with its products.
Also, you've got to love the crisp photos of the leather products; it makes them look so real that you can see yourself having one, a powerful buying motivator.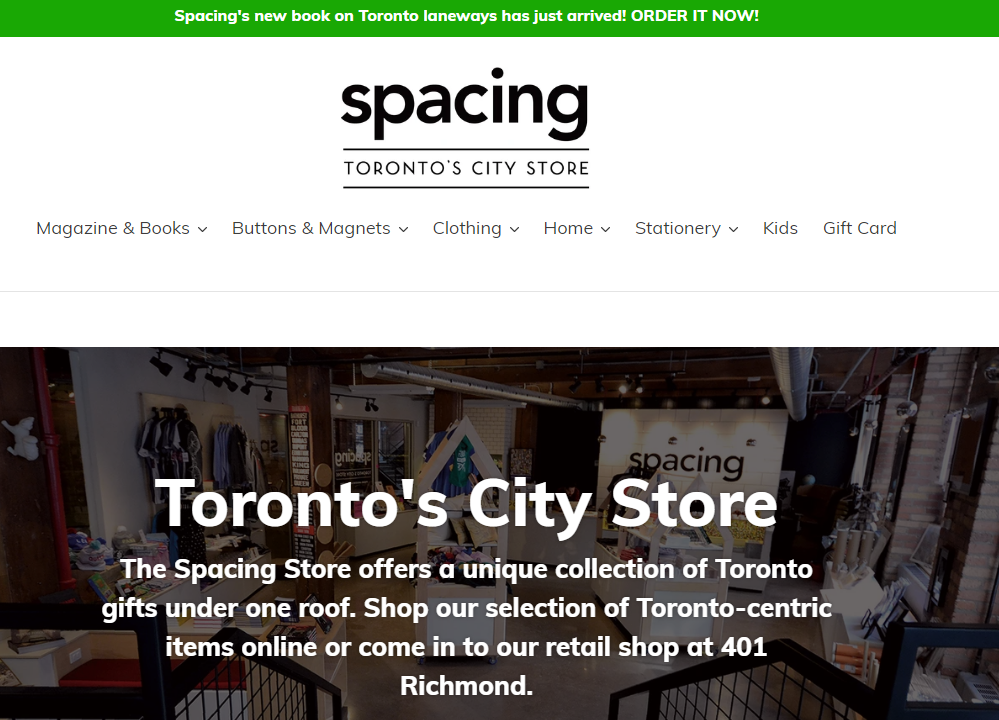 The minimalist space above the fold says all you need to know about Spacing.
It chooses clarity over everything; to make a statement by stating the basics.
We love the drop-down style navigational buttons. Just hit the icon and choose which category you want to shop.
Or, if you prefer to shop at the physical store, scroll down. There's a map you can use to find your way to the nearest Spacing store. Open and close times are displayed on the right.
Notice how Spacing uses the store's header to announce new products as they come out. You can grab that idea and implement it on your Shopify store by updating your community about new arrivals, what's restocked, and so on.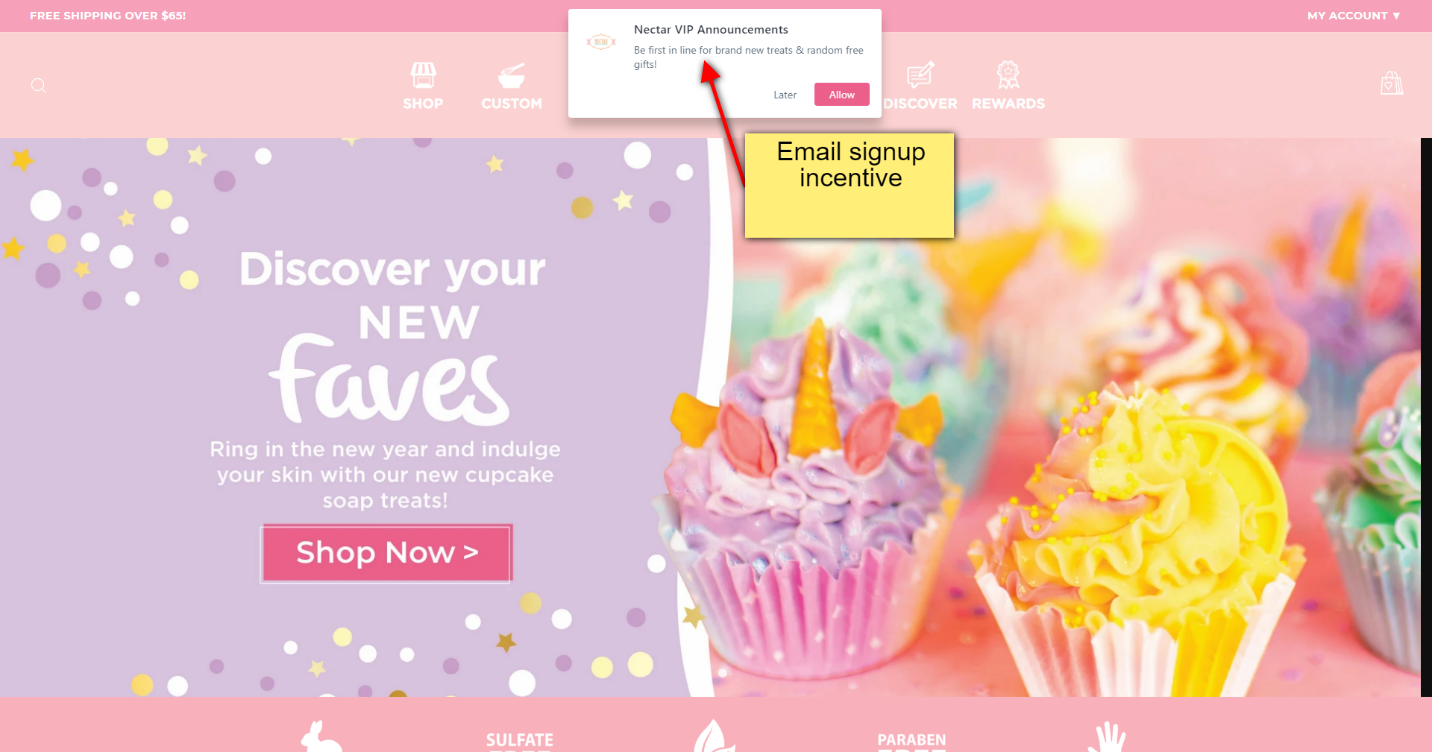 This creative brand makes bathroom products that it packages to look and feel like sweet treats.
From almond oil bath bombs to milkshake bath soak to cupcake soaps, everything looks yummy except that it is supposed to go into the bathtub—not in a mouth.
It doesn't help that the bath treats come in edibles form and flavors, too. So, you can grab a Donut soap or Herbal Bath Tea. Macaron soap, anyone?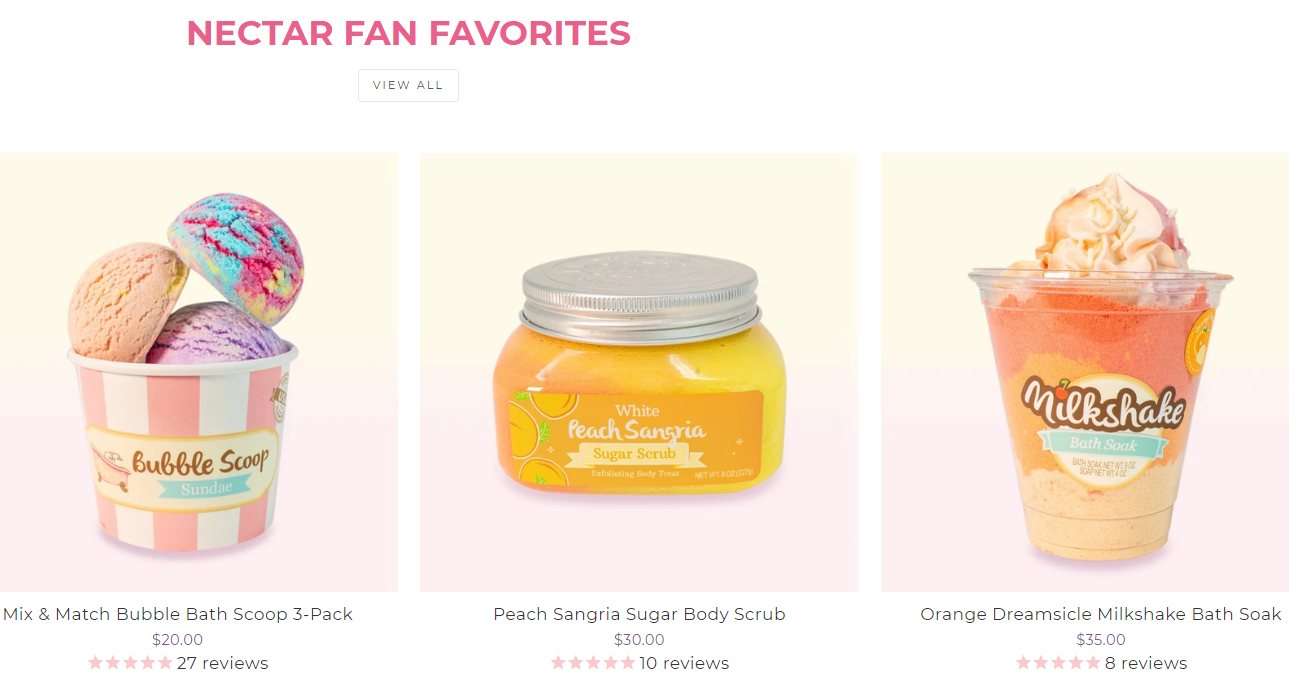 There's more:
Products are hand-made with plant-based ingredients
All bath treats are sulfate-free and paraben-free
Stunning visuals that'll make any grown human drool
The brand's Instagram feed, which you can view at the bottom of the page, rivals that of the best cupcakes store on Shopify.

From the store colors to product packaging, Nectar Bath Treats is a wonder of the Shopify stores world.
What's not to like!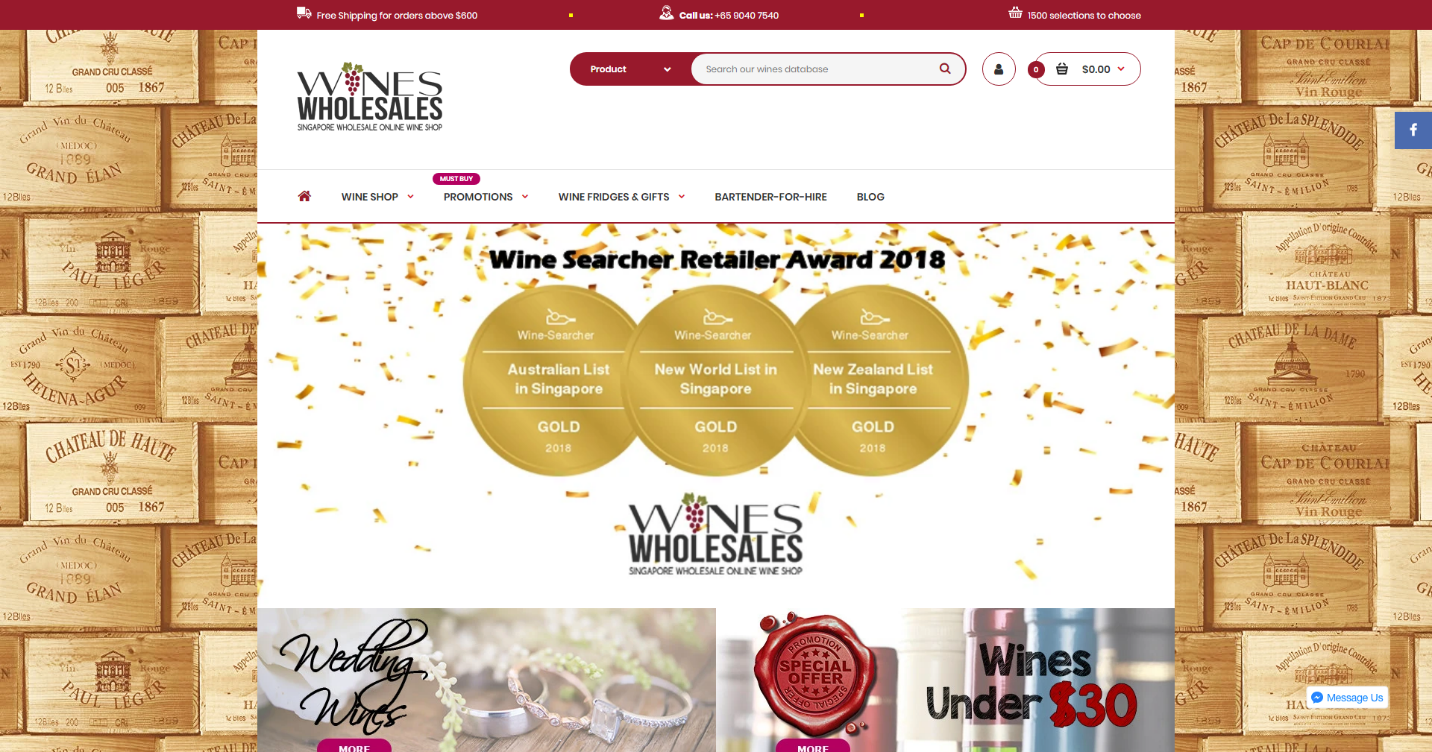 It is not hard to see why Wine Wholesales has won a bunch of awards in its category.
It does manage to get a couple of things right and offer an immersive wine buying experience.
Those include:
The wine-red color scheme adds to the immersive feel of the store
A beautiful background showcasing stacks of classic wooden crates decorated with respected names from the 19th century
Responsive menu tabs that help visitors get what they want in a click
Despite stocking over 1,500 wine selections, complete with quality photos, the store loads fast, which ensures potential customers have fluid experiences and reduce instances of cart abandonment
Latest Products section highlights the newest selection for experimenters
Best Sellers of 2019, Wines Under $30, Trending Now, and Most Popular Searches sections let fans keep up with the latest and greatest in the wine industry right from the homepage.
Wine Wholesales does offer free shipping on purchases over $600, which you can pay for securely on the site.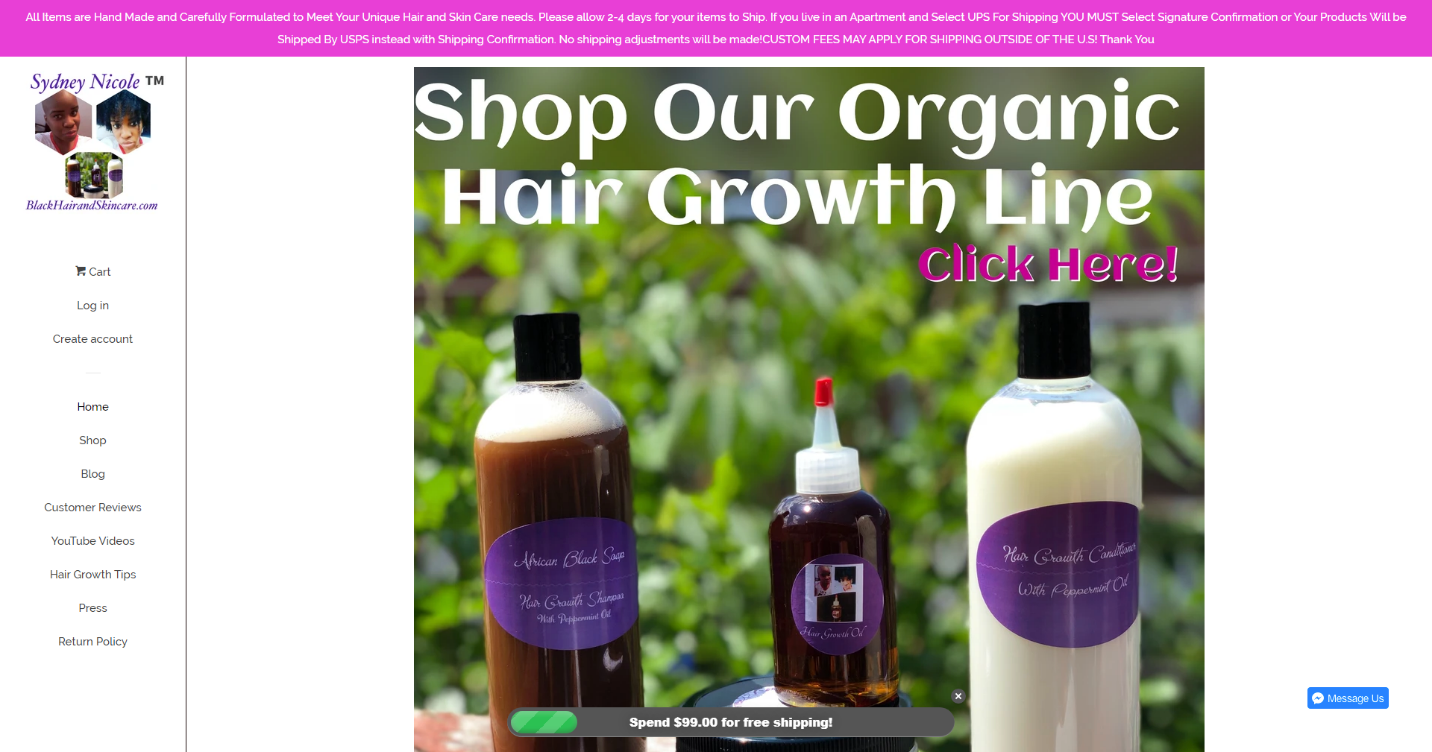 The organic haircare store may not seem to have the slickest Shopify store design on this guide.
But what it doesn't make in site design it more than compensates with conversion-focused widgets and a good understanding of its target customers.
It is a simple store with easy-to-figure-out navigation cues.
Three organic haircare products prominently show out at the center of attention.
It might not immediately seem like it but, that's not a static hero shot. You can slide to the left to view before and after photos of customers who have used the product to regrow and rejuvenate their hair and scalp.
Another genius touch is the nudging progress bar that popups at the bottom of the screen to encourage you to "Spend $99 to get free shipping". Neat.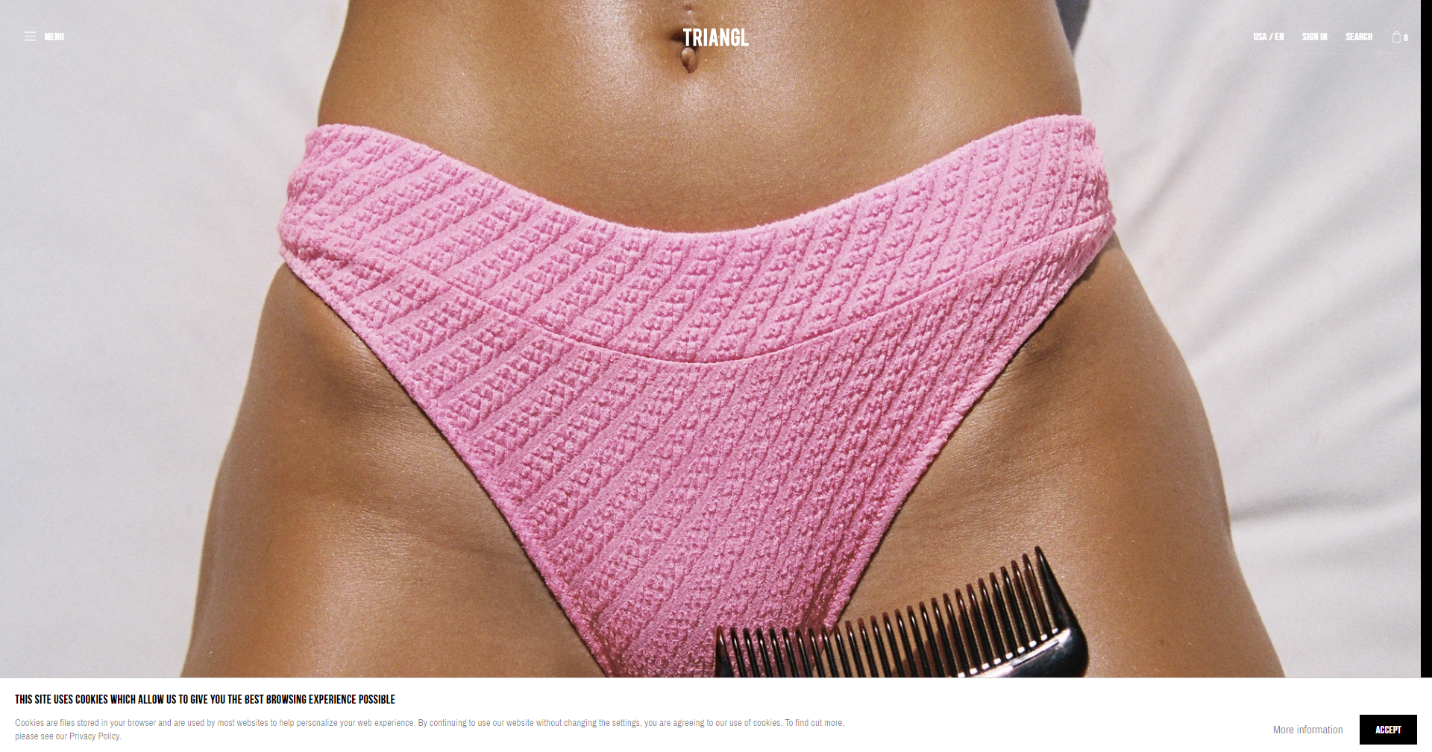 Swimwear store, Triangl, does a bunch of things right:
A slideshow of vibrant photos right on the homepage grabs and keeps browsers' attention
Using crisp, real-world photos makes it natural to see yourself enjoying their swimwear with friends
Adding social media handles of their models adds a personal touch that feels authentic and easy to attain—by buying their products
Handy size guide helps visitors get just what they want for their ideal look
The clean interface and close-ups help direct attention where it matters most: the swimwear.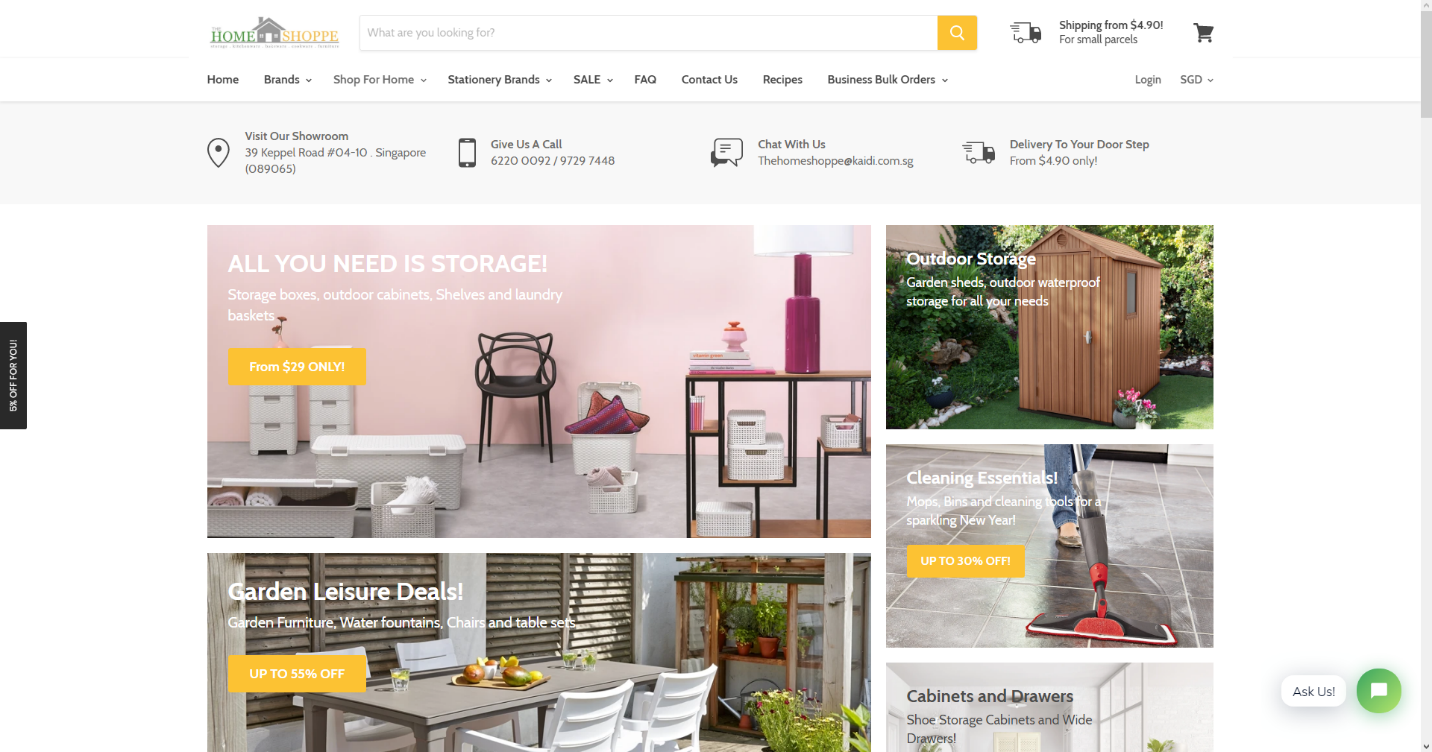 The Home Shoppe treats you to indoor and outdoor home furniture and accessories with eye-candy-good photography. It's hard not to envision the furniture in your own pad or yard vividly.
The "Month's Specials" and "New Arrivals" tabs help keep customers coming back to find the latest and trendiest. Add to that the uncluttered navigational tabs—for a store with loads of items—and it clear why it's a top Shopify store to learn from.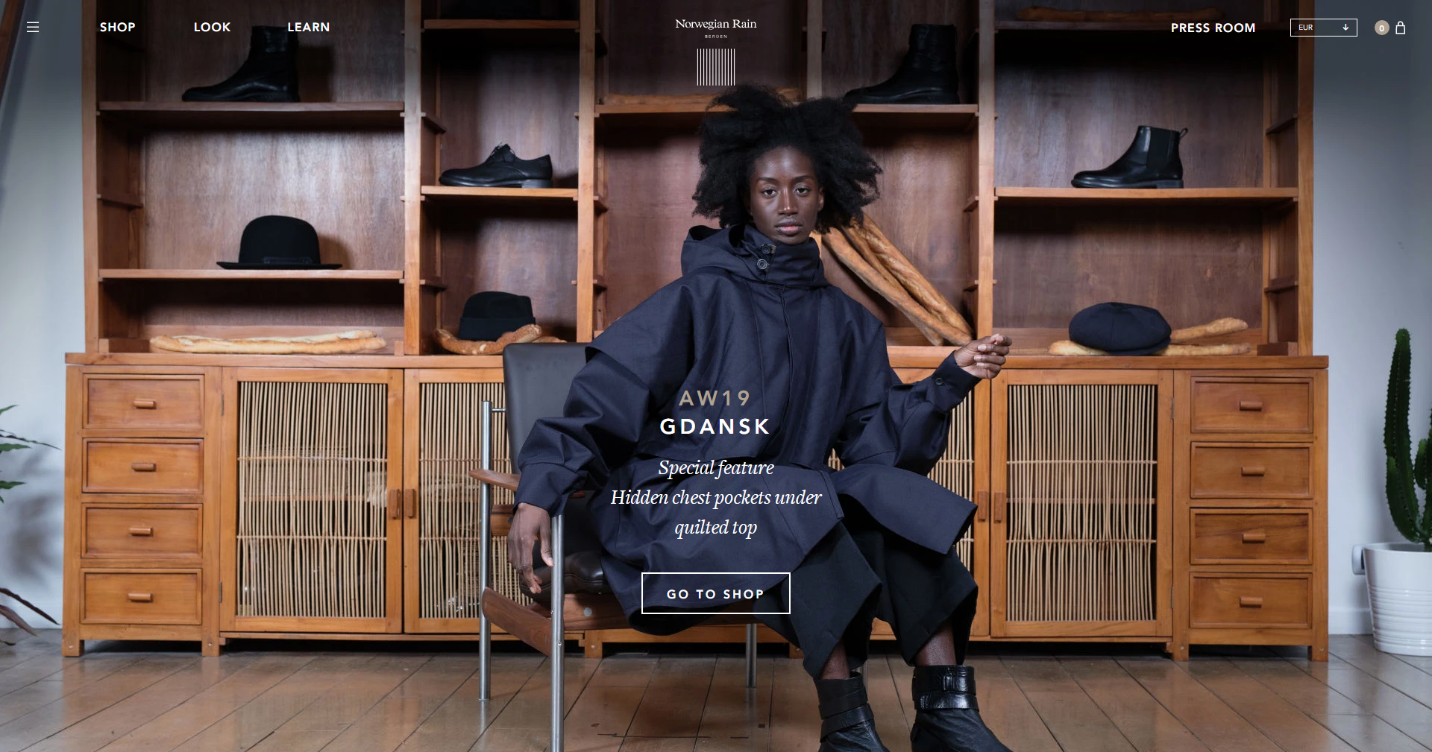 This fashion brand makes it on this guide for its stunning visuals combined with fast-loading speed, and the promise of top-quality cloth items for the rainy day. Literally.
Like other neat online stores featured here, Norwegian Rain presents an uncluttered homepage with just five navigational tabs.
Its aesthetics and copy appeal to the sophisticated customer, which is what it intends to do. You can tell this is a place to meet high-end tailoring. And the full, pixel-perfect sloths and waterproof shoes' photos don't disappoint.
The models range in age, to illustrate Norwegian Rain's target customers as well, which helps demystify who the brand is looking to serve.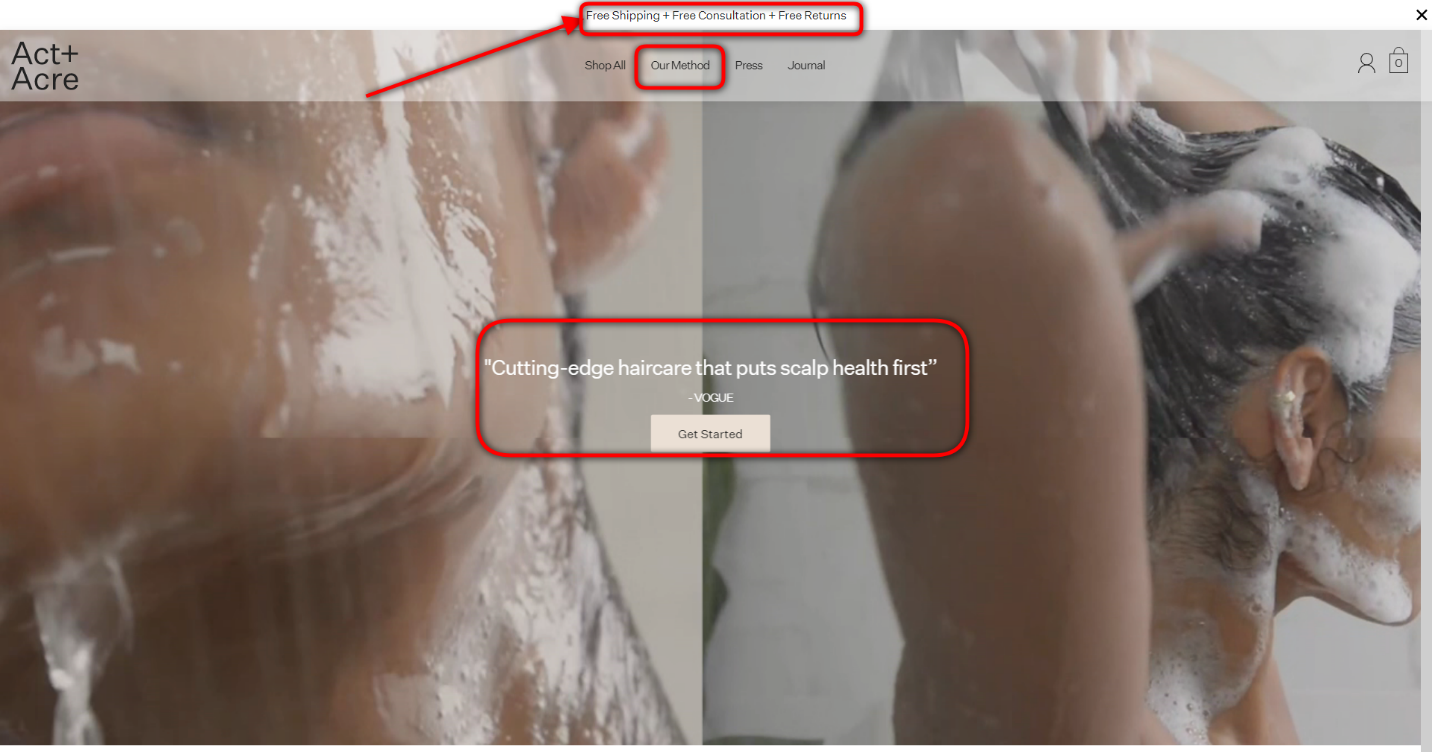 The haircare Shopify store sets itself apart in several ways we couldn't miss for the world:
The header lets every visitor know there's free consulting, free returns, and free shipping to take advantage of.
Instead of adding a typical USP, the brand showcases positive mentions in big, respected publications such as Vogue to instantly build credibility
It centers "Our Method" so you can click through to find out what's so special about their hair care and scalp health products
Each content page ends with a selection of items you can click on to buy, increasing the store's chances of making a sale without being intrusive
Interested store visitors can click the "Press" tab to learn what's new and why it matters.
It may also be a good thing that the site doesn't stock a ton of products. The products' page looks neat and loads fast, which is great for a page with high-quality photos.
So, what goes into building the best Shopify stores in 2020?
Secrets of the Best Shopify Stores for 2020
Now, you've probably noticed how all the top sellers on this inspiring guide have unique ways to attract, engage, enchant, and convert their browsers.
Different target audience tastes and needs mean diverse ways to build your online store with Shopify.
Yet, four factors are consistently based on the top Shopify sites samples featured here:
Shopify store design
 Think simple to bold to outrageous ecommerce store designs and elements to having just a few, fast-loading pages to make the buying process less arduous.
Also remember to apply classic and latest online sales tactics such as countdown timers, retargeting, niche-branding, and discount coupons.
Shopify ecommerce Strategy
Some took the influencer route, engaging their active and loyal fans on social media to buy direct from their branded Shopify store.
Others used captivating storytelling to counter the rising cost of ecommerce ads, create relatable brands, and attract customers organically.
Some of the bestselling Shopify stores rally their visitors towards a noble course, such as feeding a hungry child for every item you purchase. Who says charitable can't make bank?
Copy and Content
You do not want to be forgotten. The best climax witty copy and funny demeanor to build a relatable, memorable, and attention-keeping brand personality.
Yet, others are always updating their inventory with custom, hand-made items, so customers are always visiting to see what's new.
Lots of white spaces. Less text and more stunning and relevant images. Decluttered product pages.
Best Shopify Store Structure
The pros make navigating their online store so easy that knowing the next step to take and purchase a favorite item is a no-brainer.
Frequently Asked Questions
Are Shopify stores successful?
Yes, as seen in the list above, many Shopify stores are successful! Just to give you an idea, last Shopify Black Friday (2019) weekend Shopify merchants sold $2.9 billion in worldwide sales. Also, Shopify provides you the opportunity to access over 1 billion people that buy from Shopify stores. However, you might want to consider using a Shopify page builder so that your store stands out.
What can I sell on Shopify?
You can sell almost everything on Shopify, from pets products, digital products, shoes, services, classes, event tickets, etc. There are many options for you to start your own business but remember finding the right product is only the beginning. After that, you have to find the right tools and figure out how to market to be successful. Take a look at our guide on the Essential Shopify Apps and Integrations for Your Ecommerce Shop!
Which is better: Amazon or Shopify?
Most customers agree that Shopify is one step ahead of Amazon. The main reason is because on Shopify you can create a unique brand/product identity, whereas with Amazon you have tons of competitors (including Amazon). However, be aware that with Shopify you are fully responsible for promoting and building your brand/products.
How to Find the Most Visited Shopify Stores in 2020
We promised to pump the competitive gene at the start of this guide, and we plan on keeping that word so you can create one of the most successful Shopify stores
Here's a nifty little secret to finding the top Shopify stores to give you ideas for your own store in under 3 minutes:
To create a stunning Shopify store, you can use top page builders such as Shogun – this will make the design work easy for you, even if you're a beginner.
Now, over to you.
Which top Shopify store examples appeal to you the most? And when are you going to take action and make your ecommerce platform shine and convert better?
Further read: