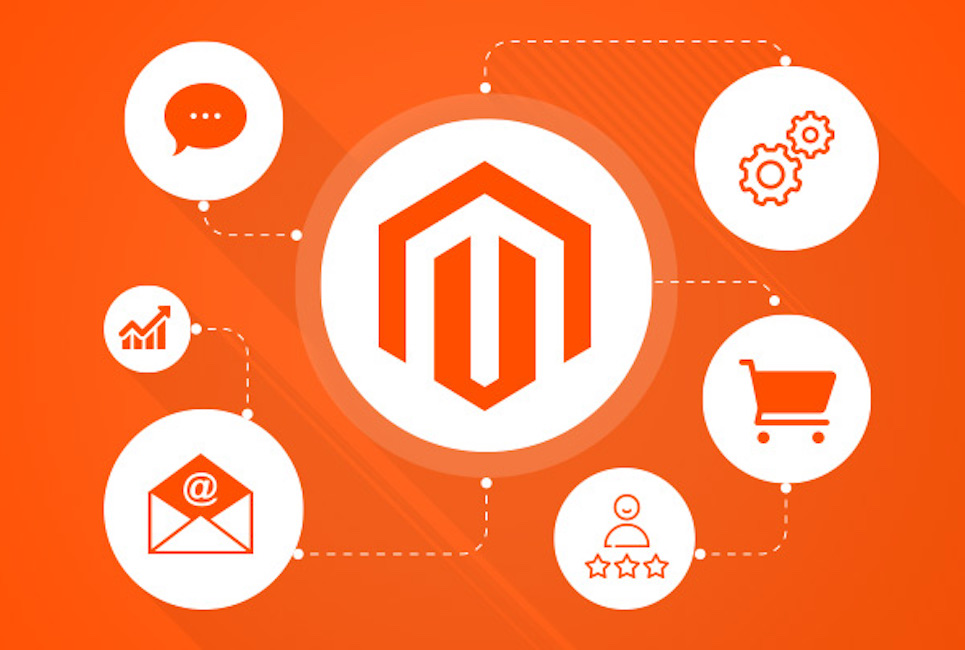 If you run an eCommerce business using Magento, you've probably seen the huge amount of extensions available to you. With thousands to choose from, it's easy to think you need all of them – and looking at the Marketplace can be pretty overwhelming.
In our guide to the best Magento extensions, we'll show you some of the best extensions you can get, covering some important areas that need attention – like language translation, fraud prevention, delivery management, page design, payment, and advertising. Each extension has features that may improve your Magento experience for you and your customers – hopefully landing you more sales!
For each extension, we'll show you their main features. We'll also give you the price of each one, as we know that buying extensions for Magento can quickly add up.
Let's take a look at some of the best extensions out there.
Best for Translation – Language Translator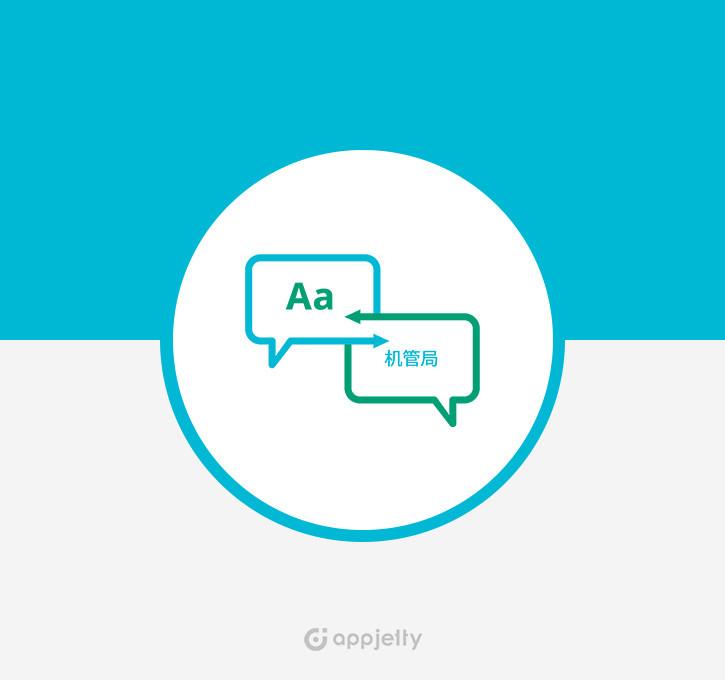 If you want to increase your sales, you could consider a language translator. Language Translator uses Google Translate, making your store more accessible to a wider range of customers. With over 100 languages, the great thing about this extension is that it can translate products, CMS page data, static blocks, and product reviews using the Mass Translation feature.
Although it's on the higher side when it comes to pricing, if you think you can make more sales by offering translation into different languages, it's definitely worth the investment – especially if you own a bigger store and you want to make more sales worldwide.
Main Features
Backend admin control – you can decide which parts of your store you want to translate
Translate product information like name and description, meta details, page title and content, and reviews
Search string – you can search for a specific string and translate it to any language you wish
Mass translate – you can choose to translate everything into your preferred language in a few clicks
Pricing
To use this extension, you will require a Google API Key, so you'll need to bear that in mind when working out the cost. At the time of writing, the price of a basic translation API is around $20 per million characters.
The extension itself costs $149. You can also choose to have a 6-month service agreement at $59 and an installation service at $39, but these are optional.
To find out more about Language Translator, click here.
Best for SEO – MageWorx SEO Suite Ultimate
We all know the importance of a good SEO strategy, and you can find extensions for Magento that make managing SEO a lot easier. SEO Suite Ultimate will give you a range of tools, including tools for optimizing categories, product reviews and navigation pages, tools to help you avoid duplicate content issues, and tools to help you improve internal and external cross-linking. It can also help you to create redirects for deleted products.
One of the best things about this extension is that it allows you to create SEO templates for various categories (for example, products), which helps you to streamline your work processes, saving you time.
You also get comprehensive reports, so you can see the difference your SEO strategy is making in a very real, easy-to-understand way. SEO Suite Ultimate has a lot of features to offer – it's well worth checking out if you don't know where to start with SEO, or you just help to manage your efforts more effectively.
Main Features
Advanced SEO Templates – cut down on time spent on manually managing meta data – instead, create SEO templates that automate the process, saving you tons of time. You can create templates for products, categories, and pages
Optimize SEO for Product Reviews – create custom URLs for product reviews and set canonical tags
Improve Layered Navigation – using dynamic titles and meta descriptions
Set Indexation for Search Engines – control this on the backend using Robots.txt editor
Improve Cross-Links – set up a well thought-out internal linking structure
SEO Redirects – redirect customers to desired pages when they encounter deleted products
SEO Reports – receive detailed reports so you know if your SEO strategy is working
Pricing
SEO Suite Ultimate costs $249, with an optional installation service at $49. To find out more, click here.
Best for Page Creation – Shogun
If you want to easily create and manage the look and feel of your Magento storefront, Shogun is a great extension (they also offer apps for Shopify and BigCommerce, too). Using a drag-and-drop editor, you can create beautiful landing pages, blog posts, product pages, and 'about' pages.
It's a really intuitive platform, and it gives you full creative control of how your store will appear to customers without the hassle of coding. It also allows you to create an easy, memorable shopping experience for your customers.
It has slick, professional pre-designed templates to choose from, or you can build your own pages from scratch simply by dragging and dropping the elements you want to include on each page. The page builder is really easy to use, so you don't have to worry about a big learning curve when it comes to learning a new platform.
It also has some great extra features, including the Analytics Suite, which allows you to directly compare your pages to see how well they are performing. It also has split testing, which will help you to optimize your pages to their fullest potential – you can easily create two slightly different versions of the same page to test how they perform against each other.
Main Features
Easy to use drag-and-drop page builder
Beautiful pre-made templates
Analytics Suite gives you detailed information about clickthrough rates, add-to-cart rates, and more, and even allows you to compare one page against another
A/B testing allows you to publish two slightly different versions of the same page to see which one performs the best
Pricing
To get Shogun, you'll need to subscribe. Prices start from $49 per month, but you have to pay more to unlock some of the features like split testing. To find out more, click here.
Best for Managing Deliveries – FedEx Shipping Manager
If you use FedEx, the FedEx Shipping Manager is the obvious solution to your shipping problems. You can create and print FedEx shipping and return labels, either automatically, in bulk, or manually. The system then inserts tracking numbers into shopping information, and sends it to the customer by email so they can track their delivery (saving you a lot of time and effort).
One great thing about this extension is the ability to automatically calculate packages based on the product dimensions – again, saving you time and effort. You also have the option to manage international options and print International Paperless invoices.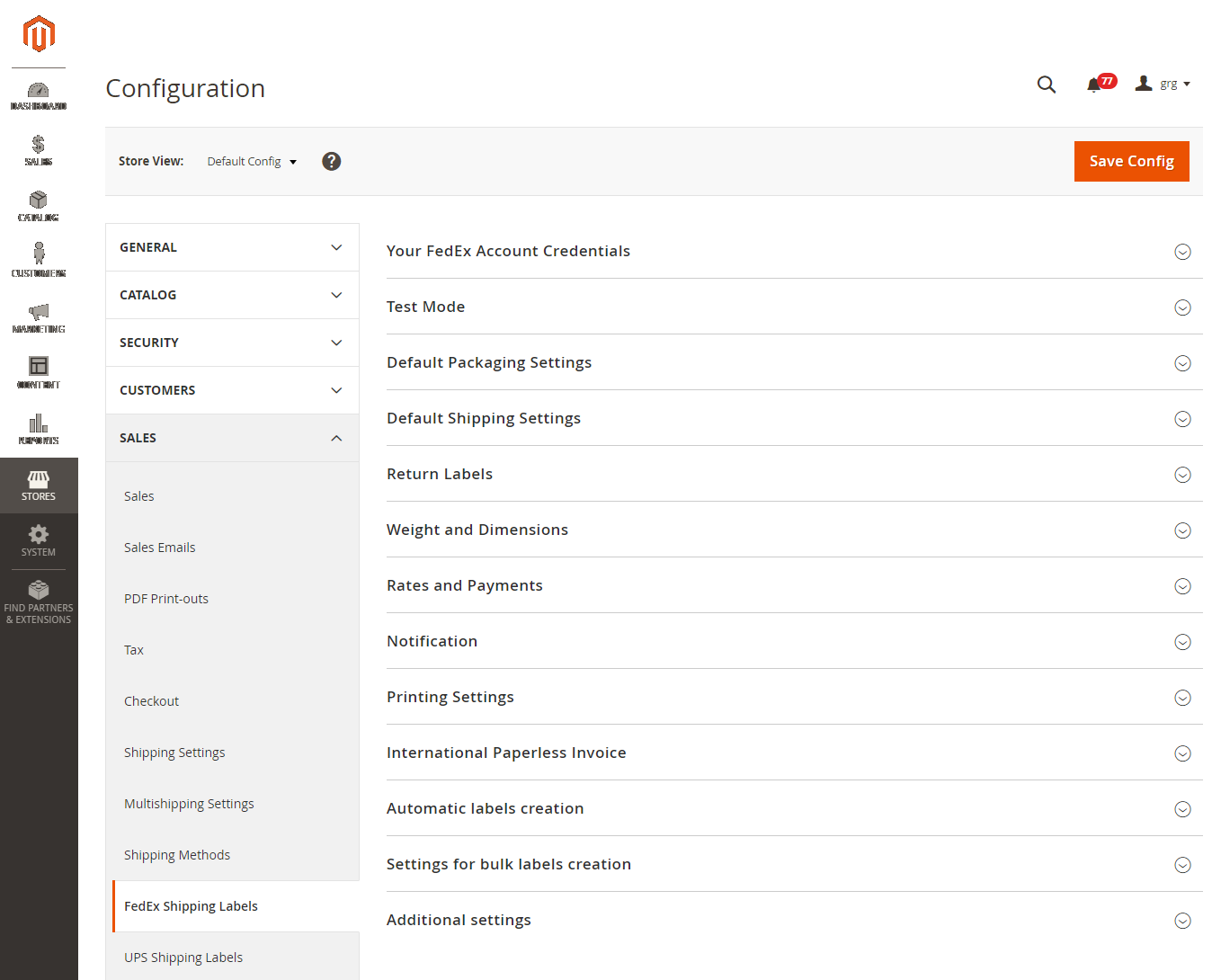 If you want to keep on top of your shipping and manage everything in one place, automating some of the more annoying and time-consuming tasks that come with running an online store, this extension is a good choice for you. It may not be the most exciting extension out there – but it has the potential to make your life much easier!
Main Features
Create and print shipping and returns labels automatically, manually, or in bulk
Send tracking numbers to your customers so they can track their deliveries
Manage international shipment including taxes and invoices
Automatically calculate packages based on product dimensions
Pricing
FedEx Shipping Manager costs $199 with an optional $150 installation service. You will need a FedEx account and have FedEx credentials in order to use it. To find out more, click here.
Best for Custom Product Creation – AppJetty Product Designer Tool
There are a lot of product designing extensions out there for Magento, but we think this is one of the best. If you have a printer you would like to use to create customized products, this could be a great business idea that your customers will love. This clever tool allows your customers to create their own products, including mugs, t-shirts, pen drives, stationery, skins for gadgets like mobile phones, and more.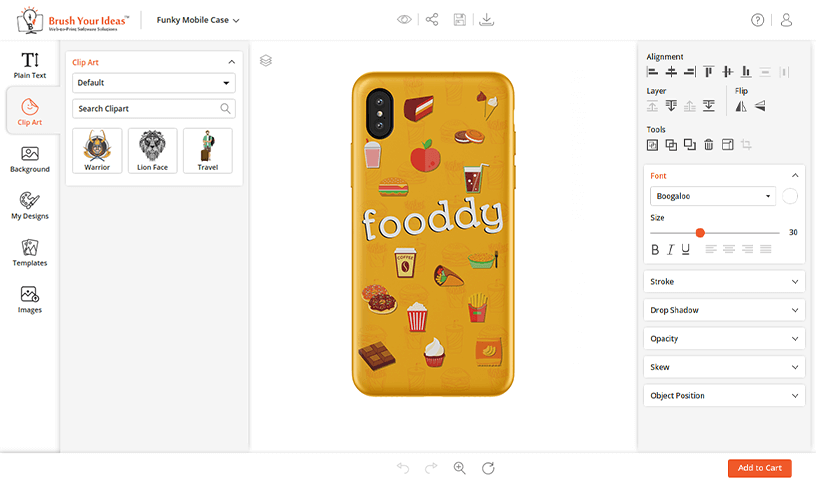 The Product Designer Tool will give your customers an array of high-quality clipart images to choose from, as well as text editing, backgrounds, images and templates. (Some product designing extensions look a little basic or dated – that's not the case with Product Designer).
This means they can create the exact product they desire, including customizing each element, through your own store. Once a customer has completed their design, the tool will present you with a high-quality, ready-to-print file, exactly the way the customer would like it.
Main Features
Designer tool gives your customers access to high-quality clipart, text, images (including the option to upload their own images), backgrounds, and more
Items can be printed onto mugs, t-shirts, phone cases, and more
Customers can save and re-use their designs
Dynamic pricing allows you to set the pricing of different elements, so the price can be calculated for your customers in real-time
Creates a high-quality file ready for printing
Pricing
This extension costs $1,499. It's a pricey one, but if you want to run a customizable product business, it's definitely one of the best ones out there. Click here to find out more.
Best for Social Media Marketing – Instagram Integration
Instagram has over 1 billion users, making it an incredibly important platform when it comes to social media marketing. This extension helps you to make the most of your Instagram account in a unique and useful way.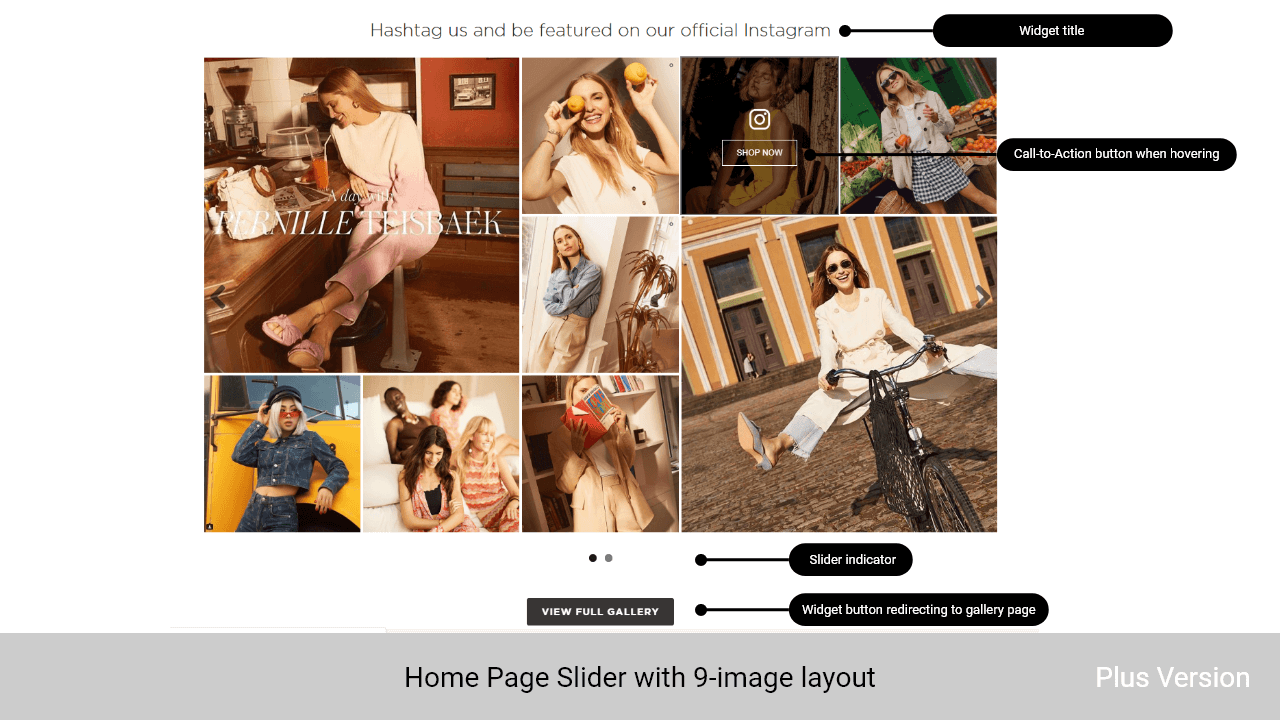 You can create dynamic galleries for your pages, featuring pictures from your Instagram feed, which will not only create a beautiful display of products, but will also help your customers to easily identify them – hopefully making the shopping process much more simple for them.
You can include call-to-action buttons whilst hovering (for example, a 'shop now' button). Using a 'pinning' system, if you have a picture that includes more than one item for sale, you can drag and drop call to action buttons to show your customers which item is which. You can do this for up to 5 products in a single Instagram post.
You can also show your customers more details, including links to product pages, likes, comments, and social sharing buttons – this can all be fully customized.
Once you post a picture to Instagram, the extension collects the information of the photo and displays it in your store – saving you the legwork of uploading photos multiple times.
The extension also includes reporting, so you can see how customers are interacting with your Instagram posts.
Features
Create beautiful, eye-catching photo galleries using images automatically pulled from your Instagram account
Add details to each picture, including product links, descriptions, social sharing buttons, and more
Reporting allows you to see which of your Instagram posts are performing the best
Pricing
You'll need an Instagram account to use this extension (free at the time of writing). The extension itself costs $149. Click here to find out more.
Best for Advertising – AdRoll
AdRoll is an advertising platform used by businesses to create advertising campaigns. With the Magento extension, you can easily create high-performing ad campaigns for your store. Once you install the extension, your store will be tagged with the AdRoll pixel – this allows you to collect site visitors to serve ads to. A product feed is automatically generated, too – this allows you to run dynamic product ads to catch your customer's attention.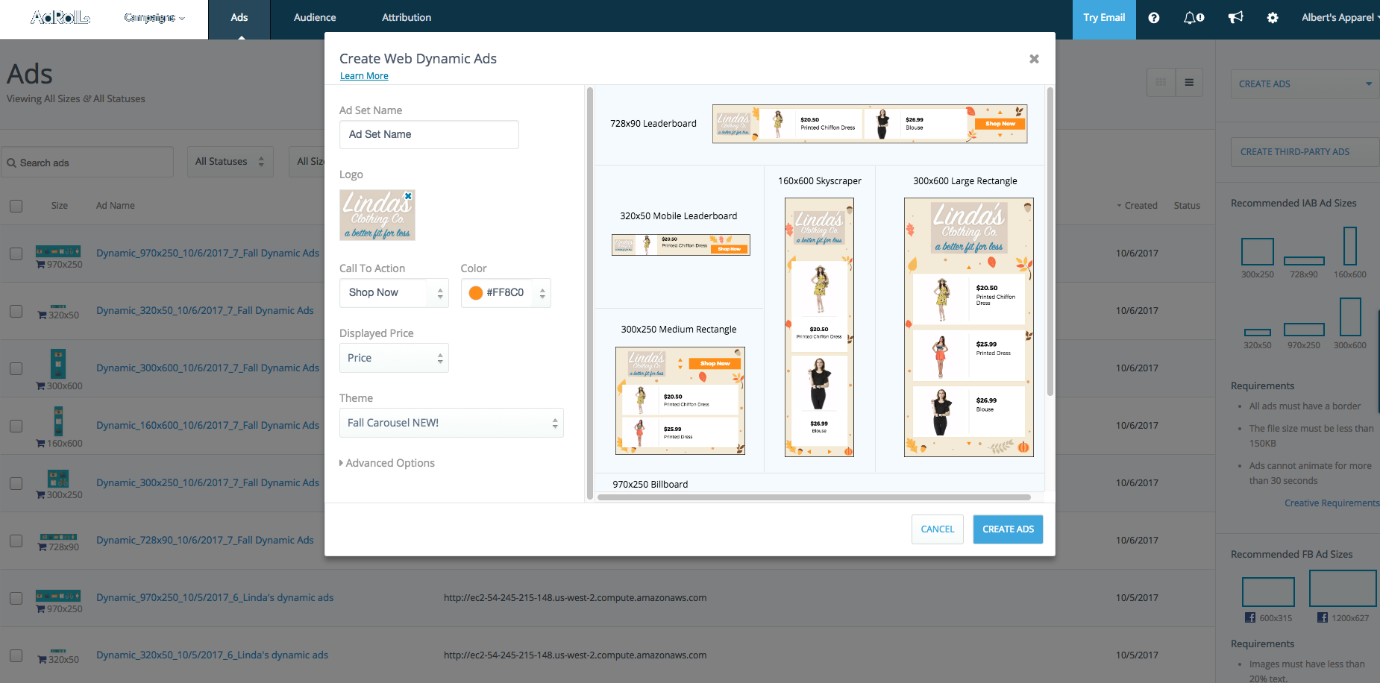 You can also segment your audience, which allows you to specifically target certain types of customers with ads based on how those customers interact with your store. It tracks customer purchases, too, enabling ROI tracking across your campaigns. You have to set up an AdRoll account to get started, and there's a bit of a learning curve if you've never created an advertising campaign before, but you could see a big difference in visits to your store (and hopefully sales!) if you try it out.
Features
Create dynamic ad campaigns for products in your Magento store
Segment customers so you can target them with specific campaigns
Track customer purchases
Pricing
Signing up for an AdRoll account is free, and installing the extension is free. However, you have to pay for each ad campaign, which can vary depending on which type you choose. You can set a budget for each day for each campaign – for example, if you want to launch an introduction campaign on social media, they suggest a budget of $55 a day.
Essentially, you can spend as much as you want to. To find out more, click here.
Best for Payments – Stripe Extension
If you want to offer more payment options for your customers, Stripe integration is key. Stripe is a global payment gateway, allowing you to accept payments from customers using their debit and credit cards, Apple Pay, Android Pay, and more.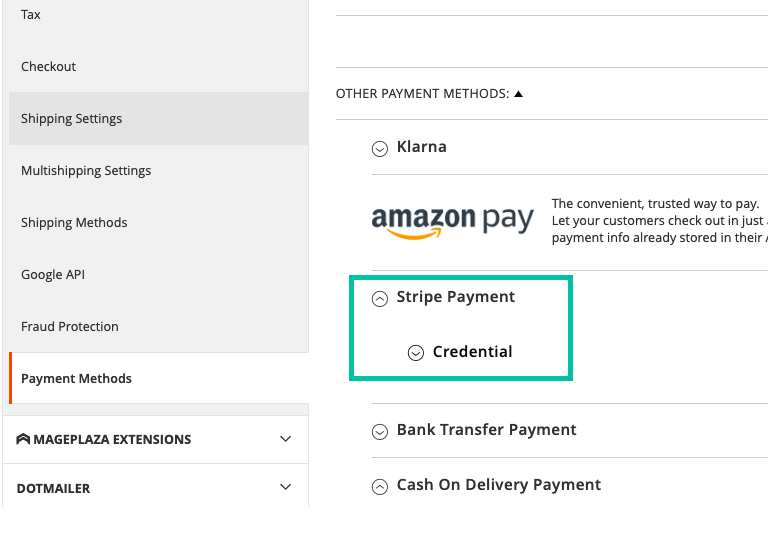 There are a lot of advantages to using Stripe. It improves abandoned cart rates, as customers will be able to use their preferred payment method. It enhances conversion rates, as it allows customers to stay on the page to checkout rather than go to a separate page. It also allows you to personalize payment methods, including setting up a Credit Card Vault function – this saves customer card information for future purchases, hopefully encouraging them to return again in the future. Although you have to pay a small transaction fee, it's worth having Stripe to make the shopping experience easier for your customers.
Features
Integrate Stripe payments with your Magento store
Improves card abandonment rates
Allows your customers to save credit card details for future purchases
Pricing
You'll need to set up a Stripe account to use this extension. To see Stripe's pricing, click here (they take a small percentage of each sale using Stripe). The extension itself costs around £249. To find out more, click here.
Best for Security – Fraud Prevention
As an eCommerce business owner, you may be at risk of malicious customers – for example, customers who won't pay, or customers who fraudulently claim that their orders haven't arrived to get a refund. It's uncommon, but not unheard of – and it's important to take steps to protect yourself and your business.
Fraud Prevention has a ton of features for your Magento store, allowing you to mark orders that haven't been paid as 'suspicious' to create a Fraud Suspicion Record. This helps the extension to automatically detect and block future orders that may be fraudulent.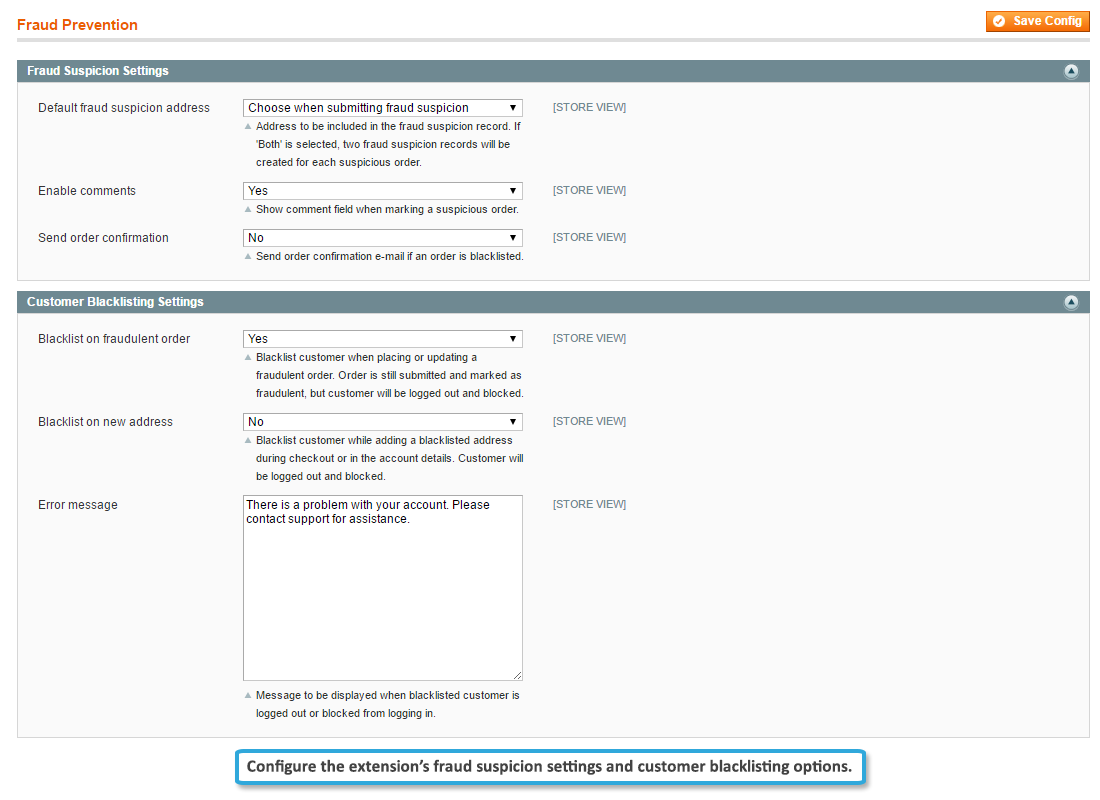 It also allows you to create custom blacklisting rules – this allows you to blacklist customers based on attributes like name, address, zip code, or IP address. This prevents fraudulent customers from being able to make future orders. You can prevent the extension from blacklisting customers after one fraud suspicion – so if it turns out they are a genuine customer you can whitelist them again.
Main Features:
Create custom blacklisting rules
Manage and track suspicious orders
Block fraudulent orders before payments can process
Prevent credit card chargebacks to save money and time
Pricing
Fraud Prevention doesn't have any additional monthly fees. It costs $115, making it one of the cheapest extensions on our list. To find out more, click here.
Best for Reporting – AheadWorks Advanced Reports
If you want detailed reporting about the performance of your store, this is the place to get it. Advanced Reports creates visual charts and data tables, so you can quickly see how each product is doing. You can get a general sales overview, track each product's performance, split sales by categories, look at sales in more detail, and track sales by coupon code, payment type, manufacturer, and product attributes.
You can also check abandoned cart rates, track sales by location, segment customers, and look at traffic and conversions. Having this information could help you to grow your business, so it's really worth investing in an extension like this.
Features
Presents data in a visually appealing way
Check each product's performance
Check sales by coupon code, manufacturer, and more
Keep an eye on cart abandonment rates and traffic
Pricing
This extension costs $499. To find out more, click here.
Frequently Asked Questions
Want to know more about Magento extensions? We might have the answer you're looking for.
What is the Magento Marketplace?
Magento Marketplace is where you go to buy extensions for your Magento store – you can find it here.
How do I install a Magento extension?
In the marketplace, click 'add to cart' on the extension you want, then go through the checkout process. It will then connect you to Magento to start the installation process.
Do I have to pay for Magento extensions?
Most of them, yes. Others are free and allow you to integrate with outside platforms (like email marketing platforms), but most of them require a one-off payment
Can you have too many Magento extensions?
Technically, no – you can run as many extensions as you like without any issues. However, it's important to choose wisely, as a badly coded extension can cause you problems later down the line – it's a good idea to check reviews before you buy.
Can I buy themes for my Magento store on the Marketplace?
Yes – you can buy premium themes on the Marketplace as well as extensions. Themes range from $29 all the way up to $499, so you should be able to find one to suit every budget.
Can I uninstall a Magento extension?
Yes – but it does require a bit of effort. You have to go into the root of your Magento installation and disable them manually – there are tutorials explaining this online.
Conclusion
We hope this has helped you to narrow down your choices when it comes to buying Magento extensions. Magento is a powerful platform, loved by many – but it can definitely be improved using the right extensions.
You can use extensions to optimize the shopping experience for the customer at every stage of the process – from finding you on social media or through advertising, to navigating the layout of your store, to safe payment, to shipment – creating a shopping experience that will, hopefully, keep them coming back for more.
Of course, there are many more Magento extensions out there – but these are some of the best. Hopefully, they can help to improve your online store, and make your life a little easier in the process.
Further read: