Today I compare GetResponse vs Leadpages: One is an email marketing tool, one can help you get those email leads, which is better? It might not be that simple of a comparison, but let's get started.
If you go to the market (or online) to get a new Desktop PC for yourself, there are two ways you can buy one:
You can choose a branded, ready-made desktop PC, that already comes with all the hardware parts necessary to run your favorite games and software smoothly.
Or you can get each individual PC component separately. You choose everything i.e. the motherboard, the chassis, the graphics card – by yourself.
Both these ways of buying a PC have their own advantages and disadvantages.
If you get a ready-made desktop PC, you'll likely save a lot of time choosing the components yourself. But maybe it will have a processor that's way powerful than you need. Or a hard drive that doesn't have the required amount of storage you want.
On the other hand, if you build a PC yourself by buying each component, you'll get every single component exactly according to your specifications. But it will take a lot of time doing that, plus maybe you'll end up spending more than your original budget.
Wait a second… what does this have to do with buying marketing software?
Well, with marketing, you have different components as well. You need a landing page builder, an email marketing software, possibly a CRM and much more…
And just like the components of a desktop PC, you can buy each marketing service separately, or you can get all these services inside a single suite, like a ready-made PC.
In this article, we'll talk about two marketing software which are just like that.
Leadpages vs GetResponse: Which Marketing Software Should You Get?
The Case For Leadpages
Leadpages is like a powerful component that will fit in your overall online marketing machine. It will do one job, but it will do it really well.

In the case of Leadpages, what it can do is build high quality, amazing landing page builders. Plus, since it does one job, in this software, you get extra features that other 'all-in-one' tools with landing page builders won't give you.
For example, in Leadpages, you get the ability to directly launch a Facebook or Instagram ad for your landing page. This isn't something you get in GetResponse.
Plus, the overall interface and every single feature which comes out is dedicated to helping you become better at creating landing pages. This is what makes stand-alone software like this unique and desirable.
The Case for GetResponse
Then, on the other hand, you have a marketing tool like GetResponse. It's a complete, all-in-one marketing machine that gives you all the services you need to run your online marketing campaign.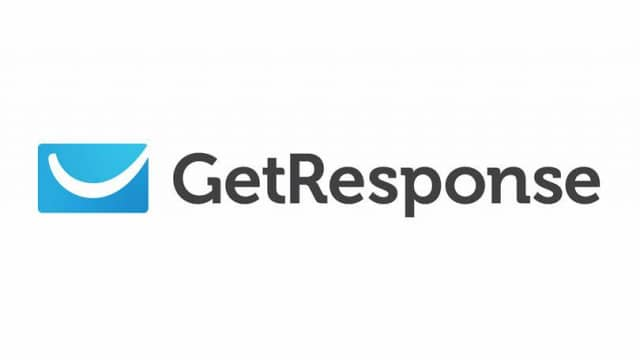 It comes with a landing page builder, an email marketing tool, a CRM – and other services which you'll need to run your complete online marketing.
And because of that, GetResponse is like a ready-made desktop PC. All the services i.e. components are there under one roof.
Now, let's move on to discussing each tool's features, so you can get a better idea of what each tool is capable of…
GetResponse vs Leadpages: Feature Rundown
As we've discussed above, both Leadpages and GetResponse are different kinds of tools. That's why it won't make sense to directly compare each other's features.
Instead, we'll look at the two tools differently from the start.
We'll judge Leadpages as a landing page builder while GetResponse as an all-in-one marketing suite. With that being said, let's start our feature rundown of the two tools to get an idea what's possible with each of them.
As a landing page builder, Leadpages is an incredible tool. If you need something to solely help you build landing pages, Leadpages is more than qualified for the job.
Here are the features you get in a tool like Leadpages:
Free Templates, Hosting and Publishing
With any landing page builder, the first thing you need is templates. Because chances are you have never built a landing page from scratch – or don't want to. And in this case, templates really come in handy.
In Leadpages, no matter which package you get, you'll get access to all 150+ landing page templates.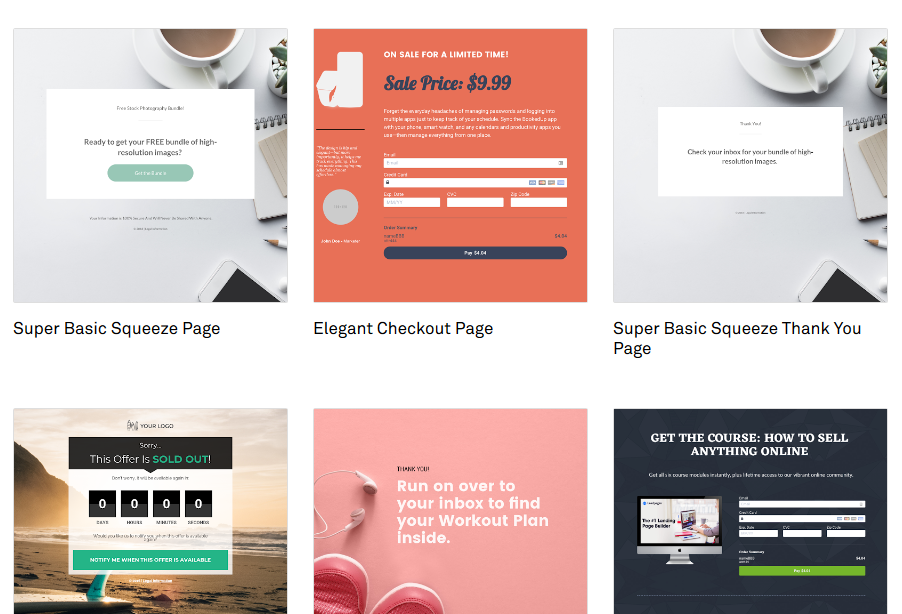 There are templates for selling webinars, courses, ebooks, services and more. Plus, you'll find designs for specific industries like travel, fitness, and startup. And what's more, you can sort your designs based on how their conversion rate so you can quickly select a landing page template that's bound to get you higher conversions.
In addition, after you create your landing page, here are two great things Leadpages offers:
Unlimited Publishing: No matter which plan you get, Leadpages will let you publish an unlimited number of landing pages on the internet.
Free Hosting: After you create a landing page, you'll need to host it on the internet. Thankfully, Leadpages will host all your landing pages for free so you can quickly launch your landing pages.
These features already make Leadpages an attractive offering. So much value right from the start!
Intuitive Drag-and-Drop Builder and Payments Service
The next thing every landing page builder needs is easy to use an editor with which you can edit your landing page templates.
You'll be happy to know the Leadpages offers exactly that.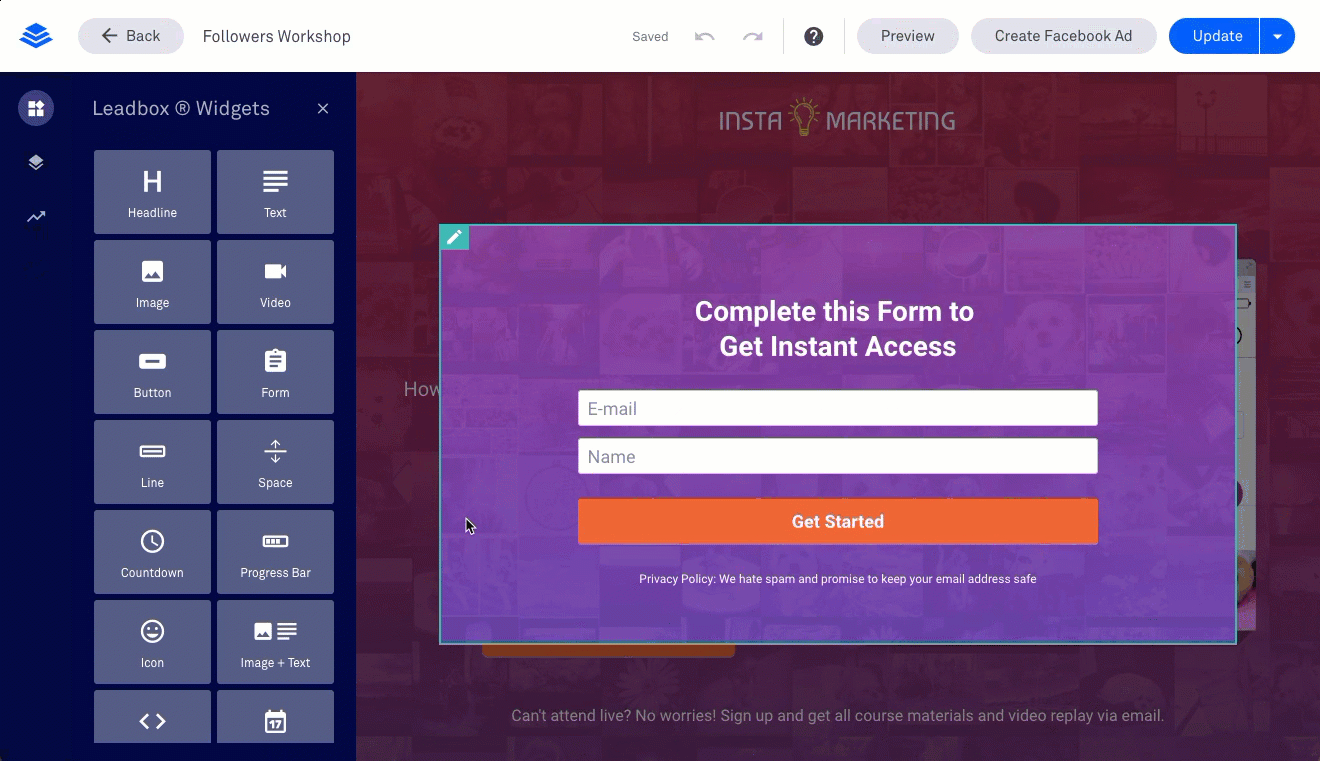 Its drag-and-drop builder is extremely user-friendly. Plus, it gives you lots of intuitive elements to put on your landing page, like a pricing table section, social media sharing buttons, background video wallpaper and much more.
And that's not all.
You also get 2-step opt-in forms with which you can much more easily collect both emails and payment.
That's because Leadpages also offers its own payments solution with which your visitors can quickly pay for your products and services directly on your landing page
Facebook Ad Builder
Once you build a landing page, you'll want to promote it. And Facebook is one of the best places to do that.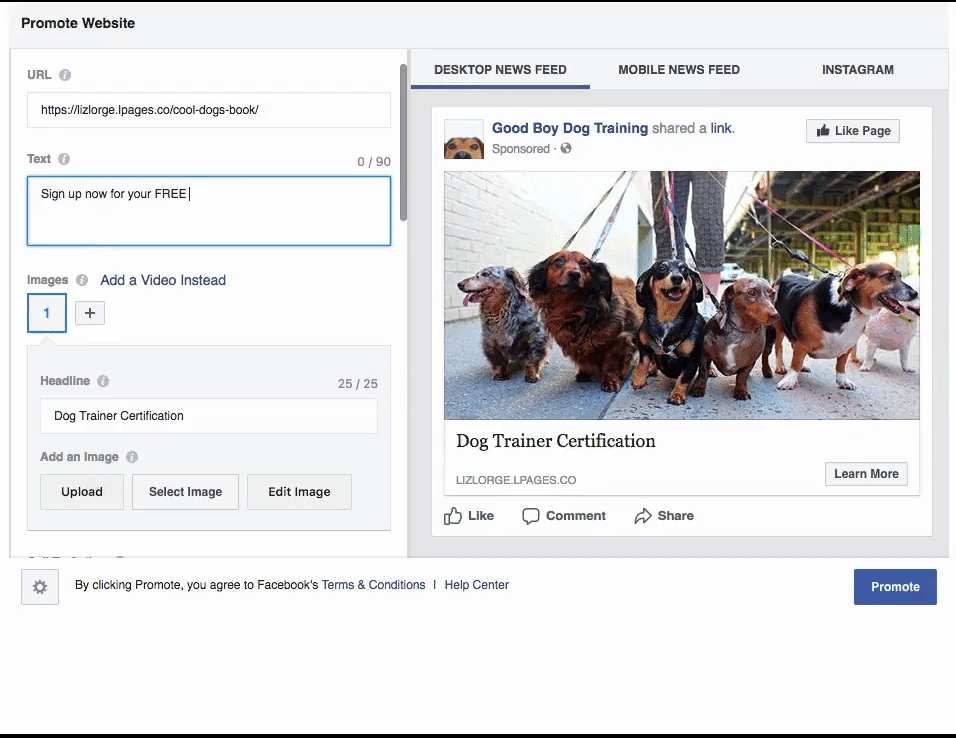 If you're lazy like us, you'll appreciate the fact that you can directly create advertisements, create custom audiences and launch ads to Facebook directly from within Leadpages,
Also, Leadpages gives you the ability for quick 'pixel placement' which enable you to easily retarget your ads to visitors.
In-Depth Reports
After your landing page has launched and you start getting traffic, you'll want to measure the performance of your landing pages.
Leadpages, without a doubt, comes with the most effective reports for that. You can clearly see how your landing pages are converting by looking at the data it gives you.
But yes, to be frank, the data it gives you, while easy to understand, isn't as in-depth as you'd want it to be. For that, we recommend you use Google Analytics as well.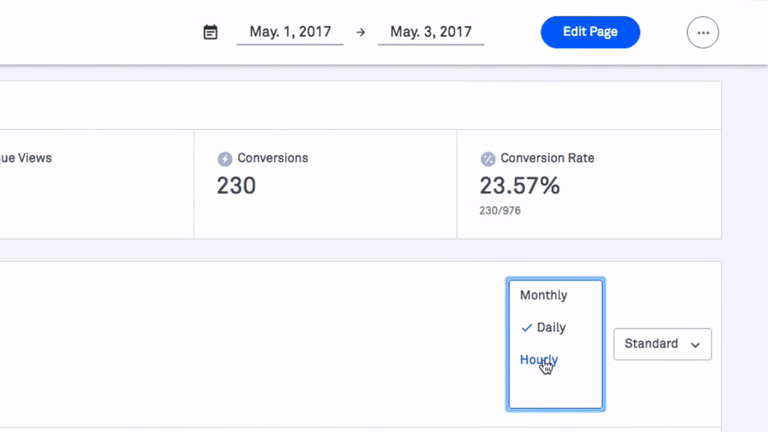 Its data is much more in depth than what you get with Leadpages.
GetResponse Feature Rundown
As a marketing suite, GetResponse offers nearly every kind of service you'd need to run your marketing operation. Because unlike Leadpages, which is a landing page builder, GetResponse has a landing page builder. Big difference!
Anyways, here's the set of services you get in GetResponse…
Landing Page Builder
In GetResponse, you get a landing page builder, which is kind of like Leadpages.
For starters, GetResponse, like Leadpages, gives you access to 150+ templates. And it gives you free hosting for any landing pages you create
Plus, the drag and drop editor works just as well as in Leadpages. You get tons of elements to put on your landing page.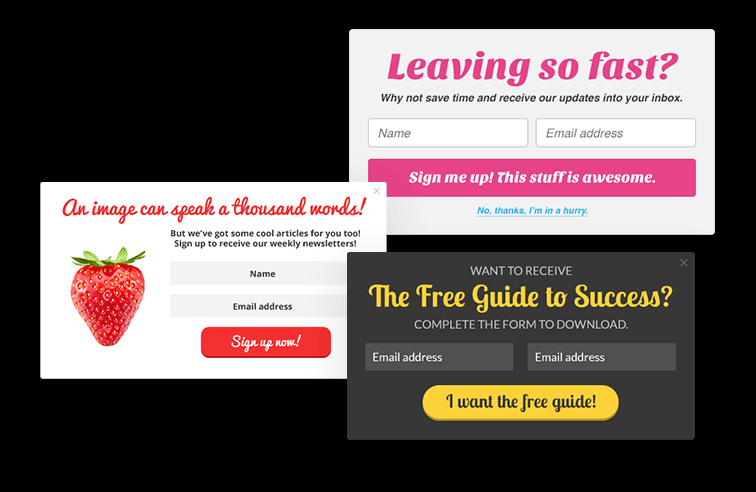 One notable thing which GetResponse gives you that's not included in Leadpages is 5000+ free images from Shutterstock to put on your landing pages as well.
Email Marketing Service and Autoresponder
Once you create a landing page, you'll want to collect emails so you can build your email list. But more important than that, you'll want to nurture your email list so you can turn your subscribers into customers.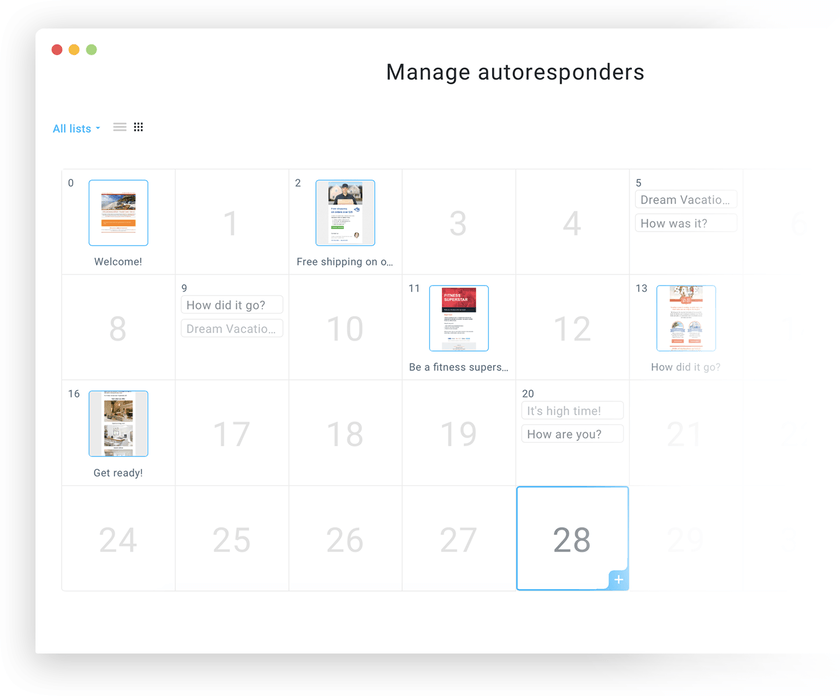 For that, GetResponse comes with an email marketing service.
Using it, you can send different kinds of emails to your subscribers. There are many templates available with which you can quickly create professional-looking emails.
In addition to that, you can set up GetResponse so it only sends your emails to your subscribers based on their timezone and only when they are most active.
Plus, you can also segment your email subscribers and put them into different autoresponder campaigns. Because in addition to an email marketing service, GetResponse comes with an autoresponder tool. This tool allows you to create different sequences of emails which you can then send to a targeted audience.
Webinar Service
GetResponse is one of those rare marketing tools which come with a service with which you can quickly set up your very own webinar.
The email and landing page templates with which you can market your webinar are already there. But in addition, you get the infrastructure to run your webinars as well.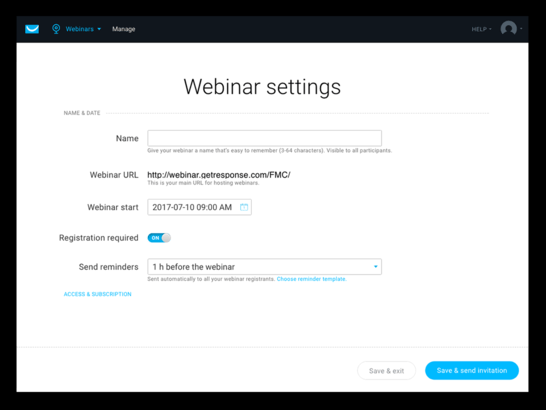 GetResponse gives you the tools necessary for your subscribers to quickly go live from their PC or phone. Plus, they can chat during the webinar as well. You, on the other hand, can record the webinar, share it on social media, send files and do much more.
Overall, this is a great, unexpected tool that you'll surely appreciate once you become aware of the importance of webinars!
Marketing Automation
This handy service is a must-have, especially if you sell a lot of products on your website or run a complicated marketing campaign.
Why?
Because marketing automation, as the name implies, can help you automate the marketing activities that are happening inside your website or emails.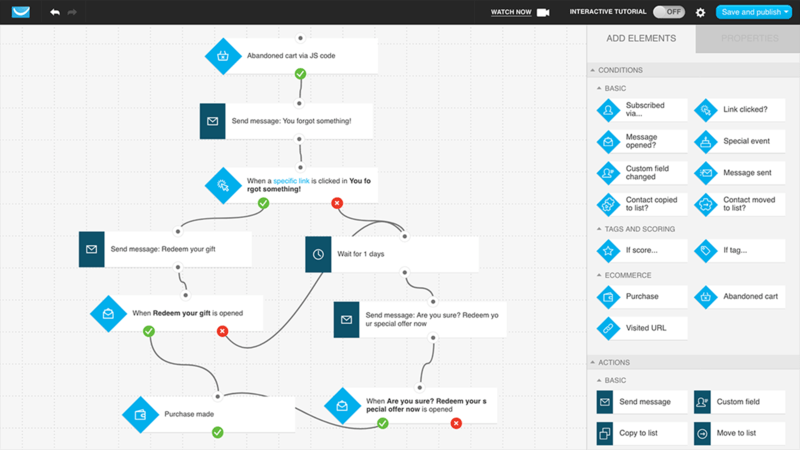 For example, if someone joins an email list, buys one of your products, subscribes to services or does anything else with which you want to trigger an email, schedule a call, send a message, add to an autoresponder campaign – or do something else, this feature can help.
It's something you should really use if you want to do all your marketing as effectively as possible.
CRM Service
After all this tiresome process of setting up your online marketing campaign, you'll hopefully have a lot of customers. And once you do, they'll have a lot of feedback and complaints. Plus, you'll want to turn your existing leads into new customers by establishing a one-to-one relationship with them.
The CRM feature in GetResponse lets you do that.
To get started, you get to build a profile for each of your email subscribers. You'll be able to see who they are, what relationship they have with your company, what email campaigns they are in, what products and services they've bought – and other useful information.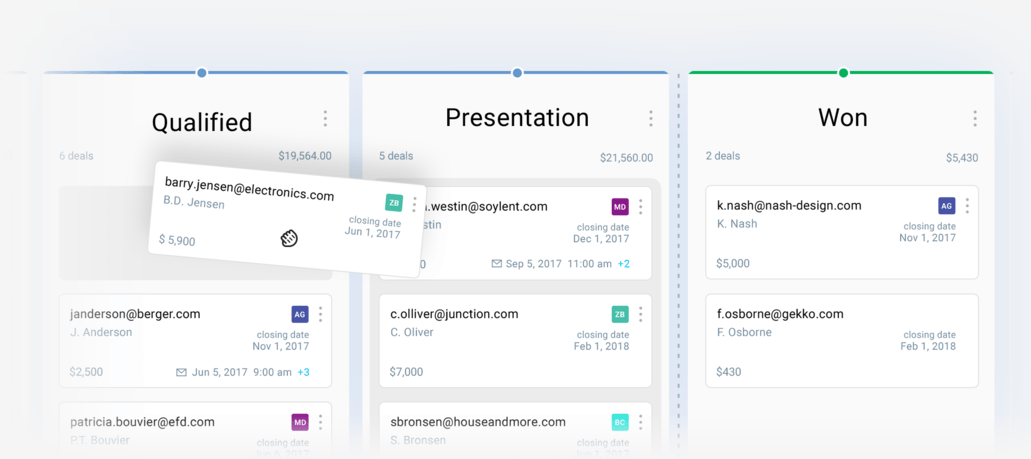 In addition, you'll get the ability to set up reminders, schedule calls and segment your contacts into different lists as well by 'tagging' them.
The point of this CRM service is to help you improve your relationship with your customers so you can sell them more effectively. And while GetResponse CRM service isn't as powerful as other CRMs out there, it's more than capable of increasing your business' sales and improving your customer service.
Pricing: Which of The Two is Worth it?
Leadpages offers simple pricing.
Paid annually, its standard plan costs $25 per month. It doesn't matter how much traffic you get, how many pages you create or whatever you do. In this plan, you'll be able to build a functional landing page builder.
Take Leadpages out for a test drive with a free trial here!
But if you subscribe to the bigger $48 per month plan, that'll unlock unlimited A/B testing, which is crucial to have in a landing page builder. Other than that, you'll also unlock the ability to provide online payment facilities to your users in this plan.
GetResponse plans are more complicated.
For example, if you subscribe to the cheapest 'email plan', you'll simply get an email marketing and autoresponder tool, a basic landing page builder and a barebones marketing automation system. But it's cheap and costs $12.30 a month per year.

But if you want to unlock the pro plan, which has the CRM, webinar tool and unlocks all the functionality of the landing page builder and marketing automation tool, you'll have to pay $40 a month.
And here's where things get complicated.
This pricing is for a specific number of contacts. If let's say, you have 10,000 email subscribers. In this case, the basic plan will cost $53.30 instead of $12.30. And the pro plan will cost $60 instead of $40. And as your list grows, so will you plan cost.
But still, if you look at the big picture, Leadpages pro plan costs $48 alone. This means once you separately buy other services like a CMS, marketing automation tool, email marketing software, combined, this can move your costs to $300+ a month or more.
With GetResponse, compared to the above, pricing will ultimately be cheaper since you'll be getting all the services under one roof.
Conclusion: Which Should You Choose?
In the end, it will all depend on what kind of marketing machine you're trying to build.
If you want the absolute best services for each part of your marketing campaign, you should get Leadpages. It will allow you to get other powerful services that'll fulfill your exact requirements. But keep in mind that subscribing to additional tools and setting them up will take a lot of time and money – which you might not have.
In that case, GetResponse would be a better choice. While all its tool might not be best in class, they sure are enough to get the job done. But remember this also, once you're locked into GetResponse, migrating to another tool might not be an easy thing to do.
Take Leadpages out for a test drive with a free trial here!
We say why not try both together and build an email list that you can continue to grow!
Other resources: