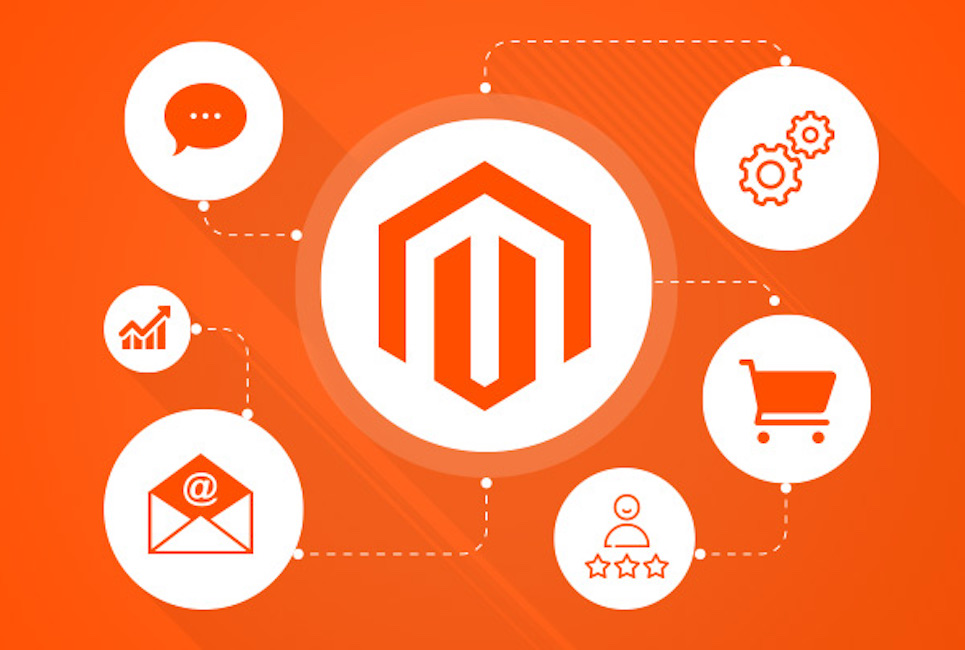 Magento was launched in 2008 and is used by big brands across the globe. In our Magento review, we'll consider if it is the right choice for your business.
If you run an eCommerce business and you're thinking of switching to a new platform, you may have considered Magento. It has a lot of great features, including powerful marketing and shopping cart tools, and in-depth inventory management which will save you time on repetitive tasks. However, it's not that well suited for beginners, as it has quite a steep learning curve – but it does offer a free community edition, so you might be tempted to give it a shot.
In our review, we'll have a look at the key features of Magento, before looking at the platform in detail. We'll look at pricing and pros and cons, before giving our opinion on who Magento is best suited for – so you can decide whether it's right for you.
Key Features of Magento

Two versions available – Community Edition (free to download) and Enterprise Edition
Secure cart with automatic tax and sales calculations
In-depth inventory management, including management of stock in various locations
Order management and customer account management
Secure cart with multiple payment options, including Google Checkout, debit or credit card, and PayPal
Integration with Google Analytics
Customizable storefront using free or paid themes
Built-in blogging platform
Built-in search engine optimization
Powerful marketing tools
Hundreds of extensions available
Ease of Use
Magento is not a beginner-friendly platform.
If you're a newbie looking to enter the world of eCommerce for the first time, with no technical experience and no money to hire a developer – Magento is not going to be the best choice for you. It has a steep learning curve, so if you're looking for an eCommerce platform that will allow you to get going quickly and easily, you're better off looking at another service like Shopify.
If you are a developer, or you have one on your team, you should find navigating Magento quite simple. The interface is pretty easy to use once you're up and running, but as we said, it won't be suitable for total beginners. Set up can take quite a bit of time, however, and installing extensions can sometimes be a laborious process depending on the extension itself.
Inventory and Order Management
Magento has a range of inventory management tools – it's a real strength of this platform.
Uploading products is a simple process – it's very quick to upload photos, videos, and descriptions of products. You can offer virtual or downloadable/digital products. You can also allow personalization of products (like monogramming).
It's simple to keep your inventory organised, even if your stock is stored in different locations. Magento also helps to speed up certain processes when it comes to managing stock – for example, you can mass-assign a value to multiple products, create product templates to quickly upload new items, and automatically assign products to certain categories. You can also choose to automatically resize images and batch-import and export catalog information at set times. These processes, although seemingly small, can drastically reduce the amount of time you may otherwise spend doing repetitive tasks.
If you do want more control, though, the admin area has a lot to offer. You can moderate reviews and product tags manually, create or edit orders, and even assign customer service reps to create customer accounts or place orders manually if necessary.
The admin area allows you to control multiple websites and one stores from one account, but you can also create multiple user accounts with permissions depending on the roles of your team members. You can also review all users' admin activities, if you like.
Storefront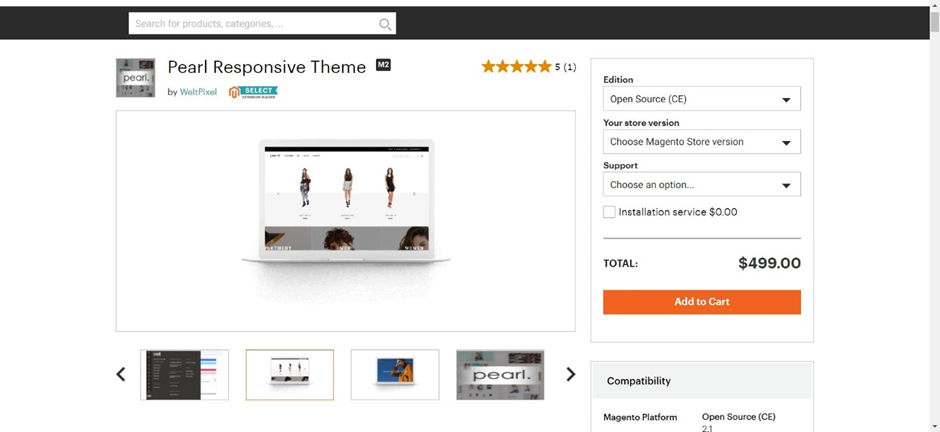 Magneto has a blank base theme, or a free theme called Luma. These can be customized using a drag-and-drop editor – this does make things easier if you don't have any experience coding. You can buy themes from the official Magento extension store or go for a theme from a third-party website (these vary a lot in price – from $80 right through to $500, as you can see in the example above). Theme Forest has a lot of great Magento themes:
For $83 at the time of writing, this is a pretty dynamic theme from Theme Forest. So, if you're willing to shop around, you can find one to suit your business.
There are a lot of options within Magento, if you can learn how to use the platform. You can create and edit content blocks, combine text with videos and images, blend content (like a blog post) and commerce by adding products to content pages, organize content with menus and page hierarchy, and use stock photos from Adobe Stock.
There are many companies using Magento to create attractive websites. This example from Graze (a snack company based in the UK) shows how your website could look:
You may want to consider a page builder extension, however – these can offer a bit more flexibility than Magento on its own can give and make page building and content creation really simple.
Magento also has a built-in blogging platform – this is great for creating ongoing content to keep potential customers coming back again and again.
You can show multiple images for each product page and allow customers to zoom in on product images. You can include color and fabric swatches, too. Products can be viewed individually or grouped together – for example, you can set related products, up-sells, or cross-sells, so that customers can see recommended products. You can add social media sharing buttons to each product, and customers can set up a wishlist or even a gift registry. There are a lot of features here to utilize.
Shopping Cart
Magento offers a secure shopping cart with a ton of features. We could talk about them all day, so here's a quick list of the features included:
Customers can pay using credit or debit card, authorize.net, PayPal, BACS, or payment on collection
Can include mini cart on store pages
Tax and shipping estimates are estimated in shopping cart
Order summary includes product images during checkout
Instant Purchase option allows your customers to checkout time, thus boosting conversion rates
Customers can create accounts, wish lists, and save shopping carts for later
Gift wrapping and gift messages can be included
There is a lot here to unpack, but essentially, Magento offers a ton of features to make the shopping experience as simple as possible for your customers – a quick and easy checkout process will improve conversion rates, so this is important. Plus, having customer accounts means that they're more likely to come back again – especially if you draw them in with vouchers or coupons.
Marketing/SEO Tools
Magento's stores are mobile optimized, so they should perform well on different devices. SEO is taken care of, with Magento automatically generating sitemaps for Google, and creating search-engine friendly URLs without you having to lift a finger.
When it comes to marketing, there's quite a lot to offer without having to rely on extensions. Integration with Amazon means you can sync your inventory easily, opening up more options for customers. Google Smart Shopping campaigns and Google Ads are integrated, meaning you can manage ads easily. Plus, the upsells and cross-sells that we mentioned earlier, along with promotions, sales, and coupons, adds up to a lot of options when it comes to inviting customers to make a purchase.
You can set up special flash sale pages, for a limited time – or you can set up private sales for select customers. This is a great way to reward customer loyalty, by offering exclusive products or discounts.
Extensions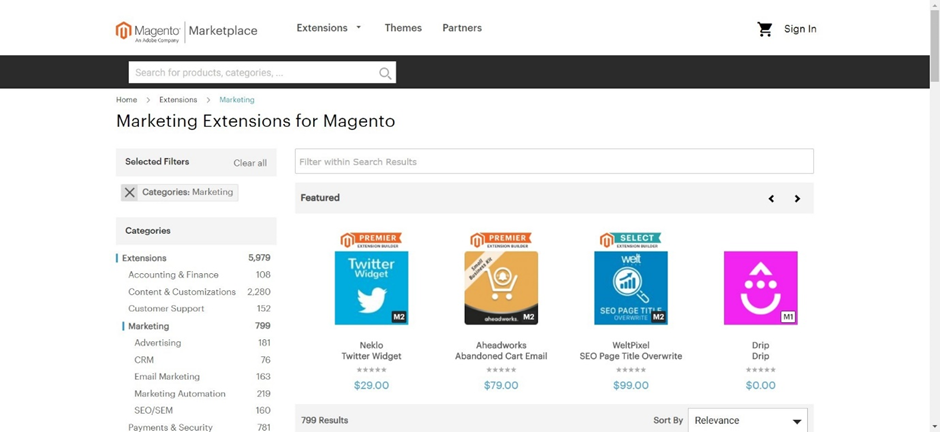 There are a lot of extensions available for Magento – at the time of writing, almost 6,000 of them. They're organised into the following categories:
Customer support
Marketing
Payment and security
Accounting and finance
Site optimization
Shipping and fulfilment
With the right extensions, you can really enhance your experience using Magento – and they will allow you to manage everything in one place.
Reporting
Magento has an easy to use dashboard, which will allow you to see at a quick glance the key information that you need, including best-selling products, total sales, website traffic, and more. The integration with Google Analytics allows you to create visually appealing in-depth reports – therefore giving you access to easy-to-understand data. You do have to sync up Google Analytics before you can get going.
Support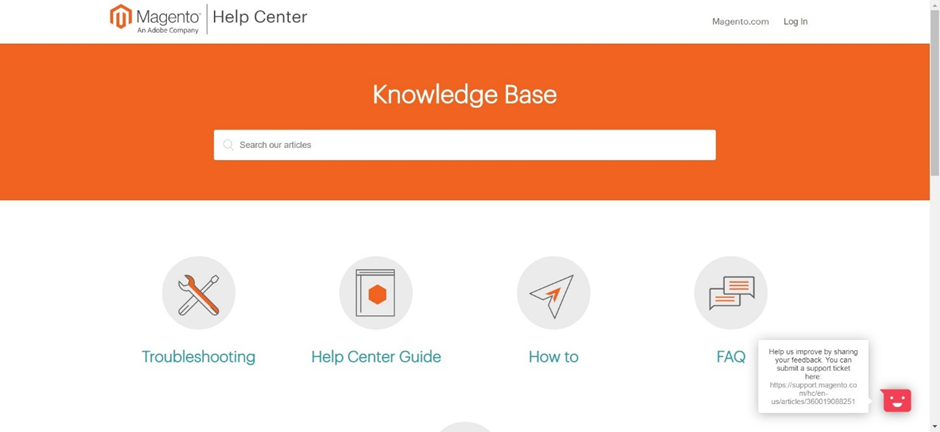 Magento does have a steep learning curve, but their Knowledge Base is packed with documentation to help. Like the rest of the platform, this can appear (at least initially) quite overwhelming – they don't have an easy to access section for beginners, for example. If you need support, they have a helpline and an online chat function. Plus, they have a busy chat forum if you want to connect with other users.
Thankfully, as we've mentioned already, there are plenty of free resources on other websites that you can use to get going with Magento.
Pricing
Magento has two basic plans.
Community Edition/Magento Open Source
This is a free-to-download version of Magento. Anyone can go online and get the software – completely free.
This does require technical knowledge. You have to upload it to your own server, which obviously requires a bit of previous experience (or you can follow a tutorial online to help – YouTube is a good place to look for a visual guide on how to do it). If you have experience or you can afford to hire a developer – this is a great choice. However, for most small businesses or eCommerce stores run by individuals, it's a mammoth task to get going, and therefore may be out of reach.
Although the software itself is free, there are costs involved – including hosting, your own domain, and possibly paying for themes and extensions. This can vary, so we can't give you an approximate cost.
Enterprise Edition/Magento Commerce
This is a package individually designed for bigger companies. This can be very expensive – we're talking potentially thousands, or even tens of thousands, of dollars per year. You have to call and request a quote from Magento, and they will come up with a package for you based on the scale of your business and which features you require.
Obviously, this will be way out of the price range of many smaller companies. But some big brands – including Ford, Coca Cola, Olympus, and Christian Louboutin – use Magento with great success.
You can request a free demo of Magento – click here to find out more.
The Pros of Magento
Free edition available – perfect for developers
Used by big brands across the globe
Inventory management is excellent
Comes with a variety of marketing tools
Themes can be customized
SEO is automatically taken care of
Range of extensions to choose from
The Cons of Magento
Free edition requires you to host it on your own server
Steep learning curve – not suitable for beginners
Can take some time to get going
Some extensions and themes are expensive
Knowledge Base isn't that suited for beginners – you may need to look further afield for tutorials and support
Frequently Asked Questions
If you've still got questions regarding Magento, we may have the answer for you.
What's the difference between Magento 1 and Magento 2?
Magento 2 has improved loading times, a better dashboard, and more SEO tools including meta tags – so a lot of improvements.
How can I learn how to use Magento?
The knowledge base does have documentation, but if you want a complete beginners guide, YouTube is a good source for beginner tutorials. There are also some great blogs out there with free tutorials.
Are Magento extensions expensive?
They can be – they range in price from being totally free, all the way up to $500. Some of them work on a monthly subscription basis rather than a one-off cost.
How long does it take to install a Magento extension?
Depending on the extension and your level of experience, it can take up to three hours to download and install a new extension.
Are there email marketing extensions available?
Yes! There are many integrations available with popular email marketing platforms, including MailChimp and Drip.
Does Magento offer marketing tips?
Yes – if you sign up to their emails, you can receive free marketing tips.
Does Magento have a mobile app?
No, Magento doesn't have an official mobile app, although there are third-party apps available.
Does Magento sync up with eBay?
Yes – it syncs with eBay and Amazon, allowing you to sell products in multiple places at once.
Conclusion – is Magento Worth Using?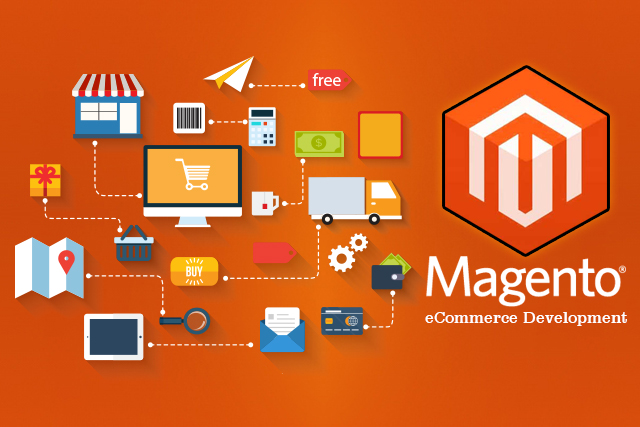 Magento is a powerful eCommerce platform.
It has a range of admin tools. From detailed inventory management, to built-in marketing and shopping cart tools, to powerful reporting using Google Analytics, there is a lot to like about Magento. Several processes are made simple – being able to perform certain actions in batches and having SEO tools built-in, for example.
You may have a lot of 'threads' in your business – for example, if you're selling on multiple platforms and you keep stock in different places – and Magento ties everything together, allowing you to manage everything in one place. It's designed with larger companies in mind, with the ability to create admin accounts and monitor user activity.
It's also very customizable. Using extensions and the built-in drag-and-drop tools, you'll have the ability to build a dynamic, fast-loading store with Magento. If you go for a page building extension, you'll have even more options available to you when it comes to store design and content.
The downside is – unless you've got experience as a developer, or you're in the position to hire a developer, it won't be suitable for you. (Unless you want to learn an entirely new skill, which is always a good thing, but can be very time-consuming.) Beginners to eCommerce will find Magento overwhelming, and there are other platforms out there that allow you to get up and running really quickly, with plenty of useful features.
When it comes down to it, we think that Magento is an excellent platform – if you're a larger, established business with specific knowledge and expertise. If you're a bigger brand, then you'll have access to the Enterprise Edition/Magento Commerce, which could be the perfect solution – at a high price tag, of course.
So, whether you should go for it depends on your situation. If you've got a developer on board who can dedicate a lot of time to get your store up and running, then yes – absolutely go for it, and enjoy Magento's powerful tools and features (and the fact that the software itself is free). If you're a beginner, we'd suggest looking elsewhere.