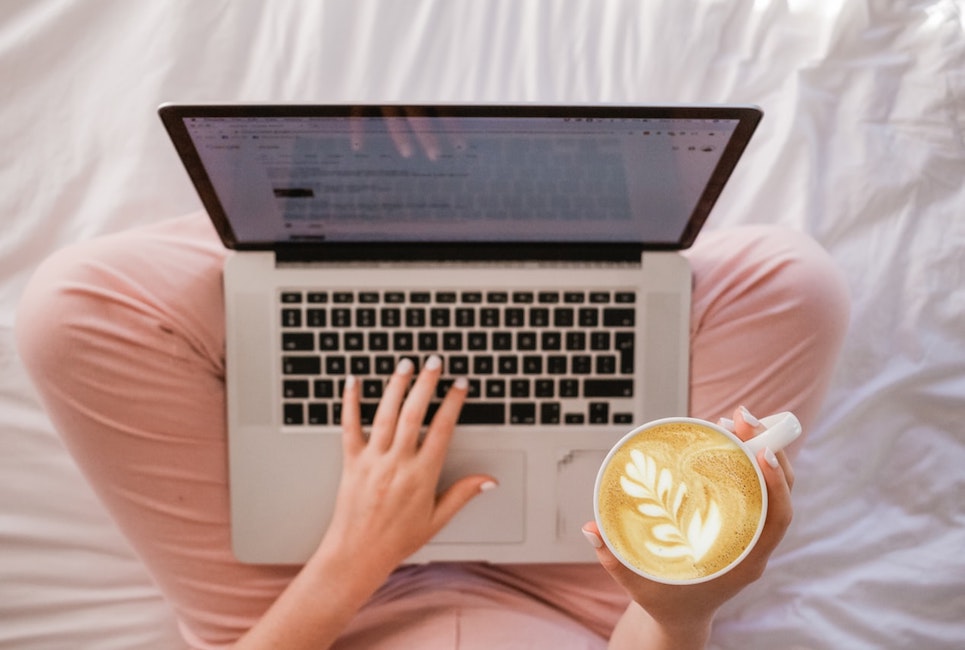 Want to build a great looking page for your eCommerce store? Our guide to the best Magento page builders can help.
Having a visually appealing website can make a big difference to your conversion rates. A great-looking page not only showcases your products, it also encourages customers to stay for longer – and can drive your visitors along the path you want them to take.
You might think that creating pages is complicated, or that you need to know HTML or CSS to do it. Thankfully, there are Magento extensions out there that turn what could be a headache into an easy, smooth process – with no coding knowledge whatsoever.
Today, we'll be looking at three page builders for Magento, looking at their features, user reviews, and pricing, to help find the right 3rd party extension for you.
First, let's take a quick look at some of the features you should look for when choosing a page builder.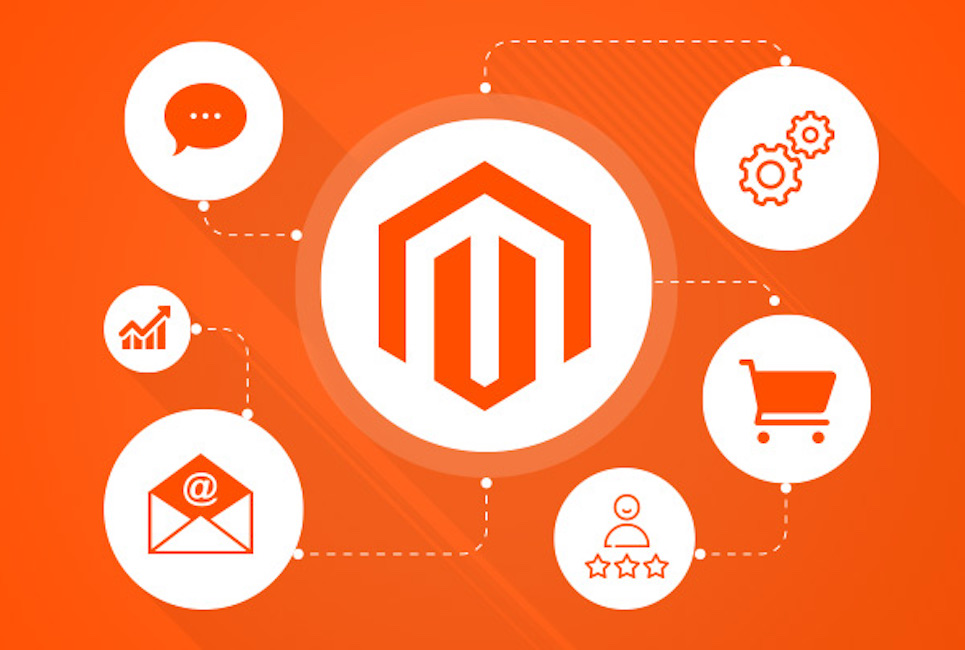 What to Look for in a Page Builder
There are a few things to keep an eye out for:
The Page Builder
How does the page builder work? A drag-and-drop builder is best for those with no coding knowledge – it's such a simple way to build a page. What content can you create using their page builder? Can you add images and videos easily? How easy is it to add product information?
Templates
If you don't want to build a page from scratch, check that your chosen Magento extension has premade templates that you like the look of.
User-Friendliness
Building pages can take a long time. You want to try and find an extension that is easy to navigate and intuitive to use, to save frustration and headaches.
SEO
It's important that your pages are optimized for SEO. How can the extension you're looking that support you in this? Do they offer built-in SEO tools? Do their pages have fast loading times?
Extra Features
Some extensions have extra features, like scheduled posting or integration with other platforms. The more features you have, the higher the cost tends to be, however.
Real-Life Examples
Finally, you might want to see if a page builder is any good, check out some websites that have been built using that platform (you can usually find links to examples on the extensions' own website). If you like what you see, you will probably be able to create something similar using that extension for your own pages.
3 Best Page Builders – an Overview
Name of Feature
DragDropr
Shogun
Page Builder by Magezon
Page Editor
Drag and Drop
Drag and Drop
Drag and Drop
Pre-made templates
No
Yes
Yes
SEO tools
No
Yes
Yes
Custom page elements
Yes
Yes
Yes
Fast page loading
Yes
Yes
Yes
Extra features
None
Split testing, page scheduling, analytics suite
Built-in color palettes

Logo gallery with over 900 logos

Pricing
From $14.90 per month for single use, up to $198 for multiple clients
From $49 per month
$199 one-time payment, plus optional $79/$129 service agreement for extra support
DragDropr Visual Page Builder
DragDropr is a great example of how an extension can help you to build a page, even without any coding or technical knowledge. It has a drag-and-drop interface, so all you have to do is point and click – it's super easy to use.
It has a bunch of great features that will make your website both attractive and easy to use. The 'add to cart button' widget is really useful, plus you can add new products simply by dragging and dropping it onto the page. It has over 200 content blocks to choose from, so you should be able to create the page you have envisioned.
You can even enable or disable product elements including images, names, and descriptions – all within the DragDropr interface.
You can create Magento landing pages, articles, and blog pages.
Antoher great feature is the ability to save your content as a HTML file. This allows you to edit your page at a HTML level if you're that way inclined, and you can also import a new theme with just one click.
Plus, the page you are editing shows changes to your page in real time – so you'll be able to see exactly what your page looks like as you go.
In terms of mobile and tablet devices, DragDropr generates content that automatically adjusts to the screen size of the person browsing. You can also check to see what it looks like on different devices, to make sure it looks great on every screen size.
You can create great looking pages with DragDropr – however, it doesn't seem to have pre-made templates to choose from. If you're happy to work with the layout your current Magento template provides, this might not be a problem, but it's something to be aware of.
One of the aims of DragDropr is to be 'efficient' – which it certainly is. If you're looking for a drag-and-drop editor and nothing else, it could be a really great choice for you. However, it does lack some features that other page editors have, like analytics, for example. It also doesn't give you much guidance in terms of making the most of your pages, so if you want to find out how to improve your SEO or conversion rates, it's not going to walk you through it.
However, that being said, it comes at a low price point – so if you're on a tight budget, and you're willing to forgo some of the extra features another page builder might offer, it could be a decent option for you.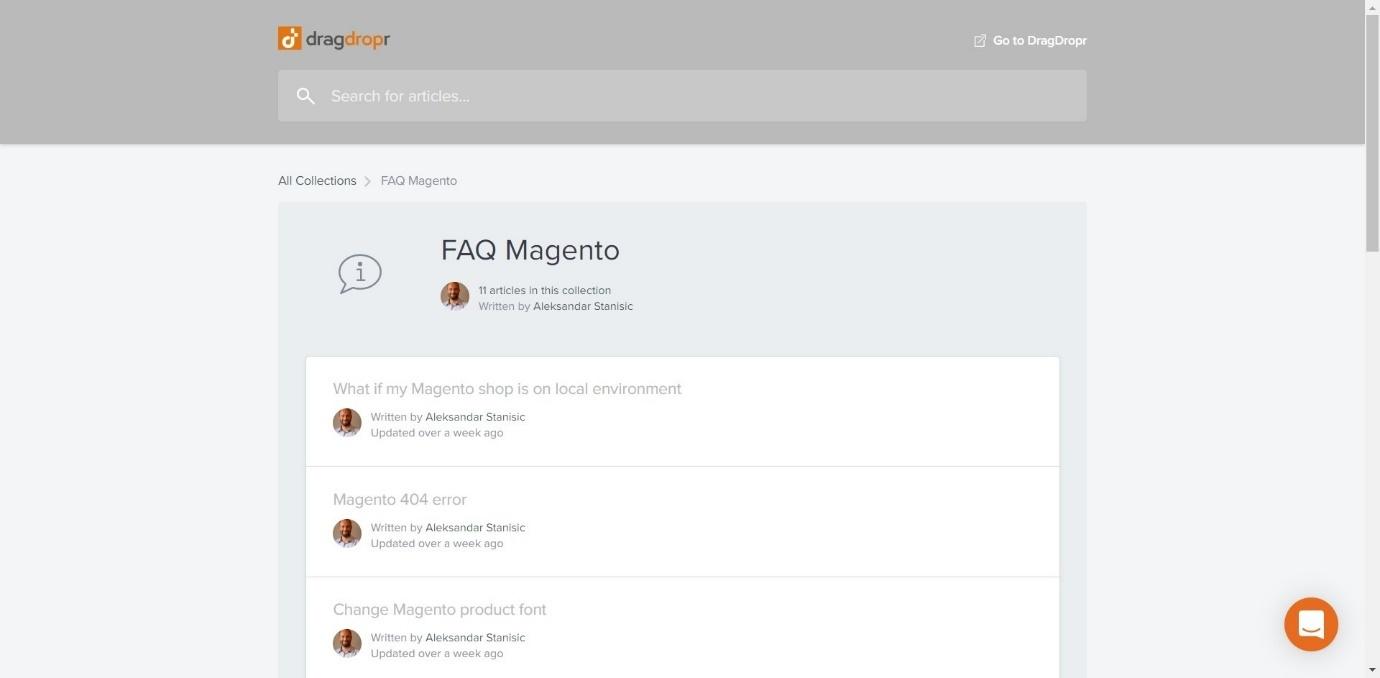 There isn't a huge amount of information on the DragDropr Magento FAQ page, which is a shame. This could be a great resource on how to use the platform to your advantage if it had more articles and guides. However, the DragDropr staff are knowledgable and users say they are extremely helpful (but more on that in a moment).
Main Features
Intuitive drag-and-drop editor
Over 200 content blocks to choose from, including videos, text, images, buttons, and dynamic content
Easily add products from your Magento store
Enable and disable product elements
Create an ecommerce website that looks good on every device
Live preview allows you to see how it looks as you go along
User Reviews
Users enjoy how easy the DragDropr interface is to use, even for those who have never built a website before. They also report that the team offer great support for when things do go wrong. They even reported that the team were able to provide them with CSS that allowed them to add drop-down content to their page, which is helpful.
It has an average rating of 4.8 out of 5 stars.
Pricing
The extension itself is free to download in the Magento extension store. However, you need to have a DragDropr account to use it. There are three price plans:
Single Account – $14.90 per month paid annually
This is great for users who only have one online store.
Agency – $118 per month paid annually
This is a good plan for those who have clients they want to build websites for – it allows for up to 30 clients.
White Label – $198 per month paid annually
This is for bigger brands and gives you up to 50 clients and unlimited custom domains.
You can find DragDropr on the Magento extension store here.
Frequently Asked Questions
Is DragDropr compatible with Magento 2.3?
According to their page on the Magento extension store, it is not currently compatible with 2.3 – but they're working on it.
Can I add custom fonts to my pages?
You can – this involves tweaking the CSS a little, but they have a tutorial on their knowledge base.
Will my pages load quickly?
According to DragDropr, pages should load quickly as they use pure HTML code.
What happens if DragDropr goes down – will my content still be live?
Yes – your content will still be live as it is saved in your own Magento system.
Shogun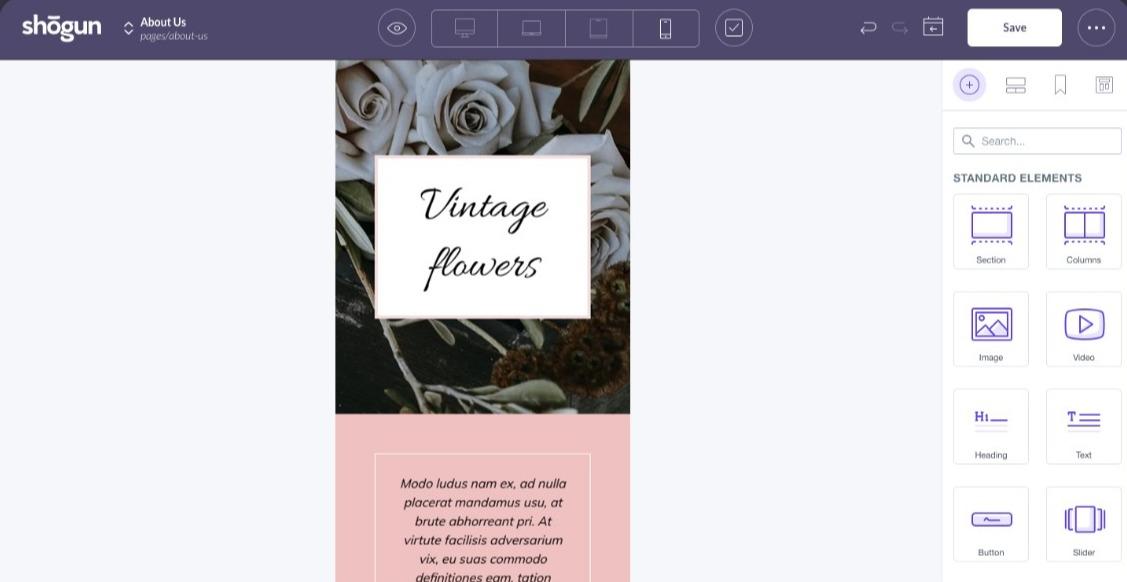 Shogun is another great example of an extension that can help you to build websites with no technical knowledge – again, with a simple to use drag-and-drop page editor, you can simply choose from a range of page elements, drop them onto the page, and then fill them with the content you require.
Shogun is a very visually pleasing platform, which is helpful if you're spending hours at a time working on your website. You can add a range of content to your pages, including:
Text blocks
Images
Videos
Headings
Buttons
Sliders
Social media buttons
It also has a range of content options for your Magento products. You can add a buy now button, product description, product images and videos, and more. All of this can be dragged and dropped where you would like it to go. This makes it really easy to build product pages that look exactly the wat you want them to.
You can also create custom HTML elements, if you have the skills to do so. At any time, you can view how your page will look on different devices, and the templates are responsive, meaning they work well on any device.
The pre-made templates are great – there's quite a lot of them to choose from, and they all look stylish and easy to navigate. If you don't want to use a template, you can create a page from scratch, building the basic shape using page elements and then adding content afterwards.
But what makes Shogun stand out is the extra features. As well as offering SEO tools like the ability to edit meta titles and descriptions for each page, and lazy loading/image compression for faster loading times, it also has more tools to help you to make the most of your pages.
You can schedule page uploads as part of a marketing campaign, allowing you to measure their performance using the Analytics Suite. This will give you detailed analytics in a range of categories including clickthrough rates, bounce rates, and abandoned cart rates. You can even compare two pages to see which one is performing better in any of the given categories. This is a great feature – the more knowledge you have about how a page is doing, the better chance you have of creating pages that work really well.
It also has A/B testing. This is a great way to optimize your pages to reach their full potential – simply create two different versions of the same page, and Shogun will run the test, automatically choosing a winner after a certain period of time has passed (or you can choose to review the results yourself). Creating two versions of the same page is very simple.
All in all, it's an excellent platform with plenty of extra features to use.
However, like DragDropr, the FAQ page is quite sparse – it would be good to see more tutorials and videos, although the main Shogun FAQ does have a bit more to offer in that respect.
Main Features
Drag-and-drop editor allows you to add blocks of content
Stylish premade templates
Page scheduling
Analytics Suite
Split Testing
Built-in SEO tools
User Reviews
There weren't any reviews to look at on the Magento extension marketplace. However, looking at other reviews online, users seem to enjoy using the Shogun interface, finding it very user-friendly and intuitive. They also found the support to be good, with Shogun representatives quick to respond to queries.
Pricing
The Shogun app is free on the Magento marketplace, but you will need a subscription to Shogun. Prices start at $49 per month, but the price does rise if you want some of the extra features, like AB testing.
Frequently Asked Questions
Can I save a page as a template if I want to use it again?
Yes – you can easily save a page you like as a template using Shogun.
What is a page status?
The page status is a quick way to show you what each page is doing. 'Published' means the page is live, 'Draft' means you haven't published it yet, and 'Outdated' means you have made edits that haven't been published to the page yet. If a page says 'running test' it means you are currently running an A/B test on it.
Can I add my own page elements to Shogun?
Yes, you can add custom elements and HTML elements using Shogun.
Page Builder by Magezon
If you want to create great-looking pages, Page Builder by Magezon could work really well for you. Again, no coding skills are required – just time and creativity. There are more than 50 elements available in this drag-and-drop editor, all of which can be customized to create the exact look you want. It works well with all common Magento themes including Porto and Ultimo.
However, there's one thing to note right at the start – there are actually two page building extensions by Magezon. One is the Single Product Page builder. This allows you to change the structure of a product page for your Magento store – it does not allow you to add content. It works in a different way than the Magezon Page Builder extension, even though they look similar – just something to keep an eye on when you're browsing the extension marketplace.
When it comes to elements, you have a lot of choice, including text blocks, images, videos, product sliders, and buttons – all of which can be tweaked. You can set borders, padding, margins, and background colors – plus, it comes with color palettes, which help you to stick to the theme of your website. It also comes with access to a library of over 900 icons – so you should be able to find icons that match your theme perfectly.
Like the other platforms, at any time, you can view and edit how your page will look on different types of devices. The templates are responsive and load quickly on any device.
If you like, you can choose from a range of beautiful templates – or you can create one from scratch. You can even save pages as templates – meaning you can use them again and again.
The pages are SEO friendly, too – fast loading speeds are emphasised here, and it states that every line of code created is SEO optimized – this means you don't have to worry too much about SEO to start with.
It's a really intuitive interface, simple to use – but it also allows you a great deal of control and customization, including being able to use your own custom CSS. The pages you can create have the potential to look stunning:
As with any platform, it does take some time to learn, but the interface is pretty easy to use.
It's compatible with some useful plugins – including some email marketing services like MailChimp, social media platforms like Facebook, Twitter and more.
In terms of features, it's kind of in the middle of DragDropr and Shogun. It doesn't have the excellent split testing or analytics offered by Shogun, but it does have more features than DragDropr provides. The standout points for us are the SEO optimization and emphasis on fast loading speeds.
It also has the advantage of having great user guidance. There is a user guide that covers every (and we mean every) detail of the platform – but if the idea of reading through it doesn't thrill you, they also have a YouTube channel offering video tutorials.
Ideally, we'd like to see more guides about how to create high-converting pages, but still, it's a useful feature.
Main Features
Drag and drop editor allows you to choose from over 50 elements
Beautiful templates
Built-in SEO optimization
Integration with other plugins
Creates fast, responsive pages
Useful knowledge base
User Reviews
User reviews are great, with users happily reporting that the platform is very simple to use, and that they were able to create amazing pages with it. They also said that the customer support is great, and that the support combined with the ease of the drag-and-drop editor means that even with little-to-know website building experience, you can still build a great page.
It has an average rating of 5 out of 5 stars.
Pricing
Page Builder by Magezon costs $199 (this is a one-off payment). You can choose to add a service agreement, however, which gives you extra support – you can get six months for $79 or twelve months for $129.
Frequently Asked Questions
Can I get a free trial of Page Builder by Magezon?
Not at this time, no – they do offer free demos, however, which you can find out more about here.
Do I get free updates?
Yes, you won't have to pay to get updates.
Should I buy it from Magezon's website or the Magento extension marketplace?
You can buy it from either place.
Does Magento work with WordPress?
Yes, there are plugins that you can use to integrate Magento with WordPress. You can even integrate your Magento theme and your WordPress theme, and create an easy blog-to-cart experience.
In Conclusion – Which is the Best Page Builder for Magento?
All three options are great. However, you do get what you pay for. Although DragDropr is a great budget option, it does lack some of the features that Shogun and Magezon have to offer. It is brilliant for businesses with a small budget, however.
Magezon represents a good middle-ground. You can create amazing looking pages with Magezon, and it has the advantage of a one-off payment – although if you don't have $200 to pay upfront, it may put you off.
Shogun is our top choice for a few reasons. Although the price can add up if you want the extra features, they are appealing. Split testing and access to detailed analytics can have a real impact on your business if used wisely. Plus, it's easy to use, the templates are beautiful, and the built-in SEO tools can make a big difference to the visibility of your pages. Although it does cost more than DragDropr, we think the tools it provides makes it worth the investment.
Further read: