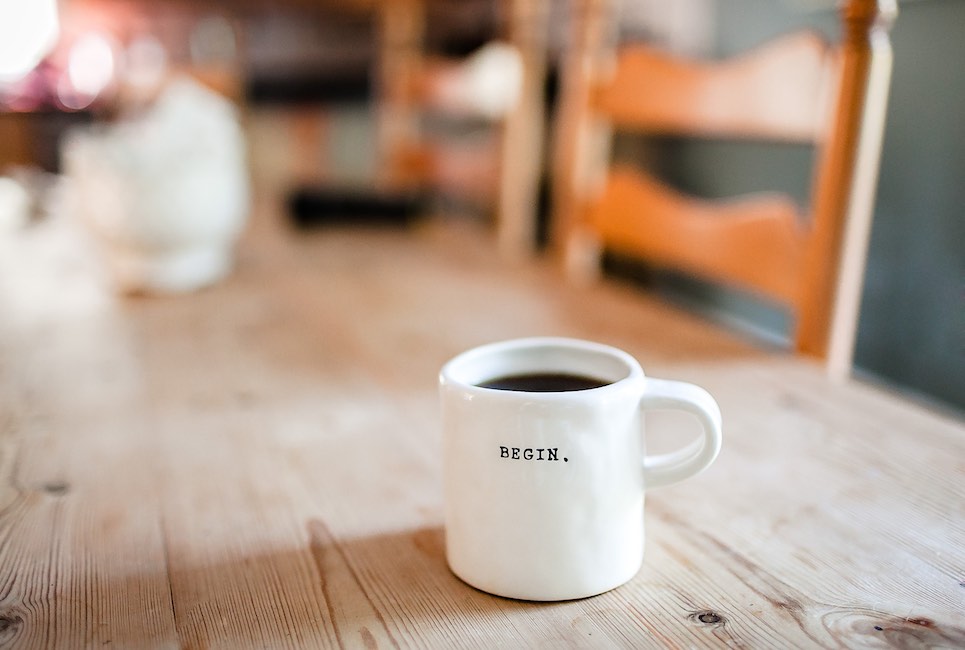 When it comes to designing a premium WordPress website, there are several themes that you can choose from. One of the main benefits of using WordPress as your primary CMS platform is the fact that they give you the ability to either import or create your very own custom themes. This gives website owners the ability to customize their UI according to the theme or industry that their particular business is geared towards. There are thousands of free and premium WordPress themes that you can choose from which makes the customization possibilities unlimited. Here is our in-depth Thrive Themes review to help you decide!
Is Thrive Themes right for you?
Thrive Themes is a relatively new yet well-established WordPress developer that offers tons of premium WordPress themes and plugins focused on small business owners who want to create a professional looking website. If you need to increase your engagement or interaction on your website, Thrive Themes is the solution that you need to use. Thrive Themes makes it easy for you to import, edit, and launch unique themes for your site that reflect your core interests and allow you to optimize the process involved in meeting your projected sales goals.
The great thing about Thrive Themes is that you can sign up for a monthly membership which will give you unlimited access to all of their premium WordPress themes and plugins. If you don't want to go with a monthly subscription for Thrive Themes, you can simply purchase the items you need on an individual basis. Depending on the size of your business and if you plan to expand, this option can save you money in the long run.
Thrive Themes helps you create responsive websites that perform at a professional level. Thrive Themes is the sole creator of many well-known and popular themes such as Squared, Pressive, and Rise just to name a few. These previously mentioned themes had a priority focus on helping business owners obtain conversions on a consistent basis. Thrive Themes are created with meticulous effort and due diligence to ensure that all of their products provide the necessary functionality that they were intended for.
Although the WordPress themes from Thrive Themes cover a range of project types, they're pretty much all focused on helping you to increase the conversion rates of your website. Therefore, if you're creating a site with a particular goal in mind, these themes could be a good match for your project.
Shared Features of WordPress and Thrive Themes:
Some of the shared features found in the WordPress themes from Thrive Themes include:
website customization options and settings

a fully mobile responsive design with click to call buttons

a full set of easily generated website demo content

a library of shortcodes for inserting useful elements into your content

a landing page template for creating full-width content to promote your offers

automatic image compression and a focus on lightweight code for increased speed

the ability to create custom conversion elements, such as options and calls to action, that can be inserted into your content
Unfortunately, Thrive Themes decided to discontinue their separate line of themes and plugins a while ago and now they only offer one platform by which you can achieve the same goals as you would be able to with their individual theme and plugin options. The new platform will be called the Thrive Visual Theme builder and it will give you intuitive access to tools which will help you edit and organize the very framework of your website.
Take a look at this article on our site to learn more about different WordPress theme options available.
Thrive, Visual Theme Builder
The Thrive Visual Theme builder will give you the ability to change the very inner workings of your website which is vastly different from many theme building and editing tools that are available on the market. Thrive, Visual Theme builder, is not the same as Thrive Architect which is a plugin that allows you to edit content, the Thrive Visual Theme builder is a website editor that gives you full access to the framework of your website so that you can optimize performance and speed. Thrive Theme Builder hasn't been released yet however when it is released it will be easy yet very comprehensive in terms of the capabilities that you'll have to edit your website and meet the conversion or engagement goals that you have in mind. Thrive Theme Builder is set to be released soon and we'll keep you posted about any updated surrounding developments in its slated initial release date.
Hopefully, when Thrive Theme Builder is released it'll meet all of the expectations that have been set out by the information which has been released through different media channels and promotional advertisements.
Here is a great article that you can read on our website to learn more about choosing the right theme for your e-commerce site.
Thrive Themes doesn't only offer premium WordPress themes designed to boost your overall e-commerce sales and conversions, they also offer a wide array of different plugins that you can add to your website in order to increase its performance. Many if not all of the plugin options available through Thrive Themes are solely focused on helping small business owners gain the engagement and sales that they expect.
Thrive Themes has a rather comprehensive catalog of plugins that you can choose from in order to increase the performance of your business overall.
The Thrive Themes plugins catalog includes the following plugins:
Thrive Ovation
Thrive Ovation helps you organize and collect customer testimonials for your products or services in a very simple and easy way. Customer testimonials play a very important role in persuading your prospective customers to interact with your website or material. Thrive Ovation is an automated system that collects client testimonials and displays them on your site/sales pages for better conversion rates. It's a wonderful tool to use for business owners who run companies that are largely involved with beauty related products or items that would be boosted in sales with good customer ratings.
Thrive Headline Optimizer
The Thrive Headline Optimizer helps you create stunning headlines for your website in order to encourage visitors to stay on the site longer and engage with more content elements. Thrive headline optimizer is a favorite plugin with many site owners who pride themselves on creativity and originality. You can submit different versions of your headlines and the Thrive Headline Optimizer will display different headlines to users and conduct an internal study of which one works best all on autopilot. Based on the result, the best performing headline will be displayed on your site for optimal user engagement and conversion rates. On average, five times as many people read the headline as read the body copy, according to 'The Father of Advertising', David Ogilvy.
With that in mind, it's vital that you make sure your blog post titles are optimized to grab the attention of your readers and persuade them to click through to the full article. The Thrive Headline Optimizer plugin was created to help you do just that as part of its ability to find the most effective titles for your content. With the Headline Optimizer, you can choose the content titles you'd like to optimize. You can then enter multiple titles for each article to find the best performer. This optimization plugin will then display the different variations to your visitors, tracking the engagement to find the winner.
Other highlights of Thrive Headline Optimizer include:
the ability to enter as many headline variations as needed

a bulk editor to set up multiple tests at once

an intuitive user interface and easy-to-understand reports

WooCommerce compatibility for optimizing e-commerce products

the ability to track click-through rates on your blog page, recent posts widget, and other places where article titles are displayed

real-time headline optimization: Best-performing headlines are automatically shown to more of your visitors as data is gathered.
If you want to discover which article titles reduce your bounce rate and keep visitors on your site for longer, Thrive Headline Optimizer can definitely help.
Thrive Ultimatum
Thrive Ultimatum is a smart customizable and easy to use the WordPress plugin to display a countdown timer on your site. There are many advantages of displaying a timer on your site. It makes things exciting and inspires viewers to take action before the timer expires.
Thrive Leads
As the name implies, Thrive Leads is for building mailing lists in a very simple and effective manner. Thrive Leads gives you access to a full package of tools which will help you encourage your site visitors and readers to opt-in to your mailing list. The form can be displayed using different options. For an example: You can opt for a sidebar widget, or pop up opts in form. Moreover, you get the reports to provides you with insights on how your strategy is working with your audience.
Thrive Leads is one of the most powerful lead generation tools for WordPress. Whether you want to grow your email list or persuade your visitors to take some other action, Thrive Leads can help you increase your goal conversion rates. The main focus of Thrive Leads is enabling you to display pop-ups on your website. These pop-ups can contain any type of content, including email option forms, products, text, images, videos, and calls to action. Thanks to the Thrive Leads editor, you get full control over how these forms and pop-ups look. There's also an A/B testing tool to help you optimize this content.
Other highlights of Thrive Leads include:
a drag-and-drop editor for pop-ups and forms

advanced performance reporting and analytics tools

integration with the most popular email marketing software

a large library of pre-built forms, pop-up templates, and content modules

a selection of pop-up triggers, including timed, scroll position, and exit intent

multiple options form types, including pop-ups, two-step options, in-content forms, screen fillers, content locks, and more.
Thrive Leads is a powerful lead generation tool that compares well to other similar WordPress plugins such as OptinMonster and Bloom.
Thrive Optimize
Thrive Optimize lets you perform A/B split ad testing into your website pages so that you can figure out which advert method and style gets the most interaction. It is a lightweight and conversion-oriented plugin that lets you easily optimize your marketing efforts to save time and money while maximizing the number of conversions and sales that you receive from optimal promotions.
Thrive Comments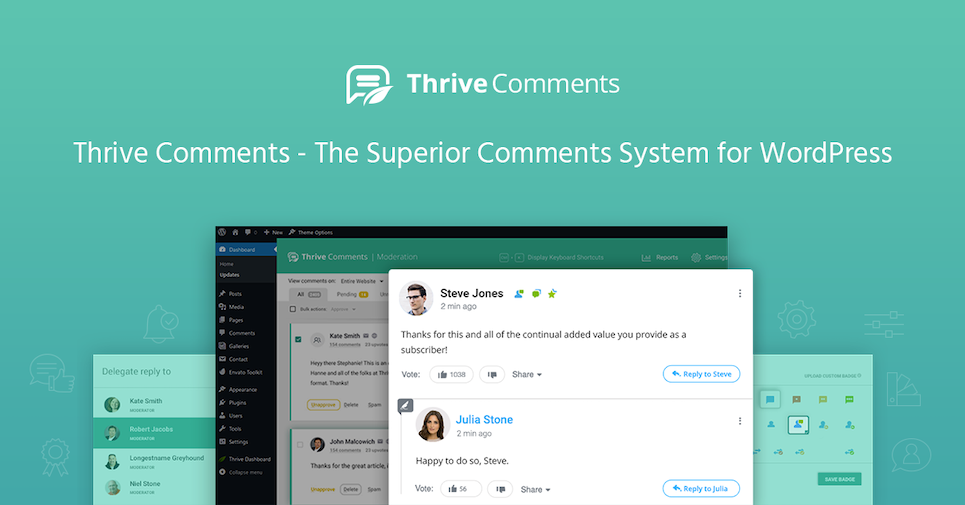 Having people leave comments on your WordPress site can help it in ways you can't even imagine, this can include things like boosted SEO performance amongst a wide range of other beneficial site metrics. Thrive Comments encourages user engagement, helps SEO by adding fresh and relevant content, works as an intuitive form of user reviews/testimonials and so much more. Thrive comments, as the name suggests is a great way to make user commenting engaging and beautiful.
Thrive Cleaver Widgets
Thrive themes is all about conversions, and with the Thrive Cleaver Widgets plugin, you can rapidly and easily boost site conversions with the simple click of a button. As the name also implies, Thrive Cleaver widgets allows you to display different widgets & content based on the category, post type, pages, categories & tag type. This helps distinguish certain pages which get the most interaction on a consistent basis to help increase your website's overall rank and performance in the search engines.
Thrive Landing Pages
Thrive Landing Pages helps you create beautiful landing pages that focus on conversion. The Thrive Landing Pages plugin has it all to brilliantly convert your ideas into a reality for better engagement and actions on your sales pages. You can create sales copies, opt-in forms, registration pages and any other kind of landing pages in your site.
Here is another great article some of the other conversion and sales plugin options available.
How Much Does It Cost? Thrive Themes Pricing
The beautiful and smart products at Thrive Themes can be purchased individually or through membership as a package of all their themes and plugins. The WordPress Themes at Thrive themes start from $49 and the individual Thrive themes plugins start at $39. You might want to use more and more Thrive products as they can really help you improve the performance of your site in different ways. Here, purchasing different products individually might not look like a good idea for you. And you can choose what works best for you. Unlike Elegant Themes, you can buy individual products at Thrive themes. On the other hand, for web design agencies and IT professionals who need access to more than one product, can subscribe to Thrive themes membership plans.
Thrive Themes offer plenty of flexibility when it comes to purchasing their tools. You can purchase the themes and plugins individually, or join the Thrive Membership program to gain access to everything. Even when purchasing an individual product, you can choose from a range of options, depending on how many sites you want to use the product on.
Your Thrive Membership subscription will be billed quarterly or annually, with a discount available to those paying for a year upfront. All membership purchase options cover the use of the themes and plugins on all of the websites you own. There's also an agency membership plan that allows you to use the Thrive Themes products on your clients' sites as well.
The Thrive Themes purchase options include:
Individual themes from $49 and plugins from $39.

Thrive Membership for individuals: $19 a month paid annually or $30 a month paid quarterly.

Thrive Membership for agencies: $49 a month paid annually or $69 a month paid quarterly
All options include access to product updates. Individual products include one year of access to customer support, with the Thrive Membership including unlimited access to support while your subscription is active.
So, a thrive themes membership is what can help you. You can subscribe to the Thrive Themes membership plan at $19/month on the yearly subscription. This allows you to use the Thrive themes & plugins on 25 of your sites. Or you can subscribe to another plan at $49 per month that allows you to use the Thrive themes templates & plugins on 50 of your sites. Currently, there is no Thrive Theme Discount code or coupon, or best price deal other than its membership plan to access the best, conversion-optimized plugins at a nominal price.
This is an excellent article that you can use to learn more about how to choose the right tools that will help you expand your online presence and reach.
Thrive Architect: In-Depth Look
The thrive theme architect is the page builder from the Thrive themes. It was developed to replace the Thrive content builder and can be used to create conversion-focused pages of your site. The Thrive Architect is a replacement for the Thrive Content builder, the visual editor. This plugin, the Thrive content builders had some limitations that the Thrive Architect removes. It had a simple concept, it helped people with limited HTML & CSS knowledge to create attractive content with a WYSIWYG editor. While the Thrive content builders features were limited, the Thrive Architect has the features like that of the popular WordPress page builders like Beaver builder and the Divi builder.
The page builder by Thrive Themes is easy to use. You can be creative and develop beautiful designs of your own using the intuitive options. So, the thrive Architect is ideal for creating your marketing focused websites too. Moreover, the Thrive architect is affordable. You have to pay a one-time fee of $69 and use it to create any kind of design.
Opening a page template in the Thrive Content Builder interface allows you to click on its elements and items to edit them, with context-sensitive controls instantly appearing in the sidebar once you've clicked on an item. As this is a front-end builder, while you're working you get to see your page as your visitors would, and, because there's no need to switch browser tabs to see a preview of your work, the design and development process is fast and responsive.
Some of the core benefits of the Thrive Theme Builder include the following:
Thrive themes is hands down, the best visual editor for a visually appealing content

Comes with conversion focused WordPress themes and landing pages

The drag-and-drop editor is pretty easy to use and makes your life easy

Lots of various elements you can add to your pages, from testimonial boxes to exit-intent popups

Affordable pricing

Fast loading WordPress Theme

Fully optimized for both SEO and mobile

a WYSIWYG WordPress editor interface

the ability to create full-width landing pages

a library of useful, customizable elements for your pages

a large selection of prebuilt marketing-focused pre-designed page templates

a custom CSS and HTML support for more control over your designs.
Some of the negatives that come with using Thrive Theme Builder are the following:
Thrive Themes is only meant for WordPress CMS websites

It's mostly helpful for new posts and pages, and difficult to modify your old pages with Thrive Architect

It takes some time to get used to it
Thrive Content Builder compares well to other leading page builder plugins, such as Beaver Builder and Visual Composer, in terms of functionality and creative possibilities. However, based on its prebuilt page templates and content modules, Thrive Content Builder is more focused on creating marketing content and landing pages. It's definitely a good tool, but if you want help creating a wider range of website pages Beaver Builder or Divi Builder and their more varied selection of templates may be better options.
Opening a page template in the Thrive Content Builder interface allows you to click on its elements and items to edit them, with context-sensitive controls instantly appearing in the sidebar once you've clicked on an item. As this is a front-end builder, while you're working you get to see your page as your visitors would, and, because there's no need to switch browser tabs to see a preview of your work, the design and development process is fast and responsive.
This is a great article that you can use to learn more about how using WordPress themes can help boost the performance of your site.
Thrive Themes: Customer Support
As a Thrive Themes customer, you can open support tickets through the private forums, giving you an easy way to search for solutions to issues raised by other users. You can also check the knowledge base for solutions to any problems you may be experiencing. Each product also has its own set of tutorials to help you get the most out of it. The courses are made up of multiple lessons, with some including videos in addition to the written content. If you're serious about creating an effective website or want to improve your online marketing skills, then joining the Thrive Themes membership program with access to the university content is something to consider.
In an attempt to differentiate themselves from the competition and add substance to their claims of offering an all-in-one online business toolbox, Thrive Themes offer webinar classrooms and recordings to help you use their tools to grow your business. There are also the Thrive Themes university courses, covering a wide range of topics, from building a conversion-focused website from scratch and creating webinar funnels, to designing persuasive option forms and launching a product or product line.
This is a great article you can read how quality customer support can go a long way.
Thrive Themes: Questions & Answers
Let's answer some of the most commonly asked questions when it comes to why you should use Thrive Themes for your website and how it can benefit you.
1. What comes with the Thrive Themes membership and how much does it cost?
It comes with full access to all their WordPress themes and plugins, plus ongoing customer support. Refer to the pricing section above for more.
2. What makes Thrive Themes unique from other WordPress themes?
Thrive themes are generally known as conversion focused WordPress themes which are built to boost your website conversion rates. If getting a theme with higher conversion rates is your concern, then give Thrive themes a try today.
Apart from that, below are the more reasons you should consider Thrive themes over other WordPress themes:
Built for mobile and SEO

Customize to your own taste with their drag and drop builder

Very fast themes (comes with automatic image compression functionality which increases your site loading times)

Lots of free updates

Access to stunning landing page pre-made templates
3. How many websites can I use my Thrive Themes subscription on?
Thrive themes offers two types of pricing.
Thrive membership

Agency membership
Thrive membership package is more affordable and lets you install Thrive themes on up to twenty-five of your own sites. While Thrive Agency membership enables you to install their themes on up to fifty of your websites and that of clients'.
4. Is it worth investing in a premium WordPress theme such as Thrive themes if I don't plan on selling anything?
The primary reason people often choose premium WordPress themes over the free ones is that premium themes are more secure, faster loading and quick customer support.
On the other hand, free theme developers don't give you any support needed to customize the themes. And most free themes are often prone to hacking due to fewer updates.
Here are more reasons to choose a premium theme over the free ones:
Super-fast loading speed

Well optimized for both SEO and mobile

Fantastic documentation

Frequent updates

More awesome features
Therefore, if you want a simple and unique design for your blog, going for a premium WordPress theme such as Thrive themes is the best option.
5. What if I don't like Thrive Themes after I already finalized my purchase?
If you have problems with Thrive themes or its features after your purchase, you can easily contact their customer support 24/7. However, if you are still not happy with their products, you can get a refund within 30-days of your purchase.
It's also worth stating that if you've paid a yearly subscription for Thrive membership, you're free to cancel your account anytime, but you won't get any refund after the 30 days.
Thrive Themes: Conclusion
If you're looking for a suite of tools to help you create well-optimized websites, then your part of the Thrive Themes target audience. Although the individual themes aren't that impressive on their own when you consider all the themes, plugins, and educational content on offer to
However, you wouldn't get such a strong focus on conversion rate optimization and the Thrive Themes educational content to support you. If you like the look of any of the individual Thrive Themes products, they are good options.
However, you'll get the most from Thrive Themes by joining their membership program and getting access to everything, including the themes, lead generation tools, content builder, and educational content. Thrive, members, the whole of the Thrive Themes portfolio is greater than the sum of its parts. You could probably get similar results with the lower-priced products from Elegant Themes specifically, their Divi theme and its powerful drag-and-drop page builder, split testing tool, and page template library, combined with their Bloom plugin and its option forms.
If you're on a budget or you don't need all the powerful features of a tool such as Thrive Leads, but you'd still like a high-quality theme for your website and a premium lead generation plugin, there are other more affordable options available. The great thing about Thrive Themes is that you can sign up for a monthly membership which will give you unlimited access to all of their premium WordPress themes and plugins. If you don't want to go with a monthly subscription for Thrive Themes, you can simply purchase the items you need on an individual basis.
Depending on the size of your business and if you plan to expand, this option can save you money in the long run. One good alternative is the not-quite-as-powerful-as-Thrive-Leads Bloom opt-in form plugin and the impressive Divi theme, which are both available as part of the $89 all product package from Elegant Themes. Divi also has a split testing tool and impressive page builder to rival the Thrive Content Builder plugin.
Read this article to learn even more about how a quality WordPress theme can help your website.