Building a sales funnel that converts from scratch can be a huge time pit. That's time you likely don't have, especially in a competitive sales pipeline market as in 2020. Clickfunnels is a solid tool that a lot of people love, but there are some solid Clickfunnels alternatives that you need to know about. Here are 10 just-as-good, if not better choices (we added a couple today too). 
Fortunately, you don't have to. There's ClickFunnels, the popular website and sales funnel builder for entrepreneurs. And shocking to some ClickFunnels diehards as it is, there also about a dozen best ClickFunnels alternatives.
So, can what ClickFunnels does all ClickFunnels alternatives do better?
Here's the thing:
ClickFunnels not only markets itself as an all-in-one sales and marketing funnel software, but it also packs enough tools to back up its claims. That makes it a top funnels builder to beat for many small and medium businesses.
Some of the best ClickFunnels features include the ability to:
Use its top-notch drag-and-drop page builder. No coding required.
Take advantage of some of the most powerful marketing funnel automation tools around, including Facebook marketing automation, without giving away too much control 
A/B test your pages
Build membership site funnels
Create your own affiliate program 
Host your site on ClickFunnels so you can manage almost all your sales and marketing in one place 
Use myriad integrations including with most email marketing platforms and Zapier
Convert webinar attendees to warm leads and then buying customers  
Select from over 20 ready-to-use templates—from landing pages to capture pages to sales pages to thank you pages, among others, so you don't have to waste time starting from scratch  
Use its power-packed shopping cart and billing page optimization tools optimized to reduce cart abandonment 
Create product launch funnels and run entire product-based online businesses
Test it out against top ClickFunnels alternatives with its free 14-day trial 
On the flipside, ClickFunnels tends to overdeliver for some small businesses. That means its versatility, huge catalog of features, and customization options can feel overwhelming. 
All that sales funnel power also comes at a price.
And while you own the data as a ClickFunnels user, if you decided ClickFunnels is not for you, later on, you'd not be able to access your valuable data anymore. 
But you can download a CSV file of your contacts before deleting your ClickFunnels account. 
If you are looking for a more powerful, truly all-in-one sales and digital marketing platform, you'd also want to consider elsewhere. 
So, what other sites like ClickFunnels compare when it comes to building sales funnels that convert?
Here are 10 ClickFunnels alternatives to consider right away.  
Convertri
Unlike most other ClickFunnels alternatives here, Convertri may not be very well-known to you. That's probably because it is one of the newer sales funnel platforms on the block. And that reason could be its greatest advantage.
Convertri has had time to study the competition, gather intel on some of the crucial conversion optimization techniques, and implement them in the fabric of their SaaS offering.
Special Convertri Features Include:
Free-form drag and drop funnel builder; while most platforms' editors require users to first enter rows and then columns, Convertri is a true drag and drop builder. That means it'll let you drag and drop any element into the desired page. No clunky rows, sections, and columns required. Depending on your funnel-building experience, that may make it easier to use.
That also means you are not limited to linear flows. You can also just click on an arrow and drag it in the direction of the subsequent funnel stage you want your leads to follow. 
Share funnels with partners in a few clicks
A/B testing
Form validation
Supports custom HTML code and element cloning so you don't have to create twice
Convertri vs ClickFunnels
ClickFunnels offers mobile-friendly sales funnels and web pages but Convertri goes further. Convertri comes with built-in, adjustable image compression technology, shortens unnecessarily long codes, and structures HTML best. And it does all that automatically, immediately a user hits the publish button.
Like ClickFunnels, it offers a 2-step click so you can capture all-important lead or customer data for later—say upsells, reminders, and personalized offers.
Appearances matter and Convertri will also let you build unlimited layers on any page for the best effects. 
Also, while ClickFunnels will limit you to 20,000 visitors/month, Convertri allows up to 25,000 for the basic plan. And in addition to a custom domain, free hosting, and free SSL, it also provides a WordPress plugin so you can add a Convertri page to your WP website or blog.
But you have to use Chrome while in the Funnel Editor.
Overall, Convertri is built for speed, breezy funnel building, and conversion optimization at checkout. ClickFunnels still offers a host of more in-built features and better capability for selling physical products that the more digital-products-focused Convertri. 
But the ClickFunnels alternative offers an API you can use to integrate only the tools you need and can afford than working with "bloatware". 
Convertri Pricing:
After a 14-day, $0.1 trial, Convertri will let you use the tools and up to 50 funnels, 45 templates and 500 pages for $59/month.
For $10 more, you'd be empowered to handle up to 100,000 visitors/month, 250 funnels, 2,500 pages, and about 200 templates. The Pro plan also lets teams collaborate within Convertri and use page importers.
Agencies get 4X the Pro plan benefits and 25 sub-accounts for your clients for $199/month.   
Simvoly 
This modern ClickFunnels alternative makes it to this list for a bunch of reasons the contemporary sales pipeline builder wants to see and use.
Unlike any other sales funnel software here, Simvoly can be your own white-label site and sales funnel builder. Simply choose that option and it's all under your branding, custom CSS, pricing, templates, and offers. 
Simvoly also offers free website hosting, domain, and, on top of the free templates, you can build your own to truly make the funnels yours at every stage.
Special Simvoly Features Include:
Easy-to-use drag-and-drop funnel builder
Build ecommerce sites as you wish—with zero transaction fees 
Simvoly's CRM works with every website or funnel you build 
Generous templates that look elegant than the likes of LeadPages 
Supports selling memberships, subscriptions, and recurring charges
Like ClickFunnels, it supports one-click upsells and downsells. Bump offers work especially great for upselling efforts
To help reduce cart abandonment, Simvoly will let you use its unique one-step checkout sales funnel tool
A/B test your efforts so you can optimize conversions and sales
ClickFunnels vs Simvoly
Compared to the base, $99/month ClickFunnels plan, Simvoly supports three websites, up to 33 domain connections (vs. 3), unlimited pages (vs. 100 pages), 30 funnels (vs. 20), and over 115,000 visitors per month (vs. 20,000). 
So, if you don't need advanced sales funnels, want a white-label solution that's optimized for ecommerce, don't need sophisticated sales pipeline automation or need to keep costs on the low, Simvoly can help. 
However, you'll be limited to not just much fewer in-built features, but also the number of integrations compatible with Simvoly—it doesn't support Zapier, either.
Simvoly Pricing
This ClickFunnels comparison costs $59/month after a 14-day trial for full-blown features. But if you are just starting out and only need one site and funnel, the company lets you start out with both for $12/month.
Then you can advance to the $24/month plan if you have bigger projects that'd benefit from the power of 5 funnels and 3 sites.   
Keap (Formerly Infusionsoft)
Infusionsoft is one of the most powerful comparisons to ClickFunnels and is actually one of the most powerful online marketing toolkits available.  It is ideal for mid-sized businesses that require more features, customization, and power functions.
Keap (formerly Infusionsoft) Features:
Highly extensive landing page designs: With Infusionsoft, there is a strong landing page and opt-in form builder that allows you to create engaging and high-quality content pretty quickly. The landing page builder has a wide array of features, and it is pretty intuitive.
Comprehensive A/B testing
Effective customer management (CRM)
Email marketing automation: It is easy to create campaigns with a few canvas-style work areas, and there are also automation tools for a wide array of situations.
Infusionsoft vs ClickFunnels
Is Infusionsoft by Keap better than ClickFunnels? 
If you want to upgrade to a truly all-in-one sales and marketing platform, have the cash to back your wishes, and a moving product already, go for Keap. 
It's powerful marketing automation tools come into play in its sales pipeline product as well. Expect to set up custom sales funnels that you can integrate with your marketing campaigns to see all sales and marketing activities in one place.    
Keap also has an elaborate CRM tool that'll let you see all your leads and current customers in one place. 
You can use the CRM to automatically capture leads, track their online activity so you can nurture them along the funnel, and know when's best to send them an offer, so you can finally convert them to buying customers.
Yet, ClickFunnels packs more comprehensive sales funnel building tools than Keap, costs less, and has a comparably less steep learning curve.   
Keap Pricing
The price for Infusionsoft is about $99 per month, and this will include up to 2,500 Emails per month as well as a list size of about 50 contacts. 
However, the Complete Plan can be bought for $379 a month, and this plan includes 10,000 contacts and well up to 50,000 Emails. Check out the latest pricing structures, or get an online demo of what Infusionsoft can really do here!
SamCart
While the major focus of SamCart is not on building landing pages, most small business owners consider it one of the full-packed shopping cart and checkout page platforms today. Anyone who wants to buy a membership site will definitely find SamCart useful, too.
SamCart Features Include:
SamCart's One-Page Funnel is ideal if you don't need a catalog store but want to sell many products on one page
Over 24 checkout page templates optimized to boost conversions
Integrates with the popular shopping cart and payments processing tools such as Stripe, PayPal, and major credit cards  
You can make use of it to create funnels
Sales pages, upsell, and downsell are all customized
You get a sweet gateway between WordPress sales pages and checkout success pages.
It also has seamless integration with major utilities like Stripe, Drip, Zapier, HubSpot, PayPal, and Ontraport
Risk-free 14-day trial
SamCart vs ClickFunnels
SamCart is ideal for people who will like to sell e-books, physical products, and digital downloads. 
Own a membership site and need to have robust payment plans or subscriptions?
SamCart offers those, as well, on top of order bumps, upsells, and downsells to help you make more sales and reduce cart abandonment. 
Again, ClickFunnels offers more advanced sales pipeline tools and funnel automations than SamCart.
SamCart feels like a close ClickFunnels alternative because despite not having solid sales funnel capability, it does pack a decent slew of conversion optimization tools specifically for the sales page. 
That's unlike some competitors that are much more marketing and lead capture focused than sales page optimizers.   
SamCart Pricing
When the free trial is done, you can choose one of the three monthly tiers or just purchase an annual plan for a discount SamCart offers the Basic Plan ($199 a month), the Pro Plan ($99 a month), and the Premium Plan ($199 a month) However, if you'll like to make use of upselling features, you will have to start from the Pro Plan. You can always check out the free trial here!
10 Minute Funnels
10 Minute Funnels is a platform dedicated to meeting the needs of people who will like an easy way to make web pages, websites, and marketing funnels. It makes it easy for individuals or business organizations to create effective marketing systems and professional websites easily and affordably.
Apart from being an easy website and marketing funnel builder, there is a lot that users of 10 Minute Funnels stand to gain. 
10 Minute Funnels Features Include:
Simply and instantly integrated drag-and-drop building.
You don't have a limit on the number of pages you can create on your website
You can create quite a lot; live event pages, video pages, "thank you" pages, opt-in lead generation pages, sales pages, and much more.
You don't need any technical skills to set it up
It is also mobile-responsive
24-hour support
Full hosting services even for secure websites that move fast
Inbuilt tools for SEO, split testing, a shopping cart, social media links, analytics, and more widgets
10-Minute Funnels vs ClickFunnels
Like its name suggests, 10-Minute Funnels will feel easy to start with—having a less-steep learning curve and demanding of technical skills to use daily than with ClickFunnels. 
Like with ClickFunnels, you can use 10-Minute Funnels as a part of your larger sales and marketing strategy seeing it offers seamless marketing, CRM, and landing page optimization tools.
But you'd have to make do with not being able to create more thorough sales pipelines for more complex campaigns. 10-Minutes Funnels is ideal for solopreneurs or small businesses that want to do it themselves rather than have to hire a technician to build a simple funnel for them.
10-Minute Funnels Pricing
If you pay a dollar, you can easily try a free any-price plan for 14 days.  However, after this free plan, you have both the premium and Enterprise Plans to choose from. 
The Premium Plan is $97 per month (or $997 per year) while the Enterprise Plan is $197 a month (or $1,997 per year). Slightly high prices, but definitely worth all the features you're going to get. 
Check out the latest packages here.
Watch this FAQ video to learn if 10 Minute Funnels might be for you.
LeadPages
Being one of the first to do it, makes LeadPages a seasoned player in the sales pipeline solutions market. LeadPages developers show out their experience and evolving skill by helping users create stunning landing pages.
And therein is the biggest ClickFunnels and LeadPages comparison. 
LeadPages is more of a landing pages platform than a comprehensive sales funnel service. That's not to mean you can't create converting sales funnels on LeadPages. But you may have to put in a little more work.
Expect over 130 different templates. Feel like going custom? If none works for you, you can also create yours.
LeadPages also lets users spend an extra 10-30 bucks to grab over 120 more templates by ThemeForest.
LeadPages Features Include: 
Webinar hosting
Two different landing page editors: There's one for beginners, and another for advanced users. The basic edition has more guides and help, while the advanced edition provides the ability to customize however you'll like
Host webinars, capture leads and turn them into buyers
Create pop-ups to build your list
Powerful integration ability with Email providers, webinar platforms, and shopping cart tools to help lead more browsers to become leads and customers
14-day free trial to compare what you need and what LeadPages has to offer
LeadPages vs ClickFunnels
Overall, choose LeadPages over ClickFunnels if your business emphasizes the need for essential landing pages rather than advanced online sales funnel tools. 
Grab LeadPages if your landing page copy can guide leads down to the "Buy Now" button. You'd save a lot of monthly costs that way. 
In fact, you'd have to buy the $79 Pro plan to get A/B testing, online sales, and payments, as well as email sequencing links capabilities. 
With LeadPages, you'd have to purchase separate integrations, including Stripe, Checkout, and more advanced sales funnel tools to build a basic funnel.     
LeadPages Pricing
On LeadPages, there are 3 pricing tiers; Standard, Pro, and Advanced. The Standard goes for $37 per month, the Pro goes for $79 per month, and the Advanced is $199 per month.
Instapage
Instapage is known for having a better level of sophistication than many other landing page builders, and it offers members the freedom to create their own funnels on the group.
While Instapage has issues with integrating with membership platforms, it has a web-based editor that beats many other funnel builders.
There are over 200 sophisticated templates on Instapage, and its drag-and-drop editor is both easy to use and provides fluid customizability.
Instapage Features Include:
Heatmaps. The most unique Instapage benefit is the ability to monitor potential customers' activity on your landing pages. That means you can track visitors and optimize your landing page, to know what they really click on and how far down pages they scroll.
Build unlimited pages and host 200,000 potential customers per month
Robust in-built analytics tool. Makes it easy for you to analyze the performance of your pages
A/B testing available
Huge library of templates and over 5,000 web fonts to further customize the templates to your brands best 
Instapage vs ClickFunnels 
Like Converti, Instapage also offers a full free-form page editor. That means, unlike ClickFunnels you don't have to first enter rows, sections, and columns before creating attractive landing pages.
That makes it much easier to use than ClickFunnels, and even LeadPages, for some people. It helps to have 
Like ClickFunnels, you can integrate Instapage with a host of favorite marketing, CRM, and ad stacks, including Salesforce, Infusionsoft, HubSpot, WordPress, Zoho, and more apps using Zapier.
Instapage also offers a sales team collaboration tool to help reps brainstorm and follow up on potential customers fast and easy.  
Instapage Pricing
Just as it is with LeadPages, Instapage has three pricing tiers; the Core Plan, which costs $68 a month; the Optimizer Plan, which costs $113 a month; and the Team ad Agency Plan, which costs $203 a month. 
Check out which plan works best for you here
Unbounce
The focus of Unbounce has always been on helping with the creation of landing pages that will enhance the marketing efforts of users. It has definitely been a driving force behind the revolutionization of page building experiences.
Unbounce Features Include:
Unbounce has a wide array of features that make it easy for users to build, integrate, and optimize their landing pages. 
The Unbounce Builder: This is a drag-and-drop builder that is mile accessible, with targeted convertibles and text replacement.
Unbounce Convertables: With these, you will be able to target landing page visitors, integrate with basically anything, and set custom templates
Templates: You have the freedom to create custom convertibles from over 100 templates, or just create one from scratch by yourself.
Conversion Tools: You get an unlimited amount of A/B testing tries, tools for lead generation and conversion optimization. Lead notifications, and lightbox forms
You can easily integrate Unbounce with Email and analytics tools like WordPress, HubSpot, Zapier, Salesforce, MailChimp and Marketo
Unbounce vs ClickFunnels
Unbounce has a reputation for helping discerning sales teams and individuals create stunning-looking landing pages than make it easy for potential customers to make a purchase.
Still, Unbounce is more landing page focused than sales funnel ready. You do get over 100 landing page templates to kick-start your sales page creation process in minutes. You can be up and live in no time. 
Be sure to use each dedicated landing page for each product you plan to sell to better focus visitors on just one goal; to convert on the page.    
But if you plan on having to automate more complex sales funnel efforts, you may want to look elsewhere. Or stick with ClickFunnels.  
Unbounce Pricing
There are three packages on Unbounce that are priced depending on whether you'll like to make payments on a monthly or a yearly basis. 
The Essential package comes with a $99 monthly charge, and it allows for the creation of 75 landing pages and 8 convertables.
With the Premium package, you pay $199 a month. You can build 150 landing pages, 16 convertables, and you get better conversion tools as well as sub-accounts.
On the Enterprise package, the starting point if $499 a month. However, this cost is determined by what you need. 
Members get all the features of the Essential and Premium packages, as well as their Launch Specialist and Success Manager that will help you maximize ROI. On this package, you get over 375 landing pages and at least 40 convertibles.
Thrive Themes
ThriveThemes is a WordPress plugin that got acclaim for possessing the most understandable drag-and-drop landing page builder available anywhere on the internet. It is also loved for its affordability.
ThriveThemes gives its users access to more than 160 templates, therefore making it an awesome option for entrepreneurs and small businesses that are either just starting or are at the intermediate points of their businesses.
Thrive Themes Features Include:
On-page payments system 
Affordable platform
With Thrive Leads, users can create opt-in forms.
There is also the Thrive Content Builder, which makes it easy for users to easily create catchy and engaging content
The Thrive Ultimatum allows for users to build scarcity campaigns that will make for easy conversion boosting.
With Thrive Themes, you can also easily publish landing pages on your WordPress site.
The Thrive Headline Optimizer allows users to optimize their sites' content
Cleaver widgets help for the creation of widget-targeted content
ThriveThemes vs ClickFunnels
Like some other ClickFunnels alternatives here, ThriveThemes is ideal for salespeople looking for a simple conversion optimization solution. If you plan on selling digital products, ThriveThemes may be ideal. It even offers scarcity marketing tools such as countdown timers, and also displays credit card icons. But ThriveThemes doesn't provide in-built payment processing functionality, so you'd have to grab an integration such as Stripe and PayPal.  
ThriveThemes is actually a collection of WordPress plugins that come together to make a good funnel building solution, especially for WordPress sites. 
ThriveThemes Pricing
Check out this side-by-side price comparison between ThriveThemes and ClickFunnels for a start:
ThriveThemes provides unlimited pages, 25 sites, unlimited simple funnels, and supports an unlimited number of visitors for under $20/month. A similar, unlimited package with ClickFunnels pricing would cost $299. But then again, that compares an apple and an orange as far as sales funnel capabilities matter. 
Note that while ThriveThemes doesn't offer a 14-day free trial like the rest here, it's 30-day Moneyback Guarantee is a risk-free incentive to try the platform and see how well it matches your specific needs. 
 OptimizePress
OptimizePress, just like ThriveThemes, is a WordPress plugin. However, it differs in the fact that it was built for helping people create membership sites, landing pages, and sales pages for WordPress. Simple sales funnels directly on WordPress websites and blogs for optimal conversions.
OptimizePress Features Include:
Create webinar pages, product launch funnels, Thank You pages, and simple landing pages on your WordPress site  
Marketing Page Builder: This is an innovative LiveEditor system that can help to create layouts and build pages.
Element Browser: This provides users with all the elements that are needed for the building of marketing sites and landing pages.
Membership Sites and Custom Product Delivery Sites: With these, you can create secure areas for some of your custom members.
WordPress Themes and Plugins: OptimizePress works seamlessly with all WordPress sites, and it enables users to create landing pages and design sales pages that can be added to their blogs on WordPress.
LaunchSuite: With this, users will be able to create funnels for the launches of their products
OptimizePress vs ClickFunnels
That also means you'd have a higher level of control over how you implement your sales pipeline because you own the WordPress pages the funnels are based on. 
Many small businesses find they need fewer automations and more control to make their online sales processes truly theirs and scalable as they like. OptimizePress can help with that.
Like hosted services such as Unbounce and Instapage, OptimizePress offers checkout page tools such as countdown timers and a selection of 40 landing pages and 12 sales page templates. 
One of the advantages of OptimizePress is its affordability; the platform is more affordable than most other landing page builders, and on it, you can either choose the Core, Publisher or Pro Plan.
OptimizePress Pricing
All these plans come with one full year of updates and various support. If you'll still like to make use of it then you'll have to pay $39 per year to keep your updates and support.
The Core package has a one-time fee of $97, and members get up to three sites. The publisher package has a one-time fee of $197, and it includes all the features of the Core package and more.
The Pro package is targeted at small businesses, advanced marketers, and enterprises who will like to own more than 10 websites. It costs a one-time fee of $297, and it comes with the features of both other packages and more.
11. 
Wishpond

You may have heard about Wishpond from their popular social promotions apps. What you may not know (until now), is that Wishpond also has all the tools you need to build a complete sales funnel. And the best part? Wishpond's prices are affordable for businesses of all sizes.
Wishpond's Features:
Integrated, powerful marketing automation, email marketing, lead management & lead generation tools. Wishpond allows you to optimize all areas of your sales funnel in one place.

400+ fully customized landing page and website popup templates, and 100+ industry-specific premade campaigns that make it easy to launch sales funnels in no time.

10 different contest apps, including viral contests, Instagram hashtag competitions, and sweepstakes that help you generate engagement and grow your email list.

A marketing team that helps you every step of the way. From getting your sales funnels up & running to ongoing optimization for guaranteed performance.

Wishpond vs ClickFunnels
How does Wishpond compare to ClickFunnels?
Wishpond was built to make simple and powerful sales funnels for an affordable price. That is why it's ideal for small to medium-sized businesses who want to kickstart or scale their online marketing.
The nice thing about Wishpond is that it combines (and expands) the power of other landing page builders such as Instapage and Unbounce, with the ability to run advanced email marketing campaigns, like MailChimp and Sendinblue.
If social media is a key piece of your marketing strategy, Wishpond also allows marketers to grow their audience with a powerful suite of social contest apps.
While Wishpond has a lot of positive qualities, the one downside is that you still need to set up your funnels to start. ClickFunnels walks you through the funnel building process as one cohesive step, so overall I'd say Wishpond has a steeper learning curve than its competitors.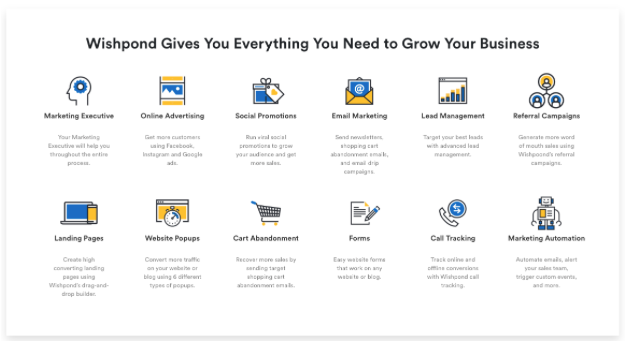 Wishpond Pricing
You can use Wishpond free for 14 days. It's important to mention that every plan includes full use of Wishpond's lead generation and email marketing apps. The main difference is the number of contacts you can store in your account at any given time.
Starting Out Plan:
$75/month or $588/year

1,000 contacts
Everything You Need Plan:
$149/month or $1,188/year

2,500 contacts
Rapid Growth 10k Plan:
$199/month or $2,388/year

10,000 contacts
If you need more contacts or would like to know more about Wishpond's pricing options, you can choose the higher tier Rapid Growth plans on their plans page.
The best part? You can get their monthly Basic plan for only $25/month using Change Creator Mag's gift code. Click here to snag the deal.
Frequently Asked Questions
What is better than Clickfunnels?
It depends on what you want to accomplish, Leadpages is a great tool that can help you create some amazing sales pages, but to create your online funnel, you will have to put in a bit more work.
Do I need a website to use Clickfunnels?
A solid WordPress website, when used with Clickfunnels can get you the best of both worlds, sales funnel creation and a solid brand presence. You can start with your website first, then capitalize on organic traffic from search engines and make them an offer and upsell using Clickfunnels.
Is Clickfunnels worth it?
Russel Brunson built this tool to solve a specific problem (to create scalable digital sales funnels) and anybody can use it. It works if you have a great offer, but there are other tools that can do what Clickfunnels can do for less cost and are just as easy to use.
Conclusion: Which is the Best ClickFunnels Alternative?
Deciding on a ClickFunnels alternative isn't easy. Your choice will always depend on your business goals, technical know-how, and of course budgets. If you are still on the fence about which to choose, here's a comparison chart.
PRODUCT
COSTS
FEATURES
INTEGRATIONS
EASE OF USE
Clickfunnels
Free 14-day trial, then either $97 per month, $297 per month
Use templates to create landing pages, great online customer service
Clickfunnels integrates with 1000 + apps with Zapier
Easy to use for the non-techie
Convertri
Convertri's plans costs from $59/month up to $199/month for Agencies- Pro Plan
Some of the features apart from it's drag-and-drop funnel builder are A/B testing, form validation and supports custom HTML code.
Convertri has built-in integration with a long list of top services, and anything that is not on the list, you can use HTML form integration.
Yes! Convertri has a true drag-and-drop funnel builder making it fun and easy to use.
Simvoly
They claim to be the most affordable funnel building program on the market starting at $12/month up to $149/month for their Pro Plan.
Features include: funnel builder, build ecommerce sites, elegant templates, supports selling memberships, A/B testing and adding one-click upsells, as well as one-click checkouts.
Simvoly doesn't support Zapier and has overall less integration options than Clickfunnel. It does integrate with GetResponse, ActiveCampaign, MailChimp, etc...
Simvoly is quite easy to use and also includes drag-and-drop features, but if you feel too overwhelmed you can always just get their Magic Website Wizard to use AI technology to build a website based on your keywords.
Keap (InfusionSoft)
Starting at 99 per month

Complete Plan is $379 a month
Highly extensive landing page designs
A/B testing
Effective customer management
Automation for Email features, including Email marketing
Integrates with Gmail, Outlook, other programs with Zapier
InfusionSoft takes a lot of technical knowledge, takes time to learn how to use
SamCart
Basic Plan ($199 a month), the Pro Plan ($99 a month), and the Premium Plan ($199 a month)
You can make use of it to create funnels.
­Sales pages, upsell, and downsell are al customized
You get a sweet gateway between WordPress sales pages and checkout success ages.
It also has seamless integration with major utilities like Stripe, Drip, Zapier, Hubspot, PayPal, and OntraPort.
You also get a free 14-day trial
SamCart integrates with all the main email marketing tools, as well as Zapier
Users claim that this program is super easy to use but there is a learning curve.

It is known as one of the easiest shopping cart integrations out there.
10 Minute Funnels
Premium Plan is $97 per month (or $997 per year) while the Enterprise Plan is $197 a month (or $1,997 per year)
You don't need any technical skills to set it up
It is also mobile-responsive
24-hour support
Full hosting services even for secure websites that move fast
Inbuilt tools for SEO, split testing, a shopping cart, social media links, analytics, and more widgets
Integrates with Aweber, Mailchimp, will have to contact support for certain integrations
With the drag and drop options, plus templates, this is one of the easier programs to use
Leadpages
There are 3 pricing tiers; the Standard, Pro, and Advanced. The Standard goes for $37 per month, the Pro goes for $79 per month, and the Advanced is $199 per month.
Two different landing page editors
Webinars
Create pop-up windows

You also get a 14-day free trial to explore the platform's offerings
Leadpages works best with Hubspot, but can also be integrated with other programs via Zapier
Leadpages takes some technical know-how, but there are over 130 templates to use to get started
InstaPage
InstaPage has three pricing tiers; the Core Plan, which costs $68 a month; the Optimizer Plan, which costs $113 a month; and the Team ad Agency Plan, which costs $203 a month.
A built-in analytics tool that makes it easy for you to analyze the performance of your pages.
The dashboard has A/B testing results available
It also has heatmaps
There are many integrations, Google AdWords, Facebook Ads, Mixpanels, as well as Zapier
There are templates, drag and drop options but software is relatively easy to use.
Unbounce
Essential package, $99 monthly

Premium package, $199 monthly

Enterprise package, $499 monthly
A drag-and-drop builder that is mile accessible, with targeted covertables and text replacement.
Unbounce Convertables
Over 100 templates, or just create one from scratch by yourself.
Conversion Tools
A/B testing
You can easily integrate Unbounce with Email and analytics tools like WordPress, Hubspot, Zapier, Salesforce, MailChimp and Marketo
Unbounce takes some technical know-how, but there are many templates, you will have to understand basic design principles, and A/B testing.
Thrive Themes
Single sites, the fee is $67, $97 for multiple sites.
Users have the ability to create opt-in forms.
Thrive Content Builder
Thrive Headline Optimizer
There are many integrations for Thrive Themes.
You won't need to learn how to code, but there is a learning curve depending on what you want to do.
OptimizePress
Core package, $97,
Publisher package has a one-time fee of $197
Enterprise, one-time fee of $297
Marketing Page Builder
Element Browser:
Membership Sites and Custom Product Delivery Sites
WordPress Themes and Plugins
Many integrations available, including Shopify, Gumroad, Madrill, and more
There is a learning curve to this, but there is good online support to walk you through it. Not as easy as other programs.
Wishpond
Starting Out Plan: $75/month
Everything You Need Plan: $149/month
Rapid Growth 10k Plan: $199/month

Market automation, landing pages, lead management, email marketing
Integrates with many apps including Infusionsoft, Salesforce and MailChimp.
Pretty easy to use and the marketing team is available to help you with any questions.
You might also enjoy: